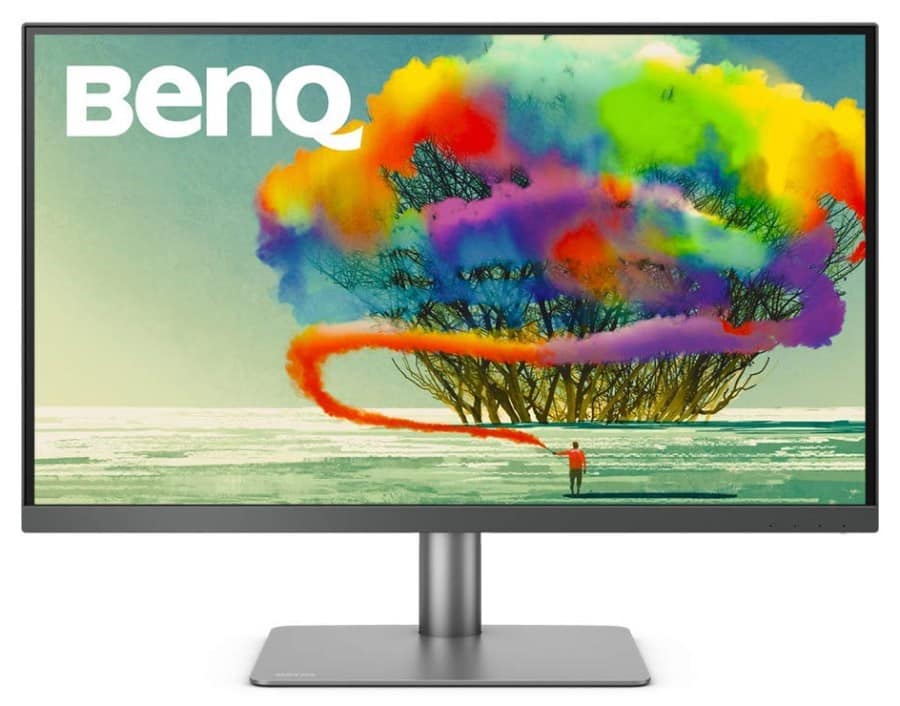 The BenQ PD2720U is a beautifully designed premium display solution for professionals who want accurate color reproduction, and Thunderbolt 3 connectivity rolled into one. The monitor features all the standard and useful features of the PD line, but this model adds HDR compatibility and DCI-P3 coverage for maximum vibrancy. The BenQ PD2720U us priced close to the formidable SW271, but is it a better deal?

BenQ PD2720U Specifications
Screen Size: 27 Inches
Resolution: 3840 x 2160 4K UHD
Aspect Ratio: 16:9
Panel Technology: In-Plane Switching (IPS)
Refresh Rate: 60Hz
Response Time: 5ms
Contrast Ratio: 1000:1
Brightness: 350 cd/m²
Speakers: Yes (2 x 2 Watts)
Stand: Height – Yes
Stand: Tilt – Yes
Stand: Swivel – Yes
Stand: Pivot – Yes
VESA Compatibility: Yes
Connectivity: DisplayPort 1.4 x 1, HDMI 2.0 x 2, USB 3.1x 3, USB-C Thunderbolt 3 x 2, 3.5mm Audio Jack x 1
Dimensions (WxHxD): 24.19 x 17.47"x 7.33
Weight: 18.3 lbs

Design and Features
The BenQ PD2720U sports a renewed aesthetic with a more premium feel compared to older models like the SW271 which looks almost identical to the brand's gaming offerings. The device has an attractive gray finish which matches the latest production machines such as the Mac Pro. The monitor is bezel-free on three sides, but there still is a very thin border and a visible bottom strip.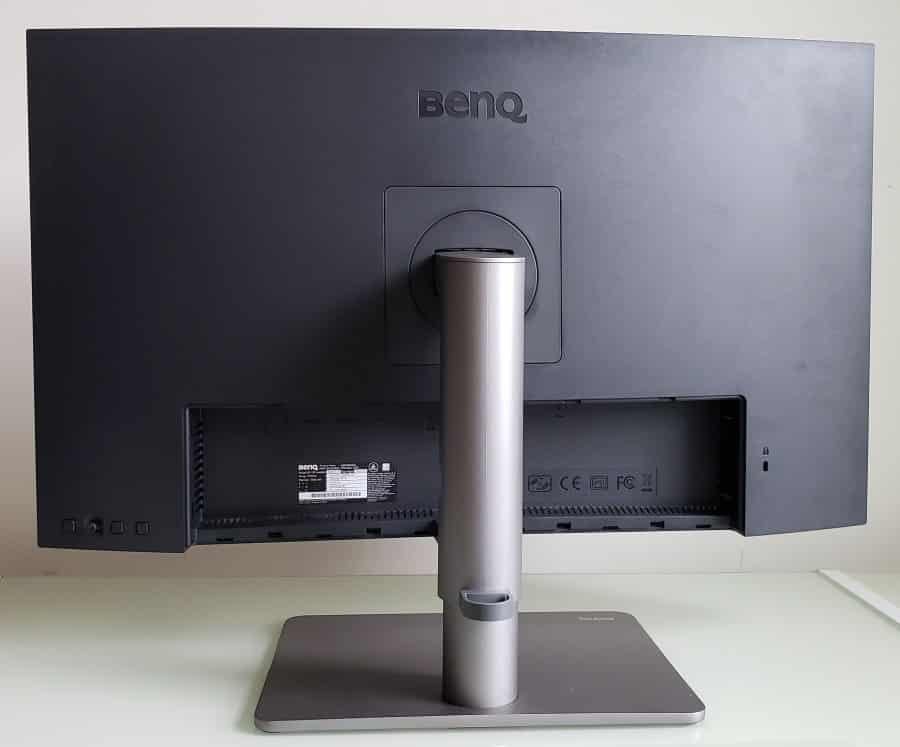 The product's proportions are extremely modest compared to the brand's older models. The BenQ PD2720U's total depth is limited to less than seven and a half inches, so placement with a deep keyboard that includes wrist rest shouldn't be an issue for most users. The display is also rather easy to mount thanks to VESA compatibility via a separate adapter plate and a chassis with ideal thickness.
Build quality for the BenQ PD2720U is well executed, cementing the monitor's premium nature. The surfaces are scratch-free and the seams match each other without margin for error, so there are no ugly gaps in the housing. The whole device has a nice weight to it, plus it stands solid and steady once fully assembled.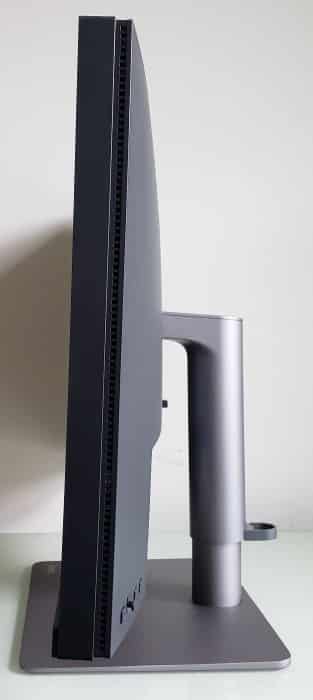 The brand included its signature remote called the S-switch with the BenQ PD2720U, but it managed to include an OSD joystick as well. The control layout is located at the rear at the bottom corner, so accessing it from the front is easy. This design consideration is highly valuable for monitors of this caliber since it comes with a bevy of settings and menus in the OSD.
We love the metallic stand on the BenQ PD2720U which has a telescopic upright and a flat, square base which makes a good spot for your smaller things. The mechanism offers tilt, swivel, pivot, and lift, so getting a perfect view is achievable even without the help of VESA armatures. Still, you can opt for the latter, but that adds cost to an already very expensive monitor since you need to buy a separately sold VESA transfer kit from BenQ.
The BenQ PD2720U has a specialized connectivity layout which makes it a fantastic option for studios which use industry standard machines such as MacBook Pros. The I/O includes DisplayPort 1.4 and Dual HDMI 2.0 slots as standard video inputs, along with three USB 3.1 slots. But what stands out is the dual Thunderbolt 3 connectors which allow single cable operation and daisy-chaining multiple PD2720Us.
One of the TB3 slots provides up to 65 Watts of charging power, while the secondary only pumps out 15 Watts. 65 Watts is a bit too low for beastly laptops, but in most cases, its sufficient to charge the gadget while its in use. There is also a pair of 2-Watt speakers, but their sound quality is mismatched with the class of the product.
Display and Performance
The BenQ PD2720U boasts a 27-inch IPS monitor with a 3840 x 2160 resolution, 60Hz refresh rate, and 5ms response time. The monitor has a limited 350 cd/m2 backlight and a 1000:1 contrast ratio which isn't sufficient for true HDR performance. This model is geared towards excellent color rendering, but it's not equipped to produce HDR visuals like the Asus PA32UCX.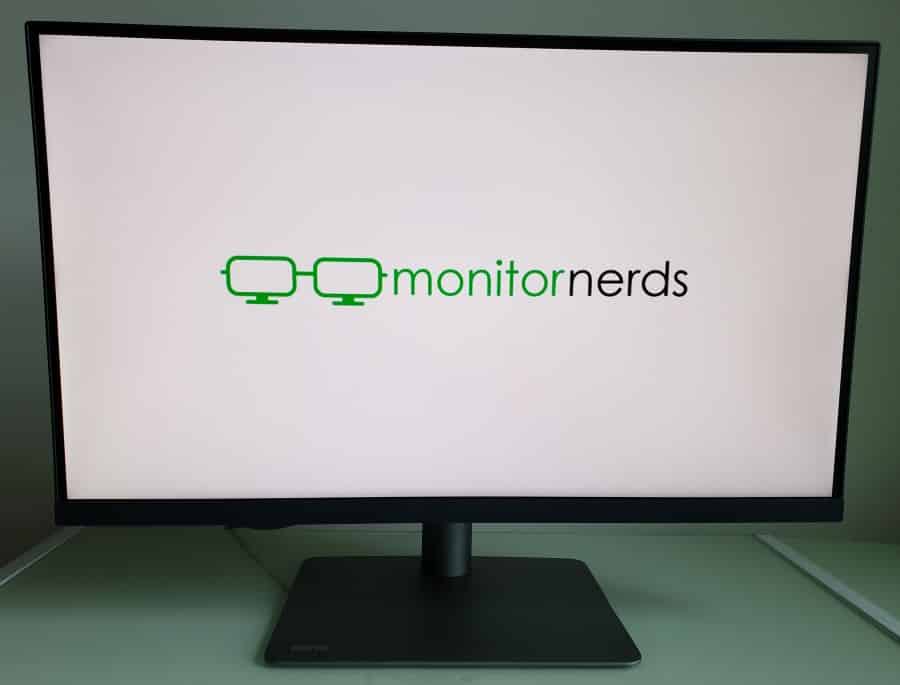 A 4K screen is better suited to something larger like a 32-inch variant to avoid having images which are overly sharp or detailed. Some users rely on scaling for regular use, but it shouldn't matter much for variants made for editing and creation like the BenQ PD2720U. The extra crispness is always welcome for prosumer endeavors, but document processing will still be a chore for your eyes.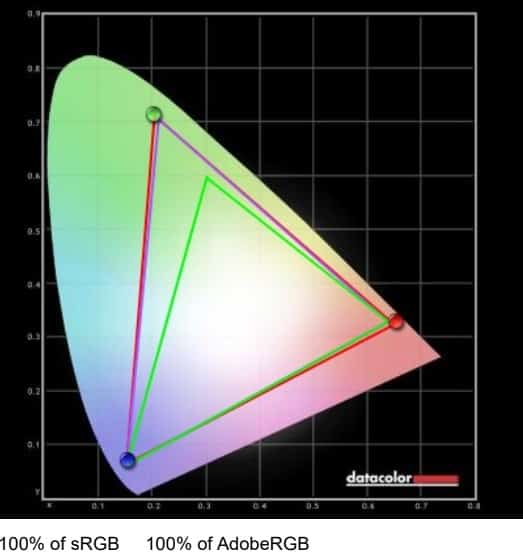 The BenQ PD2720U offers excellent color fidelity, covering 100% for both sRGB and Adobe RGB gamuts and 97% for the DCI-P3 spectrum. Color accuracy averages at Delta E 1.5, meaning the display is ready for editing use right out of its box. The brand's AQCOLOR technology that is guided by the ICC did wonders for the panel.
The post factory calibration report is also verified by CalMAN and Pantone, so rest assured that you are getting the best color quality. However, HDR10 compatibility is limited to just that since the monitor will only translate an HDR signal as best it can. There are minor improvements to the range, but a DisplayHDR 1000 monitor will always be better in this regard.
Contrast and gamma are slightly off at 900:1 average and 2.25 respectively. LG's Nano IPS variants are still better in this regard, especially when it comes to the black luminance threshold for IPS displays.
Panel uniformity for the BenQ PD2720U test unit is great considering brightness deviances stayed within 12% at the upper quadrants. Color uniformity, on the other hand, maxed out at Delta E 2.8 at the aforementioned sectors of the screen. Typically, you need to have a Delta E variance of 3.0 or higher from the D65 standard to see a difference.
The BenQ PD2720U posts decent motion handling for a prosumer display, but its nowhere near the gaming-focused variants. Blurs are visible when the scenes are faster than the usual pace, more so if you swipe or pan the camera too quickly. The BenQ PD2720U isn't meant for gaming, but its value for casual play is still present.
The BenQ PD2720U's input lag is low at 13ms, but it lacks gaming features such as FreeSync or G-Sync. That fact isn't surprising since high-end screens meant for editing and content creation don't need them. However, it would be nice to have FreeSync at least for the times you want to enjoy a relaxing session on your PC or Xbox One X.
Thoughts on the BenQ PD2720U
The BenQ PD2720U's sophistication in its primary purpose along with its exquisite design makes it well worth its price. The color quality brought about by the brand's new AQCOLOR technology is phenomenal since users won't need to tweak the monitor right out of its box. The physical features such as Thunderbolt 3 connectivity makes this model very attractive for artists or studios who want a high-grade display at consumer pricing.
There isn't much to complain about regarding the BenQ PD2720U, but it could use a few improvements in panel uniformity and contrast. However, these flaws are expected from the screen tech, since no two modules are made the same. Overall, the BenQ PD2720U is an excellent buy, but make sure you can secure a unit with fantastic panel uniformity.