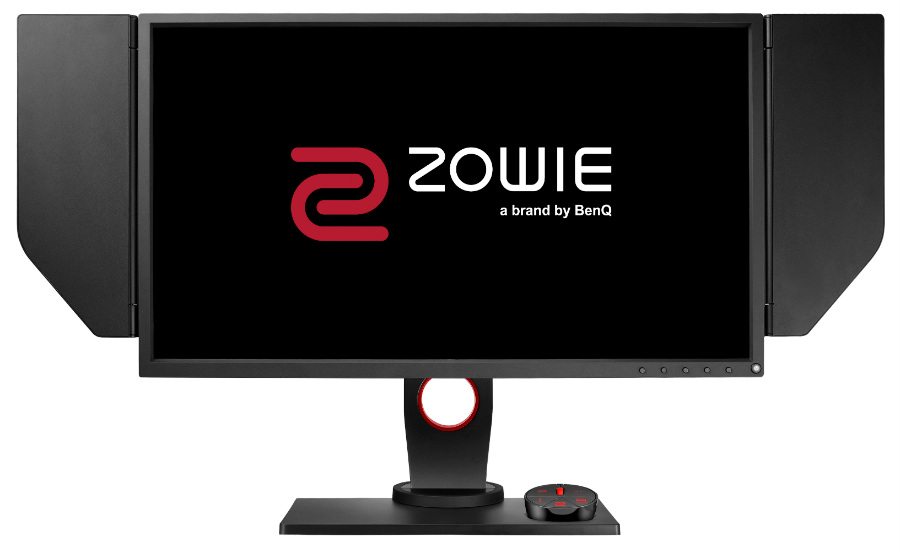 The BenQ XL2546 is a new gaming monitor with the same 240Hz refresh rate, low input lag, and function design as its fantastic predecessor, the BenQ XL2540. The addition of the company's DyAc or Dynamic Accuracy is the highlight of this offering, but its benefits in practice require thorough testing. The BenQ XL2540 held the 240Hz crown first with excellence, making it even more interesting to see if the BenQ XL2546 stacks up or improves upon to its mighty predecessors.

BenQ XL2546 Specifications
Screen Size: 25 Inches
Resolution: 1920 x 1080 FHD
Aspect Ratio: 16:9
Panel Technology: Twisted Nematic (TN)
Refresh Rate: 240Hz
Response Time: 1ms
Contrast Ratio: 1000:1 (Static)
Brightness: 400 cd/m²
Built-in Speakers: None
Stand: Height – Yes (5.5Inches)
Stand: Tilt – Yes (-5°/+20°)
Stand: Swivel – Yes (-45°/+45°)
Stand: Pivot – Yes (0°/+90°)
VESA Compatibility: Yes
Connectivity: DisplayPort 1.2 x 1, HDMI x 2, DVI-DL x 1, USB 3.0 x 4, Headphone jack, Microphone jack
Dimensions with Stand(WxHxD): 55" (+2.74") x 22.43" x 8.9″

Design and Features
The BenQ XL2546 like the rest of the XL series of products have one of the best physical designs we've seen in gaming monitors. The model isn't bezel-free by any means, but the plastic strips on this model are within reasonable limits, so they aren't a bother. The whole thing comes in a well-loved matte black finish, with minor gamer-centric accents which you can easily discern from looking at the entire product.
There are included plastic flaps called Shield on the BenQ XL2546 which helps concentration according to the company's claims. These extras only attach to the sides while having adjustable angles, unlike the hoods we have seen on some of their professional monitors like the BenQ SW320. While it does give the product a unique feature, community feedback suggests that most are still adjusting to the idea while also questioning the actual effects of the Shields.
The cabinet is thin enough with a slight bulge that apexes towards a rectangular panel with a superb looking texture, completing the minimalist look the BenQ XL2546 is going for. This design also makes the BenQ XL2546 easy to flush mount on a wall with a VESA 100 x 100 compatible armature, although we find it difficult to believe if future owners would prefer the latter over the great stand.
We've said it before, the stand the company provides its latest XL monitors including the BenQ XL2546 is our favorite overall design. The device is well-crafted with the gamer's convenience in mind, so they included a complete range of ergonomics. You can tilt, swivel, or pivot the screen, plus the mechanism provides 5.5 inches of height adjustment. On each of the articulation points, there are red markers than can help users remember a favorite position, plus you get the pop-out headset hanger for your cans.
Another prominent premium feature found on the BenQ XL2546 is the S-Switch Arc; a puck-shaped remote with a scroll wheel and three hot-swap buttons. Gamers can use this device to switch between custom image presets or swiftly navigate the loaded OSD. The one downside we see is it takes up one of the USB slots, although you get four in total.
Of course, the BenQ XL2546 includes a well-equipped I/O layout for your connective needs. On the back, you will find a DisplayPort 1.2, two HDMI slots, and a DVI-DL connector. There are 3.5mm jacks for pass through, but this device still doesn't get a pair of built-in speakers.
BenQ XL 2546 Display and Performance
The BenQ XL2546 boasts a 25-inch 1080p TN panel with a 240Hz native refresh rate, 1ms response time, and 1000:1 claimed contrast. Although unconfirmed, we think this still is the same AU Optronics module found on similar models like the ViewSonic XG2530 we recently reviewed. If this is the case, then this model is capable of decent imaging output, with colors reaching 99% sRGB coverage with acceptable accuracy.
We are expecting near perfect gamma scores and contrast ratio averages in the ranges near 800:1. Although nothing is final until we get our hands on a test unit, we can already speculate that there will be minor differences when compared to similar models. The BenQ XL2540 did not disappoint in any way, posting excellent performance ratings across the board. We're also expecting low input lag from the BenQ XL2546 since it's almost similar sibling posted more or less 4ms, which equates to a frame or less in delays.
One thing the BenQ XL2546 is changing is it will include the company's DyAc or Dynamic Accuracy technology that should smoothen the graphics and its transitions in fast motion. BenQ says the technology is supposed to alleviate blurs and image defects during dynamic screen movement such as intense fire fights which should make it easier to aim and control. We have yet to see this feature in action, but it already incurs two downsides which might turn off future owners.
For starters, DyAc increases the suggested retail price drastically, as seen between the BenQ XL2730 and the XL2735 with DyAc. You also lose FreeSync or G-Sync capabilities, which are some of the features this technology aims to replace. We do hope there is a tangible benefit when choosing the BenQ XL2546 over FreeSync or G-Sync equipped variants out there.
Thoughts
We have little reason to doubt the success and selling power of the BenQ XL2546 because it does include an acclaimed pedigree in both design and performance. The product oozes with a familiar premium which we loved from the company's fantastic offerings, although there are some questions left unanswered.
For starters, is DyAc technology and its incurring cost and omission of FreeSync/G-Sync worth it? BenQ gaming monitors already have the best Blur Reduction feature in the market, making it interesting to test and compare this new model with the rest. Price could also be an issue since BenQ's proprietary addition does incur a hefty exclusivity tax. Let's wait and see.
Note: The BenQ XL2546 is now available for purchase from the buy links above and below.