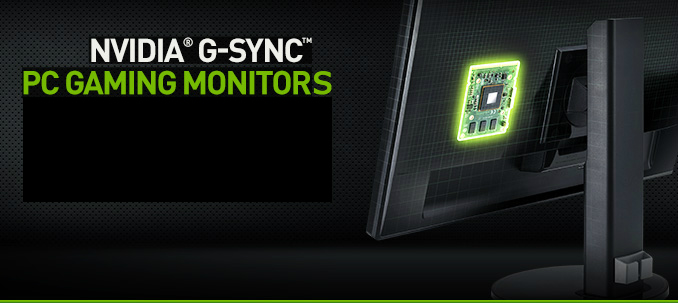 Gaming monitors have become cheaper, and there is no reason not to get one. And, if you value your games so much, you want to spend a good amount of money on a great display. With that being said, if you have an Nvidia graphics card, you may want a gaming monitor with the G-Sync functionality.
For those of you who do not know, G-Sync is Nvidia's implementation of the adaptive Vsync that eliminates those nasty screen tearing. But is G-sync worth it? the short and simple answer is, yes definitely. If you have the budget for it, you have a Nvidia GPU and you play graphical heavy games. G-sync will eliminate screen tearing by synchronizing your GPU and monitors frame rate. It is worth it especially when you are considering a higher resolution monitor, 1440p or 4k.
It's also worth noting that G-Sync is more expensive than FreeSync monitors because of a proprietary feature in the device. Nvidia employs a specially programmed FPGA module which works with your GPU in synchronizing the refresh rate to the framerate produced in games. This implementation is fantastic since it splits the load on your video card, but it adds a hefty premium some are not willing to pay for.
G-Sync monitors are generally more expensive by more or less $200 than their FreeSync counterparts due to this measure. Nvidia also enforces a rigorous testing and certification progress for its partners before they can officially sell a new G-Sync monitor.
Another disliked limitation of G-Sync monitors is the limited connectivity dictated by the FPGA controller. Most certified products only have a DisplayPort 1.2 and an HDMI 1.4 slot which is somewhat useless since G-Sync requires a DisplayPort connection. A second-gen version called G-Sync HDR is also already available, but its more complex nature makes it even more expensive.
Nvidia isn't particularly open about the technicalities of its G-Sync HDR tech, but insider information revealed that its additional cost on a monitor like the Asus PG27UQ reaches $500. The module has upgraded specs such as DisplayPort 1.4 instead of 1.2, but it certainly added a painful premium to an already expensive line of monitors.
In this article, I will present to you the best G-Sync monitors that you can buy today. I have categorized them after the three most popular resolutions ( 1080p, 1440p, 4K ) and Ultrawide, so you will have a much easier time finding one for you.
So, without further ado, let's get started with the best 1080p G-Sync Gaming monitors.
You can also check our guide on Best Freesync Monitors of 2020 if you have an AMD GPU.
All Featured G-Sync Monitors in This Guide
Type and Monitor
Screen
Speed
Price
1080p G-sync Monitors
Top Budget G-Sync Gaming Monitor

Asus ROG PG248Q
24 Inch
1080p
TN
144Hz
1ms
Latest Price
Top 180Hz Monitor with G-sync

Acer Predator XB241H
24 Inch
1080p
TN
180Hz
1ms
Latest Price
Best 240Hz Gaming Monitor with G-Sync

Asus PG258Q
25 Inch
1080p
TN
240Hz
1ms
Latest Price
Superb 240Hz G-Sync Monitor

Acer XB252Q
25 Inch
1080p
TN
240Hz
1ms
Latest Price
First 240Hz IPS G-Sync Monitor

Acer XV273 X
27 Inch
1080p
IPS

240Hz
1ms
Latest Price
1440p G-sync Monitors
Overall Best 1440p Gaming Monitor with G-Sync

Asus PG278QR
27 Inch
1440p
TN
165Hz
1ms
Latest Price
Best 1440p IPS G-sync Monitor

Asus ROG Swift PG279Q
27 Inch
1440p
IPS

165Hz
4ms
Latest Price
Also Great 1440p Monitor with G-sync

Acer Predator XB271HU
27 Inch
1440p
IPS
165Hz
4ms
Latest Price
Attractive 32-inch QHD G-Sync Monitor

LG 32GK850G
32 Inch
1440p
VA
165Hz
Latest Price
Best Designed 1440p G-Sync Monitor

AOC AG273QCG
27 Inch
1440p
TN
165Hz
1ms
Latest Price
4K G-sync Monitors
Excellent 4K 144Hz G-Sync Gaming Monitor

Acer X27
27 Inch
4K
IPS
144Hz
4ms
Latest Price
Best 4K 144Hz G-Sync Monitor with HDR 400

Acer XB273K
32 Inch
4K
IPS
144Hz
4ms
Latest Price
Ultimate 4K 144Hz Gaming Monitor with HDR
27 Inch
4K
IPS
144Hz
Latest Price
UltraWide G-sync Monitors
Best Ultra-wide Monitor with G-sync

Asus ROG Swift PG348Q
34 Inch
1440p
IPS
21:9 aspect ratio
100Hz
5ms
Latest Price
Superb 200Hz HDR1000 Ultrawide G-Sync Monitor

Asus PG35VQ
35 Inch
1440p
VA
200Hz
2ms
Latest Price
Also a Top Ultra-wide G-sync

Acer Predator X34
34 Inch
1440p
IPS
21:9 aspect ratio
100Hz
4ms
Latest Price
Color Accurate 200Hz G-Sync Ultrawide Monitor

Acer X35
35 Inch
1440p
VA
200Hz
2ms
Latest Price
Best 120Hz G-Sync Ultrawide Monitor

Alienware AW3418DW
34 Inch
1440p
IPS
120Hz
4ms
Latest Price
38-Inch WQHD+ G-Sync Ultrawide

LG 38GL950G
38 Inch
WQHD+
IPS
175Hz
1ms
Latest Price
Best 1080p G-sync Gaming Monitors 2020
1080p is the staple resolution for gamers worldwide for being relatively easy to run on most mid-spec machines with superb manageability. It is also the universal standard for E-Sports gaming since playing at 1080p makes it easier to attain higher refresh rates. These G-Sync gaming monitors with Full-HD resolutions have seen their share of hardcore battles in some of the most prestigious E-Sports events, making them suitable for your very own battle station at home.
---
Asus ROG PG248Q – Top Budget G-Sync Gaming Monitor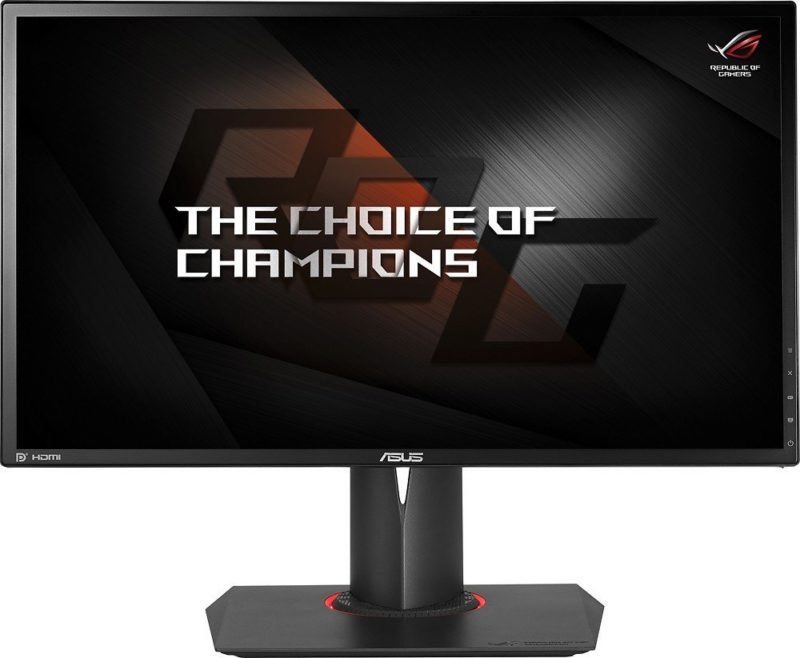 The biggest selling point of the PG248Q is its amazingly fast 180Hz refresh rate. That aspect of this device is complemented by a 1ms response time and Nvidia's GSync technology which virtually eliminates screen tearing and distortions. For a time, this is a 24-inch TN panel monitor with a resolution of 1080p which is considered to be the industry standard when it comes to games.
The Asus PG248Q is one of the company's ROG line of monitors which also makes it aesthetically pleasing. It's got a rectangular stand with a small hole at the center which lights up when enabled. This monitor accepts both DisplayPort and HDMI inputs. And thankfully, Asus has included both of the necessary cables for your use. It also comes with a slew of USB ports that you can use to plug in your other devices, for example. Of course, the ergonomics department is also in check. The monitor's height can be adjusted, it can be swiveled up to 60 degrees in either direction, and you can also tilt it up to 25 degrees backward as well.
Asus makes amazing gaming monitors, and the PG248Q is no different. It comes with the company's GamePlus feature which offers great tools for each gamer to use. You can use a static crosshair, set up a timer, and there's even an FPS counter as well.This entry is a true successor to the once great Asus VG248QE gaming monitor. With an impressive 180Hz refresh rate, 1ms response time, and impressive aesthetics, there is really nothing that can dissuade you from buying this monitor. Check out a video review here.
Acer Predator XB241H – Top 180Hz Monitor with G-sync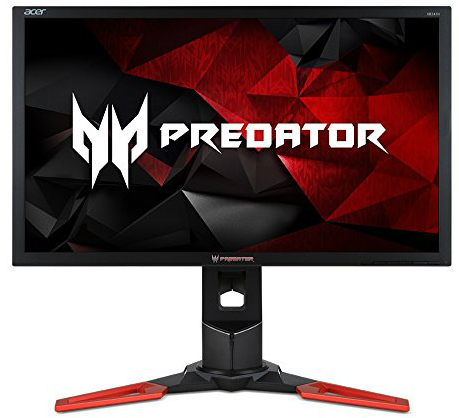 Anyway, the Acer Predator XB241H is another TN panel monitor that has a Full HD (1920×1080) resolution, a 144Hz native refresh rate, and a 1ms response time.Now, you might notice that I said "Native" refresh rate. Well, that is because the XB241H can be overclocked to 180Hz refresh rate. All of that can be done with a couple of presses and by toggling the refresh rate in the Nvidia Control Panel.
The stand of the XB241H is different. It looks like a sturdy boomerang with red accents at the edge. For ergonomics, the Acer Predator XB241H is capable of tilting 5 degrees forward and up to 35 degrees back. Furthermore, the monitor can be swiveled up to degrees, and the height of the display can be adjusted to a maximum of 5 inches. The naturally limited I/O panel gives you a DisplayPort 1.2 for 180Hz and G-Sync operation, while an additional HDMI slot enables usage of a console with the Acer XB241H.
There aren't a lot of G-Sync 1080p monitors out there, but you are assured that this one is truly worth your money. With an overclockable TN panel of up to 180Hz refresh rate, a 1ms response time that eliminates ghosting, and a damn good design, the Acer Predator XB241H is a good choice.
---
Asus PG258Q – Best 240Hz Gaming Monitor with G-Sync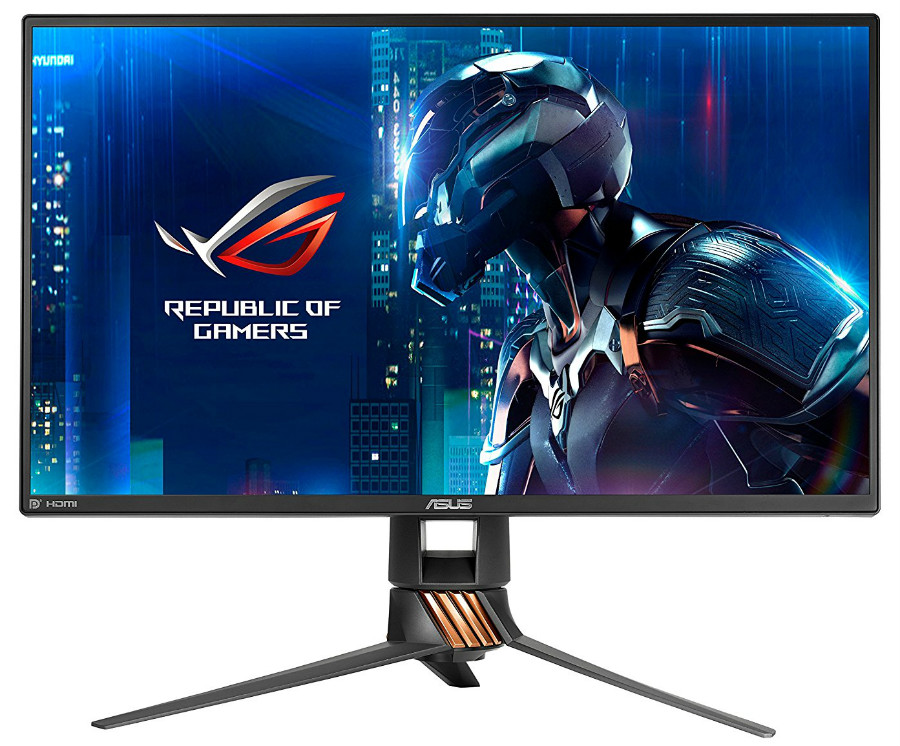 The Asus PG258Q is one of the first 240Hz monitors to step into the light that offers breakneck speeds when it comes to refresh rates. This option comes with the best imaging outputs among TN-equipped panels which some would say could almost rival the capabilities of some IPS models. The premium performance promised by the Asus PG258Q also includes a low input lag result of 4ms or less, making it suitable for gut-wrenching E-Sports action.
240Hz can be jarring on your graphics if the GPU isn't capable of pushing out more or less 240FPS. Huge dips in FPS will definitely produce tearing and stuttering which can defeat the purpose of this monitor, although you shouldn't worry since it includes a G-Sync module. When used together with a capable Nvidia GPU, buttery-smooth graphics are guaranteed with no additional latency.
The ROG Swift brand changed its aesthetic reputation when the Asus PG258Q released. The newer design treatment utilized a lighter graphite base color matched with orange accents which set this monitor apart from the typical black and red of its competitors. Improvements such as a LED projector, hidden I/O panels complemented the sturdy and ergonomic design which is loved by enthusiasts all over the globe.
---
Acer XB252Q – Superb 240Hz G-Sync Monitor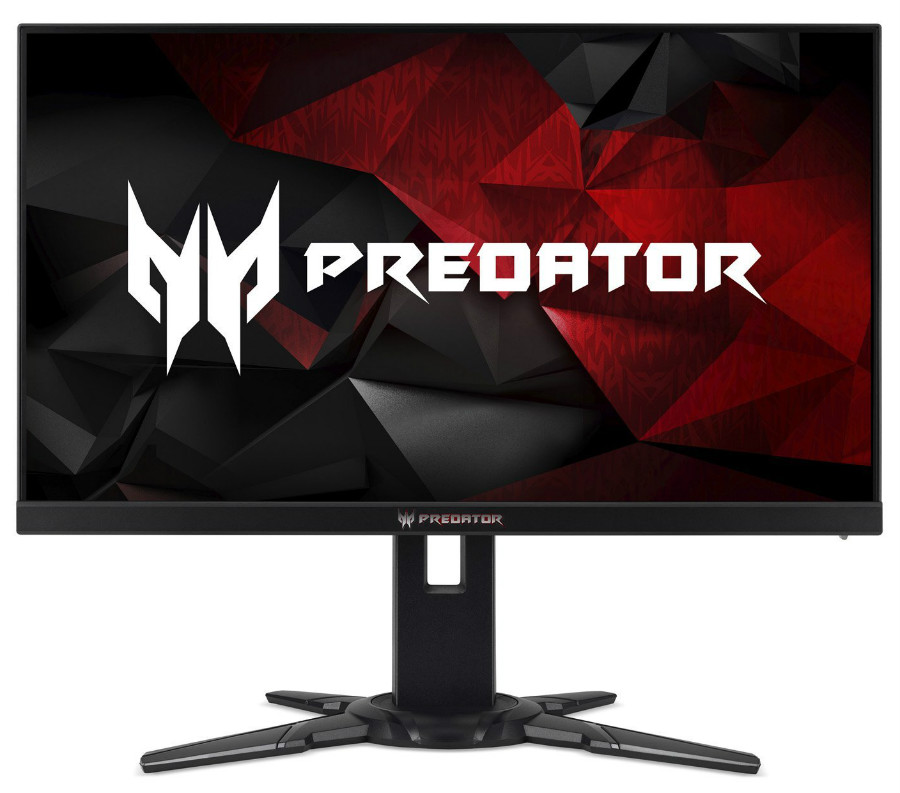 The Acer XB252Q is another 240Hz E-Sports monitor that comes equipped with G-Sync for unrivaled performance in graphics and responsiveness. What we primarily love about this new model is it drops the overused black and red accent in favor of an all matte black aesthetic that looks cleaner and more mature. The bezel-free face of this device also makes it suitable for multi-monitor setups if you have the necessary system power.
The Acer XB252Q released later than the plethora of 240Hz displays already available on the market, but it still manages to come out on top. The output of the AU Optronics panel provides excellent vibrancy and clarity even for a TN panel even if these aren't primary characteristics of the screen technology. You might need to put in the effort to calibrate the settings, but once it's done, the Acer XB252Q shouldn't disappoint.
Since this is an ultra-fast gaming monitor, the Asus XB252Q puts emphasis on responsiveness and blur-free action. The 6ms input lag isn't the fastest in the market, but the differences are negligible during intense in-game fights and sequences. You shouldn't worry about tearing and stuttering with this devices since it also comes equipped with G-Sync all the way up to 240Hz, ensuring enjoyable visuals all the time.
Acer XV273 X – First 240Hz IPS G-Sync Monitor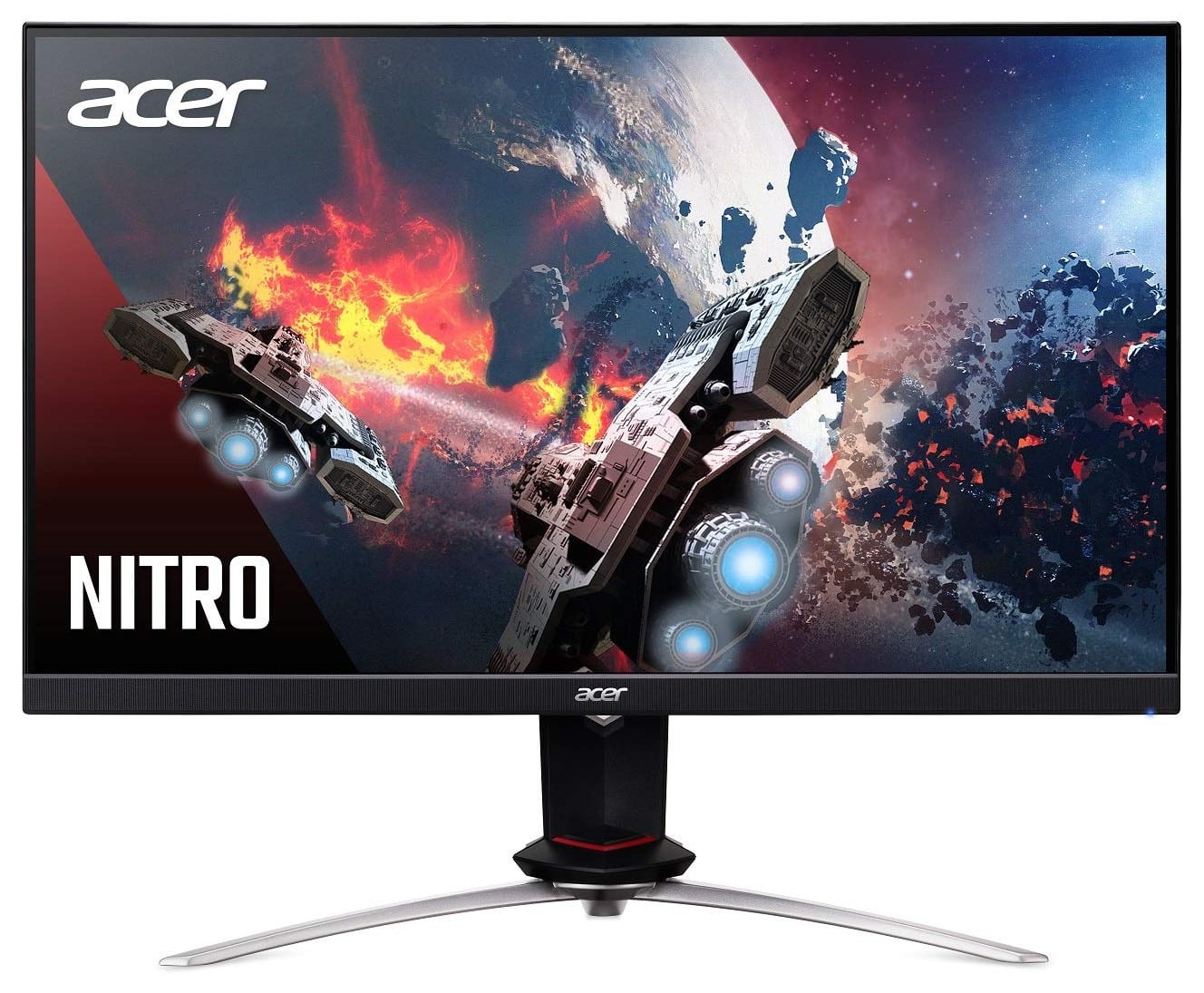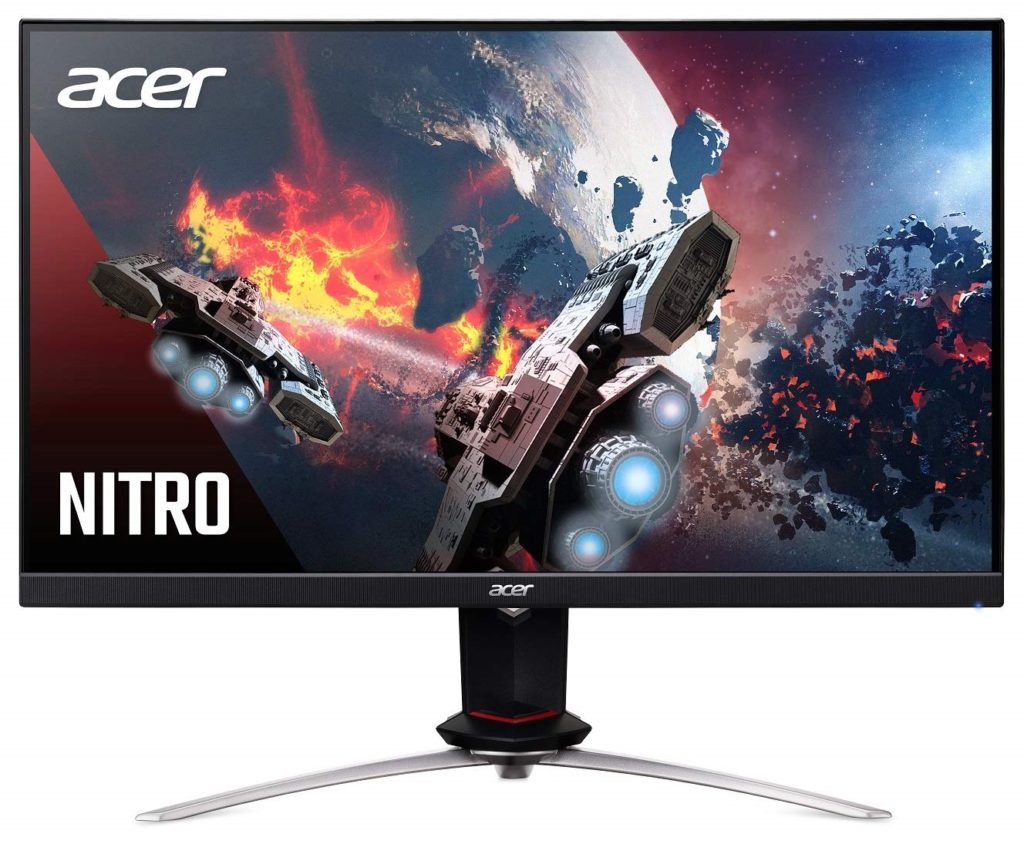 The Acer XV273 X is currently the hottest G-Sync gaming monitor since its the first to offer a 240Hz IPS panel. its one of the must-buys in 2020 thanks to its excellent image quality that is comparable to some prosumer displays. The screen is capable of superb color accuracy and contrast out of the box, ensuring games are always vibrant and well-saturated.
Another surprising aspect of the Acer XV373 X is its naturally fast pixel response time which doesn't produce significant blurring. The 240Hz refresh rate helps in this regard, but this model is noticeably better at suppressing ghosting compared to non-TN variants.
Another reason why the Acer XV273 X is a good buy is its improved design which has departed from the looks of the older Predator monitors. The chassis has a sleek matte black design that's bezel-free, while the metallic base adds a luxurious appeal. The new monitors have matured when it comes to aesthetics, and that's a big plus in our opinion.
---
Best 1440p G-Sync Gaming Monitors
The 1440p monitor space is where you will find the majority of G-sync monitors. Because of the plethora of options you can choose from, it can be pretty hard for you to discern which one is the best. Fortunately for you, you don't have to as I will recommend the best 1440p Gsync Monitors that you can find on the market.
Asus ROG Swift PG278QR – Overall Best 1440p Gaming Monitor with G-Sync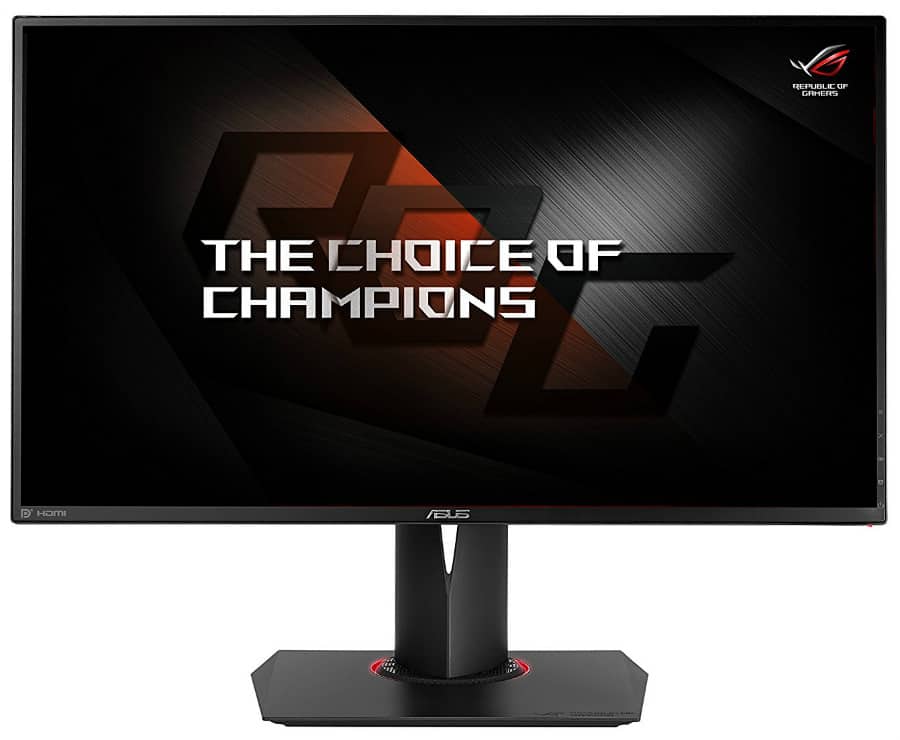 The Asus ROG Swift PG278QR is our absolute favorite when it comes to 1440p gaming monitors for its outstanding performance. Unlike its PG279Q sibling below, this model still utilizes a TN panel which is prone to bad angles and lesser vibrancy. Thankfully, the PG278QR rallies all of its might to produce amazing vibrancy and clarity despite its disadvantages without making users deal with IPS issues. The pixel response time is extra fast, so there are no ghosting issues usually associated with slower panels.
Responsiveness is also one of the key ingredients of the Asus PG278QR which clocks in at only 4ms. Users can also choose to overclock its refresh rate to 165Hz like the PG279Q for a little headroom in fast-paced gameplay. If the going gets tough for your GPU, you can rely on the smoothening capabilities of G-Sync which works best with an upper range GPU.
The simplicity of the design for this series of gaming monitors is absolutely brilliant for our tastes. The graphite black chassis gives a premium but subdued feel, while the subtle gamer-centric accents such as ROG logos and the light in motion feature reveal the PG278QR's gaming prowess. Durability and functionality are also unquestionable since this device comes with fantastic ergonomics and reliable build quality which is well worth the money.
---
Asus ROG Swift PG279Q – Overall Best IPS G-sync Gaming Monitor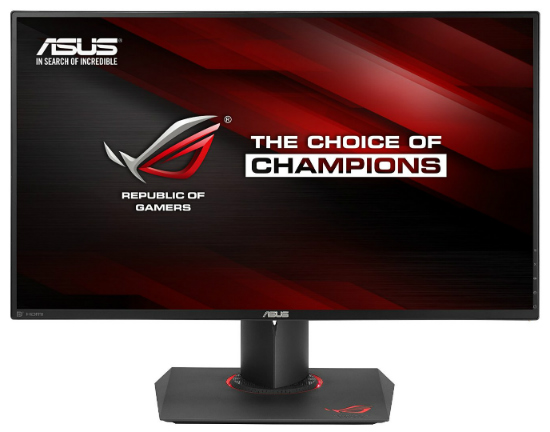 Now, the previous monitors I have recommended are all TN panel monitors. TN panel, although lightning-fast regarding refresh rates and response times, often have the worst color accuracy and viewing angles compared to other display panels.
The Asus ROG Swift PG279Q is a 27-inch IPS panel monitor with a resolution of 1440p (2560×1440). It has a base refresh rate of 144Hz, but the thing is that you can overclock this panel to 165Hz if you please. Because of the nature of the display panel, the PG279Q is not as fast as a TN panel in the sense that it has a 4ms response time compared to the TN's 1ms. This fact, however, isn't an issue in gaming circumstances since it would be harder to notice blurring and ghosting against the brilliant output of this device.
The Asus ROG Swift PG279Q is hailed to be one of the best G-Sync monitors on the market, and rightfully so, it nailed pretty much every nail in the coffin. From its aesthetics to the color performance, and of course, the gaming performance, everything that you need is on this monitor. Despite all of these welcome features, however, the PG279Q is not cheap; it is really expensive. But, if you have the money, definitely consider buying this one.
---
2. Acer Predator XB271HU – Excellent IPS G-Sync Gaming Monitor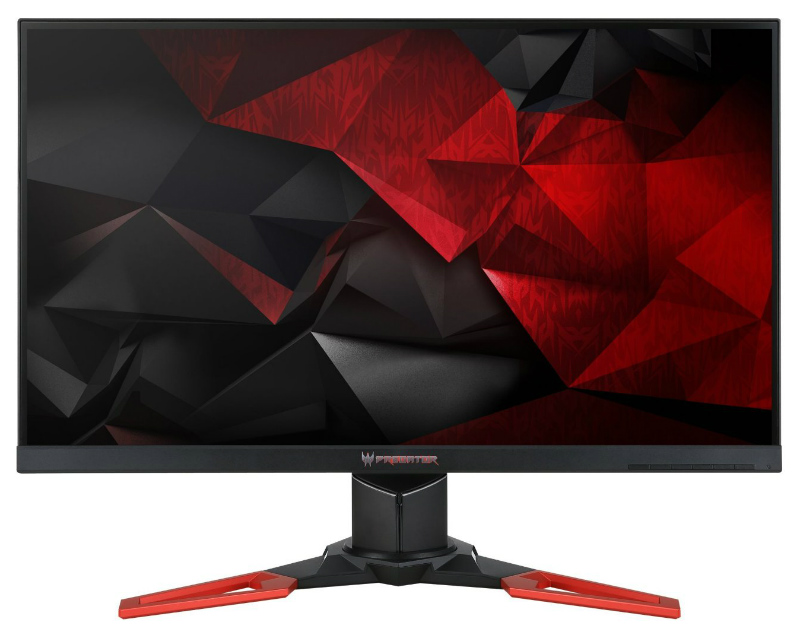 Another great 1440p monitor is the Acer Predator XB271HU. This monitor can also reach the 165Hz mark like the Asus monitor above, but you have to do some overclocking to get there. Considering that this monitor uses an IPS panel, the colors are amazing. Whether you're playing a fast-paced FPS game or an MMORPG game that you fancy, this monitor's 165Hz refresh rate should give you the impressive visuals without any problems.
1440p GSync monitors are expensive, I get that, and so does Acer. That's why the company made it sure that the money you spend on this monitor is worth it. Aside from the IPS panel and 165Hz refresh rate, the design of the XB271HU is something to marvel.It comes with the company's signature angular stand with a predominantly black color scheme and red accents on the edges. There was a complaint about this design before in that people find the monitor to be too wobbly. Thankfully, Acer has rectified this by making sure that the monitor stays in place while you're playing your games.
There is also a total of four USB 3.0 ports that you can use to plug in your other peripherals such as a gaming headset or a discrete microphone, for example. Overall, the Acer Predator XB271HU is an amazing product, and if you're looking for a 1440p gaming monitor with 165Hz refresh rate, 4ms response times, and a gorgeous IPS display, then the Acer Predator XB271HU is something to consider.
3. LG 32GK850G – Attractive 32-inch QHD G-Sync Monitor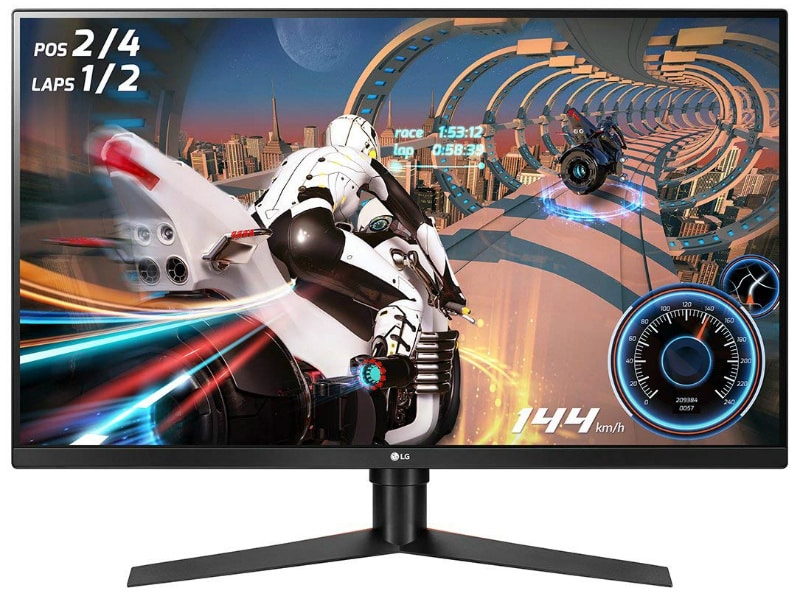 The LG 32GK850G is an attractive option in the G-Sync segment since it offers a beautifully designed package with a 32-inch QHD screen. The product offers all the right features such as full G-Sync functionality and a 165Hz refresh rate for smooth graphics. This mix of characteristics is the current sweet spot for immersive or competitive gaming.
LG's specialization in screen technology is apparent in this model as well thanks to its excellent accuracy and vibrancy. Delta E scores are already excellent right out of the box while contrast manages to exceed the manufacturer spec for the users delight. The 32GK980G also responds to calibration quite well, enabling meticulous users to push the image quality further.
What we love about the LG 32GK850G is its awe-inspiring design which is a refreshing alternative to the gamer-centric models available today. The chassis is sleek and slim, but it manages to include an LED ring called the Light Sphere at the center of the rear panel. The monitor is also flexible while preserving excellent durability and build quality for longevity in your setup.
---
4. AOC Agon AG273QCG – Best Designed 1440p G-Sync Monitor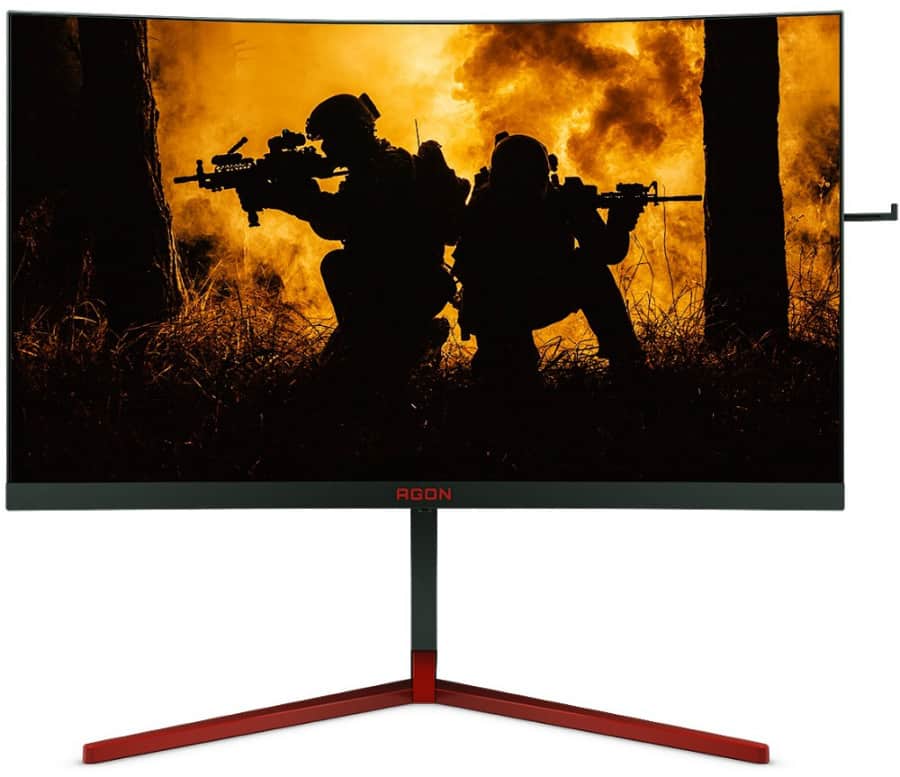 The AOC AG273QCG is another worthy competitor in the 1440p segment with its excellent design and value-oriented performance. AOC improved the design of this model to bring it on par with its competitors, starting with the sleeker frame with fewer distractions. The monitor also has an RGB LED at the rear which is both decorative and useful as a bias light to keep your eyes comfortable.
The AOC AG273QCG is unique since its a curved G-Sync gaming monitor, but it has a TN panel instead of the usual VA. The former has disadvantages such as lower vibrancy and poor viewing angles, but this model tests to have reasonable gamut coverage and excellent accuracy. The gentle curve lessens the degradation of the corners, while the fast pixel response time takes care of blurring.
Other aspects of the AOC AG273QCG we love are the tiny functionalities embedded into the chassis such as the pop-out headset hanger and the carry handle. The connectors are limited to DisplayPort and HDMI like all G-Sync monitors, but that's already a widely accepted fact. it's also worth noting that this model is covered by AOC's Re-Spawned warranty which includes a 4-year advanced replacement and 4-year zero-dead pixel guarantee.
---
Best 4K G-Sync Gaming Monitors
4K Resolution monitors are already proliferating in the market, but up to this day, about 70% of the gaming rigs are still not capable of delivering more than 60fps on a 4K resolution. So, why would you want one then? Well, the main reason is for future proofing. In every year or two, graphics card companies always make sure to deliver top-notch graphics cards that can handle graphically intensive loads.
In probably two years from now, we will be seeing more powerful graphics cards that are capable of producing 100+ frames per second, even at a 4K resolution. With that being said, here are some of the best 4K GSync Gaming monitors:
Acer X27 – Excellent 4K 144Hz G-Sync Gaming Monitor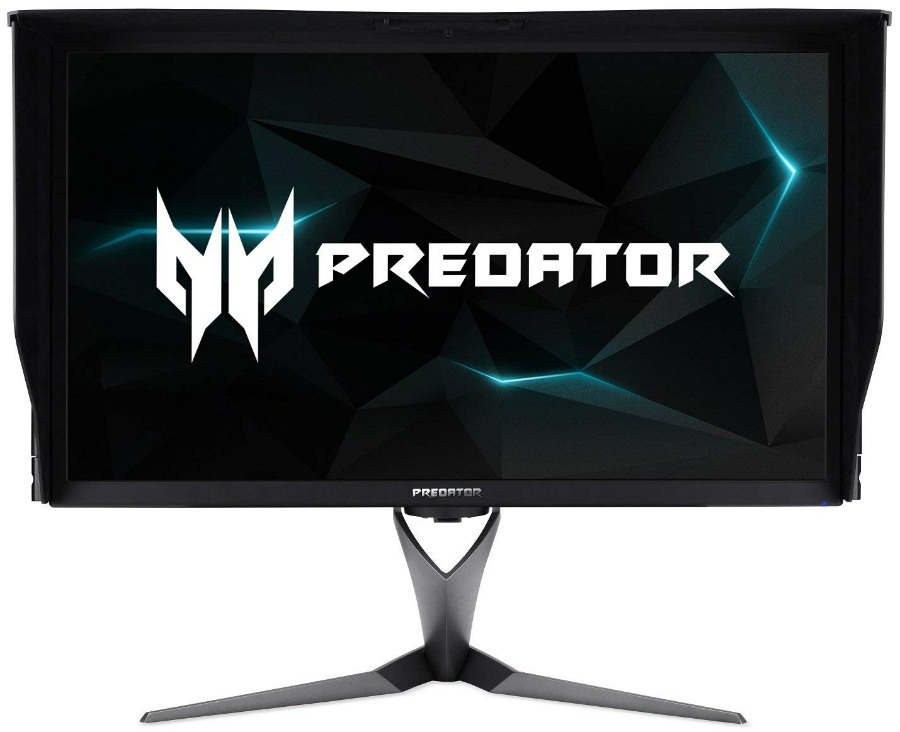 The Acer X27 is one of the boldest evolutions in the Predator line up not only because of its 4K 144Hz panel, but also its improved design. The monitor comes in matte black and gunmetal instead of the old black and red combination, giving it a more serious, professional appeal. The "sculpturesque" stand's unique design completes the monitor's centerpiece look that a high-end display is worthy of.
The 4K 144Hz panel in the Acer X27 won't disappoint thanks to its superb accuracy results and contrasts. Its also equipped with a Full Array Local Dimming backlight with 1000 nits of brightness to maximize the device's control in HDR. Specialized backlights are required for true HDR performance, and this is one aspect where the X27 will impress you.
The Acer X27 is also the first 4K 144Hz gaming monitor to feature a calibration hood which aims to help you focus. Its usefulness for each individual depends on the person's unique experiences, but its a nice to have feature. You are indeed buying a very expensive monitor here, but having these nifty extras to go with the class-leading performance will soften the blow it will make on your bank.
Acer XB273K – Best 4K 144Hz G-Sync Monitor with HDR 400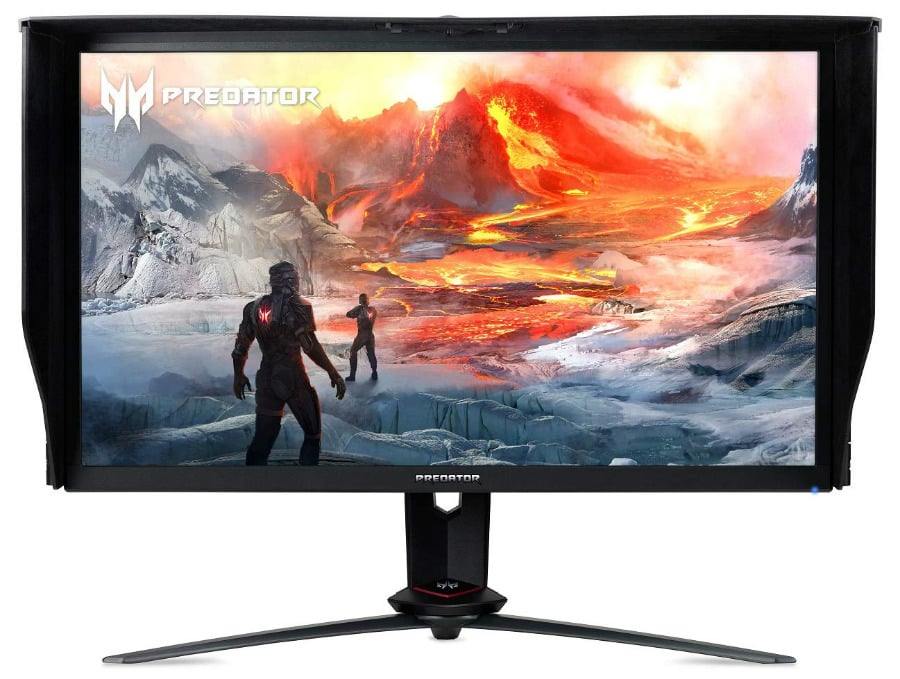 The Acer XB273K is a more palatable alternative to the FALD-equipped two-grand models if you want a 4K 144Hz display. You don't get considerable HDR performance and brightness, but image quality is still more than just reasonable. It's limited to HDR 400 certification, which means improvements in dynamic range will be limited.
However, that's the only aspect you truly sacrifice if you go with the Acer XB273K for the sake of making a more practical purchase. The IPS panel in the monitor is still capable of prosumer-grade accuracy, so games will always be vibrant and eye-popping. The contrast ratio is also higher than most IPS monitors, so the graphic output of the XB273K will still stand out.
There are no aesthetic handicaps on the Acer XB273K even if its cheaper. The brand still included the hood which is supposed to help you focus, while the sleek, all-black appearance gives it a very desirable appeal. This model isn't completely cheap by any means, but its one of the better investments if you want to future proof your setup.
Asus PG27UQ – Ultimate 4K 144Hz Gaming Monitor with HDR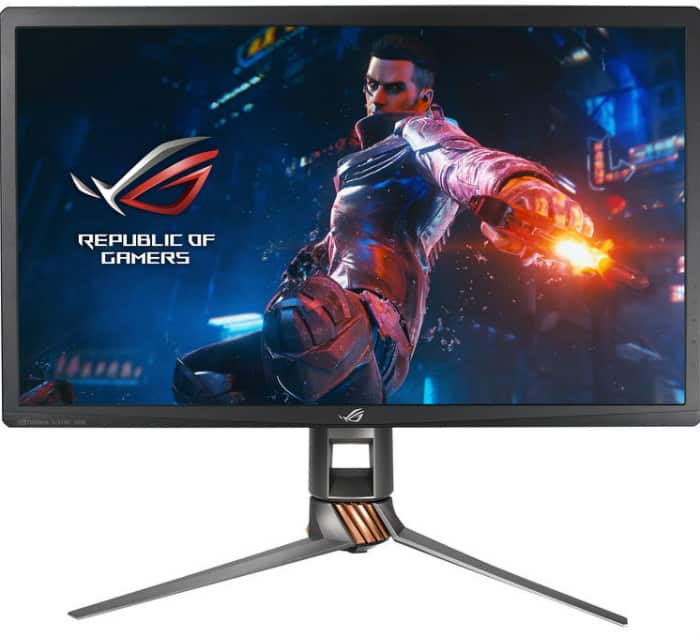 The Asus PG27UQ is the latest and the greatest gaming monitor available today thanks to its 4K 144Hz IPS display that's capable of true HDR. The display features intense colors with professional-grade color accuracy that is boosted by a 1000 cd/m2 backlight that has 384 zones. This formula is the current standard for high-end displays which is yet to be replicated by other brands.
Another amazing aspect of the Asus PG27UQ is it features G-Sync HDR which has several improvements alongside. The special FPGA module used in this device now carries DisplayPort 1.4 instead of 1.2 to allow the display to produce UHD visuals at double the refresh rate. It also has full compatibility with the screen's amazing HDR-grade specifications, ensuring that users get to enjoy the best eye-popping visuals.
The Asus PG27UQ's design is one of the most striking in the enthusiast gaming segment. The brand took the second gen ROG treatment and improved it with Aura Sync compatible RGB LEDs to maximize the aesthetic effect of the device. Of course, crucial features such as ergonomics and the superb build quality Asus is known for is included in the premium package.
---
Ultrawide G-Sync Gaming Monitors
If you're discouraged about 4K monitors because it requires a very powerful rig and it is only limited to a 60Hz refresh rate, then the Ultrawide monitors might be the one for you. Ultrawide monitors are called as such because they are known to have a very big screen real-estate. We're talking about 30+ inches of display. That's more than enough room to help you enjoy the games you play.
Unlike 4K monitors that are only limited to the standard refresh rate, the Ultrawide monitors are capable of handling more than 60 frames per second from the GPU thanks to its higher refresh rate. With that being said, what are the best Ultrawide Monitors with G-sync that you can buy?
Asus ROG Swift PG348Q – Best Ultrawide Monitor with G-sync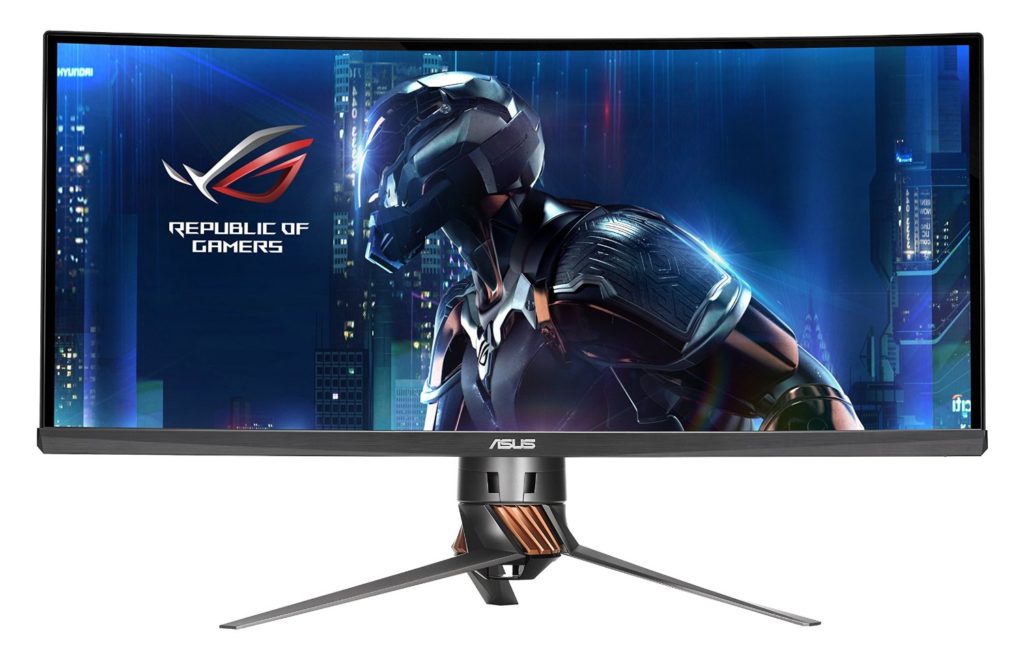 Asus never fails to amaze the vast consumer, especially with this one. The Asus ROG Swift PG348Q's design is amazing. The stand is a deviation from the rectangular design seen in previous Asus monitors. Instead, the monitor stand looks like a transponder pod you usually see in sci-fi movies. The Sci-fi feel is also apparent on the backside of the monitor as well. The cool thing about the stand aside from its ergonomics is that you can control it to emit an LED light at the bottom part of it. This improves your gaming setup dramatically.
The Asus ROG Swift PG348Q is a 34-inch IPS monitor with 1440p resolution, a 100Hz refresh rate, and a 21:9 aspect ratio for a truly immersive gaming using only one monitor. The monitor is at 60Hz refresh rate by default, but you can overclock this via the OSD. Simply select the 100Hz refresh rate and then the monitor will reboot to signify that the change has been made
As was evident in other Asus monitors in this list that uses an IPS panel, the colors of the PG348Q are accurate, although, you may need to change the default preset picture mode. The response time of the monitor is at 5ms, and although it is a digit increase from the usual 4ms found in other Asus' monitors, it is still negligible for most players.
Having a 34-inch monitor is also great for productivity as you can cram a lot of things on display. And, to help you with that, the monitor provides you with tools to divide the display according to your preference. If you want a great Ultrawide Gaming monitor with G-Sync, the Asus PG348Q is one of the best.
---
Asus PG35VQ – Superb 200Hz HDR1000 Ultrawide G-Sync Monitor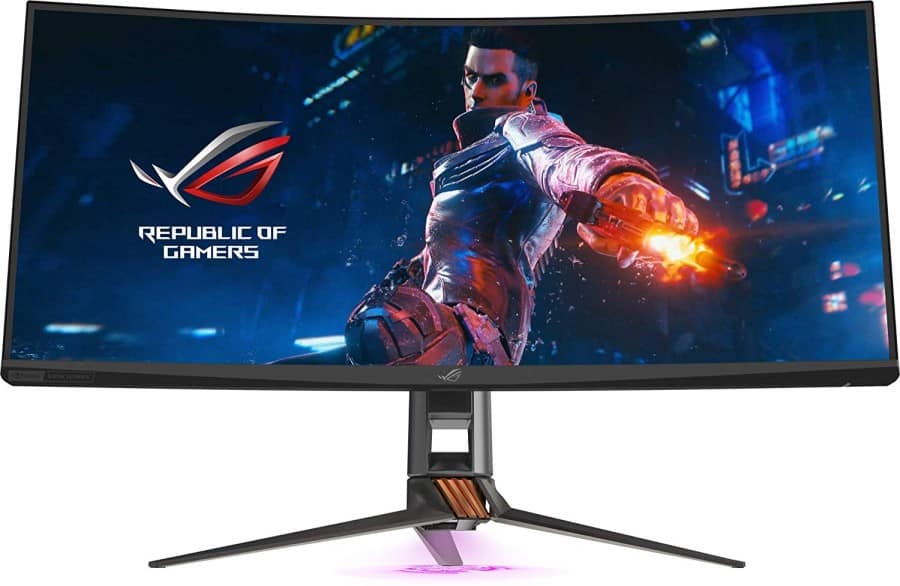 The Asus PG35VQ is the equivalent of the PG27UQ in terms of being the ultimate gaming monitor but in an ultrawide format. This 35-inch beast sports a 200Hz curved VA panel that is backed by a 1000-nit FALD backlight with individually dimming zones. The combination enables the product to have DisplayHDR 1000 certification which ensures top-end performance in HDR visuals.
The 3440 x 1440 resolution of the Asus PG35VQ isn't as demanding as 4K, but it still offers an upgrade in crispness that will not disappoint. Imaging quality is nothing short of spectacular for this monitor, ensuring that you get your money's worth. The only real weakness of the PG35VQ is it's still prone to minor blurring, but we know a few who say that it's difficult to notice against the eye-popping visual experience.
Another characteristic that makes the Asus PG35VQ unique is its aesthetic design that embodies the concept of ROG. The ROG Eye with RGB LEDs add aesthetic value to the product, while the sleek chassis with a dedicated cooling system makes sure performance is always at its peak.
Acer Predator X34 – Also an Amazing Ultrawide Monitor for Nvidia users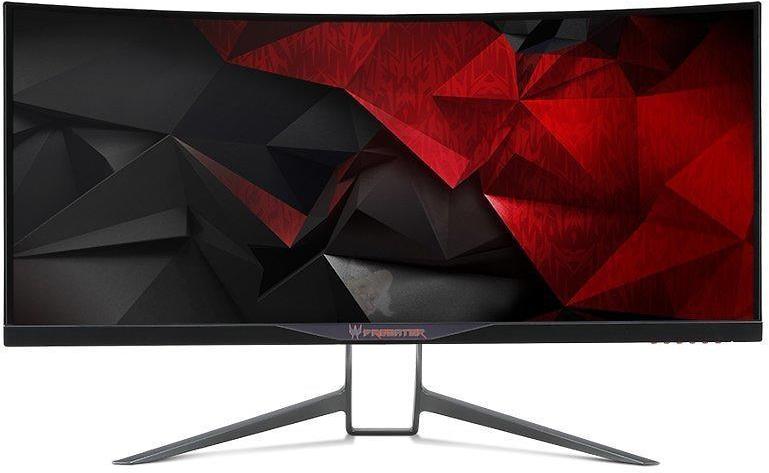 When talking about Ultrawide gaming monitors, the Acer Predator X34 is always something that is in the minds of gamers. The X34 has been around for quite some time, and people still recommend it to this day. Why is that? Well, it's because it is just too damn good.
The Acer Predator X34 is a 34-inch IPS Ultrawide monitor that has a resolution of 3440×1440, 4ms response time, and its refresh rate can be overclocked to 100Hz as well. You do have to note that although the monitor's stand has some ergonomics to it, but it doesn't give you the ability to swivel. Still, you can adjust the height of the monitor up to 130mm, and you can even tilt it forward and backward up to 40 degrees. To add to the overall appeal of the monitor, the X34 also comes with a LED lighting mechanism which can be customized to your preference.
When it comes to gaming performance, the X34 is a dream to use. Because it uses an IPS panel and the fact that it has a 34-inch screen real estate, it will always give you an immersive gaming experience. This monitor offers amazing gaming performance and visuals that it has been highly acclaimed by numerous tech reviewers such as PC Gamer, Linus Sebastian from LinusTechTips, and from Hardware Canucks.
The Acer Predator X34 provides that fluid, crisp, and vivid display all in a 34-inch display. Seriously, you cannot go wrong with this one.
Acer Predator X35 – Color Accurate 200Hz G-Sync Ultrawide Monitor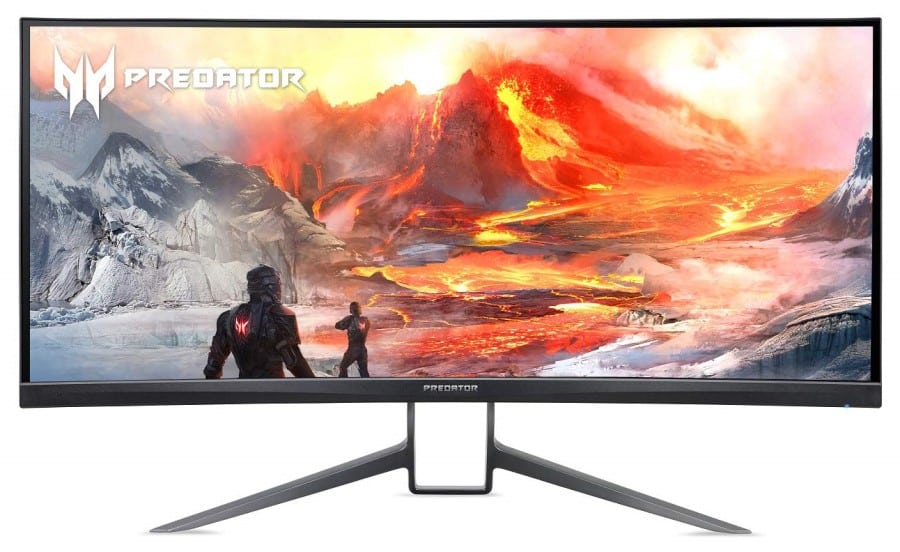 The Acer X35 is a more desirable 200Hz QHD ultrawide thanks to its arguably better aesthetics and superb color accuracy. This monitor has a specialized 200Hz ultrawide VA panel that combines with a 1000-nit individually dimming backlight to create immersive HDR visuals in AAA games. Its also one of the few G-Sync gaming monitors to sport the G-Sync HDR module which carries improvements in both capabilities and connectivity.
The curved 35-inch VA panel on the Acer X35 is capable of color accuracy that will rival photography monitors. The extra vibrancy goes well with the special backlight to create lush and engrossing images that only true HDR screens can bring to life. Blurring can still be an issue, but it's hard to notice when the on-screen action explodes.
The Acer X35 looks more functional than its main competitor, the PG35VQ, but it still has gamer-centric decorations on its body. The sharp angles of the chassis that hide RGB LEDs will surely be a treat for themed setups, while the aggressive accents at the back keep up with the Predator tradition. Its also worth mentioning that the chassis has hidden fans which are meant to keep the high-end hardware inside cool and ready for action.
---
3. Alienware AW3418DW – Best 120Hz G-Sync Ultrawide Monitor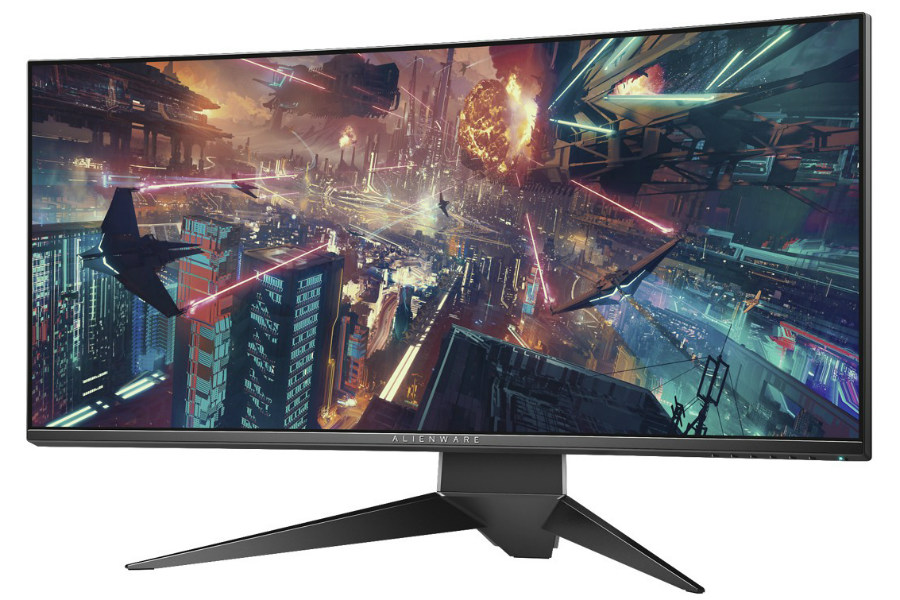 The Alienware AW3418DW is one of our current top picks for G-Sync ultrawides for its superb performances in both responsiveness and image quality. The curved 34-inch 3440 x 1440 IPS panel offers intense immersion and gorgeous eye candy for those who dare to own this ultra-premium product. Once calibrated, this model becomes a different beast which qualifies it even for basic color critical work and movie enjoyment which puts emphasis on the multi-tasking factor of ultrawide monitors.
The 120Hz refresh rate of this model does a fantastic job of lessening blurring and other artifacts which could be detrimental to your visual enjoyment. What makes the Alienware AW3418DW special is that its panel has a native 100Hz refresh rate which overclocks to 120Hz which lessens problematic tendencies. Previous models utilized 60Hz native panels which are pushed to 100Hz which exposed them to issues caused by the increase.
Alienware is known for its contemporary designs and the AW3418DW as part of its latest series of products doesn't disappoint. The metallic silver chassis with angular lines add a stealthy appeal that is not too aggressive for meticulous tastes without omitting the gamer-centric factor of the product. There is also a unique pattern of RGB lighting on the rear which adds aesthetic value to your build plus bias lighting capabilities for excellent eye comfort.
LG 38GL950G – 38-Inch WQHD+ G-Sync Ultrawide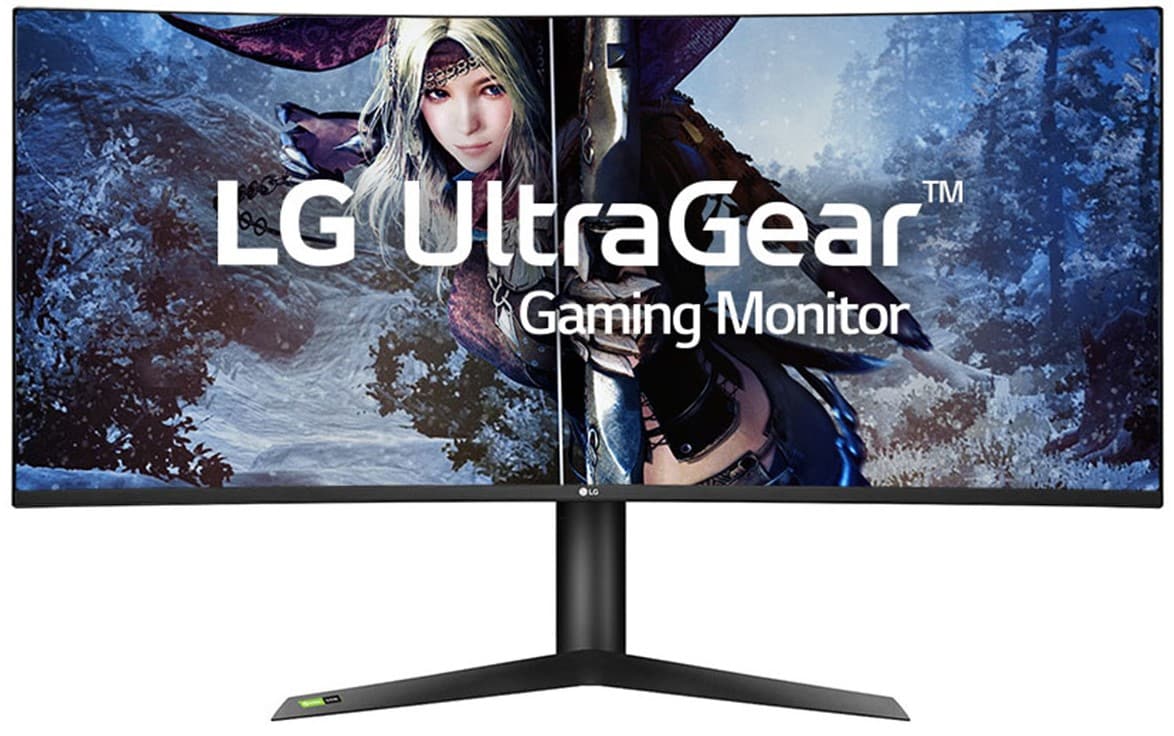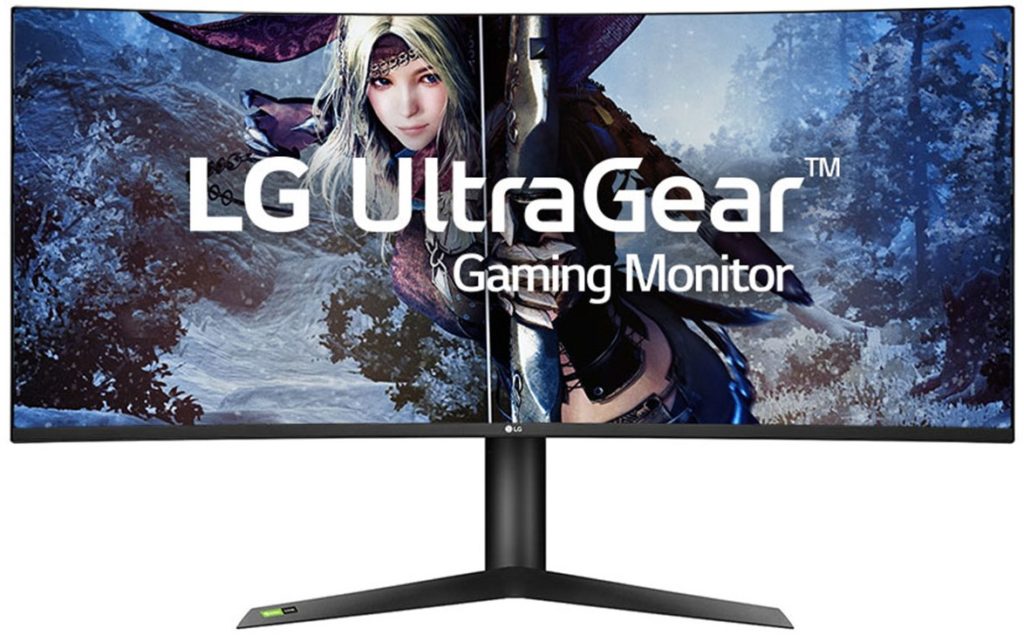 The LG 38GL950G is one of the first few 38-inch gaming monitors with an astounding 3840 x 1600 resolution which provides a larger FOV. The G-Sync functionality of the product also enables it to extend its refresh rate to 175Hz from the IPS panel's 144Hz native limit.
The LG 38GL950G is tested to provide excellent image quality due to the characteristics of the IPS module and LG's pre-calibration. This makes the monitor fantastic for visually-heavy games, but it's also a good candidate for productivity and editing work. The HDR 400 capability of the monitor is an added bonus, but frankly, we're already happy with a large and spot-on display.
The LG 38GL950G is a full G-Sync monitor that puts it a the top of the brand's UltraGear portfolio. This means you get a device that has the Sphere 2.0 RGB lighting at the rear which helps unify themed builds while providing the benefits of a bias light.
---
Conclusion
G-Sync gaming monitors are a bit expensive than other gaming monitors out there, mainly because they have been fitted with Nvidia's G-Sync module.
Since, as of the time of writing this article, Nvidia owns the high-end graphics card space, there is no doubt that people would want a gaming monitor with the said technology.
GSync not only eliminates screen tearing but it also improves the overall fluidity of the games that you play.
Do note that G-Sync is a feature that is exclusive to Nvidia graphics cards, so AMD users might not get the full benefit.
Whether you're shopping for a 1080p or even an Ultrawide gaming monitor, I hope that this article has helped you choose the best G-Sync gaming monitor for you.