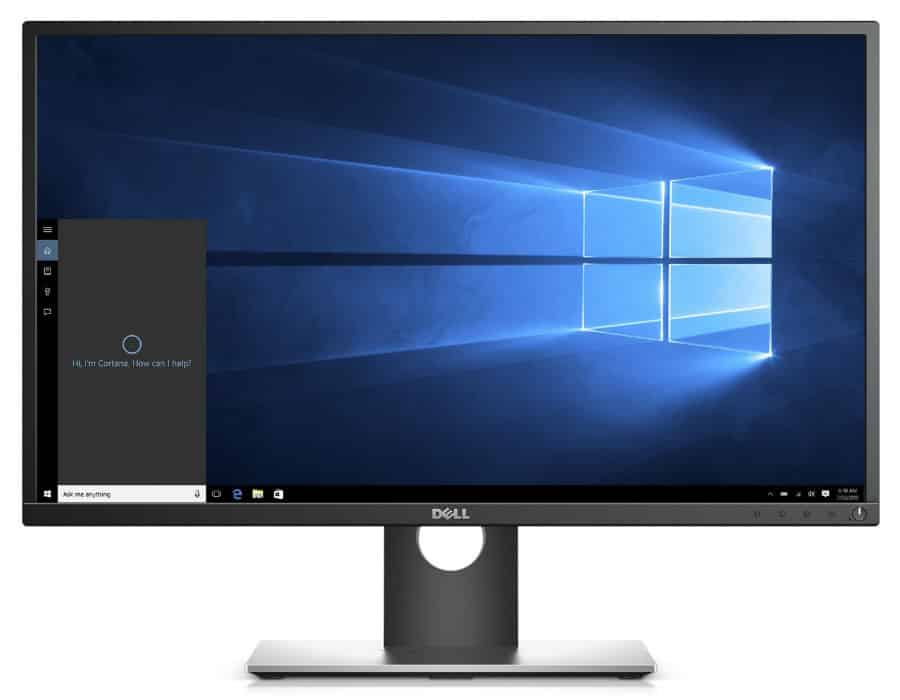 The Dell P2417H is an affordable display solution that offers a vibrant IPS panel for your home and office needs. The product doesn't come with cutting-edge features such as a fast refresh rate, but its 1080p screen and ergonomic chassis is a practical choice for document processing and even casual gaming. The Dell P2417H hails from a line of praise-worthy professional monitors, and it's a good thing tests reveal that it doesn't disappoint in the performance aspect.

Dell P2417H Specifications
Screen Size: 24 Inches
Resolution: 1920 x 1080p FHD
Aspect Ratio: 16:9
Panel Technology: In-Plane Switching (IPS)
Refresh Rate: 60Hz
Response Time: 6ms
Contrast Ratio: 1000:1 (Static)
Brightness: 250 cd/m²
Built-in Speakers: No
Stand: Height – Yes (5.1 Inches)
Stand: Tilt – Yes (-5°/+30°)
Stand: Swivel – Yes
Stand: Pivot – Yes
VESA Compatibility: Yes 100 x 100
Connectivity: DisplayPort 1.2 x 1, HDMI 1.4 x 1, VGA x 1, USB 3.0x 3, USB 2.0 x 2
Dimensions with Stand(WxHxD): 21.65" x 19.37" x 7.09"
Weight: 7.32lbs

Design and Features
The Dell P2417H uses the brand's simplified yet durable design that has outlasted many release cycles but is still widely accepted as a symbol of reliability. The matte black cabinet looks clean and feels nice to the touch while the silver accents give the monitor a hint of business-oriented luxury. The face includes 11mm bezels on each side which isn't too much by today's standards, giving users a nice view of the 1080p screen.
The proportions of the Dell P2417H is within acceptable limits for standard-sized spaces since it only consumes seven inches of depth. The curving bulge shouldn't intrude too much with wall mounting or if you want to use an aftermarket armature instead. Construction quality is top-notch and materials used provide that premium feel, making it seem like the P2417H is a much more expensive product.
Even if it is mounting-friendly, there is little reason to remove the Dell P2417H's included ergonomic stand. The adjustment range includes tilt, swivel, pivot, and five inches of height travel for your convenience, so setting up and finding the perfect position is easy peas. This facet of the monitor along with its thin borders makes it a viable choice if you want a dual or triple display setup for business endeavors or immersive gaming.
From our observations, the Dell P2417H directly competes with the HP VH240a, but the former has an advantage in connectivity options. The I/O panel includes DisplayPort 1.2, HDMI 1.4, and VGA for video input, but there is a USB 3.0 hub on the side for accessories and two USB 2.0 slots at the rear. This wide array of options gives the option of utilizing this model as an all-in-one display, but buyers should take note that there are no speakers included.
Display and Performance
The Dell P2417H sports a 24-inch 1080p IPS panel with a 1920 x 1080 resolution, 60Hz refresh rate, and 6ms response time. These specs dictate that the screen is suitable only for basic tasks such as browsing or document processing, but tests reveal otherwise. sRGB gamut coverage falls to just 92.5% which is low for an IPS panel, but what's fantastic is the calibrated color accuracy of only .9 and a gamma DeltaE of 2.18.
Both scores are superb for a monitor of this grade, making the Dell P2417 a reasonable choice if your work includes basic photo editing and content creation. There are models out there that offer a more comprehensive gamut coverage, but quality like this usually costs twice of what Dell is asking for ownership. Contrast at 1100:1 is also beyond what we expected, outpacing most competitors by a noticeable margin in blacks and low-lit images.
Panel uniformity on the review unit performed admirably as well due to the absence of deviations that go over 5%. There was practically no color and illumination shift on our model, but the 230cd/m2 actual brightness feels restricting since there isn't a lot of room to play with it to enhance color. If you work in environments with a lot of ambient light, the Dell P2417H might not be a good choice since the resulting glare can overpower the screen.
Since the Dell P2417H was not meant for fast-paced gaming, crucial features such as FreeSync and high-refresh rates are not included in the package. The slow pixel response time could be an issue for some as well, but this device includes an overdrive option in the OSD to counter it. To make the most out of this, we recommend selecting the Normal option since the higher setting will induce advanced ghosting which can be irritating.
At least, the Dell P2417H doesn't disappoint in responsiveness since it only has a latency score of 8.7ms. Playing games like Destiny 2 presented no issues, as there were no apparent delays and our control inputs feel connected all the time. Users will only feel the difference if they come from faster, gaming-dedicated models which usually cost twice in the market.
Thoughts on the Dell P2417H
The Dell P2417H is a well-rounded mix-used monitor with a superb performance in responsiveness and image quality. There are shortcomings in gamut volume and pixel response time, but these are minor issues for a monitor in this segment. However, considering the P in the model name stands for Professional and IPS technology is involved, we expected 100% sRGB with excellent accuracy for suitability with photo editing.
The Dell P2417H is a practical choice as well if you want a cheap solution for building a multi-display setup. It also helps that the screen is robust and fully-ergonomic, so setup should be seamless and finding a perfect position should be convenient. For its intended purpose, this 1080p IPS offering is well suited and well priced.