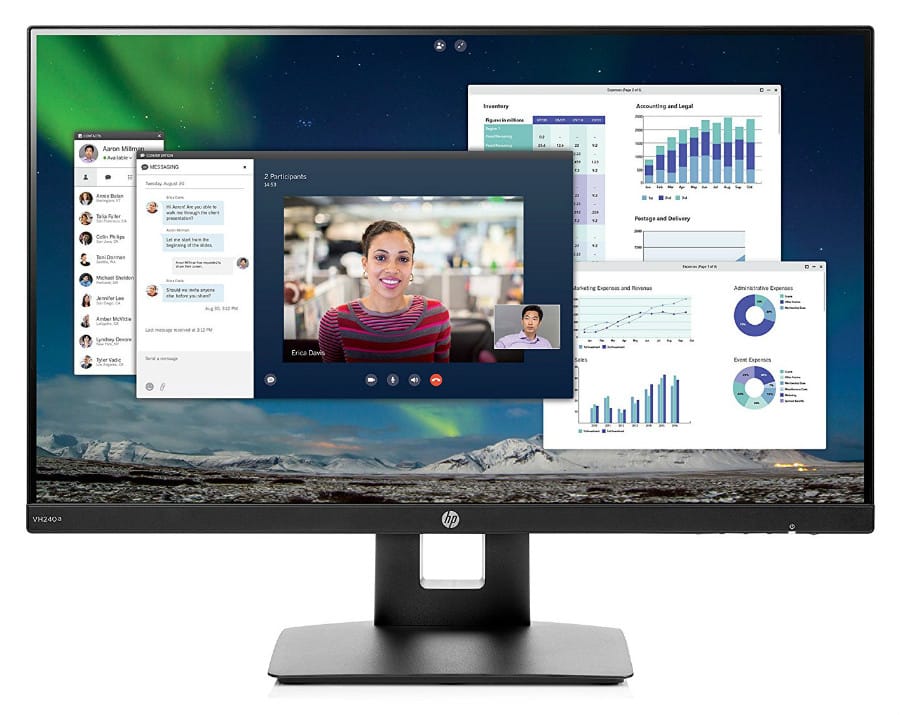 The HP VH240a aims to offer bright and crisp images for everyday tasks via its 1080p IPS panel for an affordable universality. The screen provides design features which we usually see on pricier options to disguise its limitations, but its excellent value cannot be easily overlooked. The HP VH240a is a suitable candidate for several setups, but what magic did HP apply to be able to sell it at this low price?

HP VH240a Specifications
Screen Size: 24 Inches
Resolution: 1920 x 1080p FHD
Aspect Ratio: 16:9
Panel Technology: In-Plane Switching (IPS)
Refresh Rate: 60Hz
Response Time: 5ms
Contrast Ratio: 1000:1 (Static)
Brightness: 250 cd/m²
Built-in Speakers: Yes (2 x 2 Watts)
Stand: Height – Yes (5.1 Inches)
Stand: Tilt – Yes (-5°/+30°)
Stand: Swivel – Yes
Stand: Pivot – Yes
VESA Compatibility: Yes 100 x 100
Connectivity: HDMI with HDCP x 1, VGA x 1, Audio Jack
Dimensions with Stand(WxHxD): 21.22" x 29.65" x 8.58"
Weight: 10.27lbs

Design and Features
The HP VH240a masquerades as a high-end offering with its minimalist design and fully-ergonomic functionality. The product's best feature is its bezel-free face which makes it suitable for multi-screen setups, although there still are thin panel borders and a plastic outline on the sides. The cabinet comes in a matte black texture that feels nice to the touch and doesn't attract dirt or fingerprints when touched.
The proportions on the HP VH240a are within reasonable limits for most environments, so placement and setup should be easy and quick. There is a rectangular bulge on the rear for the innards, but its flat surface works great for flush mounting to a wall. The HP VH240a is VESA compatible via a bolt pattern which you can reveal by removing the stand.
For a budget monitor, the HP VH240a has a fully ergonomic stand for conveniently achieving the perfect view. The mechanism includes tilt, swivel, pivot, and height adjustments, making this product suitable for various individuals with varying anthropometrics. Having this capability boosts this device past its competitors who only have stiff mechanisms which are often non-removable.
However, the input options for the HP VH240a are limited as dictated by its simplified nature. The I/O layout only includes an HDMI port with HDCP for 1080p streaming plus a secondary VGA port for legacy systems. There is also a pair of 2-Watt speakers for fundamental audio appreciation complemented by a 3.5mm jack for headphones.
Display and Performance
The HP VH240a includes a 23.8-inch IPS panel with a 1920 x 1080 resolution, 60Hz refresh rate and a 5ms response time. When compared to other cutting-edge monitors we review, these specs aren't impressive, and they place this model in the office display category. Although, this offering was built for that type of use which entails basic tasks such as browsing and document processing or movie watching and light gaming on the other end.
Keeping these activities into consideration, the HP VH240a isn't as disappointing as most would expect it to be. Granted that it's not an upgrade, but having a 1080p screen which is easy to own is manageable for a lot of systems, including low-spec machines for menial tasks. For viewing and gaming, FHD at this size still offers plenty of clarity since the pixel density should be just enough to avoid graininess.
What brings the HP VH240a's specs down is its low sRGB gamut coverage of 72%, which is sufficient for essential use, but a bit inadequate when compared to more sophisticated offerings. The difference between this monitor and a 100% sRGB-capable product is readily apparent, although you would need to have them side by side to appreciate the gap. Otherwise, this disadvantage shouldn't detrimentally affect your everyday experience.
Designers should skip this monitor for the lackluster vibrancy, but for deal hunters and thrifty individuals, the HP VH240a is a steal. Gamers could get some mileage out of this affordable product, plus buying three for a 5760 x 1080 battle station won't cost an arm and a leg. The native resolution is easy on modern GPUs as well, so expensive upgrades to existing gaming rigs aren't as necessary for QHD and 4K displays.
However, the HP VH240a is a vanilla monitor, so it can only push out 60Hz, and it doesn't come equipped with FreeSync. While having the latter is always appreciated, it isn't necessary for this monitor since the screen's output is easy as peas for most systems. FPS titles like CS:GO are well-suited for this product, but we did notice some ghosting and interlacing due to the 5ms pixel response time.
Gaming controls felt responsive and spot on as well, since the HP VH240a clocks in at only 10ms. This score makes the device ideal for fast-paced action, and trying to get something faster usually costs a sizable chunk which defeats the purpose of budget monitors. If FreeSync were present with the package, we wouldn't hesitate to recommend this option as an entry-level gaming display for the masses.
Thoughts on the HP VH240a
The HP VH240a provides an excellent value thanks to its fantastic pricing and reasonable performance. The device looks clean and attractive enough for any environment, and it could easily be mistaken as something worth twice its actual price. Built-in features such as a robust and ergonomic stand usually only belong to costlier options, but HP managed to squeeze in as many as possible.
The HP VH240a is good enough for casual gaming or as an easy fix for a multi-monitor itch, but its lackluster vibrancy and other limitations might turn off a lot of buyers. This offering was initially intended for basic tasks after all, but it's nice to find some twists in its application. We consider hidden value per dollar as one of the HP VH240a's strengths, so if budget is tight, this is a good candidate to consider.