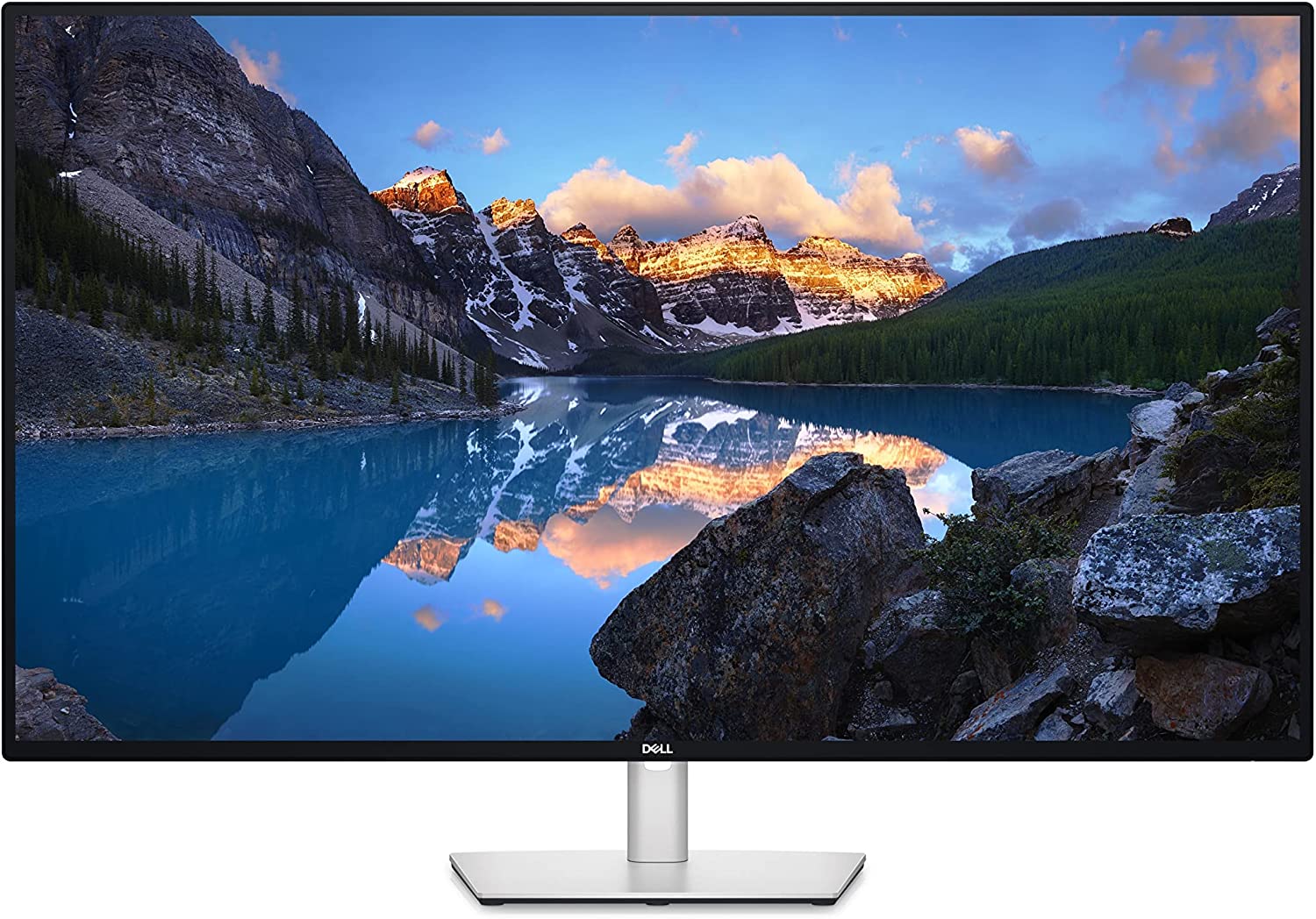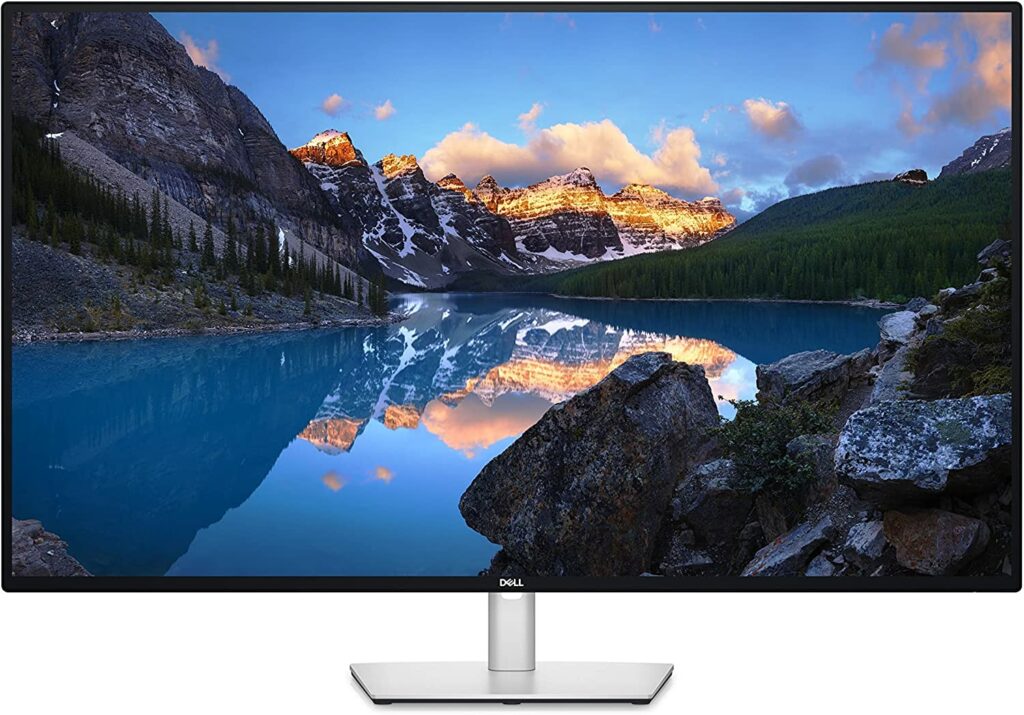 The UltraSharp U4323QE is your premier choice if you want a high-quality IPS panel for superb productivity. It sports a massive 43-inch display like the U4320Q, giving users more screen real estate to maneuver with. It's not affordable by any means, but let's see if it's worth the investment based on its merits.


UltraSharp U4323QE Specifications
Screen Size: 43 Inches
Resolution:3840 x 2160UHD
Aspect Ratio: 16:9
Panel Technology: In-Plane Switching (IPS)
Refresh Rate: 60Hz
Response Time: 5ms
Contrast Ratio: 1000:1
Brightness: 350 cd/m²
Built-in Speakers: Yes (2 x 8 Watts)
Stand: Height – Yes
Stand: Tilt – Yes
Stand: Swivel – Yes
Stand: Pivot– No
VESA Compatibility: Yes (100 x 100, 200 x 200)
Connectivity: DisplayPort 1.4 x 2, HDMI 2.1 x 2, USB-C PD90W x 1, USB-C 3.2 KVM x 3, USB-C PD15W x 1, USB 3.2 x 4, RJ45 LAN x 1, 3.5mm Jack
Dimension With Stand (WxHxD): 38.1″ x 23.4″ x 10.1″
Weight: 40.9 lbs

Design and Features
The Dell UltraSharp U4323QE looks sleek and sophisticated despite its gigantic size, just like the smaller U3223QE. It has the same matte silver and black finish, so it looks every bit like a premium monitor that is suited for high-end applications. The display isn't completely bezel-free, but the already thin borders are too little to notice compared to the monumental screen.
The first impression it will give you when it arrives at your doorstep is how big it is, both when in its box and unboxed. You either have to ask for help in carrying it or drag it across the floor due to the weight. The monitor needs more than three feet of width and 10 inches of depth, so smaller or narrower desks won't have much room for other peripherals.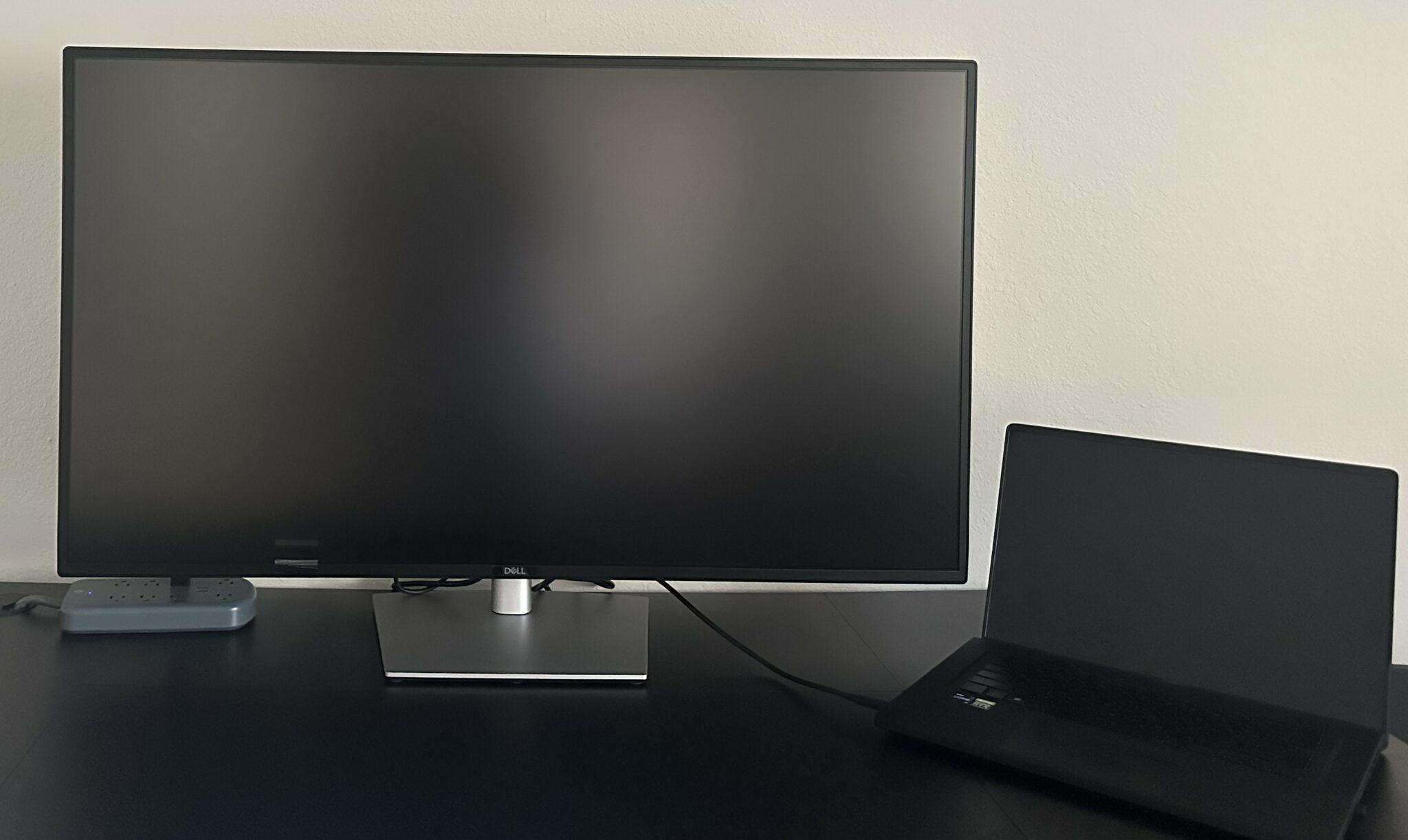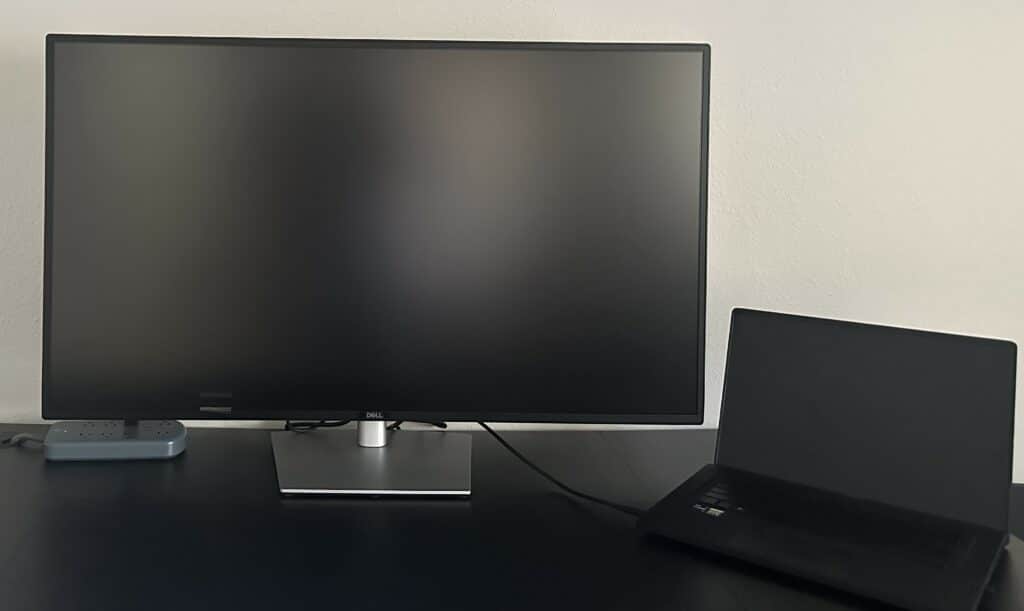 (The Dell U4323QE Next to a 16-Inch Laptop)
It's going to need a little over 10 inches of depth when fully assembled as well, so it can offset some peripherals. The stand alone weighs almost 12 pounds, so you will get a good workout in trying to set this up. We recommend asking for help assembling it since you will need to lift the cabinet to attach it to the QD lock on the arm.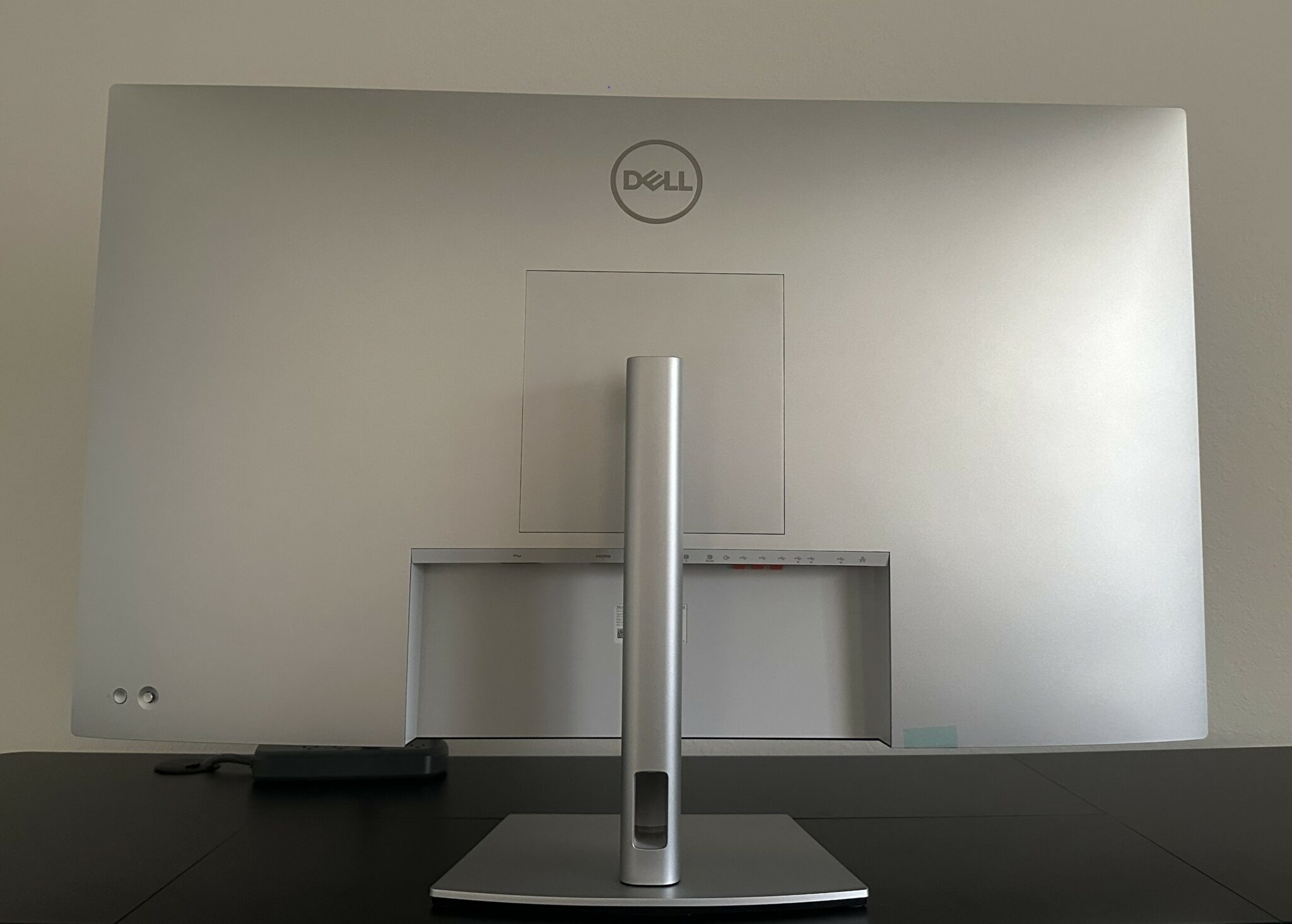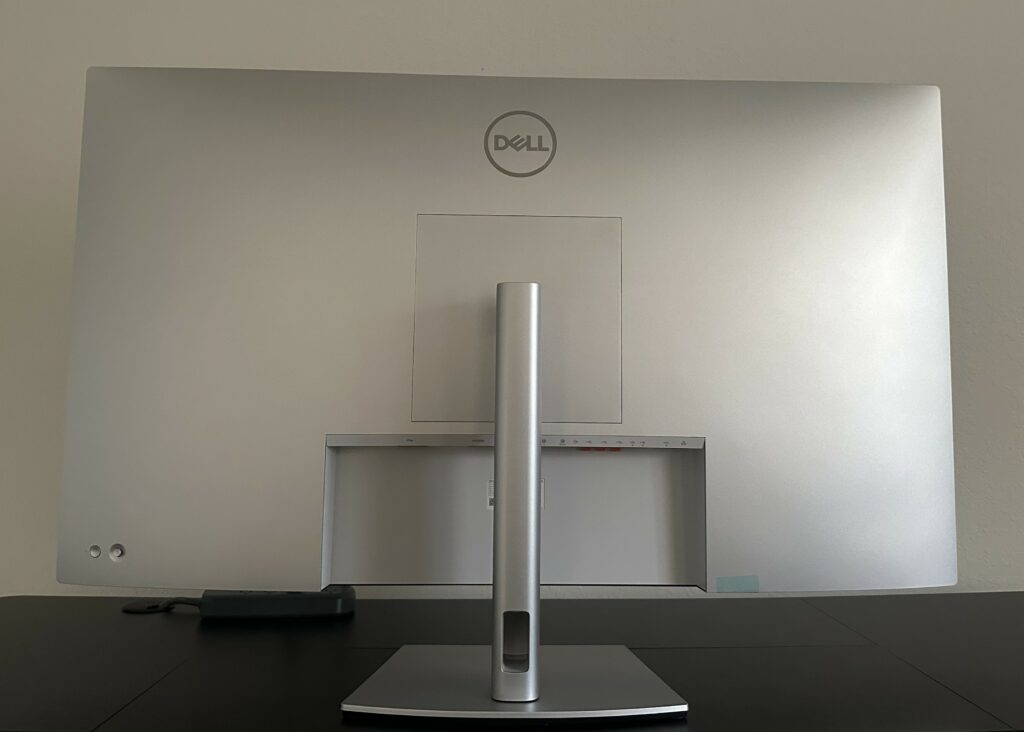 The Dell UltraSharp U4323QE's build quality or the fit and finish are superb and well worth the price. It's made out of metal-reinforced plastic, so it feels very solid and durable. We also didn't see any defects, although the stand sometimes has some wobble due to the weight of the chassis.
You will also find a joystick on this monitor next to a dedicated power button. It's located at the back near the right side edge when facing the display, so you have to reach in a bit to get to it. The device also works with Dell's Display Manager app, which makes accessing its filters and presets easy to use, although you can't use it to calibrate the monitor's RGB settings.
The stand included with the package offers tilt, swivel, pivot, and height adjustments, but they are a bit limited due to the size of the screen. However, each movement is enough to allow you to get a good and comfortable viewing angle. You can also use 200 x 200 or 100 x 100 VESA mounts, but we recommend going with the former to lessen the chance of damage to the very heavy chassis.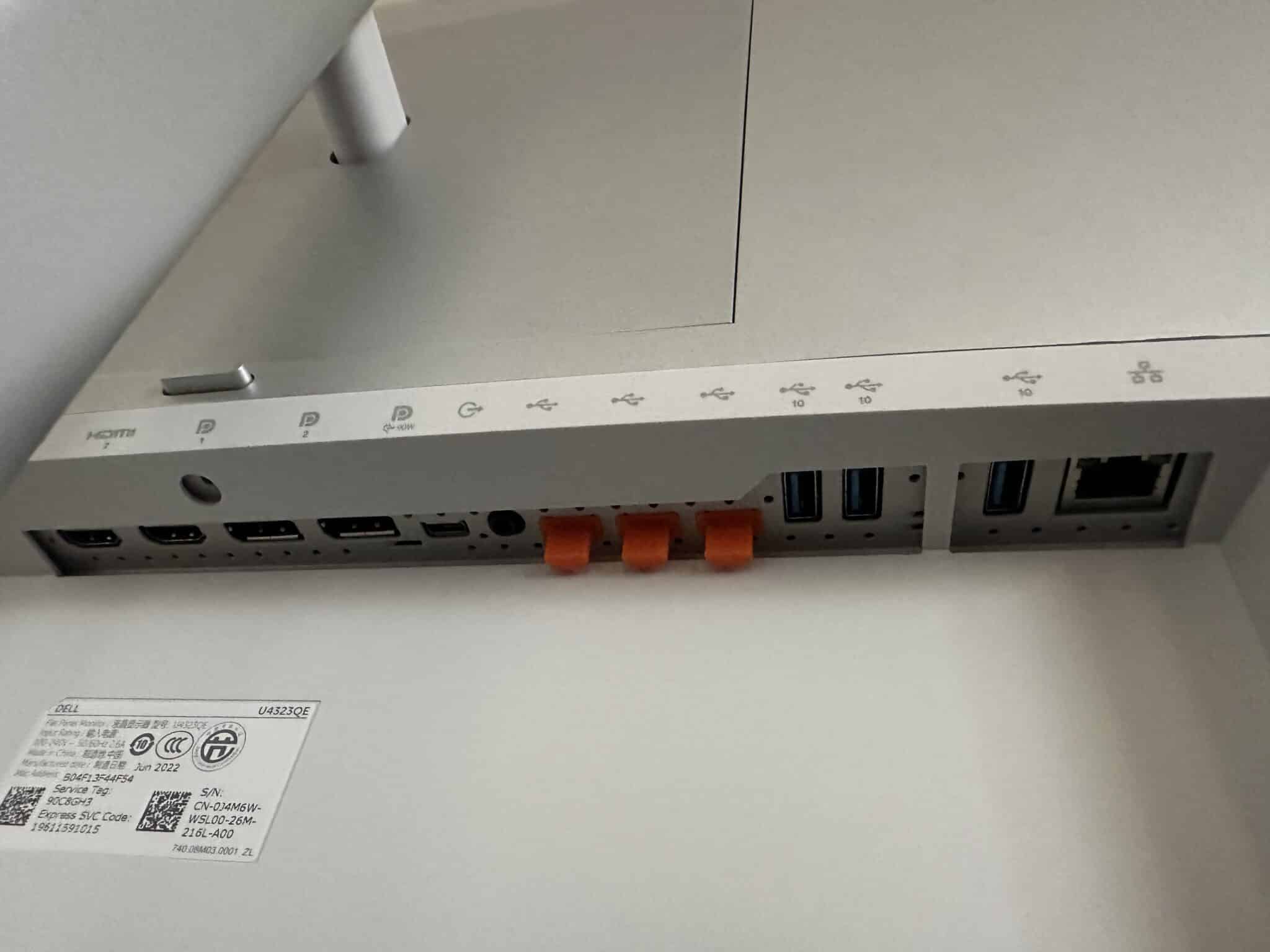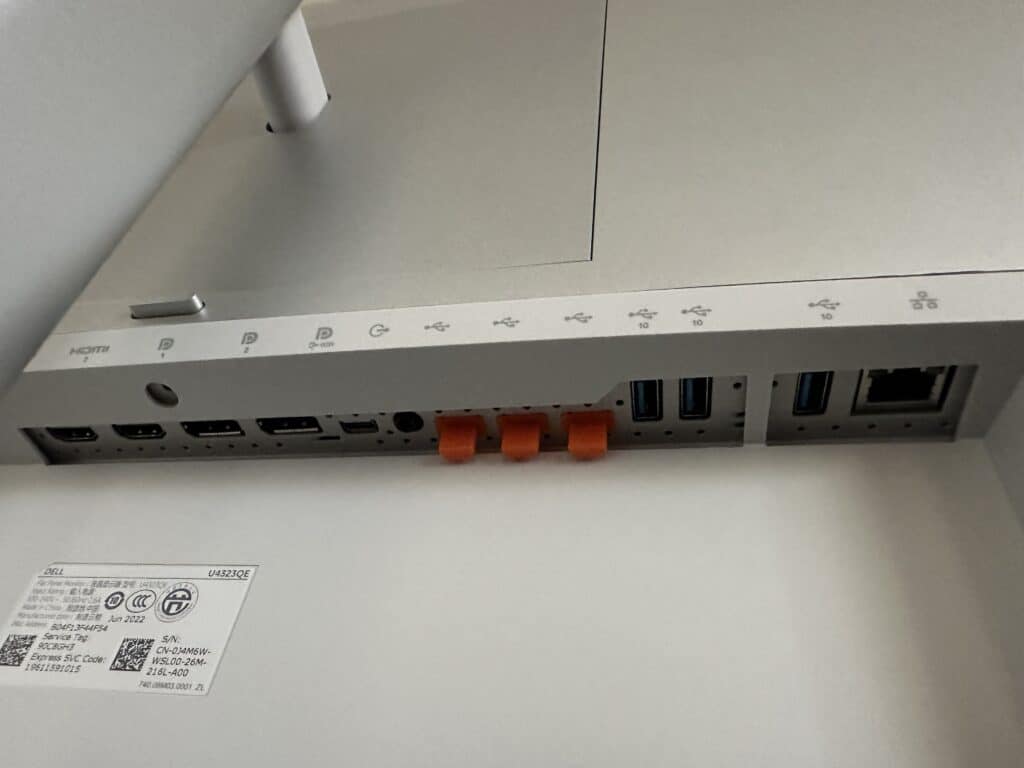 The main highlight of the Dell UltraSharp U4323QE's physical features is its connectivity layout, making it a USB-C hub monitor. You get two slots each for DisplayPort 1.4 and HDMI 2.1, plus a 90-watt USB-C port with DP Alt Mode. There is also a trio of USB-C slots next to that which support the monitor's KVM function.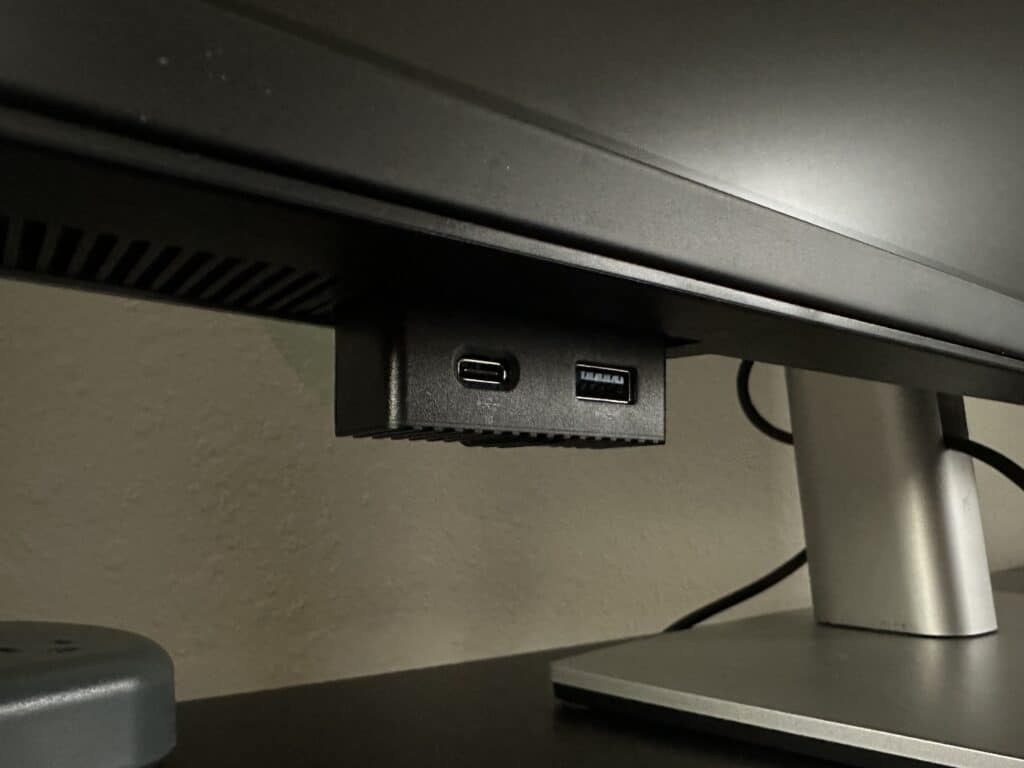 You will also find three more USB-A 3.2 ports at the back, an RJ45 LAN port, and a 3.5mm jack for headphones. There is also a pop-out USB hub at the bottom of the bezel with a USB-A 3.2 slot and another USB-C quick access port with 15 watts of power. It's equipped to the teeth with connectors so you can maximize the screen and use it with a myriad of devices.
A nice pair of 8-watt speakers complete the Dell UltraSharp U4323QE's extensive features list. They can get surprisingly loud with a little bass, so most won't need to buy a separate speaker set for this. Dedicated audio equipment will sound better, but we think it's great that you get something usable with the product.
Display and Performance
The Dell UltraSharp U4323QE boasts a 43-inch IPS panel with a 3840 x 2160 resolution, a 60Hz refresh rate, and a 5ms response time. The backlight has a 350 cd/m2 output, while the contrast is listed at 1000:1, like most IPS panels. This model doesn't have special features like HDR or Adaptive Sync, but that's understandable since it's a business monitor primarily.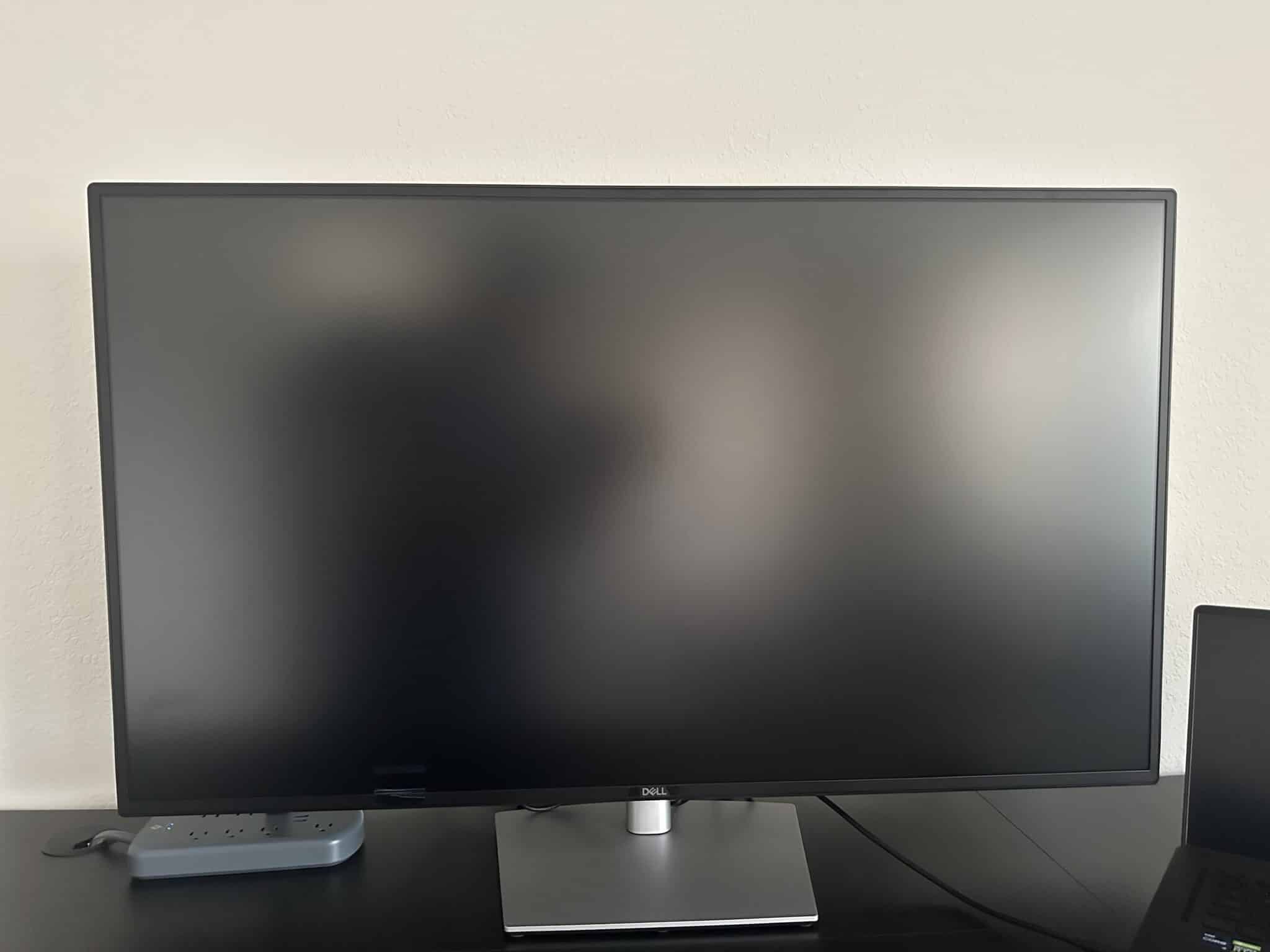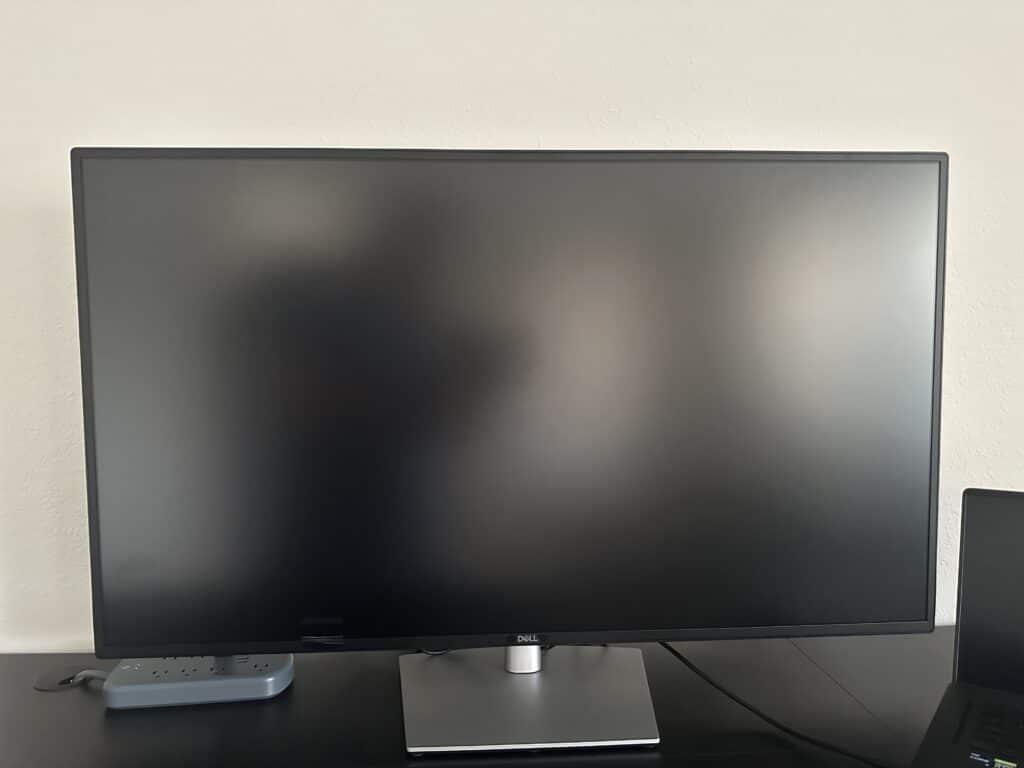 43-inch 16:9 screens can be overwhelming at first, so using this monitor takes some adjustment. It is not as sharp as its smaller counterparts, but the higher pixel count helps a lot in not making it look like a fuzzy screen. We highly recommend visiting your Display Settings to try and adjust the scale according to your needs.
We connected the monitor to an Asus M16 laptop with an i9 12900H and RTX 3070Ti via USB-C, and it fired up automatically, but the monitor followed its 2560 x 1600 resolution and set scaling to 300%. You have to manage this by adjusting it to 3840 x 2160 and selecting between 100% to 150% scaling to get the most out of the screen.
PCs connected via DP or HDMI will detect the 4K resolution automatically, but you still might have to set the scaling to your desired level. The 300% it defaulted to made it look like a 1080p monitor, although the higher pixel count still made it look sharper. You need to take note of this if you use it with a USB-C laptop, although it only happened the first time we connected the laptop to it.
Dell's Easy Arrange feature from its Display Manager app will also come into play with this monitor because of its large size. It lets you tile several apps perfectly with the help of templates that can satisfy various requirements. We recommend maximizing this feature to get the most out of the monitor's massive screen real estate and your time.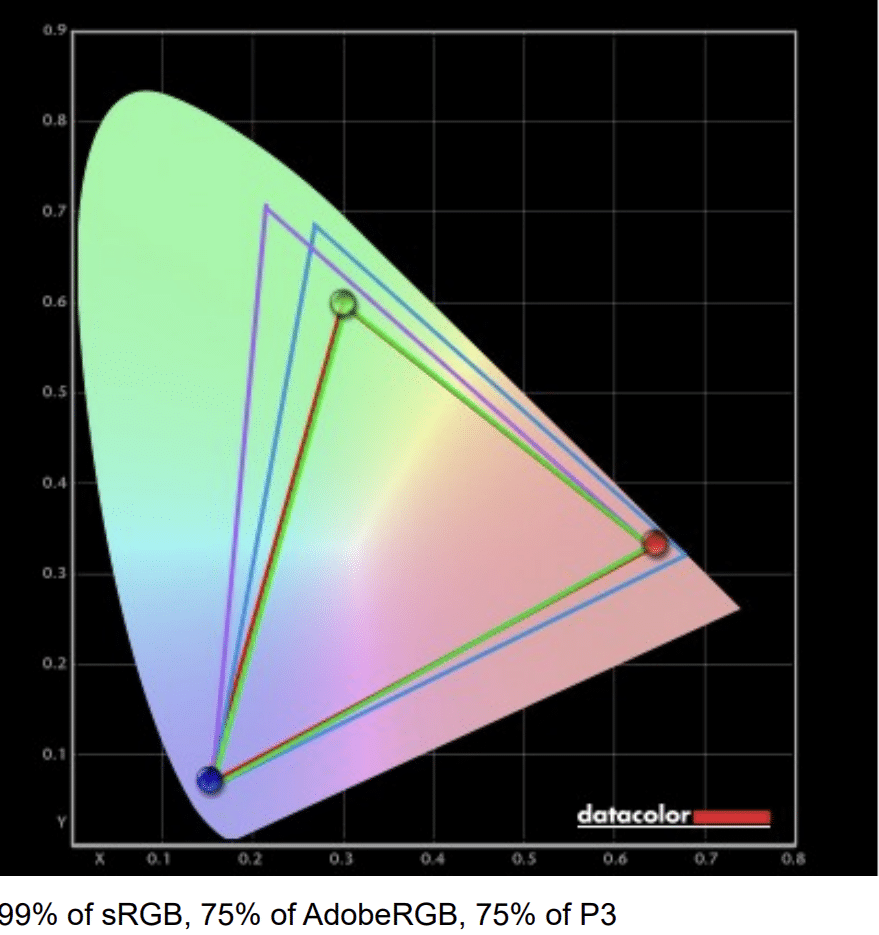 We used the Spyder5 Elite to measure and calibrate the Dell UltraSharp U4323QE. The IPS panel covers 99% of the sRGB gamut and 75% of the Adobe RGB and DCI-P3 color spaces. Its default accuracy wasn't the best since the deltaE average reached 2.54. Most of the error was in the blue-green spectrum and low-contrast grayscale, but it still looked quite good for usual tasks, including watching movies and light gaming.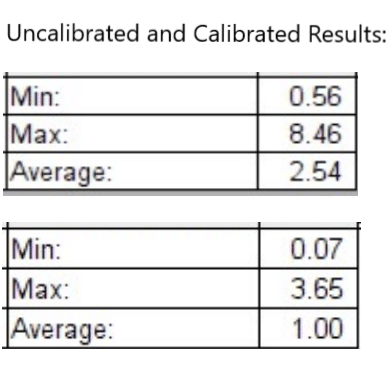 We then calibrated the monitor without touching its color controls, although we had to adjust the backlight during the process to hit the target brightness output. DataColor's Spyder software and device gave us a drastically improved 1.0 deltaE average that resulted in a warmer, more neutral tone. We calibrated it to a 120 cd/m2 and 6500K target in a dim room since that's the ideal setting for editing and content creation setting.
This monitor has more room for accuracy improvement since you can still adjust its color sliders and re-calibrate it as you see fit. Note that results will vary depending on the colorimeter used, the ambient lighting in your room, and of course, the panel itself. We opted for automatic calibration this time since it sets a good baseline that dictates the panel's capabilities.
The Dell UltraSharp U4323QE's backlight reached 338 cd/m2 at 100% brightness, while its contrast peaked at 1060:1 at 30% brightness. It's not capable of entirely dark scenes since the black luminance is at 0.19, but it doesn't look grayish or washed out like other IPS panels. The U3223QE and U2723QE fare better in this regard, but they use unique IPS Black panels with double the contrast.
Panel uniformity for the massive display was fantastic, and it would be easy to think that Dell cherry-picks their review samples. However, that doesn't happen since we've already received some units from them that had worse performance in this regard. The screen looks evenly lit throughout, although one left corner was a bit dimmer than the rest.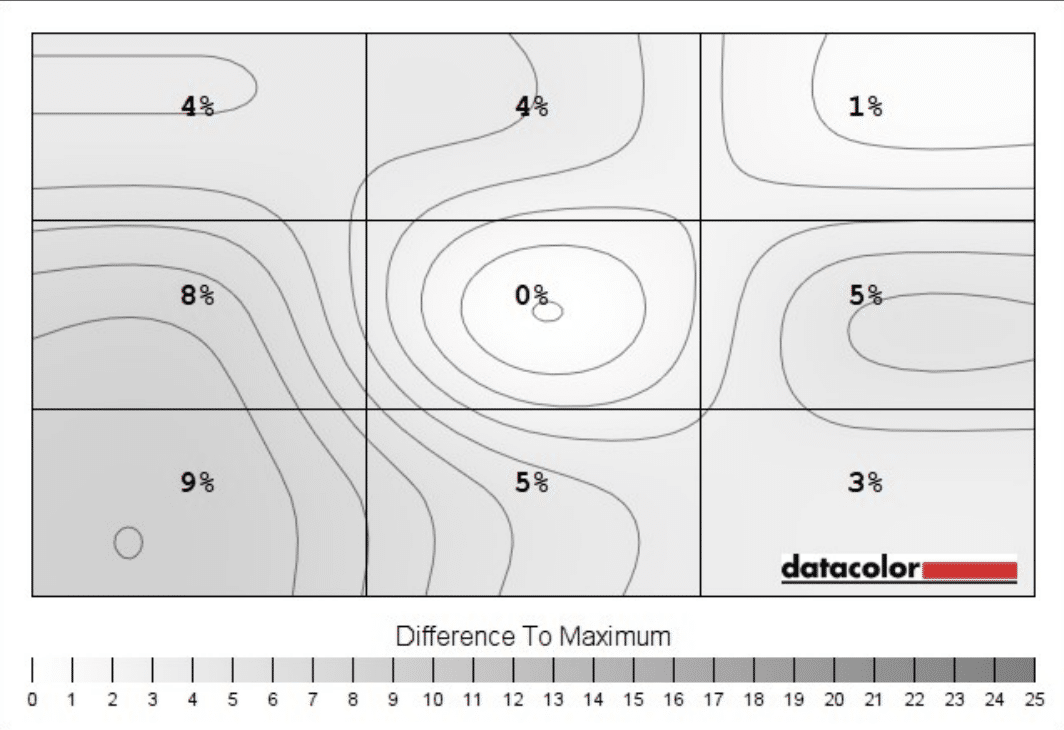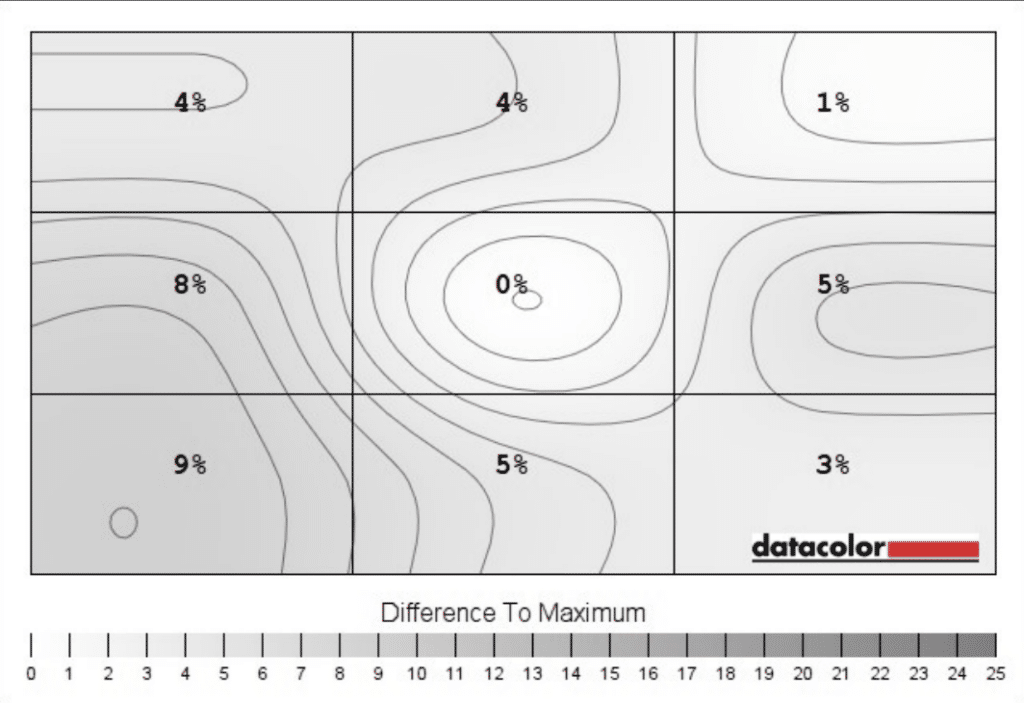 However, I only noticed that minor flaw while accidentally starting at the said corner while positioning the colorimeter. It was visible when my face was very close to the screen, but I failed to see it during the rest of the testing phase. The Spyder5 Elite listed that it was a 9% variance from the center, but anything below 12% is usually considered negligible.
I investigated further along the edges of the screen and found very minor backlight leaks, but curiously, it didn't show up when we scanned the monitor with the Spyder. The large screen looked evenly lit from a sitting or standing stance, but it's worth mentioning. Note that this can vary due to manufacturing tolerances, so there are units with worse symptoms out there.
The Dell UltraSharp U4323QE's pixel response time isn't the fastest, but it's quite good for a 60Hz display. We fired up War Thunder and Cyberpunk 2077 on the Asus Zephyrus M16 via USB-C, and the games ran without any hiccups. We only saw minor ghosting from the monitor, but you must look closely to see them.
We know it won't be a problem since the massive display is nauseating if you look too close. Setting the overdrive to its maximum level isn't advisable as well since it will add overshoot. It's also important to manage expectations for gaming with this monitor since it wasn't made for that in the first place.
Another aspect we'd like to highlight is the 90-watt USB-C slot's ability to charge our gaming laptop while games run. The U4323QE kept it topped up gracefully even if the device was already blowing its guts out due to the sheer load of the games we used to test it. This tells us that the monitor can accommodate powerful workstation laptops while rendering or is being used in editing work.
Adaptive Sync is missing from the Dell UltraSharp U4323QE, which would help gamers play at 4K. However, it's understandable that it is not included with UltraSharp monitors since they are intended for productivity and professional use. Its input lag is at 9ms at 60Hz, so it still feels very responsive for a 60Hz display.
Thoughts on the Dell UltraSharp U4323QE
Thanks to its gorgeous display, the Dell UltraSharp U4323QE is a fantastic choice for productivity or mixed-use setups. Its colors and contrast fall behind its smaller siblings, but it makes up for it with decent accuracy and suitability for complex tasks. It's heavily equipped with features that can tackle prosumer demands and sophisticated requirements or setups.
Aside from its sheer size and weight, our only hesitance with this monitor is its high price. It's justified because of the large 4K panel and the fantastic quality, but the cheaper and smaller variants are capable of better imaging performance. But overall, this is the only 43-inch 4K monitor we recommend if you are after excellent functionality for your job, business, or daily computing needs.
Pros:
Fantastic Build Quality and Features
Excellent Image Quality
90-Watt USB-C
Great for Multitasking and Mixed Use
Cons:
Pricey
Limited DCI-P3 and ARGB Coverage
Big and Heavy
About the Author: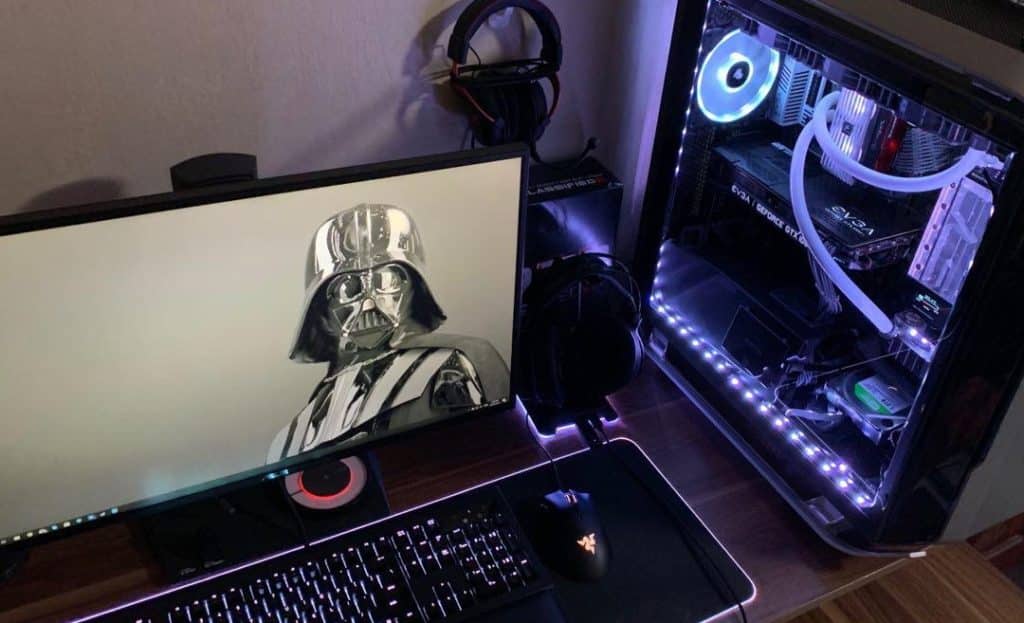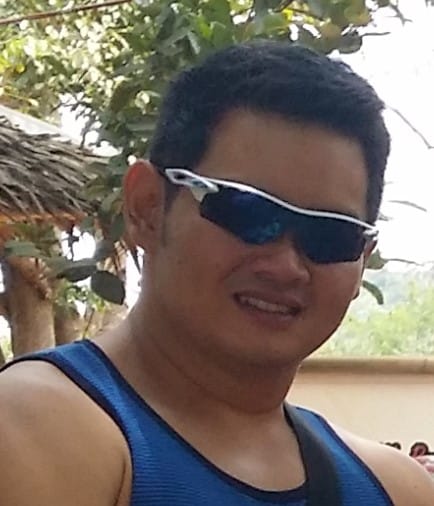 Paolo has been a gaming veteran since the golden days of Doom and Warcraft and has been building gaming systems for family, friends, and colleagues since junior high. High-performance monitors are one of his fixations; he believes that every citizen's right to enjoy one. He has gone through several pieces of hardware in pursuit of every bit of performance gain, much to the dismay of his wallet. He now works with Monitornerds to scrutinize the latest gear to create reviews that accentuate the seldom explained aspects of a PC monitor.