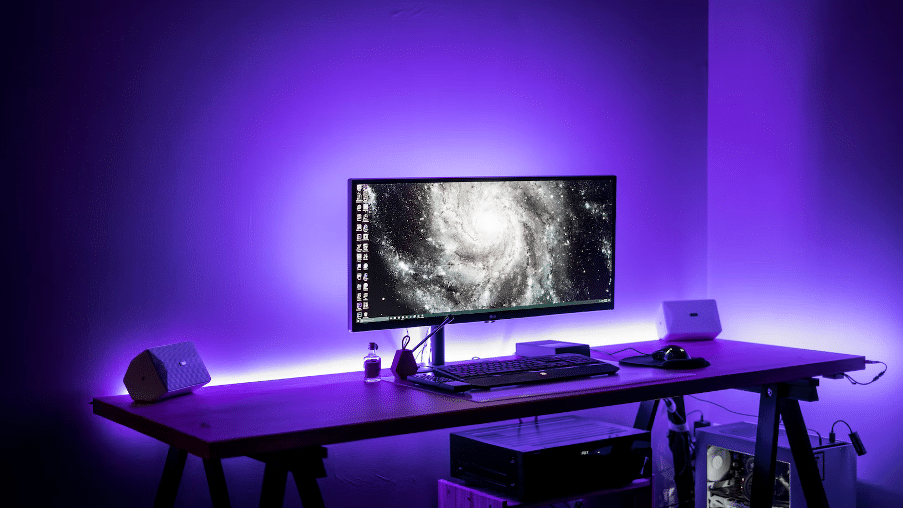 Everyone knows that a monitor is an essential piece of equipment for gaming, but fewer people understand how it can impact gaming performance. It is not only about the display of colors. How can a monitor influence your performance, and why is it important to pay special attention to the device you want to buy?
A gaming monitor and FPS
Maybe you already know that a gaming monitor impacts FPS, but it might happen that you are just starting your journey through the gaming world and such terms and acronyms still puzzle you. Let's stop here to quickly explain what is FPS and why it matters.
FPS stands for Frames Per Second. Every game is based on motion, not still images. They are shown one after the other — dozens of them within one second. The more still images in a frame of time, the better the quality of the video. If you want to achieve as natural motion as possible, with no blurred images and frozen frames, you need to pay attention to your gaming monitor. FPS, also called frame rate, needs to be as high as possible to keep up with modern and high-quality games available on the market. What does this mean? When choosing a monitor, you need to check its refresh rate. It is usually described in Hz (Hertz). A budget-friendly device will most often offer you up to 70-75 Hz, which means that it can display and change an image up to 75 times in a second. For a monitor used at work, it is quite alright, but in the case of gaming, it is typically not sufficient. The Intel article best explains how the refresh rate works.
The majority of good gaming monitors feature around 144 Hz to 240 Hz, which means that they can keep up with dynamic, quick-changing games. However, you need to remember that the refresh rate is not the only aspect influencing your performance and the fluent change of the images. Other elements need to be taken into consideration as well, such as the cables you are using. They should be of high quality and matched to your needs.
Monitor size — does it matter?
The answer to the question about the gaming monitor size seems obvious — of course, it makes a difference. However, it's good to remember that this aspect does not influence FPS as such. No matter if you have a bigger screen, an insufficient refresh rate will still make the image blurred and low-quality. The only difference it makes is in your comfort while playing.
Some players go not for size but for the number of screens to enhance their gaming experience. When you are one of them, make sure that all your devices are in tune with each other when it comes to FPS. Otherwise, it will be far from pleasure when playing your favorite, or any for that matter, game.
How to choose the right gaming monitor?
Finding a good gaming monitor that will meet all your criteria might be a challenge no matter if you are a beginner in the world of games or an expert player. Numerous issues need to be taken into consideration, and at first, they can be a little overwhelming. How to select the right gaming monitor, which aspects are essential and which are not? You can read the reviews, compare two or more products, ask questions, and still have doubts. We can understand that, that's why you might ask us to help you in making this important decision. You only need to use Free Monitor Advice tab to get the answers you seek at MonitorNerds.
Don't give up on selecting the best gaming monitor, especially if it will be your first one. It will make all the difference and help you fall down that gaming rabbit hole. The quality of the image influences your whole experience in every game, no matter if it's an adventure or shooting video game, or an online casino. In this last case, actually, it might make a huge difference, as modern gambling games available on such sites as VegasSlotsOnline are of high quality and perfectly capture the vibe and atmosphere of real-life casinos. With the right device, you can enjoy games of various kinds, feel the adrenaline rush through your veins and win some money — maybe to buy an upgraded monitor.