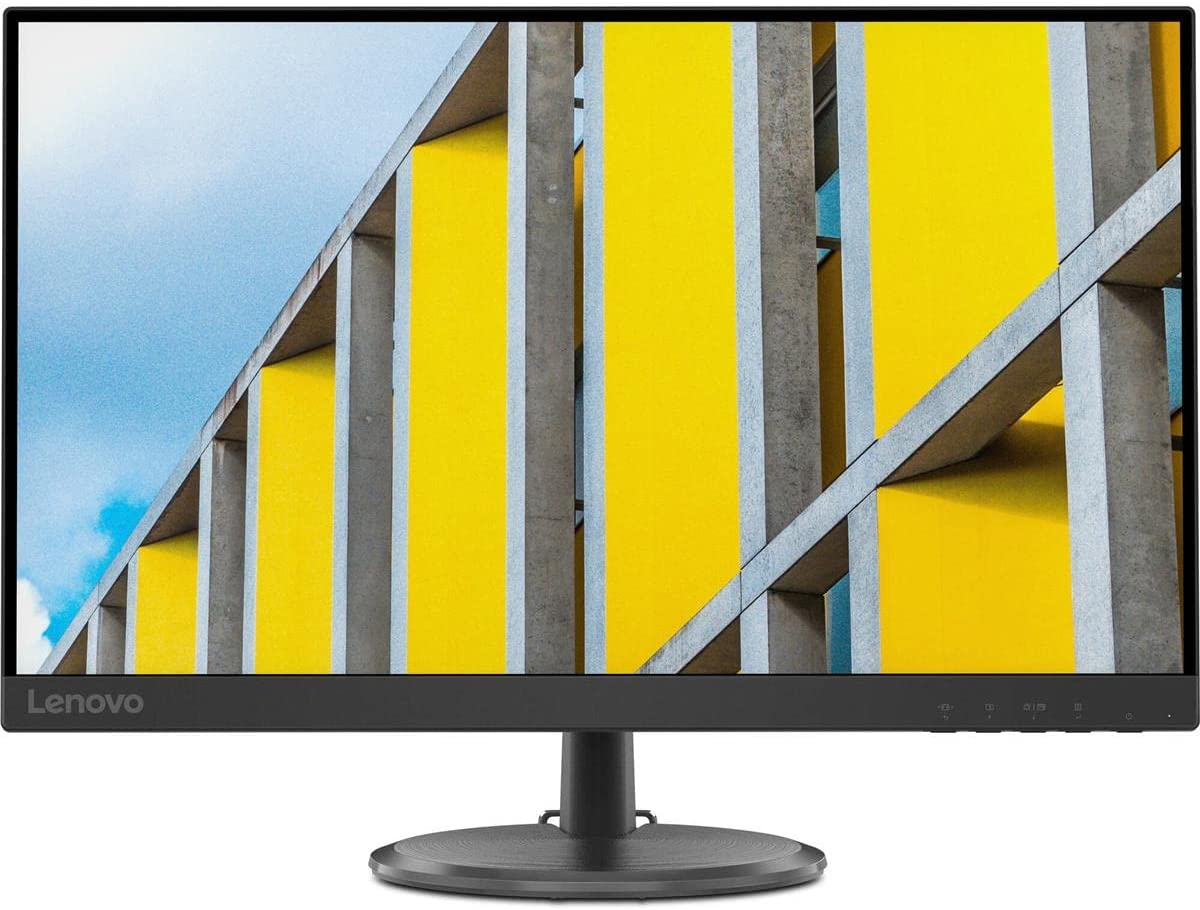 The Lenovo D27-30 is a viable solution if you want a budget-friendly monitor with high contrast and a larger screen. it's ideal for casual gaming and general entertainment, but it's limited to 75Hz which is rapidly becoming undesirable in today's market. Let's check if the Lenovo D27-30 is one of the top value picks or if it's just another monitor that was meant for ordinary use.

Lenovo D27-30 Specifications
Screen Size: 27 Inches
Resolution: 1920 x 1080 FHD
Aspect Ratio: 16:9
Panel Technology: Vertical Alignment (VA)
Refresh Rate: 75Hz
Response Time: 4ms
Contrast Ratio: 3000:1
Brightness: 250 cd/m²
Built-in Speakers: None
Stand: Height – No
Stand: Tilt – Yes
Stand: Swivel – No
Stand: Pivot – No
VESA Compatibility: Yes 100 x 100
Connectivity: HDMI 1.4 x 1, VGA x 1, 3.5mm x 1
Dimensions With Stand(WxHxD): 24.18″ x 17.49″ x 6.62
Weight: 10.47 lbs

Design and Features
The Lenovo D27-30 looks like a classic office monitor from a few years ago, but with a slimmer and lighter chassis. It has a matte black finish which is easy to maintain and protect against dust and finger print build-up. The display is bezel-free on three sides but panel borders are still present so you can see them if you look close enough.
You will notice the monitor's modest dimensions at first glance and when you unpack it and pick it up from the box. The cabinet is quite thin and it only needs 6.62 inches of depth, but most of that is because of its circular base. It weighs a little over ten pounds, so it should be portable enough to move around or bring with you for meets and conferences.
The Lenovo D27-30 has decent build quality even its plasticky parts feel and look cheap for those of us that are used to premium options. The plastics are reasonably durable, but some pieces can flex if you squeeze hard enough. The stand feels the cheapest, especially since it allows the monitor to wobble if you nudge it or press its buttons.
Another downside with a budget monitor is its lack of a more functional control feature like an OSD joystick. This model has to do with four OSD buttons at the right underside of the bottom bezel. The keys are easily accessible and clearly labeled, but darkness negates that, and its time consuming to use versus a five-way knob.
The stand included in the package only offers tilt, so it can be limiting if you are using this product for your productivity or workstation. It's also wobbly because of its low center of gravity and full plastic construction. You can use VESA mounts instead, but that costs more so buying one could offset your budget.
The Lenovo D27-30 also has a very basic connectivity layout since it only has a slot each for HDMI 1.4, VGA, and analog audio. HDMI is still fairly common, but modern GPUs are starting to go with DisplayPort more since it has a higher bandwidth capacity. This shouldn't be an issue for daily use, but some users might find the panel lacking, especially for multi-display setups.
The Lenovo D27-30 also doesn't have speakers since it's a budget model and its housing is too thin for it. That's fine considering how affordable it is, but built-ins are sometimes important for its intended use case. However, we don't think this is a downside since most users prefer headsets or desktop speakers anyway.
Display and Performance
The Lenovo D27-30 sports a 27-inch VA panel with a 1920 x 1080 resolution, a 75Hz refresh rate, and a 4ms response time. The backlight has a 250 cd/m2 maximum while the contrast ratio is listed at 3000:1 like most VA panels. This model doesn't have special features like HDR since it's a basic monitor, although it's also marketed for entertainment due to its high contrast.
27-inch 1080p monitors are less crisp than their counterparts due to the lower pixel density which earned the ire of PC users. However, it's not as big of an issue as long as you don't view the screen too close. walls of text are also easier to read without zooming in, although you are missing out on the extra space a 1440p variant offers.
The Lenovo D27-30 renders 99% sRGB which is all you will need for daily use, including light gaming and basic editing.  However, it is not factory-calibrated like the other Lenovo monitors we tested, so its deltaE average is quite high at 3.66. it should look okay while watching movies or enjoying games, but something as simple as white backgrounds look off.
Calibrating the Lenovo D27-30 reduced its deltaE average to 0.67 which is excellent for a budget monitor. This result makes it usable for editing purposes, although you will be missing the wider gamut coverages of prosumer models. It's also worth noting that colorimeters are quite expensive, so it is not wise or practical to get one just to tune this monitor.
One downside is its backlight which only managed to produce 181 cd/m2 at 100%, while its contrast peaked at 4033:1. It looks great at night when viewing dark scenes and it's able to produce deep, inky blacks. The limitation here is its brightness output which can't fight off glare in well-lit rooms such as those with plenty of windows.
Panel uniformity for the test unit was excellent since there were no backlight leaks which results in clouding issues in dark scenes. There is some variance in the backlight's spread, but it is only noticeable when the screen is measured with a colorimeter. Note that this could change with other monitors due to the nature of panels and some tolerances, so there are better and worse units out there.
The Lenovo D27-30 has a decent response time for a VA panel, but that doesn't mean that it's blur-free. The screen still shows some trails and smudges, especially in dark and fast-paced sequences in games. The overdrive can't help you here, so it's best to leave it off and use this monitor on slower-paced, casual titles.
It's a FreeSync monitor, but it doesn't work with G-Sync Compatible mode which usually only functions via DisplayPort. This duality is crucial since GPUs are scarce and pricey now, but it is okay to miss out on VRR since 1080p doesn't take much power to run anyway. Input lag sits at 10ms at 75Hz, so there is no need to worry about delays while enjoying your favorite titles.
Thoughts on the Lenovo D27-30
The Lenovo D27-30 is a decent mixed-use monitor, especially if you want high contrast for games and movies. It's also an ideal pick for a secondary monitor since it's quite affordable, although you need a VESA mount for better ergonomics. It's affordable, although 144Hz  variants aren't that much more expensive.
However, its worst characteristic is its low peak brightness which makes it unusable in well-lit rooms. It is also not accurate like the ThinkVision variants we've reviewed, so it needs a bit of elbow grease to make it pleasing to the eyes. It's affordable, but you are sacrificing some crucial facets and creature comforts.
Pros:
Large and Clear Screen
High Contrast
Affordable
Cons:
Limited Features
Weak Overdrive
No DisplayPort
About the Author: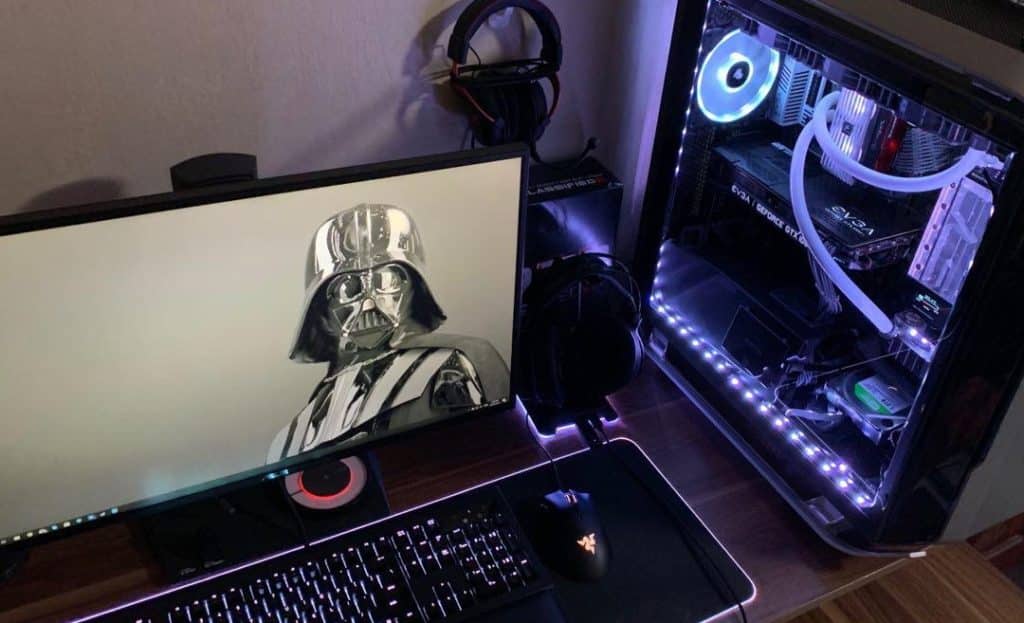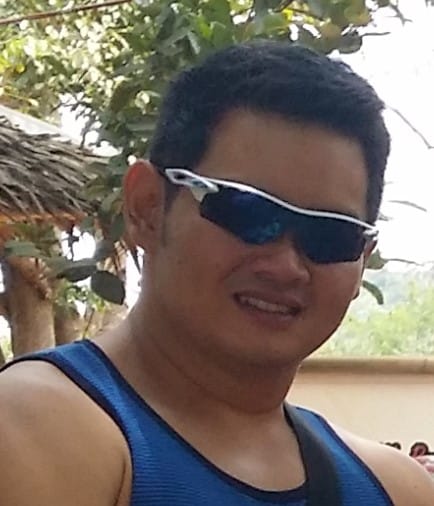 Paolo is a gaming veteran since the golden days of Doom and Warcraft and has been building gaming systems for family, friends, and colleagues since junior high. High-performance monitors are one of his fixations and he believes that it's every citizen's right to enjoy one. He has gone through several pieces of hardware in pursuit of every bit of performance gain, much to the dismay of his wallet. He now works with Monitornerds to scrutinize the latest gear to create reviews that accentuate the seldom explained aspects of a PC monitor.