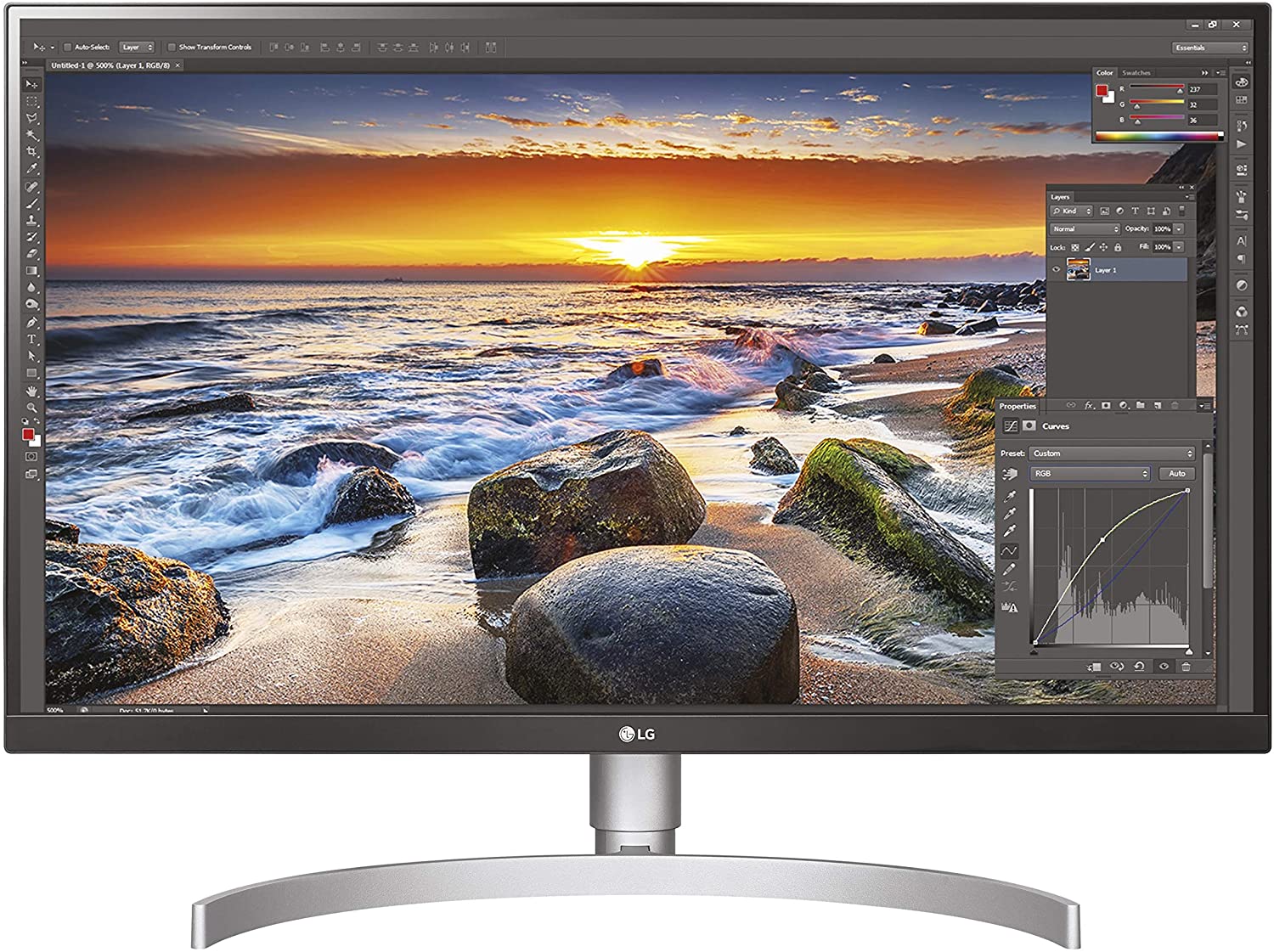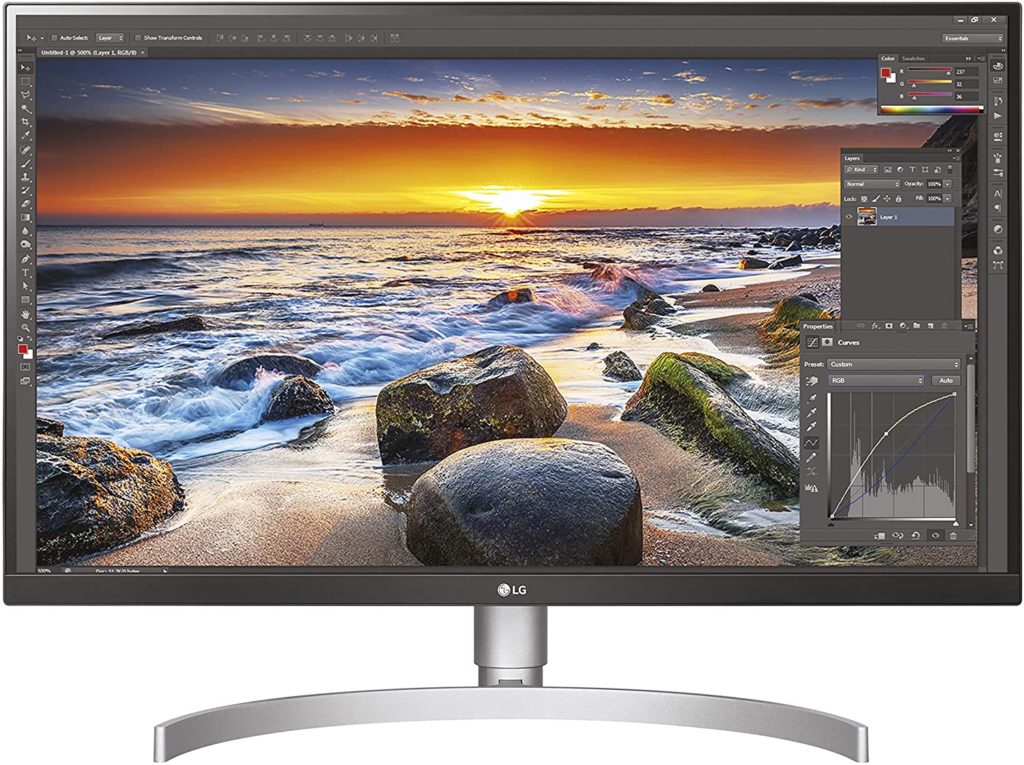 The LG 27UL850-W is a premium 4K IPS monitor that isn't painfully priced while having modern and essential features such as USB-C connectivity. This model aims to provide a solid foundation for mixed usage, whether if its for business use or entertainment. The LG 27UL850-W's predecessors have seen excellent success in the market, so let's see how this newer model performs.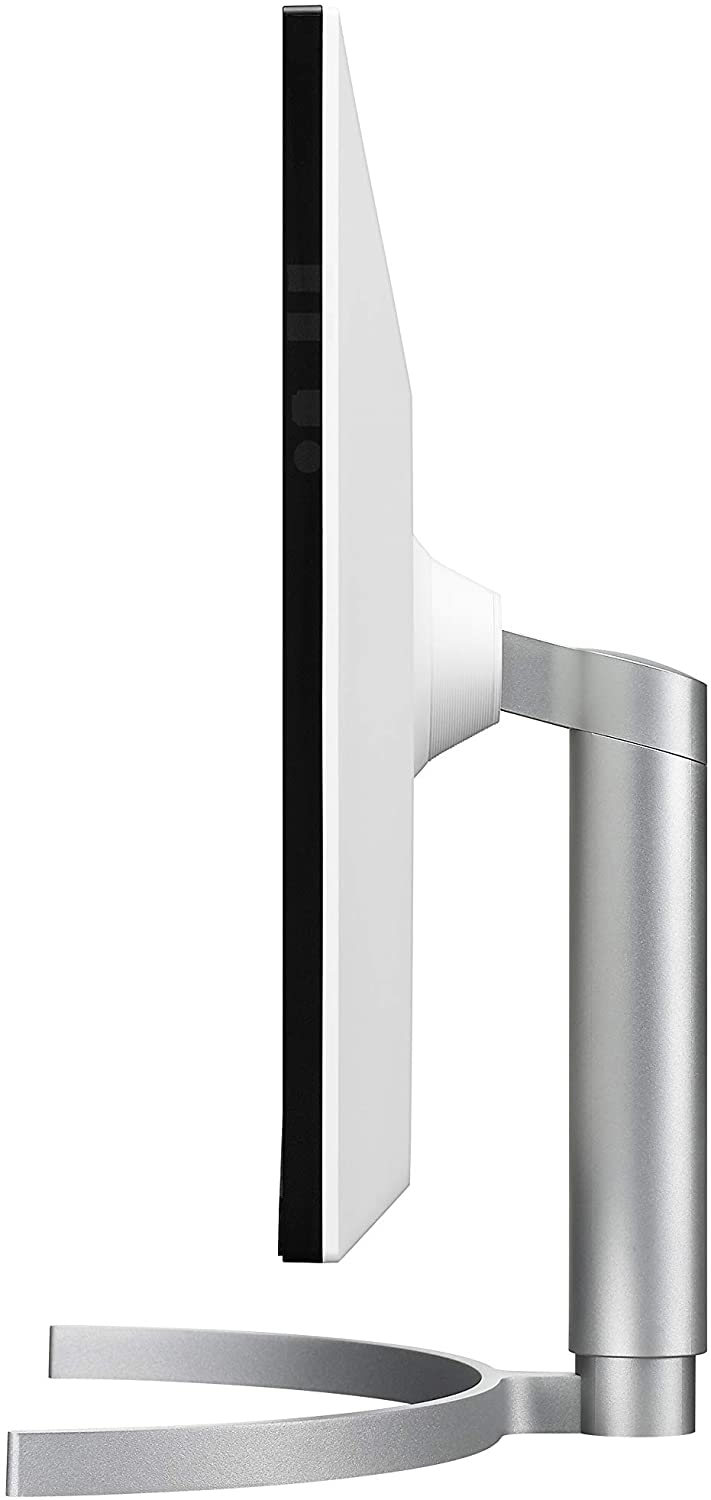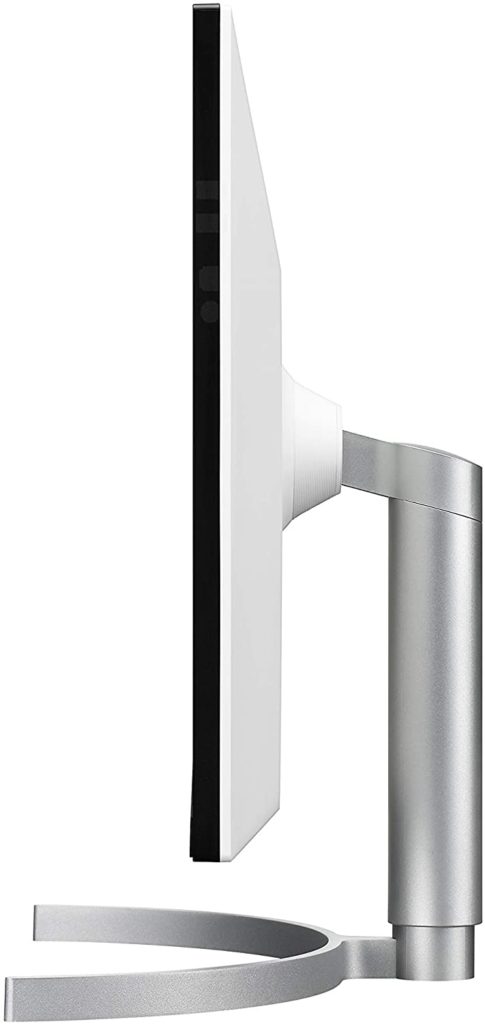 LG 27UL850-W Specifications
Screen Size: 27 Inches
Resolution: 3840 x 2160 4K
Aspect Ratio: 16:9
Panel Technology: In-Plane Switching (IPS)
Refresh Rate: 60Hz
Response Time:5ms
Contrast Ratio: 1000:1
Brightness: 350 cd/m² (450 cd/ m² Max)
Built-in Speakers: Yes (2 x 5 Watts)
Stand: Height – Yes
Stand: Tilt – Yes
Stand: Swivel – No
Stand: Pivot – Yes
VESA Compatibility: Yes (100 x 100)
Connectivity: DisplayPort 1.4 x 1, HDMI 2.0 x 2, USB 3.0 x 2, USB-C 60w x 1, 5mm Audio Jack
Dimensions With Stand(WxHxD): 24.14″ x 22.03″ x 9.21″
Weight: 13.45 lbs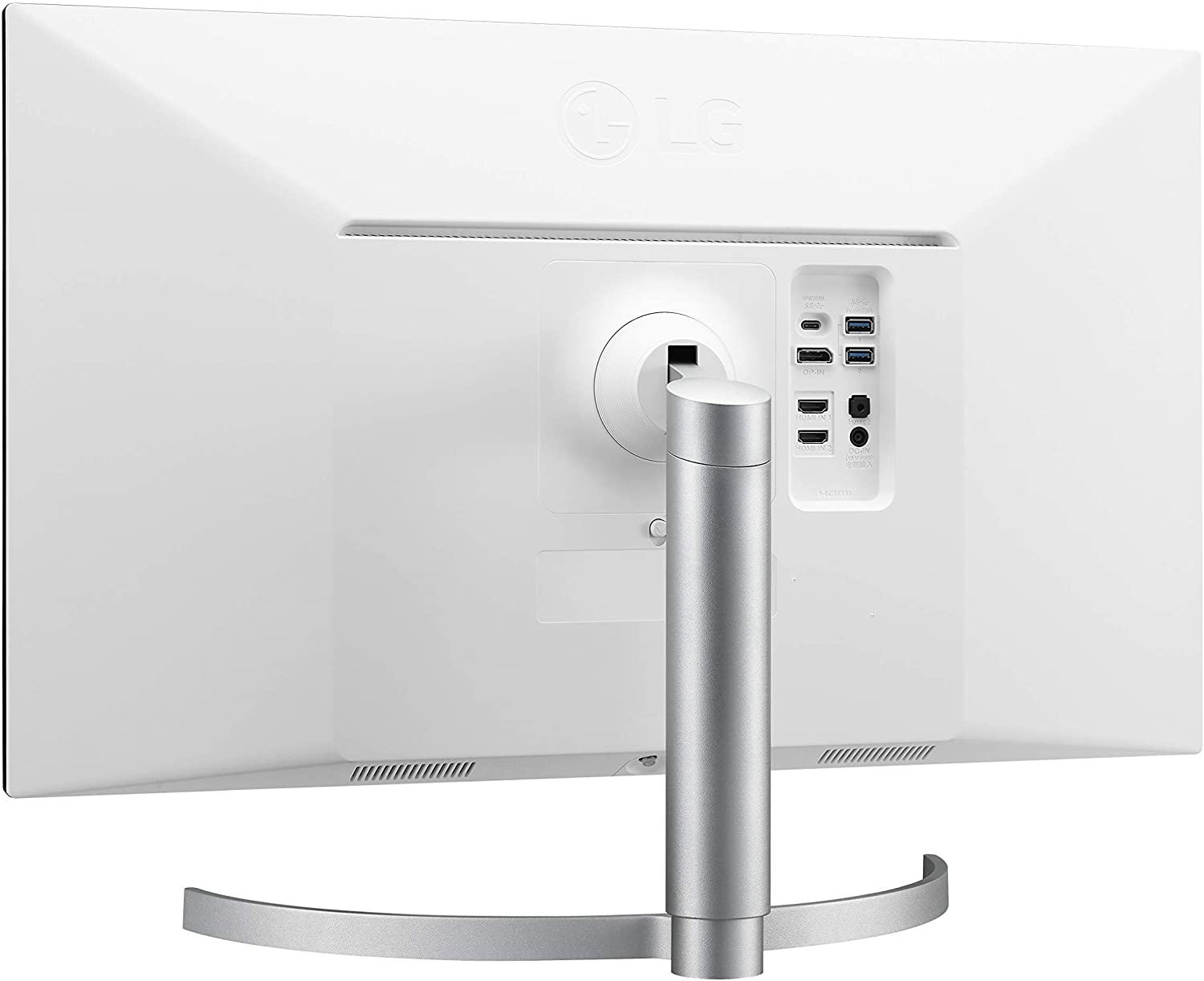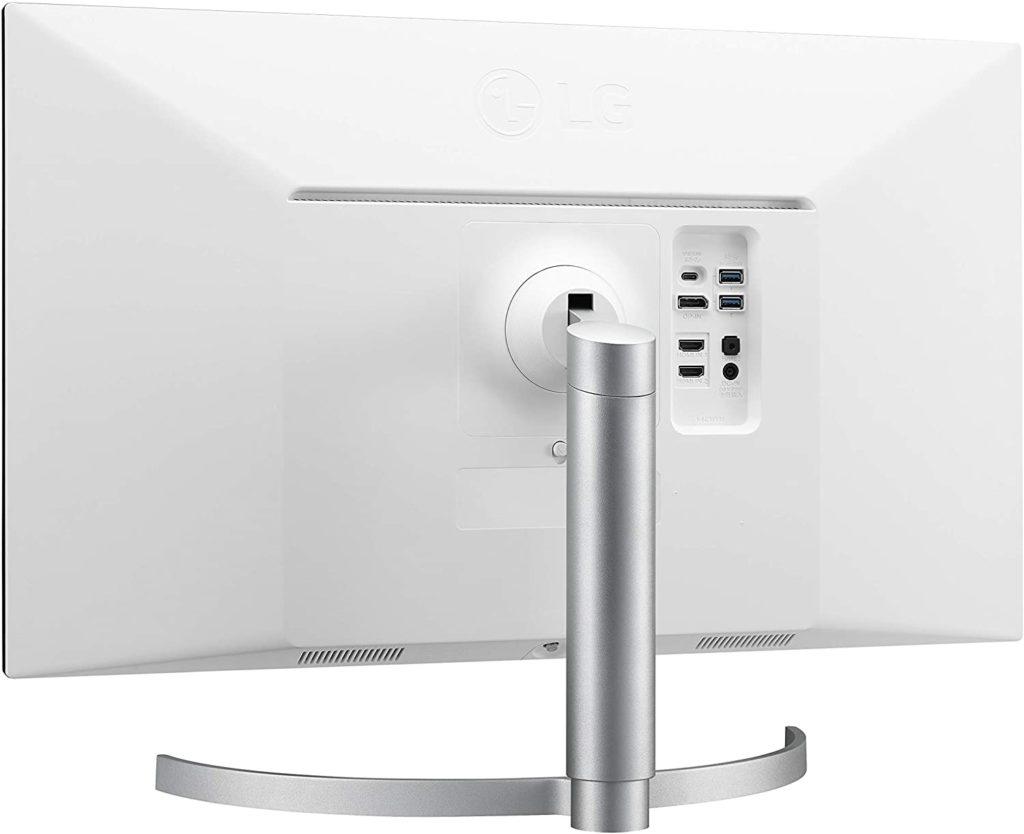 Design and Features
The LG 27UL850-W retains the looks of its predecessors, but we don't think it's a downside since it's a preppy-looking device. The white chassis mixes so well with the silver stand, but the frontal areas still have a matte black finish. The monitor isn't completely bezel-free, but the borders on three of its sides are thin enough to be unnoticeable when its in use.
The device once fully assembled and upright doesn't take up a lot of space, although its arc-shaped stand can be intrusive on limited desktop spaces. Thankfully, it's not a solid shape, so you can place small peripherals such as stream decks in between the legs. The LG 27UL850-W also doesn't weigh a lot like many similar-sized monitors, but it doesn't feel cheap in any way.
That's because the LG 27UL850-W features excellent build quality that you can expect from a reliable brand and its premium product. The plastics used for the monitor feel thick and sturdy, so we reckon they can take a few accidental hits without cracking. The monitor also stands stable when its upright thanks to a well-crafted stand with great footing.
The LG 27UL850-W doesn't need OSD buttons since it already has a joystick and the brand's exclusive OnScreen Control feature. The latter lets you manipulate some of the monitor's settings with a click of a mouse, making easy to do minor adjustments. Buttons are outdated and more difficult to use, so these add-ons are a considerable bonus in our book.
The stand included with the LG 27UL850-W doesn't swivel, but you can tilt, pivot, and adjust the height of the display. The monitor is also VESA-compatible if you need the space or is planning for a multi-display setup, but we think it's unnecessary for most cases. You also diminish the aesthetic appeal of the product by going with a VESA mount, but function is always more important than form.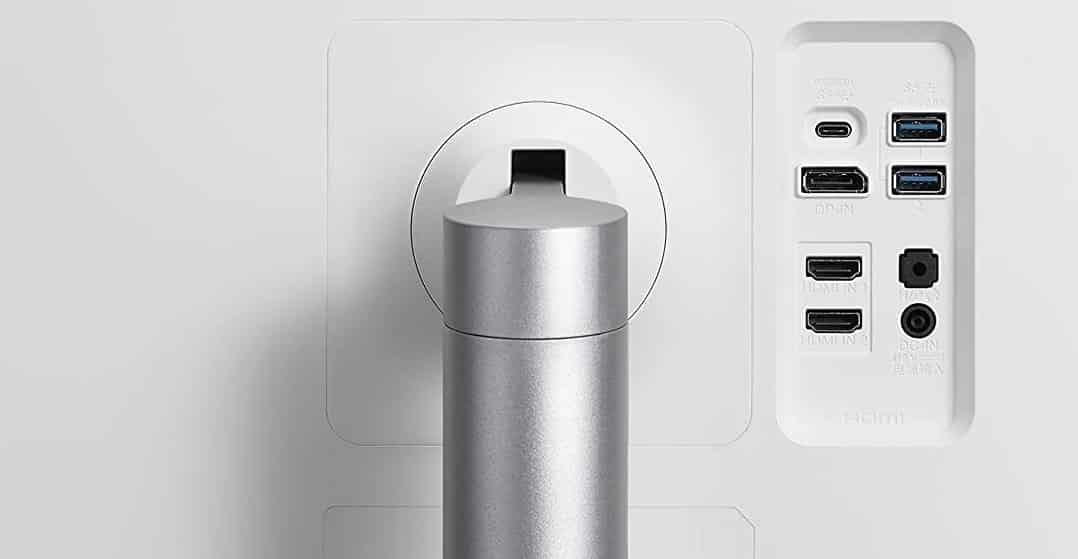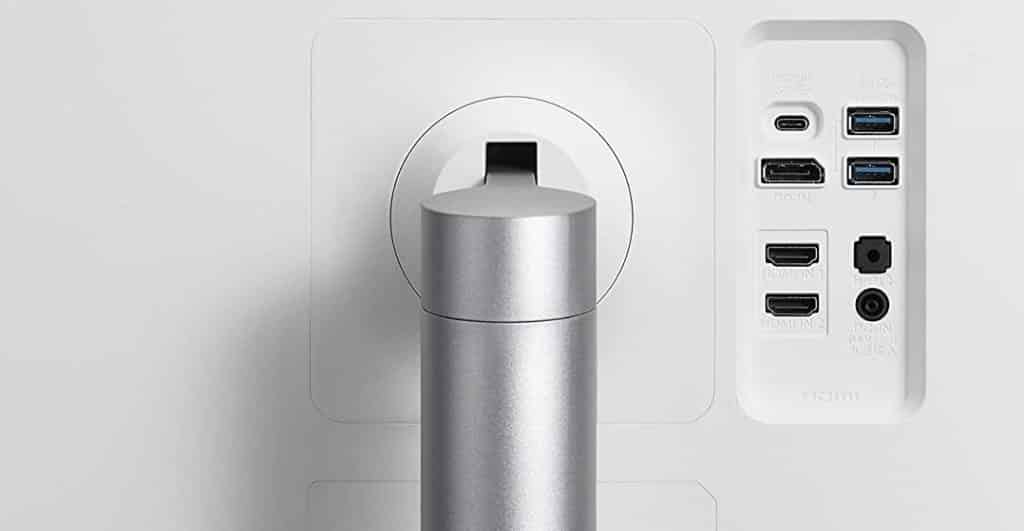 The LG 27UL850-W doesn't have a lot of extras, but its connectivity layout gives it good usability if you have a mix of 4K devices. The panel at the rear includes DisplayPort 1.4 and dual HDMI 2.0 slots which should be able to handle a PC and two secondary devices like gaming consoles. However, what makes this model unique is its USB-C connector that supports DP Alt Mode while providing up to 60 Watts of charging power.
Meatier MacBooks can require more than that output, but it is handy to have since you can leave your laptop to charge while it's idle. We wish LG implemented a connector with more juice, but we think they are categorizing that capability with their more expensive Thunderbolt monitors. There is also a pair of USB 3.0 speakers for your peripherals, so the LG 27UL850-W has most of your computing needs covered.
The LG 27UL850-W also has an upgraded pair of 5-watt speakers with MaxxAudio tuning for better sound quality. The pair is suitable for movies and music, plus it can get really loud when turned all the way up to 100%. They don't have the fidelity of a separate set or good quality headphones, but they are considerably better than most built-ins we've tested.
Display and Performance
The LG 27UL850-W sports a 27-inch IPS panel with a 3840 x 2160 resolution, 60Hz refresh rate, and 5ms response time. The backlight is rated at 350 cd/m2, but it can pulse to as much as 450 cd/m2 when HDR content is displayed, allowing the monitor to reach DisplayHDR 400 performance. However, the contrast ratio is limited to 1000:1, unlike LG's Nano IPS models which have a 1300:1 rating.
27-inch 4K screens are incredibly sharp compared to the usual ones we are accustomed to, but it has a few caveats. Small objects like text can become difficult to read for some users, so scaling, no matter how annoying, is at times required. Media and games, on the other hand, are a joy to view in this monitor since lines are noticeably cleaner with almost no detail spared.
The LG 27UL850-W provides more than 99% rendering of the sRGB gamut so the screen looks vibrant and alive. Color accuracy out of the box had a delta E average of 2.7 which is a decent baseline, but its slightly higher than what its predecessors like the 27UK650 offered. Color temperature exceeds the 6500K point considerably, so the screen has a slightly bluish tint when viewing white backgrounds.
Thankfully, it's easy to correct this flaw with either a few adjustments to drop the dE average to a more comfortable 1.5 average. You can even drop this rating to less than 1.0 if you have a colorimeter and by using LG's True Color Pro software. In most cases, the latter isn't necessary, except if you want to use the LG 27UL850-W for color-critical work.
The main weakness of the LG 27UL850-W is its contrast ratio, which struggled to exceed 870:1 at 40% brightness settings. The backlight can reach as much as 430 cd/m2, but it doesn't increase the latter to improve the screen's black luminance. The screen can look grayish when used in the dark, so adjusting the brightness accordingly is a must.
Panel uniformity for the LG 27UL850-W sample was excellent since there were no noticeable leaks or clouding issues on the quadrants. There are some deviations in brightness from the bottom of the display towards the top, but it is only noticeable when the unit is tested with a colorimeter. Take note that not all 27UL850s will perform the same in this regard due to the panel's properties and some manufacturing tolerances.
The LG 27UL850-W is limited when it comes to motion handling, but mostly because of its limited refresh rate. Some trails and smudges can become visible in contrasting transitions or when movements are too quick. You can use the monitor's overdrive feature to help with this limitation, but be wary of maxing it out since overshoot will start to show up.
The LG 27UL850-W is a FreeSync monitor, but it is not tested to work with G-Sync flawlessly since it's not certified. However, you can try and force it via the Nvidia Control Panel, although we cannot guarantee that there will be no issues while gaming. Input lag sits at around 10ms, so there is no need to worry about delays or "de-synced" instances while using the monitor.
Thoughts on the LG 27UL850-W
The LG 27UL850-W is one of the more capable 4K IPS monitors in the $500 price range thanks to its decent color quality out of the box and its USB-C connectivity. USB-C monitors have become cheaper in recent times, but it is still difficult to sift through all the models to find one with great image quality. It's not as good as its predecessors when it comes to factory calibration, but it responds well to manual tweaking and colorimeter application.
Our main complaints with the LG 27UL850-W are its low contrast and limited USB-C charging output. Most devices require 65 Watts or more, so if you have a full-spec MacBook Pro, it might not get topped up if you are doing some heavy tasks. However, this model is still one of the best overall choices in the market, provided that you can work around its minor flaws.
Pros:
USB-C Monitor
Good Default Color Quality
Attractive and Functional Design
Responds Well to Calibration
Cons:
Low Contrast
Factory Calibration Needs Improvement
USB-C Limited to 60 Watts
About the Author: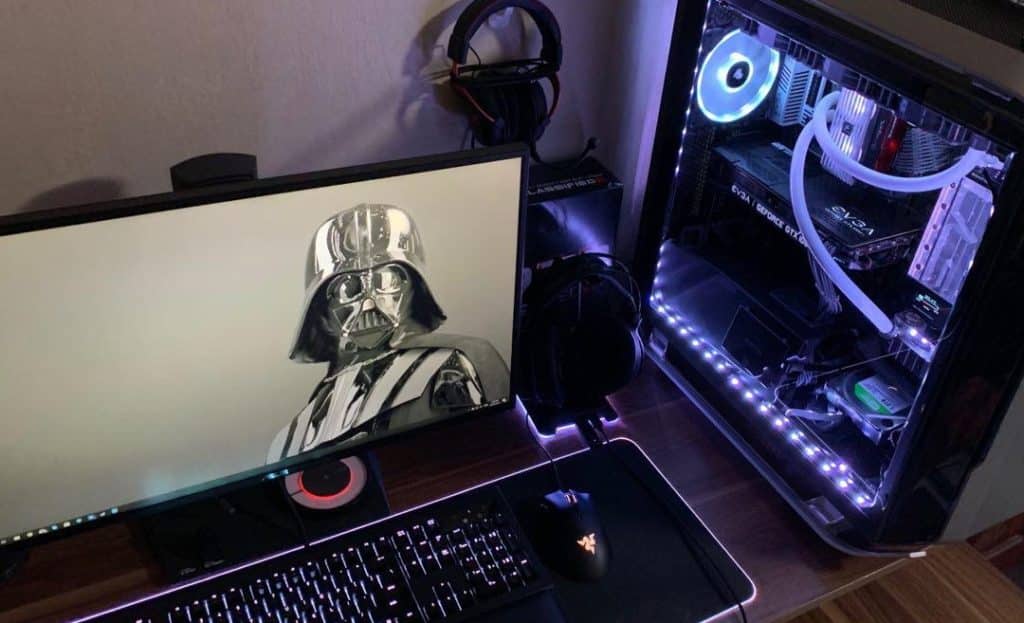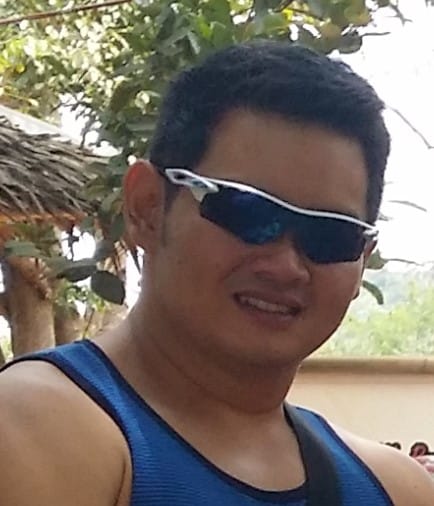 Paolo is a gaming veteran since the golden days of Doom and Warcraft and has been building gaming systems for family, friends, and colleagues since his junior high years. High-performance monitors are one of his fixations and he believes that it's every citizen's right to enjoy one. He has gone through several pieces of hardware in pursuit of every bit of performance gain, much to the dismay of his wallet. He now works with Monitornerds to scrutinize the latest gear to create reviews that accentuate the seldom explained aspects of a PC monitor.