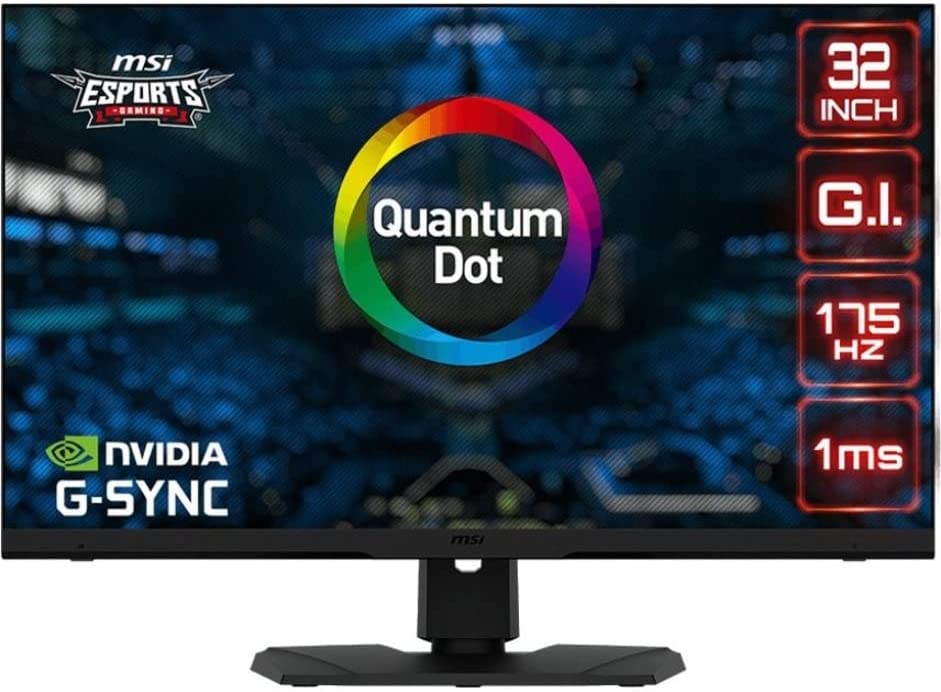 Check Latest Price from Amazon
The MSI Optix MPG321QRF-QD is a feature-packed gaming monitor that's designed to enhance your visual experience compared to an ordinary variant. It's a 1440p version of the MPG321UR-QD which impressed both gamers and reviewers alike. Let's see if the MSI Optix MPG321QRF-QD possesses comparable qualities with its higher-tiered sibling.

MSI Optix MPG321QRF-QD Specifications
Screen Size: 32 Inches
Resolution: 2560 x 1440 QHD
Aspect Ratio: 16:9
Panel Technology: In-Plane Switching (IPS)
Refresh Rate: 175Hz
Response Time: 1ms MPRT
Contrast Ratio: 1000:1
Brightness: 400 cd/m2 (600 Peak)
Built-in Speakers: Non
Stand: Height – Yes
Stand: Tilt – Yes
Stand: Swivel – Yes
Stand: Pivot– No
VESA Compatibility: Yes (200 x 200)
Connectivity: DisplayPort 1.4a x 1, HDMI 2.0b x 2, USB-C PD15W x 1, USB 3.2 x 4, 3.5mm Jack x 3
Dimensions With Stand (WxHxD): 28.62″ x 18.98″ x 9.88″
Weight: 22.49 lbs

Design and Features
The MSI Optix MPG321QRF-QD lets go of aggressive, gamer-centric aesthetics in favor of subtle styling that makes it look more like a premium gaming display. It has a matte black finish, but it has a carbon fiber and brushed metal texture at the back that's divided by a glossy stripe and RGB LEDs. The display is bezel-free on three sides so there are fewer distractions while you are enjoying your favorite titles.
It's a large monitor so you have to check if you have enough desk space to accommodate it before but before spending the money. It is wide enough to cover bookshelf speakers if you have any, but it only requires 9.88 inches of depth when fully assembled. It's not the heaviest at 22.49 pounds, but it wouldn't hurt to ask for help while setting it up or moving it around.
Its also built better than many of MSI's older models even if it uses a lot of plastic on its parts. You know that it's well-reinforced since it's quite heavy, plus there were no signs of flexing which could lead to cracks or stress marks. The included stand is firm and stable so the display won't wobble or suddenly sag while it's in use.
It also has an RGB LED strip that works with MSI's Mystic Light ecosystem which lets you sync other MSI gear's lighting schemes and colors. It is always nice to have aesthetic extras, but it's at the back so you won't be able to enjoy it that much if your desk is against a wall. Its also offset to one side so the glow it casts isn't equal so it cannot be used as a bias lighting feature.
The MSI Optix MPG321QRF-QD has an intuitive joystick that helps you navigate and manipulate its settings smoothly and quickly. It is also compatible with MSI's Gaming OSD App 2.0 which lets to tweak it directly in your OS. Competitors like BenQ include remotes to complete their premium offerings, but it is unnecessary in most cases.
The included stand offers tilt, swivel, and height adjustments for your convenience and comfort. It is easy to get a preferred viewing angle so you can avoid neck and eye strain while gaming for long hours. You can also use VESA mounts, but that's an extra expense that will only become necessary if you have a small desk or multiple screens.
Its connectivity layout is also one of its highlights since it includes USB-C along with the DisplayPort 1.4 and two HDMI 2.0 slots it has. You also get three usable USB 3.2 ports for peripherals, 3.5mm jacks for audio input and output, and a mouse bungee to lessen clutter. It also has KVM functionality to make it more flexible for work and play setups, but what's disappointing is its USB-C slot's limit to 15 watts.
it also doesn't have speakers, but that's okay since gaming is better enjoyed with a pair of correctly tuned headsets. They will let you focus better and immerse you compared to the weak or tinny-sounding built-ins we normally encounter in the gaming monitor market.
Display and Performance
The MSI Optix MPG321QRF-QD boasts a 32-inch Quantum Dot IPS panel with a 2560 x 1440 resolution, a 175Hz refresh rate, and a 1ms boosted response time. The backlight has a 400 cd/m2 output and a 600 cd/m2 peak while its contrast ratio is listed at 1000:1. This model has certified for HDR 600 performance, but it only has edge-lit local dimming unlike the new AOC HDR gaming monitors with mini-LEDs.
This model obviously has lower pixel density than the more popular 27-inch models, but it's not as big of an issue as most would think. It still has the benefits of the increased pixels, so you still get an expanded view and more detailed images. You will need more GPU horsepower to run games at maximum, but it won't be as demanding as the MPG321UR-QD which has the same specs except for its 4K resolution.
The renders more than 100% sRGB and 91% DCI-P3 for stunning and rich colors in games and movies. It is not the most accurate monitor since it has a deltaE average of 2.51, but that still doesn't mean that it needs calibration to be usable. Most users will be happy with it thanks to the punchy colors that will make graphics pop out.
Calibrating the monitor reduced its dE average to 1.22 which makes it usable for editing work and content creation. However, that's a modest improvement by today's standards, so buying a colorimeter just to get that isn't worth it. It's only practical to get a colorimeter if you are into color-critical work, but there are also better monitors for that out there.
Its backlight reached 405 cd/m2 in SDR and 611 cd/m2 when it is HDR mode kicks in. It has a decent 1155:1 contrast ratio which slightly expands to around 1500:1 when its dimming kicks in. However, the low dimming zone count also means that it spread all over, so the monitor still isn't capable of precise HDR effects or deep black luminance levels.
Its panel uniformity is great if you are in SDR mode, but its HDR can make that worse if you are viewing dark images. The edge-lit local dimming and it is few zones add clouding on the edges of the screen in nighttime scenes or backgrounds. Most would probably leave the HDR turned off, and that could be a deal-breaker for those who want to enjoy the feature.
But what's great about the MSI Optix MPG321QRF-QD is its pixel response time which doesn't create blurring. You will still get some persistence, but the monitor's overdrive can take care of that with ease. It is not the fastest in this regard, but it certainly is useful for competitive or E-Sports gaming.
The MSI Optix MPG321QRF-QD is compatible with both FreeSync and G-Sync so you can always have VRR. GPUs are still expensive, so you might be stuck with one brand and without Adaptive Sync if you go with an exclusive monitor. Input lag sits at 4ms at 175Hz, so it is fast and responsive enough for competitive gaming.
Thoughts on the MSI Optix MPG321QRF-QD
The MSI Optix MPG321QRF-QD offers excellent image performance thanks to its Quantum Dot-treated IPS panels. It's fast and responsive, it's capable of rich colors and improved contrast, plus it has plenty of features that make it flexible for other uses. USB-C and KVM features are becoming essential for gaming monitors since it increases the product's suitability for purposes other than gaming.
However, its HDR feature isn't impressive like most monitors that rely on edge-lit local dimming. The colors are there, but the monitor cannot produce the necessary contrast in a precise manner. It is also expensive at $699, so you have to catch it at a sale to make it an even better buy.
Pros:
Rich and Vibrant Quantum Dot IPS Panel
Fast and Responsive
USB-C
Excellent Build Quality
Cons:
Pricey
Limited Contrast and HDR Performance
USB-C Limited to 15 Watts
About the Author: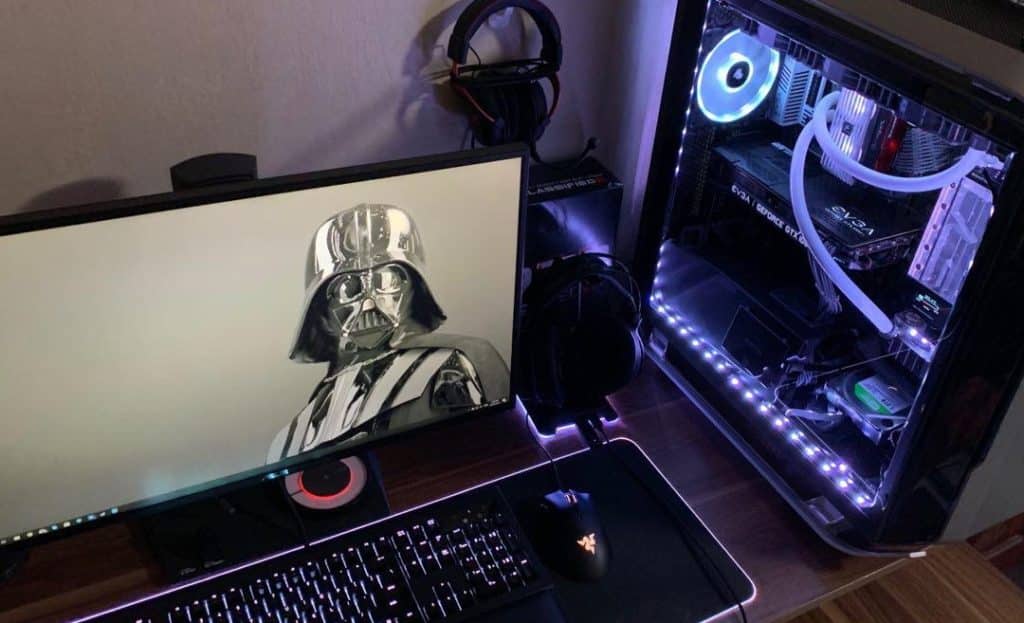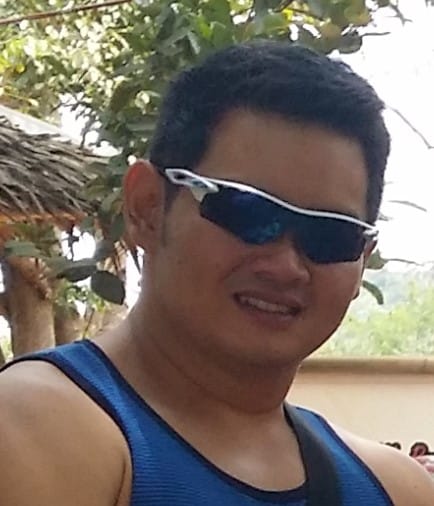 Paolo is a gaming veteran since the golden days of Doom and Warcraft and has been building gaming systems for family, friends, and colleagues since junior high. High-performance monitors are one of his fixations and he believes that it's every citizen's right to enjoy one. He has gone through several pieces of hardware in pursuit of every bit of performance gain, much to the dismay of his wallet. He now works with Monitornerds to scrutinize the latest gear to create reviews that accentuate the seldom explained aspects of a PC monitor.