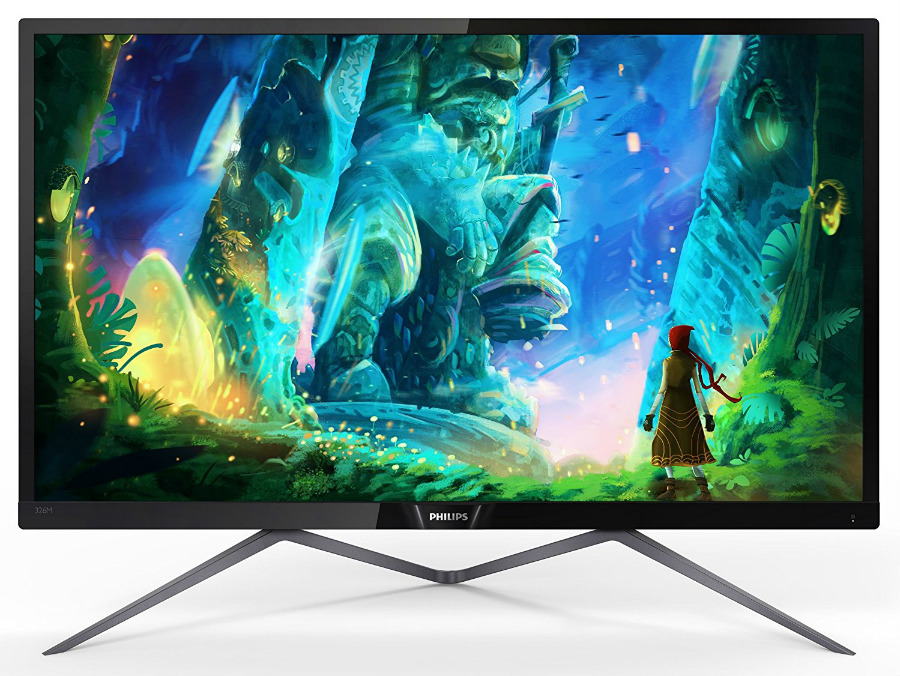 The Philips 326M6FJSB offers superb image quality and unique visuals for gaming and entertainment in an affordable, TV-sized package. This gaming monitor is part of the brand's Momentum series which adds Ambiglow lighting effects for interesting effects to an advanced screen for excellent gaming and viewing. The Philips 326M6FJSB isn't as fast as a competitive gaming monitor, but its specific features promise a captivating experience for immersive gaming.

Philips 326M6FJSB Specifications
Screen Size: 32 Inches
Resolution: 2560 x 1440 QHD
Aspect Ratio: 16:9
Panel Technology: In-Plane Switching (IPS)
Refresh Rate: 60Hz
Response Time: 5ms
Contrast Ratio: 1200:1
Brightness: 250 cd/m²
Built-in Speakers: No
Stand: Height – No
Stand: Tilt – Yes (-5°/+10 °)
Stand: Swivel – No
Stand: Pivot – No
VESA Compatibility: Yes 100 x 100
Connectivity: DisplayPort 1.2 x 1, HDMI 1.4 x 2, VGA x 1, 3.5mm Jack
Dimensions With Stand(WxHxD): 28.7″ x 20.4″ x 9.6″
Weight: 14.52lbs

Design and Features
The Philips 326M6FJSB adopts a minimalist design composed of a piano black finish on the front while the rear has a matte black surface on the bulge. There are reasonably thick bezels on each side, although they do not pose as distractions against the 32 Inches of viewing space. The product is almost as sizable as a regular LCD TV, but its proportions are acceptable although you might need to sit a bit farther.
The slight bulge on the rear is flat and already includes the power brick internally, so mounting this device shouldn't be an issue for most. The monitor is also lightweight at 14.5 lbs compared to the 20-pounders we've  recently reviewed, so repositioning or reconfiguring should be convenient as well. Despite its budget-oriented nature, the Philips 326M6FJSB is well-built, and we did not find any warping or flexing on the plastics.
From all sides, the Philips 326M6FJSB looks clean and presentable, although we wish the brand put in the extra effort for a more modern overall design. But on a positive note, this device employs a sculpturesque W-shaped stand made of metal for maximum beauty and durability. The width of this part extends towards the ends of the screen, although the unique shape only has three minimal contact points on a desk's surface.
While the stand's design is impressive and refreshing, it isn't as flexible as we would like since it only offers 15 degrees of tilt. There is little need to adjust a screen of this size for typical situations, but the taller folk might need to use risers or spend the extra for an articulated VESA mount. The Philips 326M6FJSB ships pre-assembled, although you can opt to remove the stand if you need to mount this device.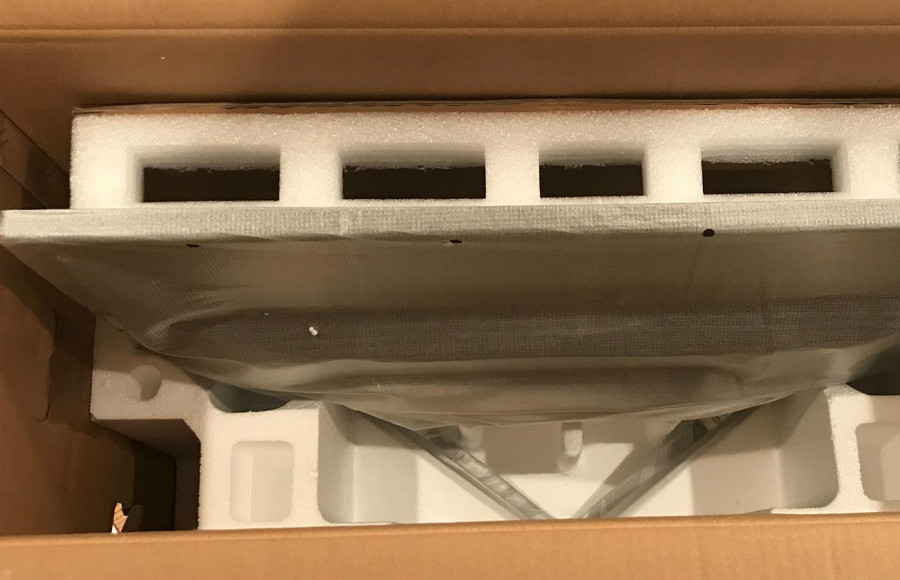 (Unpacking the Pre-Assembled Philips 326M6FJSB; Encased in Protective Foam)
Like the newer Samsung models such as the C32HG70 which we recently reviewed, the Philips 326M6FJSB utilizes a multi-directional JOG button for its controls. For some, it may take some getting used to, but it becomes more convenient than regular chicklet buttons once you use it frequently. Our only gripe is that Philips positioned this feature too high, making it tiring for specific users during elongated tinkering.

(The Philips 326M6FJSB's Simplified I/O Layout)
Since the Philips 326M6FJSB is an affordable offering, the included I/O layout is simplified down to the essentials as well. The panel includes DisplayPort 1.2, two HDMI 1.4 slots, and a VGA port for video inputs and host devices. There are no speakers although there is a 3.5mm Audio Out for headphones, and there are no USB ports for convenience.
Display and Performance
The Philips 326M6FJSB sports a 32-inch IPS panel with a 2560 x 1440 resolution, 60Hz refresh rate, 5ms response time and a contrast ratio of 1200:1. The box and manual advertise extensive gamut coverage and deep contrasts for excellent image reproduction. The clear advantage in this device over similar models like the VA-equipped HP Omen 32 is the drastically improved viewing angles of IPS technology.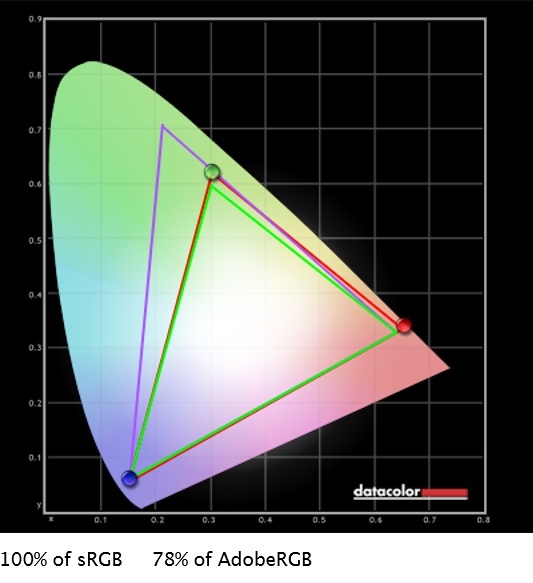 The Philips 326M6FJSB uses an 8-Bit+FRC color interface to maximize gamut reproduction that can support the brand's 126% claim. There are a few IPS panels out on the market that can achieve this, however, our Datacolor Spyder 5 Elite reveals only 100% coverage. This result means that the display is still excellent and fully capable of vibrant colors, although we cannot expect oversaturation which some gamers prefer.
Accuracy is spot on as well, since the Philips 326M6FJSB registered an average Delta E of 2.05, making it suitable for design and editing tasks other than entertainment. Gamma stayed well within 2.2 across all brightness levels, so users shouldn't worry about images becoming darker or getting washed out when using lower levels. The screen is pleasingly vibrant with test images looking alive and rendered accurately, while colorful games like Overwatch and its cartoony graphics are well-represented.
Another expected result revealed by our colorimeter is the contrast ratio which averages at 800:1 across all brightness levels against the claimed 1200:1. We still consider this result reasonable for IPS panels, and it shouldn't affect the image output, despite missing the firm's specification. Anything over 1000:1 is within VA territory, although we have seen a few exceptions out in the market that has exceeded that limit.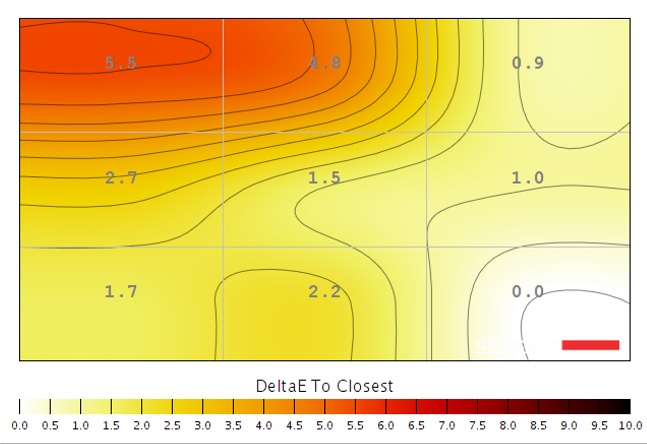 The biggest issue for us is the panel uniformity which is an everlasting problem for IPS panels. Our test revealed that the Philips 326M6FJSB's lower right quadrant is closest to the D65 standard while the upper left corner suffered a Delta E of 5.4 which is noticeable on color critical work. Brightness uniformity at 50% level showed up to 19% variance on the edges, although the light's strongest source is at dead center and the spread to the corners is somehow even.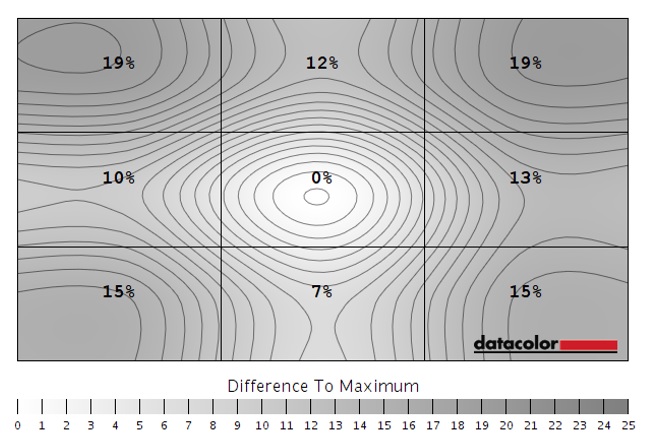 Take note that these results may vary from unit to unit, and consideration for the Philips 326M6FJSB should be placed on its excellent color coverage and accuracy. While gaming and watching movies, these issues were difficult to spot unless you look close enough or have extra sensitive vision. Also, our review unit did not have detrimental backlight bleeding which is expected on some IPS panels, further proving that IPS issues are wildly difficult to control.
The Philips 326M6FJSB is marketed as an entertainment monitor, with its emphasis on superb image quality and gamer-centric utilities. The IPS screen included is only capable of a 60Hz refresh rate and 5ms response time, producing flaws such as ghosting in some situations. We saw some minor blurs while playing Crucible mode on Destiny 2, but it took an extra set of eyes to notice them.
The panel's capabilities were healthy enough for immersive titles, but the limitations presented by the refresh rate are there. If you are used to 120Hz or faster monitors, the Philips 326M6FJSB is a downgrade unless color fidelity and screen size are essential, especially for engrossing genres such as RPGs and story-driven games. It also helps that this model has Freesync and only 9.3ms input lag, placing it close to the best competitive gaming monitors we have seen.
Finally, the Philips 326M6FJSB comes with an Ambiglow lighting feature near the bottom part that adds immersive effects. The LEDs try to mimic brightness levels and dominant shades on the screen such as blue or green try and extend the atmosphere of the game. During our game time, we did find the novelty feature enjoyable and impressive to watch, although some preferred it turned off since it somehow offsets focus.
Thoughts on the Philips 326M6FJSB
The Philips 326M6FJSB is a superb product considering its abilities and its friendly price which makes it easy to overlook its minor limitations. Despite missing the brand's claims in color and contrast, testing revealed that this model had plenty of eye-popping color reproduction and balance, making it suitable for entertainment and entry-level designer tasks. The Ambiglow feature has its merits especially for gaming while adding bias lighting effects for eye safety.
The Philips 326M6FJSB is worthy of getting shortlisted together with excellent gaming models like the HP Omen 32 if you are in the market for a TV-sized display. The specs feel just about right for the price, and wanting something better will surely cost a lot more cash. If you are in the market for a large-format gaming or entertainment monitor with a brilliant dollar per performance value, then the Philips 326M6FJSB is a wise choice.