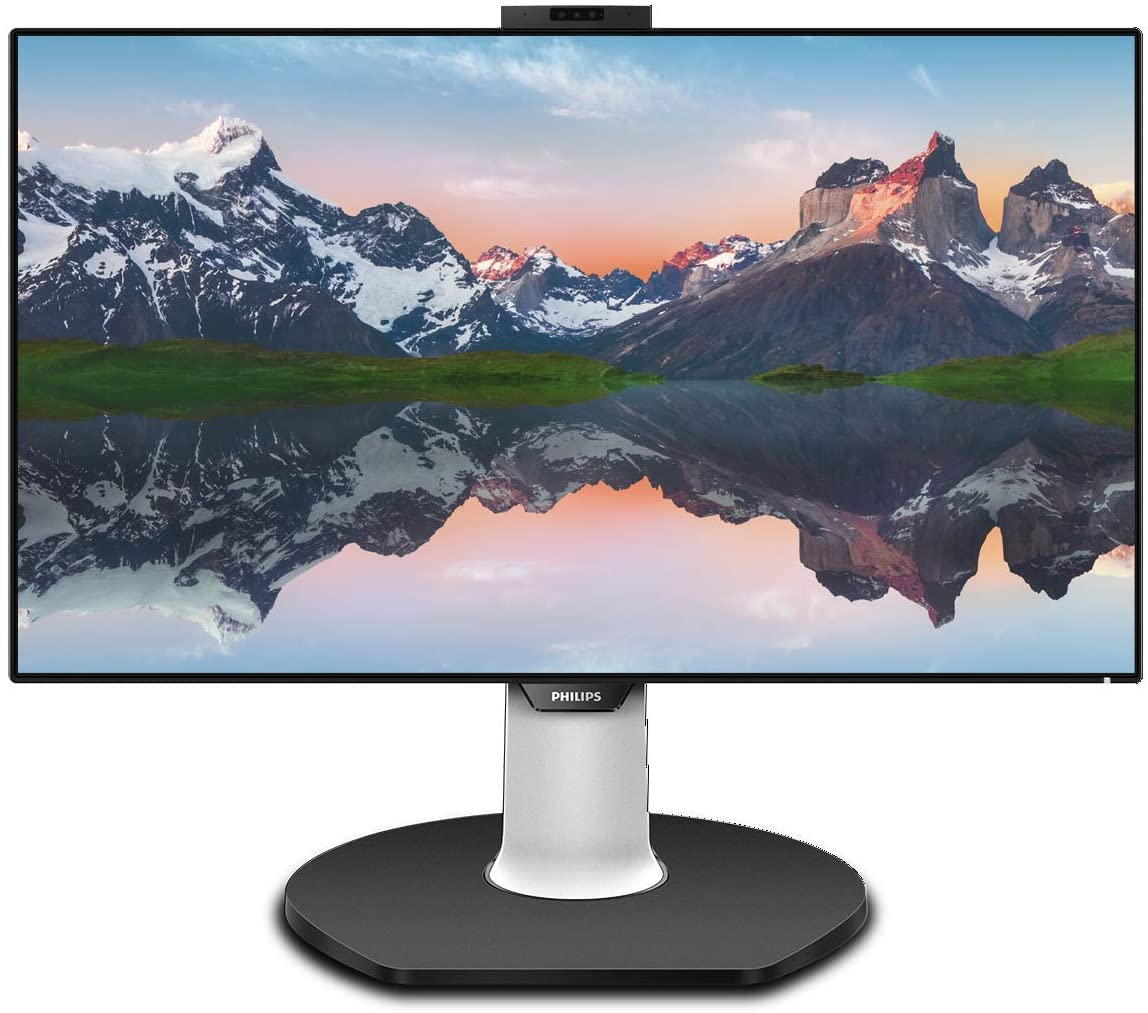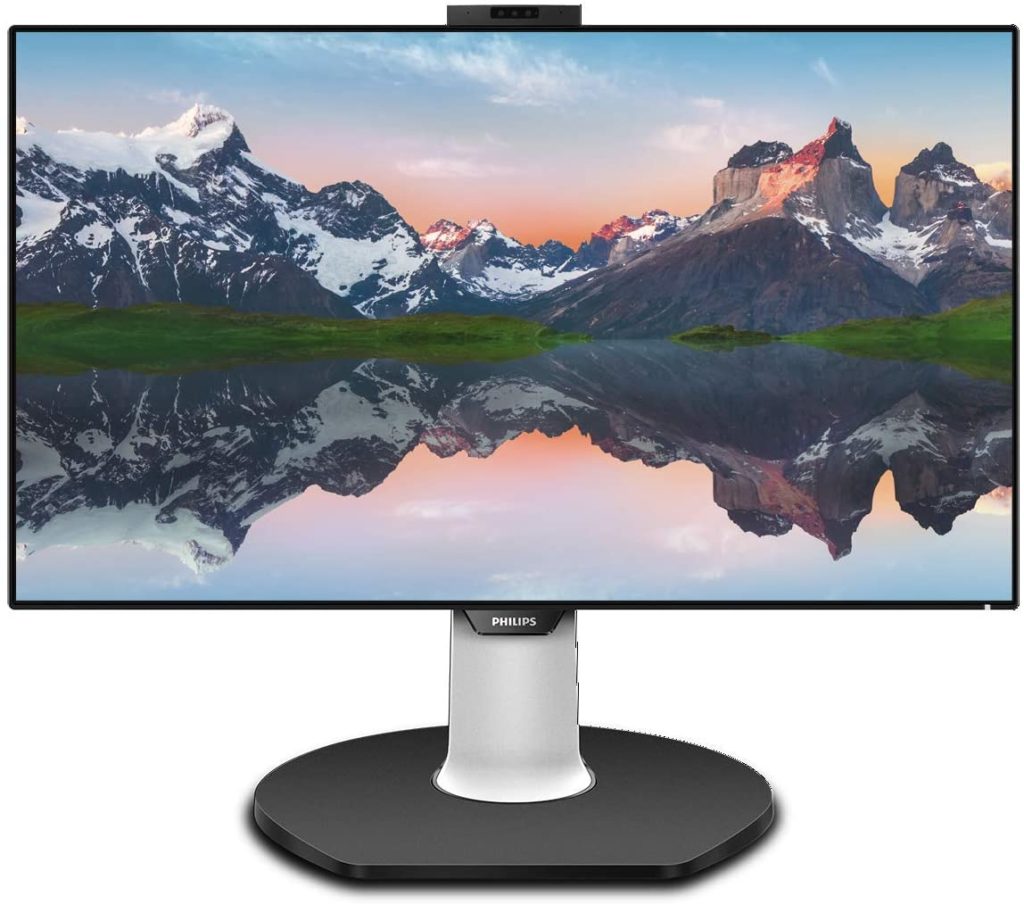 The Philips 329P9H is a high-end 4K monitor with excellent specifications, but all of it is included for a very palatable price that undercuts a lot of competitors. It's also a fantastic choice if you want a high-resolution screen that enables laptop docking via a USB-C connector that receives video inputs and transmits charging power at the same time. The Philips 329P9H is an excellent proposition if you want a feature-packed premium display, but does its 4K IPS panel have what truly counts?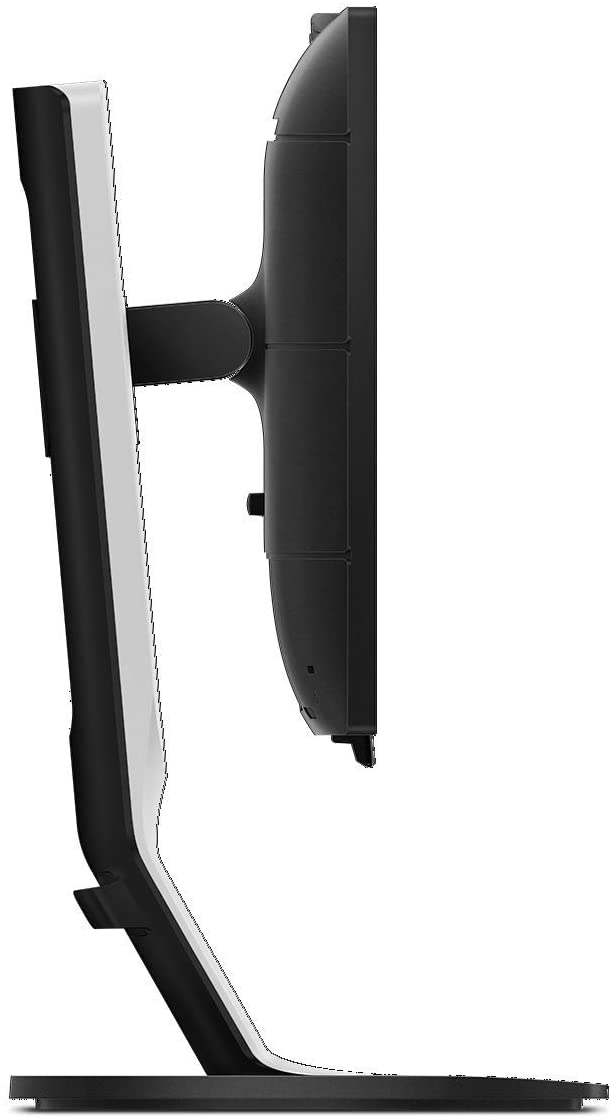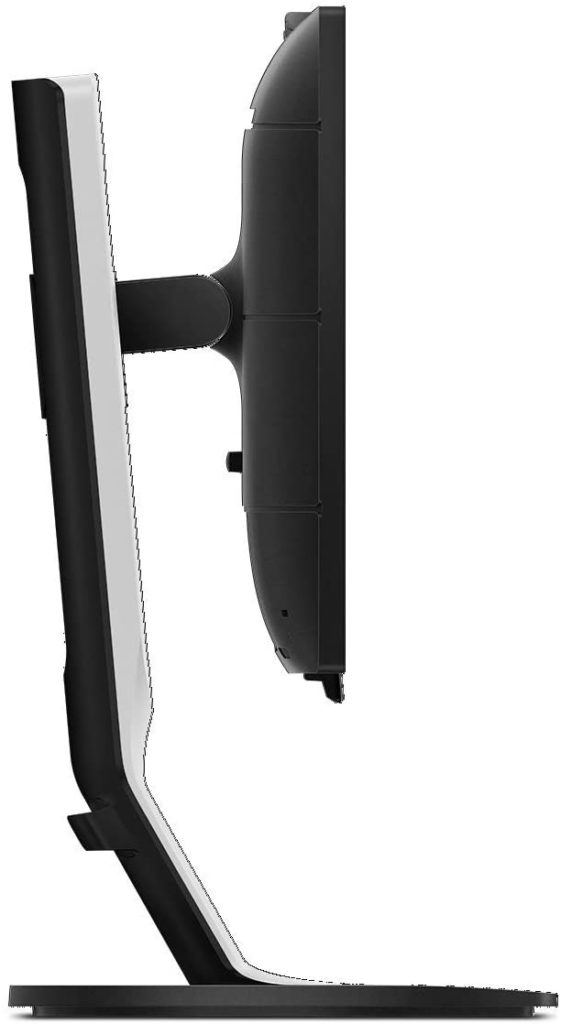 Philips 329P9H Specifications
Screen Size: 32 Inches
Resolution: 3840 x 2160 4K
Aspect Ratio: 16:9
Panel Technology: In-Plane Switching (IPS)
Refresh Rate: 60Hz
Response Time: 5 ms
Contrast Ratio: 1300:1
Brightness: 350cd/m²
Built-in Speakers: Yes (2 x 3 Watts)
Stand: Height – Yes
Stand: Tilt – Yes
Stand: Swivel – Yes
Stand: Pivot– Yes
VESA Compatibility: Yes (100 x 100)
Connectivity: DisplayPort 1.2 x 1, DP Out x 1, HDMI 2.0 x 2, USB-C 65W x 1, USB 3.0 x 4, RJ45 x 1, 5mm Audio Jack x 2
Dimensions: (W x H x D): 28.14" x 25" x 9.7"
Weight: 23.39 lbs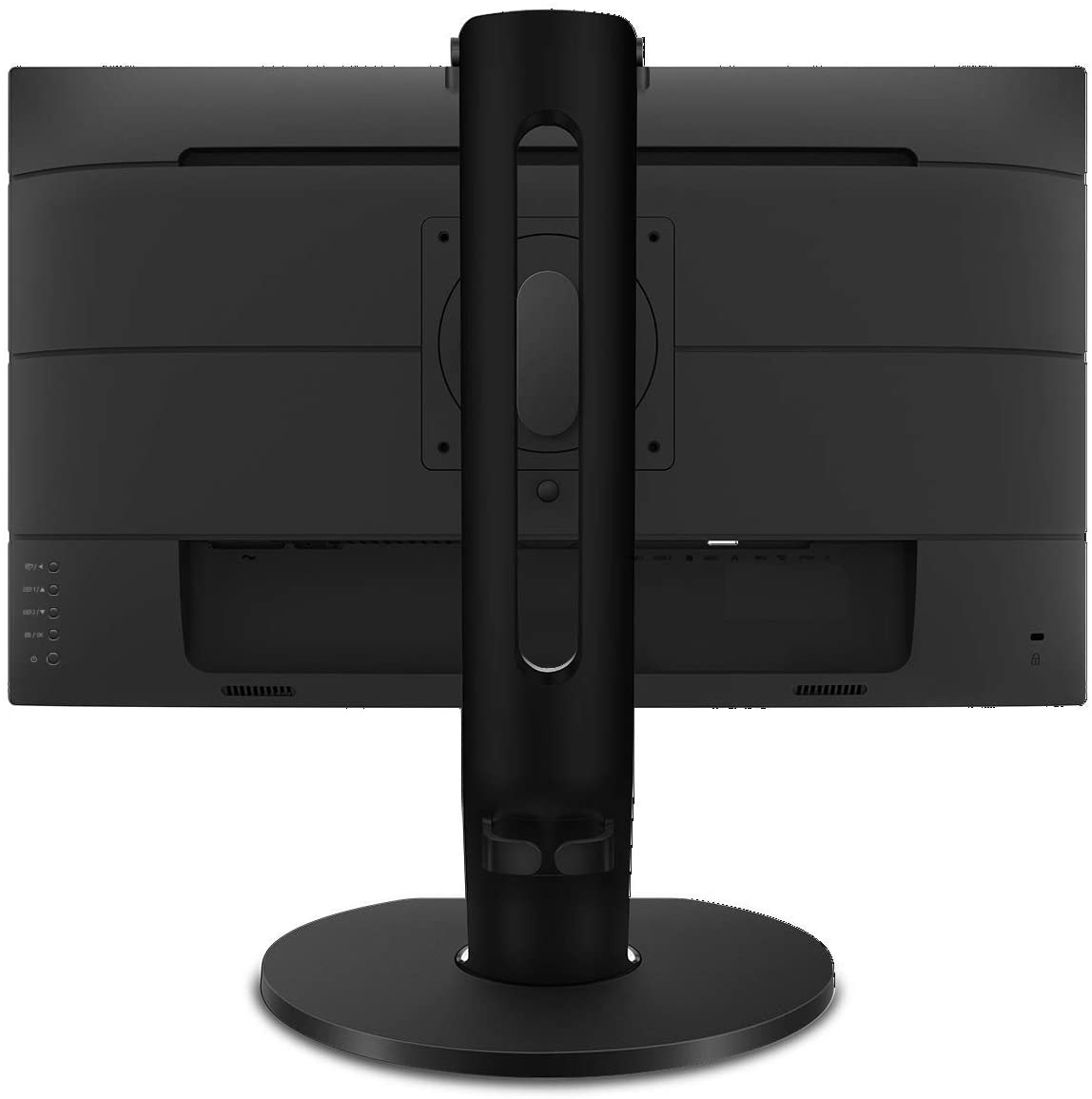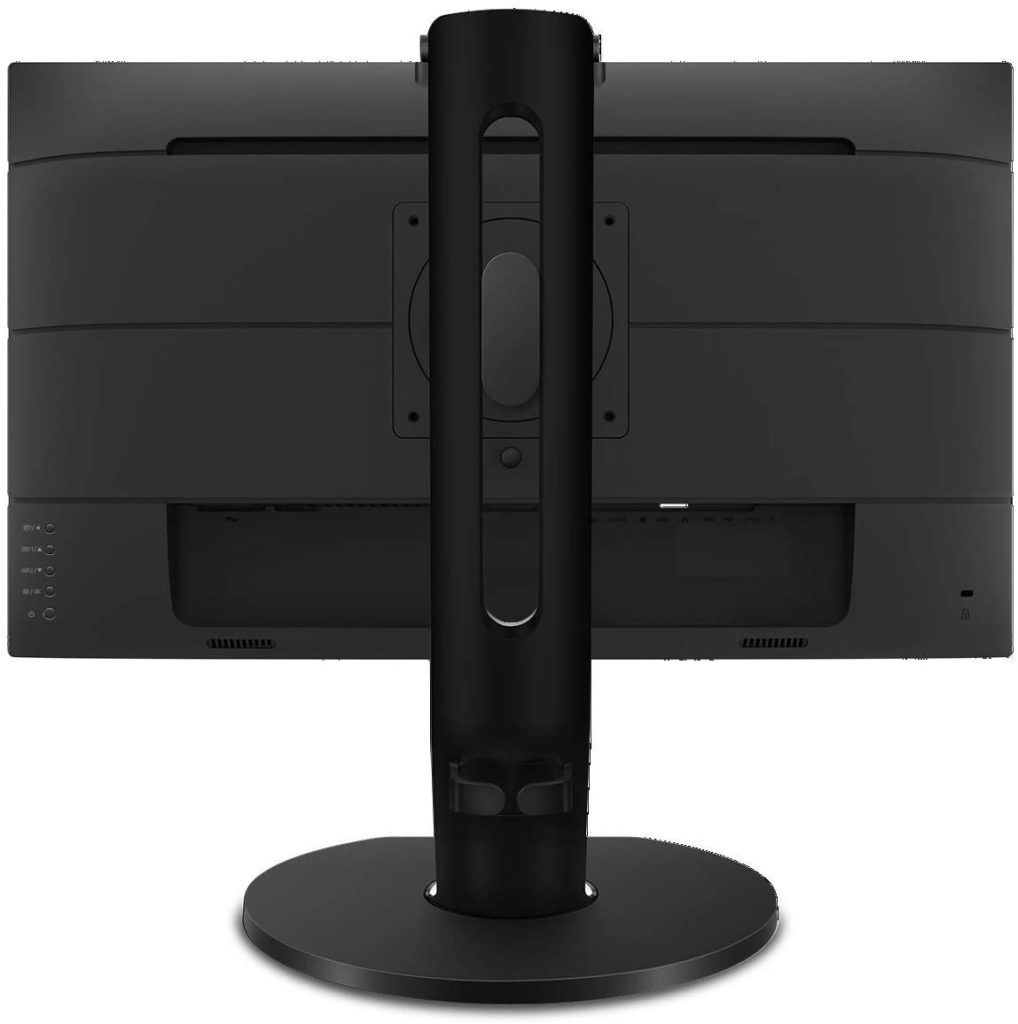 Design and Features
The Philips 329P9H belongs to the P line of the brand's products, so it adopts a no-nonsense minimalist design. The device has a matte black finish all over except for the silver accent that lines the pillar's front side. The display is almost bezel-free so you only have to deal with very minimal borders on each side of the display area.
The Philips 329P9H is a massive monitor at 32 inches, so you do have to make sure that you have enough space and a strong surface to put it on. The device weighs in at 23.39lbs which is close to some ultrawides we've handled in the past. The good news is the cabinet is quite slim while the base's depth is modest, so having multiple peripherals shouldn't be an issue.
Build quality for the Philips 329P9H is fantastic thanks to great material selection and precision fit and finish. The device doesn't have cosmetic defects or any feeling of fragility, while the firm adjustment mechanism doesn't squeak when used. There is no wobble on the monitor, plus it can hold the view angle you've set almost permanently.
The Philips 329P9H like many of the P-line and B-line monitors have a built-in webcam with mics that pops in and out of the top bezel as needed. This add-on comes in handy for conference calls while working at home, but it also supports the Windows Hello facial feature recognition feature. Its note a terribly critical feature for monitors, but it's a huge bonus which makes your computing life easier.
One thing we dislike about Philips 329P9H is its use of OSD buttons instead of a joystick which is easier to use. Expensive or premium monitors should always have the latter by today's standards, but some brands are even implementing it on their lower-end products. There are only four keys you need to master on this model, but we know many will still end up pressing the wrong one since the layout is at the rear.
The Philips 329P9H also has the PowerSensor feature that sticks below the bottom bezel's middle section. This part uses infrared to detect if the user is sitting at the desk or if it's vacant so the monitor can reduce its brightness to save power. Philips claims their PowerSensor-equipped monitors can save up to 70% of power consumption which we think is a good move for the environment.
The Philips 329P9H includes a fully-adjustable stand that allows you to tilt, swivel, pivot, and raise the height of the display. The base doesn't take a lot of space, so some users with the smaller desks can still accommodate this large display. You can also swap out this part with a VESA mount, but it's only necessary if you are planning on a multi-display setup.

One of the best characteristics of the Philips 329P9H is its connectivity layout which includes just about every connector you will need. The panel at the rear includes DisplayPort 1.2, DP 1.2 Out, HDMI 1.4, and a USB-C slot with 65 Watts of power for single cable operation with USB-C laptops such as the MacBook Pro. The DP Out port allows for daisy-chaining another display with the 329P9H which makes multi-monitor setups much easier to set up.
You also get four USB 3.2 slots and a LAN port with the Philips 329P9H for your peripherals and networking. A pair of 3-watt speakers are also included in the package, but they are only good for conference calls or background music.
Display and Performance
The Philips 329P9H boasts a 32-inch IPS panel with a 3840 x 2160 resolution, 60Hz refresh rate, and 5ms response time. The backlight is rated at 350 cd/m2, but the contrast ratio of 1300:1 is higher than most IPS models in the market. This model also promises extended gamut coverage to go with the latter, but it isn't an HDR-enabled model.
32-inch screens with a 4K resolution are a match made in heaven since the pixel density is well-balanced and spread out over a more appreciable area. You get to enjoy the extra sharpness of UHD panels, but it doesn't look like small objects become microscopic to the point of using scaling. Games, movies, and images look better as well without any worry of pixelation or jagged edges.
The Philips 329P9H provides full coverage of the sRGB gamut volume with extensions in some shades. Default accuracy has a delta E average of 2.63 which is decent for daily use, but too high for a monitor of this caliber. Color temperature is cooler than the 6500K point, so some backgrounds might look like they have a slightly bluish tint.
Calibrating the monitor yields results which are better suited for the Philips 329P9H's class, starting with a better dE average of 1.09. You also get a more balanced color temperature which lessens the noticeable bluish tint of the screen. It would be preferable if Philips factory already calibrated the monitor to match its marketing, but at least the device responds well to manual calibration.
What we love about the Philips 329P9H is its contrast ratio which reached as much as 1390:1 at 360 cd/m2 which is its maximum brightness. Lowering the backlight to a more usable 50% reduced the contrast slightly, but it doesn't raise the black luminance to a readily noticeable scale. The screen can still look grayish when used in the dark, but its less of an issue with this model compared to the others we've seen.
Panel uniformity for the Philips 329P9H needs improvement due to a visible backlight leak at the top corner of the display. There is a noticeable loss in contrast brought about by the resulting clouding which gets annoying if you watch movies or play games. Of course, this aspect varies wildly between every unit, so there are better ones out in the market.
Pixel responsiveness isn't a key strength of the Philips 329P9H since it's not meant for gaming, but casual enjoyment is still doable. Fast-paced games like Modern Warfare will reveal trails and smudges, especially in contrasting transitions. This model has an overdrive feature that helps, but we advise against using the maximum level since it induces overshoot.
The Philips 329P9H doesn't have FreeSync, so naturally, G-Sync compatibility is out of the question. Adaptive Sync comes in handy with high-resolution models like this one, but it's understandable since the product isn't aimed at gamers. The high 30ms input lag will also deter gamers, but that's expected from a business monitor with high-end specifications.
Thoughts on the Philips 329P9H
The Philips 329P9H delivers its promise of excellent image quality, but you have to exert a bit of effort in calibrating to get the most out of it. The display's contrast is one of the highest we've seen from 32-inch 4K monitors outside of full HDR units like the incredible Asus PA32UCX. Its also an excellent docking monitor and a display solution for working at home, thanks to its unique feature set.
However, the Philips 329P9H isn't perfect due to its limitations in usage scenarios which involve a bit of gaming. It's not the fastest 4K monitor in the market, but to be fair, that's forgivable for something that's labeled for business or professional use. The Philips 329P9H is a good buy if you want a wide array of functional features and great image quality, but alternatives like the Acer PE320QK are much more flexible for the same price.
Pros:
Well Equipped with Features
Great Color Coverage and Calibrated Accuracy
USB-C With 65 Watts Charging
Excellent Contrast
Great for Working at Home
Cons:
Uniformity Needs Improvement
No Adaptive-Sync
High Input Lag
About the Author: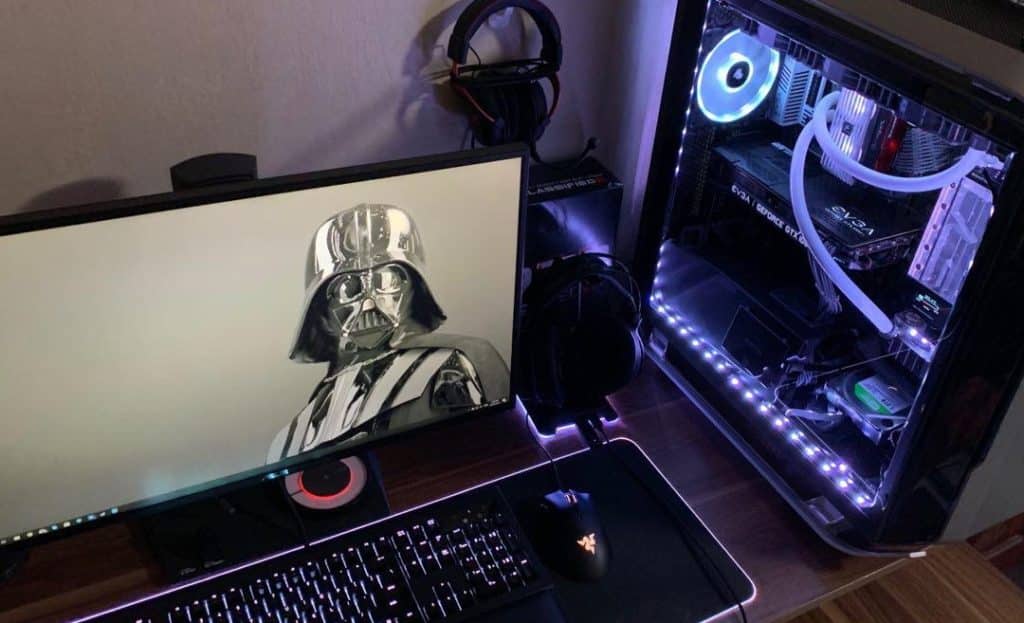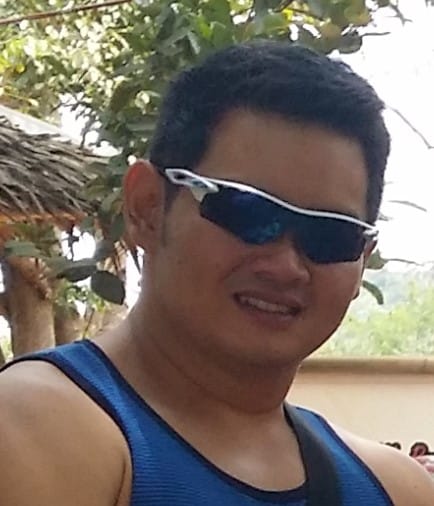 Paolo is a gaming veteran since the golden days of Doom and Warcraft and has been building gaming systems for family, friends, and colleagues since his junior high years. High-performance monitors are one of his fixations and he believes that it's every citizen's right to enjoy one. He has gone through several pieces of hardware in pursuit of every bit of performance gain, much to the dismay of his wallet. He now works with Monitornerds to scrutinize the latest gear to create reviews that accentuate the seldom explained aspects of a PC monitor.