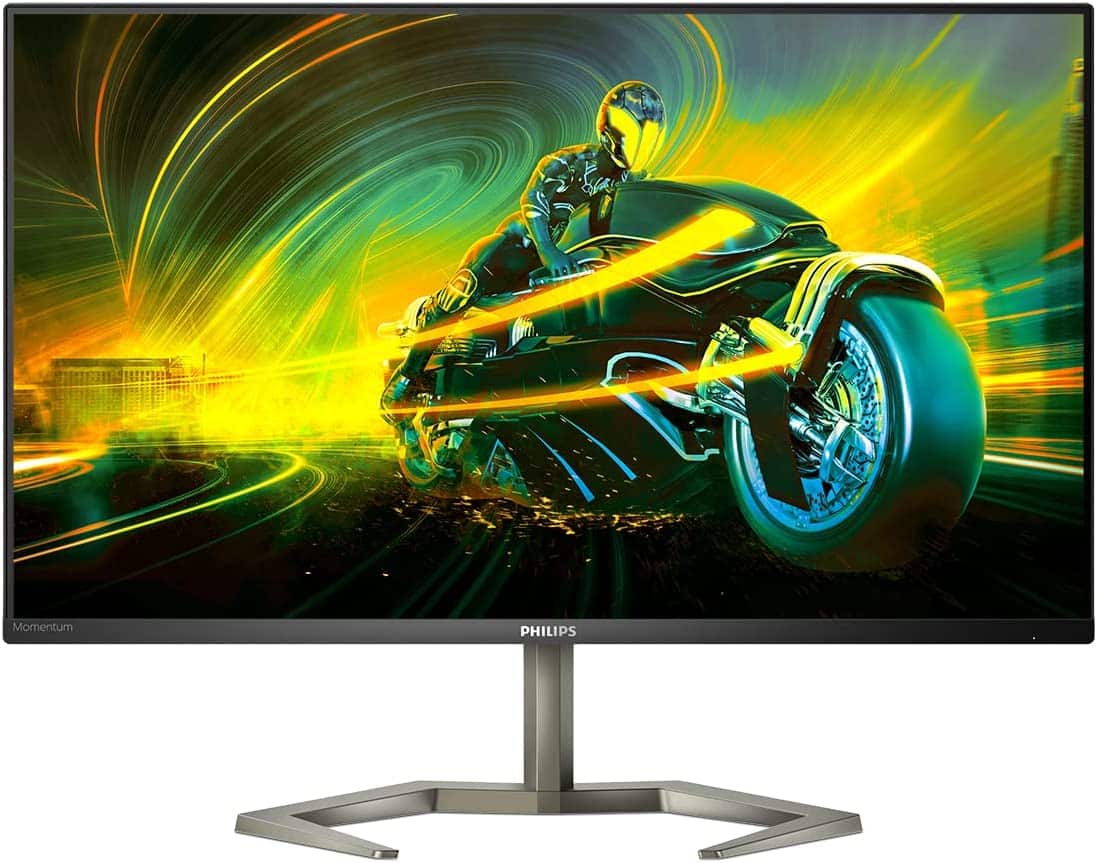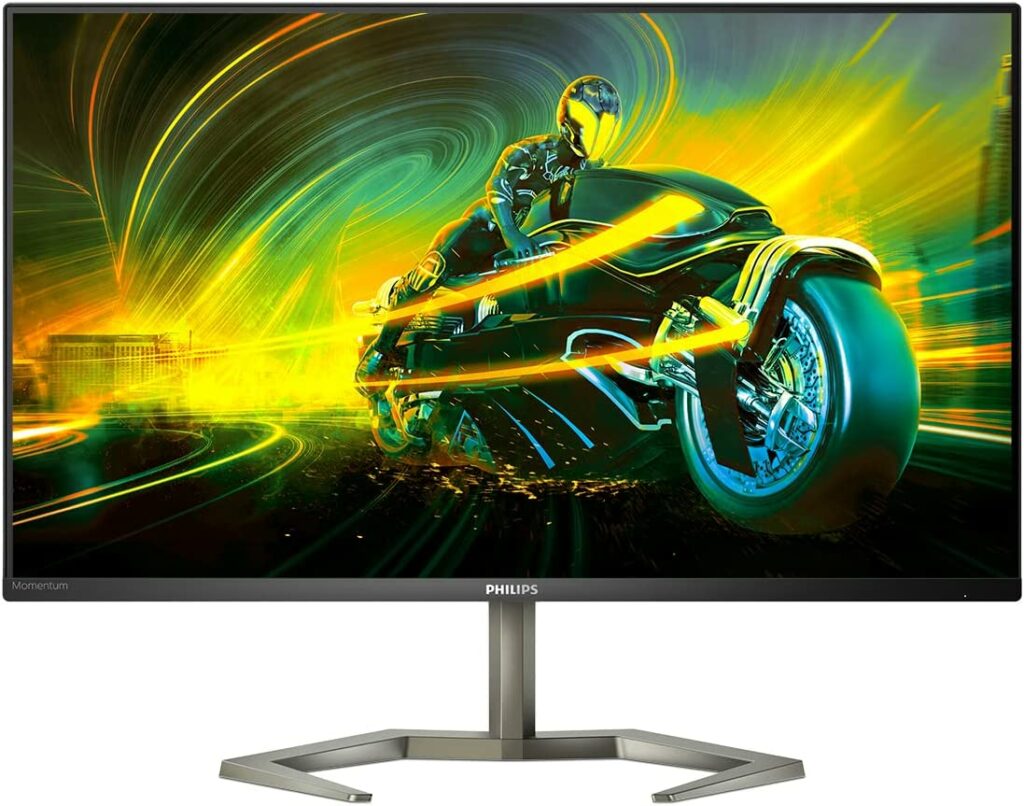 The Philips Momentum 32M1N5800A offers a large 4K 144Hz screen that's ideal for both PC and next-gen console gaming. It is HDMI 2.1 connectivity allows devices like the PS5 or the Xbox Series X to run at 4K 120Hz, so it's a must-buy for avid gamers. Let's take a closer look at the Philips Momentum 32M1N5800A to know how it ranks against established competitors like the Aorus FI32U.

Philips Momentum 32M1N5800A Specifications
Screen Size: 32 Inches
Resolution: 3840 x 2160 4K UHD
Aspect Ratio: 16:9
Panel Technology: In-Plane Switching (IPS)
Refresh Rate: 144Hz
Response Time: 1ms
Contrast Ratio: 1000:1
Brightness: 500 cd/m2
Speakers: No
Stand: Height – Yes
Stand: Tilt – Yes
Stand: Swivel – Yes
Stand: Pivot – Yes
VESA Compatibility: Yes (100 x 100)
Connectivity DisplayPort 1.4 DSC x 2, HDMI 2.1 x 2, USB 3.2 x 4, 3.5mm Jack x 1
Dimensions (W x H x D): 28.15" x 20.08" x 11.69"
Weight: 23.26 lbs

Design and Features
The Philips Momentum 32M1N5800A has a simpler design than most of its competitors so it's the easier choice. The matte black chassis won't clash with themed setups, plus it's easier to clean and maintain against dust and scratches. The display is bezel-free on three sides, but you still get inner borders like most of the LCD/LED monitors in the market.
It's a larger monitor than most, so you must account for the desk space you have left before pulling the trigger. The device needs almost a foot of depth, but its base is hollow in the middle so you can use that spot for your smaller peripherals. It's also quite heavy at 23.26 pounds so it is going to be a bit more tiring if you want to rearrange your setup.
The monitor's build quality is great so there is no reason to doubt the brand's quality even if it isn't as popular as Asus or Dell. The plastics used are thick and sturdy, so they won't flex or break just like that. The included stand is firm and stable, so the screen won't shake or sag while you are in the heat of battle.
The Philips Momentum 32M1N5800A's features are governed by a single joystick for the OSD. It doubles as the power button and it's convenient to use compared to buttons which take more effort. Other models like BenQ's EX3210U even include a remote, but they are not that necessary if you play on your desk instead of a couch.
The stand included in the package offers tilt, swivel, pivot, and height adjustments for your convenience. Getting a good viewing angle is crucial since the screen is quite big, but that's already doable with the stock setup. However, you can still use VESA mounts with it, but it will only become necessary if your desk is cramped.


The Philips Momentum 32M1N5800A includes two slots each for DisplayPort 1.4 and HDMI 2.1. The latter makes it special since it allows 4K devices like the PS5 and Xbox Series X to run at 120Hz. It also has four USB 3.2 ports and a 3.5mm jack, but it doesn't have USB-C which we think should be included at this price point.
It also doesn't have speakers like other premium options that often have upgraded pairs included in their specifications. That's fine since monitors like this work best with immersive headsets that are specifically tuned for gaming. You'll be able to focus better and enjoy the games and their incredible scores and effects more than you ever will with a built-in pair.
Display and Performance
The Philips Momentum 32M1N5800A boasts a 32-inch IPS panel with a 3840 x 2160 resolution, a 144Hz refresh rate, and a 1ms response time. The backlight has a 500 cd/m2 maximum while the contrast is listed at 1000:1 like most IPS panels. This is certified for HDR 400, but we all know how limited that is since that also means that this monitor has no local dimming.
4K is much better at 32 inches since the pixel density isn't too tight and the images aren't too sharp. It is easier to read text and visibility in games and movies is easier on your eyes, but you don't lose the extra crisp visuals it brings. The higher pixel count is still there after all, so it is still better compared to 1080p and 1440p.
The Philips Momentum 32M1N5800A produces 100% sRGB and 93% DCI-P3 for stunning colors in games and movies. It is also quite accurate out of the box with a deltaE average of only 1.08. The monitor is already pre-calibrated from the factory so gamers can use it right away once it is out of the box and plugged in.
Calibrating the monitor reduced that dE average to 0.79 which makes it suitable for color-critical work. You will need a colorimeter to improve it like that since it's next to impossible to get the same result manually. However, those are not exactly cheap so they are only practical if you will use the monitor for your work as well.
The Philips Momentum 32M1N5800A's backlight reached 505 cd/m2 at peak, but its contrast only reached 1201:1 at 50% brightness. That's high for an IPS panel, but it indicates that the monitor is still incapable of deep blacks. There is also no local dimming to enhance it, but that's understandable at this price range since those with effect mini-LEDs are usually more expensive.
Its panel uniformity had some issues due to backlight bleeding at the top corners of the monitor. It is noticeable since it adds clouding in dark scenes and it changes the color consistency in that quadrant compared to the rest of the panel. Note that this can vary between every monitor made due to tolerances, so there are better units out there.
The Philips Momentum 32M1N5800A is capable of excellent pixel response time so its blurring and ghosting are at a minimum. We recommend using the Faster level of its overdrive to reduce them further and make them unnoticeable. Using the Fastest level isn't recommended since it will add overshoot which is worse than the original issue.
The Philips Momentum 32M1N5800A is compatible with both FreeSync and G-Sync so you don't have to play without VRR. This duality is handy to have so you don't get stuck with one GPU brand when you upgrade. Input lag is at 4ms at 144Hz, so there is no need to feel that you are at a disadvantage while gaming.
Thoughts on the Philips Momentum 32M1N5800A
The Philips Momentum 32M1N5800A is a great choice if you want both high-end gaming capabilities and accuracy. It's well-designed and it is not too gaudy, but it's also durable and reliable enough to keep for a few years. We like that it includes HDMI 2.1, but it could also use USB-C connectivity since it isn't exactly cheap.
The Philips Momentum 32M1N5800A is still priced higher than many comparable monitors, but that's understandable since it's a new model. It doesn't have any deal-breakers, but we think that it could use a bit more add-ons to make it a practical purchase. However, it's an excellent upgrade if you want to join the 4K 144Hz if we consider its imaging and gaming performance.
Pros:
Fast and Blur-Free
Full sRGB Coverage
Fully Adjustable Stand
Excellent Build Quality with Lower Price
Superb Default and Calibrated Accuracy
Cons:
Limited Contrast
No Local Dimming
Poor HDR
No USB-C and AmbiLight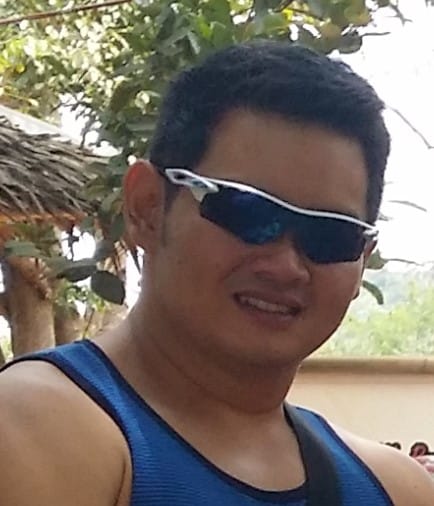 Paolo is a gaming veteran from the golden days of Doom and Warcraft. Since junior high, he has been building gaming systems for family, friends, and colleagues. High-performance monitors are one of his fixations; he believes that every citizen's right to enjoy one. He has gone through several pieces of hardware in pursuit of every bit of performance gain, much to the dismay of his wallet. He has also spent half a decade researching, reviewing, and writing about these products and now has over 1400 articles about the best gaming tech under his belt.