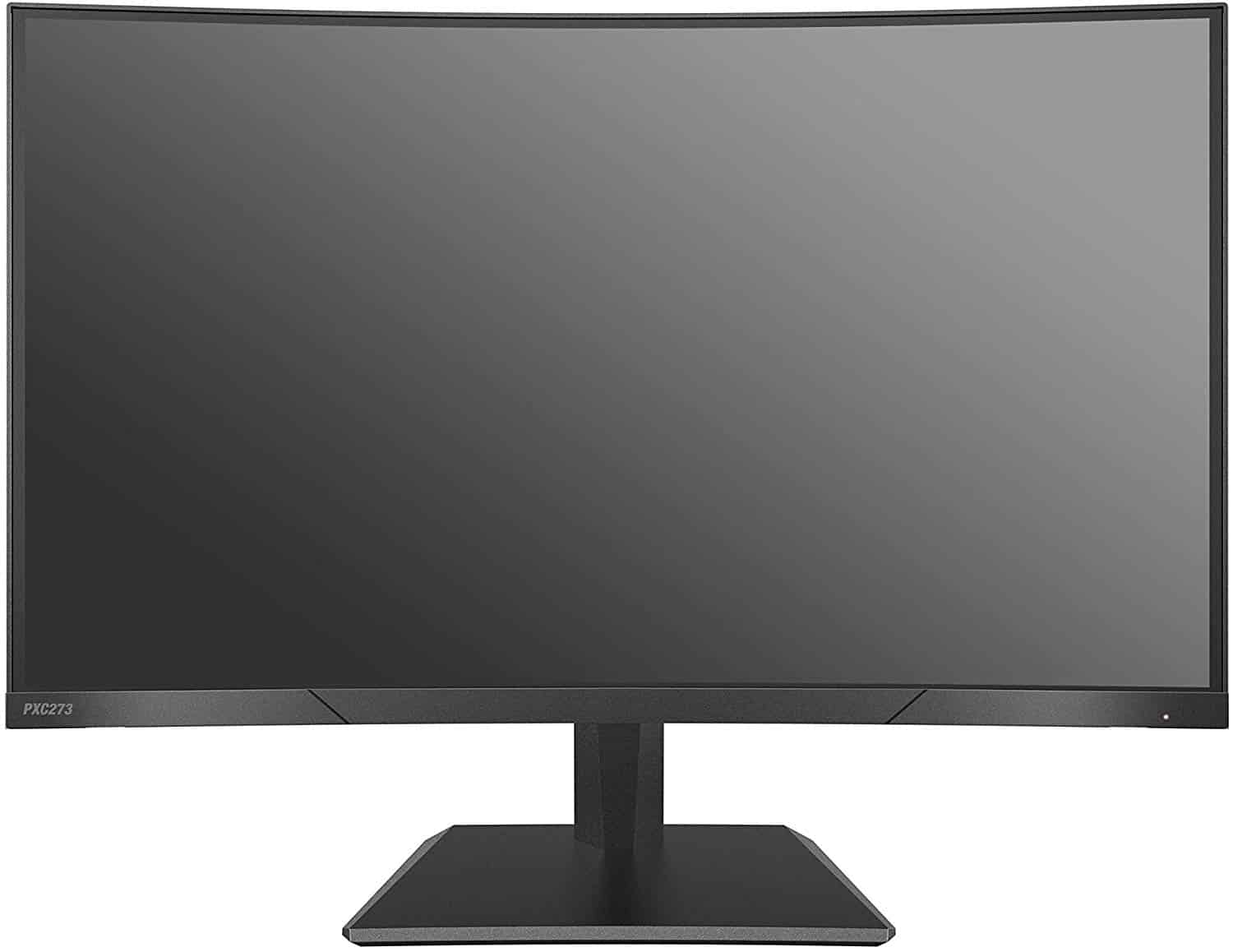 Pros:
Very Low Price
Excellent gamut and contrast
Sleek Design
Cons:
Tilt-only stand that wobbles
Poor gamma reduces vibrancy
The Pixio PXC273 is an inexpensive curved gaming monitor with a vibrant, VA screen and gaming-grade specifications for an excellent performance per dollar ratio. Pixio has come a long way from its lesser-known Korean monitor brand days, judging from the new and sleek look of its latest creation. It's difficult to believe that the Pixio PXC273 can outmatch its premium competitors if you judge it by pricing along, but let's see what it has in store for the thrifty gamer.
Pixio PXC273 Specifications
Screen Size: 27 Inches
Resolution: 1920 x 1080 Full HD
Aspect Ratio: 16:9
Panel Technology: Vertical Alignment (VA)
Refresh Rate: 144Hz
Response Time: 3ms
Contrast Ratio: 3000:1
Brightness: 250 cd/m²
Built-in Speakers: No
Stand: Height – No
Stand: Tilt – Yes
Stand: Swivel – No
Stand: Pivot– No
VESA Compatibility: Yes (75 x 75)
Connectivity: DisplayPort 1.2 x 1,HDMI 4 x 1, DVI x 1, 3.5mm Headphone jack x 1
Dimensions (W x H x D): 24.1" x 17.8" x 7.3"
Weight: 10.2 lbs
Design and Features
The Pixio PXC273 sports a clean and modern aesthetic that makes it more enticing to its gamers compared to the PX277 which looked like it was from the early 2000s. This model has an attractive matte black finish that doesn't attract dust and stains, making it considerably better when it comes to maintenance. The screen is almost bezel-free on three sides, the borders are only eight millimeters thin so they are barely noticeable when gaming.
The screen has a less-pronounced 1800r curve that aims to immerse its users, but its effects are barely noticeable at this size. You can, however, enjoy its benefits if you use the Pixio PXC273 in a triple display setup where the curve will truly come out. It's also a suitable candidate for that kind of build since it's so cheap and its side bezels are next to nothing.
Build quality is decent for a budget gaming monitor, but it can't be helped if the plastics feel thinner than what we are used to. There is no brittleness on the surfaces or any unhinged seams, but you would notice the weight of the device itself is lighter than most. The monitor also wobbles a bit when you touch it, but it's more of a design limitation rather than poor material engineering.
The included stand is mostly to blame for the wobble due to its smaller attachment plate at the rear. Thankfully, you can remove the part and swap it out with a VESA mount that has a 75 x 75 pattern. It's easy to find a suitable and affordable armature since the monitor is so light, but that will cost that will bring the Pixio PXC273 closer to its competitors.
The connectivity layout on the Pixio PXC273 is also simplified, but it includes everything you will need for everyday use. There is a slot each for DisplayPort 1.2, HDMI 1.4, and DVI for video inputs, and a 3.5mm jack for your headphones. You need to use the DP 1.2 slot for 144Hz operation, so Pixio only included a cable for it and none for the other slots.
It's also worth highlighting that the Pixio PXC273 has an OSD joystick at the back which makes tweaking its settings considerably easier. Most budget options have to do with pesky OSD buttons which are either confusing or prone to miss-presses.
We are used to seeing USB slots and speakers on gaming monitors nowadays, but it would be unfair to ask for such when the Pixio PXC273 is already very affordable. Most gamers don't even use them anyway since modern gaming motherboards already have numerous USB receptacles while headsets are always better for gaming purposes.
Display and Performance
The Pixio PXC273 sports a 27-inch curved VA panel with a 1920 x 1080 resolution, 144Hz refresh rate, and 3ms response time. The backlight is rated at 250 cd/m2, while the contrast ratio sits at a typical ratio of 3000:1. The panel this model uses comes from Samsung which is one of the main proponents of VA technology as seen on their monitor and TV products.
Quad HD or 1440p is more suited to displays at this size, especially at near-field range. However, we can say from experience that 27-inch monitors like the Pixio PXC273 do not look as pixelated as many believe they are if you aren't sitting too close to the screen. Visibility is considerably better for these displays, although there are times or when graphics are set very low that the pixels can become noticeable.
The Pixio PXC273 reaches excellent gamut coverage with its 124% coverage of sRGB and around 84% of the DCI-P3 standards respectively. This characteristic is fantastic if you want eye-popping colors, but the oversaturation results in massive color errors which reached as much as DeltaE 4.05. Calibrating the screen will bring down the score to around DE 2.7 which is more acceptable, although it doesn't mean the product will become suitable for editing.
The Pixio PXC27 is also capable of fantastic contrast, reaching as much as 4050:1 at around 60% brightness settings. Unfortunately, the display's gamma is too dark at 2.4, reducing the pumped up vibrancy that's expected from these scores. Calibration did little to change this flaw, so we hope Pixio could issue a firmware-based fix at some point.
Another fantastic quality of the Pixio PXC273 is it barely had uniformity issues despite having a curved screen. There were no noticeable clouding or leaks on the corners, and brightness differences remained under 5%. Contrast and color temperature between each of the display's sections did not show any visible irregularities, but this could change between unit to unit.
The Pixio PXC273 is also surprisingly fast when it comes to pixel response times as proven by its blur-free performance. Some trails become visible if you pan the screen too quickly, but the artifacts are barely there and you have to squint to see them. The OSD still includes an overdrive feature, but we don't think the default performance warranted a boost at all.
FreeSync is part and parcel of the Pixio PXC273, but G-Sync compatibility mode is also possible after you manually activate the feature. Monitors are getting better in this regard, making it easier to choose models which have not yet been certified by Nvidia. Input lag sits at 6ms at 144Hz, so there is no need to worry about "de-synced" instances or delays while enjoying your favorite title.
Thoughts on the Pixio PXC273
The Pixio PXC273 offers tremendous value at the $200 if you consider its size, image quality, and design. The VA panel's strong performance in color reproduction and contrast will make this option popular in the budget monitor market. We like the sleek look of the chassis, which when combined with the curve and affordability, will make the product ideal for triple monitor setups.
One issue we know many won't be able to get over is the Pixio PXC273's poor performance in Gamma which did not respond well to calibration. The screen will look slightly darker which some will prefer, but it kills some of the extra vibrancy the panel can offer. The stand could also use some strengthening, but we think that's too much to expect from such as wallet-friendly product.
About the Author: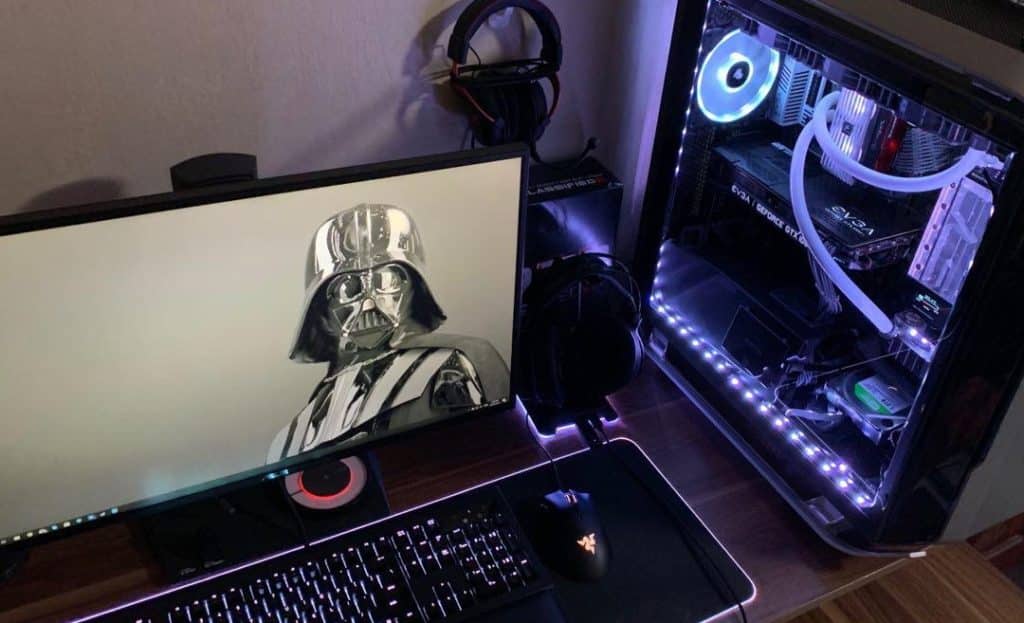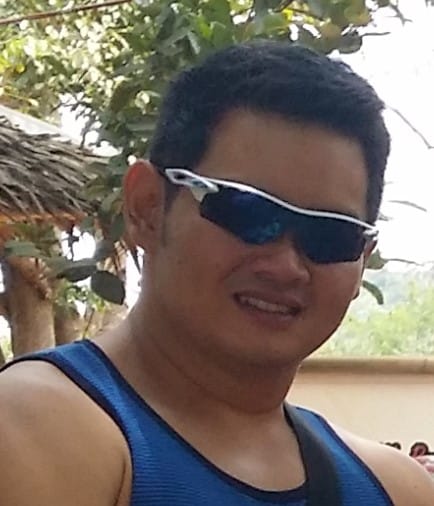 Paolo is a gaming veteran since the golden days of Doom and Warcraft and has been building gaming systems for family, friends, and colleagues since his junior high years. High-performance monitors are one of his fixations and he believes that it's every citizen's right to enjoy one. He has gone through several pieces of hardware in pursuit of every bit of performance gain, much to the dismay of his wallet. He now works with Monitornerds to scrutinize the latest gear to create reviews that accentuate the seldom explained aspects of a PC monitor.