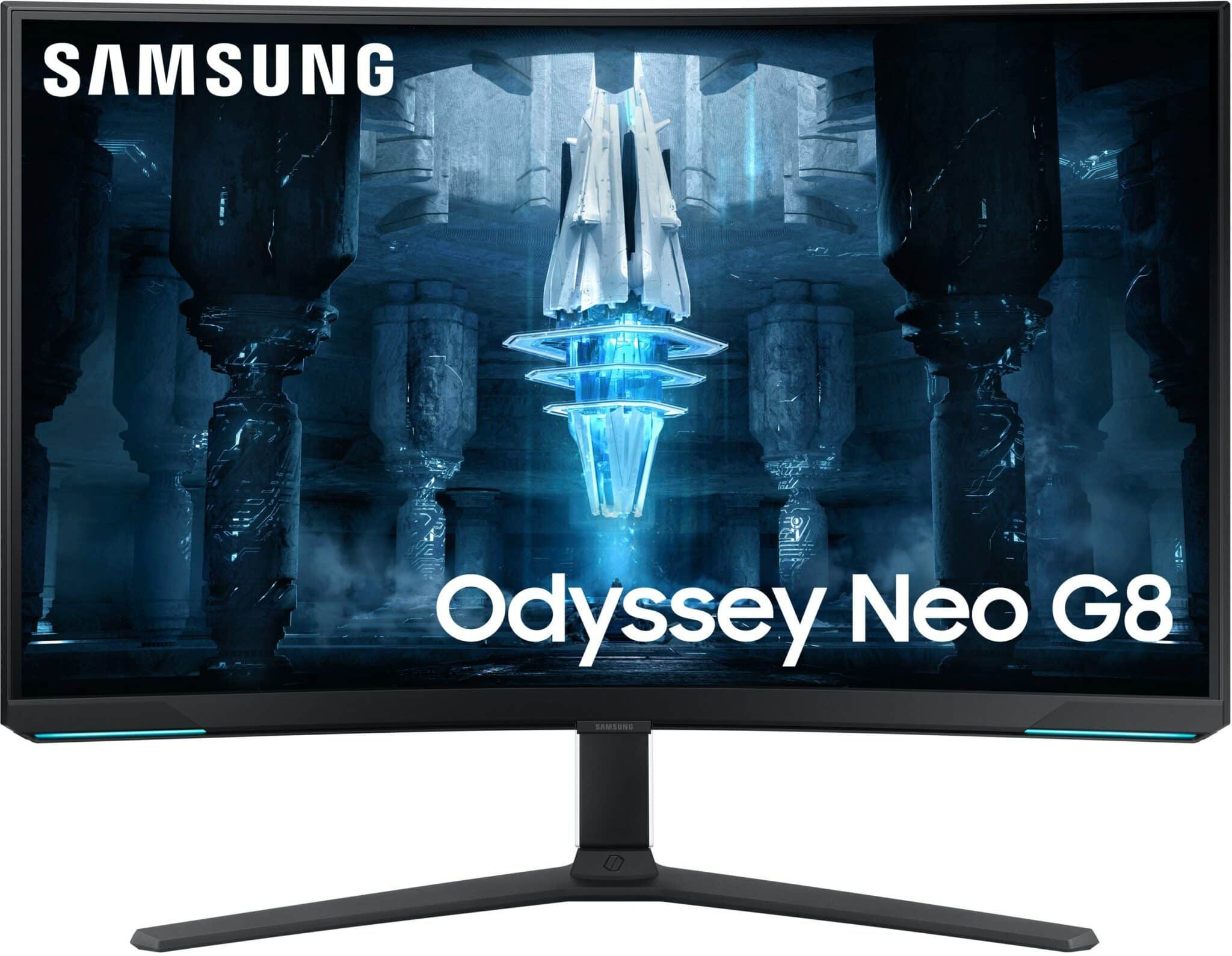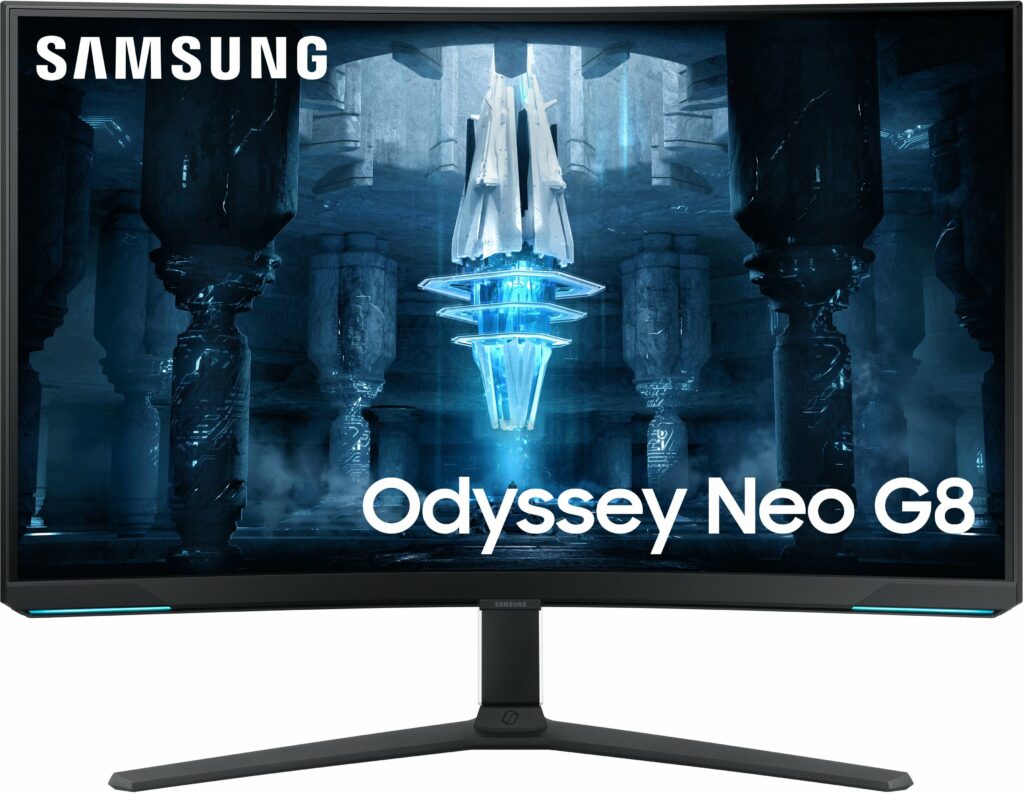 The Samsung Odyssey Neo G8 is an amazing new flagship monitor with the best technologies in the market and a whopping 4K 240Hz output. It brags about extreme immersion and HDR performance brought about by its Quantum Matrix Technology. The downside is it isn't cheap and it doesn't have DisplayPort 2.0, so let's check it out to see if the Samsung Odyssey Neo G8 is worth it.

Samsung Odyssey Neo G8 Specifications
Screen Size: 32 Inches
Resolution:3840 x 2160 UHD
Aspect Ratio: 16:9
Panel Technology: Vertical Alignment (VA)
Refresh Rate: 240Hz
Response Time: 1ms MPRT
Contrast Ratio: 1000000:1
Brightness: 350 cd/m2 (1000 cd/m2 Peak)
Built-in Speakers: None
Stand: Height – Yes
Stand: Tilt – Yes
Stand: Swivel – Yes
Stand: Pivot– Yes
VESA Compatibility: Yes (100 x 100)
Connectivity: DisplayPort 1.4 DSC x 1, HDMI 2.1 x 2, USB 3.0 x 2, 3.5mm Jack x 1
Dimensions With Stand (WxHxD): 29.1″ x 23.9″ x 12.2″
Weight: 19.6 lbs

Design and Features
The Samsung Odyssey Neo G8 follows the Neo G9's futuristic aesthetic which has garnered mixed feedback from its users. Most of the front has a matte black finish, but this model has a glossy white shell that's complemented with RGB lighting. The front is bezel-free on three sides, but you will still see inner borders when the screen is in use.
It is not as gigantic as the Neo G9, but this model certainly needs more space than your typical desktop monitor. It needs over a foot of depth due to its massive stand, plus its almost two feet tall when it is attached to its stand. It's quite light for a 32-inch monitor at 19.66 pounds but that also makes it feel plasticky compared to the other premium models we've seen.
Its build quality is great overall since it is a flagship model, but there is some room for improvement. The included stand can hold the weight of the screen, but it is not firm enough to prevent wobbling when you accidentally nudge it. The good news is that we didn't see any cosmetic defects or signs of structural weakness on any of its parts.
The Samsung Odyssey Neo G8 has RGB LEDs at the bottom bezel and on the rear that's called Core Lighting. It's not compatible with existing RGB ecosystems, but it has a feature CoreSync which matches the dominant colors of your screen. It spreads a nice bias light at the back, but some might want to turn off the LEDs at the bottom bezel since they can be distracting.
Another notable characteristic of this monitor is it uses a D-pad for the OSD instead of the easier-to-use joystick. They are still basically buttons, but it's a bit more convenient since the navigation keys have a direction layout. What we dislike about it is how mushy and shallow it feels, so we wish Samsung just went back and used a tactile joystick.
The stand included with the Samsung Odyssey Neo G8 offers tilt, swivel, pivot, and height adjustments for your convenience. It's easy to get a comfortable viewing angle, but it is always ideal to center the screen to you so you can enjoy the benefits of its curvature. You can use VESA mounts, but it's only necessary if your desk is limited or if you have multiple screens in use.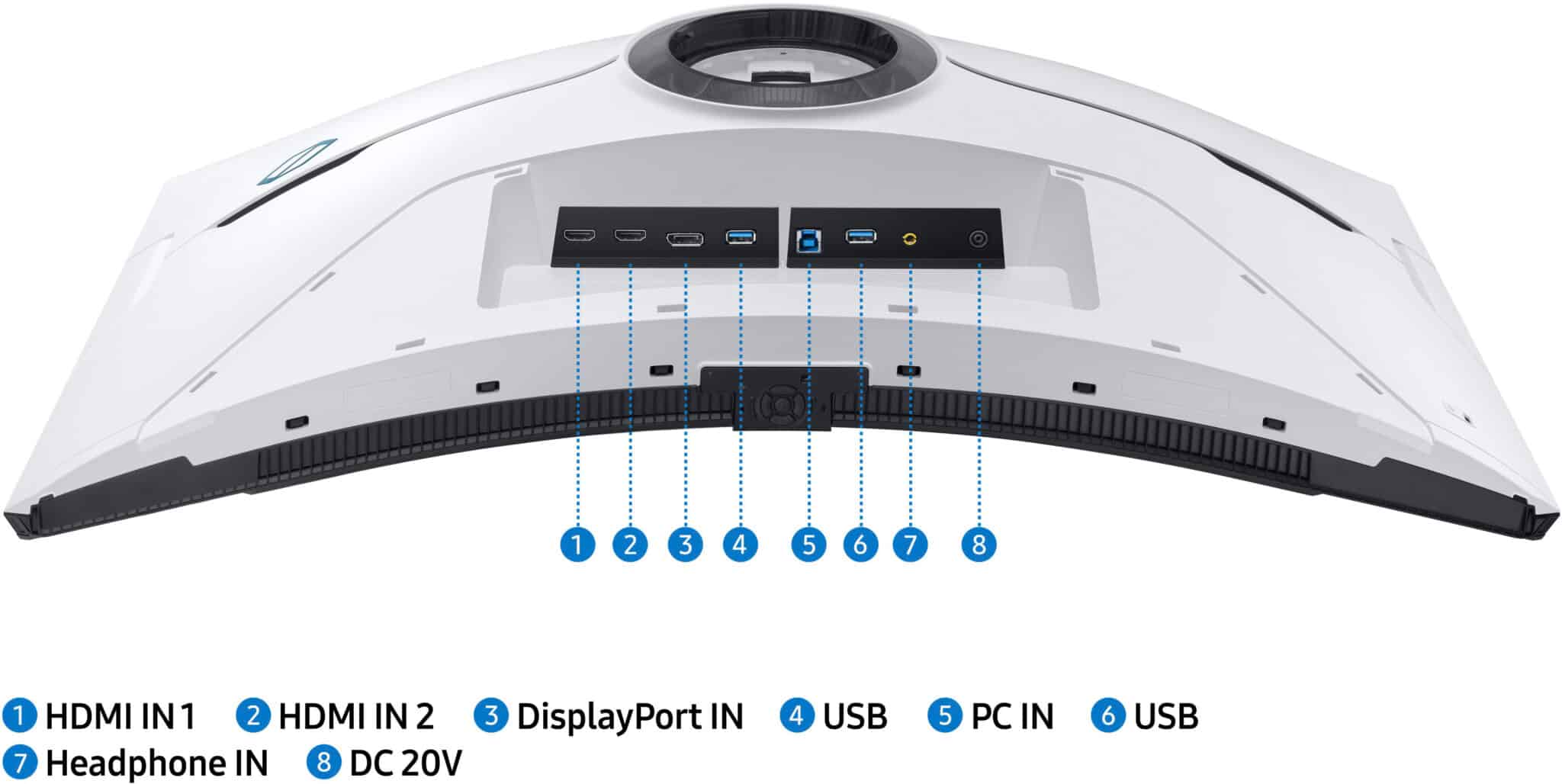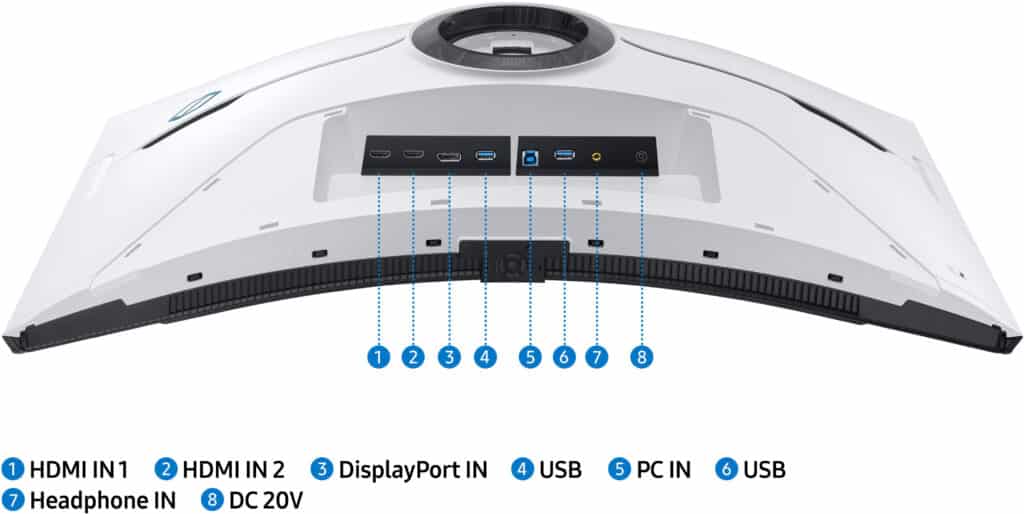 Another important aspect of this product is its connectivity layout which features DisplayPort 1.4 DSC and two HDMI 2.1 slots. 4K 240Hz on paper needs more bandwidth than what these video inputs can offer, but VESA and Samsung did say that it can be achieved with the help of Display Stream compression. You also get two usable USB 3.0 slots and a 3.5mm jack for your peripherals and convenience.
However, you can't run its HDMI slots at version 2.1, and you can only select HDMI 2.0+ in the OSD. The PS5 and Xbox Series X won't run at 4K 120Hz because of this limitation. The monitor needs a few firmware tweaks and updates, and we hope Samsung finally comes through for the first wave of buyers.
What's missing from this monitor is a pair of upgraded speakers that are usable for games and movies. it's fine since most of its intended audience will prefer headsets or desktop speakers anyway for better immersion. However, we feel that Samsung could have hooked the gamers up since the monitor is quite expensive.
Display and Performance
The Samsung Odyssey Neo G8 boasts a 32-inch 1000r curved VA panel with a 3840 x 2160 resolution, 240Hz max refresh rate, and a 1ms GtG response time. The backlight has a 350 cd/m2 typical output and a 1000 cd/m2 peak. This model advertises Quantum HDR 2000 specifications which aren't in line with VESA's DisplayHDR certification.
You should select a 32-inch variant if you want a 4K screen simply because it is more comfortable to view. The higher pixel count is still there, but it's not too tightly bunched up so reading and browsing won't immediately require scaling. It's not going to be as sharp as a 27-inch variant, but most won't think the difference is that bad since it still is a 4K screen.
The Samsung Odyssey Neo G8 renders 100% sRGB and 92% DCI-P3 for vibrant colors in games and movies. It looks like it's factory-calibrated since the deltaE average is only at 1.91, so most users won't need to tune it right away. You only need to tweak some of the settings so most will be able to start gaming right away.
Calibrating it reduced the deltaE average to 1.07 which is slightly better and a bit more balanced. However, that isn't a massive improvement, so it's not worth getting a colorimeter for this monitor if you are only using it for gaming. We can understand if you are into color-critical work, but there are better monitors for that purpose if it's your priority.
The Samsung Odyssey Neo G8's 1196 zones produced 390 cd/m2 in SDR but it peaked at a staggering 1422:1 when it is HDR mode is active. The screen's contrast ratio is equally impressive, reaching as much as 6331:1 at 60% brightness in SDR while it increased exponentially when its FALD backlight is working its magic.
Panel uniformity for the Samsung Odyssey Neo G8 is great since there are no major backlight leaks despite its steep curve. Some tiny dots can show up if it is showing an all-black screen, but it disappears when games and movies are on. This can change between every monitor made due to tolerances, so there are worse units out there.
It also shows very little blurring unlike other VA gaming monitors with lower refresh rates. You will still get some persistence and smudging in select circumstances, so you to use a bit of overdrive to help the monitor get past the minor flaws. However, we don't recommend setting it too high since it will include overshoot which you won't like.
The Samsung Odyssey Neo G8 is a FreeSync Premium Pro monitor, but it also works with Nvidia's G-Sync  Compatible mode. Note that you must activate Adaptive Sync if you want to push the monitor to 240Hz. Input lag sits at 4ms at 240Hz, so you don't have to worry about delays while playing games.
Thoughts on the Samsung Odyssey Neo G8
The Samsung Odyssey Neo G8 offers great image quality and impressive specifications in a neatly designed gaming product. Its FALD-equipped VA panel offers brilliant HDR performance and accurate color for all-around great visual experiences. It also breaks the mold by introducing the next evolution in the 4K gaming monitor market.
However, the Samsung Odyssey Neo G8 has a major flaw in the form of scan lines when users are running it at 240Hz. It doesn't happen on all Neo G8s out there, but it's a common complaint that we've come across. It should be okay after a few firmware updates, but we recommend buying from a seller that will let you return it no questions asked if in case you want to try your luck.
Pros:
Great Color Accuracy
Fantastic HDR Thanks to Mini LEDs
FreeSync/G-Sync Compatible
Fastest 4K Gaming Monitor
Cons:
Expensive
Prone to Scan Lines (Needs Firmware Update)
HDMI 2.1 Doesn't Work (Needs Firmware Update)
About the Author: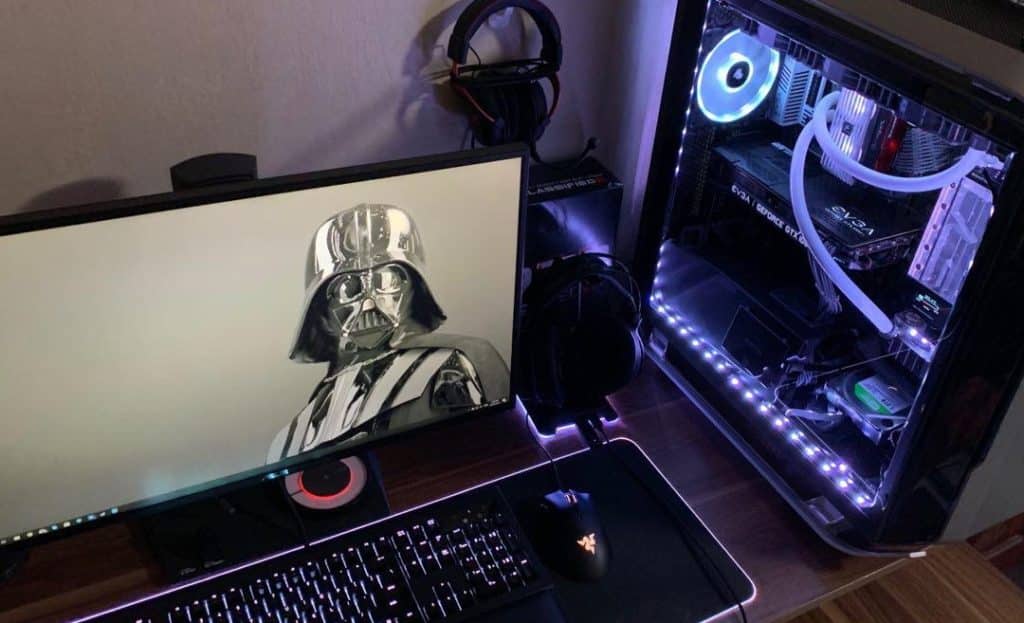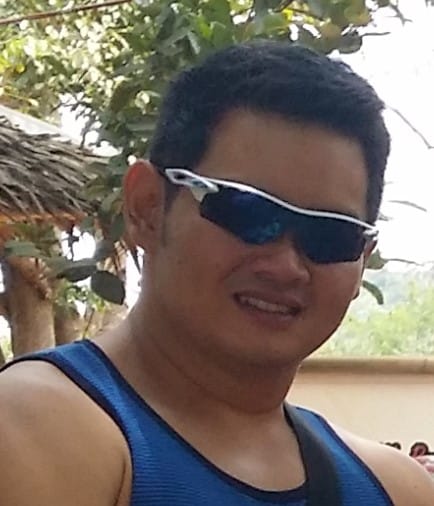 Paolo is a gaming veteran since the golden days of Doom and Warcraft and has been building gaming systems for family, friends, and colleagues since junior high. High-performance monitors are one of his fixations and he believes that it's every citizen's right to enjoy one. He has gone through several pieces of hardware in pursuit of every bit of performance gain, much to the dismay of his wallet. He now works with Monitornerds to scrutinize the latest gear to create reviews that accentuate the seldom explained aspects of a PC monitor.