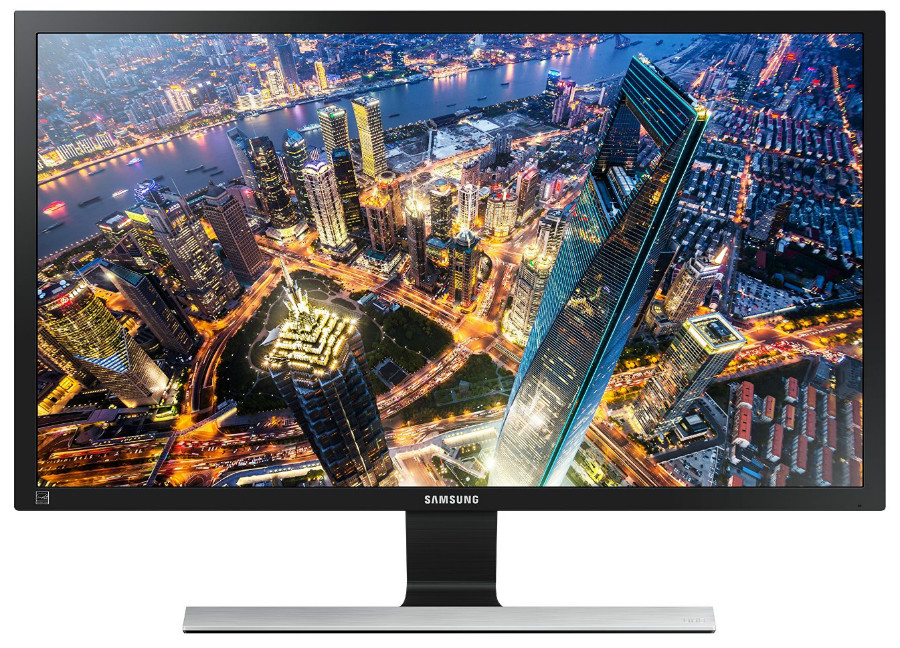 Review of Samsung UE590
4K monitor pricing has plummeted in the past year, from four digit price tags to as low as $300-$500. While each company races to produce a UHD screen with refresh cycles higher than 60Hz, we do think that the low-end bracket will still be the toughest battleground since most users would still opt for products in this bracket since they are easy to own. Samsung, a famous Korean company in the high-end screen market, is now starting delve into more with affordable monitors. Some of its newest products like the CFG70 are fairly priced if you consider the tech its features include, but the Samsung UE590, a budget-oriented 4K monitor suitable for gaming has an excellent price range of less than $400. Similar products are still hard to come by at this bracket in 2017, so we want to see and share how special this UHD offering is from Samsung.
Samsung UE590 Specifications
Screen Size: 28 Inches
Resolution: 4K UHD
Aspect Ratio: 16:9
Panel Technology: Twisted Nematic (TN)
Refresh Rate: 60Hz
Response Time: 1ms
Contrast Ratio: 1000:1 (Static)
Brightness: 370 cd/m²
Built-in Speakers: No
Stand: Height -No
Stand: Tilt – Yes (-2°/+15°)
Stand: Swivel – No
VESA Compatibility: Yes (75 x 75)
Connectivity: 1 HDMI 2.0, 1 DisplayPort 1.2, 3.5mm Audio Jack
Dimensions with Stand(WxHxD): 26.01″ x 18.44″ x 7.36″
Dimensions without Stand: 26.01″ x 15.01″ x 2.89″
Weight: 11.61

Samsung UE490 Design and Features
One aspect Samsung did decide cut out to meet the desired pricing is the exterior design of the UE590. The bezels are almost an inch thick on all sides, making the face of this product look like it is from another brand when you compare it to some of the company's high-end TV offerings. The Korean company is popular for using sleek design cues and classy textures, but the only specific characteristic they chose to use on this model is the black and silver color combination. The cabinet features a brushed black finish and slightly curves at the back, but the minimalistic stand has a likable sense of class with the silver edge on the base. The sides of the screen also have a silver lining, which, all in all, still gives the UE590 that sophisticated look Samsung's products are popular for.
It is understandable that this unit only has tilt for ergonomics, but we would appreciate other options such as height adjustment, at the least. The screen has around five inches of clearance from the base, so some users might struggle to get a centered viewing position as each person's height varies. The Samsung UE590's I/O options are also slim; users are limited to two HDMI 2.0 ports and a DisplayPort 1.2 plus a 3.5mm audio jack. Although, this is still ideal for typical setups since you can use DP to connect to your PC and use the HDMI receptacles for consoles or a Blu-ray player.
One thing we love about the UE590 is its 4-way joystick you can use to navigate the OSD, which is usually found only on high-end offerings. While doubling as the power switch, this feature is also the only thing you can press to access this product's features. We think it's a great move on Samsung's part to go with this smarter and tactile design because if you think about it, no one likes fumbling around with four to six buttons to adjust something. This feature can be found on the lower right-hand part of the front of the screen.

Display and Performance
The Samsung UE590 Series comes in two different sizes like most of their other monitors. (We are reviewing the 28-inch unit). This product features a 28-inch 4K TN panel with 60Hz refresh rate and 1ms response time making it suitable for casual UHD gaming. This size is perfect is appropriate in our opinion for 4K viewing, but if you want unimaginable pixel density, you can always get the 24-inch version will probably be less of a desk hog. Out of the box, color accuracy is decent for a TN panel, making it suitable for everyday tasks such as after-hours gaming or watching movies. We tested the screen to have up to 97% sRGB coverage which isn't entirely bad if you think about the price.
With that result being said, if you are looking for display to use with photo editing or video production, you might have to look elsewhere. In games we tested, images were still pleasing even in Overwatch, a cartoony and colorful title usually used for testing vibrancy. The TN panel's speed is key here, and while we did not notice severe input lag across our tests, the UE490 is noticeably slower than most of the best gaming monitors we reviewed. If you are neurotic about these small details, then you might need a snappy but expensive product like the Asus PG27AQ, a model which costs twice as much or more. So if you ask us if the Samsung UE590 is a good gaming monitor, we can say it is, but it will be limited to casual gaming enjoyment, much like how 4K fits into the gamer spectrum.
4K is still primarily a small niche when compared to competitive gaming which only utilizes 1080p resolutions at speeds of 144Hz or more, mainly due to the massive graphics power needed to render the eight million pixels on a UHD screen. Even great GPU offerings like the AMD RX480 are still unable to supply stable 60Hz refresh rates, but thankfully, the Samsung UE590 incorporates AMD's Freesync. In our Battlefield 1 tests, the frames struggled to reach 60FPS and were usually at around the high forties to fifties. We all know gaming below 60FPS can sometimes make a few players puke or explode with headaches, but thanks to the Freesync magic, this was not the case. The game did appear smooth so long as the frames stayed within the variable range of the VRR tech. We recommend users to optimize their graphics settings for each title so you can maximize Freesync within its implementation limitations.
Conclusion
The Samsung UE590 is a great product with an excellent and fair price. For the performance it offers, the company could have increased its cost and then justify it through the use of sleek aesthetics and unessential accessories to label it as a gaming monitor. In this regard, the bland exterior and limited feature set are forgivable in our book, since performance is always the critical aspect in any situation related to PC games. Other brands are mostly not capable of providing consumers with 1ms pixel response at this price point, and the only other product we can suggest the AOC U2879VF which costs less but trails behind in the color department by a small margin. So if you have a limited budget but want a 4K monitor for gaming after a hard day's work or multimedia use, the Samsung UE590 is a fantastic option under $400.