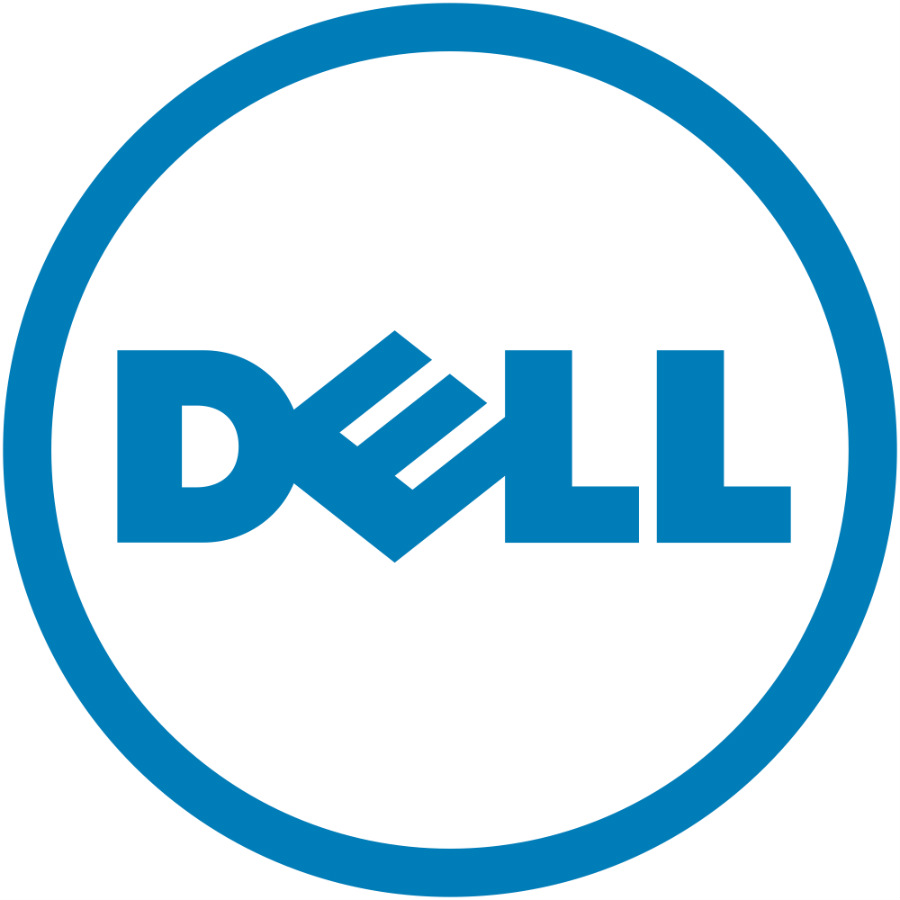 Dell monitors are some of the best products the industry has seen for their excellent value, reliability, and quality. The company also ventures into other computer related products such as peripherals, built systems, and even laptops. The company was built on vision, drive, and stamina, which then created products which uphold the highest qualities in performance and durability, so it isn't strange that they are one of the favorites between enthusiasts and reviewers.
Dell's Brief History – From Small Steps into Tech Giant Sized Leaps and Bounds
Michael Dell started PC's Limited in 1984 while he was attending the University of Texas at Austin. This startup which grew up into Dell started its humble roots in a campus dormitory at Dobie Center and aimed to sell IBM PC-compatible units from OEM components. Michael Dell's concept of expanding the meaning of the word "personal" in PC which meant that products should better understand each requirement from every customer.
In the same year, the company started its signature custom-built sales model by offering the Turbo PC, an Intel 8088-based custom computer for 795$. Thanks to advertisements from PC magazines, the Turbo PC started selling like hotcakes to customers who had diverse sets of options. The product was cheaper than reading- made PC units from competitors, but customers did not need to go through the process of assembling or building it themselves.
PC Limited gained more than $73 Million in its first year, and in 1987 the company dropped the PC's Limited name and switched to Dell Computer Corporation along with expansion in different countries. Britain was the first step, but eleven more countries followed in the next few years. By June of the following year, Dell Computer Corporation's capitalization grew to $80 million by opening the company to investors.
In 1990, Dell tried to outsource its products and services through clubs and superstores to address its lack of localized retailers. Growth was slow using this sales model, so the company went back and focused on its direct to consumer strategies. By 1992, Fortune Magazine listed Dell Computer Corp. into the top 500 businesses in the world.
In 1996 near the dawn of widespread internet service, Dell.com launched to reach more customers and to streamline the customization and purchasing process of its products. Within six months, the company was selling a million dollars worth of goods daily. After a few years in 2002, Dell entered the multimedia and entertainment business by offering TVs, handhelds, and audio players. '
Due to the company's expansion in other electronic ventures, the company was renamed Dell Inc. in 2003 at its annual stockholder's meeting.  And in the following year, Dell Inc. built a brand-new assembly plant in North Carolina, an endeavor heavily supported by the state with over $250 million dollars in tax breaks and incentives.
But in the case of monitors, Dell usually only does assembly using OEM panel modules from manufacturers like AU Optronics, LG, and Samsung. Some of their models are even manufactured by BenQ amongst the other companies above, the company still assembles and applies quality control standards according to the management.
2005 was another milestone for Dell Inc since it was included in top ranking company lists again as one of the most admired companies. It ran into some fiscal issues in the same year, but it did not stop the growth since, in 2006, Dell acquired Alienware, a high-end gaming computer brand.
Fast forward to 2016, after years of successes and problems, Dell Inc. together with EMC merged to become Dell Technologies which is recorded as the biggest tech merger in history. The products this tech giant produce are bought and used by millions of homes and offices worldwide, and despite encountering cutthroat competition, products like Dell monitors still can come out on top.
The Best Dell Monitors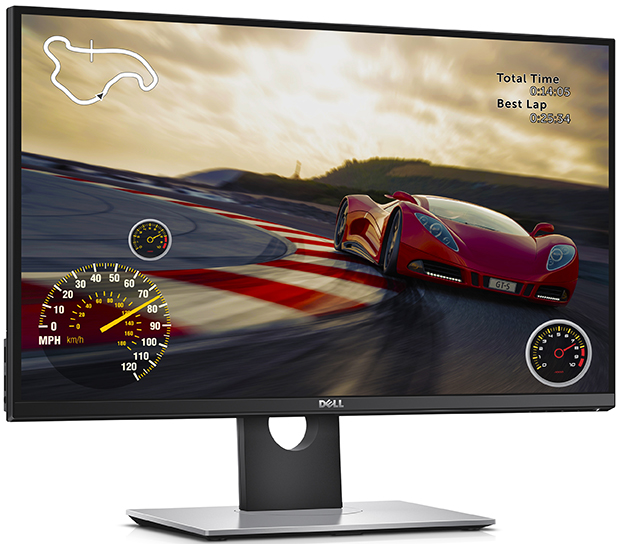 The Dell S2716DG is a superb gaming monitor with a 27-inch 1440p TN screen, 144Hz refresh rate, and G-Sync. This combination of specs provides owners with blur-free and buttery smooth visuals when paired with a Nvidia GPU while gaming in QHD, the next best resolution to 4K.
The product comes disguised as an office monitor making it a favorite among gamers who prefer simplicity over gamer-centric gaudiness, including great functionality and durability. But what makes the S2716DG one of the most popular Dell monitors is its price usually drops by more than a hundred bucks, making it seem like you get the G-Sync module for free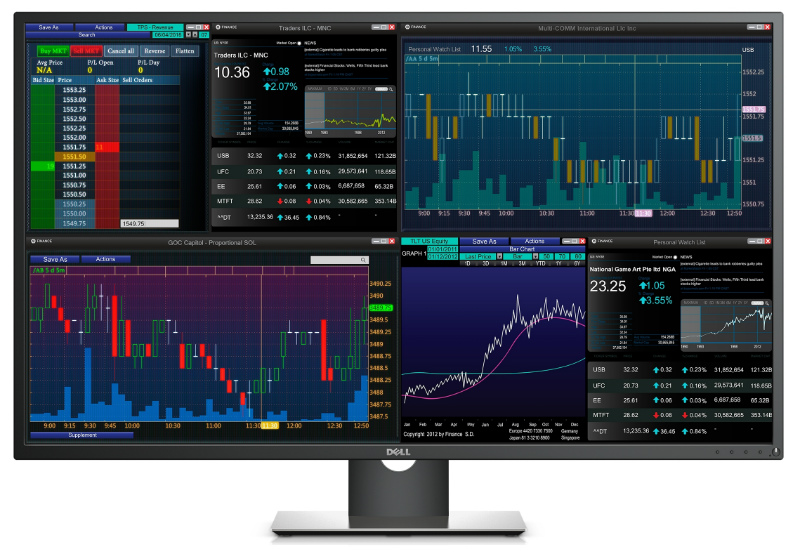 The Dell P4317Q is our favorite productivity monitor because of its sheer size matched with functions that can utilize every inch of the screen. This 4K behemoth can split the screen in several ways including four individually connected 1080p panels, providing versatility to users such as programmers, stock brokers or security professionals.
This premium display comes with a 4K IPS panel with a 10-bit color interface to provide vibrant colors, crisp details, and a wide virtual work area. It also comes with valuable features such as a rich I/O layout that includes RS232 connectors for IT management, making it a fantastic option for any industry or even entertainment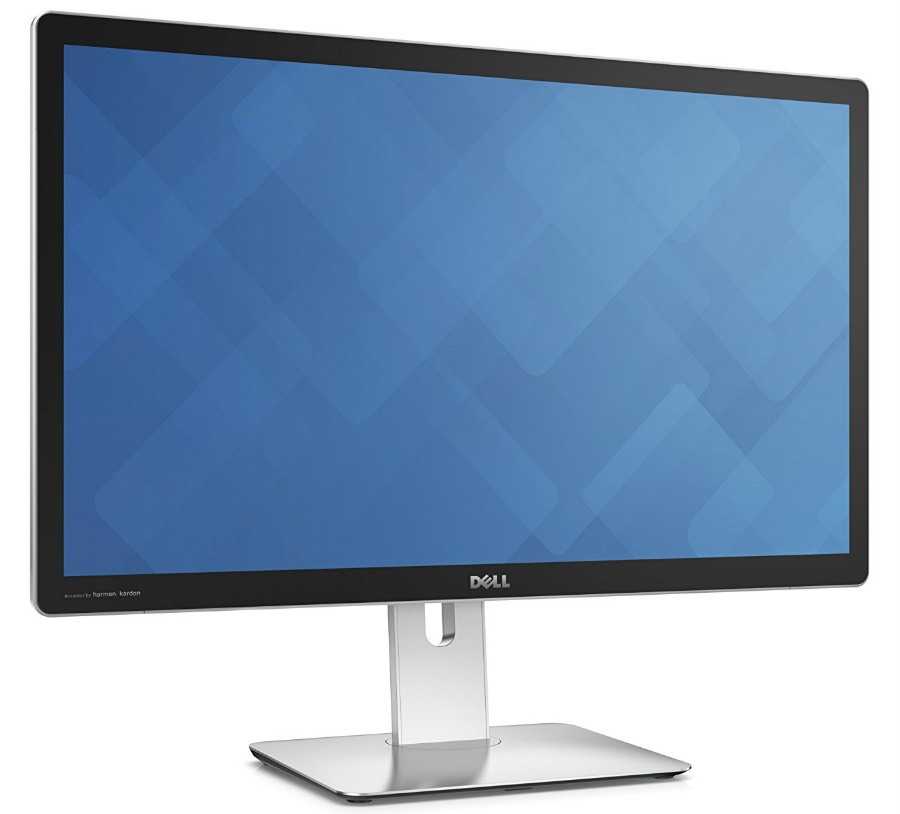 The Dell Up2715K is a 27-inch monitor with a 5K resolution that equates to a pixel density of 218 PPI, enabling it to match Apple's retina displays in clarity. The gorgeous IPS screen comes with a 10-bit interfaced paired with a 12-bit LUT, allowing 99% Adobe RGB coverage suitable for content creators.
This Dell monitor comes in a minimalist exterior which includes a premium flair and is well-equipped including a pair of 16-watt Harman Kardon speakers. The Dell UP2715K comes with every refinement a flagship monitor requires, so it isn't strange that you need two DisplayPort 1.2 connections to run its glorious 5K output.Dell U3417W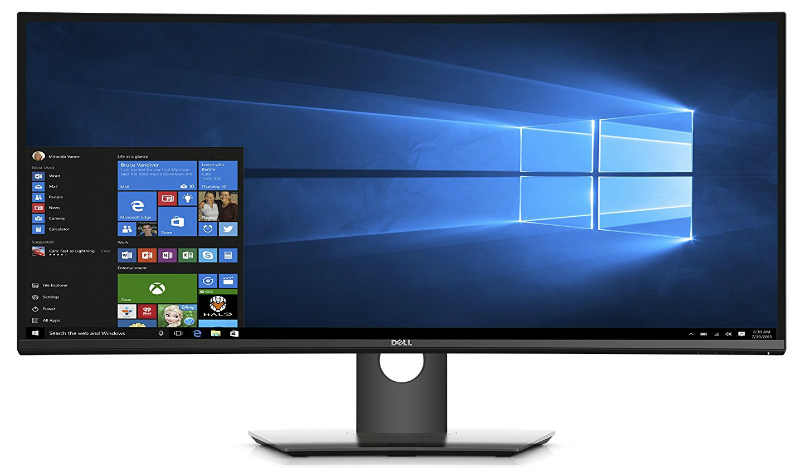 The Dell U3417W is a sophisticated ultrawide monitor that replaces dual monitors for productivity. The IPS panel with a crisp, 3440 x 1440 resolution offers excellent color accuracy out of the box for professionals who want that extra visual space without needing a massive desk to hold multiple displays.
This model isn't meant for gaming, but its tight 1900r curve and lush imaging output are too good to ignore. When productivity is mixed with a pedigree for casual enjoyment, you get a prosumer product worth its price for that all around flexibility and reliability dell monitors are known for.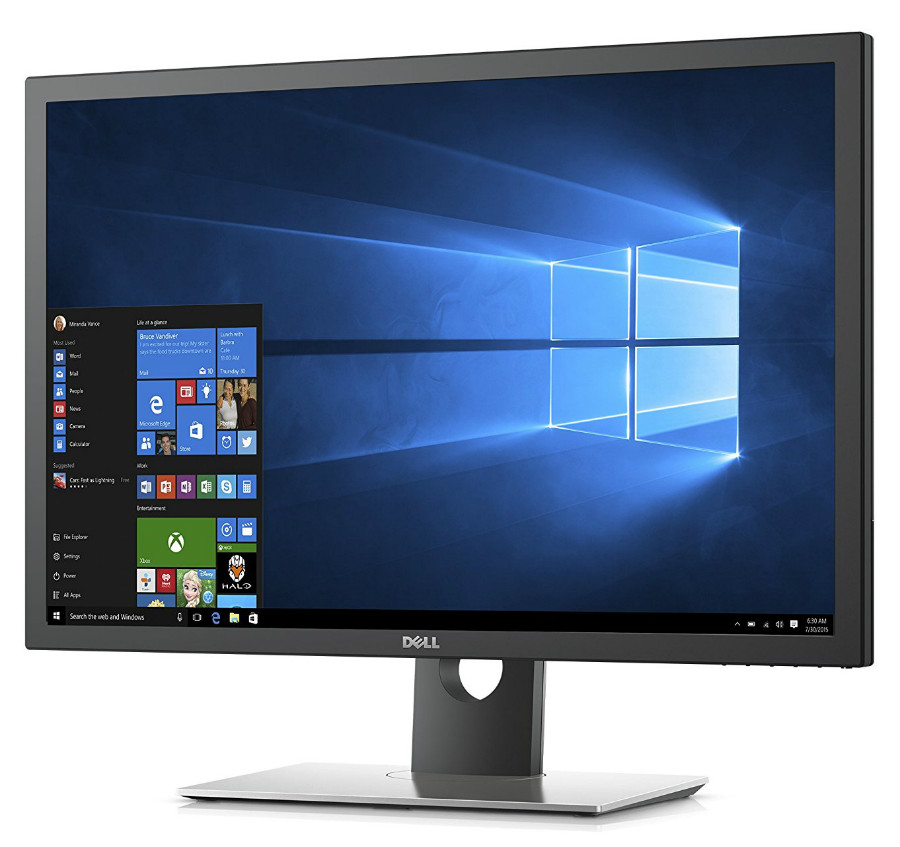 The Dell UP3017 is a unique prosumer monitor that offers a taller, 2560 x 1600 resolution with a 16:10 ratio. Professionals love this configuration for that extra virtual space, but this model also provides excellent color accuracy in standards including sRGB, Adobe RGB, and DCI-P3.
From the specs, you can quickly determine that this Dell monitor was meant for content creators like film editors, but the Dell UP3017 also includes decent gaming performance amongst its functionalities. This model means serious business when it comes to clarity and color vibrancy, but its flexibility in allowing a bit of casual gaming makes it invaluable for customers who rely on Dell's fantastic value and track record.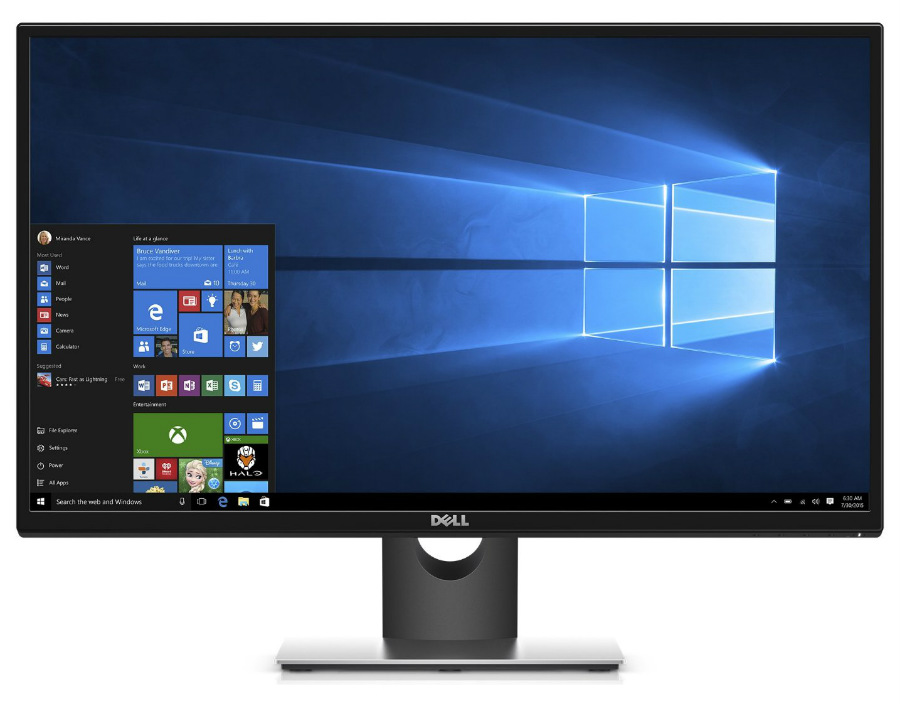 The Dell SE2717H is an affordable FreeSync monitor which offers a cinematic feel while gaming in 1080p on a vibrant IPS panel. It's 75Hz maximum refresh rates allow an improvement in smoothness and blur reduction, but its main selling point is its FreeSync functionality which smoothens out your graphics if you have an AMD GPU.
This Dell monitor can cover your basic needs for a bit under $200, making it a must buy if you are in the market for a budget-friendly upgrade or replacement. But even if the Dell SE2717H doesn't measure up to the premium offerings above in price, you still get the signature Dell treatment that is synonymous with outstanding quality and reliability.
Thoughts
Dell monitors are the epitomes of excellent quality and performance making them some of highest rated and best-selling displays in the global market. Due to the coverage of the computer industry and the long-standing expertise, the company can provide these products at competitive prices with benchmarks results that can either match or even beat the rivals.
We are also a fan of how the company doesn't steer away from its signature designs even when offering gaming monitors. In our books, a discrete but premium looking device looks better than a gaudy, black and red option so you can mean business when on the job, but game hard when the job is done.