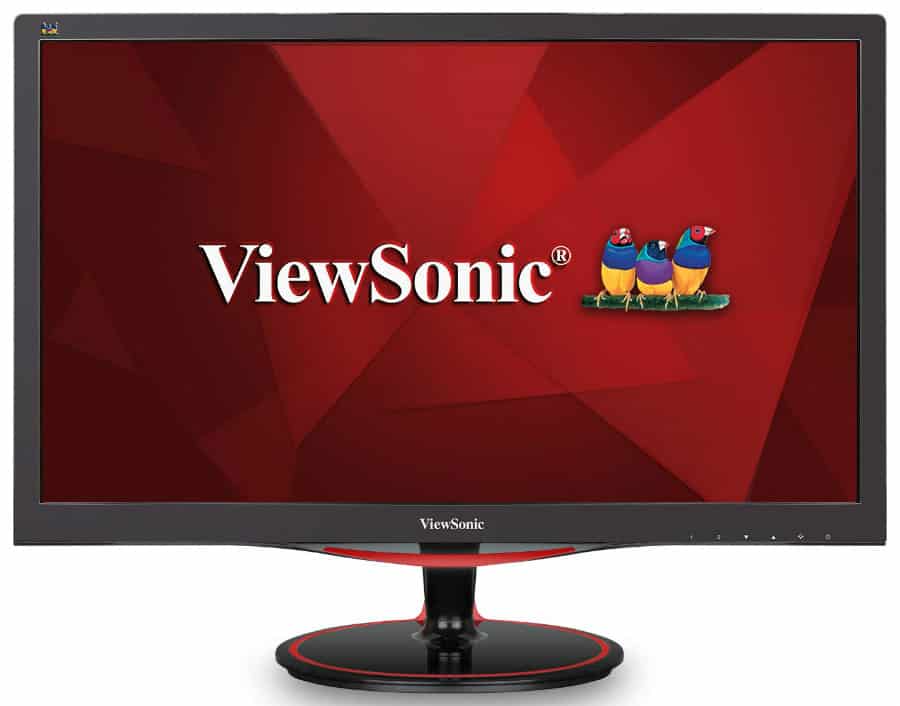 The ViewSonic VX2458-MHD aims to push the boundaries of budget gaming further by offering a 144Hz screen for the price of a 60Hz or 75Hz monitor. This model lets go of a few essential physical features so its pricing would drop to around fifty to seventy bucks cheaper than its upmarket siblings. The ViewSonic VX2567-MHD had to cut corners, but is its performance which counts the most worth a shot?

 ViewSonic VX2458-MHD Specifications
Screen Size: 24 Inches
Resolution: 1920 x 1080p FHD
Aspect Ratio: 16:9
Panel Technology: Twisted Nematic (TN)
Refresh Rate: 144Hz
Response Time: 1ms
Contrast Ratio: 1000:1 (Static)
Brightness: 300 cd/m²
Built-in Speakers: Yes 2 x 2 Watts
Stand: Height – No
Stand: Tilt – Yes
Stand: Swivel – No
VESA Compatibility: Yes 100 x 100
Connectivity: HDMI 1.4 x 2, DisplayPort x 1, 3.5mm Audio Jack
Dimensions with Stand(WxHxD): 21.99" x 16.63" x 9.04"
Weight: 8.99lbs

Design and Features
The ViewSonic VX2458-MHD forgoes appealing gamer-centric issues in favor of a classic monitor look which makes it appear a bit older than its 144Hz siblings The chassis has a nice matte black finish with a few red accents, while the base is done in glossy black. The bezels on the screen are thicker than anyone would prefer, defeating the possibility of pleasing and affordable triple monitor setup.
What's great about the simplification the ViewSonic VX2458-MHD received is its minimal proportions which makes it easy to place anywhere. The device when fully assembled consumes only nine inches of depth on any desk, allowing users to enjoy a full sized keyboard with a wrist rest or something similar. The product is easily mountable to a wall due to its lightweight and the minimal bulge with a flat surface.
Overall, the ViewSonic VX2458-MHD's build quality is pretty decent considering its competition and price. The plastics feel solid and thick enough to withstand minor blows, plus, there are no signs of poor manufacturing quality control. What we did notice is the wobble caused by the stand which is limited in a few ways.
The latter also limits the display to tilt adjustments, increasing the difficulty of getting a perfect and comfortable view. It's advisable to remove this part and opt for a VESA stand which will provide more stability and durability to the device. The 100 x 100 bolt pattern is already visible at the rear of the bulge, so assembly should be easy as peas.

The ViewSonic VX2458-MHD doesn't have a surplus of connectivity options since it's a budget gaming display. It's I/O layout only includes a DisplayPort 1.2 connector and two HDMI 1.4 slots which can cover a PC and two other host devices such as gaming consoles. There are no USB slots, but those aren't necessary to the monitor's basic operation.
There is also a pair of 5-watt speakers on the ViewSonic VX2458-MHD's chassis along with a 3.5mm jack. While it's great that the firm managed to squeeze in a set, they still are not powerful enough to portray the booming effects and tiny details of any title. They're only mostly suitable for notifications or background music, and nothing else.
Display and Performance
The ViewSonic VX2458-MHD sports a 24-inch TN panel with a 1920 x 1080 resolution, 144Hz refresh rate, and 1ms response time. The screen has a 300cd/m2 backlight and a typical 1000:1 contrast ratio which are decent for gaming and everyday use.   You won't need higher specs than what this model offers to start playing competitively, so the product is an excellent entry point into the genre.
1920 x 1080 is too well-suited to 24-inch variants so users usually feel that anything bigger such as 27-inch 1080p variants will look less enticing. It's also a known fact that 24-inch monitors are more comfortable to use for fast-paced play since there will be fewer movements in your eye sockets all throughout your session. We think this is the main reason why 24-inch 1080p monitors are still largely available and considered a staple by many E-Sports groups and events.
The ViewSonic VX2458-MHD manages to produce a decent output despite its obvious handicap in refinements a more premium model would get. The TN panel is only able to produce 93% of the sRGB gamut which isn't the best but is still reasonable for gaming and office use. Accuracy averages at DeltaE 2.71 which is slightly off, but the variances will only be noticeable to a colorimeter or trained eyes.
There is also a slight deviance in color temperature from the ideal 6500K, giving the screen a cooler white balance. Typical sRGB monitors look a bit more peachy or warm, but we know many prefer it the other way around. There is also a suite of gaming and regular use filters, but we prefer the default setting with a few tweaks to the brightness.
The backlight on the ViewSonic VX2458-MHD only managed to put out 290 cd/m2, but even that is too bright for daily use. We recommend toning it down to 45 for the best balance in the imaging characteristics and the safety of your peepers. It's also worth noting that selecting some of the color modes such as the sRGB setting will drop the backlight and lock out any option to change it.
The ViewSonic VX2458-MHD's picture performance is decent enough for use in competitive gaming, but what needs improvement is its backlight uniformity, The sides of the screen appear a bit dimmer than we'd like, although the difference is less noticeable during gaming. Color uniformity is affected as well with a DeltaE 2.8 difference from the center to the sides, but it would take some effort to actually see the variance.
The ViewSonic VX2458-MHD is a FreeSync gaming monitor with a functional range of 48Hz to 144Hz. This model works with G-Sync compatibility mode, but a flawless operation isn't guaranteed since it is not one of Nvidia's certified models. Input lag sits at 11ms which is higher than the XG2402's score, but delays will still be unnoticeable for most users.
Thoughts on the ViewSonic VX2458-MHD
The ViewSonic VX2458-MHD is a viable option if you are building a budget rig whose main purpose is to game at a competitive level. The device captures the essentials of this category of usage with its fast refresh rate and low pixel response time.  There are a few cut corners, but that's a sacrifice we are willing to take for something this affordable.
However, there are considerably better options to consider if you add ten or twenty bucks to the ViewSonic VX2458-MHD's price tag. This model performs within acceptable ranges, but you could go with a model that has more features such as the AOC G2460PF or the ViewSonic XG2401 which usually goes on sale for around $200.