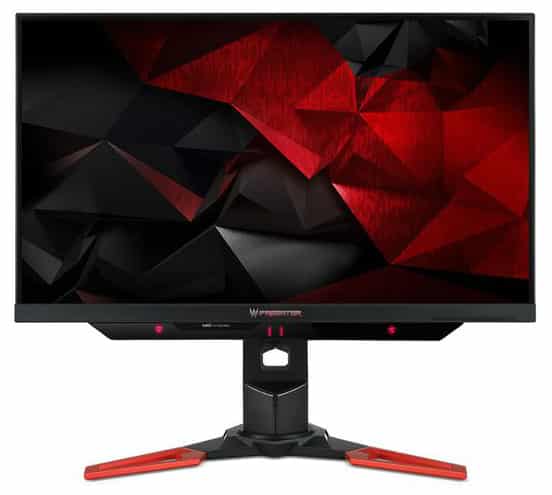 The Acer Predator series of monitors are some of the acclaimed high-performance products we have seen to date. At the recent IFA 2016 in Berlin, the company announced three updates to the Predator lineage, one of which is the Acer XB271HUT. This upgraded version still comes with the same feature set we have seen on the Acer XB271HU but with the addition of Tobii sensors attached to the bottom bezel and an option to overclock the refresh rate to 165hz, matching the speed with its current competitor, the Asus PG279Q. These upgrades are exciting and all, but the question is, what do these new additions bring to the table? And what other upgrades does Acer keep up their sleeve for this new release? While these questions are still in the air, let's take a sneak peek at what the Acer Predator XB271HUT is made of with what we currently know.
Acer XB271HUT Specifications
Screen Size: 27 Inches
Resolution: 1440P QHD
Aspect Ratio: 16:9
Panel Technology: In Plane Switching (IPS)
Refresh Rate: 165hz
Response Time: 4ms
Contrast Ratio: 1000:1 (Dynamic)
Brightness: 350 cd/m²
Built-in Speakers: Yes
Stand: Height – Yes (5″)
Stand: Tilt – Yes (-5°/+35°)
Stand: Swivel – Yes (60°)°
Stand: Pivot – Yes (90°)
VESA Compatibility: No
Connectivity: DisplayPort 1.2,  HDMI, USB 3.0
Design and Features of Acer XB271HUT
The XB271HUT inherits every physical aspect from its older brother, XB271HU. This newer model features a similar two-stage zero bezel which appears to be almost invisible and unnoticeable. The cabinet is finished in matte black and is also able to detach from the stand to reveal VESA holes, to allow optional mounting. The stand featured with this product is similar to what the other Predator products offer, sporting a V-shaped base with 5 inches of height adjustment, 5 to 35 degrees of tilting, and 30 degrees of swivel range, plus pivoting up to 90 degrees for portrait mode. The 27-inch 1440p panel has a moderate AG coating which does a good job of avoiding glare while being unnoticeable against the zero bezel frame.
These are all design cues we already know about, but what's new about this latest offering's physical characteristics is an addition of a Tobii sensor on the bottom bezel. For those who would want to know, Tobii is the leading company in optical tracking technology which has different fields of application which includes assistive and research integrations. As for gaming, the tech allows for separate movement or panning of the camera, in contrast to the usual method wherein the view rides with the crosshair, limiting the visual experience to one fixed stroke. There are only a few titles compatible with the said gadget, but these titles are mostly on the AAA shelf; Watchdogs 2, Deus Ex: Mankind Divided, The Division and a lot more. Some may find its integration into games somewhat weird, but in truth this new additional tech to gaming is quite an exciting concept and we could end up having widespread availability since it offers immersive experiences almost similar to what VR offers. On the XB271HUT, we can see a tracking module akin to the original model; the Tobii EyeX which has a price of €109. We are not certain if this model is indeed the same one on the monitor, but they share similar features from the outside.
Display and Features
The Acer XB271HUT's panel is a 2560 x 1440 27-inch IPS panel which is capable of 4ms response time, 8-bit color, and the 165hz maximum refresh rate. By current standards, these are not new, since Asus' representative for this arena, the PG279Q also carries these specs at release.  Naturally, these two products may share the same panel from one manufacturer, and the same upgraded g-sync module which enables the addition of an HDMI slot, instead of the older model's DisplayPort exclusive I/O layout. This fact is still uncertain at this point since Acer has been secretive about technical specifications since the press release. There are, however, some reports stating that there will be no HDMI port, and the I/O layout will still be similar to the predecessor. We based this hypothesis on the design trend of upgraded products such as the PG279Q. The hefty increase in price may be prohibitive since these specs aren't new, aside from the addition of the Tobii Eye Tracker.
While we still do not have actual numbers for the performance of the screen, what we can comment on is the actual usefulness of 165hz. If you want to ask if the higher rate would present a drastic improvement on your gaming experience; the answer would be that it depends on each person's experiences and eyesight. If you are new to high-speed gaming monitors, you may or may not see a difference between 144hz and 165hz. But for the people who are already used to 144hz, in some cases, yes there is an evident and distinct advantage when moving up to the higher number. Although we are quite sure that the difference from 60hz to 144hz is huge, the move from the latter to 165hz is not as great. Anything past 144hz offers diminishing returns, but for some people such as professional gamers or those gifted with extra-sensitive vision, the small difference may present a sizeable advantage against his opponents.
Conclusion
The XB271HUT is scheduled to be available across retailers in some parts of Europe for a whopping €899 this month, but we yet to see any listings which have the said product on their pages. The addition of Tobii Eye Tracking is quite exciting, as it may lead to immersive experiences we have never had from displays. The 165hz upgrade to the refresh rate is also an outstanding new feature, making Acer's product competitive with the current specs of the available IPS monitors such as the Asus PG279Q. There may be a lot more we have not yet seen since Acer has been quiet ever since their announcement back in August. But if you look around the web, the biggest concern for this product between enthusiasts is if Acer has improved their quality and consistency for each unit that comes out of the factory. There are a lot of horror stories about the older XB271HU. These stories include atrocious light leaks on the IPS panel and dead pixels which sometimes lead to four or five returns before getting an acceptable unit. Although once these people get a good piece, they say nothing but good praises about the XB271HU. We hope that for €899, Acer would step up their game and give the consumers better quality-controlled products since the money these individuals are willing to pay for the XB271HUT is worth at least that much.