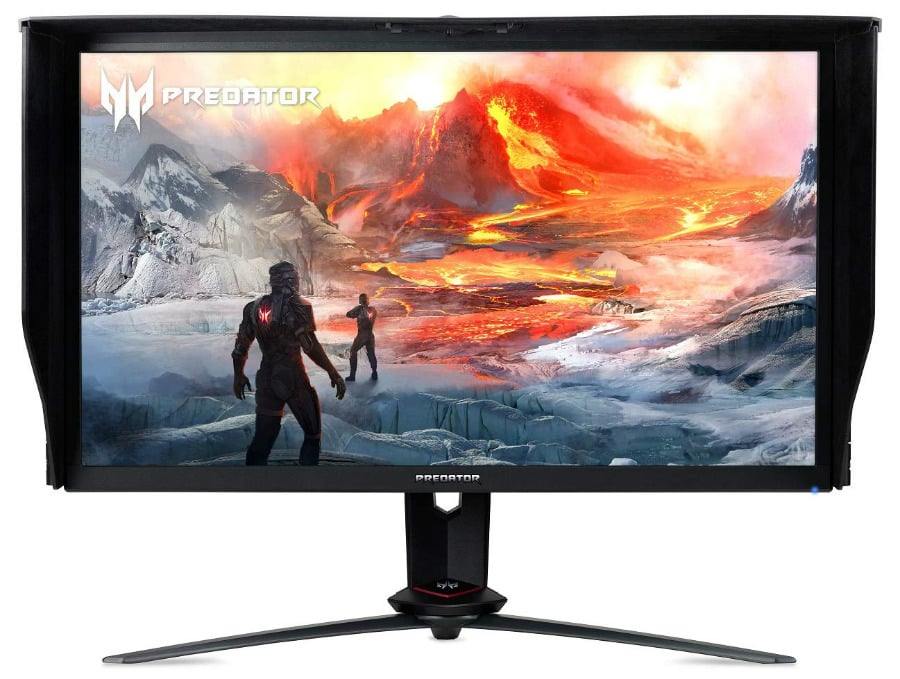 The Acer Predator XB273K is a G-Sync equipped version of the excellent XV273K which sells at a much lower price than HDR1000 displays such as the PG27UQ and the X27. What sets this model apart from the latter is it doesn't have the 1000 cd/m2 FALD backlight and a lower DisplayHDR 400 certification, leaving users with the essentials to game with. This gives the Acer Predator XB273K a $500 discount compared to the X27, but is it still capable of fantastic performance like its FreeSync counterpart?

Acer Predator XB273K Specifications
Screen Size: 27 Inches
Resolution: 3840 x 2160 4K UHD
Aspect Ratio: 16:9
Panel Technology: In-Plane Switching (IPS)
Refresh Rate: 144Hz
Response Time: 4ms
Contrast Ratio: 1000:1
Brightness: 400 cd/m2
Speakers: Yes (2 x 4 Watts)
Stand: Height – Yes
Stand: Tilt – Yes
Stand: Swivel – Yes
VESA Compatibility: Yes
Connectivity DisplayPort 1.4 x 1, HDMI 2.0 x 1, USB 3.0 x 5, 3.5mm Jack x 1
Dimensions (W x H x D): 24.8" x 17.4" x 12.1"
Weight: 15.87 lbs

Design and Features
The Acer Predator XB273K is perfectly identical to the XV273K save for a few minor details such as the Predator branding instead of the Nitro moniker. This model has a nice matte black finish all over with tiny red details along with a Predator logo to assert its pedigree. This model isn't bezel-free like all 4K 144Hz monitors, but the width of the plastic strips aren't worthy of complaints in our opinion.

There is a shading hood included in the Acer Predator XB273K's package to help with glare or ambient light that can overpower the screen. You would normally find this accessory with professional displays, but Acer decided that their top-end offerings needed it. There is a flip-up cover at the top for the ambient light sensor on the bezel of the monitor.
The Acer Predator XB273K uses a joystick with hotkeys for easily navigating the well-equipped OSD and its various menu items. You will also find an ambient LED strip at the bottom of the screen which can be set to basic colors or synchronized to the screen's output.
This model's chassis is noticeably thinner than the Acer X27's since there is no FALD backlight inserted behind the screen. However, the Acer Predator XB273K still has an active cooling solution or a ventilation fan for the innards since 4K 144Hz models run extra hot. It's great that is barely noticeable when operating the monitor, but it does keep running for a short while after switching the monitor to help cool it down faster.
Build quality for the Acer Predator XB273K is amazingly solid so users won't have to worry about fragility or anything snapping with light force. The satin finish at the rear of the Acer Predator XB273K doesn't feel cheap, plus, you can tell that the plastic casings are thick and durable. We did not notice any wobbling or creaking from the device, indicating that the brand took extra care in making this model.
The Acer Predator XB273K is held by a flexible stand that provides, tilt, swivel, pivot, and height adjustments for ease of use and comfort. The Y-shaped base has a matte black finish, unlike the XV273K's silver, giving this model a more uniform look. You can also remove this part in favor of VESA mounts, but we don't think it's necessary for most users.
The Acer Predator XB273K is a G-Sync HDR monitor, so it has a limited connectivity panel as enforced by the tech's exclusive FPGA controller. There is a DisplayPort 1.4 and HDMI 2.0 slot for video inputs, along with five USB 3.0 receptacles, two of which are on the hub on the left side. Take note that you need to utilize the DP 1.4 slot for 144Hz operation since its the only one between the two that has the necessary bandwidth.
Display and Performance
The Acer Predator XB273K boasts a 27-inch IPS panel with a 3840 x 2160 resolution, 144Hz refresh rate, and 4ms response time. A 400 cd/m2 backlight is installed and a contrast ratio of 1000:1 specified, limiting this model to DisplayHDR 400 specifications. The benefits of true HDR monitors like the Asus PG27UQ cannot be enjoyed here since HDR 400 doesn't present substantial improvement in details like lighting or vibrancy.
The AU Optronics panel used is similar to what other 4K 144Hz monitors have more or less, meaning it has a 120Hz native refresh rate. Overclocking is necessary to reach 144Hz, unlike the XV273K which has an extra DisplayPort 1.4 connector. However, using the monitor in 144Hz mode will once again drop its chroma subsampling to 4:2:2.
4K is a good fit on a 27-inch screen like the Acer Predator XB273K since its extra crisp and sharp which, in turn, makes the monitor great for movies and games. However, some users may complain about text being too small to be readable, so scaling is required. As such, we think 4K is more suited to 32-inch screens since its easier on the eyes plus the extra level of detail brought about by the increase in pixels is more appreciable.
The Acer Predator XB273K looks fantastic out of the box thanks to its excellent gamut coverage that sits close to 120% of the sRGB color space. Accuracy is fantastic at Delta .9, so calibration isn't absolutely necessary for this monitor. It also has an SDR Colors sRGB mode to tighten the scores further, but it's only required if you have to work with editing or content creation in the exact confines of the sRGB gamut.
The screen's gamma is already at the ideal 2.2 while the color temperature is within a few hairs of the ideal 6500K. Acer did an excellent job of pre-calibrating this model which makes it very ready for gaming sessions right out of the box. The only setting most would need to touch is to lessen the brightness which will help contrast and eye safety.
The Acer Predator XB273K's backlight peaks at 460 cd/m2 which is too bright for regular use. Toning it down to around 30% will give you an excellent contrast ratio of 1180:1 which makes blacks decently deep and murkier than most IPS panels. HDR mode enhances this score to around 1300:1 to produce some improvements in depth and quality for compatible titles like BFV or The Division 2.
We can't help but think that the panels used for the Acer Predator XB273K and similar monitors are cherry-picked from a batch due to the fantastic uniformities across the board. The screen has minimal leaks on the bottom corner, but it did not produce any clouding issues nor disturb the overall brightness balance of the screen. Color uniformity also showed no issues, since each of the quadrants is well within DeltaE 1.2 of each other.
The Acer Predator XB273K can also handle motion with aplomb at 144Hz, but even at 120Hz, the blurs are mostly minimal and unnoticeable. You only need to set the overdrive option in the OSD to its normal setting and then you are good to go.
However, there is a slight limitation when using the monitor's 144Hz mode which induces a performance penalty that slightly drops FPS by around 5% to 10%. This issue has been tested with G-Sync turned on and off, and it is most likely due to the heavy load the extra refresh adds to your system. As such, we recommend most users to stay at 120Hz unless low-spec games like CSGO is on the menu for your gaming session.
The Acer Predator XB273K is a G-Sync HDR monitor with a functional range of 120Hz to 144Hz, enabling Nvidia GTX and RTX users to enjoy tear and stutter-free gaming. You are going to need top-end cards for this model, but even then it would next to impossible to reach the display's max refresh consistently. Input lag is limited to 5ms, so there is no need to worry about "de-synced" instances.
Thoughts on the Acer Predator XB273K
The Acer Predator XB273K is another fantastic 4K 144Hz monitor that drops full HDR capabilities to make it more accessible to the masses. We think you will love this monitor even if it can't match products like the higher-tiered X27 simply because the screen is too good. Image quality is great right out of the box, plus gaming performance is nothing short of fantastic.
The only caveat of the Acer Predator XB273K is its higher price point as imposed by the inclusion of G-Sync HDR chip which has been known to add as much as $500 on top. Not to mention that you will need the green team's most powerful cards like the one-grand-plus RTX 2080 Tis to power this beast.  But if you think about it, 4K 144Hz with G-Sync has never been this affordable, and we're glad Acer executed it perfectly.