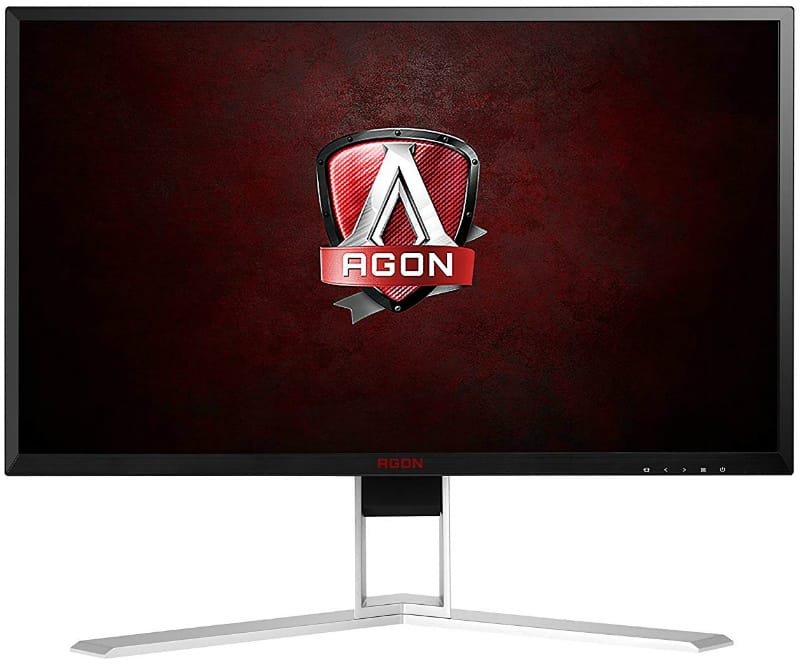 The AOC AG241QX provides tremendous value in today's gaming monitor market with its specifications and capabilities. The monitor is well-designed and built, but what's fantastic about it is its price which we used to pay for a lesser detailed, 1080p variant. The AOC AG241QX has been in the market for some time now, so let's check how it stacks up against the newer competition.

AOC AG241QX Specifications
Screen Size: 32 Inches
Resolution:1440p QHD
Aspect Ratio: 16:9
Panel Technology: Twisted Nematic (TN)
Refresh Rate: 144Hz
Response Time:1ms
Contrast Ratio: 1000:1
Brightness: 350 cd/m²
Built-in Speakers: Yes (2 x 3 Watts)
Stand: Height – Yes
Stand: Tilt – Yes
Stand: Swivel – Yes
Stand: Pivot– Yes
VESA Compatibility: Yes 100 x 100
Connectivity: DisplayPort 1.2 x 2, HDMI 2.0x 1, HDMI 1.4 MHL x 1, 1 DVI-DL x 1, D-Sub x 1, 4 x USB 3.0, 3.5mm Audio Jack (In/Out)
Dimensions With Stand(WxHxD):21.77″ x 10″ x 8.58″
Weight: 119lbs

Design and Features
The AOC AG241QX sports the clean and sophisticated aesthetic of the Agon line with its matte black cabinet with a red chevron at the rear. We like this design better compared to the winged version found on models like the AG322QCX which is too flashy for our tastes. This model isn't bezel-free, but the frame is within reasonable limits and should not affect your gaming.
Another fantastic aspect of the AOC AG241QX and the rest of the monitors from the company is the rock-solid build quality. Our review model did not reveal any creaking or uneven panels which are caused by low-cost manufacturing practices. The display also held its ground despite our shaking and scuffling about, allowing users to keep their preferred angles for some time.
This is all thanks to a uniquely designed stand made of metal finished in matte silver. The mechanism can tilt, swivel, pivot, and adjust height, plus there are position markers on some spots to help you remember your preferred setting. Cable management with this part isn't the best we've seen, but its durability and classy look are what counts the most.
The AOC AG241QX is also VESA-compatible with its bolt pattern behind the attachment point of the stand. There is little reason to utilize this feature, but some users may already have an armature they prefer more.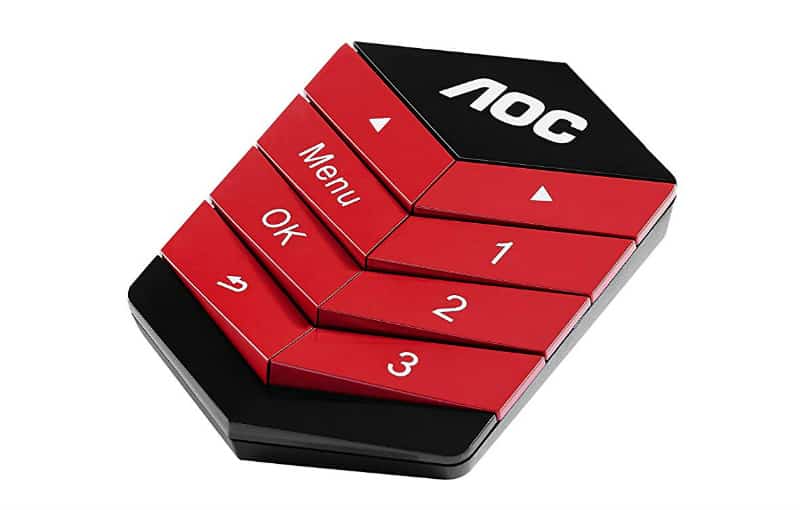 Another striking inclusion of the AOC AG241QX is the OSD remote for convenient access to the functions of the product. The gadget connects to the micro USB slot on the device, and it includes three hot-swap keys along with the menu and control buttons. The response in the menu is slightly slower than using the actual controls of the monitor, but having a gadget you can place anywhere beats that any time.
The AOC AG241QX is a FreeSync monitor, so it doesn't come with restrictions in the connectivity department. The layout includes DisplayPort 1.2, HDMI 2.0 and 1.4 MHL, a DVI-DL slot and a D-Sub connector for older devices. There is also a total of four USB 3.0 slots, two of which are on the side hub along with the 3.5mm audio jacks.
There is also a folding headset hanger attached above the mentioned hub which is handy and a feature missing on most gaming monitors. To top it off, there is also a pair of 3-Watt speakers which add value to the product but is too weak to be considered for gaming use.
Display and Performance
The AOC AG241QX sports a 24-inch TN panel with a 2560 x 1440 resolution, 144Hz refresh rate, and a 1ms response time. A 350cd/m2 backlight supports the screen along with a 1000:1 specified contrast ratio. What's immediately noticeable is the screen's crispness which is almost comparable to a 27-inch 4K monitor.
The pixels are more packed in a display of this size, making them less visible while also eliminating graininess associated with low-res screens. Games also require less Anti-Aliasing since edges will always look sharper and cleaner than a lower model. The only problem we encountered was some of our friends needed to use scaling to make text files intelligible.
We already know that the AOC AG241QX isn't capable of excellent viewing angles and extra vibrancy since it is based on TN panels. The screen is capable of 97% sRGB with an accuracy average of DeltaE 3.04, which is decent, but not the best in this category. The default setting's Gamma sits perfectly at 2.2, but the image is a bit warmer than we'd like.
With a little tweaking, you can tighten the AOC AG241QX's scores to within DeltaE 2.0 or better with a color temp that sits closer to the ideal 6500K. What we love on this TN panel is its consistent contrast ratio which hovers around 950:1 across brightness levels we tested. The TN panel is capable of reasonably rich vibrancy after some minor adjustments, making the product perfect for its primary purpose.
The TN module's panel uniformity on our test unit of the AOC AG241QX was reasonable at best, with noticeable deviations limiting themselves to the two upper corners. You need a colorimeter and an extra sharp eye to notice the difference, so it shouldn't affect the overall aspect of your gaming.
The AOC AG241QX's fast response time and high-refresh rate make it almost perfectly blur-free. We did not notice any ghosting or retention in games like PUBG and CS:GO, but experiences may vary between users. We found the monitor's Medium overdrive setting to be the most reliable across the board to minimize these flaws since the max level induced overshoot on some details of the picture.
Input lag isn't an issue for the AOC AG241QX which clocked in at around 8ms which makes the product ideal even for E-Sports gaming. There are faster 1440p displays like the Asus PG278QR, but the difference is barely noticeable, if not at all, for most users. In this case, your Internet's latency will be the more significant factor when it comes to lag in online games.
Finally, the AOC AG241QX is a FreeSync monitor with a functional range of 30Hz to 144Hz. Take note that you need to utilize a powerful AMD GPU like the Vega 56 or Vega 64 to maximize this product's capabilities.
Thoughts on the AOC AG241QX
The AOC AG241QX does have its flaws, but its low price and high availability in the market make it an invaluable option for thrifty gamers. The product's performance is a little short of being fantastic, but it's a difference we're willing to overlook at this price point. We're banking on the monitor's gaming chops rather than perfect image quality or color accuracy, which is rare at the sub $500 range.
24 Inches feels small for 1440p gaming since we prefer 27-inch variants, but the extra detail and sharpness is a huge plus. It's also an excellent choice if space is limited thanks to its subtle proportions and superior functionality. The AOC AG241QX is an excellent choice if you are hunting for high-end displays at bargain pricing.