Review of Asus MG28UQ
4K monitors have come a long way from their inception into the market, and their starting prices which cost more than an arm and leg of around $3000. These pioneering but overpriced products were mostly unsuitable for gaming purposes, and then there was the issue of finding graphics cards, and CPU builds powerful enough to run them smoothly. All that has changed now, since we do have affordable offerings from the biggest companies which sell at different price points, making UHD viewing viable across a wider audience. We also have graphics cards with futuristic designs and enough horsepower to produce 60FPS in a lot of titles. Asus, the top-ranking contender for gaming displays and their MG product line which offers incredible value with its excellent performance and build quality, which is almost the same as the characteristics of the premium PG line, which holds their G-Sync enabled products. The MG28UQ is a 28-inch 4K gaming monitor packed with cutting edge specs to augment the UHD experience, enough to keep most enthusiasts happy.
Asus MG28UQ Specifications
Screen Size: 28 Inches
Resolution:4K UHD
Aspect Ratio: 16:9
Panel Technology: Twisted Nematic (TN)
Refresh Rate: 60Hz
Response Time: 1ms
Contrast Ratio: 1000:1
Brightness: 330 cd/m²
Built-in Speakers: Yes 2 x 2w RMS
Stand: Height – Yes (5.9 Inches)
Stand: Tilt – Yes (-5°/+20°)
Stand: Swivel – Yes (-60°/+60°)
Stand: Pivot – Yes (90°)
VESA Compatibility: Yes (100 x 100)
Connectivity: DisplayPort 1.2 x 1, HDMI 2.0 x 1, HDMI 1.4 x 2, USB 3.0 x 3, 3.5mm Headphone jack
Dimensions With Stand(WxHxD): 25.99″ x 22.28″ x 9.19″
Dimensions Without Stand(WxHxD): 25.99″ x 14.99″ x 2.65″
Weight: 17.64lbs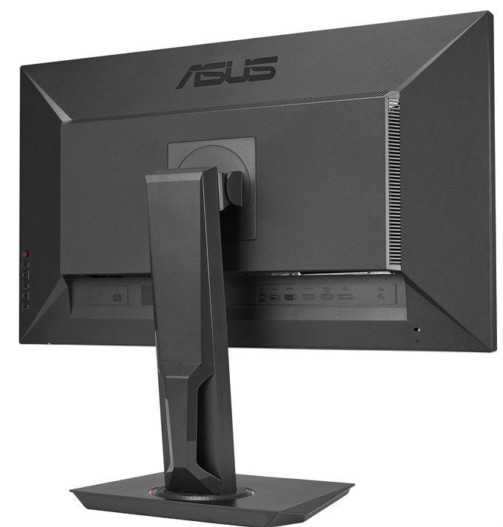 Design and Features of Asus MG28UQ
The Asus MG28UQ sports similar exterior design cues with the rest of its MG brethren, and is mostly comparable with its 1440p sibling, the Asus MG278Q, aside from the slightly bigger screen. The matte graphite black finish of the whole product makes it look much more than a premium model but doesn't make it stick out. The face of the display has 19mm borders on each side, making the MG28UQ ideal for multi-screen configurations. Most would prefer ultra-thin frames, but when looking at a massive 28-inch screen, this rarely matters since each strip is unnoticeable when the 4K goodness is oozing out of the panel. The rear of the cabinet does not have the angular lines found on other MG products. Instead, this model has a simple shaped back with a slight bulge near the center which has perforations which act as air vents.
From the side profile, it is immediately apparent that the MG28UQ isn't a super slim unit. The noticeable bulge holds an internal power supply, a feature we rarely see on Asus gaming monitors and a lot of other 27 or 28 inch models since most of them use an external unit. This fact isn't an issue, since most of the time, your eyes will be glued to the screen. The flat back makes it ideal to mount this product on a wall, and there are 100 x 100mm VESA holes which can be revealed by simply detaching the stand with the push of a button. One thing about this product is it is a bit hefty at 17.64lbs, so a carry handle placed near the top would have been ideal. The mechanism which holds the massive screen in place is pleasurable to use since the range of motion, and the sturdiness is excellent. You can shift the screen with the push of just your finger, but even if there isn't a locking action, it stays in place and doesn't wobble.
Since this is a Freesync product, the MG28UQ does not have I/O port limitations like what we can see on its G-Sync counterpart, the PG27AQ. The options are plenty, and they include a DisplayPort 1.2, HDMI 2.0, two HDMI 1.4 ports, and three USB 3.0 receptacles with one for type B connectors. There is also an audio jack included since there are built-in speakers with 2 watts of power each. We didn't find the pair to be sufficient for gaming purposes, much like every added set across a variety of products we have reviewed.
You can easily navigate the OSD via the multi-direction joystick located at the lower right of the rear cabinet, along with the buttons and the power switch. We do love this tactile feature since it allows for convenience when you want to delve deeper into the OSD with its plethora of sub-menus and settings. Each button accesses different features such as the GamePlus overlays, input selection, and picture modes. The GamePlus modes provide overlays which can be useful for some gamers. It includes a crosshair layer which you can move around the screen with the joystick, a countdown timer, and an FPS counter.
Display and Performance
The Asus MG28UQ features a 28-inch TN panel with a 4K resolution, 1ms response time and 1000:1 contrast. The screen has a matte AG layer, which we found to be suitable enough for brightly lit rooms. Out of the box, the product is set to its Racing mode, which for most intents and purposes, provides acceptable image qualities. There is also the sRGB mode, which provides a somehow accurate color performance, but of course, we all prefer tweaking to get the most out of any product. At maximum brightness, the contrast falls below 900:1, which is a usual result of products which utilize TN panels. The light level does not go all the way up to the advertised 330cd/m2, but one good thing we found in our tests is that contrast rarely deviates more than 10% across the luminance range of the screen. Users are free to use any level of illumination without a significant penalty to shades and dark colors.
Out of the box, the colors are slightly skewed, since the Racing preset provides a somewhat cool hue due to the saturation level's bias towards the blue color. sRGB mode corrects this by dropping the Delta-E to around 2.5, but one flaw this method presents is it limits the brightness of the screen to 170cd/m2. That is ideal for a balance between comfort and performance, so it might not bother a lot of gamers. However, similar results are achievable by selecting the User option instead of a preset, since this mode gives you the freedom to choose the level of brightness and the color vibrancy and saturation you want your eyes to see. After all, we all see differently when it comes to these things, so what works for us might not for you. We also experienced a bit of unevenness in luminance from the center of the screen, but in gaming scenarios, we did not see any colors washing out by a huge margin. Viewing angles are also what you can expect from TN panels, but you do get a product with excellent ergonomics if you decide to go for the Asus MG28UQ, so getting a comfortable angle will be easy.
This product has a refresh rate of 60Hz with Freesync operational at 40Hz to 60Hz. Even the ultra-expensive computer builds with the top of the line video cards will find it difficult to push past 60FPS, so if you are into 4K gaming, 60Hz is more than enough. FPS rarely stays stable especially in UHD, and we found Freesync's screen-tear solutions to be excellent for the MG28UQ's primary purpose. The lower limit of 40Hz is rather narrow especially when you use cards which cannot keep frames consistently above 40FPS. But if you are looking to get a 4K monitor, we assume you already have a GPU powerful enough to handle the 8 million plus pixels this screen packs.  Even if this product only goes up to 60Hz, we did not notice any image issues that can be solved by faster refresh rates. Blurring was also not a problem in our tests, but if the defect persists, setting the Trace Free slider to around 50 or 60 solves most of the ghosting you can see. Input lag is unnoticeable, and we found the MG28UQ to be as fast and as responsive as the Acer Predator XB271HK, a G-Sync variant from one of Asus' leading competitors with an almost identical AU Optronics TN panel.
Conclusion
4K gaming can be expensive for a majority of the gaming populace, but recent market trends suggest that we are slowly transitioning to higher resolutions which include 4K. UHD products are becoming cheaper as every moment passes, but we are still waiting for hardware powerful enough to run these products efficiently. Even so, 4K is the ultimate benchmark for graphic enthusiasts, making products like these highly-sought after. The quantity of the best monitors for gaming are plentiful at the time of this writing, and there are already a lot of 4K offerings included in most lists made by experts and reviewers. The pricing of the MG28UQ right now isn't bad, so thrifty buyers should look at how much they can spend on upgrades to their gaming rig to run this 4K beast.The pricing is largely reduced by using TN panels instead of the more expensive IPS option, but despite known and accepted flaw such as average color and contrast performance and limited view angles, we did find the MG28UQ to be an excellent competitor to similar products in this category. The build quality and ergonomics of the exterior design sets this product apart from the other budget 4K monitor options out there. There are only a few models that can offer a broad range of stand adjustments, built-in power supply, and a look that is fit for premium gaming displays.