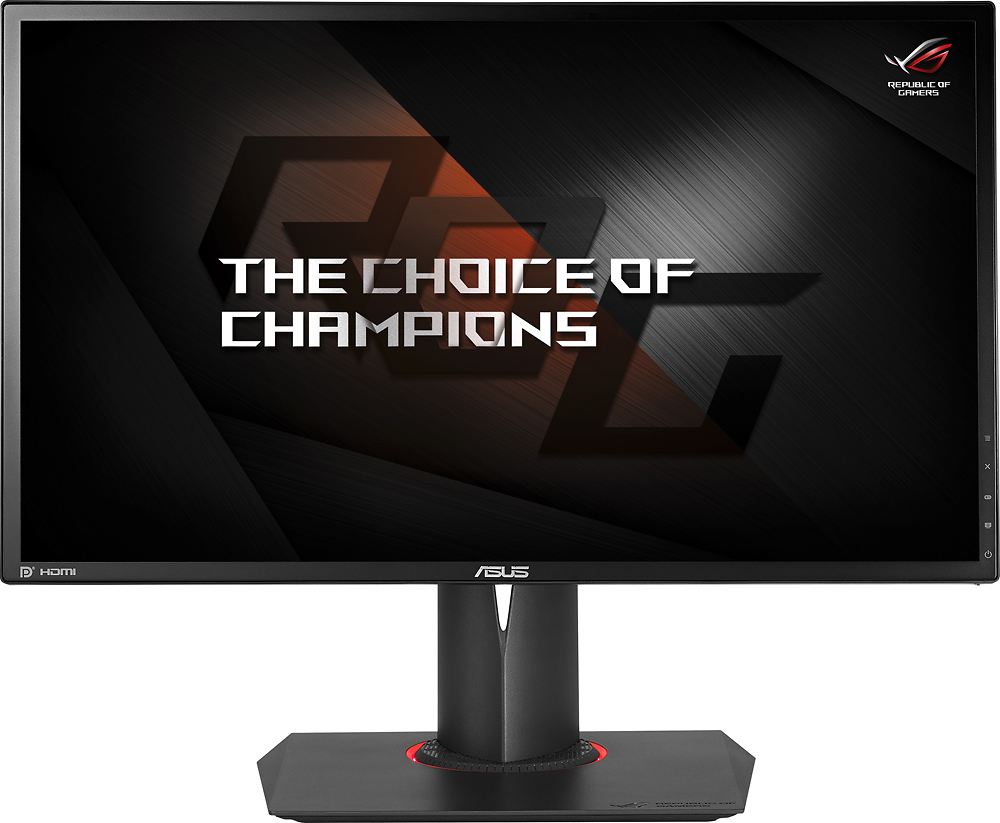 ---
Review of Asus PG248Q
Asus astounded the gaming world when they introduced the venerable Asus VG248QE with its then bleeding-edge specs capable of providing tearing-free images and 3D Vision capabilities. Fast forward to today, Asus has positioned itself as the global leader in manufacturing and providing gaming monitors for enthusiasts, professionals and casual after hours warriors. Their ROG Swift line is massively popular and accepted as some of the top choices, but by today's standards, the title of the best gaming monitor is difficult to award to just a single product. Expert news claims that Asus will continue to bask in the glory and enjoy its lead until 2018, but this fact, of course, will not deter their biggest rivals like Acer and BenQ. As technologies and products advance into the future, one product cannot hold the title as the best for long, but in this case, Asus claims it once more with the Asus ROG Swift PG248Q. This product is packed with exciting features including the ability to boost the refresh rate threshold to 180Hz, G-Sync, and other gamer-centric inclusions which would provide out of this world performance and serious bragging rights to the owner.
Asus PG248Q Specifications
Screen Size: 24 Inches
Resolution:1080P FHD
Aspect Ratio: 16:9
Panel Technology: Twisted Nematic (TN)
Refresh Rate: 144Hz – 180Hz
Response Time: 1ms
Contrast Ratio: 1000:1
Brightness: 350 cd/m²
Built-in Speakers: No
Stand: Height – Yes (4.7 Inches)
Stand: Tilt – Yes (-5°/+20°)
Stand: Swivel – Yes (-60°/+60°)
Stand: Pivot – Yes (90°)
VESA Compatibility: Yes (100 x 100)
Connectivity: DisplayPort 1.2 x 1, HDMI x 1, USB 3.0 x 3, 3.5mm Headphone jack
Dimensions With Stand(WxHxD): 22.11″ x 21.19″ x 9.37″
Dimensions Without Stand(WxHxD): 24.60″ x 12.98″ x 2.76″
Weight: 14.5lbs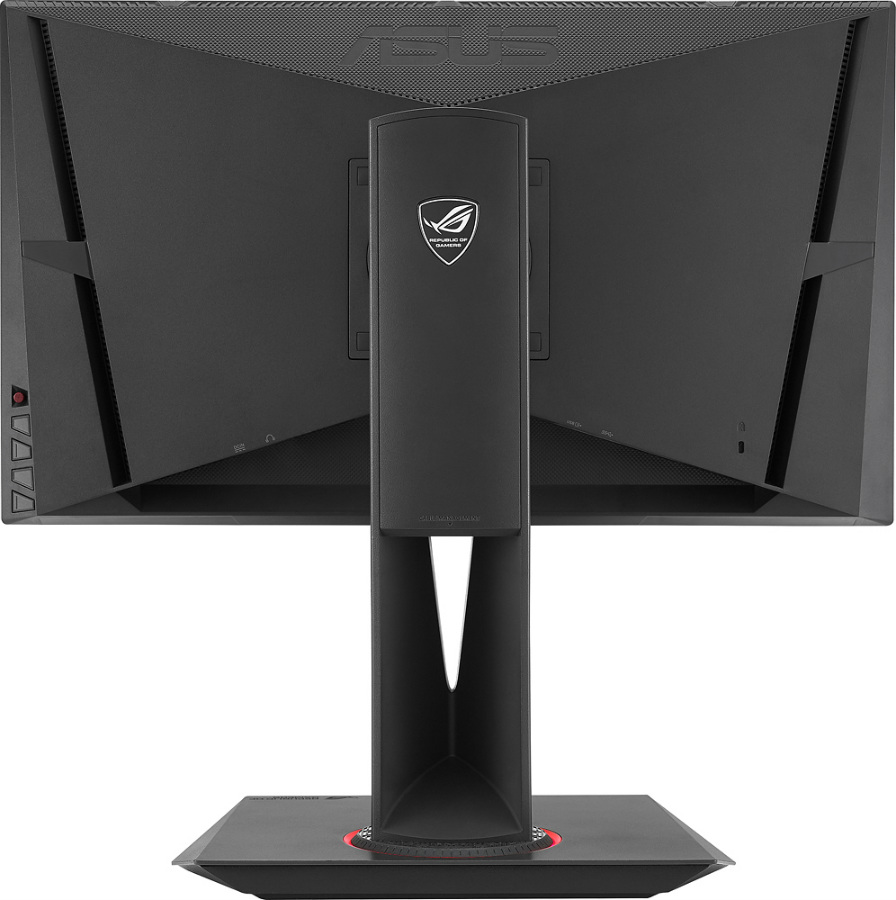 Design and Features
If you are familiar with the PG248Q's bigger brother, the Asus PG278QR, this model shares every physical detail from the latter except in size. The cabinet has a matte textured finish which looks close to graphite black and feels nice to the touch without attracting finger prints. The bezels are half an inch thick, but on this model, we do not see the dual stage design found on the larger ROG Swift models since the AU Optronics panel in this model has a wider border. The rear of the has angular features prominent on the ROG products, and along these lines are the vents for the internals and the connection options.
The stand featured with the PG248Q is standard across similar ROG Swift products from Asus, and they provide an excellent range of ergonomics. Adjusting to getting a proper viewing angle is critical to TN panels, and in this offering, you get almost 5 Inches of height adjustment, -5°/+20° tilting range, -60°/+60° swivel and 90° pivoting. That's more than enough for general situations, but if you require aftermarket mounting, the stand also detaches to reveal 100 x 100 VESA holes. The neck of the stand mechanism has a triangular slit in the middle for cable management, and there is a Light in Motion feature at the joint between the pillar and the base. This LED light changes color to your selected mode, or it glows orange when the monitor is in a low power state.
The connection options on this G-Sync module equipped monitor are still limited to DisplayPort 1.2, but the addition of an HDMI port dictates that Asus used the Gen. 2 module instead of the previous version which only had DP. We also have three USB 3.0 ports for peripherals, inconveniently located beside the mentioned video signal slots. All of these receptacles are neatly tucked under one of the slits of the rear panel in a down firing position so that cables can pass through the cable tidy hole on the pillar of the stand. On the right side of the rear panel, there are four buttons which include the power switch, while the others are for hot swapping between presets and the Asus GamePlus features. Asus also incorporates their multi-directional joystick for easy navigation of the monitor's OSD.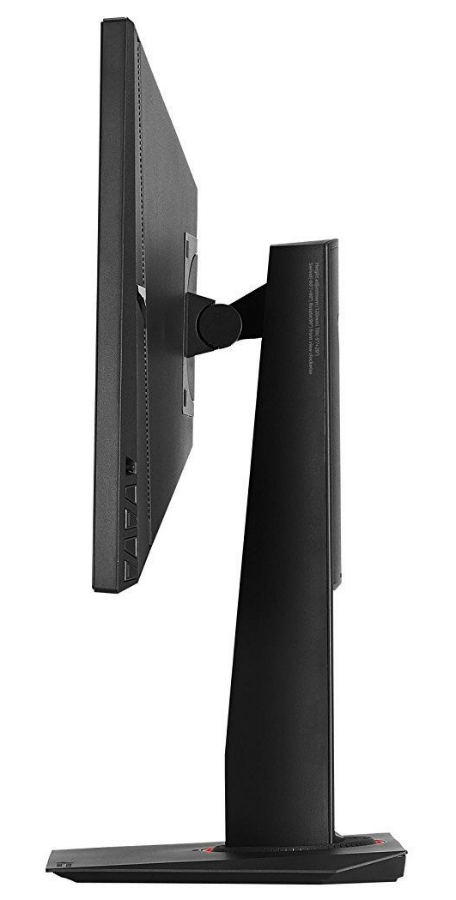 Display and Performance of Asus ROG PG248Q
Asus isn't famous for spectacular presets or factory calibrated greatness on their gaming monitors, but the PG248Q's 24-inch TN panel's initial output, when unboxed, looked rich and vibrant when compared to other 24-inch gaming displays. Some colors did have a little variance or oversaturation, but overall, it was still pleasant to look at considering this is a TN panel-equipped gadget. After a little tweaking with the gamma (gamma has a dedicated adjustment)and color temps, we got a satisfying image with vibrant colors and an excellent level of contrast near the advertise 1000:1 rating which is worlds apart when compared to other TN offerings. The color output isn't as good as they are on high-quality IPS panels, but we can say that it's pretty close, voiding the arguments about IPS vs. TN and who is better.
The TN panel on the ROG swift PG248Q has 144Hz native refresh rate and 1ms pixel response time, but one of the unique features of this product allows you to boost it up to 180Hz at the push of a button. During our Overwatch graphics tests at 180Hz/180FPS, the gameplay did appear to be much smoother and our reaction times dictated that there was no latency issue between our inputs and the display. We did notice little interlacing image defects in the pictures, and contrast did suffer some losses especially on the edges of the screen. For graphics-heavy titles such as Battlefield 1, G-Sync did its job as advertised, and while playing at varying frame rates with the VRR tech on, we did not notice a huge variance in Input lag, which was measured at more or less 3ms for this model. When playing in either mode, our experience was excellent, and this result further proves that the Asus PG248Q is indeed one of the best monitors out there.
Asus also includes Nvidia's ULMB feature and their Trace-Free setting to get rid of perceived blur and delays while gaming at high refresh rates. We found ULMB to be perfect at 120Hz, instead of the maximum 180Hz. At the highest refresh rate, we did notice a bit of input lag variance, but nothing significant overall despite the improvement concerning motion clarity. During the different stages of our tests, we did see a little trailing in the image transitions, but most were barely noticeable, and we had to look for flaws before seeing them. For instances like this, you can activate the Trace-Free setting at its average level, and avoid the maximum level since it will produce image overshoot or advanced ghosting.
As for the presets provided by Asus in this model, we opted not to use them since most of them either oversaturated one side of the color spectrum or darkened the image. As it is, the PG248Q has 99% of the sRGB color space covered, and tweaking to find a suitable setting is always the best choice for Asus gaming monitors. The sRGB mode did not improve on the colors too much; it just changed the brightness setting. These facts aren't deal breakers since you still get improved user experiences just by tweaking or adding an ICC profile. Asus also included their GamePlus features which feature a centered crosshair, countdown timer, FPS counter and a screen alignment tool. We found the FPS counter very useful if you wanted to keep tabs on your FPS and to see if the latter was matching the frame rate level you set in the OSD.
Conclusion
Giving the title of the best is difficult, but judging from how the Asus PG248Q performed for us, we can say that this is one of the top gaming monitor offerings the market can provide. This model can rightfully take the VG248QE's throne as the new flagship 24-inch contender for the company. The color and contrast performance of the TN panel from AU Optronics does an amazing job at reproducing images especially in games, and the flaws were unnoticeable at the most. The interlacing artifacts at 180Hz was a bit of a letdown, but still forgivable since most wouldn't be able to maximize the 180Hz for AAA titles. But for games such as CS: GO, we reckon those shooters will find it difficult to focus on the match while being neurotic by looking for these image defects. It would be better to keep your eyes on your crosshair. Otherwise, you will be fragged.
One thing we dislike about the PG248Q is its hefty price tag. There are products with an efficient cost to performance ratios, like the more affordable BenQ XL2420G, and G-Sync is relatively unneeded in 1080P gameplay with competitive titles usually played at this form factor. Cutting-edge always comes at a high price, and if you still insist on getting the best, the extreme performance capabilities, the distinctly unique ROG Swift design cues, and the bragging rights attached to the ROG pedigree will make every penny you spend on the Asus PG248Q worth it.