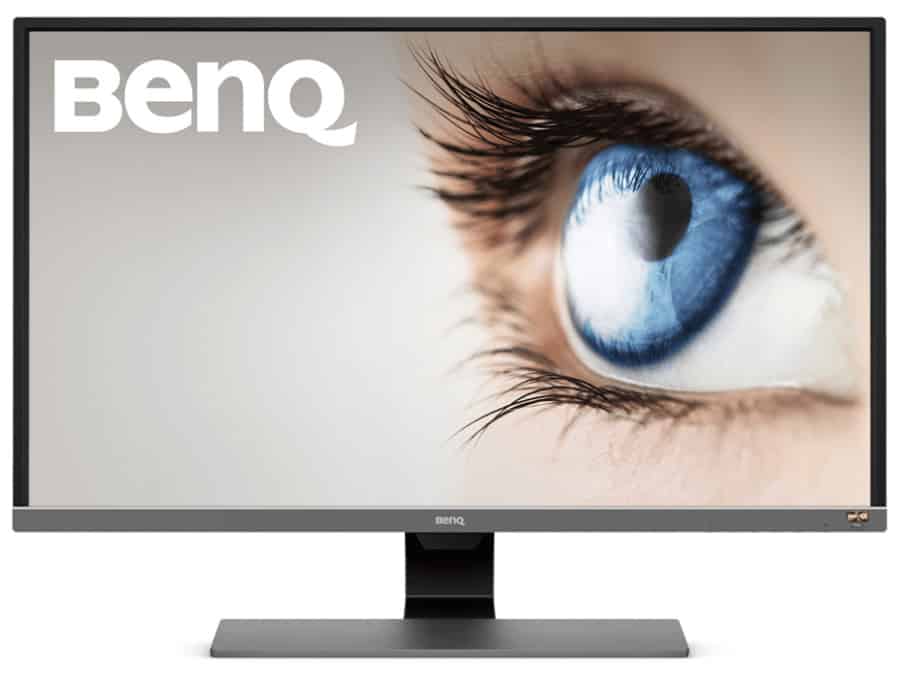 The BenQ EW3270U is designed to offer excellent visuals through its 32-inch 4K display which comes with the company's latest HDR and Brightness Intelligence Plus technologies. The monitor's specs, size, and resolution also make it a perfect display solution for gaming on your PC or 4K HDR console like the Xbox One X. Let's take a closer look at the BenQ EW3270U which is one of the most exciting upcoming monitors from the makers of some of the best E-Sports displays we have tested.

BenQ EW3270U Specifications
Screen Size: 32 Inches
Resolution: 3840 x 2160 4K UHD
Aspect Ratio: 16:9
Panel Technology: Vertical Alignment (VA)
Refresh Rate: 60Hz
Response Time: 4ms
Contrast Ratio: 3000:1 (Static)
Brightness: 300 cd/m²
Built-in Speakers: Yes (2 x 2 Watts)
Stand: Height – No
Stand: Tilt – Yes (-5°/+20°)
Stand: Swivel – No
Stand: Pivot – No
VESA Compatibility: Yes 100 x 100
Connectivity: DisplayPort 1.4 x 1,, HDMI 2.0 x 2, USB-C x 1, 3.5mm Jack
Dimensions with Stand(WxHxD): 28.6" x 20.56" x 8.47″
Weight: 16.54lbs

Design and Features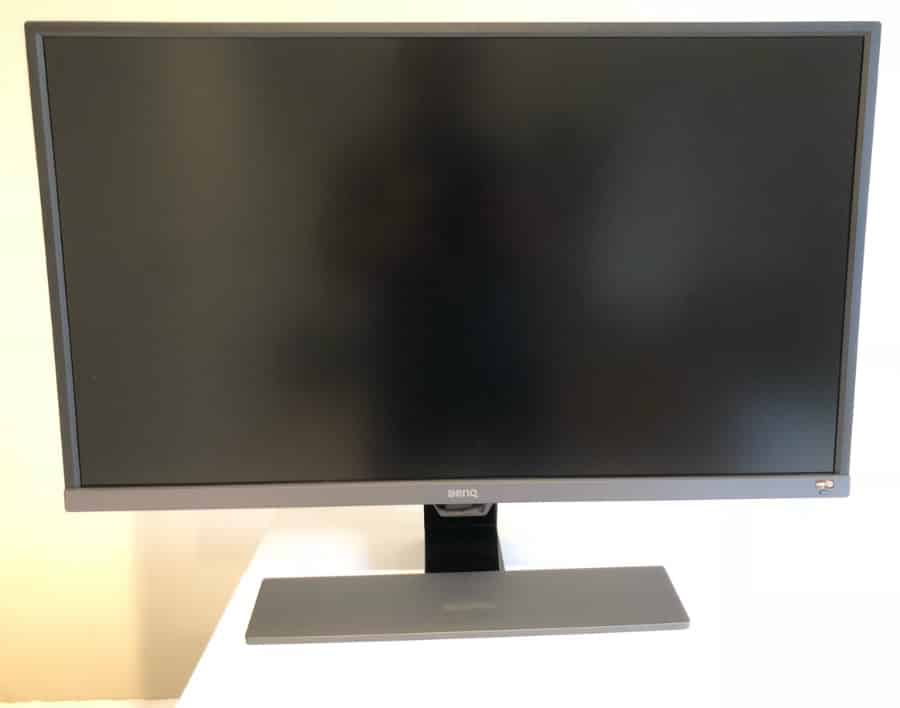 The BenQ EW3270U sports a contemporary aesthetic composed of slim bezels and a matte black and silver scheme. Most would prefer an infinity-edge display, but it is hard to notice the borders against the 32 inches of viewing real estate. The bottom slightly thicker bottom strip holds the Brightness Intelligence sensor at the middle and a distinct gold button that activates the HDR and Brightness Intelligence feature of the monitor.
The proportions of the chassis are within reasonable limits, so it should be easy for most to mount the BenQ EW3270U to a wall if size is a concern. The VESA holes on the rear panel are readily visible, so there is no need for adapter trickery or complex disassembly. It's also a huge plus that this model weighs in below 17 pounds without forgoing the tank-like build quality we've come to expect from the brand's products.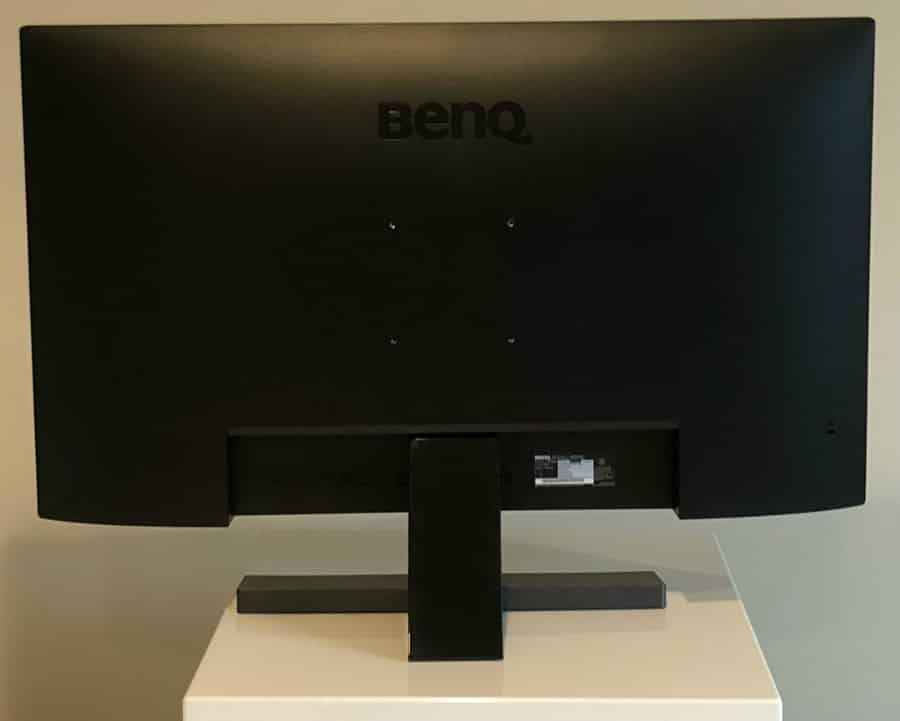 Most users will consider utilizing VESA mounting options at some point since the included stand is limited to tilt only. This part is strikingly similar to the RL2755's stand which was designed to hold a wireless controller in place or even as a tilted rest for laptops or tablets.The BenQ EW3270U is tall enough for the average-sized person, but retaining the included stand might require the addition of a base for the taller folk.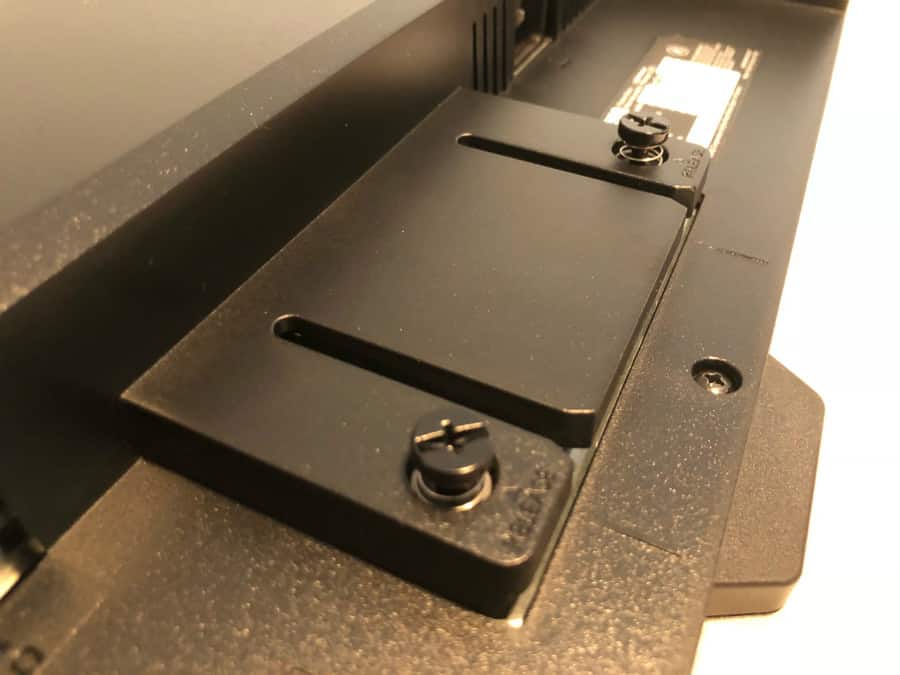 One of the highlights of the BenQ EW3270U is its connectivity features which allow users to pair this monitor with the latest devices. On the rear panel, you will find a DisplayPort 1.4 and two HDMI 2.0 slots as main video inputs for a PC and a 4K HDR console like the Xbox One X. There is also a USB-C which is capable of a 4K output via DP alternate mode so that you can connect your USB-C laptops such as the MacBook Pro.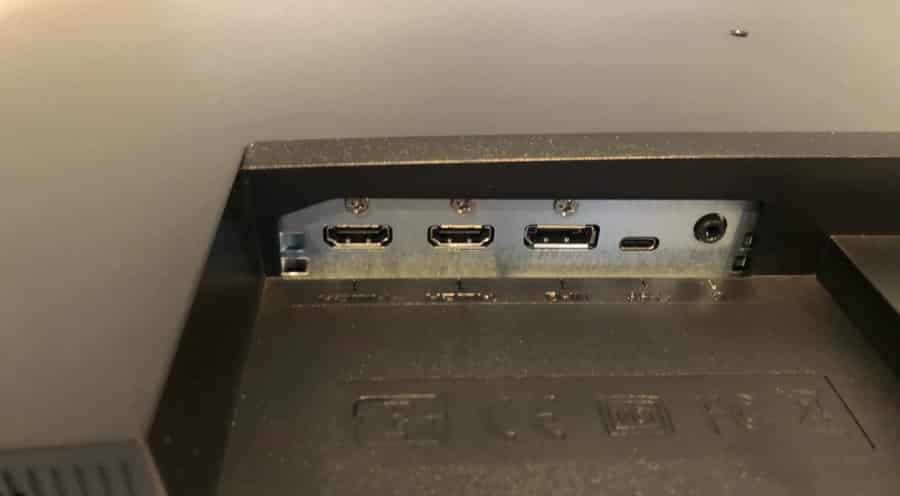 To round up the device, there is a pair of 2-watt speakers which was meant for basic audio appreciation. And when we say basic, we mean notification pings or alerts since the output isn't sufficient or satisfying for the intended purpose of this monitor.
Display and Performance
The BenQ EW3270U sports a 32-inch VA panel with a 3840 x 2160 resolution, 60Hz refresh rate, 3000:1 contrast ratio, and 4ms response time. A 300cd/m2 backlight illuminates the massive screen, indicating that this model isn't capable of true HDR. However, its 10-bit color interface should allow extensive color coverages with acceptable or even excellent accuracy.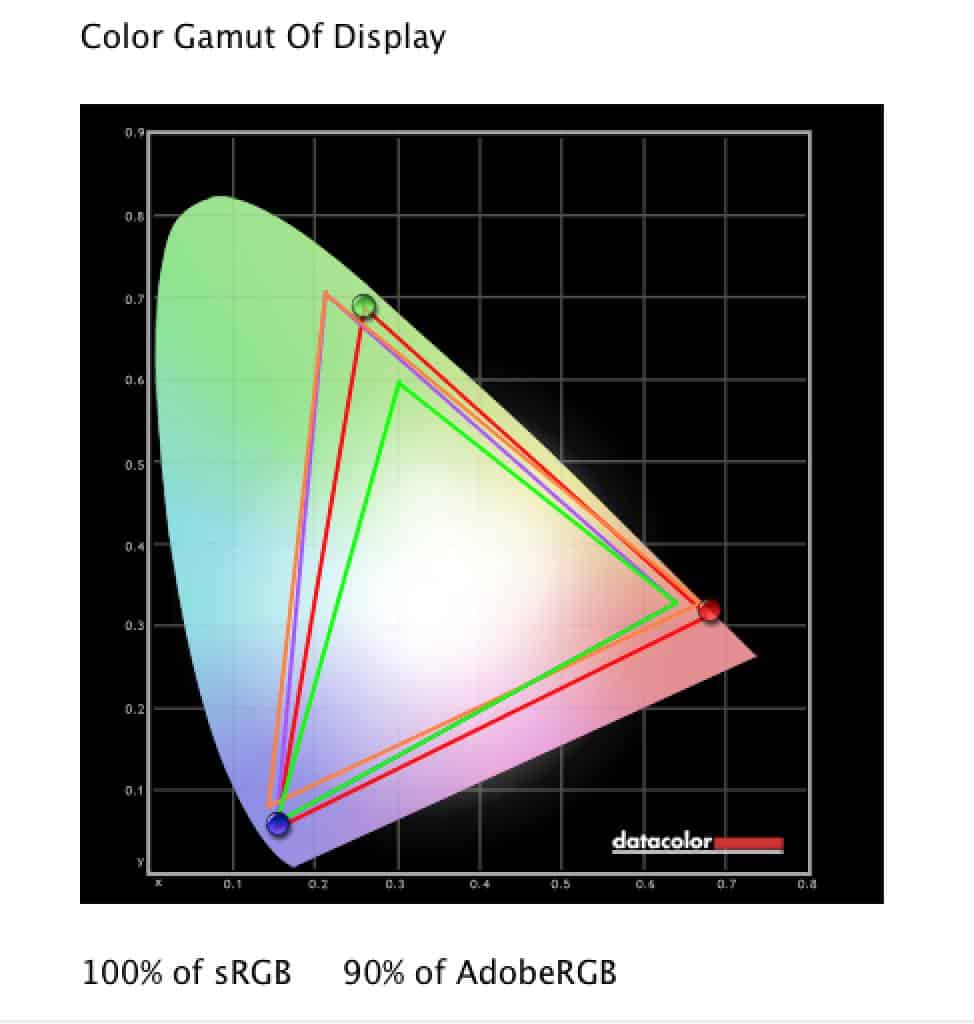 Our DataColor Spyder 5 reveals that the BenQ EW3270U is capable of full coverage of the sRGB gamut plus a bit more which is more or less equal to 90% Adobe RGB and DCI-P3. Accuracy is a bit off the ideal 2.2 with an average of Delta E 3.17 due to the extra vibrancy in some of the six-axis colors. But mind you, these results tell us that this monitor's colors that pop out make it excellent for gaming and movies where the oversaturation adds a nice tint depending on the images and environments portrayed on screen.
Contrast, however, fails to hit the specified mark since it only sits at an average of 1400:1. The score still is beyond the typical 1000:1 and below we usually see on other products. The BenQ EW3270U's Brightness Intelligence Plus, which was responsive enough to the different lighting conditions we tested comes into play here, lowering or raising the brightness as needed. This feature is just as good as the one on the BenQ EX3501R we previously reviewed, proving that the firm took steps to improve this exclusive technology.
Gamma sits at 2.3 when HDR and BIP are active, making the screen inkier when compared to sRGB-filtered screens. This added a nice grim touch to some titles which enhances the visual experience in appropriate instances. Some gamers also prefer Gamma settings like this, since it sometimes helps to make colors appear more vibrant or thicker.
Gaming benefited from the BenQ EW3270U's HDR and Brightness Intelligence Plus feature as well. Compatible games like Call of Duty WW2 presented improvements in the dynamic range which added substantial improvements in the visual effects and environments of the title. However, titles like Warhammer: Vermintide which did not support HDR sometimes appeared too dark for our tastes, proving that the HDR emulation this model includes is limited by compatibility.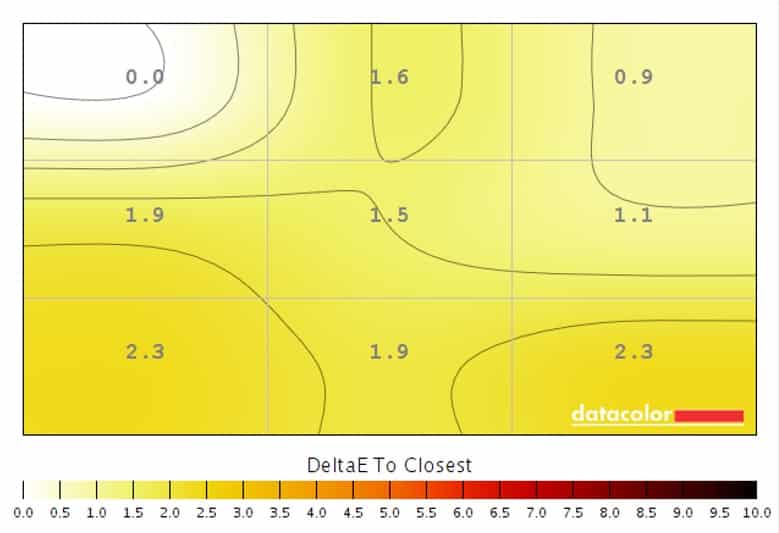 The BenQ EW3270U's screen uniformity is middling at best, with the closest to the ideal 6500K starting at the upper quadrants which slowly degrades to a maximum Delta E of 2.5 towards the bottom. To the naked eye, this minor issue will be unnoticeable. But on the other hand, purists such as photo editors or content creators may have to look elsewhere.
BenQ markets the EW3270U as an entertainment monitor, but it comes well-equipped to enable users to enjoy 4K gaming. Aside from the HDR feature, this model also comes with FreeSync functionality to help with tears and stutters when paired with an AMD GPU.
Even if VA panels are prone to slow pixel transitions, we could not notice any ghosting which could ruin the experience unless we tried hard enough. The BenQ EW3270U is also responsive enough not to cause delays between your control inputs and the screen. The product's 12ms response time is impressive for a 4K monitor of this type.
Thoughts on the BenQ EW3270U
The BenQ EW3270U is a well-rounded monitor intended for entertainment and gaming purposes. 4K feels just about right on the 32-inch display, amplifying the wow factor for console or PC gaming and UHD movie viewing. Once again, the firm's HDR and Brightness Intelligence Feature provided some positive results in selected situations, leaving some room for improvement.
If you are in the market for an HDR-capable 4K monitor for your PC, 4K HDR console, and your MacBook, the BenQ EW3270U is one of the best choices you can consider. It does come at a premium price upon introduction, but it is a worthy alternative to uber-expensive monitors with FALD backlights or OLED TVs.