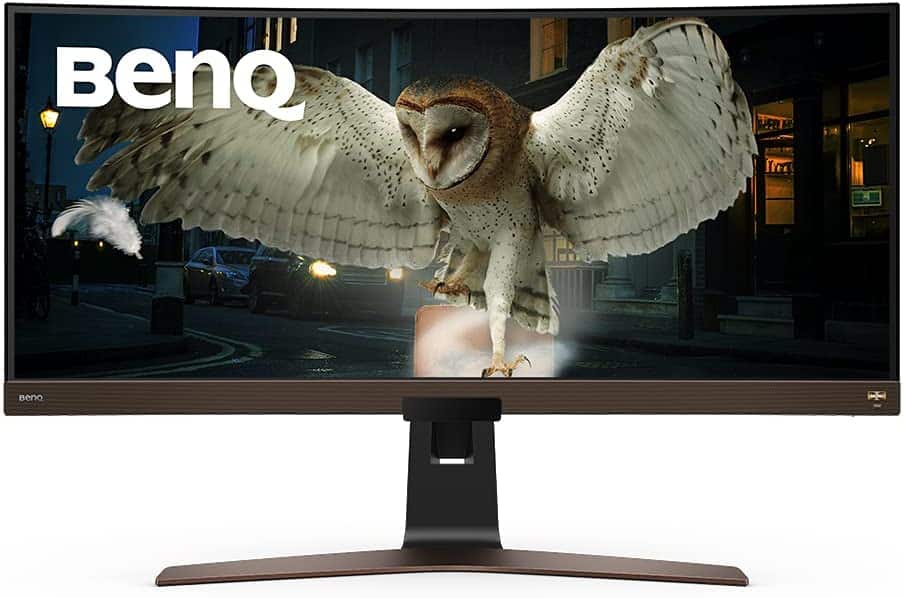 The BenQ EW3880R is a premium mixed-use ultrawide monitor that offers plenty of viewing room and luxurious functionality. The monitor advertises immersion with its specifications, but it's not quite as good as the EX3415R for gaming since it is limited to 60Hz. Let's check and see if the high price for the BenQ EW3880R is worth it.

BenQ EW3880R Specifications
Screen Size: 38 Inches
Resolution: 3840 x 1600 WQHD+
Aspect Ratio: 21:9
Panel Technology: In-Plane Switching (IPS)
Refresh Rate: 60Hz
Response Time: 4ms
Contrast Ratio: 1000:1 (Static)
Brightness: 300 cd/m²
Built-in Speakers: Yes (3 Watts x 2 + 8 Watt Woofer 2.1ch)
Stand: Height – Yes
Stand: Tilt – Yes
Stand: Swivel – Yes
Stand: Pivot – No
VESA Compatibility: Yes (100 x 100)
Connectivity: DisplayPort 1.4 x 1, HDMI 2.0 x 2, USB-C 60w x 1, USB-C 3.0 x 2, 3.5mm Audio Jack x 1
Dimensions (WxHxD): 35.3″ x 22.8″ x 11.6"
Weight: 28.7 lbs

Design and Features
The BenQ EW3880R follows the aesthetic of monitors like the EW3280U which embodies the brand's premium mixed-use offerings. The monitor has a matte bronze and black combination which is unique, but difficult to match with custom builds. The display is bezel-free on three sides so the screen looks bigger than it truly is in person.
You have to prepare your setup for the EW3880R's imposing size before pulling the trigger on the buy button. It needs almost a foot of depth when fully assembled and it's a little under three feet wide, so it might interfere with your peripherals. It is also one of the heaviest monitors in recent times, so extra care in setting it up is necessary.
Its build quality feels solid even if it uses a lot of plastics on its important parts such as its stand. The monitor doesn't wobble or sag since its hinge is firm and the stand itself is robust and well-built. We also didn't notice any cosmetic defects such as uneven gaps or warping as expected from one of BenQ's top offerings.
The BenQ EW3880R has an OSD joystick at the back, but it also includes an IR remote for a more comfortable and convenient experience. It's convenient to use the latter if you want to spend some time calibrating the display, but otherwise, the joystick also works just as well. You will also find a dedicated HDRi button on the bottom bezel which allows you to activate the mode or cycle through its presets.
The stand included with the package offers tilt, swivel, and height adjustments for your comfort. It is easy to get a preferred viewing angle, although this part requires a lot of space due to its size and the necessity behind it. You can opt for VESA mounts, but a model that can support the size and weight of the cabinet can be expensive.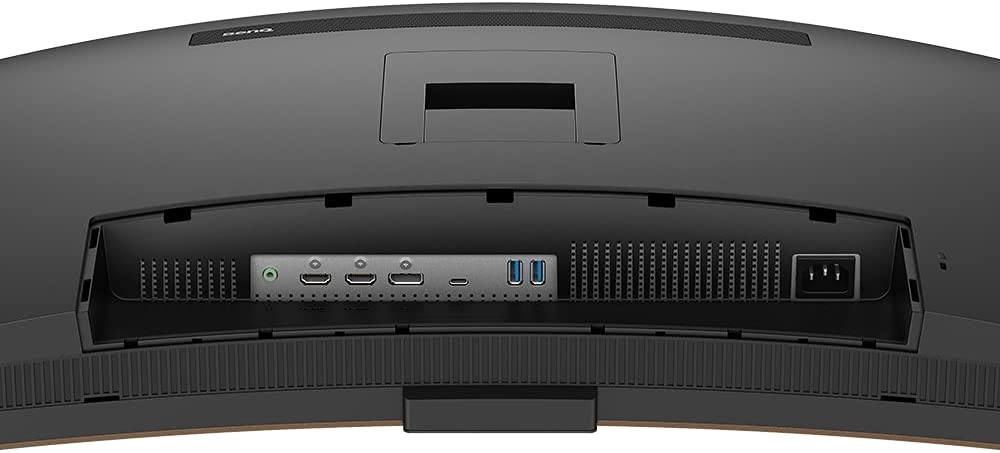 The BenQ EW3880R has plenty of connectivity options, although other alternatives like the Dell U3821DW has it beat. You will find DisplayPort 1.4 and two HDMI slots, plus a 60-watt USB-C slot with DP Alt Mode. You also get two USB 3.0 ports for accessories and a 3.5mm jack for headphones or PC speakers.
However, this monitor doesn't need the latter since it has a unique 2.1 channel setup which you won't find on most offerings. It has a 3-watt pair that's supported by an 8-watt subwoofer for bass output which is usually missing from regular built-ins. BenQ's TreVolo treatment makes it clearer and better-sounding, so its usable for games and movies.
Display and Performance
The BenQ EW3880R boasts a 38-inch 2300r curved IPS panel with a 3840 x 1600 UWQHD+ resolution, a 60Hz refresh rate, and a 4ms response time. The backlight has a 300 cd/m2 maximum while its contrast is listed at 1000:1 like most IPS monitors. The monitor advertises its HDRi feature for imaging improvement, but the device doesn't have the necessary hardware so it's only an emulation mode.
What's great about ultrawide monitors is that they offer a lot of space to maneuver your apps and crispness that makes games and movies look so good. It is not as demanding as a 4K screen, but you will still need a powerful GPU to run most titles at ultra settings. Its pixel density is also looser, but you don't lose the extra crispness the extra pixels provide.
The BenQ EW3880R renders more than 100% sRGB and 93% sRGB for superb vibrancy in games, movies, and daily use. It's also very accurate out of the box with a deltaE average of only 1.25, so most users won't need to calibrate the display. The monitor also has an sRGB preset which is also quite accurate if you need to work within the gamut.
Calibrating the display reduced its deltaE average to 0.41 which is fantastic, making the monitor suitable for professional editing work. You need a colorimeter to achieve this, but those aren't cheap or necessarily accessible. We can only recommend spending the extra on them if you are into color-critical work, but for all else, the default settings should do nicely.
Its backlight peaked at 298 cd/m2 which is plenty for daily use, including during the day in well-lit rooms. However, the screen's contrast is limited to 931:1 at 60% brightness, so the screen looks washed out when displaying dark scenes. It's a known limitation of IPS panels, and only those with special backlights or VA and OLED panels are better in this regard.
Panel uniformity for the BenQ EW3880R sample was decent, but it had minor light leaks at the top and bottom edges like some curved screens. These showed up as clouding or haloing in some dark scenes, but they are unnoticeable in most cases. Note that this could change between every unit since not every panel is made equal, so there are better and worse monitors out there.
The pixel response time on this model isn't as fast as E-Sports monitors, but that's understandable since its not a dedicated gaming variant. Some blurs and smudges can appear in contrasting or high-speed transitions, but selecting the AMA's High level helped. It is not perfect, but it's better than what most 60Hz IPS monitors can offer.
What's strange about the BenQ EW3880R doesn't have FreeSync, so naturally, G-Sync Compatibility is out of the question. It is unlikely because most EW monitors from the brand have Adaptive Sync, although we know variants that are biased towards productivity that still have them. Input lag sits at 5ms at 60Hz, making this model of the fastest 60Hz 38-inch monitors out there.
Thoughts on the BenQ EW3880R
The BenQ EW3880R is an excellent mixed-use monitor with nice features that can enhance your user experience. The curved IPS panel is color-accurate and vibrant while the device itself is well-built and equipped. We love the speakers and their other features such as USB-C connectivity and the convenient remote.
However, it is quite expensive and it has a few limitations such as its limited HDR performance and low contrast. Most would expect something better at this price range, such as HDR 600 compatibility at least. It's a great monitor, but only those who can truly make use of the features described above will find it a worthy investment.
Pros:
Superb Vibrancy and Accuracy
Excellent Build Quality
USB-C Connectivity
Great-Sounding Speakers
Fast and Responsive
Cons:
Expensive for a 4K Monitor
USB-C Limited to 60 Watts
Low Contrast
About the Author: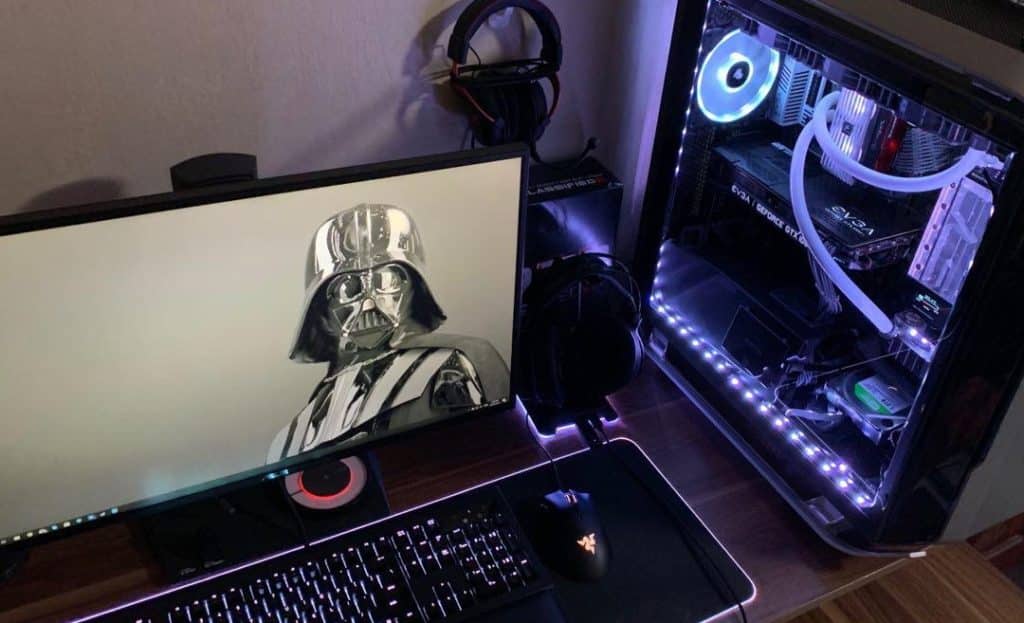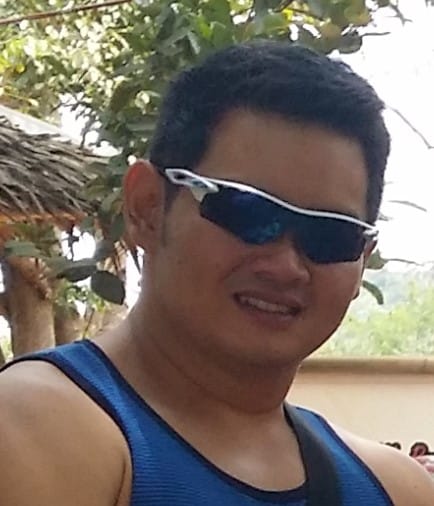 Paolo is a gaming veteran since the golden days of Doom and Warcraft and has been building gaming systems for family, friends, and colleagues since junior high. High-performance monitors are one of his fixations and he believes that it's every citizen's right to enjoy one. He has gone through several pieces of hardware in pursuit of every bit of performance gain, much to the dismay of his wallet. He now works with Monitornerds to scrutinize the latest gear to create reviews that accentuate the seldom explained aspects of a PC monitor.