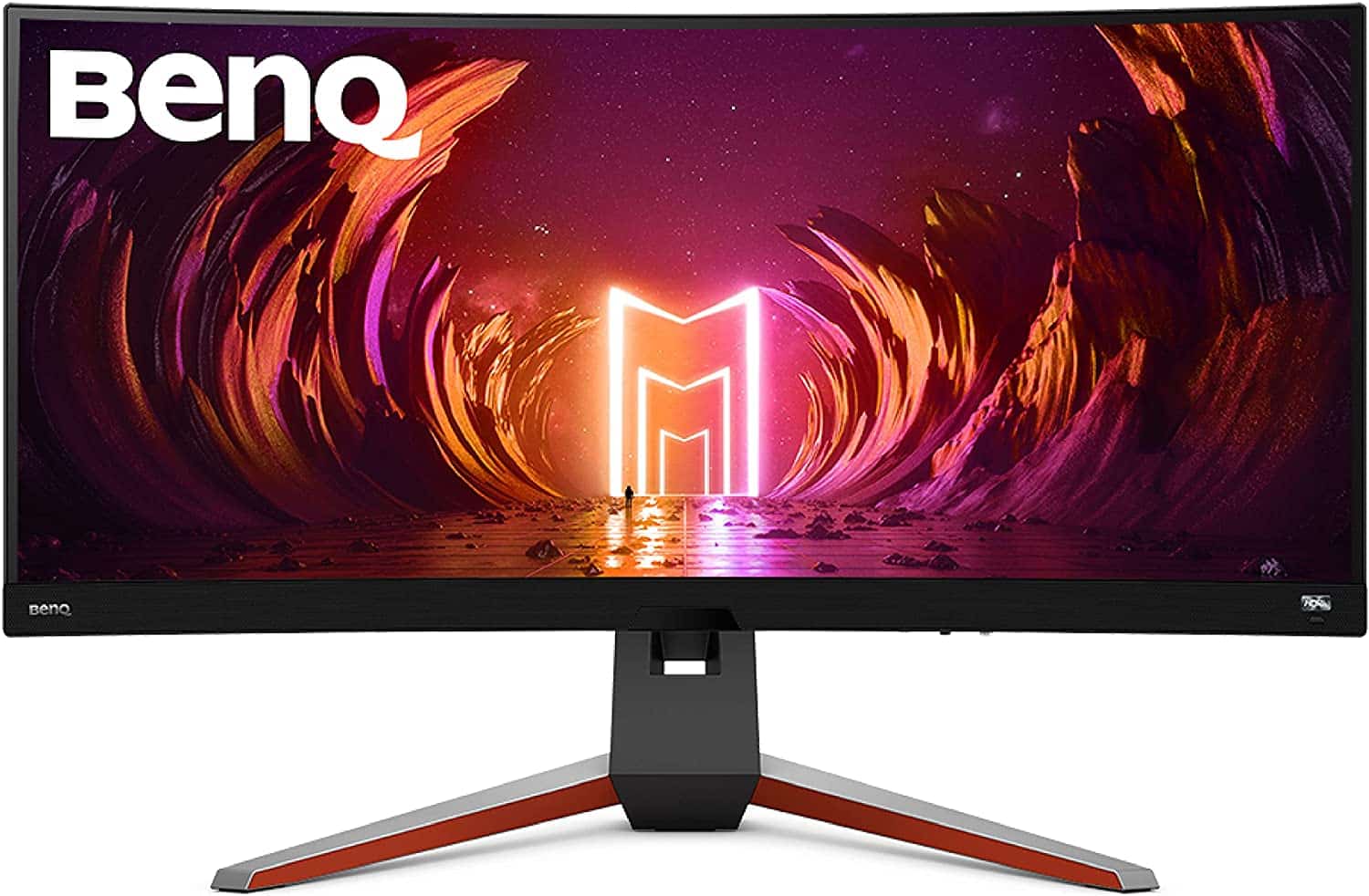 The BenQ EX3415R offers an immersive 144Hz ultrawide screen that's packaged with attractive features that can improve your gaming experience. It's an attractive piece of kit, but it's twice the price of 144Hz VA variants like the Gigabyte G34WQC at the time of this review. Let's check out if the BenQ EX3415R is a worthy investment or is it asking too much for its added accessories.

BenQ EX3415R Specifications
Screen Size: 34 Inches
Resolution: 3440 x 1440 UW-QHD
Aspect Ratio: 21:9
Panel Technology: In-Plane Switching (IPS)
Refresh Rate: 144Hz
Response Time: 1ms MPRT
Contrast Ratio: 1000:1 (Static)
Brightness: 400 cd/m²
Built-in Speakers: Yes (2 x 2 Watts + 5 Watt Woofer)
Stand: Height – Yes
Stand: Tilt – Yes
Stand: Swivel – Yes
Stand: Pivot – No
VESA Compatibility: Yes (100 x 100)
Connectivity: DisplayPort 1.4 x 1, HDMI 2.0 x 2, USB 3.0 x 3, 3.5mm Audio Jack x 1
Dimensions (W x H x D): 32.1" x 20.7" x 10.6"
Weight: 18.7 lbs

Design and Features
The BenQ EX3415R is like a bigger version of the EX2710S since it retained the attractive aesthetic of the current Mobiuz series. The monitor has a matte black and silver chassis with a base that has red accents that are easier on the eyes versus other gaming models. The display is bezel-free on three sides so you can enjoy a more immersive view while playing your favorite titles.
You have to prepare your desk for the BenQ EX3415R since it's noticeably larger than typical-sized monitors. it needs almost eleven inches of depth, plus its width can cover your speakers or bump them off if they are large like some bookshelf types. It's not too heavy at 18.7 pounds, but we recommend asking for help when setting up since ultrawides take some effort to balance when carrying it.
Build quality for the BenQ EX3415R is excellent and there is no feeling of cheapness or skimping on any of its parts. Its stand is beefy and solid so the screen won't wobble while you are enjoying your games. The plastic panels are thick enough to withstand cracking and flexing so the monitor won't break that easily unless you drop it to the floor.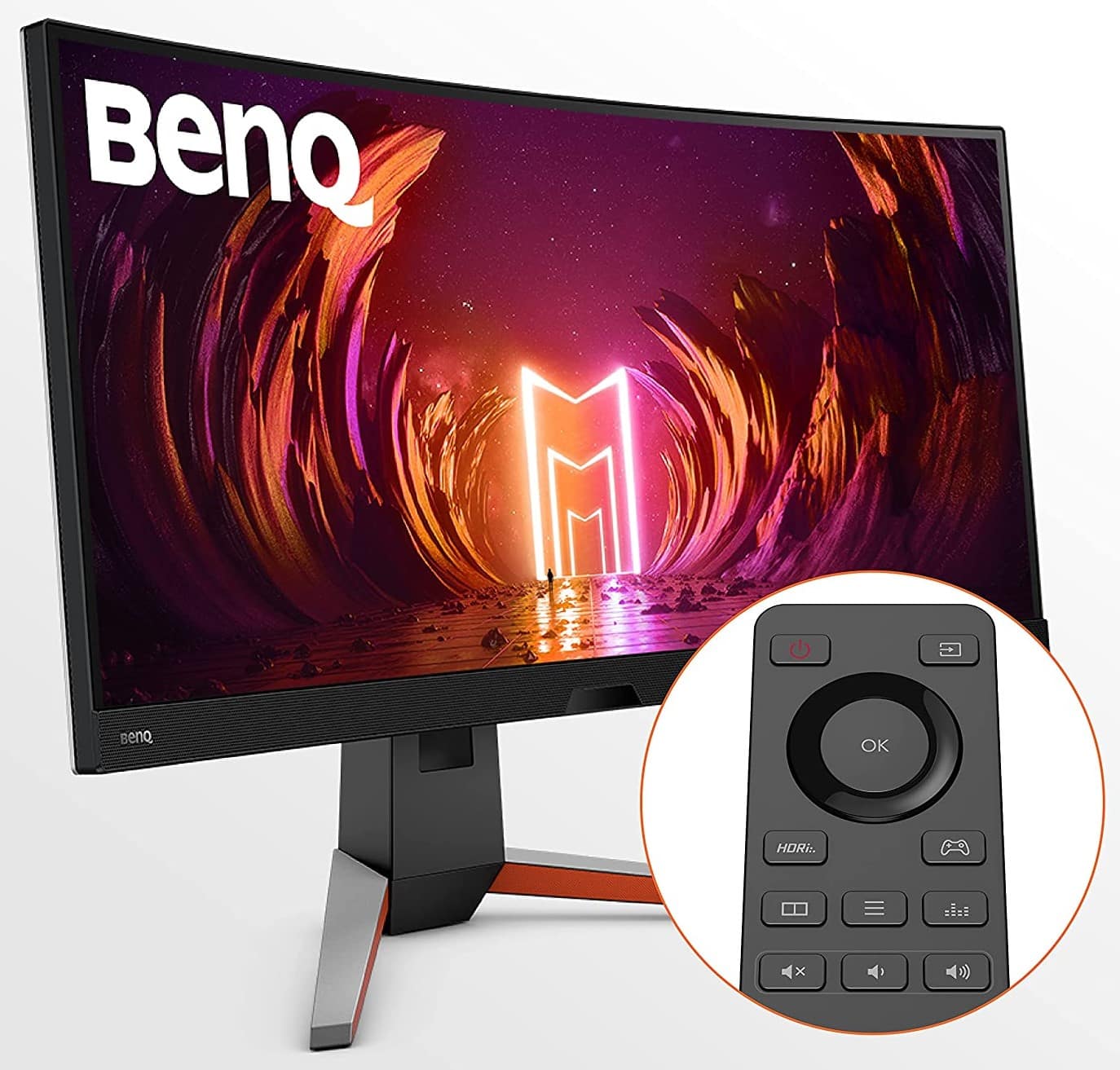 The BenQ EX3415R uses a tactile joystick located under the bottom bezel for easy access to its OSD. You also get a nifty remote that features direct access buttons although we think it won't get too much use since this model isn't ideal for couch gaming. You will also see a dedicated HDRi key at the right so you can switch the feature on or off as needed.
You will also notice an IR sensor at the middle of the bottom bezel on the BenQ EX3415R which is for its Brightness Intelligence+ feature. We like that its not sticking out at the bottom like with the previous models so it doesn't disrupt the clean look of the chassis. it's covered with a shiny black cover, so be careful not to scratch it while wiping down dust and smudges.

The BenQ EX3415R includes DisplayPort 1.4 and two HDMI 2.0 ports for secondary devices like consoles. It also has three USB 3.0 ports for accessories, but what's noticeably lacking here is a USB-C port which would help justify its price. You also get a 3.5mm jack for audio devices, but we know that most will prefer the motherboard ports for this purpose.
Another thing we like from the BenQ EX3415R is its treVolo-tuned speaker set which is composed of 2-watt speakers and a 5-watt woofer. It is not as powerful as a desktop variant, but you get some semblance of clarity and bass from it versus other built-ins. It can be used for entertainment purposes, but headsets will still trump it when it comes to spatial audio and accuracy.
 Display and Performance
The BenQ EX3415R boasts a 34-inch IPS 1900r curved IPS panel with a 3440 x 1440 resolution, a 144Hz refresh rate, and a 1ms MPRT response time. The backlight has a 400 cd/m2 maximum while the contrast ratio is at 1000:1, unlike its VA counterparts. This monitor advertises wide gamut coverage and HDR features which also explains why it's priced higher than the VA-based variants we've recently reviewed.
The BenQ EX3415R is perfect for just about anything due to its screen space and resolution. You get a noticeable increase in sharpness and detail, plus it's nice to work with since you have plenty of room to utilize and play with. The only weakness of monitors like this is the lack of 21:9 support from consoles, but that's not the monitor market's fault.
The BenQ EX3415R renders 99% sRGB and around 93% DCI-P3 which is excellent for gaming and entertainment. Its default accuracy could be better since the deltaE average is a bit too high at 3.11. You can use the monitor's sRGB mode to tone down the color errors to 1.13 which is great, but it also cuts out a large chunk of the DCI-P3 coverage if it is activated.
Calibrating the BenQ EX3415R reduced its dE average to an impressive 0.98 which makes it usable for editing work and content creation. However, a colorimeter is quite expensive so it's not worth it for gaming purposes. The monitor looks good after a few tweaks and it has a lot of headroom, so we recommend playing around with its settings first to find the desired appearance before going the extra mile.
The BenQ EX3415R only managed to reach 210 cd/m2 in SDR, but its most disappointing result is its contrast ratio which only came up at 897:1 at 80% brightness. These numbers change when HDR is active with the backlight reaching as high as 411 cd/m2, but the contrast is still quite low at 1021:1. The monitor isn't capable of true HDR effects and it can make dark scenes look washed out at night.
Panel uniformity for the BenQ EX3415R sample made up for the flaws above since there were virtually no backlight leaks or clouding issues on the large screen. Curved monitors usually have these at the top and bottom edges, but this monitor's variances weren't noticeable while gaming. Take note that this could vary between every monitor due to the nature of IPS and some tolerances, so there are worse units out there.
Responsiveness is also a key strength of the BenQ EX3415R since it handles motion better than its VA counterparts. You won't need to use anything beyond modest overdrive with it since the screen is already blur and persistence-free. You don't have to worry about smudges and ghosting in fast-paced games, especially with titles that have varying lighting conditions.
The BenQ EX3415R is a FreeSync monitor but it also works with Nvidia's G-Sync Compatible mode. This is a must-have feature since GPUs aren't easy to find now so you can choose one from either brand without losing VRR. Input lag sits at 6ms at 144Hz, so there is no need to worry about delays while gaming.
Thoughts on the BenQ EX3415R
The BenQ EX3415R offers excellent vibrancy and speed which equates to an exciting gaming experience. The well-designed monitor has plenty of features that you will like, plus it looks considerably better than many of its counterparts. Its HDRi and brightness intelligence feature is nice to have, although their uses are situational based on feedback and experience.
Most of the BenQ EX3415R's flaws are related to the limits of IPS technology, but what brings it down a notch is its high price. You can avoid the limited contrast ratio by going with a much cheaper VA option like the Gigabyte G34WQC or the AOC CU34G2X, although these two models are less vibrant. The EX3415R is a great ultrawide monitor, but we'd get it at a discount just because it's hard to justify its high price point when the competition asks for considerably less cash.
Pros:
Attractive and Robust Design
Wide Gamut Coverage
Fast and Responsive IPS Monitor
Equipped with Extra Features and Gadgets
Cons:
Expensive
Low Contrast
Limited HDR Performance
-About the Author: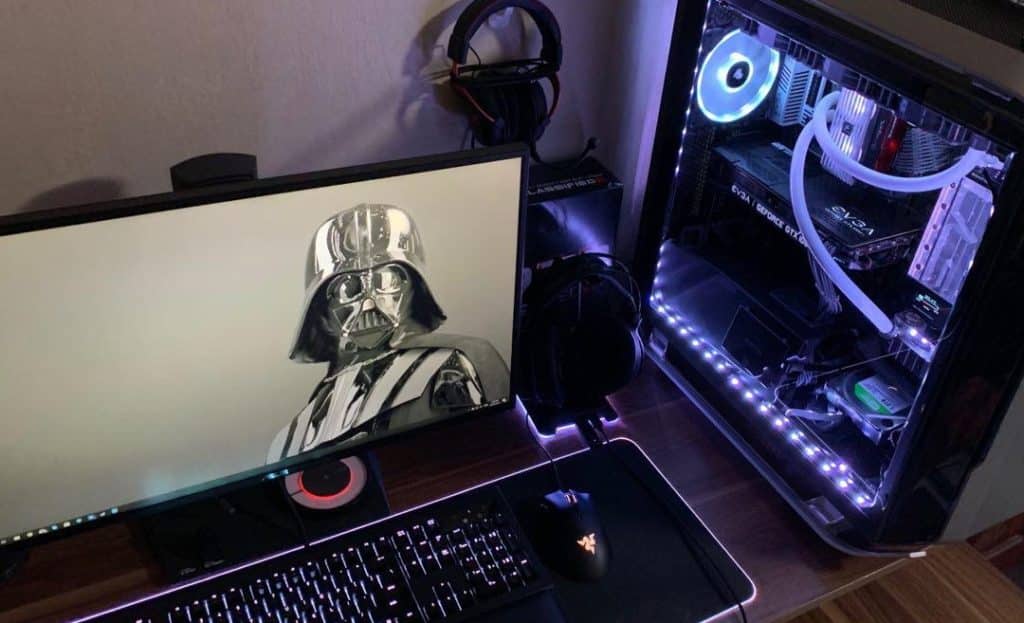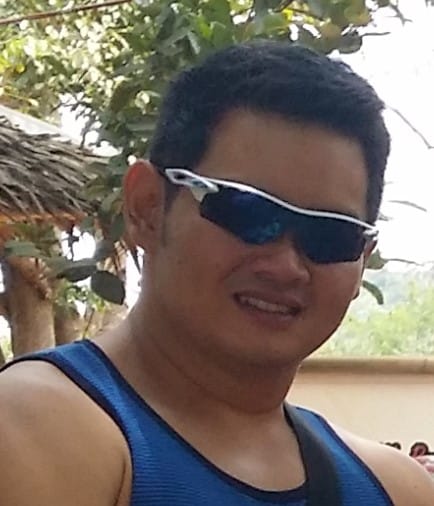 Paolo is a gaming veteran since the golden days of Doom and Warcraft and has been building gaming systems for family, friends, and colleagues since his junior high years. High-performance monitors are one of his fixations and he believes that it's every citizen's right to enjoy one. He has gone through several pieces of hardware in pursuit of every bit of performance gain, much to the dismay of his wallet. He now works with Monitornerds to scrutinize the latest gear to create reviews that accentuate the seldom explained aspects of a PC monitor.