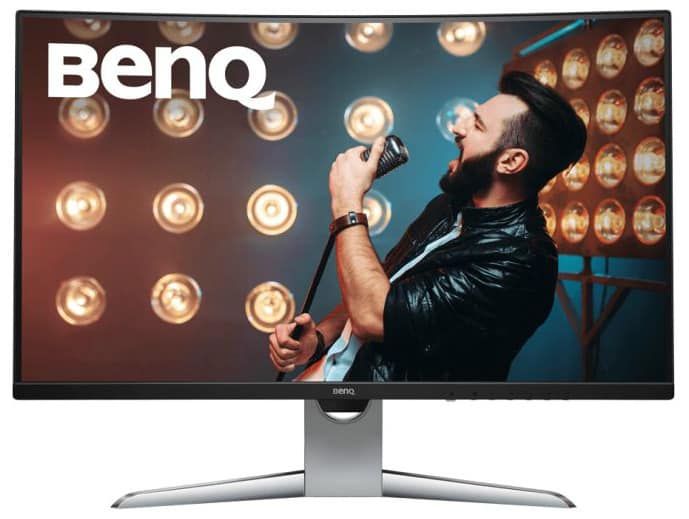 The BenQ EX3203R fulfills the need for a big screen to create a perception of immersion to enhance gaming and entertainment experiences. This monitor inherits the features of BenQ's EX line which includes the EX3501R, which is HDR-capable and equipped with USB-C connectivity. If you want a streamlined alternative to the Asus XG32VQ or even the brand's EW3270U, the BenQ EX3203R could be your next best bet.

BenQ EX3203R Specifications
Screen Size: 32 Inches
Resolution: 2560 x 1440 QHD
Aspect Ratio: 16:9
Panel Technology: Vertical Alignment (VA)
Refresh Rate: 60Hz
Response Time: 4ms
Contrast Ratio: 3000:1 (Static)
Brightness: 400 cd/m²
Built-in Speakers: Yes (2 x 2 Watts)
Stand: Height – No
Stand: Tilt – Yes (-5°/+20°)
Stand: Swivel – No
Stand: Pivot – No
VESA Compatibility: Yes 100 x 100
Connectivity: DisplayPort 1.2 x 1,, HDMI 1.4 x 2, USB-C x 1, 3.5mm Jack
Dimensions with Stand(WxHxD): 28.6" x 20.56" x 8.47″
Weight: 16.54lbs

Design and Features
The BenQ EX3203R takes its design queues from the EX3501R which is one of our favorites when it comes to aesthetics. The face comes with a dual stage bezel with slim panel borders and a plastic outer layer. Only the bottom strip is a bit thick since the monitor's controls, and Brightness Intelligence Plus sensor is in its proximity.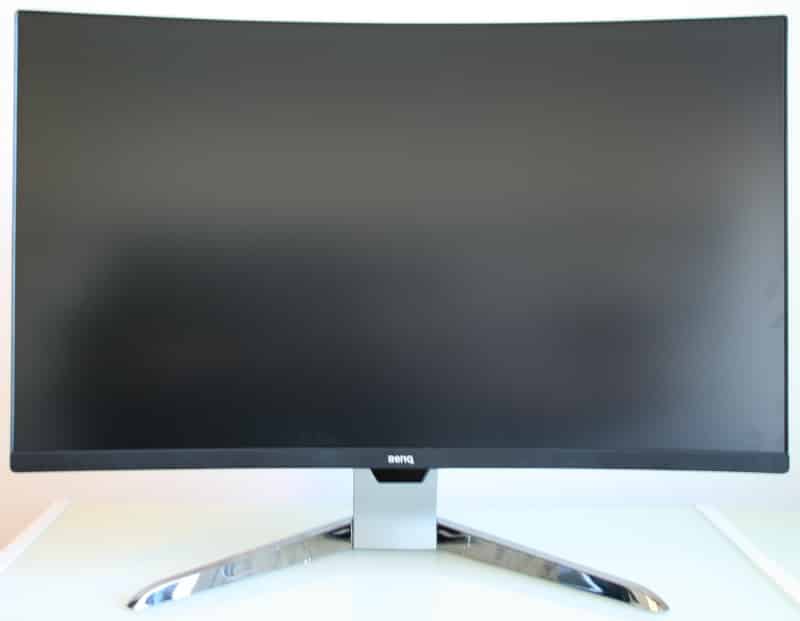 The chassis is composed of matte black and silver plastics which gives the BenQ EX3203R its business executive-like personality. The design is then matched with a chromed out metal stand similar to the EX3501R's mechanism. Frankly, this part is one of our favorites when it comes to the product's looks.
At a glance, the BenQ EX3203R could be a supermodel of the monitor world due to its aesthetics. Every bit and piece of the monitor feels refined with no burrs or unevenness. Build quality is as excellent as the EX3501R, adding that premium feel to a very appealing product.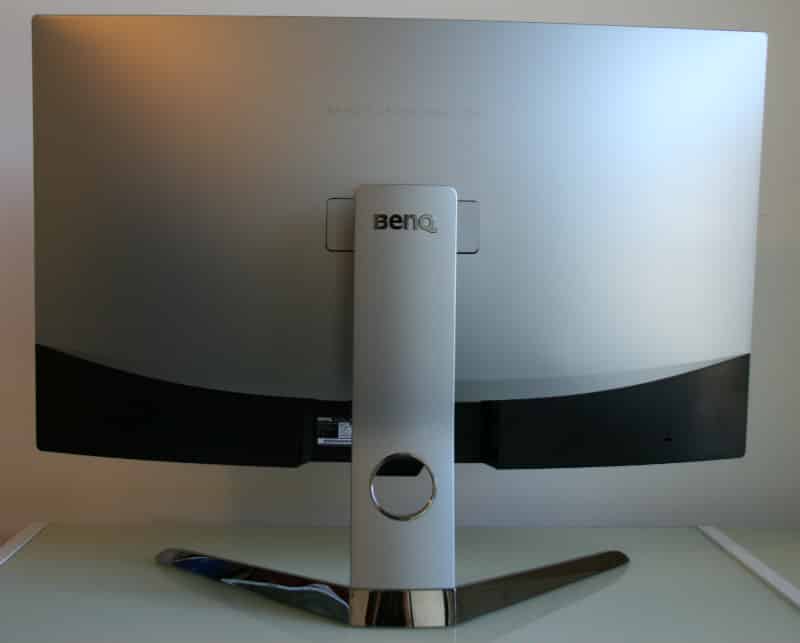 It's also fantastic that the BenQ EX3203R ships in one piece, meaning there is no assembly required. You only need to plug the display into a power outlet and a PC to get it going. Setup probably takes as little as two minutes, and since this model also has Brightness Intelligence Plus, you can avoid calibration and adjustments.
The BenQ EX3203R auto-detects your ambient lighting to adjust the screen accordingly. This feature adds tremendous value for out of the box users who'd rather avoid having to modify the backlight during the day and evening. The monitor achieves this through a sensor built in a knob on the lower bezel, so keep in mind to try and avoid covering that area.
One unwelcome downside of the mechanism is it only includes tilt and a little over two inches of height adjustment. This isn't the most flexible design we've seen, so some users might resort to using a monitor stand or an articulated VESA mount. Take note that the latter isn't readily available since you need a proprietary bracket.
Connectivity is relatively straightforward on the BenQ EX3203R's downfiring I/O panel. Users only get DisplayPort 1.2 and dual HDMI 1.4 slots, but only the former will support the full refresh rate range. There is also a lone USB-C slot which can go into DP Alt Mode when a laptop such as a MacBook pro is plugged in.
Display and Performance
The BenQ EX3203R sports a 32-inch VA panel from AU Optronics with a 2560 x 1440 native resolution, 144Hz refresh rate, and 4ms response time. A contrast ratio of 3000:1 is specified along with a 300cd/m2 backlight that can pulse to 400cd/m2 when needed. This model is also advertised to be HDR-ready, although these specs can be labeled as insufficient for such.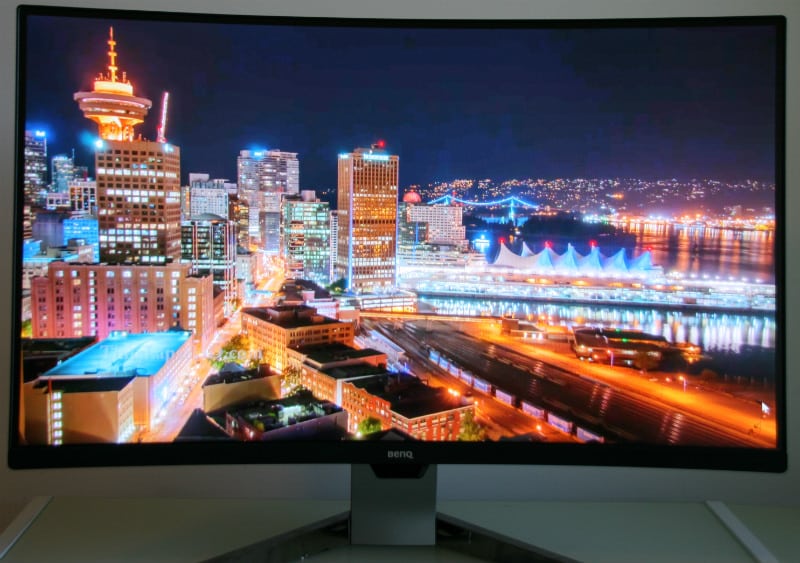 The VA module has a native 8-bit output which allows up to 90% DCI-P3 coverage which only a few notches short of true HDR's requirements.  However, once checked with a DataColor Spyder Elite V, the BenQ EX3203R posted reasonable results which are suitable for everyday use but missed the promised capabilities.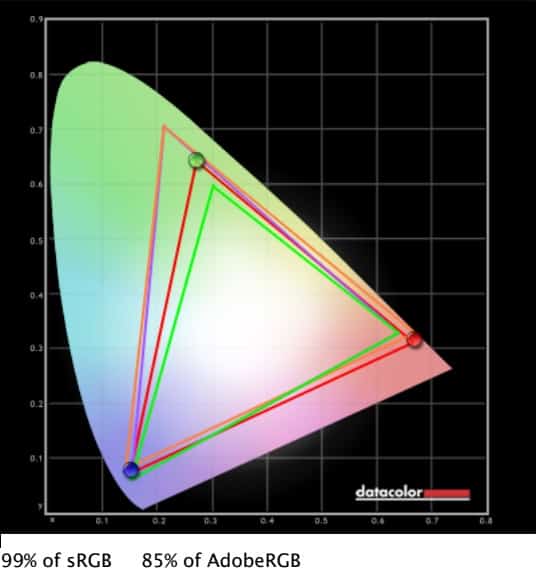 The VA panel on the BenQ EX3203R is only capable of 99% sRGB or 85% Adobe RGB which is too low considering HDR monitors require a lot more volume. The color-pop is still there thanks to the contrast, but the BenQ EW3270U is still better in this regard. Accuracy, however, is pretty decent for gaming and everyday use at an average of Delta E 2.70.
You can push the BenQ EX3203R's accuracy to Delta E 1.4 if you have a costly calibrator with you. Although for us, the improvements garnered by spending an extra hundred bucks or so isn't practical. Calibration also isn't ideal if you are using Brightness Intelligence Plus since the feature will tweak color temperature accordingly as well.
The BenQ EX3203R's Gamma is slightly off from the ideal levels since our Spyder Elite placed it at 2.4. This isn't ideal for color-critical work, but it works wonders for gaming. This, along with a 2600:1 contrast ratio makes games look deeply saturated, enhancing the overall visuals of the title.
The BenQ EX3203R is also HDR-compatible, although it's more of an emulation rather than a full implementation. The specifications of the monitor are only certifiable with HDR400, so the improvements aren't as profound as we'd expect.
But once HDR kicks in for the BenQ EX3203R, there is a noticeable touch of depth to the graphics on the screen. Light blooms appear a bit more realistic, while visibility in darker areas become clearer. The monitor's BI Plus feature can become useful in this aspect as well, but we recommend testing it first to see if you'd like it turned on or off.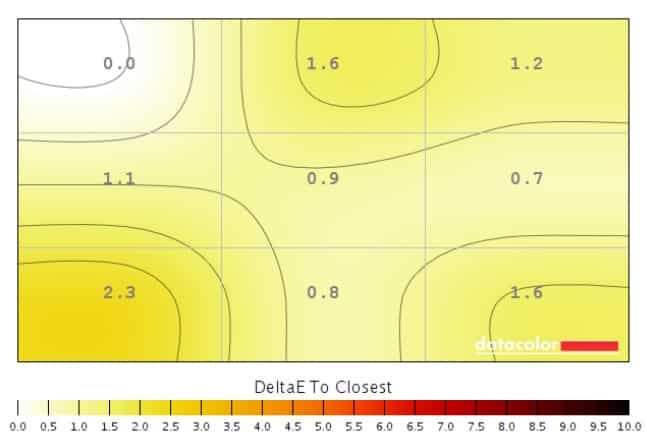 Panel quality for the BenQ EX3203R is middling at best due to some backlight uniformity issues. The upper left quadrant of the screen is noticeably dimmer than the rest, but it's not as noticeable when watching movies or enjoying games. Color uniformity is mostly unaffected since variance from the ideal D65 did not exceed Delta 2.3.
If there's one thing the brand could improve on, it would be the BenQ EX3203R's pixel response time which is a bit sluggish. Casual and immersive gamers will not notice this, but E-Sports fanatics will see some ghosting and trailing from time to time. Adjusting the monitor's AMA or Advanced Motion Accelerator to its max did little to help this flaw while also adding overshoot to the screen.
But if we're talking about latency and responsiveness, the BenQ EX3203R does relatively excellent. We did not notice any "desynced" moments during testing with PUBG and most of our inputs are spot-on. Input lag is measured at an average of only 12.8ms which is fantastic for a monitor in this class.
It's also worth noting that BenQ EX3203R is FreeSync 2 compatible for smooth and tear-free HDR visuals. Take note that you need a GPU from the Polaris series to enjoy this feature.
Thoughts on the BenQ EX3203R
What we love about the BenQ EX3203R is the convenience it offers right outside the box. You get a beautiful work of art that's already assembled and doesn't require technical tweaking to get beautiful visuals and immersive experiences. The monitor's HDR feature adds a nice layer of improvement to the colors and environments of games, provided that they are HDR compatible natively.
The monitor is priced at a premium level, but the build quality and the easy-to-use features are well worth it. If you can look past its small flaws, it should last you a few years before feeling the need to upgrade again. If you are looking for a curved, high-refresh display for gaming and entertainment, the BenQ EX3203R is a fantastic choice.