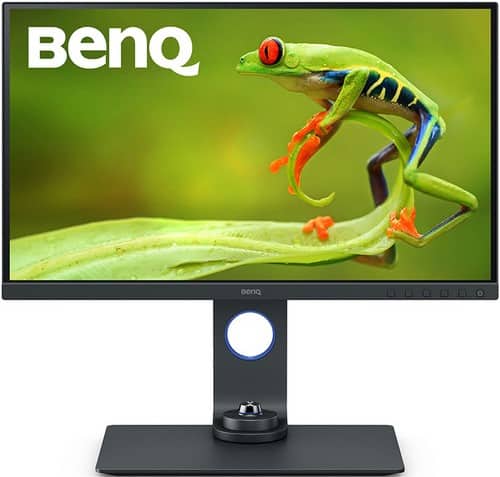 The BenQ SW270C offers a fully-equipped prosumer package with features such as USB-C connectivity and AQColor technology to upgrade your workflow. BenQ already has the very successful SW2700PT, but it has decided to take its QHD offering a step further together with its latest 4K offerings. The BenQ SW270C's redesign makes it almost irresistible to the creative crowd, but does it have the superb image quality they are after?

BenQ SW270C Specifications
Screen Size: 27 Inches
Resolution: 2560 x 1440 QHD
Aspect Ratio: 16:9
Panel Technology: In-Plane Switching (IPS)
Refresh Rate: 60 Hz
Response Time: 5ms
Contrast Ratio: 1000:1 (Static)
Brightness: 300 cd/m²
Stand: Height – Yes
Stand: Tilt – Yes
Stand: Swivel – Yes
Stand: Pivot – Yes
VESA Compatibility: Yes 100 x 100
Connectivity: DisplayPort 1.2 x 1, HDMI 0x 2, USB 3.1 x 3, Mini USB 3.1 x 1, USB-C (PD60W) x 1, Card Reader x 1, 3.5mm Jack (In/Out) x 2
Dimensions with Stand(WxHxD): 24.17" x 19.86" x 8.40"
Weight 20.94lbs

Design and Features
The first upgrade you will see on the BenQ SW270C over its predecessor is its minimalist design which makes it less industrial-looking. Matte black is always a safe and good choice for many monitors since its always clean-looking, but we'd love to see a more modern aesthetic approach like whats on the BenQ PD2720 and its ilk. This iteration is bezel-free which means its much more pleasing to look at whether as a desktop centerpiece or when work is in progress.
The BenQ SW270C isn't as intrusive as many prosumer monitors thanks to its modest proportions. The rectangular base doesn't take up a lot of space, while the placement of the upright's joint towards its rear area makes it easy to push the monitor closer to a wall. The cabinet looks like it has some bulk to it, but that's understandable due to some of its physical features.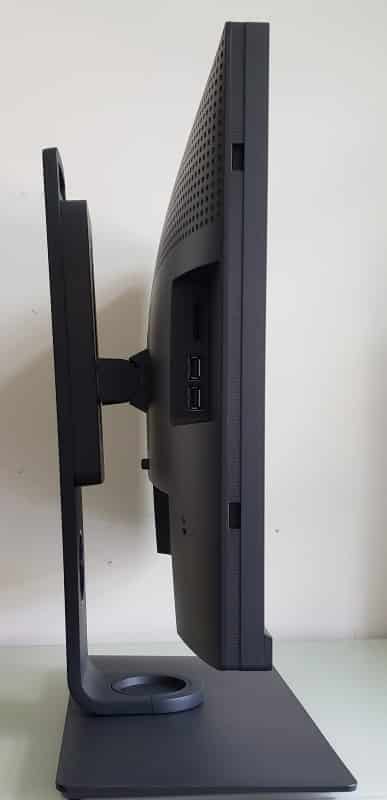 BenQ has never disappointed us when it comes to build and manufacturing quality on any of their monitors. The BenQ SW270C test unit was smooth all over without any visible cosmetic defects on every nook and edge of the device. The stand's mechanism doesn't squeak or feel rough, while the monitor's stability is superb thanks to its tanky weight.
The BenQ SW270C is VESA-compatible, but it only makes sense if you are using a multi-monitor setup. The included stand already offers excellent flexibility, so a comfortable view for those long work-hours is absolutely doable for most. This is also where the Hotkey Puck G2 sits, so losing the base means you have to find another spot for neatly stowing the gadget.
The Hotkey Puck G2 on the BenQ SW270C increases the convenience meter for its targeted users whoa are probably busy processing videos or editing documents. The tiny device lets you switch between various features, including color presets and inputs. You can also adjust some imaging settings, such as brightness or contrast using the wheel at the center according to your needs.
You will still see buttons on the bottom bezel, but we reckon they won't get much use due to the Hotkey Puck G2. We do like the layout's placement since they are readily accessible and visible, but its still easy to miss-press them in the dark.

Maximized connectivity is one of the key elements of the BenQ SW270C, so it comes with just about every slot a photo editor will need. The main video inputs include Displayport 1.2, two HDMI 2.0 ports, and a USB-C connector with DP Alt Mode and 60 Watts of charging power. There is a trio of USB 3.1 receptacles for connectors, and an SD card slot which is convenient if you want to transfer photos or videos quickly.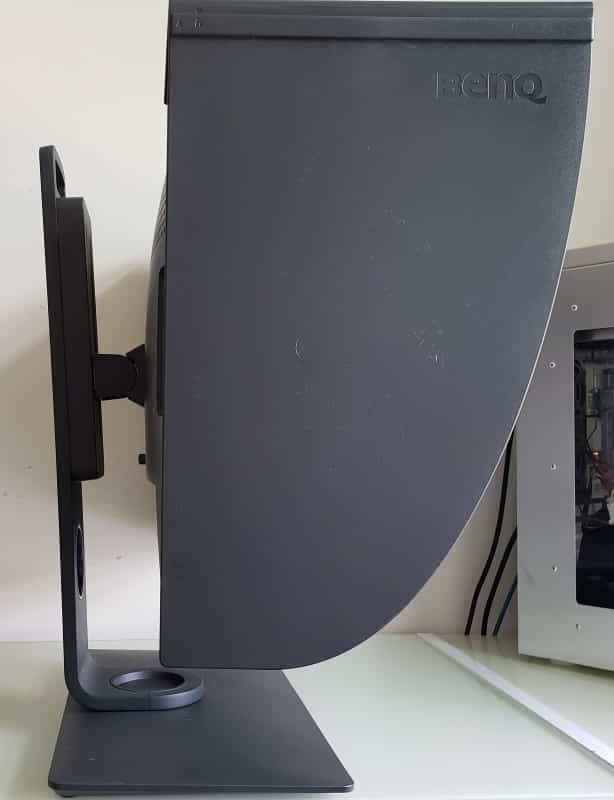 The BenQ SW270C also comes packaged with a calibration hood that's designed to ward off unwanted glare while keeping the screen's fidelity pristine. The add on's usability is subjective for every user, so we're glad its completely removable without any trouble at all.
Display and Performance
The BenQ SW270C boasts a 27-inch IPS panel with a 2560 x 1440 resolution, 60Hz refresh rate, and 5ms response time. The backlight is limited to 300 cd/m2, while contrast is rated at 1000:1 like many typical IPS monitors. This model promises comprehensive color coverage with pre-calibrated accuracies, but it also supports hardware calibration via popular brands such as X-Rite, Display Pro, and Datacolor.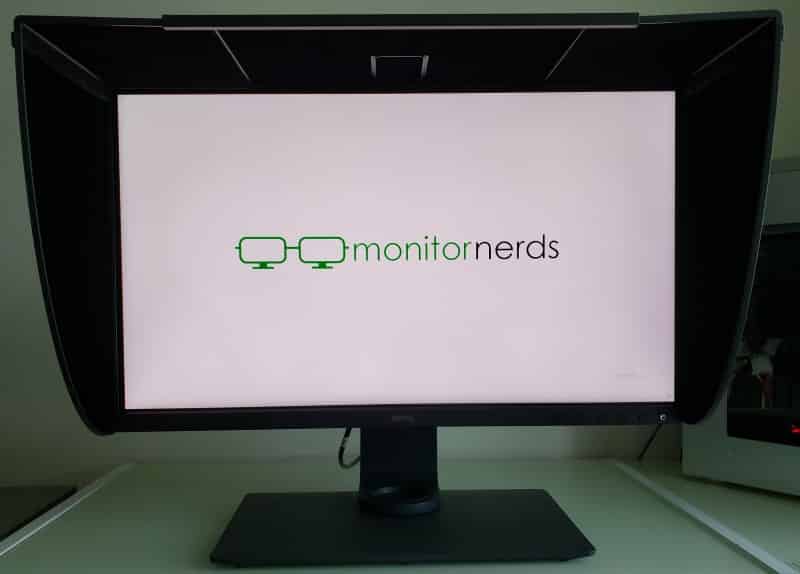 The pixel density of the BenQ SW270C's screen fits perfectly so it doesn't need scaling or custom resolutions if you struggle with small or highly detailed objects. The screen space is considerably extended, while images look crisper and cleaner on this size. 4K is now more popular for editing, but its advantages diminish if you compare the two resolutions in the same 27-inch form factor.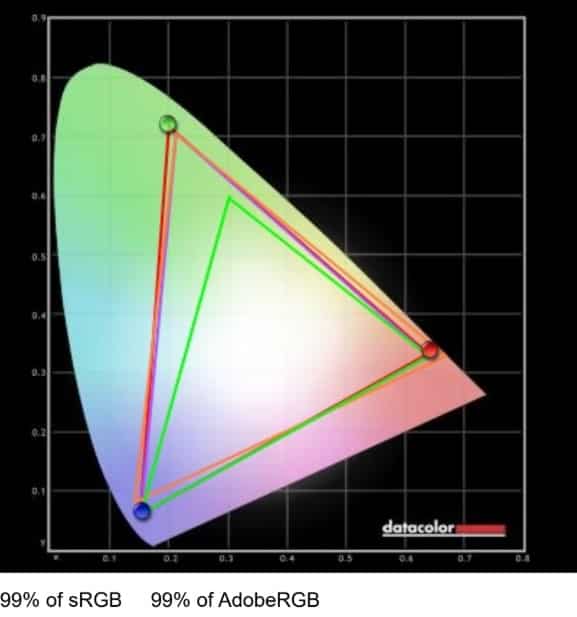 The BenQ SW270C is capable of excellent color and vibrancy thanks to BenQ's AQColor technology which places the screen within range of industry standards. Gamut coverage sits at a little over 99% for sRGB and Adobe RGB, while DCI-P3 falls slightly short at around 87%. The screen's color accuracy sits at an average Delta of only .43, and a maximum of .9.
The color temperature, on the other hand, is slightly warmer than expected so having a colorimeter which will further correct these issues is a must. Some white backgrounds like browsers or document apps will look yellowish, but we don't think that will disturb many users. Gamma sits at 2.2 perfectly, proving that BenQ's AQColor treatment is topnotch.
The contrast ratio for the BenQ SW270C also sits close to 1100:1, exceeding many IPS monitors in the market. The black luminance isn't as rich as a VA variant especially in the dark, but you can see the improvements in grayscale and color separation. We recommend turning down the brightness to around 30% to maximize this aspect, but relying on a set luminance point with a colorimeter will produce better overall results.
Panel uniformity for the BenQ SW270C test unit was brilliant since there was virtually no difference from the D65 standard on the majority of the screen's quadrants. Colorimeters will detect a slight variance of around 8-10% on the brightness spread, but its not readily visible to the naked eye. Of course, not all SW270Cs are made equal, especially since IPS variants are prone to light leaks and the like.
One of the main weaknesses of the BenQ SW270C is its pixel responsiveness which creates blurs in richly-colored, quick transitions in games. Swiping or panning the screen will almost always reveal a bit of trailing, making this model less ideal for gaming. The monitor is still usable for casual titles, so you can still unwind after a hard day's work.
The BenQ SW270C also isn't FreeSync compatible, so you can't rely on VRR tech to keep frames smooth. Input lag is also on the high side at an average of 35ms, meaning delays will be noticeable for users who are used to more agile specimens.
Thoughts on the BenQ SW270C
The BenQ SW270C is a stunning monitor for graphics work, photo editing, and content creation thanks to the advantages brought about by the AQColor treatment. You don't need to utilize its hardware calibration feature, but its a welcome add-on if you want to correct minor issues such as the slight variance in color temperature. The monitor also includes a handful of useful and well tweaked presets, but what makes us love it even more is how conveniently accessible they are via the Hotkey Puck G2.
One thing the BenQ SW270C doesn't excel at is gaming performance, but that is totally understandable since it was not designed for that kind of use. It would be unfair for us to rate this monitor using this aspect, especially if you consider how great it is for its main purpose. The BenQ SW270C is a worthy successor to the SW2700PT, but what it offers undert the hood makes the premium price tag look like you are getting a fantastic deal.
About the Author: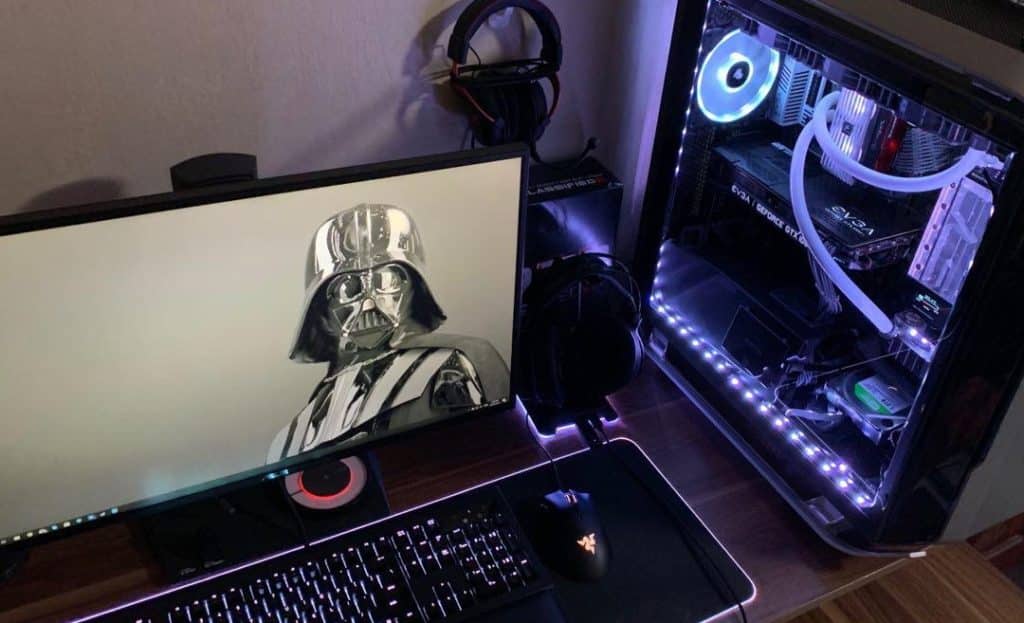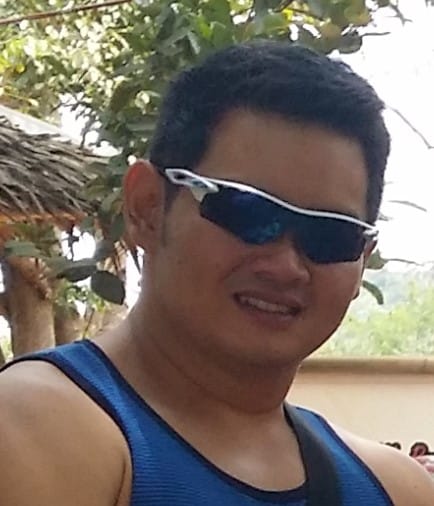 Paolo is a gaming veteran since the golden days of Doom and Warcraft and has been building gaming systems for family, friends, and colleagues since his junior high years. High-performance monitors are one of his fixations and he believes that it's every citizen's right to enjoy one. He has gone through several pieces of hardware in pursuit of every bit of performance gain, much to the dismay of his wallet. He now works with Monitornerds to scrutinize the latest gear to create reviews which accentuate the seldom explained aspects of a PC monitor.