Review of BenQ Zowie RL2455
The BenQ Zowie RL2455 is a 24-inch 1080p console gaming monitor with zero lag, making it an instant staple for PS4 and XBOX One events across the globe. This model is the more compact version of the BenQ Zowie RL2755, one of our greatest displays for its responsiveness and fantastic build quality which are typical characteristics of every product this brand makes.  The BenQ Zowie RL2455 is an excellent monitor.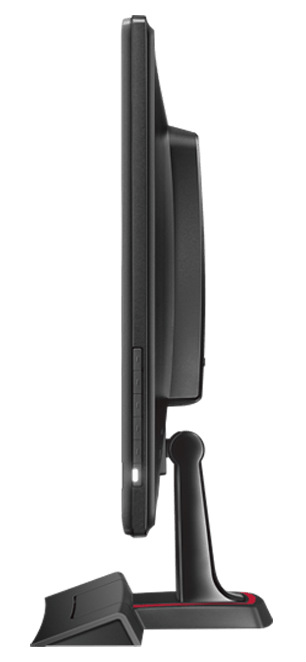 BenQ Zowie RL2455 Specifications
Screen Size: 24 Inches
Resolution: 1080p  FHD
Aspect Ratio: 16:9
Panel Technology: Twisted Nematic (TN)
Refresh Rate: 60Hz
Response Time: 1ms
Contrast Ratio: 1000:1 (Static)
Brightness: 250 cd/m²
Built-in Speakers: Yes 2 x 2 Watts
Stand: Height – No
Stand: Tilt – Yes (-5°/+15°)
Stand: Swivel – No
VESA Compatibility: Yes
Connectivity: HDMI 1.4 x 2, DVI x 1, D-Sub x 1, 3.5mm Audio Jacks
Dimensions (WxHxD): 22.8″ x 17.13″ x 7.45"
Weight: 9.04lbs

Design and Features
The BenQ Zowie RL2455 sports a minimalist, matte black look, making it appear much like a simple desktop monitor. Most of BenQ Zowie's display products are designed this way, and while it may potentially ward off some fans who are looking for more bling, we just love how the streamlined design disguises its competitive pedigree.
The RL2455's face looks far from borderless since the bezels are too thick for something so modern. Still, they are within reasonable limits, since the 24-inch viewing space is far from becoming obstructed.  Apart from the BenQ logo and minuscule button labels on the right-hand side, the BenQ Zowie RL2455 looks clean and sleek.
This model's build quality feels robust without any unwanted creaking or flexing, which is a testament to BenQ's commitment to providing quality products. The only disappointing fact here is the limited ergonomics since the RL2455 can only tilt from -5 degrees to 15 degrees, and nothing else. The stand included comes separated into two pieces, but assembly is fairly easy and effortless thanks to the snap-on design.
The BenQ Zowie RL2455 is made to be versatile, so the product comes equipped with two HDMI ports and one each for DVI and D-Sub. You can connect up to four devices, and that capability makes it ideal as an all-one display for a compact space like an apartment or a dorm. You also get a 3.5mm jack for headphone passthrough and line-in for the two speakers, but this pair is too weak for gaming use.
Display and Features
The BenQ Zowie RL2455 features a 24-inch TN panel with a 1920 x 1080 resolution with a standard response time of 1ms and refresh speed of 60Hz. Colors and contrast are excellent for the low price but limited in vibrancy when compared to IPS models. You can't ask for more from TN screens, but its output is decent enough for your gaming needs.
Full-HD at 24 inches is still the sweet spot for most gamers, so you need not worry about getting an obsolete product if you decide to go for the BenQ Zowie RL2455. You can use the sRGB mode to get an acceptable, out of the box performance, but this will limit some settings. We recommend users to try and find a suitable profile either from online resources or to seek to play around with the color temps and other options found in the OSD.
This model also comes with BenQ's Black Equalizer feature, which enhances contrasts to improve grayscale performance and provide deeper blacks without tinting the output's white balance. TN panels can sometimes suffer from poor contrast levels, but we tested this option's max setting to help alleviate these kinds of issues for most games, although it could darken some scenarios with low lighting.
One thing the BenQ Zowie RL2455 is one of the best at is its fantastic performance regarding input lag. This product only has a delay of around 3ms at its fastest and around 10ms on average, making it suitable for fast-paced gaming with either fighting or FPS titles. There are only a few similarly-priced monitors who can match this, so if your heart is set on a console-specific product, the RL2455 is the screen to buy.
Finally, even if the RL2455 looks like a budget-oriented offering when you compare it to its XL Series siblings, we found the screen uniformity to be excellent and flawless without any bleeding or discoloration. Gamma and colors only shift if you view this monitor at an angle, and that is a TN panel limitation we all know too well.
Conclusion

The BenQ Zowie RL2455 is indeed an excellent console gaming monitor since it is virtually lag-free, a concept no LED TV can match at this time. The latter is usually ideal for couch gaming, so users perceive fewer flaws and delays when sitting from afar than in instances where you sit two feet away from a desktop display.
Of course, this gadget is way smaller than say, a 55-inch TV, but in my experience, sitting right at a near-field distance helps improve my focus and reaction since playing this way limits visual distractions. 24-inch is still preferred in professional events, but if it's too small for your tastes, you can opt for the bigger RL2755 for a bit more cash.
Finally, one complaint we have about the BenQ Zowie is its pricing. We all know the company tried to rebrand their older products to carry the gamer-gear Zowie name, but this model has been around since 2013  with only minor changes. (This product was previously known as the BenQ RL2455HM.)
They could have at least, tried to make it even more affordable because, for the price it commands at the time of this writing, we think you will get better mileage with our best 1080p gaming monitor choice, the AOC G2460PF since it is a 144Hz Freesync model for the same price.