I. Introduction to Ergonomic Monitors

Ergonomic monitors can help users avoid discomforts caused by eye strain, incorrect posture, and fatigue since the freedom to adjust allows each who have varying needs and anthropometrics attains a perfect viewing angle. Typically, premium products from most brands already have a suitable mechanism in the package, but you can also opt for articulated arms or mounts if you have a unit with limited adjustment features.
This guide is meant to help you choose a suitable offering for your needs by discussing every bit you have to consider in selecting and purchasing well-equipped ergonomic monitors. We've seen a lot of these products through our experience, so aside from discussing each key point, we are going to give you some of our favorite models with excellent articulation features.
II. How to Choose an Ergonomic Monitor
Not all of the display products available offer each of these key features in their spec sheets, so before pulling the trigger on the model which caught your heart's desire, check out some reviews or look for information on manufacturer websites.
We have taken safety standards from the United States Department of Labor's Occupational Safety and Health Administration or OSHA which are crucial to your safety and well-being, plus to further stress the importance of choosing ergonomic monitors.
Height
Height adjustment is probably the most sought-after adjustment for any screen in all categories and budgets. Different models have varying vertical dimensions due to screen size, and the design of the each stand, so healthy levels will vary.
For example, the budget ultra-wide LG 29UM68-P we reviewed earlier is only 16.3 inches tall, despite having a 29-inch form factor. This product does not have height adjustments so that big people might struggle with the vertical restriction due to the narrowness of the screen.
Ideally, your monitor's upper edge should sit below or at the same level of your eyes according to your natural posture, so you won't have to tilt your head look up which will strain your neck and eyeballs. Your screen's top edge should sit at a 15 to 20-degree angle below your eye level, according to the US Department of Labor's Occupational Safety and Health Administration.
You can easily find ergonomic monitors with four to five inches of height adjustment which is plenty for most people, but for our big and tall readers, you might need to consider either getting larger screen size or utilizing mounts or articulated arms.
Tilt
Tilting is the most frequent adjustment you can find on almost all of the monitors for its importance in viewing angles. Following the ideology of setting your screen 15 to 20 degrees below your line of sight, being able to adjust your display on its vertical axis will also help you get an ideal viewing angle, so the image on the screen is perfectly visible and clear.
This feature is crucial for TN panel equipped products since a slight change in the angle will cause image or color degradation. Taller persons will inevitably tilt a screen backward, so choosing a product that can go from 20 to 25 degrees is ideal for maximized comfort.
Swivel
Being able to sweep your screen from side to side has its uses especially if you have a wider desk in your working environment or if you frequently adjust your chair's position. This feature is especially crucial for curved screens since it is an absolute must to sit at dead center to enjoy the benefits of this type of monitor.
Swiveling your screen does not usually have an effect on comfort and safety, but it can be useful if you prefer having your monitor at an offset position on a 45-degree desk to save space. The feature is also useful for multi-monitor setups, so you can set your peripheral screens to sit at a slight angle to create the wrap around effect these configurations are built for.
Pivot
Pivoting is also more related to your preferred choice such as a triple monitor build. Rotating the screen to stand at a 90-degree angle for portrait mode is also a typical multi-display setup since it creates a larger viewing space instead of just widening the display.
Portrait mode is also ideal for reading and processing documents since content like these is always vertical, mainly text documents or e-books. Scrolling through thousands of words is much more convenient and comfortable if you do it this way.
Screen Size and Viewing Distance
Monitors come in different sizes, but the most common choices lie within 24 to 27 inches by today's standards. As your viewing space expands, focusing on the edges of the screen becomes increasingly difficult for your visual coverage to see so you might end up twisting and turning your head or sweeping your eyeballs from side to side too often.
Going larger will affect your viewing distance, so doctors and the US Department of Labor's OSHA advise against leaning in and viewing the screen at a short distance.For 24 to 27 inch monitors, the recommended range is two to three feet, or 20 inches to 40 inches, depending on screen size.
Larger displays like the 32-inch HP Omen 32 will require more, but as you increase your distance, content posted will look smaller so you might end up squinting or leaning in too much which will still cause strain. You can enlarge text and other objects plus set a comfortable viewing resolution to counter the viewing distance.
III. Tips To Avoid Strain and Maximize the Benefits of Ergonomic Monitors
Choose a Flicker-Free Ergonomic Monitor
A lot of available monitors use pulse-width modulation to reduce brightness, and this creates a flickering effect which will cause headaches and eye strain even if you don't notice it. Manufacturers have countered this flaw by using DC converters instead of PWM control to reduce backlighting intensity to help keep your peepers safe.
It is also important to set a comfortable brightness setting especially for longer periods of time so prolong your vision's clarity and overall optical health, further emphasizing the importance of Flicker Free certification.
Resting Your Eyes
For continuous monitor usage, you should at least look away from the screen time to time to focus on a distant object to "reset" your vision. Blink your eyes with regular intervals to moisten them, or you can also rest every hour between elongated usage.
Choose an Ergonomic Monitor with Blue Light Filters
Light has several colors in its spectrum, and the most dangerous and stressful shade is blue. Viewing cooler images especially those with white backgrounds are the worst offenders in this case, so consider activating this feature to soften the screen's intensity and give it a warmer hue.
Most modern products include this capability, but if your unit does not have it, you can opt to use software filters like F.lux which automatically adjusts your screen's color temp and brightness according to the time of the day to mimic natural light.
Wear Computer Glasses
Computer glasses work like how a coated sunglasses work to protect your eyes from UV rays by filtering the radiation and blue light radiating from the screen. This accessory is popular for competitive gamers, and IT professionals since their careers rely on several hours of computer usage.
Glasses with yellowish tints act as a blue light filter, so using a pair may substitute for the previous aspect if your monitor does not include the feature.  We suggest the Gunnar Optiks for their comfort and ability to work well with a headset.
Panel Type
If your work or gaming setup requires you to view the screen at an offset angle, consider using monitors with IPS panels for their extended viewing angles to avoid squinting. Also, choose a newer monitor since the increase in sharpness and image fidelity also helps to prevent optical issues.
IV. Best Ergonomic Gaming Monitors
We have reviewed a myriad of screens to suit gamers and professionals alike, and across all of these articles we have written, we include ergonomics in the specs list and deliberation of an individual product. The following models are our favorite candidates for the best ergonomic monitors
1. Asus PG278Q – Best Ergonomic Monitor for Gaming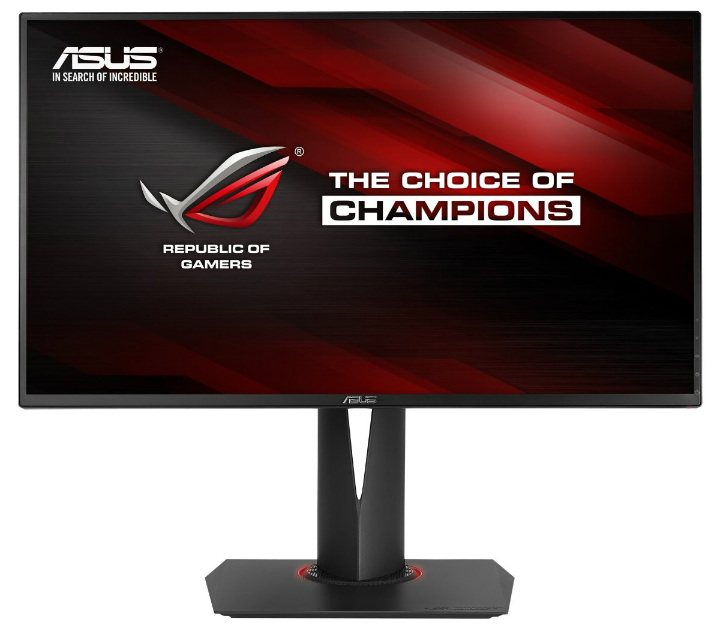 Height -Yes (4.72 inches)
Tilt – Yes (-5°/+20°)
Swivel – Yes (-60°/+60°)
Pivot – Yes (0°/90°)
The Asus PG278Q is our overall best monitor for 2017, not only for its fantastic performance but also for its intelligent exterior design.  The included stand features all four of the ergonomic aspects we mentioned above, incorporated into a minimalistic but functional stand with a few hints of ROG treatment. This product's screen has a 1440p resolution which is still quite easy to view even at the recommended two to three feet.
27-inches may be relatively common by today's standards, but seeing the expanded visual space especially the sides and corners can be frustrating. The panel used is also a TN type, so getting the perfect angle is mission-critical to your success in-game. Its a good thing that the PG278Q excels in flexibility, much like its other PG, MG and VG gamer-centric monitors from the top screen manufacturer.
2. Dell UltraSharp UP2715K – High-End Ergonomic Monitor for Professionals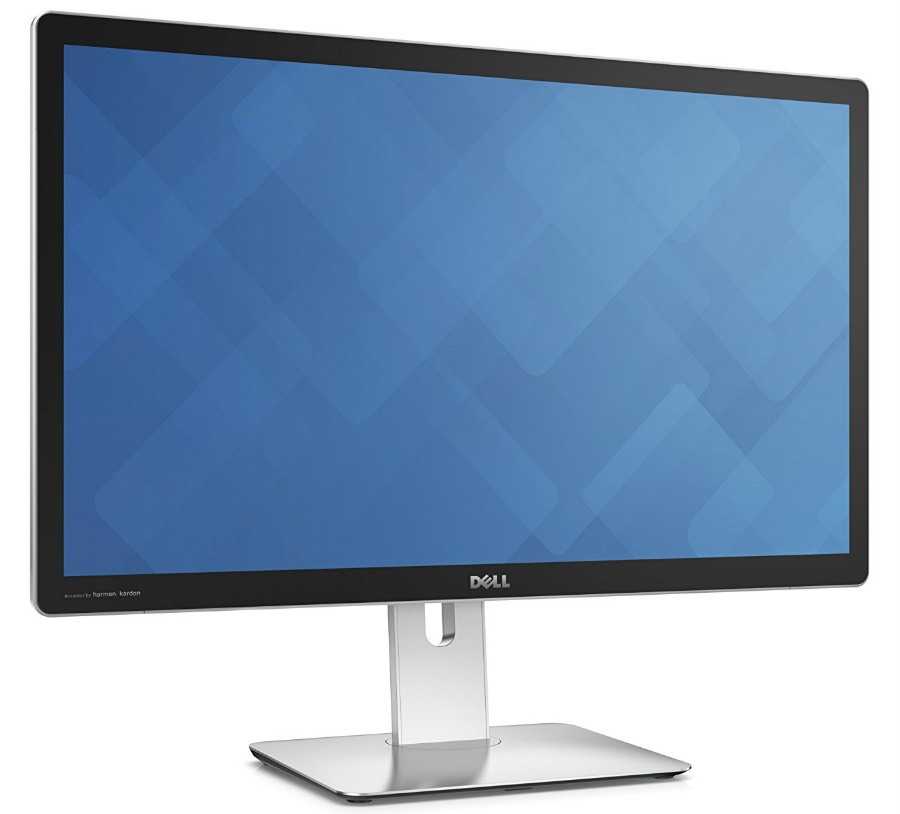 Stand: Height –Yes (4.5 Inches)
Stand: Tilt – Yes (-2°/+25°)
Stand: Swivel – Yes (-60°/+60°)
Pivot – Yes (0°/90°)
The Dell UltraSharp UP2715K is straight up one of the best professional monitors we have seen to date for its stunning 5K native resolution coupled with excellent color performance suitable for photo and video editing professionals. This product's 10-bit interface and 12-bit LUT provides 100% coverage of the sRGB gamut and 99% Adobe sRGB, but if that's not sufficient, the product is designed to be directly compatible with calibrating gadgets like the X-Rite iDisplay Pro.
Of course, Dell did not forget to encase all of the UP2715K's wonderful features in their signature exterior which features a timeless and sleek design. This monitor's stand features all four points of articulation so users can get the perfect viewing angle of the beautiful IPS panel this model packs. The cabinet hangs from the metallic stand at a slight offset, giving users total freedom while giving the screen a floating illusion, which screams high-class in our books.
3. BenQ Zowie XL2540 – 240Hz Ergonomic Monitor For E-Sports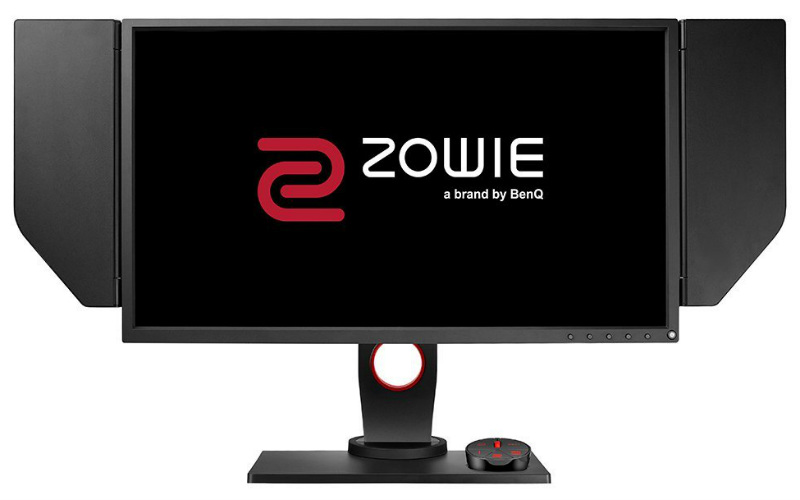 Stand: Height: Yes (5.5 inches)
Stand: Tilt: Yes (-5°/+20°)
Stand: Swivel: Yes (-45°/45°)
Pivot – Yes (0°/90°)
BenQ Zowie is one of the brands which flourished because of the rising popularity of competitive gaming, so the company created their XL line of gaming displays. The BenQ Zowie XL2540's main selling point is its 240Hz native refresh rate for unmatched speed and responsiveness which professional gamers require to maximize their prowess in tournaments. The product is also packed with gamer-centric features such as the peripheral shields, the S-Switch Arc remote, and other functional capabilities like BenQ's Blur Reduction option.
But what makes BenQ  Zowie's monitors some of our favorites among the crowd is the unique and flexible stand included in the package. The mechanism includes all four points of articulation, and each one has incremental markings and sufficient retention force, so users won't have to deal with remembering their preferred adjustment or re-aligning the screen. Aside from these highlights, you also get nifty accessories like the pop-up headset hanger which completes the battle-readiness of the XL2540.
4. Asus VG245H – Best Budget Ergonomic Monitor
Stand: Height –Yes (5.1 Inches)
Stand: Tilt – Yes (-5°/+33°)
Stand: Swivel – Yes (-90°/+90°)
Pivot – Yes (0°/90°)
A full range of flexibility is near-impossible to find on monitors on the sub-$200 bracket, but the Asus VG245H breaks past the usual with its extensive points of articulation. The screen can tilt up to 33 degrees unlike the other high-end products here which can only go up to more or less 20 degrees. Despite this product's entry-level nature, the build quality and design are almost similar to our top choice, the Asus PG278Q, which means the brand did not skimp on this basic gaming display with regards to design treatment.
Of course, the Asus VG245H does not fall behind in features if you consider its affordability, since the TN panel can go up to 75Hz with minimal input lag, plus you also get Freesync to alleviate tears and stutters if you have a compatible GPU. This model is also an ideal lag-free display for console gaming, and since it has a myriad of connection options, it will provide buyers with excellent value and all-around usage along with its fantastic ergonomics.
5. Asus ROG PG348Q – Ultra-Wide Ergonomic Monitor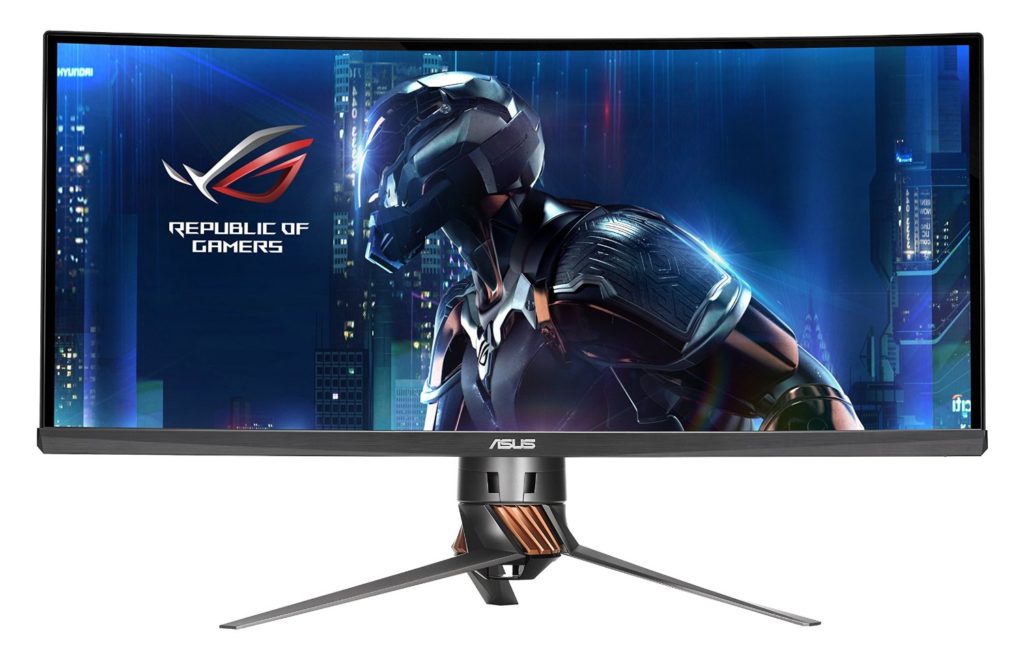 Stand: Height –Yes (5.1 Inches)
Stand: Tilt – Yes (-5°/+33°)
Stand: Swivel – Yes (-50°/+50°)
The Asus ROG PG348Q is a flagship ultra-wide monitor with a flurry of features you can only find in the best available products. The gorgeous 21:9 VA panel is capable of speeds up to 100Hz, vibrant colors, and shadows, plus you also get G-Sync to help your computer's performance and avoid tears and stutters. You also receive the second version of the full ROG treatment, consisting of the titanium gray finish, orange accents and the helix stand with LED projector.
You don't usually get a lot of articulation points on almost all of the ultra-wides available, but the helix shaped stand on the Asus ROG PG348Q can tilt from -5 to 20 degrees. This model can also swivel 50 degrees in both directions, plus you can raise the screen up to 4.5 inches, which is a lot if you consider the size of this beast. Although, you cannot swivel the PG348Q's screen since doing so defeats the ultra-wide curved screen's benefits. Still, for a behemoth of a gaming monitor, what it can do regarding ergonomics is fantastic in our books.
6. ViewSonic VP2772 – Affordable Ergonomic Monitor for Imaging Professionals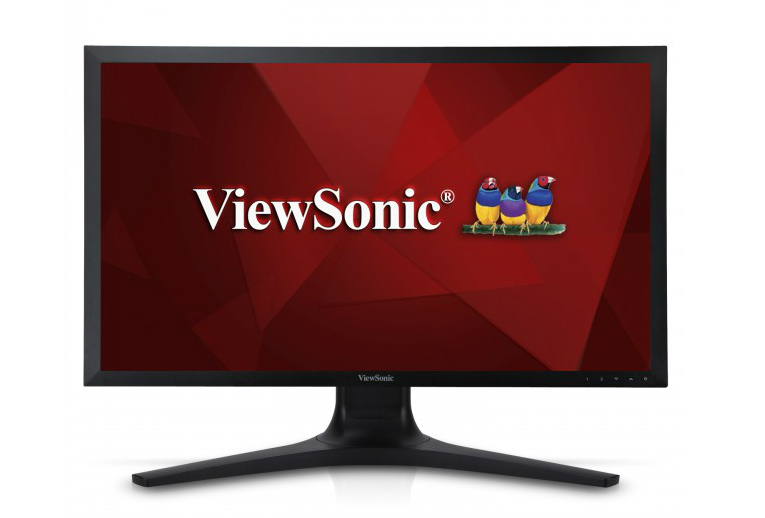 Stand: Height – Yes (5.9 Inches)
Stand: Tilt – Yes (-5°/+23°)
Stand: Swivel – Yes (-60°/+60°)
Stand: Pivot – Yes (90°)
Monitors for color critical work can get expensive, but thankfully, companies like ViewSonic provide affordable models which still delivers essential performance without premium extras and price tags like the VP2772. This product has a 12-bit engine and 14-bit LUT for color accuracy, so the sRGB and Adobe gamuts are almost perfectly covered, ensuring your work's vibrancy and saturation is as life-like as it can be.
The ViewSonic VP2772 also features a plethora of connection options which include a DisplayPort out for daisy-chaining to increase its utility and flexibility, but it also has an excellent range of ergonomics despite having an outdated look. Out of all the monitors here, this model has the highest height adjustment limit at 5.9 inches, plus all the other standard adjustments like tilt and swivel. For what it lacks regarding high-end features, the ViewSonic VP2772 more than makes up for it with its essential feature set which all the more increases its performance value per dollar.
7. Acer BE270U – Ergonomic Monitor for the Prosumer Market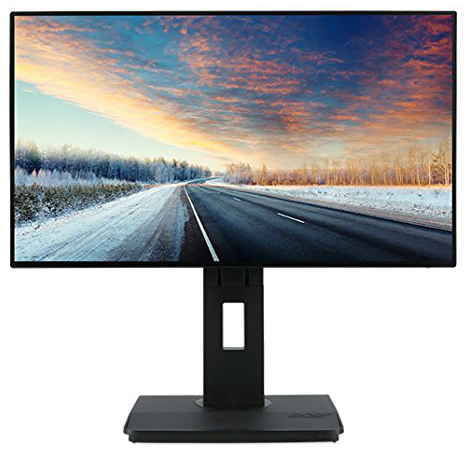 Stand: Height -Yes (5.91 Inches)
Stand: Tilt – Yes (-5°/+35°)
Stand: Swivel – Yes (60°/60°)
Stand: Pivot – Yes (90°)
The Acer BE270U is a mid-ranged utilitarian monitor with enough capabilities to sit in between casual and professional usage. The display has up to 75Hz refresh rates and Freesync functionality, making it a double-edged sword for both gaming and designing. You also get an increase in sharpness and viewing space thanks to the 27-inch panel with a 1440p resolution which is the preferred form factor for modern monitors.
Like the ViewSonic VP2772, the Acer BE270U can also rise to 5.9 inches making it suitable for taller users without using wall mounts or bases. The screen can also tilt up to a staggering 35 degrees, so no matter the position you prefer, you can always get a perfect viewing angle of the gorgeous, borderless screen. The screen can also swivel and pivot quickly, so creators won't have to deal with stiffness if ever the need to pan the display arises like when you share your designs with your workmate.
Thoughts
If you notice, most of the choices we included in the guide demand top dollar for ownership. To explain this fact, the best range of ergonomics are usually exclusive to premium products, and almost all of the budget-oriented options save for the exceptional few like the Asus VG245H only offer tilt and sometimes swivel. If manufacturers start to include these adjustments to their cheaper models, that would be awesome. But sadly, creating unique stands with excellent flexibility increases material and design costs, so it may be a while, if not impossible to see ergonomic monitors for cheap.
Still, that does not entirely mean you can reap the comforts and convenience of ergonomics if you only want an entry-level display. Just make sure you get a VESA compatible product with a typical bolt pattern and add an affordable and efficient mounting solution which should cost around $30 to around $100. You can find these gadgets easily on any electronics retailer, or they are sometimes offered with a new monitor purchase, so if you have a limited budget, you are still golden either way.