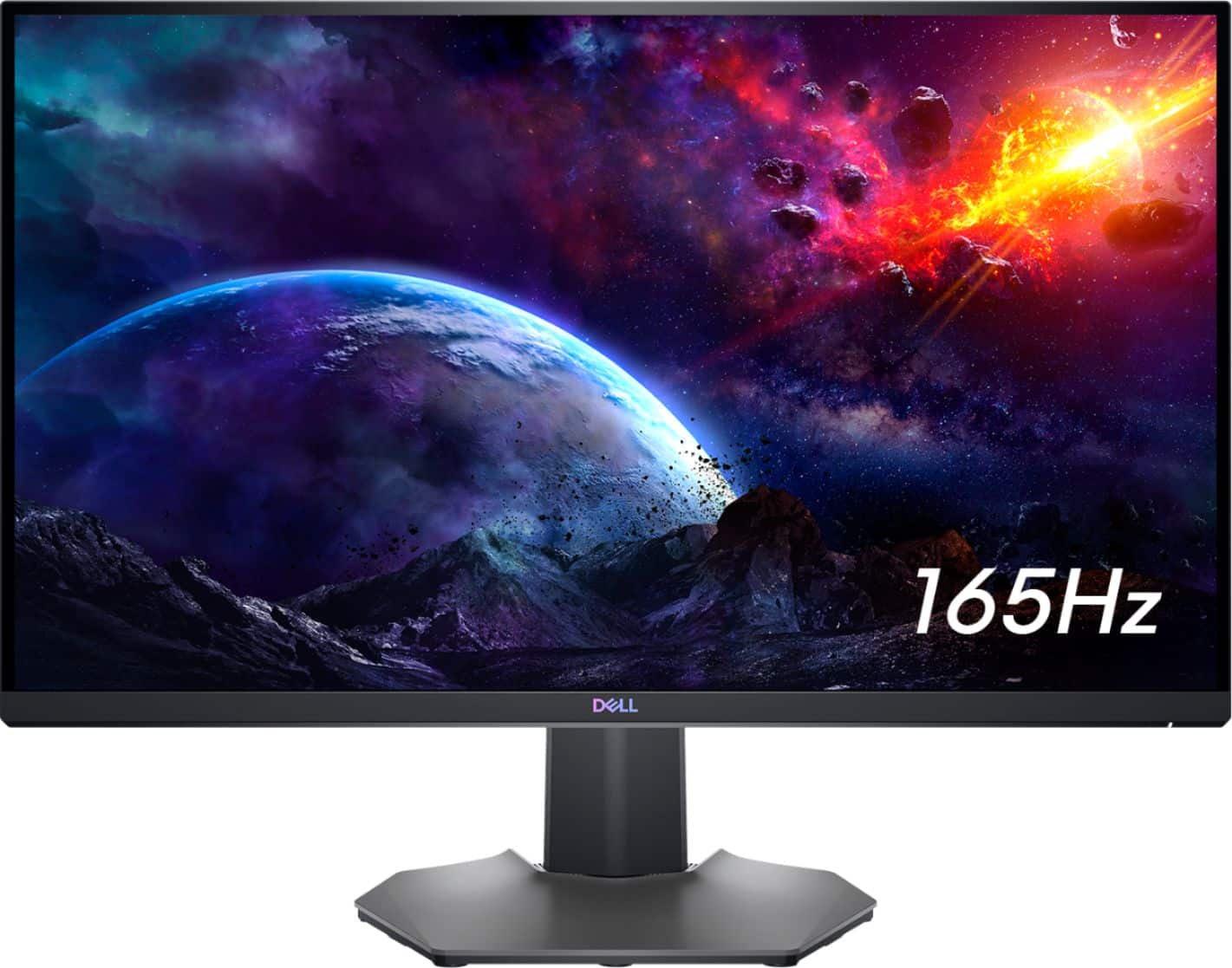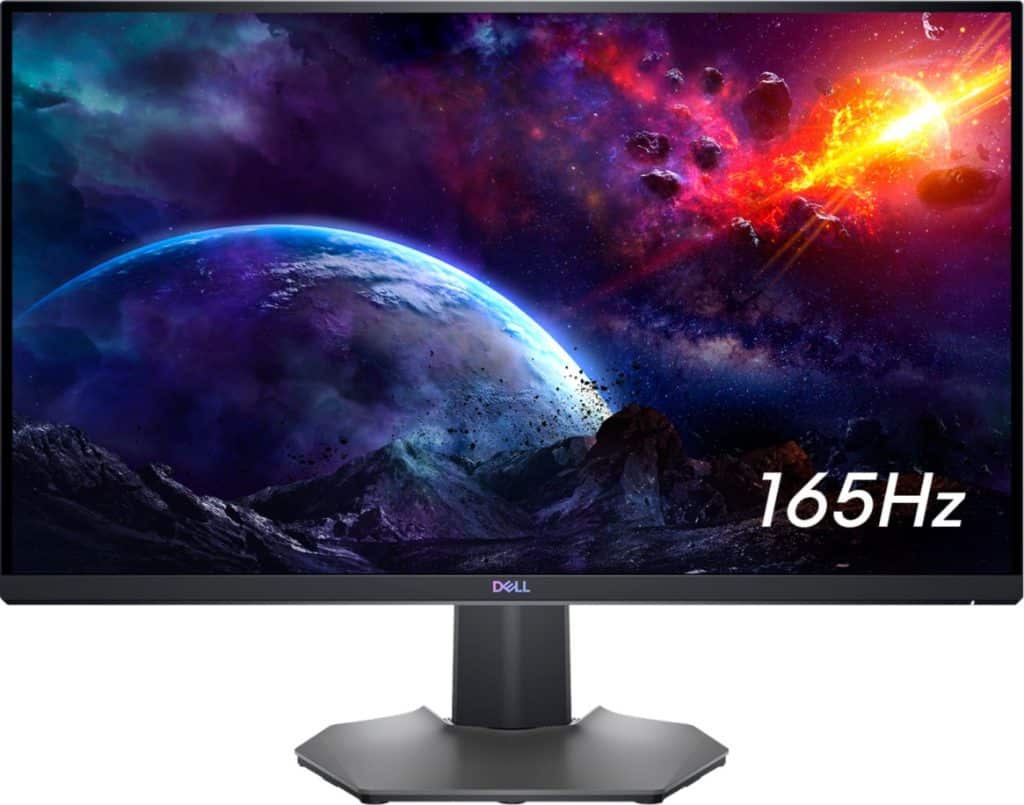 The Dell S2721DGF offers an upgrade over its predecessors with a vibrant IPS panel that has better color reproduction along with a bold new look. It also offers HDR 400 capabilities, but what's even better this time around is its G-Sync compatibility certification that was not included in older models. The Dell S2721DGF is a promising upgrade for gaming visuals, but is it worth every dollar you have to spend to own it?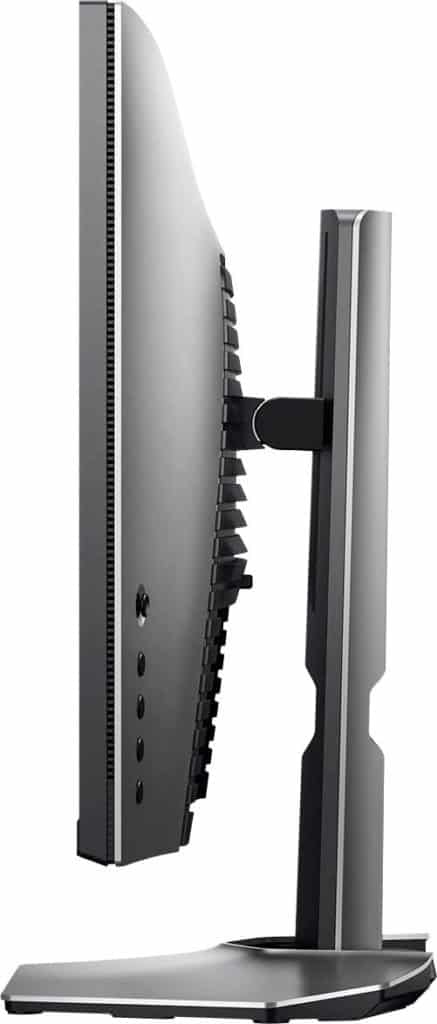 Dell S2721DGF Specifications
Screen Size: 27 Inches
Resolution: 2560 x 1440 QHD
Aspect Ratio: 16:9
Panel Technology: In-Plane Switching (IPS)
Refresh Rate: 165Hz
Response Time: 1ms MPRT
Contrast Ratio: 1000:1 (Static)
Brightness: 400 cd/m²
Speakers: No
Stand: Height -Yes
Stand: Tilt – Yes
Stand: Swivel – Yes
Stand: Pivot – Yes
VESA Compatibility: Yes (100 x 100)
Connectivity: HDMI 2.0 x 2, DisplayPort 1.4 x 1, USB 3.0 x 5, 3.5mm Jack x 2
Dimensions (W x H x D): 24.08" x 20.63" x 7.89"
Weight: 9.9 lbs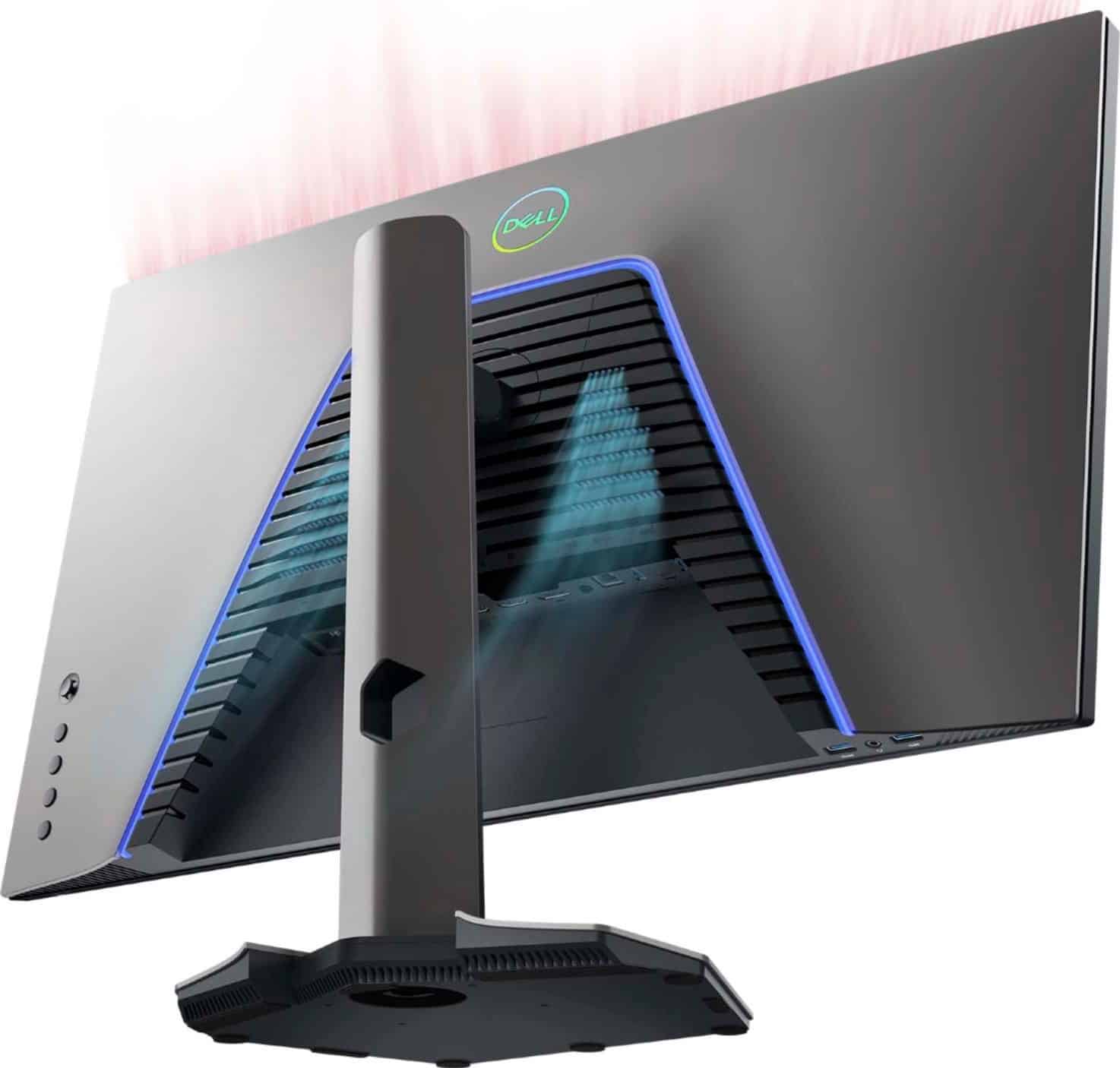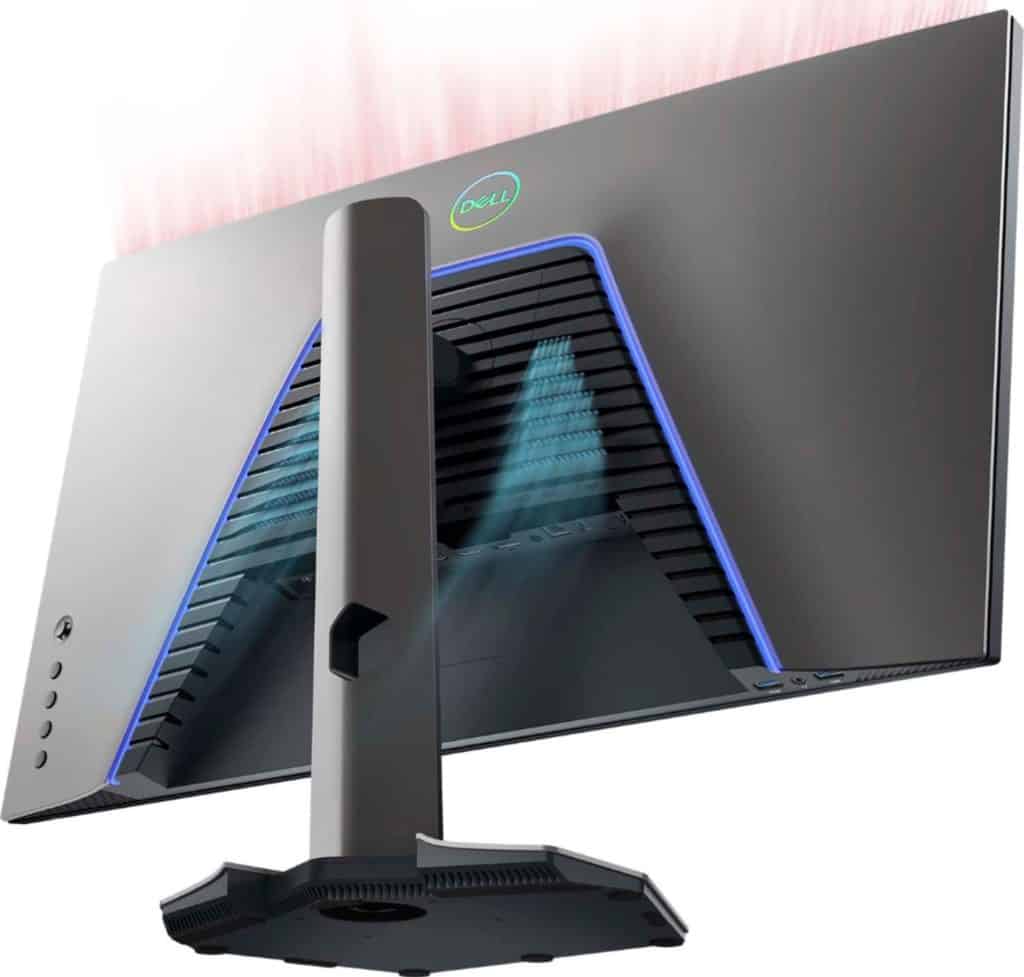 Design and Features
The Dell S2721DGF sports a new look, but it doesn't steer too far away from the brand's business-oriented aesthetic. The monitor uses the familiar combination of matte black and gunmetal, but there are some gamer-centric improvements this time around. The display is now bezel-free on three sides unlike the S2719DGF, so you get a better view of the crisp IPS screen.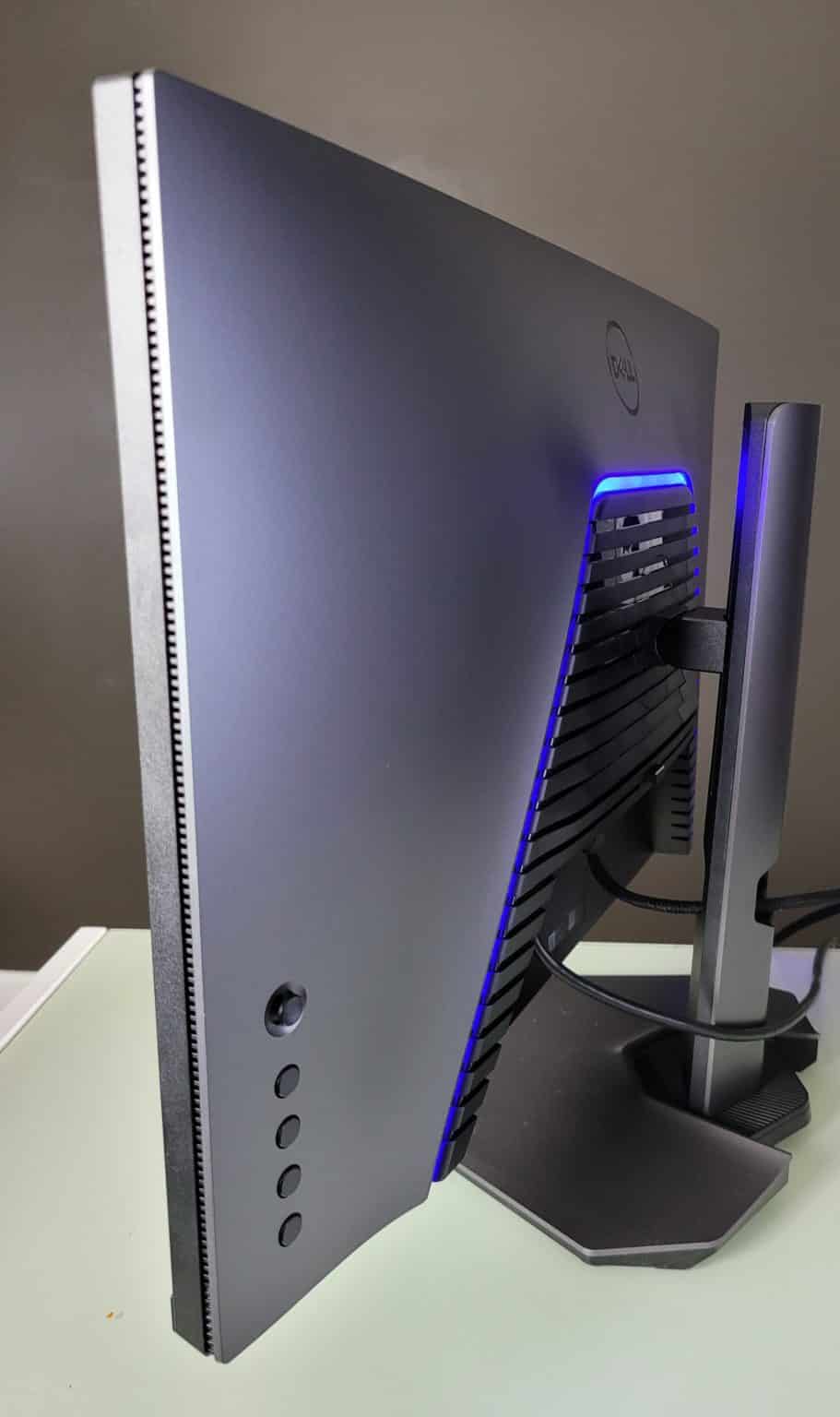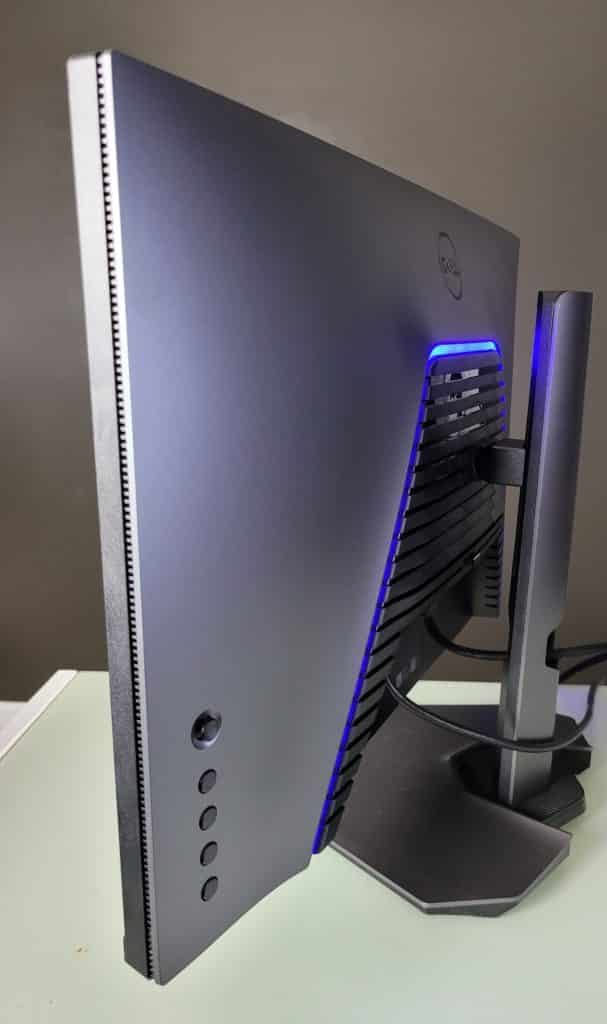 One of the things the brand further improved on the Dell S2721DGF is its footprint which is considerably smaller than previous models. This makes the monitor ideal for users with limited space or those that have multiple peripherals at the same time. It is also very light for a 27-inch monitor with a full stand, so you won't have problems even if you have a glass desk.
Build quality for the Dell S2721DGF is excellent and there are no cosmetic defects readily visible on the parts. The plastic panels feel thick and durable, so you don't have to worry about it cracking when met with a tight grip. The stand has a slight wobble, but it only happens if you tap the screen accidentally.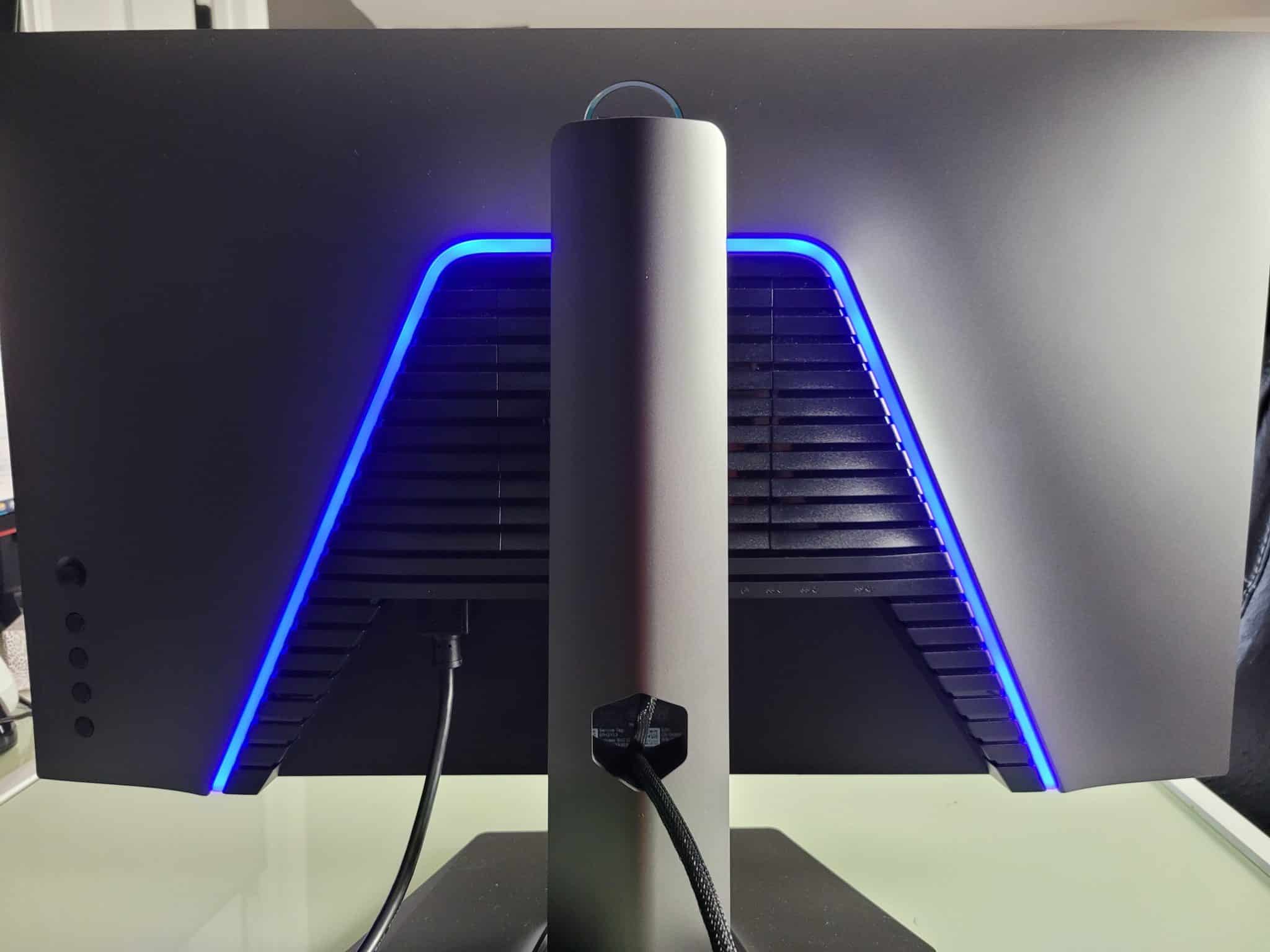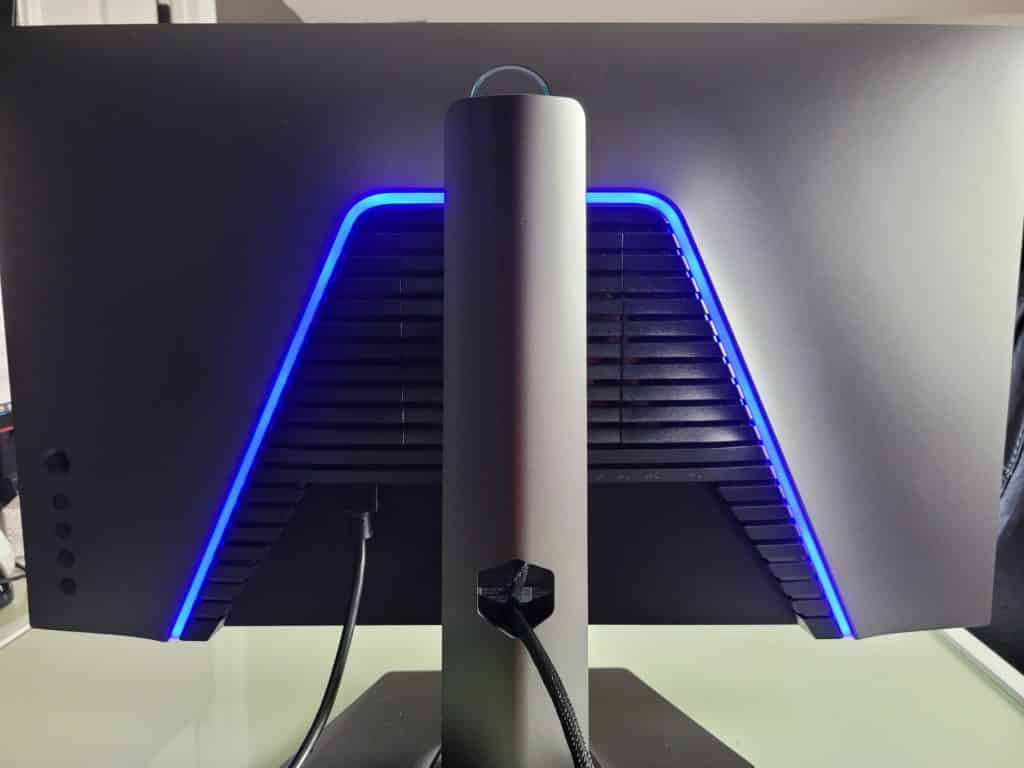 The most distinct addition to the Dell S2721DGF the vents at the rear that is surrounded by a blue LED strip. The former is designed to help the monitor breath so it doesn't overheat after long hours of gaming. The LED light casts a gentle glow on a setup, but it's limited to one color so many will most likely turn it off.
The Dell S2721DGF now has an OSD joystick accompanied by a few hotkeys to make tweaking more convenient for gamers. The monitor has plenty of settings you can play around with, so having a fast and responsive tool to access them is a big plus. Older models had to live without it, so we're glad that Dell has finally included some on their latest models.
The stand for the Dell S2721DGF offers tilt, swivel, pivot, and height adjustments so you can pretty much get any view angle you desire. It also helps that the base doesn't eat up too much of on your desk, especially if you have stream decks, light towers, and other extra gadgets. You can swap this part out with a VESA mount, but we don't think it will be necessary in most cases.
The Dell S2721DGF's connectivity layout includes DisplayPort 1.4 and two HDMI 2.0 inputs which can accommodate your PC and up to two next-gen consoles. You also get a pair of 3.5mm jacks for audio passthrough and five USB 3.0 ports for peripherals, so cable management should be a breeze. Two of the USB ports and the headphone out slots are located at the lower bezel to make them easier to access without flipping the monitor over.
Display and Performance
The Dell S2721DGF boasts a 27-inch IPS panel with a 2560 x 1440 resolution, a 165Hz maximum refresh rate, and a 1ms boosted response time. The backlight hits 400 cd/m2 at maximum while the contrast ratio sits at a typical 1000:1 like most IPS panels. This model is DisplayHDR 400 certified, but we all know that doesn't mean it can provide a convincing level of HDR improvements.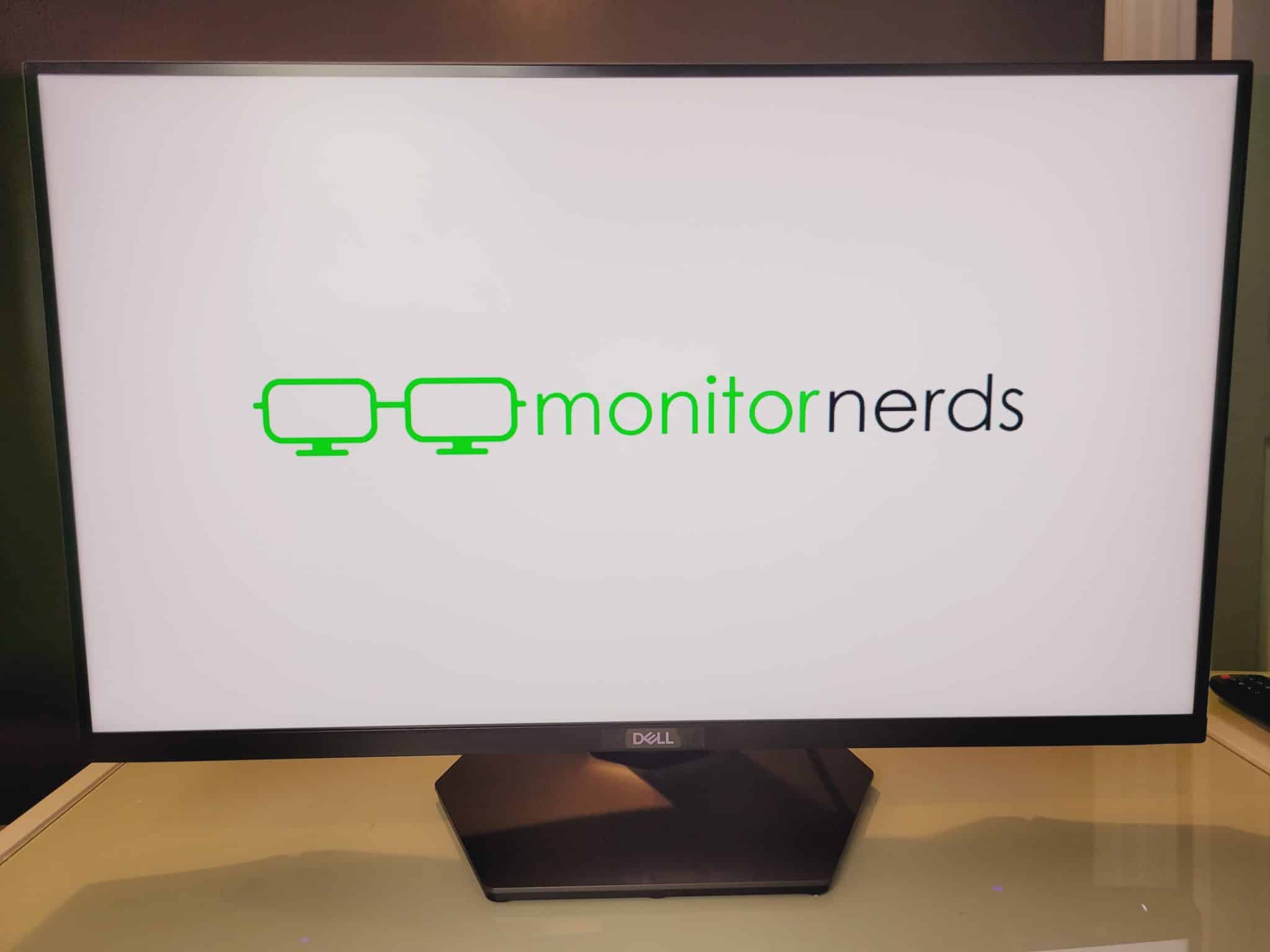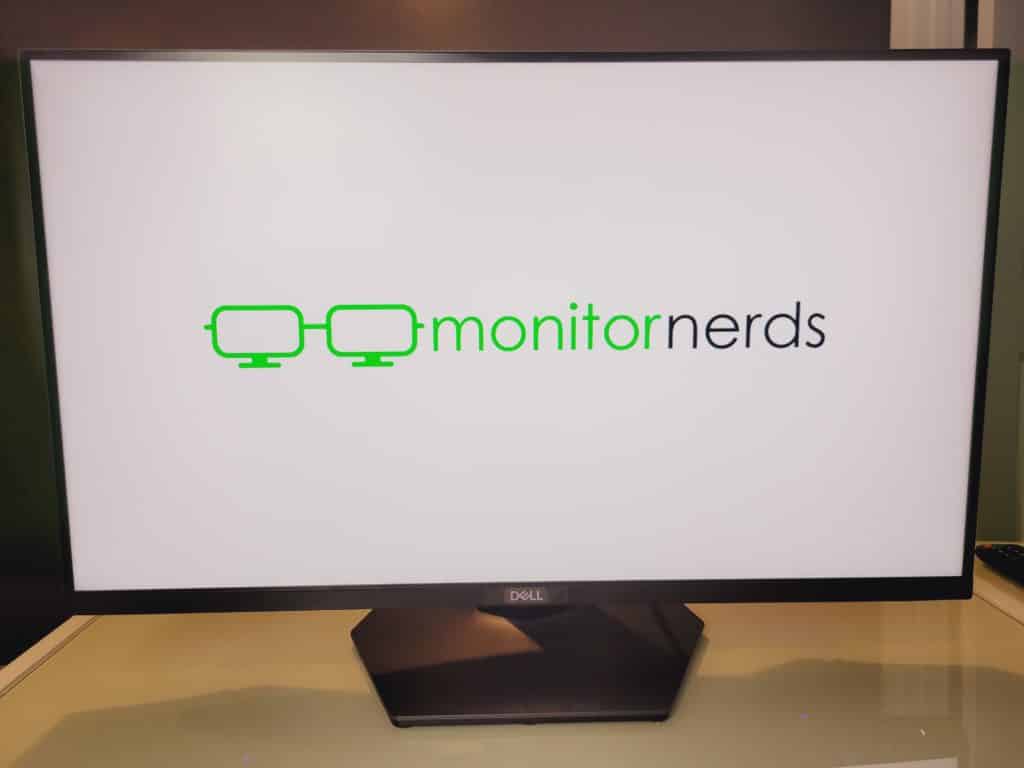 WQHD is perfect for 27-inch screens since it presents just the right balance between sharpness and visibility. You won't need scaling for basic tasks such as browsing and document processing, while games look more crisp and detailed. However, you might be surprised by a massive drop in FPS if you are coming from 1080p due to the higher GPU requirements of this resolution caused by the increase in pixel count.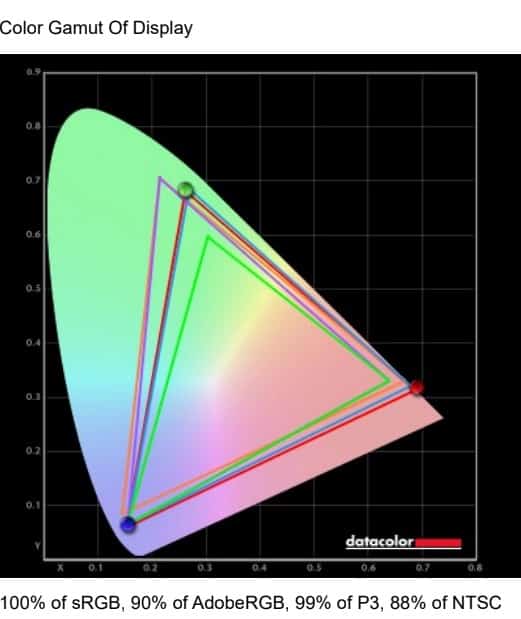 The Dell S2721DGF provides excellent vibrancy, covering as much as 99% of DCI-P3 and more than 100% of sRGB. The default accuracy could be better since the deltaE average is at 2.34, but that's good enough for a highly-saturated display meant for gaming. The gamma is closer to 2.3, so it causes deviances in grayscale which in turn lowers the average.
You can calibrate the Dell S2721DGF to get a better color average of 1.14, but its only worth it if you are using it for editing as well. The added cost of a colorimeter might offset your upgrade budget since it isn't cheap. Most will be able to get away with a few minor tweaks, so the product is 99% ready to go once it's out of the box.
The Dell S2721DGF has a maximum brightness of 375 cd/m2 which isn't bad, but insufficient for HDR performance. It peaks at 405 cd/m2 when HDR is active, but it does little to help the limited 960:1 contrast ratio at 50% brightness. The screen can still look grayish when viewing dark images at night, but that's an unfortunate limitation of IPS technology.
The Dell S2721DGF has a few issues in panel uniformity due to deviances in the backlight spread. Some clouding can become noticeable at the top and bottom corners, but it's only visible in dark or all-black scenes. Take note this aspect varies between every unit, so there are worse or better ones out there.
Blurring isn't an issue with the Dell S2721DGF as well since it already has a fast IPS panel. Some persistence and smudges can still appear in contrasting and fast transitions, but its nothing the monitor's overdrive can't handle. However, we don't recommend maxing it out since it will induce overshoot which is even worse than the former.
The Dell S2721DGF is a FreeSync Premium monitor, but its also fully certified to be G-Sync compatible. This duality is always great for the user since you don't have to ditch the display if in case you switch GPU brands. The calculated input lag sits at a little over 4ms at 165Hz, so there is no need to worry about de-synced instances while gaming.
Thoughts on the Dell S2721DGF
The Dell S2721DGF is an excellent purchase if you want a fast QHD IPS panel with eye-popping color. Its gamut is one of the widest we've seen that doesn't have a massive accuracy penalty due to an effective tune from the factory. It is FreeSync/G-Sync compatibility and the very good pixel response time is also a huge plus for gamers.
The aesthetics on the Dell S2721DGF has improved, but we wish Dell applied an RGB lighting feature instead. The screen also has a lower contrast output than many of its competitors, but it's a minor difference a lot of users will fail to perceive. Its an excellent 1440p gaming monitor, and it's a considerable improvement over the brand's previous offerings.
Pros:
Excellent Gamut Coverage and Default Accuracy
FreeSync/G-Sync Compatible
Reasonable Price
Low Input Lag
Improved Design and Functionality
Cons:
LEDs Limited to Blue
Low Contrast Ratio
Uniformity Needs Improvement
-About the Author: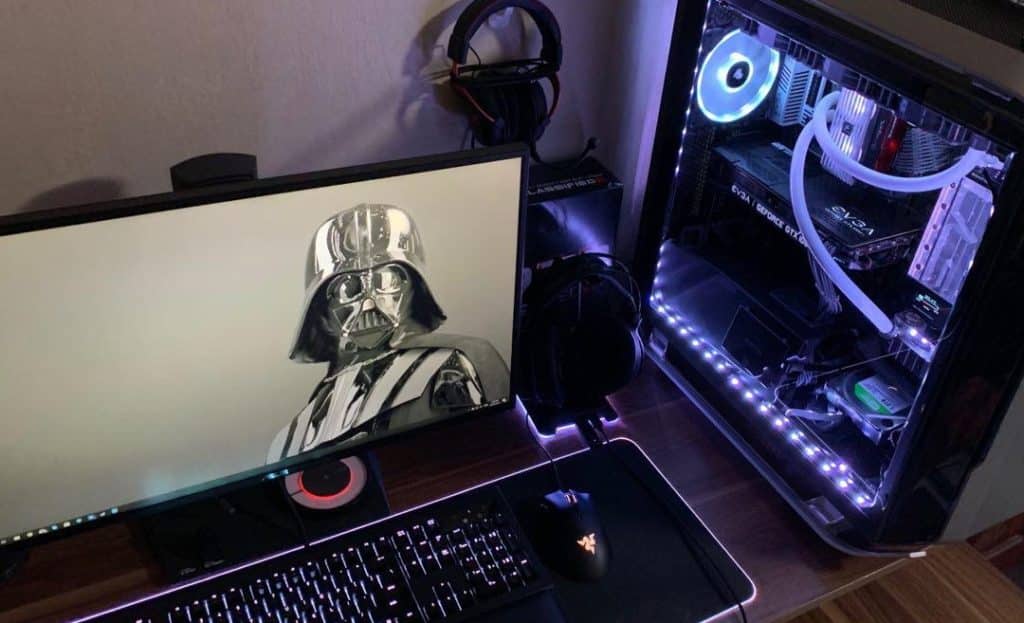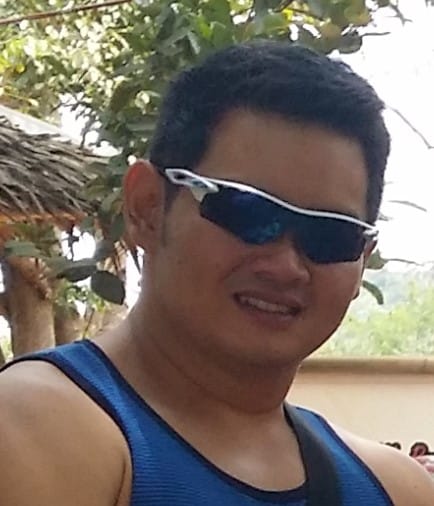 Paolo is a gaming veteran since the golden days of Doom and Warcraft and has been building gaming systems for family, friends, and colleagues since his junior high years. High-performance monitors are one of his fixations and he believes that it's every citizen's right to enjoy one. He has gone through several pieces of hardware in pursuit of every bit of performance gain, much to the dismay of his wallet. He now works with Monitornerds to scrutinize the latest gear to create reviews that accentuate the seldom explained aspects of a PC monitor.