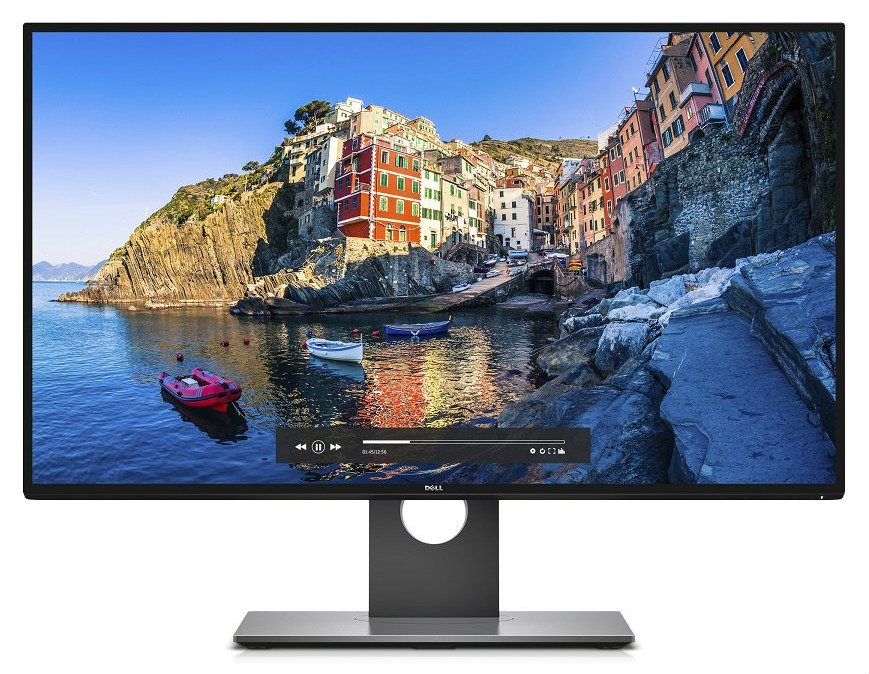 The Dell U2717D is a bezel-free QHD monitor designed to offer accurately vibrant and crisp images with a reliable, long-lasting exterior. This product comes well-equipped to match the needs of executives and professionals who want an upsized resolution and display to enhance productivity. The Dell U2717D shares a slot with some of the industry's best monitors in the brand's portfolio, so a closer look is in order.

Dell U2717D Specifications
Screen Size: 27 Inches
Resolution: 2560 x 1440 QHD
Aspect Ratio: 16:9
Panel Technology: In-Plane Switching (IPS)
Refresh Rate: 60Hz
Response Time: 6ms
Contrast Ratio: 1300:1 (Static)
Brightness: 350 cd/m²
Built-in Speakers: No
Stand: Height – Yes (5 Inches)
Stand: Tilt – Yes
Stand: Swivel – Yes
Stand: Pivot – Yes
VESA Compatibility: Yes 100 x 100
Connectivity: DisplayPort 1.2 x 1, Mini DisplayPort 1.4 x 1, HDMI 2.0a x 1, USB 3.0 x 5
Dimensions with Stand(WxHxD): 24.07" x 21.27" x 7.88"

Design and Features
From the get-go, the Dell U2717D already means business thanks to the company's signature aesthetic treatment composed of matte black plastics with gunmetal accents. One of the main selling points for this model is its bezel-free, infinity edge design which gives users a clean, non-obstructed view of the screen. Although there still are some panel borders present, the display area has an illusion of looking larger than it is.
Like all most of Dell's monitors, the Dell U2717D has slender proportions which enhance its modernist appeal. On the left side, there is a USB 3.0 hub for charging your mobile device or adding accessories which sits conveniently low, so cables don't have to sag too much. The form factor plus the infinity edge design makes the Dell U2717D a fantastic candidate for dual or triple monitor setups, and it also helps that it's VESA compatible.
It's straightforward to configure the Dell U2717D in different ways because it has excellent ergonomics from its tough stand. You can adjust the height up to five inches, and you can swivel, tilt, or pivot the screen with minimal effort to get a perfect position. As always, build quality is top-notch, and we did not notice any flexing or wobbling from the unit.
Dell markets this model as a premium business monitor, so it comes with a fully-equipped I/O layout which includes everything you need. The panel includes DisplayPort 1.2, Mini DP 1.2, DP Out, and an HDMI 1.4 slot for video inputs. There are three more USB 3.0 ports for additional accessories plus a 3.5mm audio jack, but there are no built-in speakers included. The DisplayPort Out slot allows users to daisy-chain multiple devices using a single signal source, highlighting the Dell U2717D's viability for dual or triple head setups.
Display and Performance
The Dell U2717D features a 27-inch IPS panel with a 2560 x 1440 resolution, 60Hz refresh rate, and 6ms response time. The module also uses an 8-bit color interface so we can expect wide coverage in typical gamuts such as sRGB. Upon turning the product on, it's easy to notice that the screen is overly bright and accuracy is a bit off due to some over saturation.
Thankfully, the Dell U2717D went through a rigorous factory calibration for its sRGB mode supported with a complete and detailed report. Testing shows that using this filter yields the specified 99% sRGB coverage with a perfect DeltaE of 2.2 and an average contrast ratio of 930:1. These scores make this offering ideal for photo editing that doesn't require wider gamut standards.
If you have a colorimeter at home or work, you can push the Dell U2717D further via its user mode to lower color deviance further to a DeltaE of only 0.5 which a slight improvement in gamma, but contrast will drop to an average of 900:1. Monitors like this deserve to be calibrated to maximize its value and potential, but we are happy that it already includes a superb pre-calibrated sRGB preset.
If the company added some gaming features and a faster refresh rate into the Dell U2717D, we wouldn't hesitate to recommend it as an alternative to the TN-based Dell S2716DG. Unfortunately, this model doesn't come with FreeSync which would be a big help in avoiding tears and stutters in 1440p gaming. The requirements for AMD's VRR tech to function are already there, so Dell could have easily included that in the specs.
The native response time of 8ms isn't any help in convincing gamers, but it can improve to 6ms via an overdrive feature called Fast Mode. Even so, blurs are noticeable at some points in a game when motion is too fast, although it isn't bad enough to dismiss the Dell U2717D. The product's brilliant image quality makes up for it, so your after-hours enjoyment is still secure.
Finally, the Dell U2717D isn't one of the most responsive prosumer monitors out in the market since it has an average input lag of 25ms. It sits above the 20ms limit we set for recommending gaming monitors, but in our experience, for casual players, this won't present a huge issue. Sure, the talented, competitive gamers out there might feel some delays, but for their purpose, there's always the option to get a cutting-edge gaming monitor.
Thoughts on the Dell U2717D
The Dell U2717D is an excellent example of a prosumer monitor with superb performances for both out of the box users and enthusiasts who are willing to calibrate. The default settings weren't ideal for everyday use, but maximizing the capabilities of this monitor is as easy as a few button presses. For editors and content creators who only need sRGB coverage, the Dell U2717D is a must buy if you are in the market for a new display.
The whole package is well built as expected from Dell, but it's a bit disappointing that there are no features such as FreeSync which could entice casual gamers into buying the Dell U2717D. This isn't a huge fault on Dell's part since they are marketing this product in a different segment. Although for the price, we expected this to be a complete monitor for both the home and office.