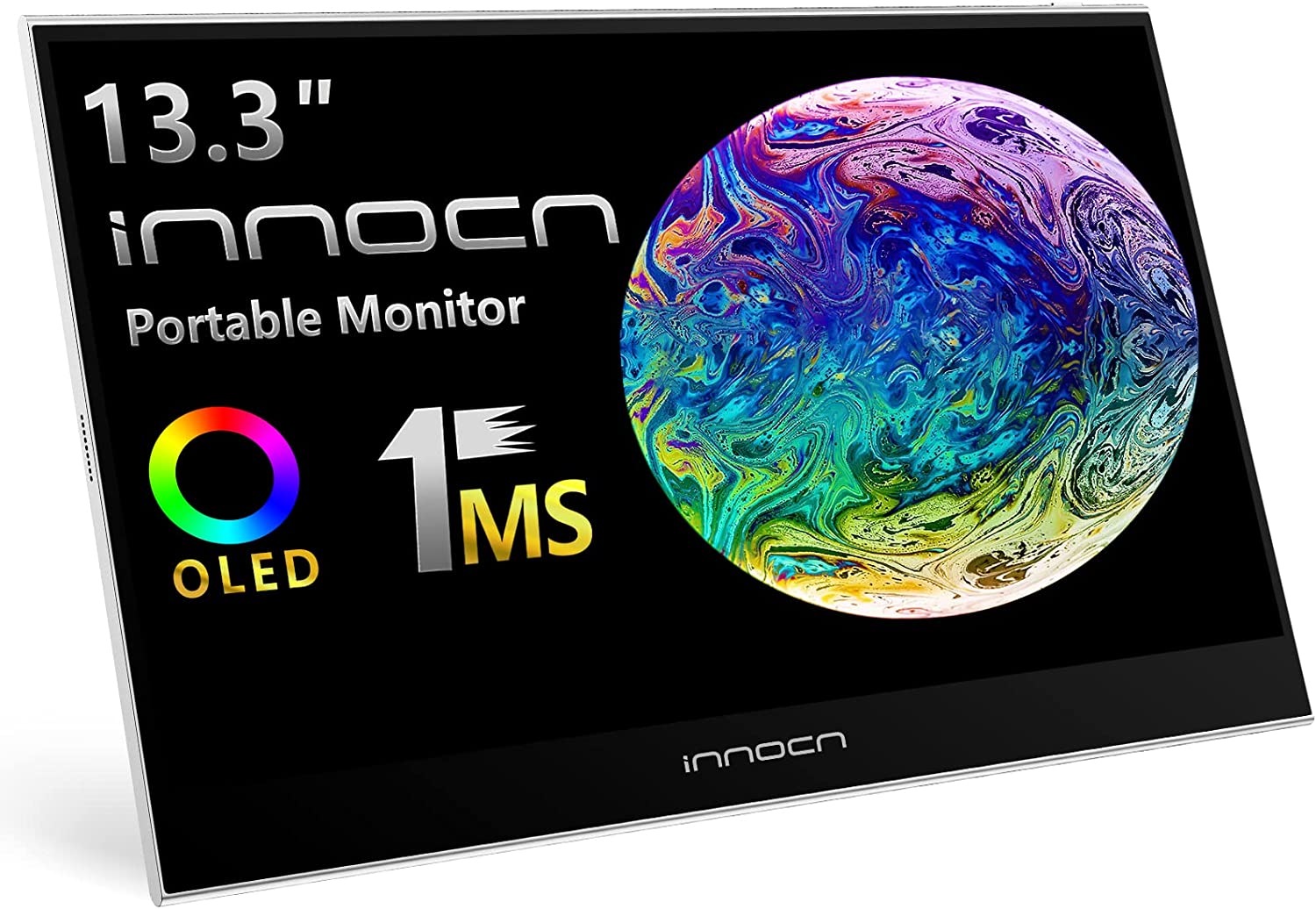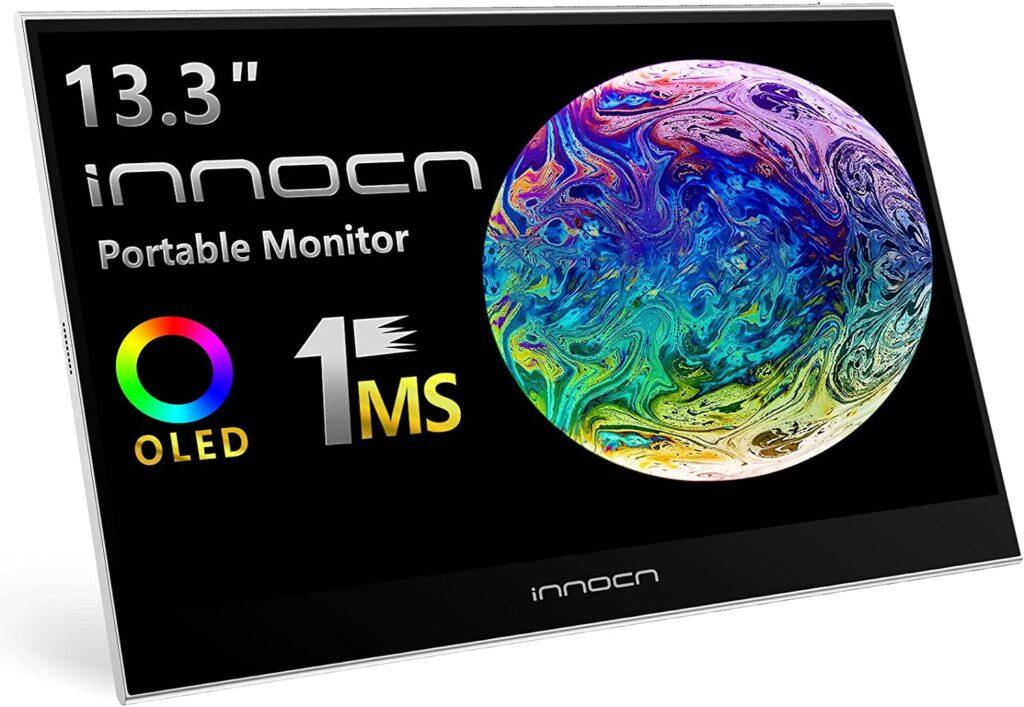 The Innocn 13K1F seems like it's too good to be true at its price point since it offers a vibrant and true-black capable OLED panel. Most portable monitors in the $250 bracket offer IPS panels which work great but are incomparable to OLED and its benefits. Let's take a closer look at the very affordable Innocn 13K1F to see if it has quirks and to know if it should be on your shopping list.
Innocn 13K1F Specifications
Screen Size: 13 Inches
Resolution:1920 x 1080 FHD
Aspect Ratio: 16:9
Panel Technology: In-Plane Switching (IPS)
Refresh Rate: 60Hz
Response Time: 1ms
Contrast Ratio: 100000:1
Brightness: 400 cd/m²
Built-in Speakers: Yes
Stand: Height – No
Stand: Tilt – Yes
Stand: Swivel – No
Stand: Pivot – No
VESA Compatibility: No
Connectivity: USB-C x 2, Mini-HDMI x 1
Weight: 1.39 lbs

Design and Features
The Innocn 13K1F looks almost identical to the 15AF1 except for a few minor differences in the edge shape of the chassis. It has matte gunmetal chassis and a black bezel on the front so it won't look out of place next to a premium laptop like the MacBook Pro. It looks dated with the thicker bottom, but we think that it's a necessary design consideration since any panel type doesn't truly go edge to edge.
It's very compact since it is not that bigger than something as common as a notebook or a daily planner. It should slip right into your laptop bag with no issue, so the term portable is well-emphasized with it. The device also only weighs in at 1.39 pounds so you should barely feel the weight it adds to your laptop bag.
The product's build quality is decent and on par with what the top brands offer. The materials used look delicate, but they are strong and thick enough to withstand cracking or getting deeply dented. The unique stand is also quite stable, especially when it's compared to the usual flip covers that are flimsy even if you set them up properly.
The Innocn 13K1F has OSD buttons composed of the power switch as the menu button and the volume keys for navigation. It's not the most convenient, but it's fairly easy to use since you can hold the display in your two hands. It is forgivable since the monitor is very affordable, although we think it would be beneficial if Innocn created software for adjusting some of the settings.
One of our favorite features with this model and its bigger sibling is the magnetic kickstand that simply works. You can detach it easily to save space, but it sticks just enough to the chassis to hold the weight. The only adjustment you get is a limited range of tilt, but you can also prop the monitor up if you want it in portrait mode.


You also get two USB-C slots and a mini-HDMI slot so it can be used with almost any host device other than your work laptop. It doesn't have a 3.5mm jack, but it includes a tiny pair of speakers which you will most likely set aside as a backup. They are quiet and unusable in environments that aren't 100% quiet, but that and the other omissions are understandable because of the price.
Display and Performance
The Innocn 13K1F sports a 13-inch OLED panel with a 1920 x 1080 resolution, a 60Hz refresh rate, and a 5ms quoted response time. The backlight has a 400 cd/m2 while the listed contrast is at 100000:1 just like its bigger brother. IPS-based competitors struggle to reach 1000:1 in most cases, but that crazy 100000:1 isn't impossible for an OLED variant.
This monitor's 13-inch screen is sharp and detailed because of its small stature so it's great for viewing images or even watching videos. Its going to be slightly difficult to use for tasks like copywriting because of the pixel density which can make letters and numbers appear smaller. You can always use scaling if you run into that issue, although we think it is better to buy the bigger model instead.
The Innocn 13K1F renders more than 100% of both sRGB and DCI-P:3 for extra rich colors and levels of saturation. The downside with extra wide gamut coverages is the dismal accuracy which reached a deltaE average of 4.67. unfortunately, there is no way to calibrate the monitor so it only is usable for entertainment or as a copy display.
Another limitation with this monitor is its peak brightness which only managed to reach 285 cd/m2 at 100%. You also have to plug it into a wall socket adapter to unlock that 100% output, but the package doesn't include one. It only has a USB-C to USB-C cable, so you might end up buying a few additions to make the monitor workable.
We couldn't measure its contrast accurately, but it is safe to assume that it's near the company's claims since OLED panels are capable of extreme levels. The screen presents dark and murky blacks and rich colors as advertised. IPS models like the Asus PA148CTV are more accurate, but their contrast ratio only reaches a fraction of what you can get here.
Panel uniformity for the sample did not show any issues since it doesn't have a WLED backlight. The screen looked even all throughout even if there is some minor variance in the screen's brightness from top to bottom. OLEDs are also prone to burn-in, so make sure not to leave it too long with static images to avoid an imprint.
The Innocn 13K1F isn't as fast as the desktop OLED monitors we've tested when it comes to pixel response time. It shows some smudges and persistence in fast and contrasting transitions like when a shooting star passes through the night sky. It is reasonable since the monitor wasn't built for gaming and it's limited to 60Hz, plus it's a minor issue that most will not notice.
The Innocn 13K1F doesn't have FreeSync or G-Sync compatibility since it's a portable monitor. That's fine in most cases since 1920 x 1080 at 60Hz won't be too hard on most systems anyway. We were not equipped to measure its input lag, but it feels just like any other 10ms to 20ms office monitor we've encountered in the past.
Thoughts on the Innocn 13K1F
The Innocn 13K1F is a superb choice if you want a rich and vibrant secondary display that doesn't cost an arm and a leg. This wallet-friendly portable monitor features an OLED panel with brilliant gamut coverage and an extreme contrast ratio. It's great for media consumption and as a secondary display, but it could use some tuning so it can be used for editing and content creation.
The Innocn 13K1F isn't perfect and it clearly lacks some essential features, but we think the low price compensates for that. The biggest issue with it is its low brightness especially since it has a glossy outer layer. But overall, you are getting more than your money's worth in this option and none of the top brands can match its best asset which is its OLED panel.
Pros:
Superb Gamut Coverage and Contrast
Affordable
USB-C Connectivity
Small and Lightweight
Cons:
Needs Calibration
Full Brightness Needs Wall Adapter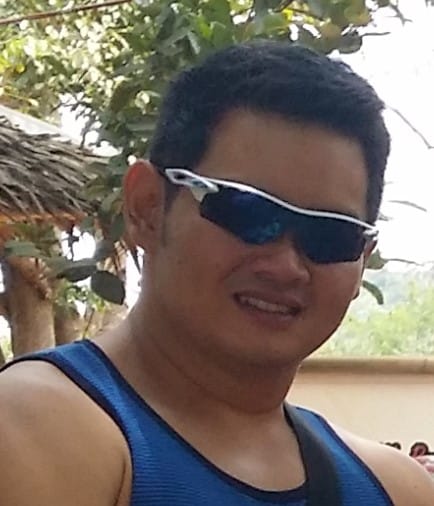 Paolo is a gaming veteran from the golden days of Doom and Warcraft. Since junior high, he has been building gaming systems for family, friends, and colleagues. High-performance monitors are one of his fixations; he believes that every citizen's right to enjoy one. He has gone through several pieces of hardware in pursuit of every bit of performance gain, much to the dismay of his wallet. He has also spent half a decade researching, reviewing, and writing about these products and now has over 1400 articles about the best gaming tech under his belt.