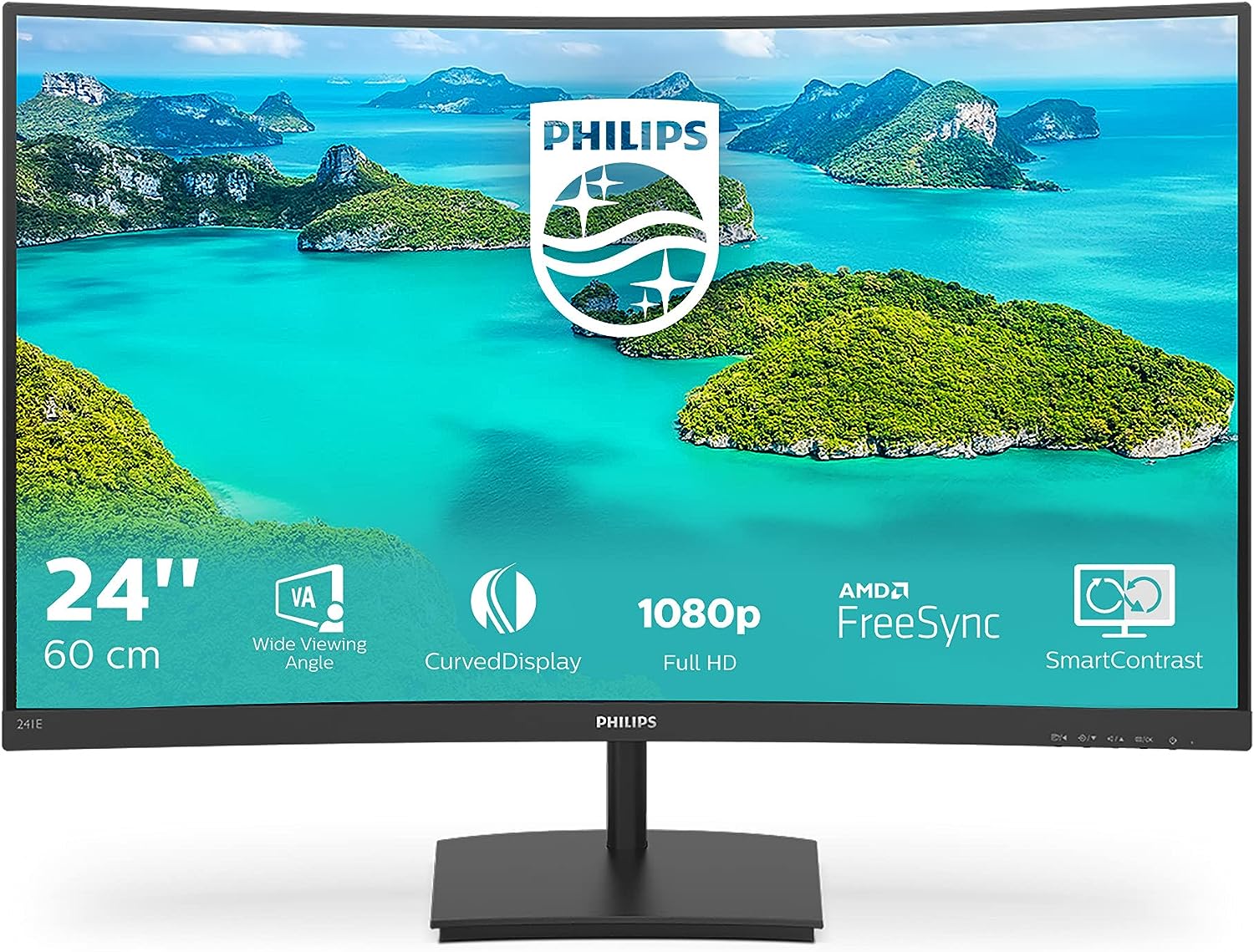 The Philips 241E1SC is a very affordable display solution that is highly suitable as your daily driver for computing purposes. It's nothing like its Evnia counterparts, but basic monitors like this have a lot of use for companies or those who want a simple work-from-home setup. Let's look closer to see how it compares to something like the Dell SE2422HX.

Philips 241E1SC Specifications
Screen Size: 24 Inches
Resolution: 1920 x 1080 FHD
Aspect Ratio: 16:9
Panel Technology: Vertical Alignment (VA)
Refresh Rate: 75Hz
Response Time: 4ms
Contrast Ratio: 3000:1 (Static)
Brightness: 250 cd/m2
Built-in Speakers: None
Stand: Height – No
Stand: Tilt – Yes
Stand: Swivel – No
Stand: Pivot– No
VESA Compatibility: Yes (100 x 100)
Connectivity: HDMI1.4 x 1, VGA x 1, 3.5mm x 1
Dimensions (WxHxD): 21.10" x 16.26" x 7.95"
Weight: 6.92 lbs

Design and Features
The Philips 241E1SC is a basic monitor, so it doesn't have a flashy aesthetic or RGB lighting like the Momentum and Evnia models. The monitor has a matte black chassis which looks discrete and very easy to maintain. It has thinner bezels on the top edge and sides of the screen, but it still has inner borders like most modern displays.

It won't surprise you size-wise since pretty much all of us have seen or used a 24-inch display at some point. It has a deep curve, which expands its overall depth to 7.95 inches, but that's hardly an issue nowadays, where some bases or stands need 12 to 14 inches from your desk. The whole device weighs less than 7 pounds, so it should be very easy to move around.
Its build quality, on the other hand, is quite solid if you consider how cheap it is and compare it with other basic monitors out there. The plastics used are not the thickest we've seen, but it is reasonably durable and with withstand cracking and flexing. The included stand has some wobble due to the low center of gravity, but it's not a cause for concern.
The Philips 241E1SC has buttons for its OSD instead of a more convenient joystick. The keys are located under the bottom bezel near the right-hand side of the display, so it is very easy to reach as needed. The downside is that it takes longer to get to a specific setting versus the other types, but it's not a deal-breaker for a monitor at this price point.
The included stand only offers tilt, so your options in positioning the screen will be severely limited. However, a monitor with better ergonomics always costs more, so it is excusable this time around. You can also use VESA mounts, but that isn't worth it for a monitor like this, and you will be better off buying the higher-tiered options instead.
The Philips 241E1SC's connectivity layout is quite basic as well since that's all a 75Hz 1080p screen will need. You only get HDMI 1.4 and VGA with it, along with a 3.5mm audio output for headphones. We know many will prefer a wider array of I/O slots, but doing that will increase the price and move this option out of the budget category.
It also doesn't have speakers, but that's fine again because of the very low price. Built-ins don't sound good anyway, so headphones or desktop sets will always be better for your entertainment experience.
Display and Performance
The Philips 241E1SC  sports a 24-inch 1500r curved VA panel with a 1920 x 1080 resolution, a 75Hz refresh rate, and a 4ms response time. The backlight has a 240 cd/m2 output while the contrast is listed at 3000:1. This model doesn't advertise special features like HDR, but that's understandable since it's a budget monitor that was meant for business use.
1080p monitors are not the sharpest of the lot, but they are still popular because they are easy to use and affordable. We've used them at one point at work or at home, so our eyes are used to them for reading, watching videos, and gaming. You also don't need an over-complicated rig to run them, so they are ideal picks for budget builds.
The Philips 241E1SC covers 100% sRGB and 85% of the DCI-P3 color space for excellent color in games and movies. Its default accuracy wasn't great, with a deltaE average of 2.67, but that's okay for a budget model. Most users won't feel the need to calibrate it, apart from adjusting the backlight to suit their individual needs.
Calibrating the monitor reduced its dE average to 1.03, making it suitable for content creation and editing. However, you will need a colorimeter to achieve comparable results since the tolerances in each panel will make it impossible if you only copy ICC profiles or settings. Also, we don't think that its worth getting one for a monitor like this, so you should just get a better variant if accuracy is a priority.
The Philips 241E1SC's backlight reached 259 cd/m2 at 100% backlight, and its contrast peaked at 2581:1 at 50% brightness, enabling it to produce deeper black luminance than its IPS counterparts. The latter makes it great for nighttime use or watching videos and images with dark scenes,
Panel uniformity for the test sample wasn't the best as well since there were backlight leaks on the top and bottom edges of the display. This is common on curved monitors,  but not all of them will have issues. It is possible to get a better unit, but there is really no way to find out which one is flawless until you power it on or test it.
However, the biggest weakness of the Philips 241E1SC is its slower pixel response time due to the panel type. It shows blurring and ghosting in fast-paced scenes, so it is not suitable for games like Valorant or Warzone. You can use its overdrive to alleviate it, but it doesn't do much, even if you turn it all the way up.
The Philips 241E1SC is compatible with FreeSync, but G-Sync is out of the question since that usually needs DisplayPort. You don't need VRR for 1080p nowadays, but it is nice to have for those who prefer AMD GPUs. Its input lag sits at 9ms at  75Hz, so it's still fast and responsive enough to prevent giving a delayed or sluggish feel during use.
Thoughts on the Philips 241E1SC
The Philips 241E1Sci is a practical choice if you need a simple monitor for daily tasks or for enterprising purposes. It is cheap and reliable, plus it has all you will need even if it's a barebones PC monitor. The big bonus here is its decent color and fantastic contrast, which will count more towards entertainment purposes or content creation.
There are numerous omissions to make it as affordable as possible, but not all of them are deal breakers. Some can live with one thing like a tilt-limited stand, although we prefer better-equipped alternatives for a few bucks more.
Pros:
Very Affordable
Great Colors
Fantastic Contrast
Cons:
Limited Connectivity and Ergonomics
Prone to Blurring
About the Author: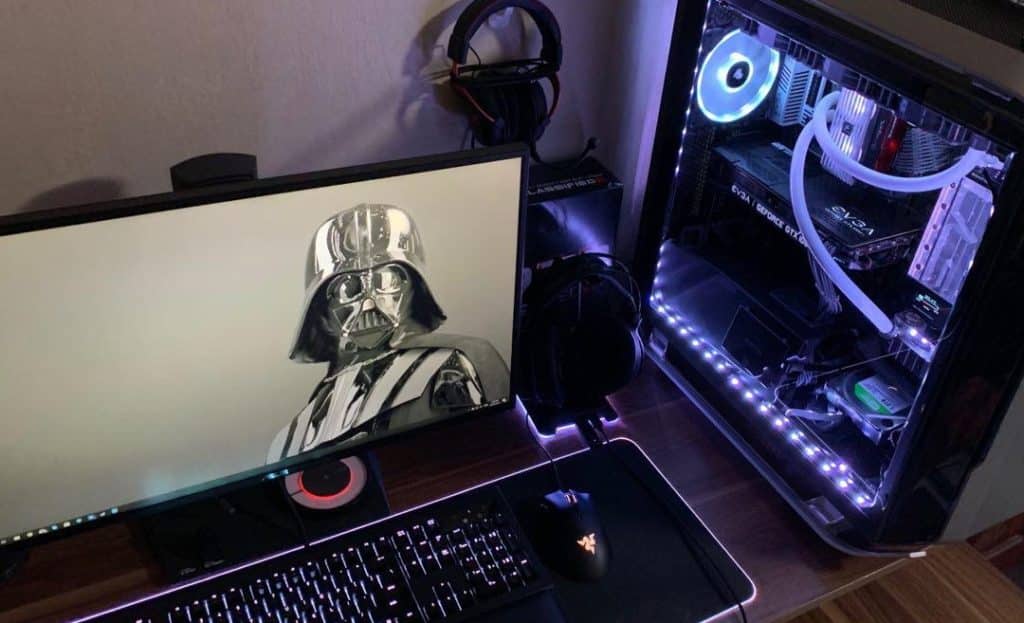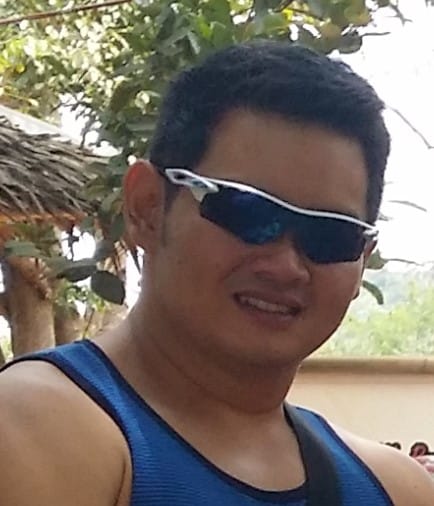 Paolo has been a gaming veteran since the golden days of Doom and Warcraft and has been building gaming systems for family, friends, and colleagues since junior high. High-performance monitors are one of his fixations; he believes that every citizen's right to enjoy one. He has gone through several pieces of hardware in pursuit of every bit of performance gain, much to the dismay of his wallet. He now works with Monitornerds to scrutinize the latest gear to create reviews that accentuate the seldom explained aspects of a PC monitor.