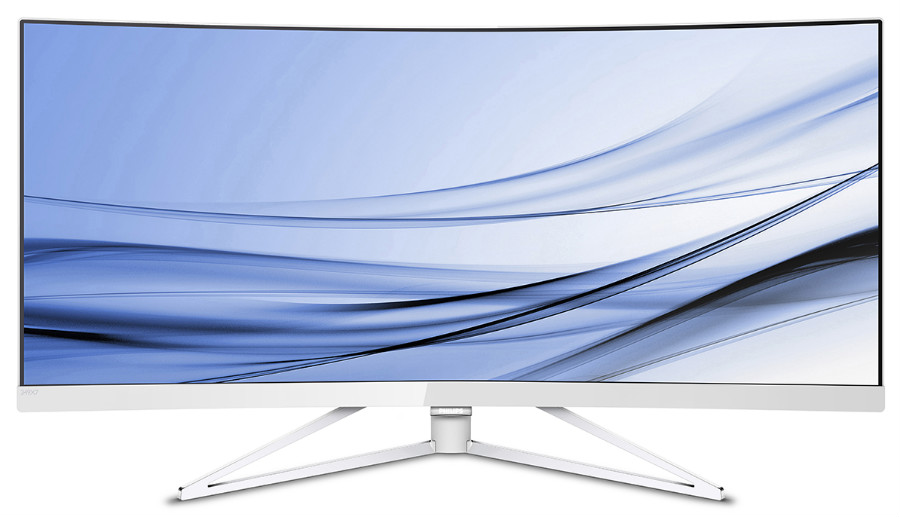 The Philips Brilliance 349X7FJEW is a sleek-looking addition to the growing portfolio of ultra-wide monitors designed to enhance any user's viewing experience. This model offers standard specifications tucked into an elegant exterior, but the biggest questions always gravitate to its performance numbers. At a glance, the Philips Brilliance 349X7FJEW looks like an excellent all-arounder, but does it have what it takes to be considered as one of the best displays?

Philips Brilliance 349X7FJEW Specifications
Screen Size: 34 Inches
Resolution: 3440 x 1440  UW-QHD
Aspect Ratio: 21:9
Panel Technology: Vertical Alignment (VA)
Refresh Rate: 100Hz
Response Time: 4ms
Contrast Ratio: 3000:1 (Static)
Brightness: 300 cd/m²
Built-in Speakers: Yes 2 x 5 Watts
Stand: Height – Yes (6 Inches)
Stand: Tilt – Yes (-5°/+20°)
Stand: Swivel – No
Stand: Pivot – No
VESA Compatibility: Yes
Connectivity: DisplayPort 1.2 x 1, HDMI 2.0 x 1, HDMI 1.4 x 1, USB 3.0 x 4, 3.5mm Audio Jacks
Dimensions (WxHxD): 31.89″ x 17.48″ x 11.5"
Weight: 18.1lbs

Design and Features
The Philips Brilliance 349X7FJEW is easily one of the most beautiful models we have seen, from its bezel-free white cabinet to its aluminum. From the side, this massive monitor looks a bit bulky at almost a foot in dimension, but checking out the actual thickness of the panel's casing tells you otherwise.
Lifting the Philips Brilliance 349X7FJEW is also easier since it only weighs in at only a mere eighteen pounds, where most competitors are at least over twenty. On the other hand, the Philips Brilliance 349X7FJEW is a heavyweight in the versatility department thanks to its array of connectivity options.
For starters, this model includes a DisplayPort, an HDMI slot each for 1.4 and 2.0 versions, and four USB 3.0 slots for maximizing your peripheral utility. It's hard to imagine if anyone can fill all of these ports, but the added options are always welcome for a premium product.
You also get 3.5mm input/output jacks which complement the two 5-watt speakers. The pair sounds decent with adequate frequency response, but for the intents and purposes of the Philips Brilliance 349X7FJEW, you're still better off with a decent speaker set.
Finally, the architecturally appealing stand makes the Philips Brilliance 349X7FJEW all the more attractive. The truss-shaped base gives stability to hold the heft of the display. The mechanism which carries the whole cabinet provides height and tilt adjustments up to a reasonable degree, but you miss swivel and pivot with this product.
Display and Features
The Philips Brilliance 349X7FJEW features a 34-inch VA panel capable of extended contrast levels to enhance images on its 3440 x 1440 of awesomeness.  The display can go up to 100Hz in refresh rate and 4ms in response time which is great for gaming and multimedia. We hope the VA panel does not fall victim to its weaknesses which create ghosting and annoying interlacing in fast-moving pictures.
The edge to edge design should help users to enjoy the benefits of the screen, plus the manufacturer guarantees that the Philips Brilliance 349X7FJEW will be able to display 117.3% of the sRGB gamut. There will be some oversaturation in some areas if the spec is accurate, but that doesn't suggest that this monitor will ruin your media's color accuracy.
The Philips Brilliance 349X7FJEW includes nifty features for professionals such as Multiview options which allow some inputs to populate the ultra-wide screen. Editors should be able to find that as a solution, but the entirety of the display also makes it ideal for activities such as video or audio editing wherein viewing the whole timeline helps to streamline your workflow.
Of course, the Philips Brilliance 349X7FJEW does not leave its gaming chops behind, since this model also includes Freesync functionality. 60 frames isn't a lot, to begin with, but the 3440 x 1440 resolution is sure to flex your GPU's muscles in any game. AAA titles' FPS numbers will inevitably dip and dive, so you're better off utilizing the smoothening capabilities of AMD's adaptive sync solution.
All of these specs culminate in the 1800r curvature of the Philips Brilliance 349X7FJEW, which is familiar to us as we have seen it on a few recent models. If this model is as excellent as the company behind it claims, then you are in for a treat regardless if you will use this excellent product for business or pleasure.
Thoughts
The Philips Brilliance 349X7FJEW is a promising model which should be able to compete in the ever-evolving market, despite its standardized specifications. Gamers will have their hearts set on the 100Hz ultra-wide monitors which have exorbitant prices, and the Philips Brilliance 349X7FJEW could be the next best option if priced lower.
Another aspect to appreciate on the Philips Brilliance 349X7FJEW is its visually-stunning appearance, from the edge-edge screen to the engineered stand and base. The white and silver combination gives it a hint of luxury which has grown in popularity with recent releases. We just hope that this product does not fall victim to VA's flaws, massive input lag or color skewing when it becomes widely available.