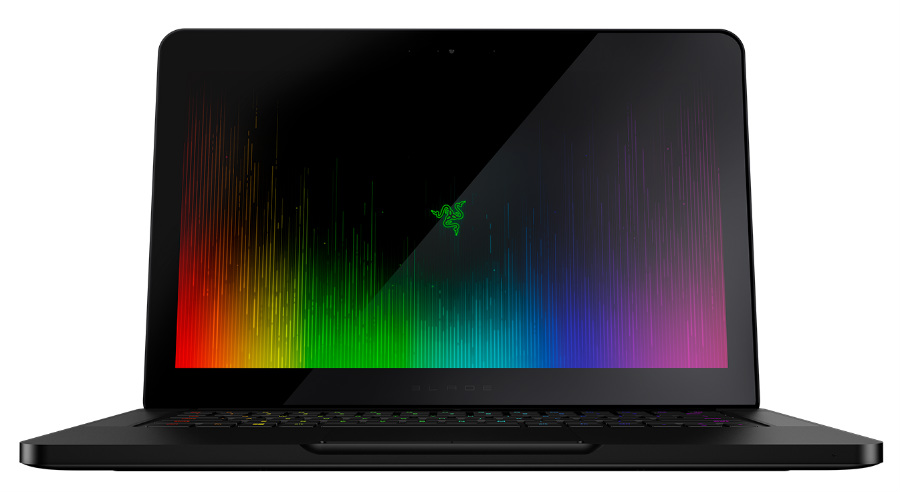 The Razer Blade revolutionized how we see premium thin gaming laptops when it was introduced into the digital world with its portability and power. This year's latest release includes a stunningly sharp 4K display, the latest hardware, plus bespoke features which can put the competition to shame. But is the Razer Blade and everything related to its prestige worth the substantial cost?

Razer Blade Review
Processor: Intel Core i7  Kaby Lake 7700HQ Quad-core (Skylake 6700HQ tested)
Graphics Card: Nvidia GTX 1060 6GB
Memory: 16 GB RAM (Minimum)
Storage: 256 GB/512 GB/1 TB Storage options
Dimensions: 0.7″ x 13.6″ x 9.3″
Weight:  4.0lbs (1080p Variant), 4.3 lb (4K Variant)
Screen: 1080p non-touch IPS/4K touchscreen IPS
Connectivity: 2x USB 3.0, 1x Thunderbolt 3 (USB-C), 1x HDMI
Special Feature: Chroma RGB keyboard

Design and Features
The Razer Blade 4K model weighs in at only 4.3 lbs making it one of the lightest models you can slide into your backpack. The unibody CNC-processed aluminum chassis eliminates extra weight, plus its excellent heat dissipation property which makes it a popular material choice for enthusiast PCs.
The matte black finish adds a mysterious touch to the Razer Blade,  but it somehow attracts fingerprints if you have clammy hands. We suggest adding a laptop sleeve with a plush interior so that you can protect this gadget from stains and scratches. The neon green accents from the ports to the tri-headed snake logo on the cover complete the Razer "leet" treatment which separates this laptop from the standard RGB or black and red gamer designs.
The 0.7-inch Razer Blade includes a full array of connection options, despite its low-profile form. This product includes two USB 3.0 ports, an HDMI 2.0 slot, and the future-proof USB-C Thunderbolt multipurpose port which can send and receive AV, power, and data. You don't have to use the latter for charging exclusively since the Razer Blade comes with a standard slot for the included power brick which also shares the ultra-slim and lightweight design of the whole thing.
Like all of Razer's products, the Blade also includes the company's Chroma RGB feature on the keyboard, which adds an aesthetic feature which you can fully customize via Synapse. Razer likes to exaggerate its designs to outplay its competition in the premium game, so the low-profile keyboard has mechanical switches.
Each button is satisfying to press, from the small depressing travel distance to the familiar but acceptable feedback of the durable mechanical switches. On the other hand, the touch-sensitive trackpad feels accurate, but it does not include usual buttons so it might take some time before you adapt to it. Of course, you can always use a fantastic gaming mouse like the Death Adder Elite from the same company for improved accuracy and control.
The latest series of the Razer Blade now comes in three flavors which include this regular model, the Razer Blade Stealth, and finally the Razer Blade Pro. The 12.5-inch Stealth version is an ultrabook designed to compete in the creative market with its 100% Adobe RGB coverage (4K IGZO screen variant). This model is only half an inch thick, making it one of the most portable and energy efficient products in the laptop space. On the other hand, the Razer Blade Pro is a 17-inch gaming behemoth built with a desktop grade Nvidia GTX 1080 and two NVMe SSDs in
On the contrary, the Razer Blade Pro is a 17-inch gaming behemoth built with a desktop class Nvidia GTX 1080, Intel i7 6700HQ and two NVMe SSDs in RAID for pure performance. This VR-capable laptop is slightly thicker at .88 inches, but it still is one of the slimmest desktop replacements money can buy. Although, in our opinion, getting the smaller Blade or Blade Stealth and the Razer Core GPU enclosure is an even more attractive package since it offers unrivaled versatility.

Razer Blade Performance
The Razer Blade packs a punch with its latest Intel i7 7700HQ Quad Core processor which starts at 2.8GHz and can boost up to 3.8Ghz. For graphics power, this model includes a mobile version of the Nvidia GTX 1060 which slightly meets the minimum requirements of VR gaming headsets like the Oculus Rift. To match these specs, the Razer Blade starts with as much as 16GB of DDR4 RAM which is a lot for gaming and most needs, so you might want to expand it to 32GB or more if you want extra headroom for professional applications.
To extend its battery life, the Razer Blade utilizes a PCIe SSD for reading and write speeds which exceed your typical SATA SSD can do. This peripheral can provide a read/write rating of 1200MB/300MB per second, making it as quick as some of the fastest NVMe cards, if not faster. These types of drives also operate without a spindle or any mechanisms, so it does not require the extra power consumption to accelerate and spin the disk to its rated speed.
As mentioned above, the heart of the Razer Blade's visual performance is a mobile version of the Nvidia GTX 1060, which is currently one of the best performance per value cards you can buy in the market. While it is a powerhouse for 1080p gaming, it still is not recommended for 4K levels of eye-candy.
You might get away with lowering the graphic settings for some titles or games which do not ask for an arm and a limb when it comes to requirements. But for most situations, you might not even reach 30FPS on pleasurable settings. However, 4K downscales to 1080p seamlessly, so you can enjoy gaming at 1080p and utilize 4K for other purposes such as movie watching or photo editing.
But that's just one way to work around the processing power limitations of these specs. Since the Razer Blade is equipped with a Thunderbolt port, you can opt to use an external GPU dock like the Razer Core. This accessory acts as a GPU dock which allows users to utilize a full-featured desktop graphics card, and transmit its power via a USB-C connection without latency penalties.
Of course, that configuration will add an exorbitant cost, but as always, these types of tech do come with a hefty price tag. Still, the option to lug around a 4-pound powerhouse and dock it at home for extra juice is invaluable for the right buyer, and we're glad Razer pushes the limits of enthusiast computing with their designs.
These specs, however, were created to power the gorgeous 14-inch 4K screen. Images and objects look extra sharp and crisp since the Razer Blade boasts of a pixel density of 314 PPI which rivals Apple's Retina Technology. But remember, this characteristic will induce issues for those without 20/20 visions. Some objects and text might appear too delicate or small, so you might strain your eyeballs by squinting too often.
The Razer Blade's screen appears excellently clear and uniform, and the 4K version apart from its glossy coating allows touch-sensitive operation. The feature is a novelty at the most, but some specific users like PC-based musicians and designers might appreciate it as a useful tool. If you opt for the 1080p model, you lose these selling points along with the nasty premium tax required for the top-end model, and you get a full-HD IPS screen with a matte AG coat which still looks great.
Razer Blade does have a decent battery life and thermal performance. The specs this package includes can still introduce a lot of heat if you're not careful, so we recommend users to include a fantastic cooling pad. Heat dissipation is one of the biggest caveats of thin laptops, and even if the aircraft-grade aluminum serves to help this issue, you might still experience it if you maximize the powers of the Razer Blade.
Finally, while not entirely excellent, the Razer Blade's battery life typically lasts around four to six hours. Heavy gaming might reduce that period by half, and thankfully you have an ultra-compact power brick which beats the behemoths from other gaming models in portability.

Thoughts
If you consider the Razer Blade's over $2,000 price tag (For 4K 1TB model) at the time of this writing, it is indeed impractical since you get similar slim laptops from competitors, sometimes, with even better specs. Practical enthusiasts will usually recommend this path for most users, but we think the Razer Blade somehow does not fit the typical marketing strategy.
We would like to discern the Razer Blade's purpose and design as a suitable solution to specialized needs, much like how the Apple Macbooks appeal to a particular category of users. The Intel i7 7700K and the GTX 1060 provides an entry-level peek into the world of 4K gaming, but the entirety of the Razer Blade could appeal to meticulous customers with specific needs such as Twitch streaming, Music and content creation, or design.
If you follow this train of thought, then the Razer Blade is easily one of the best premium slim laptops available on the market. The company sometimes receives negative feedback for its products, but we still believe that the company leads in innovative design and enthusiast-level technologies. If you don't find the Razer Blade sufficient for some reason, you can opt for the Razer Blade Stealth Ultrabook for its portability or the Razer Blade Pro for its raw power.