Samsung has been making tidal waves in the gaming display industry since Q1 2017 with their high refresh monitors with QLED technology and HDR. The 49-inch Samsung C49HG90 with a 32:9 aspect ratio and a jaw-dropping 3840 x 1080 resolution culminated the brand's efforts to create a refreshing option for this strategy.
The info that's available now pertains to the firm's panel manufacturing direction instead of monitor designs, but these are clear indications of what's coming. Samsung is also focusing on VA technology which, so far, has been great for products such as the Samsung C34GH70.
Samsung's New "Super" Ultrawide Monitors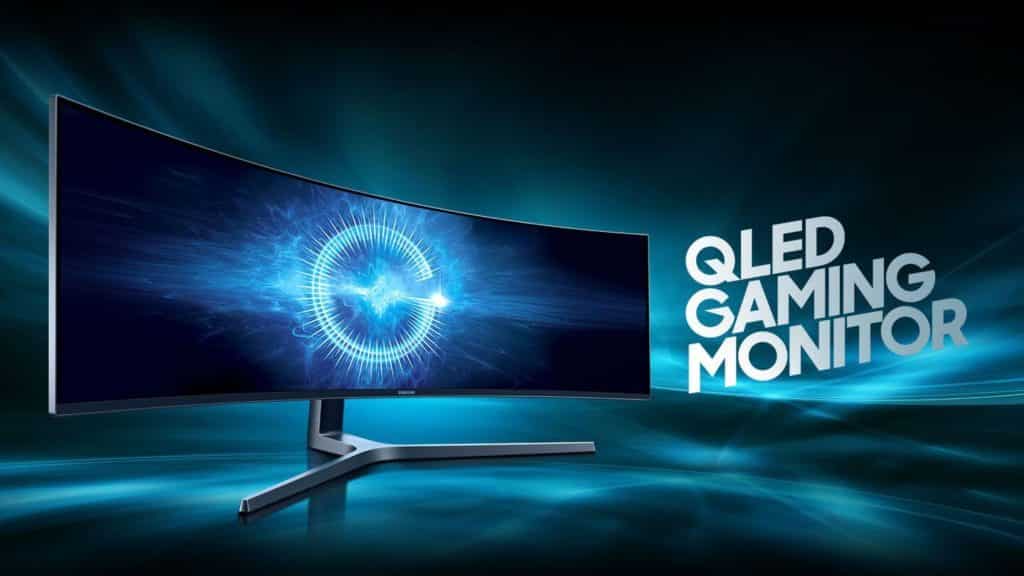 Immersive gaming is about to get rocked when Samsung's new ultrawide monitors with specific niches aside from the already popular 21:9 and 16:9 ratios. The main complaint about the C49HG90 was it only offered a stretched 1080p resolution (DFHD), but the brand is changing that with their new panels with sharper resolutions.  The new modules will provide higher pixel counts, such as the new 49-inch VA panel that will offer a DQHD resolution of 5120 x 1440.
This new model that will succeed the C49HG90 will also sport a 120Hz refresh rate, bringing high-end competitive gamers into the fold. If that's not enough, there is also word of a 43.4-inch VA module that will have a 3480 x 1200 resolution and a 144Hz refresh rate. Think of it as an extra wide version of 16:10 monitors that offer more than just the vertical real estate.
These two new models will make use of a 1800r curvature to maximize their immersive effects for the intended users. The high refresh rates indicate that Samsung is pushing these new models to entice gamers, but we may end up seeing productivity-oriented variants such as the upcoming C49J89. HDR is also almost guaranteed, but we are not yet sure how intense or "real" Samsung's future implementations will be.
Both VA panel variants are scheduled to appear by September of this year, although exact details are still forthcoming. There is still no word if Samsung's panel manufacturing facilities have already begun to mass produce these models, so we may see some delays before they translate into actual monitors.
Samsung's 100Hz 34-inch variants found on monitors like the C34F791 will also get a makeover this year. The refreshed options will now feature a native 144Hz refresh rate, unlike the overclocking 120Hz implementations we see on models like the Acer Z35P. Based on feedback, factory overclocked variants are sometimes prone to issues such as frame skipping, although most cases are isolated or few and far in between.

Samsung's 120Hz 4K VA Panel is Coming Soon
Aside from the super ultrawide VA panels, Samsung is also working on a 31.5-inch VA panel with a 4K native resolution (3840 x 2160) and a 120Hz refresh rate. The latter spec is more realistic than the promised 144Hz 4K outputs of the still missing Asus PG27UQ, Acer X27, and AOC AG273UG. DisplayPort 1.4 will be able to handle the necessary bandwidth for 120Hz 4K. However, Chroma subsampling is obligated to step down to 4:2:2 instead of 4:4:4 due to constraints presented by the extra refresh headroom.
Since this new 4K 120Hz variant is based on VA tech, we can expect extended contrast ratios of up to 3000:1. Samsung might also throw in their Quantum Dot or QLED tech into the mix, enabling the new monitor to produce fuller gamut volumes for HDR visuals. It's speculative, but the first salvo will most probably include FreeSync functionality instead of G-Sync, but we hope to see both in the market sometime soon.
Sources are suggesting that this new 4K 120Hz panel will begin to show up by July or August, ahead of the super ultrawides mentioned above. The high-end gaming market and communities are still clamoring for monitors like the Asus PG27UQ which promised 4K 144Hz visuals with Quantum Dot-augmented colors since January 2017. We hope Samsung's contender will not face similar delays which left a bitter taste for gamers who were previously interested in spending big bucks on the aforementioned monitors.