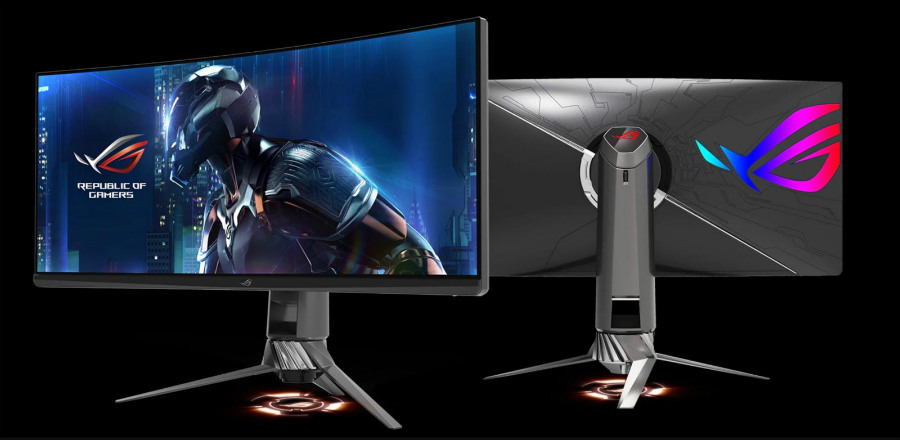 Shopping for the best Asus monitors is an excellent choice since the company has pumped out some of the best when it comes to performance and quality. Asus monitors in the ROG Swift and Strix premium categories have a cult-like following for their radical designs and capabilities. However, the brand isn't terribly limited to those series since their ProArt and even their budget segments are doing well in the market.
Many of the Best Asus monitors are a testament to the brand's consistent push for innovation in the display segment. The advent of HDR and higher than ever refresh rates have made Asus one of the top dogs in the premium gaming and prosumer segments. Even the brand's older models are still top-selling and highly recommended in their respective brackets.
We've pointed many readers into checking these models out, and those who did buy them did send us a lot of positive feedback. Here are some of the Best Asus Monitors which have either won our Editor's Choice or highly recommended models:
Asus VG27AQ – 165Hz IPS Gaming Monitor with ELMB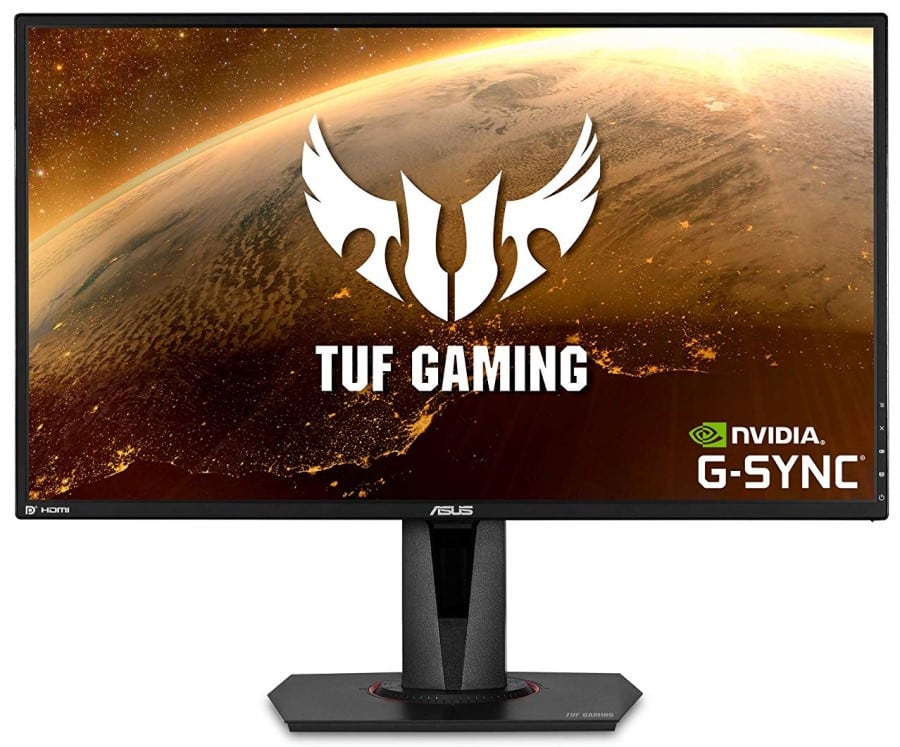 The Asus VG27AQ is one of the best performance per dollar monitors you can buy now. The vibrant IPS panel offers excellent quality thanks to its color accuracy which can rival even some of the prosumer models in this list. Gaming performance is nothing short of spectacular thanks to its excellent responsiveness and low latency.
Another characteristic that makes the Asus VG27AQ one of the best Asus monitors is its unique ELMB strobing feature. Its very effective at bringing the pixel response to TN-like speeds, plus it doesn't lock out the display's FreeSync and G-Sync compatibility. All of these characteristics make the VG27AQ one of the best value buys out there.
Asus PG27UQ – 4K 144Hz HDR Gaming Monitor with G-Sync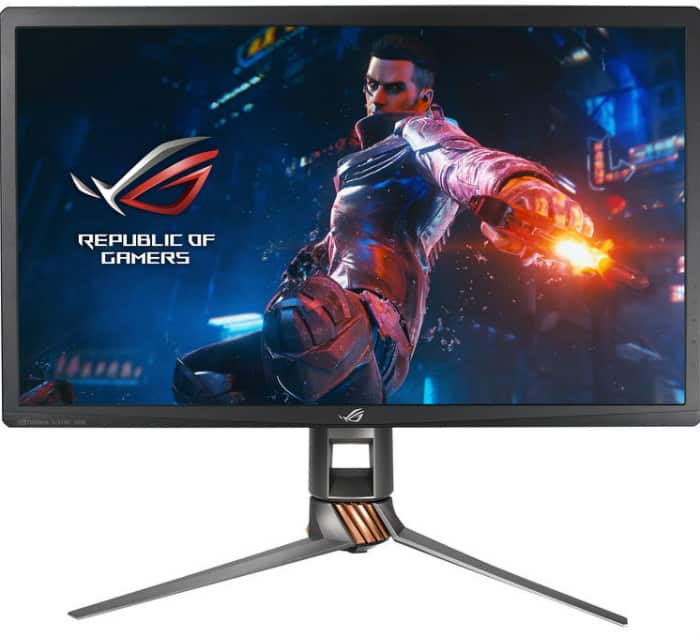 The Asus PG27UQ represents the ultimate gaming display segment with its pristine 4k 144Hz IPS display. The monitor features jaw-dropping image quality, but the device pushes it further with its HDR 1000 FALD backlight. This model is one of the few offerings that can produce a true HDR experience that's coupled with a high resolution and refresh rate for smoothness.
Nvidia's G-Sync HDR technology is also featured, making this model suitable for the green team's top-end cards like the Titan RTX or the RTX 2080 Ti. Of course, 4K at anything beyond 60Hz is challenging, so you might want to bump up your GPU count to two for some NVLink action. The Asus PG27UQ is very expensive, but its a fantastic choice if you want a monitor that's great at both gaming and design or if you simply desire the best.
Asus PG35VQ – 200Hz G-Sync Ultrawide Gaming Monitor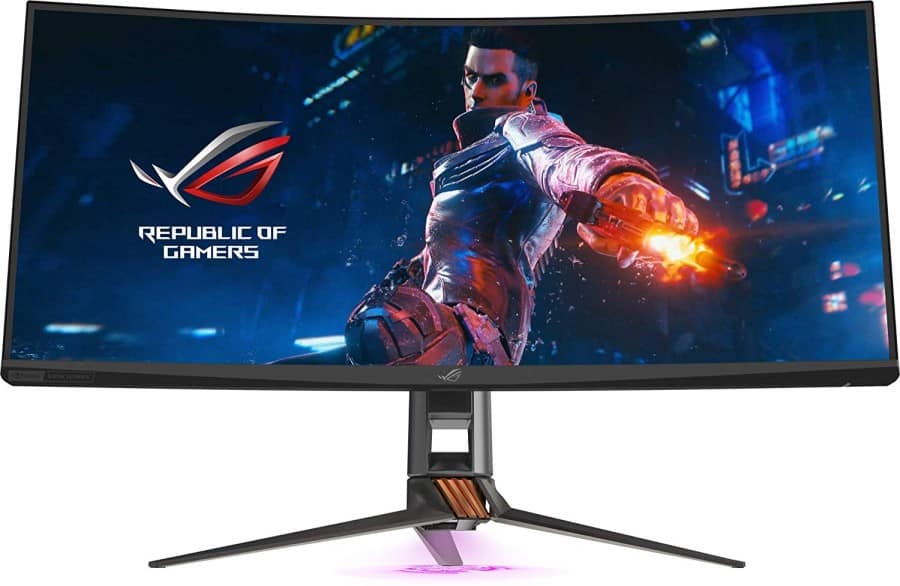 The Asus PG235VQ is the long-awaited QHD ultrawide that bumps up its refresh rate to 200Hz which is twice what previous models offered. The massive display provides a stunning vista in games, but its also very useful for productivity tasks. The AMVA panel in this mode is capable of spot-on color accuracy and extended gamut coverage for eye-popping color.
The Asus PG35VQ is also an HDR 1000-certified monitor thanks to its 512-zone FALD backlight which can reach 750 cd/m2 or as much as 1000 cd/m2 when the need arises. This combination gives you an incredibly immersive visual experience that will make game environments, effects, and models pop. The premium product also features the ROG signature design that's complete with RGB lighting, so owners get serious bragging rights when they have this on their desk.
Asus XG49VQ – 49-inch DFD Super Ultrawide Gaming Monitor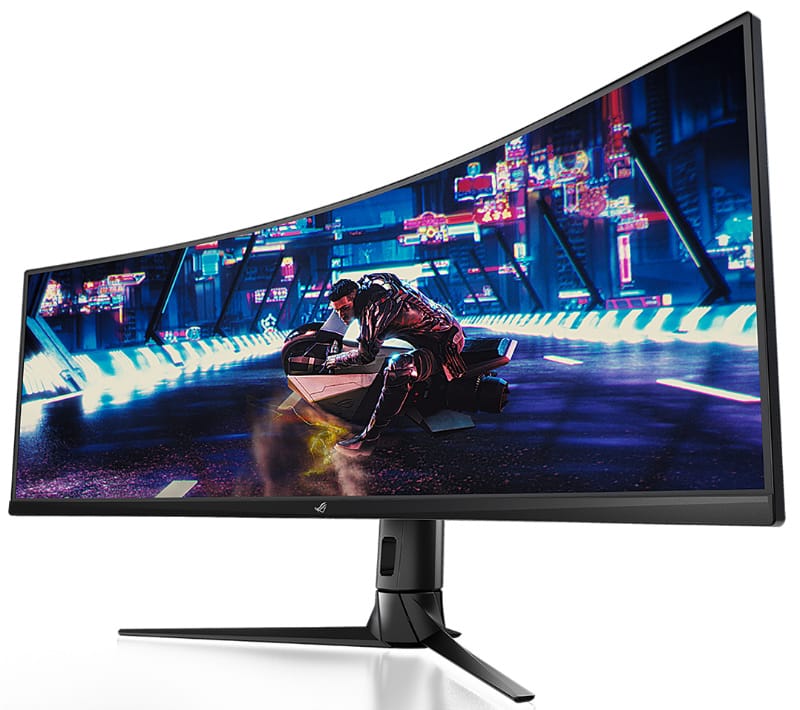 The Asus XG49VQ sports a unique, 49-inch super ultrawide display that squeezes the resolution of two 1920 x 1080 displays into one large chassis. We like that the brand turned down their gamer-centric designs and coloring of this model, going instead for a stealth-black chassis that oozes appeal. The bezel-free screen and the aggressive curve will wrap you up in the games you play, while the high refresh rate keeps everything smooth and fluid.
What makes the Asus XG49VQ one of the best Asus monitors is its high-grade VA panel that offers excellent gamut coverage. Bright shades from games such as Borderlands 3 will pop through the AG filter, but the brand did ensure that it's not oversaturated or dull. But our favorite aspect of this offering is its price which doesn't breach the one-grand mark which means it won't break banks or finances.
Asus VG278Q – Affordable 144Hz Competitive Gaming Monitor with G-Sync Compatibility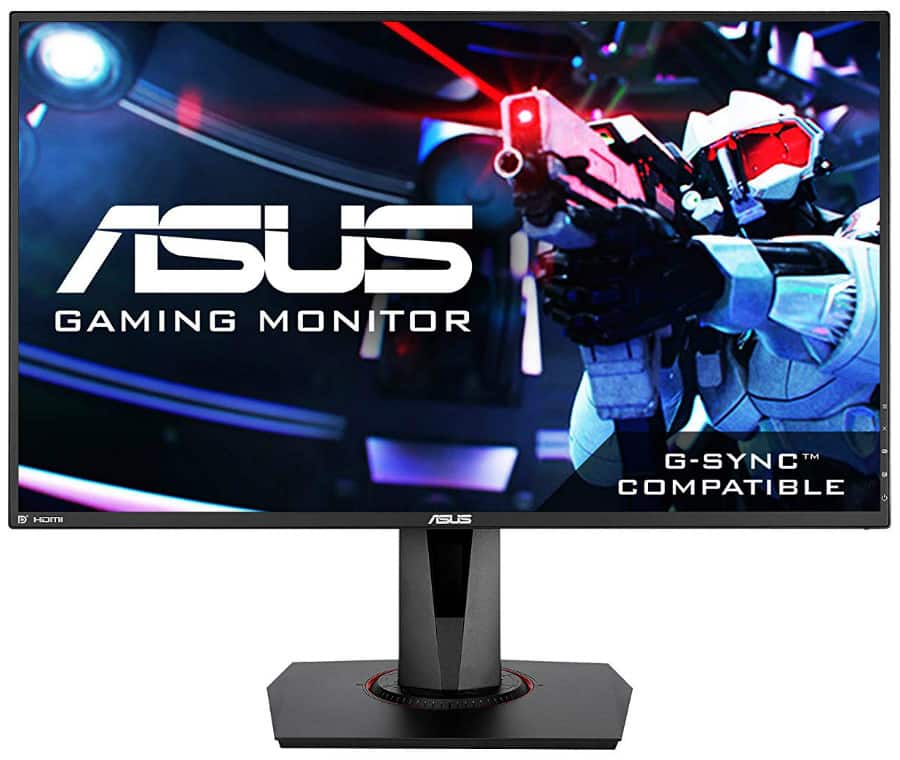 The Asus VG278Q is the cheapest monitor in this lineup, but we believe its one of the few that punches above its price category. The 144Hz TN panel is very responsive and blur-free, making it ideal for competitive applications in E-Sports titles. Asus also retained their well-loved design which embodies simplicity and functionality.
What extends the value of the Asus VG278Q aside from it's fast, input-lag free performance is its G-Sync compatibility. The monitor is primarily designed for FreeSync, but it's also one of the few that are certified by Nvidia to work with their VRR tech flawlessly. This model also has an IPS equivalent in the form of the VG279Q, giving thrifty gamers more choices which won't disappoint or hurt your wallet.
Asus PA34VC – Color Calibrated Ultrawide Monitor with Thunderbolt 3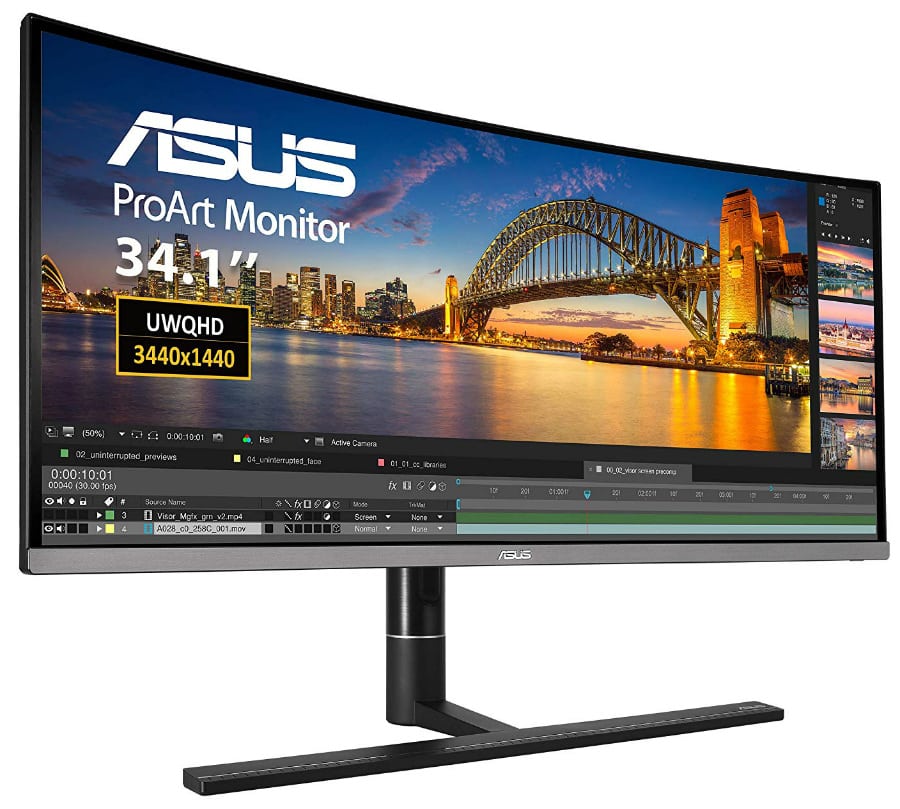 The brand quietly launched the Asus PA34VC, but it's now one of the best 34-inch QHD monitors you can buy for photo and video editing. The curved IPS panel ships with a very effective factory calibration that brings color errors below the promised DeltaE average. The 100Hz refresh rate takes care of gaming duties, making the model comparable to the venerable PG348Q which stole our hearts before.
The Asus PA34VC is a Thunderbolt 3 monitor which means you can use it a dock for MacBooks or the latest Zen and Zephyrus laptops from the brand. This feature enhances the model's suitability for designers and studios, but we think it's great that it still has fantastic gaming capabilities.
Asus PA32UC – 4K HDR Designer Monitor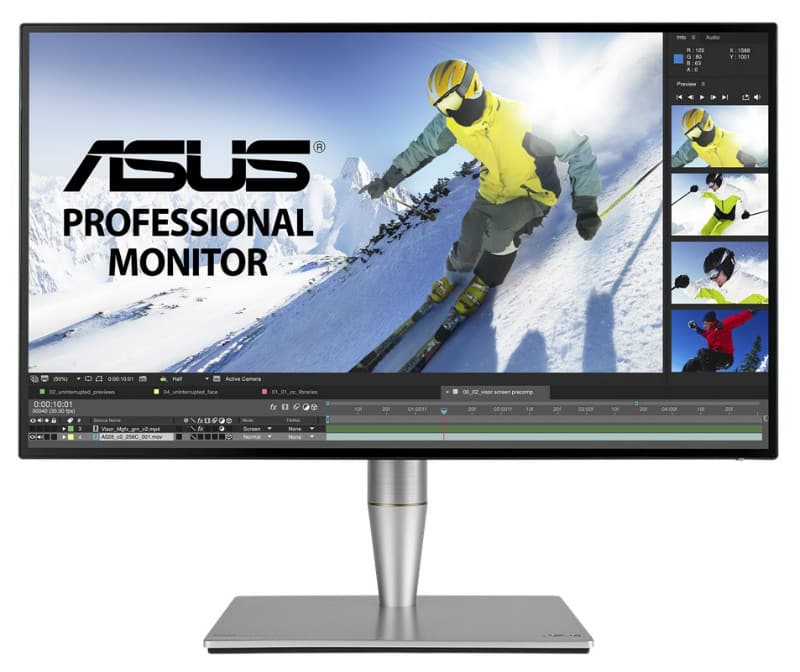 The Asus PA32UC is Asus best monitors flagship for designers and photo editors who want industry-standard accuracy with incredible HDR performance. The pre-calibrated IPS panel offers class-leading accuracy, while the 1000 cd/m2-capable FALD backlight with numerous zones makes light blooms and vistas more realistic. The latter enables the screen to reach as much as 20000:1 in some instances, bringing some of the truest blacks and grayscale we've seen in the monitor segment.
The Asus PA32UC is also a USB-C monitor, so MacBook Pro and Zenbook users can enjoy single cable operation. You can also daisy chain another PA32UC on the second USB-C slot to create a streamlined and sophisticated setup for your workflows.
Asus MB16AC – Color Accurate Portable USB-C Monitor for Laptops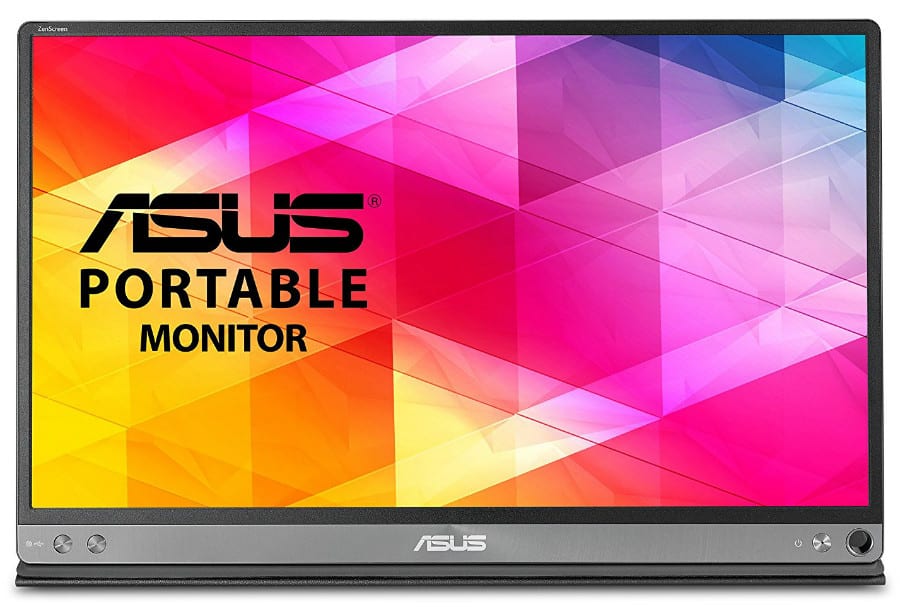 The Asus MB16AC is a handy portable or external monitor which you can slip right into your laptop bag without adding too much weight. The tablet-thin gadget offers a 16-inch IPS panel that doesn't quite cover the full sRGB gamut, but with an impressive accuracy of only Delta E 1.3. This characteristic makes the product a mobile extension for your workstation laptop or for streaming.
It's also designed as a standalone display, so you won't need to buy mounts or power packs for it. You can use the protective cover and fold it as a stand for the device, or you can go with the pen-like tool that inserts on the hole to prop the display up. Take note that all of these are squeezed into a sub-2-pound device, so adding this gadget to your mobile workstation shouldn't encumber you too much.
About the Author: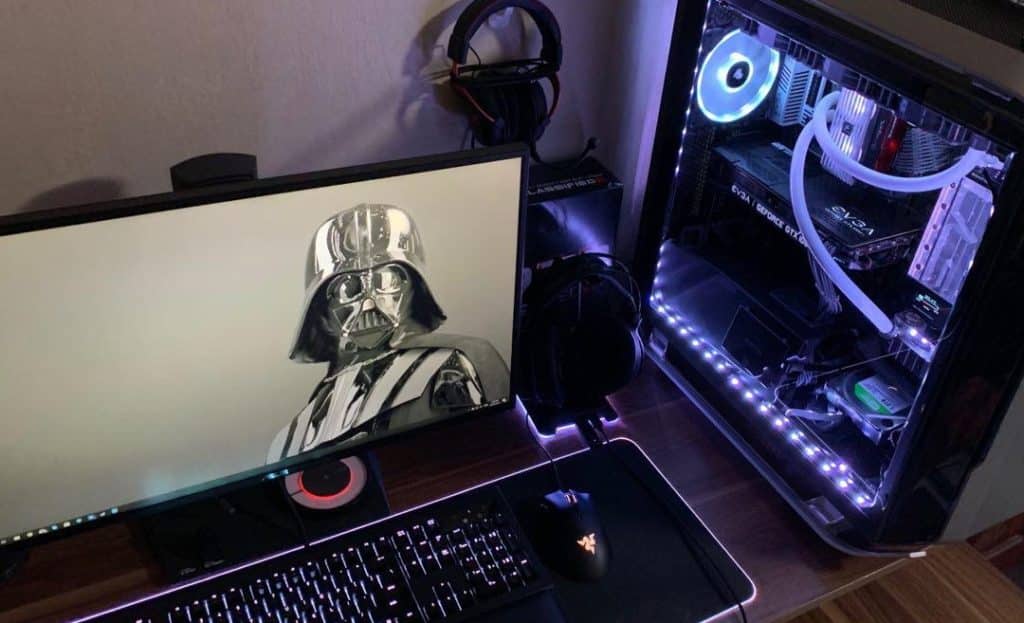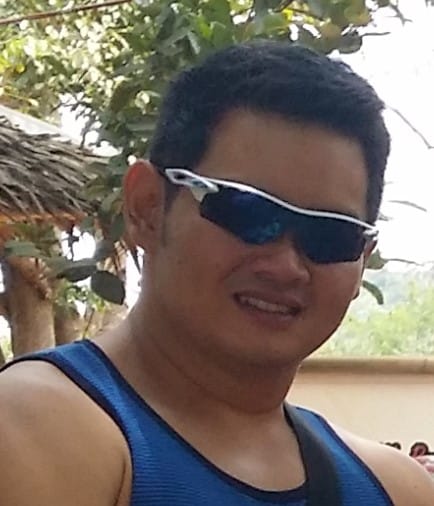 Paolo is a gaming veteran since the golden days of Doom and Warcraft and has been building gaming systems for family, friends, and colleagues since his junior high years. High-performance monitors are one of his fixations and he believes that it's every citizen's right to enjoy one. He has gone through several pieces of hardware in pursuit of every bit of performance gain, much to the dismay of his wallet. He now works with Monitornerds to scrutinize the latest gear to create reviews which accentuate the seldom explained aspects of a PC monitor.