It has never been a better time to buy a 4K gaming monitor. Pricing has been erratic for the past few months, but it is improving. 4K content including gaming is becoming even more popular with the advent of more powerful GPUs and CPUs, so the market might eventually skip 1440p and make UHD the universal standard. If that's the case, then these five fabulous but affordable 4K monitors are your cheapest tickets into UHD gaming glory.
5. Acer B286HK – Cheap 4K  Gaming Monitor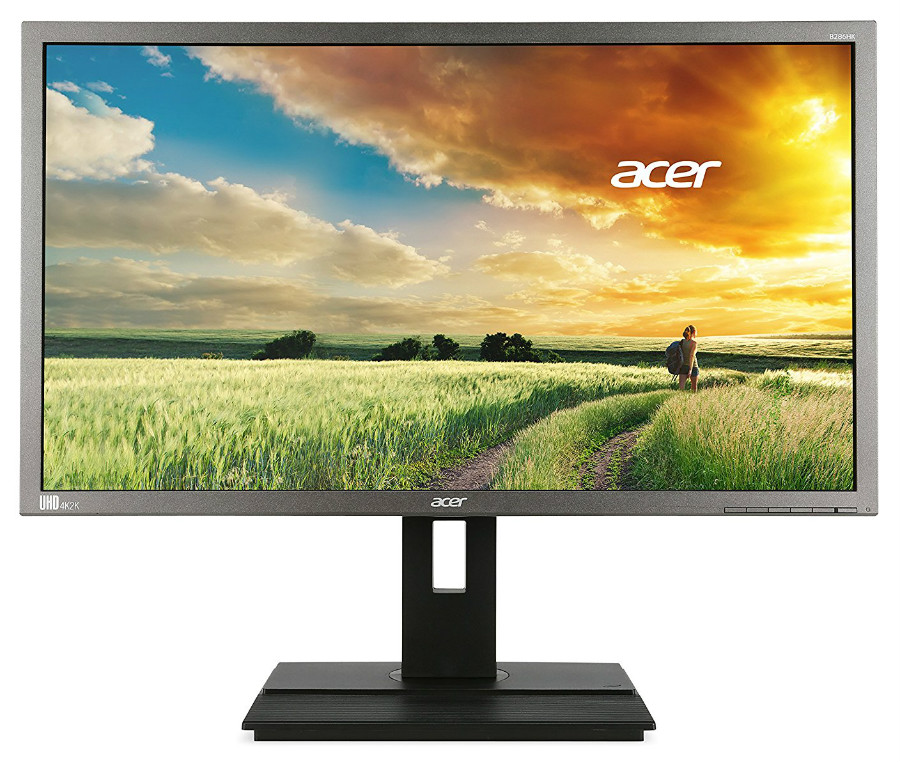 The Acer B286HK laid the foundation for 4K gaming greats like the Acer Predator XB28HK, but it still is a venerable option up to this day. This model's 28-inch, 4K TN panel is capable of good color accuracy and grayscale performance despite the limitations of the tech, plus you get premium physical features such as a complete ergonomic range for a close price.
The Acer B286HK is as feature-rich as an expensive model, thanks to the inclusion of two DisplayPort 1.2, HDMI, DVI-DL, and USB 3.0 ports in the I/O panel. As far as budget monitors go, this entry looks suave thanks to its subdued color and texture, plus a minimalist design with slim bezels. But the best part about the Acer B286HK is its input lag which sits at 11ms, making it ideal for fast-paced gaming which is rare in this price bracket.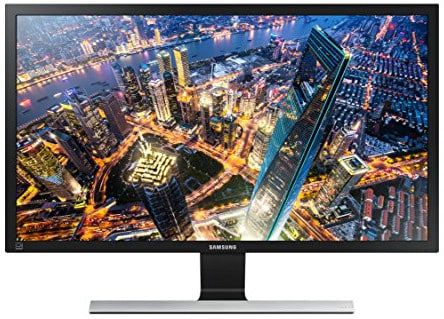 The Samsung U28E590D is one of the most affordable FreeSync enabled 4K monitors out there which was designed to cater to the mix-use computing crowd. The rich matte black with silver accent design is a winner for your home or office, plus the sleek lines and compact dimensions give it a sophisticated feel. Other premium features include a multi-directional jog button for easy OSD access, plus a reasonable range of connectivity options which includes whatever you may need.
Samsung designed the U28E590D as a multimedia monitor, making it ideal for work, gaming, or watching movies. The 28-inch TN panel has decent imaging outputs and despite its average input lag rating. FreeSync covers you from stutters and tears while gaming, so you can enjoy your after-hours sessions after working on the massive virtual space afforded by a 4K screen.
3. Asus MG24UQ – Entry level 4K Gaming Monitor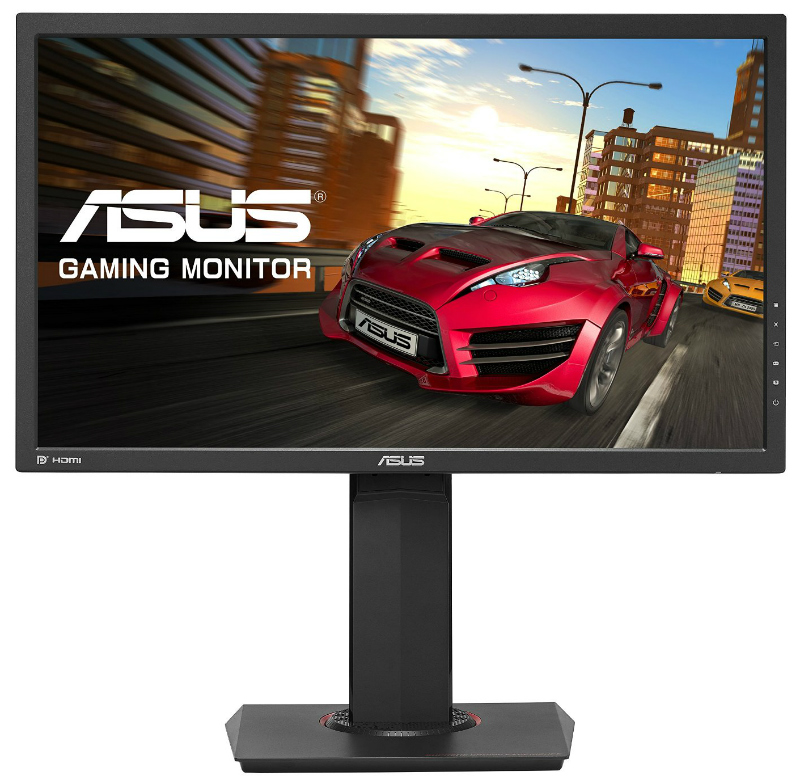 One of the fantastic selling points of the Asus MG24UQ is its unbeatable pixel density of 186 PPI, making its output extra sharp and crisp. The gaming monitor's 24-inch 4K TN panel has near perfect sRGB coverage, meaning it should be sufficiently vibrant for gaming and multimedia. This model is a full-fledged gaming display with a sub-$400 price tag, and it performs smoothly with an input lag of only 4ms, which is only a fraction slower than the higher-tiered ROG Swift models.
Even if this monitor drives your gaming rig nuts with its ridiculous pixels, FreeSync will be there to assist in smoothening out your game's graphics. The Asus MG24UQ shares the fantastic build quality and exterior design with its siblings. The graphite black exterior is robust, without any trace of creaking, flexing, or uneven seams. You also get a fully-flexible stand with height, tilt, swivel, and pivot adjustments to help you with your visual experience.
2. BenQ BL2711U – Low Price Professional and Gaming Display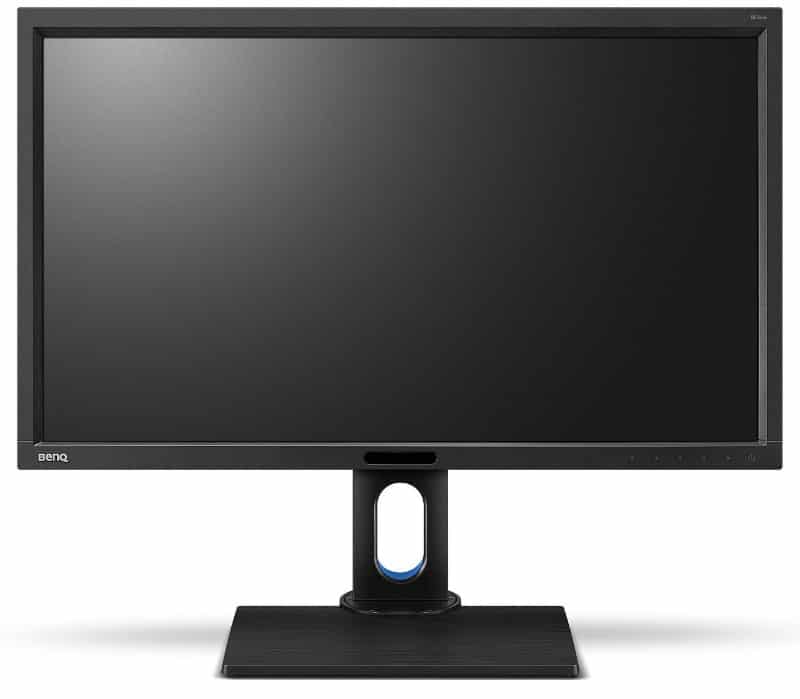 The BenQ BL2711U is a professional monitor made for designers who require a wider, 10-bit gamut and special abilities for creative programs like CAD and CAM. The IPS module in this option is capable of 100% sRGB and REC 709 gamuts, making it ideal for several multimedia fields such as video editing and graphic arts. There are filters for every designing you can think of, making this product the Swiss knife of budget prosumer displays.
And while the BenQ BL2711U is a great and affordable monitor for its niche, it's snappy responsiveness, and excellent design also makes it suitable for gaming purposes. For one, this gadget shares an uncanny aesthetic with its siblings from the XL line of competitive gaming screens. You get a tried and tested mechanism design which doesn't overbear your desk, plus a silky smooth gaming performance with its sub-10ms input lag.
1: Asus MG28UQ – Best Budget 4K Gaming Monitor
The Asus MG24UQ is a uniquely excellent monitor in its right, but if you are willing to go a bit over budget, you can get the bigger Asus MG28UQ. 27 -28 inches is the sweet spot for 4K gaming, so if you have the extra cash you might as well get the best in the budget 4K segment. This model incorporates all the essentials the MG line provides its owners such as the unobstructed I/O panel, ergonomic design, and the excellent build quality we have come to expect from Asus.
Since the Asus MG28UQ includes a pure pedigree for gaming, the 28-inch TN panel packs plenty of snappiness thanks to its 4ms input lag rating which works hand in hand with AMD's FreeSync. 4K UHD is a lot to process for most builds, having the option to rely on AMD's midrange cards and the free VRR solution is a must have for UHD gaming. Out of the choices in this list, the Asus MG28UQ provides the best value even if you have to spend more or less a hundred dollars on top, but that amount is a small price to pay for the advantages you get.