---
Review of ViewSonic XG2703-GS
Until recently, there were only a limited gaming monitors with 165Hz and G-Sync. This category is heavily dominated by Asus and Acer, with the ROG Swift PG279Q and the Predator XB271HU. Both of these products have IPS panels which are overclockable to 165Hz, G-Sync and red accents favored by designers and consumers for the gaming genre. Other companies are trying to break the chain of dominance shared by these two companies with G-Sync variants of their own, but the technologies currently available have already reached a temporary peak. There is little to differentiate each product, so making a choice usually lies with performance in practice, feedback from other users or looks. But ViewSonic, a lesser known company in the gaming arena, is seeking to shake things up a bit in this expensive category with their XG2703-GS, a 27-inch, 1440P QHD gaming display with 165Hz refresh rate, 4ms response time and G-Sync. The product sports the same bleeding-edge speed and VRR tech as the two competitor models offer, but curiously, this one uses a slightly different design theme, bridging the gap presented by red schemes to G-Sync from the green team.
ViewSonic XG2703-GS Specifications
·       Screen Size: 27 Inches
·       Resolution:1440P QHD
·       Aspect Ratio: 16:9
·       Panel Technology: Advanced Hyper Viewing Angle (AHVA)
·       Refresh Rate: 165hz
·       Response Time: 4ms
·       Contrast Ratio: 1000:1
·       Brightness: 300 cd/m²
·       Built-in Speakers: Yes 2 x 2w RMS
·       Stand: Height – Yes (4 Inches)
·       Stand: Tilt – Yes (-5°/+15°)
·       Stand: Swivel – Yes (175°)
·       Stand: Pivot – Yes (90°)
·       VESA Compatibility: Yes (100 x 100)
·       Connectivity: DisplayPort 1.2 x 1, HDMI x 1, USB 3.0 x 3, USB 2.0 x 2, 3.5mm Audio Jacks
·       Dimensions With Stand(WxHxD): 24.60″ x 30.00″ x 9.9″
·       Dimensions Without Stand(WxHxD): 24.60″ x 15.10″ x 3.10″
·       Weight: 15.40lbs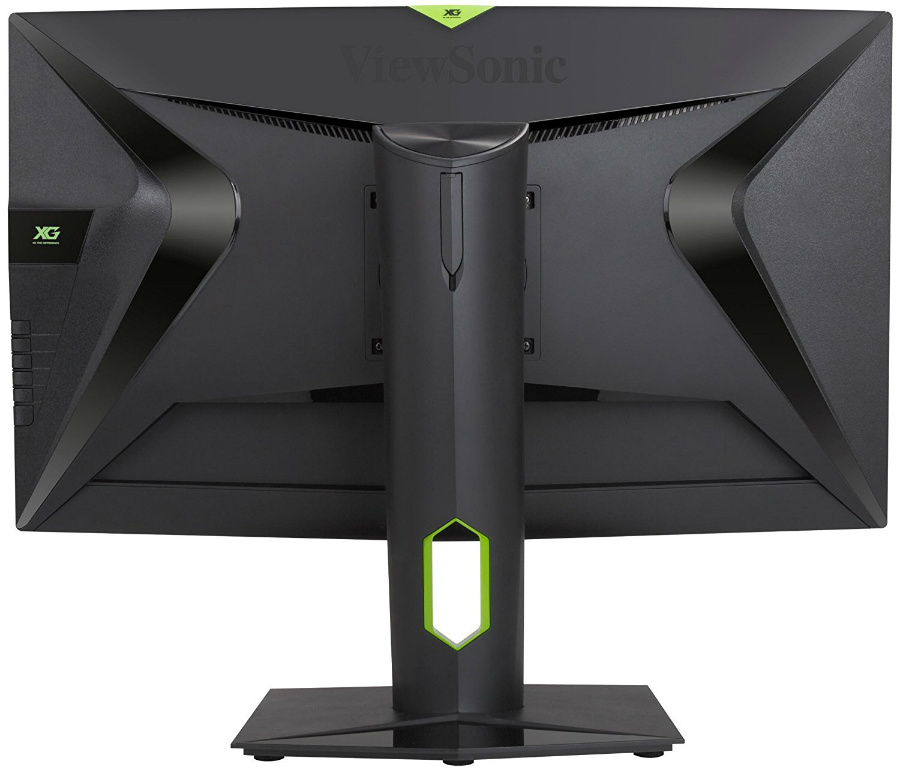 Design and Features of  ViewSonic XG2703-GS
From afar, the ViewSonic XG2703-GS does not look that different from typical modern monitors. The product has half-inch thick bezels accented by flaps on the top and bottom, and an overall matte black finish that we all love about our displays. The manufacturer did not use a lot of gaudy and aggressive design cues most other brands used, but they did go with a slightly different color scheme on the accents. All around the monitor, there are green colored decorative features that are seen from a normal viewing angle, without over exaggeration. This color is the primary scheme of Nvidia's technologies including G-Sync, so we consider it to be a refreshing gesture to match the accents with the gaming tech and its following in the product. Even the button labels are green, and aside from these markings, there are green accents on the flaps mentioned. There is a LED feature which can change colors as specified depending on modes, and a clear plastic triangle with XG embossed at the base of the stand's neck which reflects these lights. This feature can be distracting at times, but you can turn them off in the OSD.
The rear of the cabinet sports a sexy x-shaped indention which holds the air vents, built-in speakers, and connection options. The built-in speakers are quite loud despite the 2-watt power ratings, but of course, we are still unimpressed with the lackluster bass response and detail of the pair. Since this is a G-Sync product, the controller module shares the limited connection options with other Nvidia certified offerings. There is a port for HDMI, DisplayPort 1.2, and three USB 3.0 ports which include an upstream receptacle. Also, there are USB 2.0 ports on the right side of the bezel when facing the screen, and the pressable OSD buttons near the same spot. We would have preferred a joystick for OSD navigation like what the Asus PG279Q has, but these buttons are tactile enough and do not present frustrations usually experience on touch sensitive options.
The stand included offers adequate ergonomics for easy adjusting to get a comfortable position, and movements were smooth but stiff enough to hold the massive screen in place. There is an elongated hexagonal cable tidy hole with a Nvidia-green accent in the middle of the neck. The base also sports a similar hexagonal shape, which is not as space-efficient as the square ones but still does not eat a lot of your desktop area inefficiently like the circular bases we see on secondary offerings. Aside from these details, ViewSonic also included a headset hanger which pops out from behind near the top of this stand, also colored with Nvidia Green.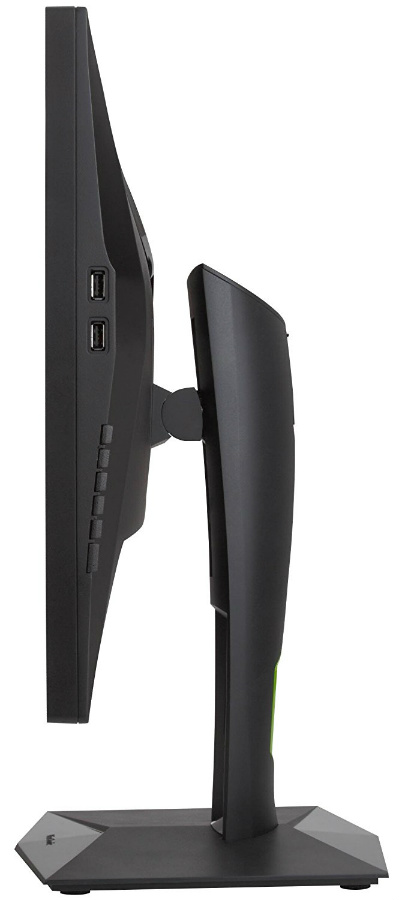 Display and Performance
The ViewSonic XG2703-GS has a 27-inch QHD AHVA panel which is similar to IPS but given a different name by AU Optronics. The screen did not show color or illumination degradation from different viewing positions, fulfilling the "Hyper-Viewing Angle" moniker derived from AHVA. Colors are as excellent as they come on competitor IPS screens from other brands, and out of the box, this product did not require a lot of tweaking. Colors were already vibrant and correctly saturated, plus the Gamma level was acceptable without a lot of tinkering. Although, one beautiful thing about this product's OSD is it comes with the ability to adjust the latter unlike a lot of the monitors out in the market. These positive performances also aid the contrast of the XG2703-GS, and most of the time, the actual ratio was consistently a little over 1000:1. Transitions and shades were excellent thanks to that fact, and apart from the detail loss due to the minor IPS glow we saw, everything else was entirely satisfactory in our opinion. Even the game presets found on this product were quite good, except for the RTS option which made the screen too dark for games in that genre. If you are looking for an easy to use, great out of the box deal, then this offering is surely worthy of consideration.
This gaming monitor from ViewSonic comes with G-Sync technology to omit tearing and stuttering which can hamper your enjoyment. The 165Hz refresh rate is amazingly high when using this display for demanding AAA titles, so for instances when the frames dip, Nvidia has included their proprietary solution for buttery-smooth gaming goodness. We tested the tech's functionality in Battlefield 1 with settings cranked to Ultra just to see how low the dips would go. In some instances when the action got too hot, the frames went down to the 50s in FPS, but we did not witness any noticeable defects in the picture. This offering also includes Nvidia's UltraULMB (Ultra Low Motion Blur) feature which did reduce the blurring at the expense of ghosting and flickering. We have seen better implementations of this tech in TN equipped monitors, since, in our tests, the blurring reduced to an unnoticeable level, but the jarring and tears became apparent together with a little overshoot due to the lack of V-Sync. This result isn't surprising since AHVA panels are slower in pixel transitions compared with TNs. But of course, the addition of ULMB is always welcome since there are users who benefit from this tech instead of G-Sync when playing fast games such as CS: GO. The responsiveness and connective feel of the ViewSonic XG2703-GS were also excellent for a product, despite the slower pixel transitions of the AHVA panel. Input lag was measured at less than 13ms, which was unnoticeable even in titles which required lightning fast gestures and response rates.
Conclusion
In our opinion, there is a lot to like about the ViewSonic XG2703-GS. The product carries the same impressive features found on competitor offerings with G-Sync, offering excellent gaming experiences for users with GeForce graphics card-equipped rigs and the extra cash commanded by Nvidia for their proprietary adaptive sync solution. The color performance of this model isn't at par with professional-grade products, but out of the box, vibrancy and gamma levels were surprisingly good. Even the game presets performed adequately for their respective genres, aside from the perplexing darkening of the image experienced when using the RTS preset. The inclusion of gamma and color temperature adjustments in the sort of confusing OSD is also a plus in our book since these two settings are sorely missing even on some of the best gaming monitors available. This product is also capable of a commendable sub-13ms input lag time, making it one of the superior offerings available in the market regarding responsiveness and connective feel.
The Green design scheme could potentially put off a lot of the gaming populace who are biased towards red gamer themes, but we consider ViewSonic's decision to go with this shade as a refreshing change in a genre which has overused the red color. There are a lot of green options to build a system that could match this scheme, and if you are a proud Nvidia fan, this design consideration could fit your tastes. On the other side of things, the XG2703-GS is too expensive at the time of this writing when compared to the current market price of the Asus PG279Q, one of our top choices for QHD IPS monitors. Its extensive feature set and excellent performances still make it a worthy contender to deliver gaming goodness produced by your Nvidia GeForce-powered desktop beast.