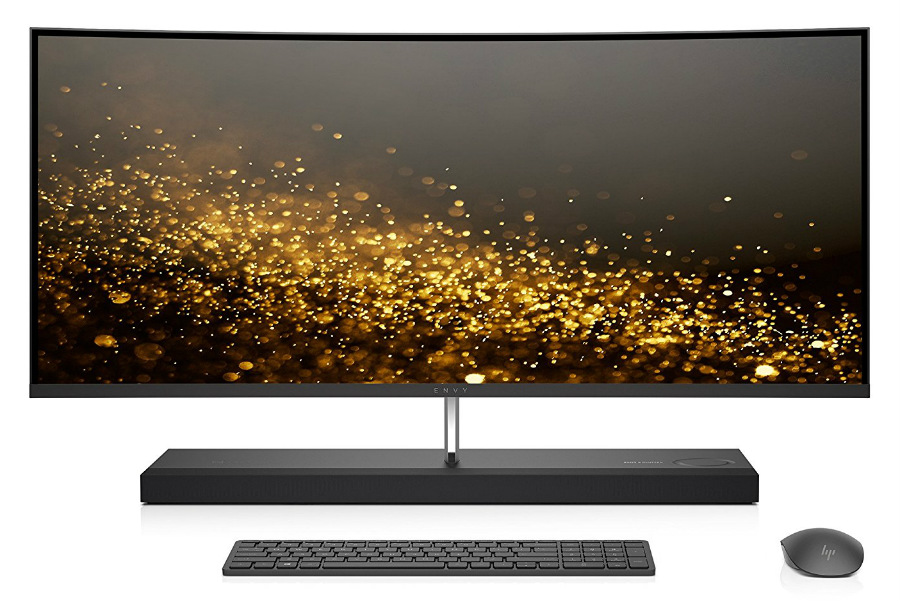 The HP Envy 34 Curved All-in-One is a winner because of its beautiful 3440 x 1440 screen mixed with enough power to get through the day's tasks. The display gives you a lot of room to work with while the specs command a decent performance worthy of consideration for users who would rather save themselves the hassle of building an impressive machine.

HP Envy 34 Curved All-in-One Specifications
Operating System: Windows 10 Pro 64-Bit
Processor: Intel Core i7-7700T Quad Core (2.9-3.8GHz TurboBoost, 8MB Cache)
RAM: 16GB DDR4 2133MHz RAM (2 Dimm)
Display: 34″ curved diagonal widescreen UW-QHD IPS 3440 x 1440) Non-Touch
Graphics: 4GB GDDR5 VRAM AMD® Radeon RX460
Primary Storage: 256MB M.2 NVMe SSD
Secondary Storage: 2TB 5400RPM SATA III Storage Hard Drive
Keyboard & Mouse: HP Premium Lifestyle Wireless Keyboard with volume control & optical mouse nano-dongle kit
Ports: 1 USB 3.1 Type-C Thunderbolt; 4 USB 3.0; HDMI-In, HDMI-Out, 1 headphone/microphone combo, 10/100/1000 Gigabit Ethernet LAN, 3-in-1 Card Reader
Speakers: Bang & Olufsen Sound Bar with Four 35mm Drivers
Dimensions: 7.87 x 32.08 x 18.03 in
Weight: 25.35 lbs

Design and Features
The latest HP Envy 34 Curved All-in-One looks worlds apart from its clunky predecessor with its slim bordered curved ultra-wide screen and discreet base. Each strip is only 41mm thick so there are less distractions when viewing the massive screen. The matte black finish and discrete Envy logo at the bottom gives this product the sophisticated look it portrays all throughout its specs
One downside to a built-in monitor is its limited ergonomics. The HP Envy 34 Curved All-in-One's screen can only tilt, but we imagine that it wouldn't be difficult for most users to get a perfect view angle. The panel technology used is IPS so it has excellent angles, plus you only have to sit in the middle of a curved display to maximize its potential.
The mechanism, however, looks classy while giving you the impression that the 34-inch cabinet is floating. It provides enough stability despite our stress testing (more like fiddling) with the display. And as expected from an AIO, you can't remove and mount the monitor, which defeats the purpose of getting this type of product.
Unlike other AIOs, HP decided to integrate the CPU into the base to further reduce the cabinet's depth. The base itself is not much taller than your typical media player, but it is a bit wider. The design provides improved stability for this monolithic device, but it also allowed HP to include a few nifty features to increase the value of the HP Envy 34 Curved All-in-One.
For one, this device now includes Qi Wireless Charging in its functionality. You only need to place a compatible device on top, eliminating the need for pesky USB cables. Another interesting feature on this part of the HP Envy 34 Curved All-in-One is the Bang and Olufsen sound bar integrated into front which has four 35mm drivers.
While not as impressive as dedicated speakers, we can say that it does sound reasonably powerful with excellent frequency response, which are leaps and bounds beyond what other built-ins offer. The set can fill a medium sized room or office with sound, plus it doesn't clutter your desk with satellites and wires. You can adjust the volume via the touch sensitive ring on the right-hand side of the base or through the included keyboard.
The HP Envy 34 Curved All-in-One is packed with connectivity options. The low-profile base includes four USB 3.0 ports, HDMI in/out ports, a LAN port, plus a Kensington lock slot to secure the device. You also get a headphone/microphone combo 3.5mm slot, plus a multi-card reader for your portable media storage.
There is also a lone USB-C Thunderbolt port for future proofing since the format is quickly becoming popular between modern gadgets. We can't imagine anyone else needing more than what this device offers, so we can say that its I/O layout is excellent overall. You also get the HP Premium Lifestyle wireless mouse and keyboard combo. The two accessories are nothing over the typical over the shelf products you can buy but having them along increases the value since they are of excellent quality and free from the hassles of cables.
Finally, the pop-up webcam and mic on the top of the screen seal the deal for professionals, since it allows seamless capturing of your images whether if it's for Skype business calls or Twitch streaming. The gadget is designed to pop up only when in use, plus it is compatible with Windows Hello if you are on the 10th version of the OS.
Display Performance
The HP Envy 34 Curved All-in-One includes an Intel Core i7 7700T and an AMD RX 460 coupled with 16GB of DDR4 RAM which has enough multithreaded performance to enhance your multitasking experience. The system has plenty of juice to power through any media-related tasks such as streaming movies and photo editing or even basic document processing. You can opt to downgrade the processor to the Intel Core i5 7400T which is sufficient for common tasks, but we would recommend buyers not to sacrifice this spec as it is the most important part of any AIO.
For the inclined, the specs will easily say that the HP Envy 34 Curved All-in-One isn't ideal for gaming. But rather, this product is aimed at professionals who need a versatile and sufficiently powerful device to get the job done, but at the expense of leisurely gaming. Using the Unigine Heaven benchmark at 1920 x 1080p and Ultra Settings only yielded a disappointing result of more or less 24FPS.
Translate that into the HP Envy 34 Curved All-in-One's native resolution at 3440 x 1440, and you will instantly realize that most modern games will be unplayable. The system simply does not have enough graphics processing power except for 4K video processing and the like.
One way to get around limitations like this is to include compatibility with an external GPU dock like what other manufacturers are providing for their similar products, but to add to the disappointment, the HP Envy 34 Curved All-in-One does not have compatibility even if it does have a Thunderbolt slot. We do hope HP considers to add the technology so that this product enters a wider audience of meticulous customers.
But the good news about this model is its capacity for productivity. The HP Envy 34 Curved All-in-One scores a respectable 3,415 points on PCMark 8 which rates how a system performs for everyday tasks. The innards also produced a 1-minute result in Handbrake which means this model is excellent for video transcoding.
The HP Envy 34 Curved All-in-One has generous provisions for memory and storage. You can opt to get RAM in 8GB, 12GB or 16GB variations plus you can select between a plethora of SSD and HDD options. A 256GB M.2 NVMe is sufficient to keep the computer snappy and responsive while having 1TB or 2TB of backup storage should be enough to keep your important files. We suggest getting the maximum amount of RAM and the largest storage configuration you can afford because you can't add more in the future without opening the device yourself and voiding your warranty.
The superb display which is the most exciting part for Monitornerds is, of course. HP did not disclose any specific speed numbers, but the HP Envy 34 Curved All-in-One includes a gorgeous 3440 x 1440 IPS panel which curves at 1800r to provide immersive viewing experiences. The screen is capable of displaying 99.5% of the sRGB color space, and while it provides sufficient accuracy and vibrancy, a model with a wider coverage of the Adobe RGB and DCI-P3 standards would have served this device better.
Still, images are crisp, vibrant and the whole being of the display itself is suitable for streaming or watching movies. We tried viewing movies from Amazon Prime which supports 21:9 media, and we can safely say that the HP Envy 34 Curved All-in-One will not disappoint in this regard. 21:9 is quite close to the CinemaScope ratio of 2.35:1, so you get a near full projection of your selected blockbusters. The only problem there is that most movies and media from both streaming and disc copies come in 16:9, so might have to suffer from black bars on the side will watching.
Thoughts
Just by looking at the HP Envy 34 Curved All-in-One you can already tell that it is a fantastically designed and well-executed product from one of the best manufacturers of computer peripherals. The build quality is excellent, and the refinements in each of the accessories are good overall.
But as expected with enterprise AIOs, you don't get the gaming performance you want which can easily be had if you build a desktop PC for the same price. But that defeats the whole being of this model since AIOs are meant to cater to those who want a PC on the get go.
We recommend the HP Envy 34 Curved All-in-One for professionals and business persons who want enough power to eat through daily tasks while providing a discrete level of entertainment for after-hours enjoyment. Gamers and editing professionals should look elsewhere, but if you have your heart set on this model, you probably sit in between these categories of users.