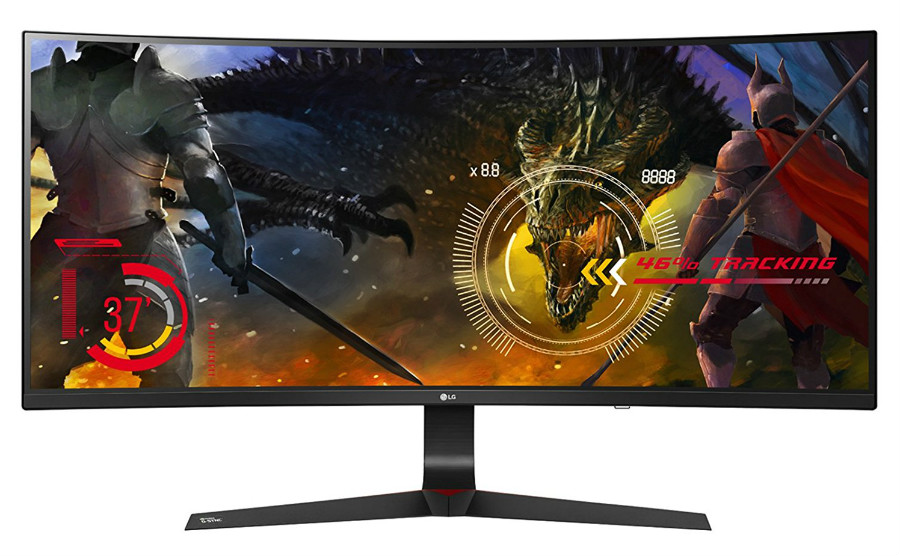 The LG 34UC89G is a new ultrawide gaming monitor who follows up to the success of the LG 34UC79G but with G-Sync instead of the predecessor's FreeSync. The previous model sat well with its customers despite the limitations of its 2560 x 1080 resolution because the product was well designed and performed admirably. The LG 34UC89G is as interesting as can be since it tips the scales back into balance to provide users who were interested in the older model but wanted something that would work with a Nvidia GPU.

LG 34UC89G Specifications
Screen Size: 34 Inches
Resolution: 2560 X 1080
Aspect Ratio: 21:9
Panel Technology: In Plane Switching (IPS)
Refresh Rate: 166Hz
Contrast Ratio: 1000:1
Response Time: 5ms
Brightness: 300 cd/m²
Built-in Speakers: Yes (2 x 1 Watt)
Stand: Height –Yes
Stand: Tilt – Yes
Stand: Swivel – No
VESA Compatibility: Yes 100 x 100
Connectivity: DisplayPort 1.2 x 1, HDMI 1.4 x 1, USB 3.0 x 2, 3.5mm Audio Jacks
Dimensions with Stand(WxHxD): 32.3" x 22.3" x 11"
Weight: 18.3lbs

Design and Features
The LG 34UC89G takes its design from the LG 34UC79G which sat well with both consumers and reviewers. The black cabinet with subtle, but techy red accents mixes sophistication and gamer-centric hints which then creates a successful design formula which both gamers and professionals would like. Some manufacturers cannot get this right, so the attractiveness of the existing design and the saved costs from avoiding redesigned compelled LG to retain this appearance.
The LG 34UC89G is mostly bezel free, but there is a more or less 10mm black border around the panel which is still barely noticeable when in use. From the front, this model looks like any other modern and tame office ultrawide monitor. Of course, we like this toned down look, and what matters is what the innards can do.
LG did not include their signature ArcLine stand with this gaming display, and instead, the LG 34UC89G uses a stand with a V-shaped base. This part looks subtle, but its build quality is mostly unmatched in providing stability. Ultrawides are known to appear shorter than 16:9 models, and thankfully, you can adjust height with a range of up to 5 inches. 25 degrees of tilt is also available, but you can't pivot or swivel this beast.
Like all G-Sync monitors, the LG 34UC89G has a limited I/O layout because of the proprietary module Nvidia provides its partners. You only get a DisplayPort 1.2 and an HDMI 1.4 for video input, but there are two USB 3.0 ports (upstream and downstream). For most purposes, one or two inputs are enough, but some might like the option to have more for multiple host devices.
Display and Performance
The LG 34UC89G boasts a 34-inch IPS panel with a 2560 x 1080 resolution, 166Hz refresh rate, and 5ms response time. The Korean company is one of the original creators of IPS, and they have advanced its capabilities by a mile. The one glaring complaint is the low resolution which will reduce the sharpness and crispness of images. The upside is, 2560 x 1080 is easy as peas for a wider range of GPUs, so a lot of mainstream consumers can enjoy the benefits of this monitor.
The LG 34UC79G is capable of 99% sRGB coverage with minimal delta E, and at this point, we have no reason to doubt this new model. The predecessor runs at 144Hz natively, but the LG 34UC89G utilizes an overclocking ability provided by the G-Sync module. The jump from 144Hz to 166Hz isn't a lot, but it gives high-end gamers the extra headroom to fix the FPS at 150, so the FPS does not reach the threshold and activate V-Sync.
The premium IPS panel found in both the 34UC79G and this new offering only has a 5ms response time, but LG includes an overdrive feature which aims to reduce motion blur and response time drastically. 5ms shouldn't be an issue for most situations, but some might cringe at minor defects such as trailing and ghosting which could appear. But on a positive note, the senior model clocks in with a sub 10ms input lag score, and we are sure that the LG 34UC89G isn't that much different.
We have yet to test the LG 34UC89G, but the excellent track records of the rest of LG's products can already tell us that this will sell a lot. With useful features such as Black Equalizer and screen split 2.0, users should find the different possible applications comfortable for an expensive monitor. Unfortunately, we can already see from the specs that this device's chances of filling professional requirements are a stretch.
Thoughts
The LG 34UC89G is already shaping up to win the hearts and minds of gamers who are looking to upgrade to a GPU friendly ultrawide that can provide blur and tear-free performance. The FreeSync version is asking more or less $700 for ownership, but the G-Sync model and its $200 premium will equate to a $997 SRP upon release.
The only major turnoff here is the low resolution, but it could also work in favor of the company because it would be easy to run a lot of titles at 100FPS or more even if you have a midrange card. If what the LG 34UC89G offers appeals to you, you can pre-order it now by clicking the buy buttons above and below before it reaches shelves by July or August.