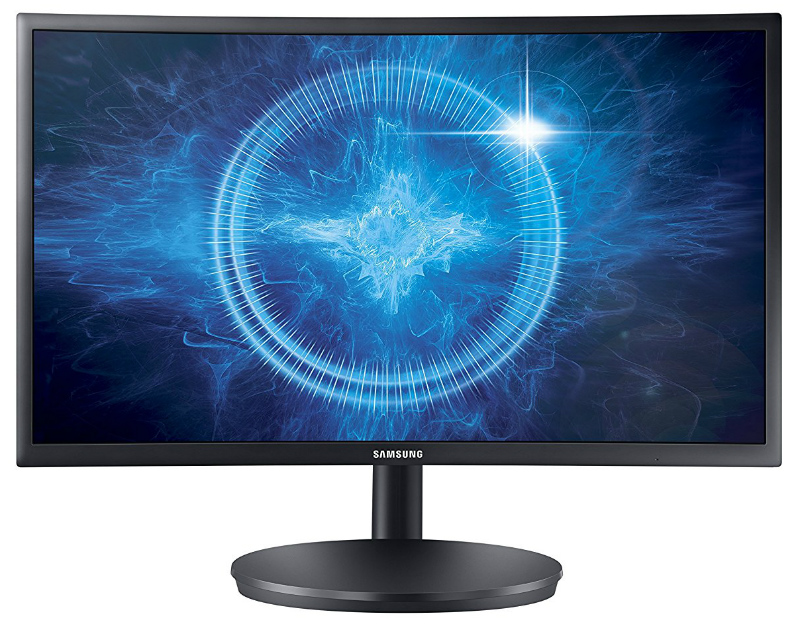 Review of Samsung CFG70
Bleeding edge specs are good and all, but what matters most is the overall immersive experience one can get from games and movies. That fact is why curved monitors have risen in popularity along with the gaming grade peripherals we have today. Inevitably, traditional manufacturers would introduce products which have these characteristics melded into one particular model to cater to a growing population of consumers for this niche. Samsung, a famous manufacturer of pioneering TV models and outstanding consumer monitors recently gave birth to the Samsung CFG70. This product is a 24-inch (Also available in a 27-inch variant) curved gaming monitor with a 144hz refresh rate, 1ms response time, and an excellent contrast of 3000:1 and outstanding color reproduction thanks to its quantum dot backlit VA panel. This product certainly is an exciting addition to a rather limited but steadily growing line of curved monitors aimed at consumers looking for a different viewing pleasure other than what conventional displays offer. You can also check out our review of HP Envy 27 4K.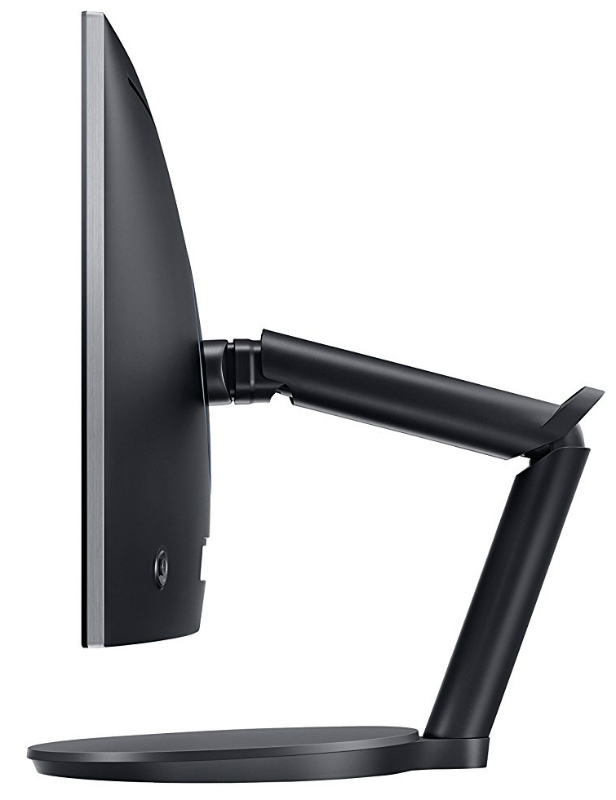 Samsung CFG70 Specifications
Screen Size: 24 Inches (1800R Curvature)
Resolution: 1080p FHD
Aspect Ratio: 16:9
Panel Technology: Vertical Alignment (VA)
Refresh Rate: 144hz
Response Time: 1ms
Contrast Ratio: 3000:1 (Static)
Brightness: 350 cd/m²
Built-in Speakers: Yes (2 x 2 watts RMS)
Stand: Height -Yes
Stand: Tilt – Yes (-2°/+17°)
Stand: Swivel – Yes
VESA Compatibility: Yes (100 x 100)
Connectivity: HDMI x 2, DisplayPort x 1, 3.5mm Audio Jack
Dimensions with Stand(WxHxD): 24.5″ x 21.7″ x 15.2″
Dimensions without Stand: 24.5″ x 14.4″ x 3.6″
Weight: 13.7 lbs.
Design and Features of  Samsung CFG70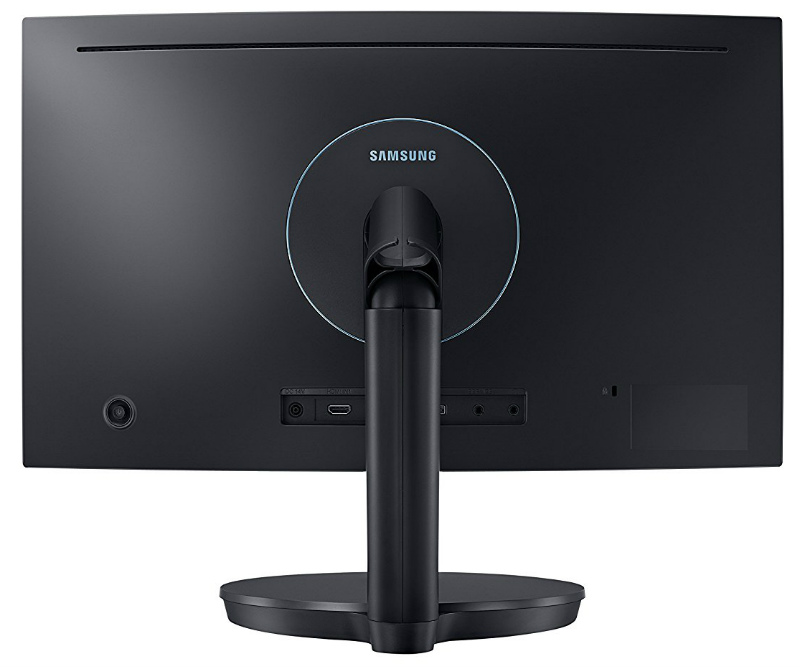 Samsung isn't widely known to produce gaudy monitors with lots of bling or color schemes, so this product has a textured matte black plastic cabinet that exudes a mainstream professional look while disguising its cutting edge capabilities. Even the bezel surrounding the VA panel does not look similar to those found on other gaming-oriented products since it isn't as thin and does not include any accent or decoration. The CFG70 is quite a stand-out in this aspect, considering it looks subtle when compared to the conventional gamer designs. But cleverly hidden in its overall contemporary look is a LED strip which Samsung calls the Arena Lighting, which can be controlled to display a breathing or pulsating blue light. Its actual usefulness is quite questionable, except to light an unilluminated keyboard or desk space. Although I found it quite entertaining that Samsung did not forget to add a fun but subtle mini feature, despite the minimalist design.
The stand this product features is of a unique design which Samsung calls the Dual Hinged armed design. At a glance, it looks like a robotic arm more than a display stand. The display itself has a limited tilting range, but this mechanism provides a versatile variety of adjustments typically found on mounted monitors. Movements are smooth, and the arms hold in place firmly enough, but one common complaint is that the screen seems to wobble even with minimal or indirect force. Even a swipe of a mouse or heavy typing shakes the screen, which can provide a purpose-defeating downside or worse, nausea and headaches. You are considering this product, make sure your desk is sturdy enough not to induce further movements or shakes. Despite this flaw, the design for the stand further adds to the professional look the product displays, making it a suitable addition to a studio or an office. The base is also another point of complaint, as it takes up a lot of space on a desk, but stable enough to keep the whole product together. The stand is also VESA compatible so you can easily replace the stock mount if it proves to be unreliable.
One can find an acceptable number of connection options including HDMI and DisplayPort located at the back of the cabinet. There are no USB ports for additional peripherals, which would have found a beautiful spot on the huge circular base. This absence is not a huge or significant loss, but for what Samsung expects consumers to pay for this offering, adding these receptacles would have further justified the price tag. Samsung also did not include speakers to the package, since most gaming setups have skull-numbing headsets or larger than life speakers. Not a big loss either, but leaving something as meager as built-in speakers can cheapen a cutting edge product.
Finally, one of the notable physical features of this product is its OSD navigation keys. Samsung placed three sizeable buttons hidden under the bezel and a tactile joystick at the rear panel on the bottom right side. This controller also doubles as the power button and is typically found on higher tiered products such as those from Asus' ROG Swift line. The company states that their OSD has a game-style design, so the menus are responsive and large enough to be seen clearly. It can get confusing to access features at first because of the separation of these controllers, but once you get used to them, convenience will ensue.
Performance and Features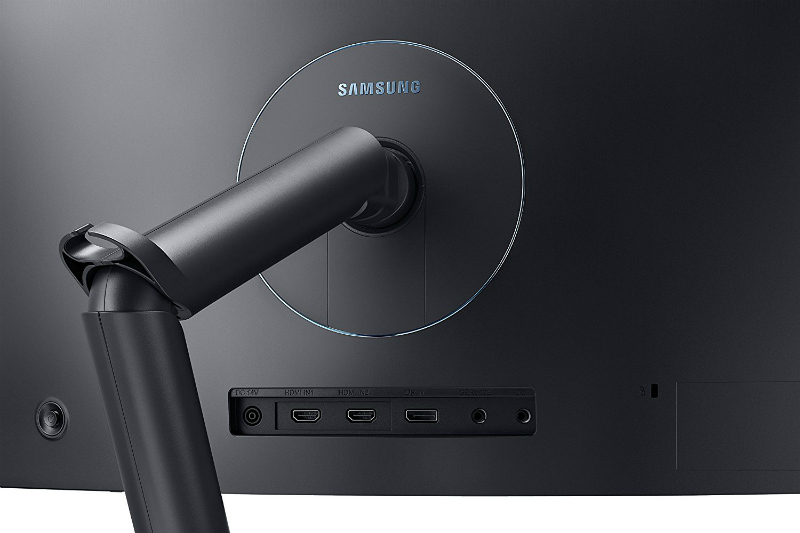 The main selling point of the CFG70 is its Quantum Dot VA panel curved screen. The combination of the two technologies creates an accomplished product with exceptional contrast, color accuracy, and saturation. VA panels are also the middle ground between TN and IPS, so in tests, there was virtually no backlight bleed while the image performance of the screen was also superb. Since this product is capable of a 125% coverage of the sRGB color space and around 70% of the Adobe RGB, color representation was rich and fairly accurate. Samsung did quite well to build this monitor with the tech mentioned above. Grayish hues are absent from the image, and blacks and shadows appeared solid while color transitions between shades were also decent.
Performance out of the box can be considered superb, but a little tweaking could help you in finding a sweet spot since appreciation of these different aspects of the image may vary between different viewers. There seems to be one little flaw in the form of light leaking from the corners of the screen, but this is inherent to curved monitors and also quite hard to notice. These performances looked beautiful on the curved display, but these positive points would benefit from larger resolutions or aspect ratios (Especially the 27″ version). The immersive feel of this display type is also subjective, but to be fair, your eyes seem to be a lot closer than it is on regular panels, so there is a level of connection between the picture, the inputs and the user.
Aside from the excellent imaging performance, this monitor is also capable of a rapid 144hz refresh rate with minimal response time, so in demos, games did look fluid, and the product performed like a gaming-oriented offering should. While images were vibrant and crisp, there was little to no blurring or artifacts, and the controls feel better connected to what was happening on screen. These results were on tests with constant high FPS, but for situations where the framerates dip, the CFG70 also comes with Freesync tech. This tech is particularly useful with graphic intensive games such as Tomb Raider or Battlefront. This certification also allows for more connections compared to G-Sync, so this is indeed a welcome addition to the product's spec sheet. Inducing Freesync into operation, induces additional input lag, although barely noticeable, Samsung programmed an Input Lag mode into the OSD to compensate if delays become apparent.
The OSD also contains options to customize your experience further. The native refresh rate can be controlled in increments, from 30hz to 120hz. Checking your FPS performance and selecting a locked preset ensures better image stability without the help of Freesync. There are also several presets for each gaming genre, but for a concise and informative review, we will not go into the details of each since the out of the box performance, or tweaked settings fare better and are preferred. Still, the inclusion of varying options is a healthy addition to an already capable product.
Conclusion
While appreciation of a 16:9 curved monitor is on a case to case basis and is possibly subjective, the Samsung CFG70 certainly will not disappoint prospective owners. Color, contrast and speed performance are either up to par or even better than what most available gaming monitors can do, mainly due to having a Quantum Dot backlit VA panel. Samsung is famous for high quality, superbly performing display products, and they certainly do not disappoint with this model.
They did, however, drop the ball on an important part of the monitor; the flimsy stand. While innovative and flexible in offering easy of adjustment and good articulation, fearing for your display's dear life while the whole thing wobbles with only minimal force is a quite disturbing for regular day to day use. Buying an aftermarket VESA mount may be in order, but that will add more cost to the already high price tag. For a 1080p monitor, asking $350 (24 Inch) or $450 ( 27 Inch) is too much despite the great performance this product is capable of. There are better options for the money out in stores, although most of them do not have curved screens and quantum dot tech. If these features and their benefits appeal to you or if you can readily swap the stock stand with a better one, then you can consider the Samsung CFG70 a good buy, since it is a better performing and beautifully stunning 24-inch option than regular 144hz monitors your hard earned moolah can provide.