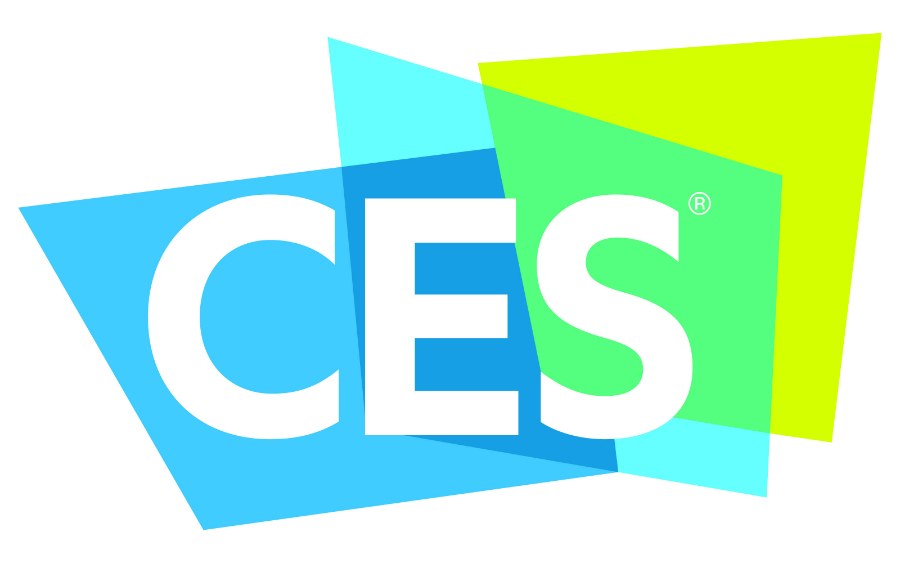 The holidays and the accompanying gadget shopping has just passed, but January is an exciting month for enthusiasts and techies since this is the time where one of the greatest tech expos take place. The Consumer Electronics Show 2017 is upon us this week, and it promises new products and technologies with cutting-edge features and improvements scheduled to be released within the year. There are a lot of new fantastic exhibits and products in the showcase, including self-driving cars, new TVs, Drones, and of course, our favorite topic; PC gadgets and gaming. Judging from the scale of the event, gaming and its accompanying peripherals are only a fraction of what's in store for the Las Vegas venues which hold several press events, demos, and keynotes. The event officially starts on Thursday, but some companies already opened up to the world with what their latest and greatest can offer. Here are some of the most exciting reveals for Monitornerds and our readers:
HP adopts Curved displays alongside Cutting-Edge Gadgets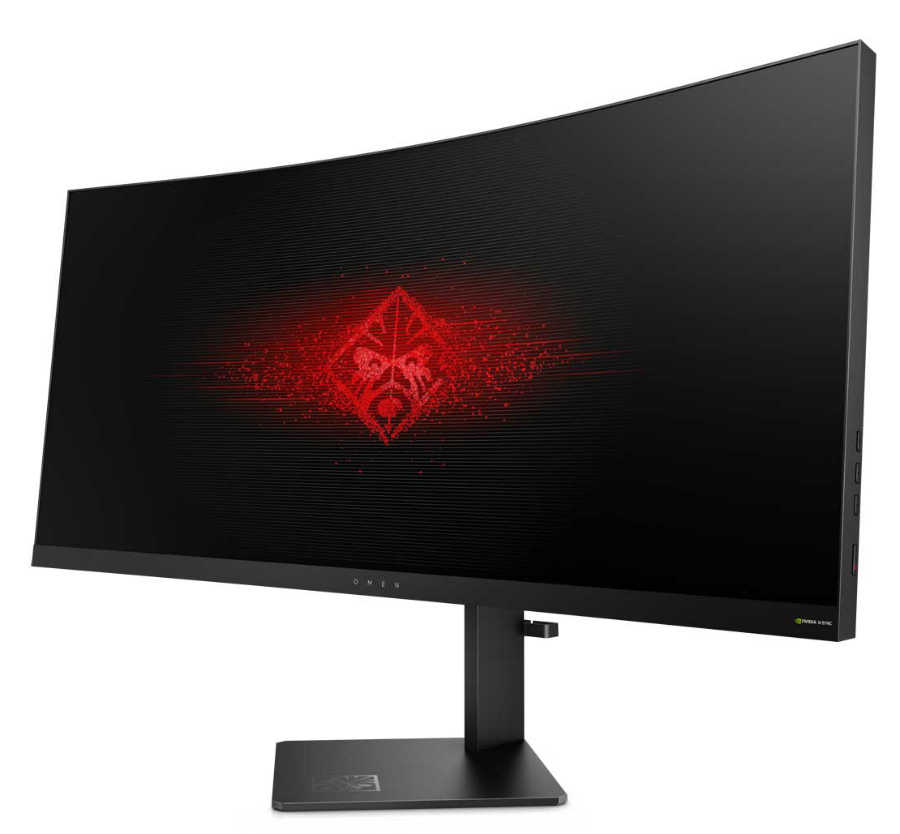 HP Omen X35 100Hz G-Sync Gaming Monitor
Hewlett-Packard, one of the biggest names in computing in the US is unveiling their new and most powerful Elitebook X360 and Spectre X360 laptops plus the Sprout Pro with 2D and 3D scanning for designers at CES 2017. But for Monitornerds, our excitement is pointed towards their latest display, the Omen X35 Curved G-Sync Monitor. The company states that this product will have a beautiful 35" AMVA panel with UWQHD resolution, 100Hz refresh rates, 2500:1 static contrast and G-Sync. The product goes for a devilishly cool look with its licorice black exterior with lighting accents, an ultra-thin stand, and base, plus a three-sided micro-edge design, virtually getting rid of annoying bezels. The result is a cleaner-looking alternative to the Asus PG348Q or the Acer Predator X34 we already have. Both the specs and the looks of the Omen X35 easily makes it a candidate for one of the best gaming monitors, don't you think?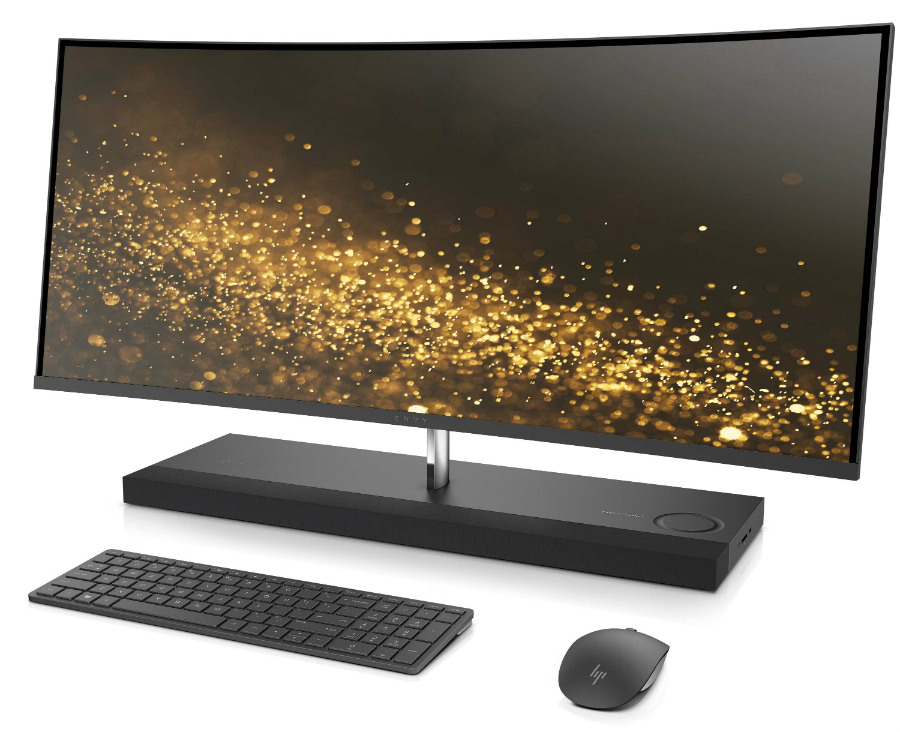 HP Envy Curved AIO 34
For the home and office users, HP will also unveil its svelte Envy line of products designed to fit into your home's elegant décor, spearheaded by the HP Envy Curved AIO 34, advertised as the world's widest curved all in one PC. We don't usually do AIOs, but what's exciting about this sexy piece of tech is its beautiful 34-inch screen, which has a 3440 x 1440 resolution and Technicolor certification for its color performance. The design of the display looks similar to the Omen X35, with its three-sided micro edge design, and 1800r curvature. This screen sits on a base which also acts like a soundbar with speakers tuned by Bang and Olufsen, and has Intel's 7th gen processors, Radeon GPUs and DDR4 memory. We think this product aims to give Apple's AIOs a run for their money. There is also a slew of VR-ready Omen series of desktops, laptops and a VR pack that fits into your backpack for wireless VR action in a less restrictive space. HP says pricing and retail options will be available by March 2017 for these products, so stay tuned.
Acer's  bleeding-edge monitors; Tobii Eye Tracking and XB2 Monitors plus the Predator x21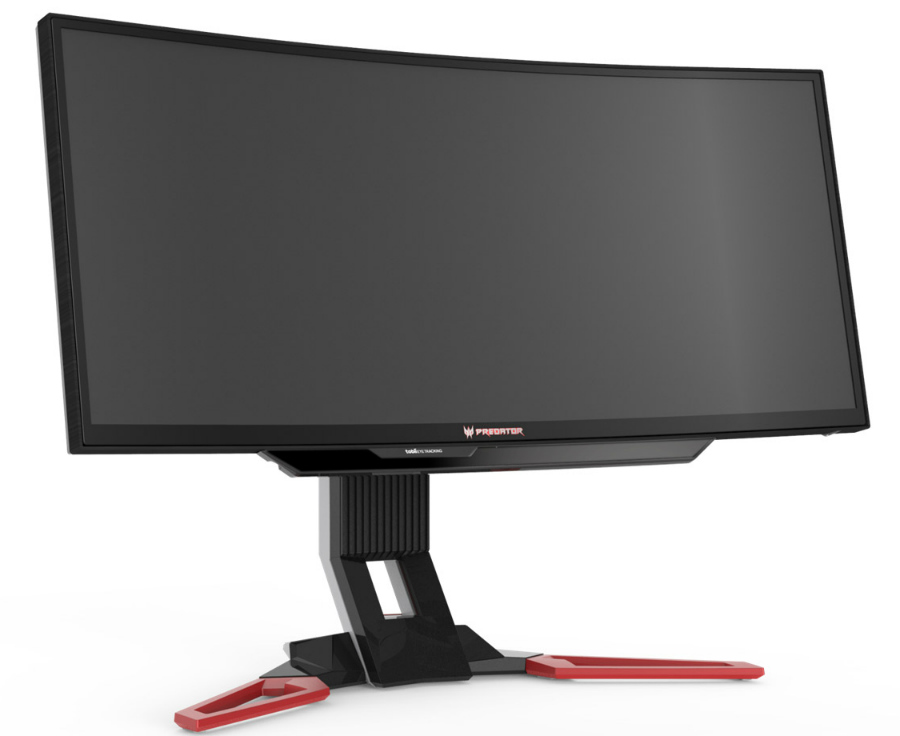 Acer Predator Z30CT 200Hz Ultra-Wide Gaming Monitor
We already did previews of some of the upcoming Predator monitors, but Acer is finally opening its doors to the public regarding the actual performance of its latest gaming monitors which includes Tobii Eye Tracking into its system. The gadget enables users to enjoy new functions such as panning the screen in a game using eye and head movement instead of swiping the mouse, so it's usage in practice and how seamless it will be is exciting. Some of these monitors will also feature higher refresh rates, such as the blazing fast 240Hz XB251HQT meant for competitive play. There are two other 27-inch screens with the tracking gadget, the Z271T, and the XB2711HUT. These products were introduced late last year, but we are still excited to see how the company features these products in their exhibit.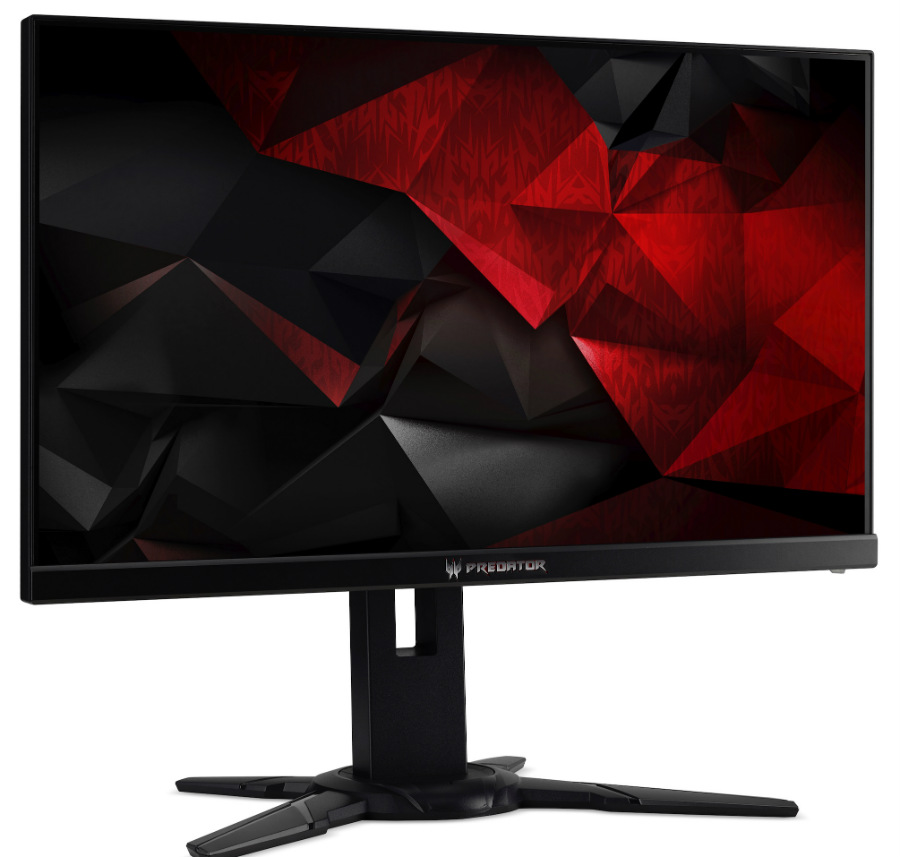 Acer XB272 240Hz Gaming Monitor
Aside from the first trio of new screens, an exciting addition was recently announced this week. This addition to the Tobii eye tracking series is the Z301CT, an ultra-wide 200Hz G-Sync monitor. Its native resolution is only up to 2560 x 1080, but we are curious to see how this one performs in practice. Also, the top three ranking company in monitors is unveiling two new XB2 series of screens, the XB252Q, and the XB272.  Both have 240Hz refresh rates and G-Sync, but they only have 1080p resolutions for both the 25-inch and 27-inch model.  These features are nothing new when you read about the Tobii equipped variants, but we are interested in how Acer places these two regarding pricing.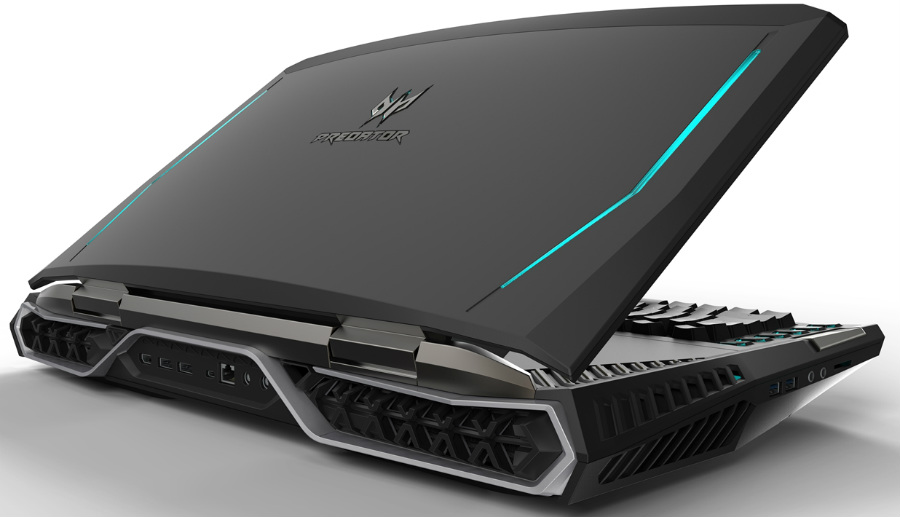 Acer Predator X21 Curved Gaming Laptop
Aside from the Predator screens, this brand is also unveiling newer and more powerful desktops and laptops for gaming. There are three new laptop models lined up; the Aspire V15 and V17 Nitro Black Edition, and the Aspire VX 15. These laptops are designed to provide excellent gaming performance at lower price points, but the Intel i7-7700 HQ, Nvidia GTX 1050 or 1060 innards, and aluminum exteriors scream high-end. There is also an Aspire GX desktop series to complement the Predator displays mentioned above and VR gaming as well. The most anticipated computer product from Acer is the Predator X21, a massive mobile gaming rig with a 21-inch curved IPS screen, GTX 1080 SLI, and an Intel i7 7820HK processor. It also has Tobii eye tracking like the new monitors and a full-sized Cherry MX mechanical keyboard.
AMD Vega and Ryzen, Freesync 2 HDR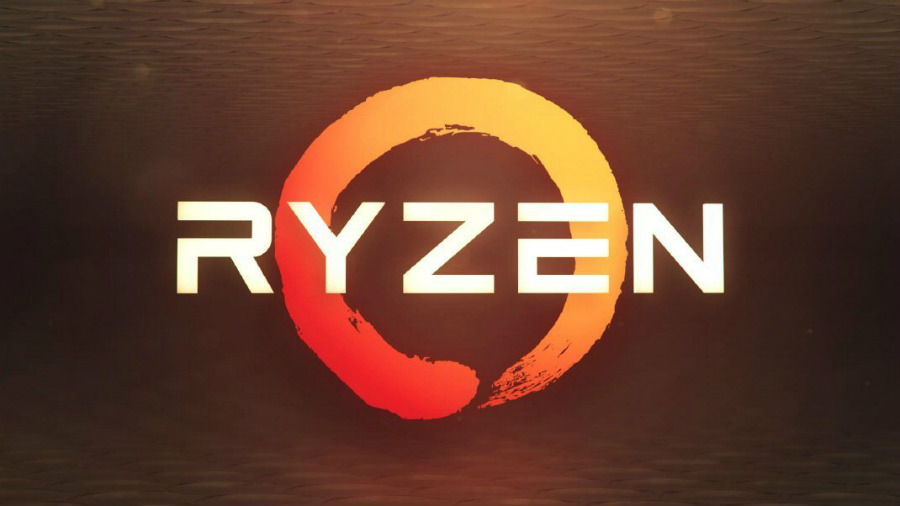 AMD has already teased the public three times with its new Ryzen CPU architecture, and we are all excited to see if this is the product line that will push the company past Intel's years of domination the high-performance processor market. The company has been promising the public that they are on track for Q1 (January – March of 2017) launch, so we suspect that they might reveal a lot more specifics about this new tech. Processors are essential to the gaming rigs that we build, but nothing is as important as the Graphics cards that can provide titillating eye candy while you game till your eyes bleed. The Polaris GPUs released a few months ago were meant as midrange offerings with the RX480 as a starting card for 4K, so we are eagerly waiting if AMD will introduce their Vega GPUs and see if these new products can finally push UHD graphics at high FPS.  AMD has demo units in their exhibit, with a Ryzen and Vega build running AAA titles such as Star Wars Battlefront in 4K, but we are more interested in actual spec sheets and benchmarks rather than viewing demos.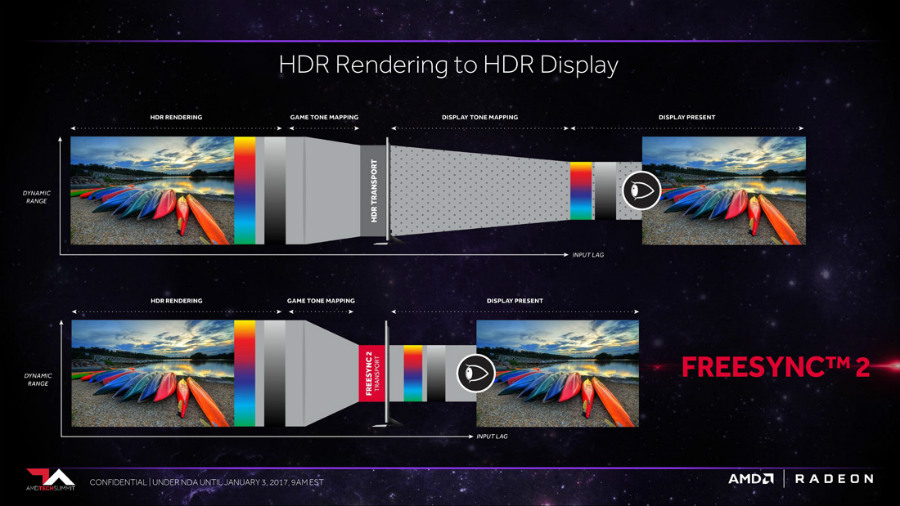 HDR TV's and Monitors are the talks of the town in CES 2017, so AMD is also updating their VRR tech to Freesync 2. The newer version can coexist with the previous one, so most probably, these changes will be applied via drivers, although you still need an HDR capable display. What this new solution does is it connects the game engine directly to the screen, instead of having the output tone-mapped a second time when the frame is passed to the monitor. AMD requires display manufacturers to use HDR capable panels with minimum ranges in brightness and dynamic color, so you might want to hold your funds for a bit and wait for newer models with Freesync 2 compatibility. LFC, HDR specs, and low latency are all required by Freesync 2, so AMD might implement a certification method much like how Nvidia handles it G-Sync licensing since the company needs accurate information regarding each new panel's dynamic range and brightness outputs. There are limited details at the moment, but we hope the company will divulge more details about this exciting new development for gaming monitors.
Nvidia AI tech plus new Pascal Cards; GTX 1050ti and 1080Ti?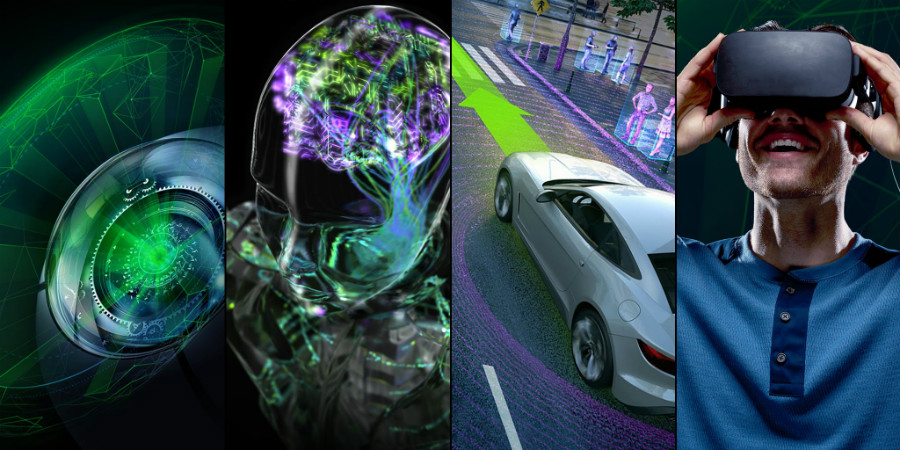 Nvidia is hosting one of the biggest and most anticipated keynotes at CES 2017, possibly upstaging Intel, another tech giant attendee. We popularly know this company to provide us with GPUs that enable the visual feasts we see in our beloved monitors, but this year,  the company will go into the details of their other game-changing technologies. One of their biggest ventures lies in Artificial Intelligence and Deep Learning. This technique applies to ground-breaking feats such as self-driving cars, data analytics, and high-performance computing using their new GPU architectures in data centers. 2016 was a fantastic year for the company regarding sales, but its leaders are also reiterating Nvidia's relevance in the world of technology, and how their work affects the latest trends with the most interest from the public.
But the most important part of Nvidia's presence at CES 2017 for us gamers and Monitornerds, is the unveiling of the newer Pascal cards. The company is about to reveal their GTX 1050 mobile GPUs featured in the latest laptops, plus the highly anticipated GTX 1050Ti, the card that is designed to bridge the gap between the entry-level category and the high-end at midrange pricing. A lot of gamers across the world can benefit from this card's performance figures and pricing, but what we are eagerly anticipating is if Nvidia is releasing details on cards even stronger than the current king, the GTX 1080. Enthusiasts in a lot of forums and communities are buzzing about the rumored GTX 1080Ti, a card powerful enough to sit in between the GTX 1080 and the ultra-premium GTX Titan cards which are priced at over a thousand dollars. The GTX 1080Ti is expected at an $800-$900 dollar price point, bringing 4K efficient power below one grand. There are no exact details about this topic, so follow Nvidia's stream on their website if you want to know more.
Asus to preview  the PG258Q: Blistering 240Hz refresh rates for competitive gaming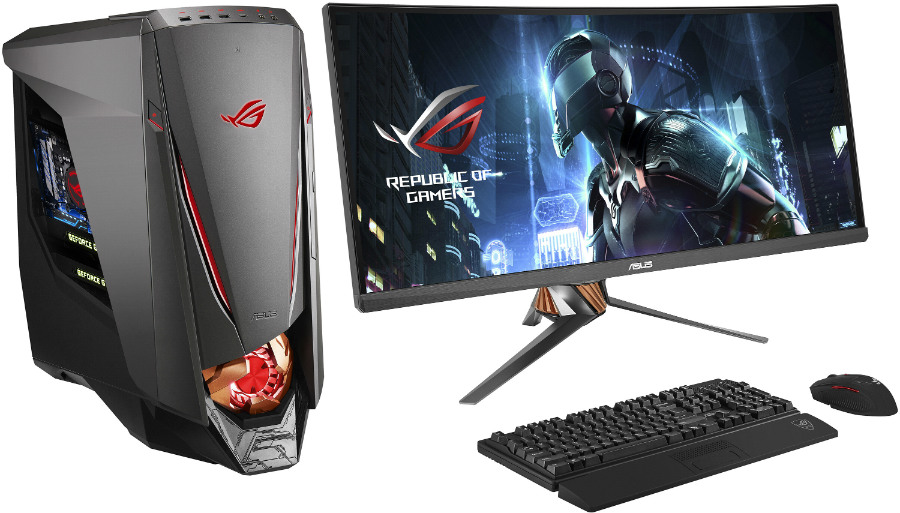 Asus ROG GT51CH and Asus ROG Swift PG348Q 100Hz G-Sync Gaming Monitor
Asus' CES 2017 presentation title is Zennovation, so we are expecting the company to emphasize its mobile products such as the Zenfone 3 and Zenbooks. The company has teased a new business notebook claiming it to be the world's lightest, among other new cool gadgets. But what's fascinating from this company is their reveals of new ROG products. One of the latest gaming rigs they are introducing is the new Kaby-Lake processor equipped GT51CH, which also has two GTX 1080s in SLI, up to 64GB of DDR4 memory, and RAID-0 M.2 SSDs. This badass robot-looking rig looks like it would complement the popular Asus ROG Swift PG348Q which is also featured in the exhibit.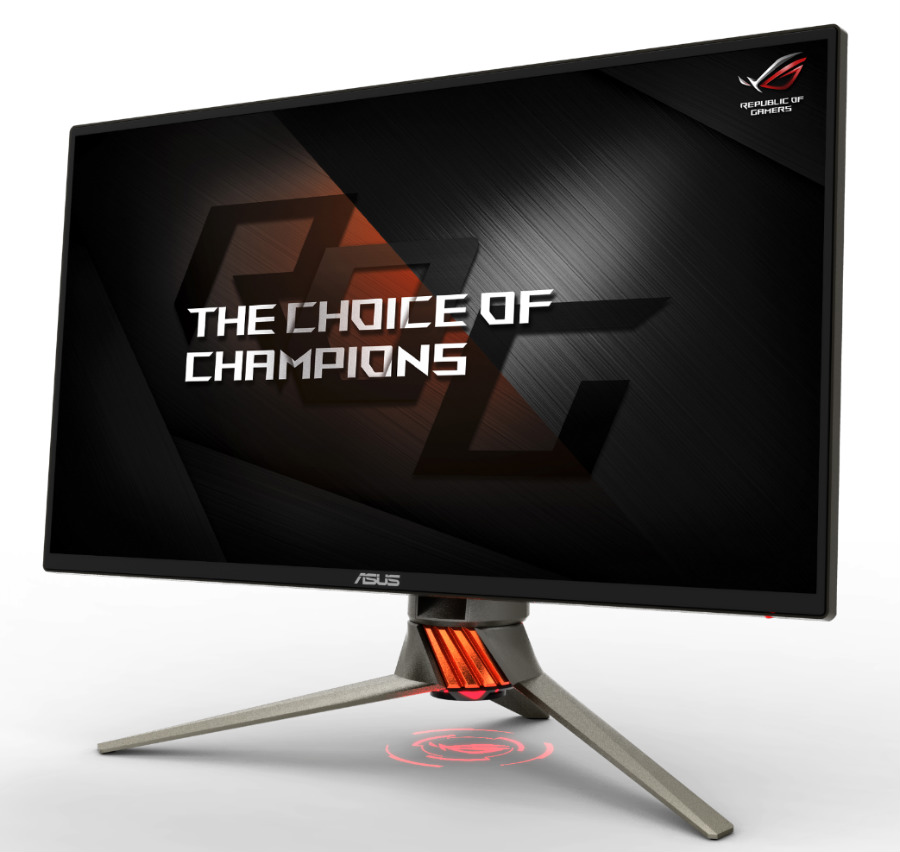 Asus PG28Q 240Hz G-Sync Gaming Monitor
But what we are anticipating from Asus and their demos is the all new PG258Q, a 24.5-inch hyper-fast monitor designed for competitive gamers who require exceedingly fast refresh rates for unrivaled snappiness and response. This new addition to the mighty ROG line of displays shares the PG348Q's design cues, with its titanium-like finish and orange ROG treatment. We want to see how this offering compares to the BenQ XL2540 and other similar products, so stay tuned as we will publish details about this new speed demon from Asus. In addition to the latest screens, builders might want to wait for Kaby-Lake's availability and Asus' new line of Z270 Maximus boards with 3D printed shields and designs, plus a push button to 5GHz overclock feature.
Dell 27-Inch ultrathin monitor with infinity edge tech and USB-C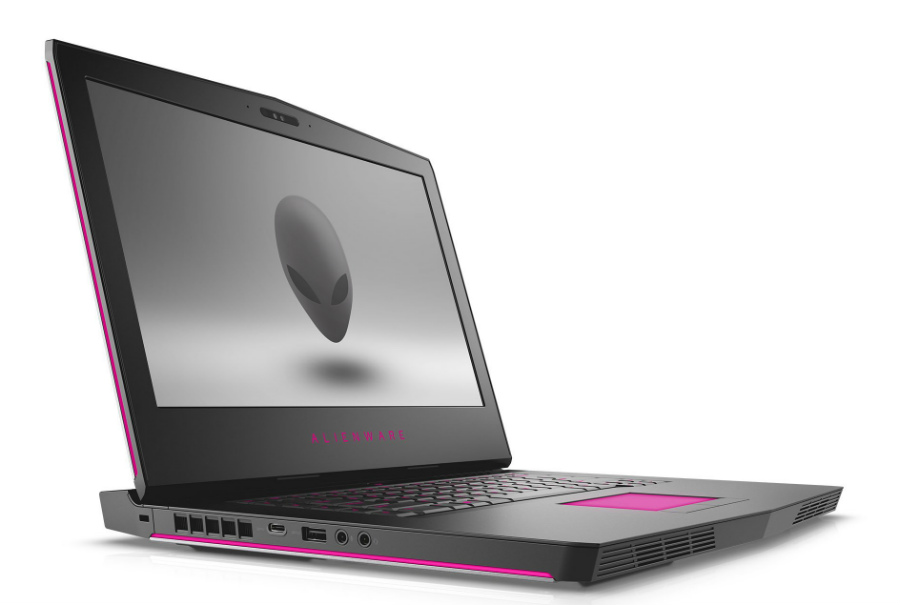 Dell Alienware 2017 Gaming Laptop
Dell has launched its new Alienware and Inspiron 7000 range of gaming laptops with modernized anodized aluminum exteriors, the latest processors, and GPUs, plus compatibility with the Alienware Graphics Amplifier, an external device that can harness the power of a desktop GPU and push the performance into your laptop. These new devices also have easy-access bottom door mechanism, so owners can easily tinker with the innards if they want to upgrade something. There are also select models with Tobii Tracking on the Alienware versions. For the business-minded, Dell will also unveil their Latitude 5258 2-1, which is both a laptop and a tablet in one package, designed to compete with Microsoft's Surface Pro 4. This portable device has new internals for the best possible computing experience, plus features such as a kickstand and the soft keyboard which are common characteristics of the Surface Pro 4.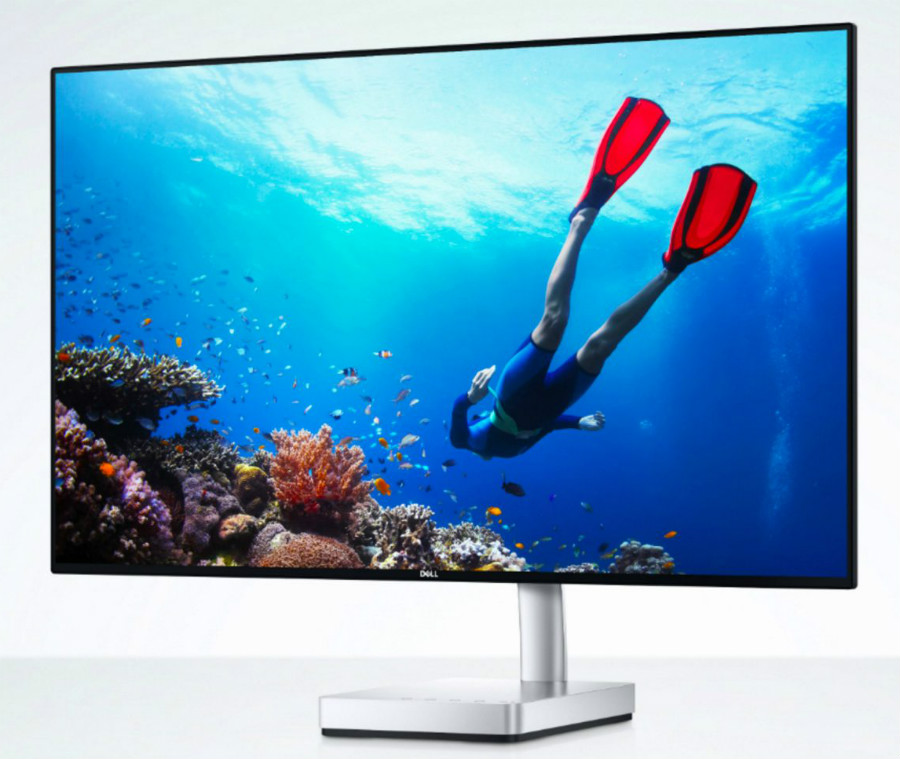 Dell S2718D Ultra-thin Bezel Free Monitor
But our specialty in monitors points us in the direction of the Dell S2718D, an HDR-ready, 27-inch QHD product with USB-C connectivity, 400nits of brightness, and 99% sRGB gamut. This product uses the same InfinityEdge bezel technology found on the latest Dell XPS laptops which also shares USB-C connectivity. Side profile of this product is unusually thin, making it look like a blade when viewed at this angle. It's as if Dell supersized the XPS laptop's display, so we can safely speculate that this new product was meant to mate to the modern laptop since they share common features such as USB-C. We all know this company to apply similar design cues to all its display products, and if future offerings will look like the S2718D, we would gladly pick those products up for personal use.
LG HDR monitors and OLED/Nano Cell TVs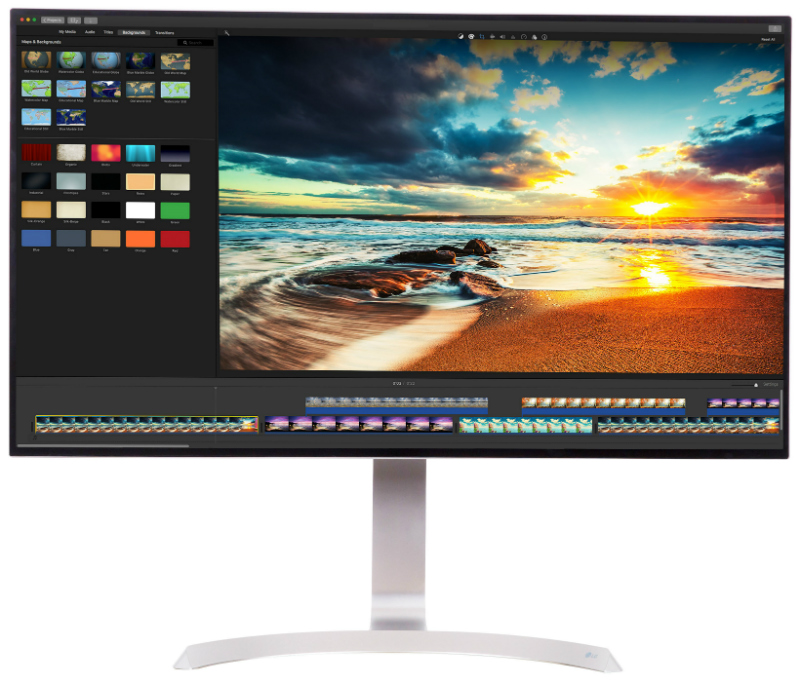 LG 32UD99 HDR Monitor
We already wrote previews regarding LG's up and coming monitors, which are spearheaded by the HDR-ready LG 32UD99 with 95% DCI-P3 coverage and the Chromecast-enabled ultra-wide monitor, the 34UM79M. LG opens up a brand new standard of professional and gaming displays with these latest integrations, but the company also has some of its best and latest products on display. The company has its new gaming ultra-wide monitors on display which are the LG 34UC99 and an even larger 38UC99, both with Freesync, 1ms response times and gamer-centric features for your enjoyment.  Also, present for this year's showcase are the Ultrafine displays for Mac, both the 4K and the 5K variant which provides eye-popping detail and clarity in a neat and industrial-looking package with the futuristic USB-C as its primary signal input.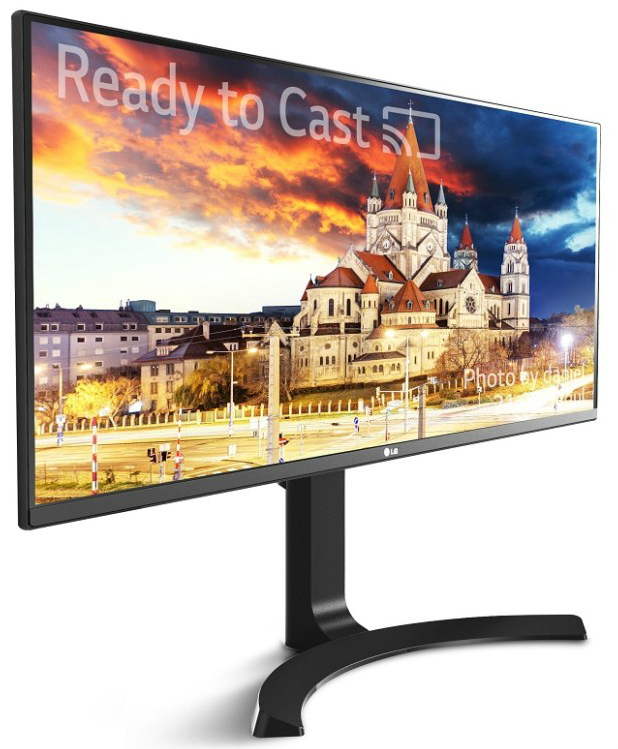 LG 34UM79M Chromecast Monitor
Aside from monitors, LG is also unveiling its new signature line of OLED TVs previously leaked onto the internet. These new models come in varying sizes, but with a breathtakingly thin 2.5mm depth, emphasizing the company's picture on a wall concept. There are also new SUHD Nano Cell Quantum Dot TVs to be unveiled which is LG's take on its competitors new QD TVs, with promises of better colors and viewing angles across the whole panel.
Samsung quantum dot monitors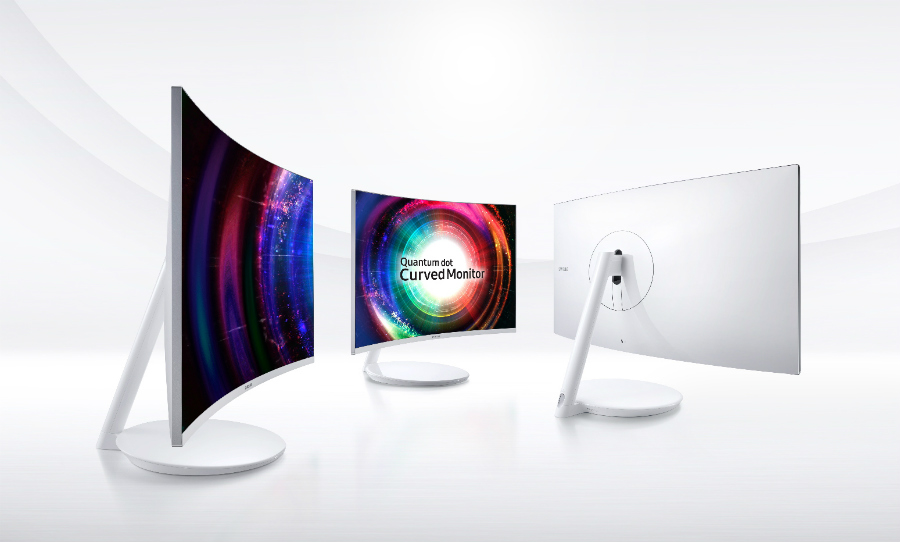 The other Korean display king, Samsung Electronics, was also quick to pull the trigger and advise us ahead of time about their CES 2017 monitors. We found the CH711 to be the most exciting of the bunch since this sleek curved screen dressed in stark white is slated as the company's flagship gaming monitor. This product has a QHD Quantum Dot-lit panel with a three-sided boundless design. We are still waiting on further details such as refresh speed and if Samsung chose Freesync or G-Sync, but from the looks of things, the CH711 is going to be a refreshing option for gamers looking for a classy look instead of the usual gaudy and aggressive designs.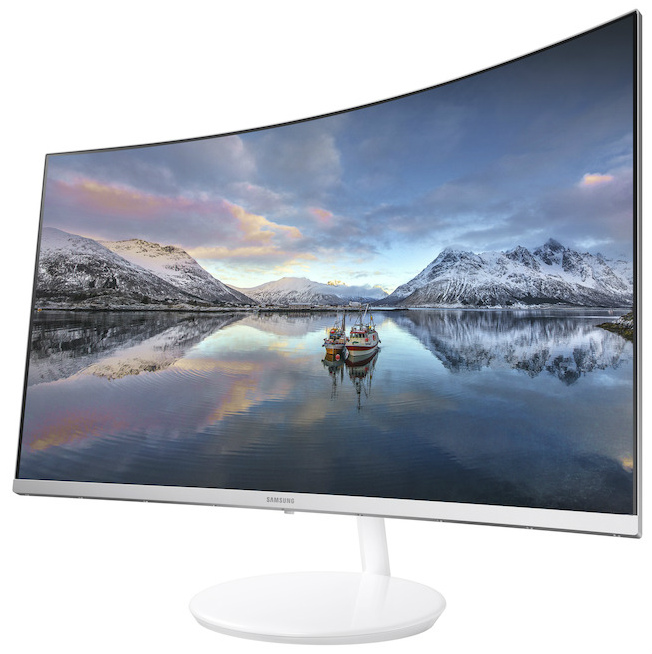 Samsung CH711 Quantum Dot Gaming Monitor
Alongside the CH711, the company will also host a demo setup built with the Samsung CFG70, the early Quantum Dot gaming model the company has previously released. The press and attendees will get a chance to duke it out in popular titles using these displays. Alongside this showcase, Samsung will also introduce the CF791, an ultra-wide 100Hz Freesync monitor also dressed in white which is designed to compete with other already established ultra-wide gaming products in the market. To complete the range of offering this company provides, Samsung will also introduce the and QHD SH850 models for the home and office users and the 4K UH750 for gamers. These mainstream offerings will also feature the three-side boundless design found on the curved models, but we are yet to see what specs and features these two modern displays have in their guts.
*CES 2017 has a lot more in store during the event. For more details follow their official website at www.ces.tech