Introduction to Bezelless / Thin Bezel Monitors
The non-stop advancements of the display industry helped shape the increase in the importance of monitors in every kind of computer setup. At time Before we witnessed products with dazzling features such as high refresh rates and unimaginable color reproduction, most were content with only getting the fastest processors or graphics cards, and together with other components, slap them into a case, and plug in whatever screen they had. Most were content with entry-level products, but there were those who wanted to upgrade to higher resolutions or a bigger model, but these were the only two factors a lot of these consumers considered back then.
From the ancient days of the CRT monitor up to the early stages of LCDs, manufacturers did not bother with sassy designs or bleeding-edge features to entice customers to join their side. A black-colored CRT monitor was as unique as one could go regarding looks during that period, or for LCDs, one could only choose something bigger since a lot of these older products did not differ a lot from each other. Fast forward to today, we now see current models with sleek, and svelte physical profiles, minimalist but functional stands, and high-tech features. There are a lot of things to consider when you are in the market for a new set, and if we delve deeper into the looks of products, one rarely mentioned but highly sought after characteristic is bezel thickness.
As the tech giants gave birth to thinner, lighter and more efficient panels, the need for annoyingly thick bezels became irrelevant. As these screens increased in size, they also became less noticeable, but since it is in human nature to go beyond boundaries, we now have products with borders that are only a few millimeters thick, and in some cases, non-existent. The biggest benefit of products with this design aside from aesthetic appreciation lies within the user's focus on the task or game at hand. Manufacturers always claim that the thinner the bezel is, the more users can keep their eyes glued to the screen. Another benefit is in configuration, wherein certain individuals use multi-display configurations anywhere from two up to 9 monitors to display a single, massive image. Zero-bezel monitors are ideal for this, so the perceived breaks in the picture these pieces of plastic are lessened, or entirely removed.  In this guide, we have chosen 10 of the best products we have seen, all of which have different uses and purposes.
All Featured Frameless/Borderless Monitors in this Guide:
1. Asus VX24AH – Best 24-inch General Purpose Borderless Monitor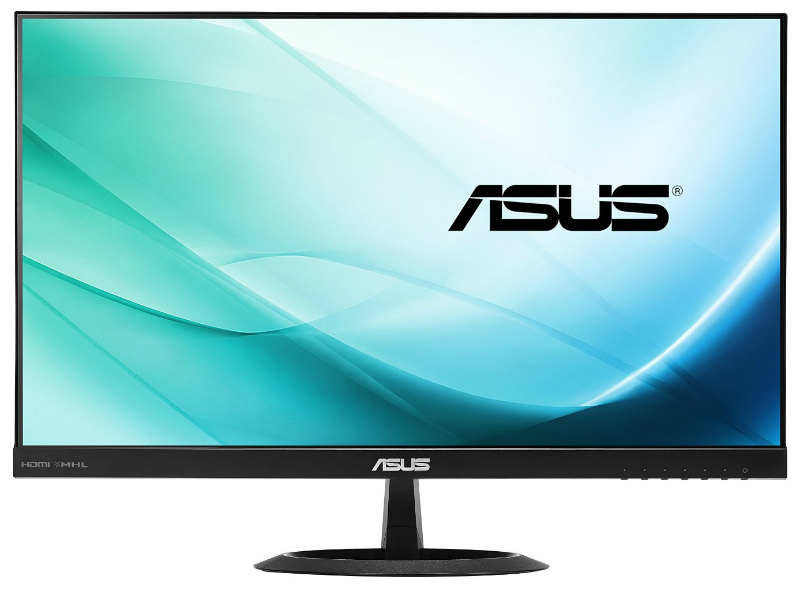 The Asus VX24AH isn't a specialized product unlike the others on this list, but its 1440p native resolution provides a bigger viewing space of your windows desktop and your work files, plus a lot of eye candy in casual games and entertainment media. Despite being an entry-level display, Asus did not sacrifice the design, since the product has a sleek exterior profile with gentle curves and an elegant piano black finish. QHD in 24-inches may be too small for some users despite the increased pixel density, but what makes the view interesting is the less than 4mm bezels surrounding the panel. This design instantly gives the Asus VX24AH a bigger than usual look, making it one of the best affordable offerings your home enjoyment or office needs.
2. Asus MX27AQ –Zero Bezel Monitor for your Home or Office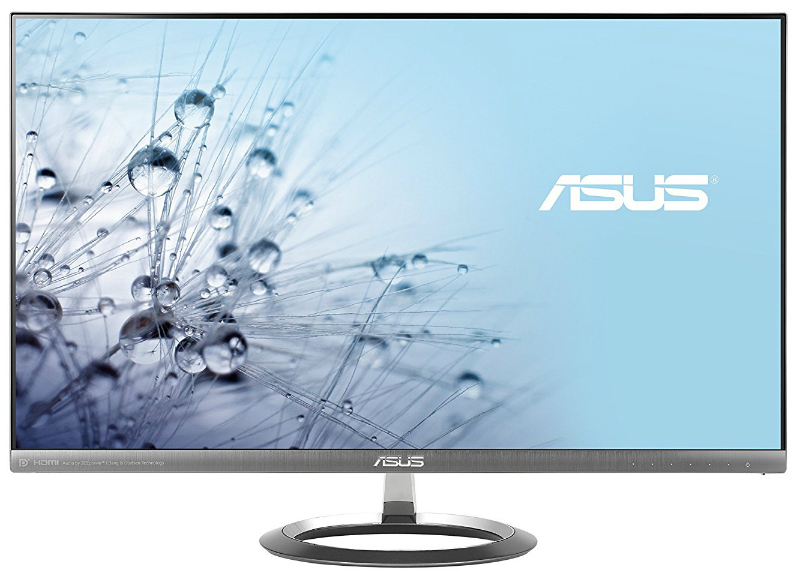 If you are looking for a display that can present your sophistication as a professional when the client enters your office or a monitor that can impress guests and family members when they enter your home, the Asus MX27AQ is your best bet. This product has a 27-inch form factor with a 1440p resolution which are features considered to be ideal for modern units by today's standards. The cabinet has a gorgeous aluminum finish which exudes a classy presence, and the borderless IPS panel makes images pop out with great color vibrancy and saturation. If these high-end characteristics aren't enough, Asus has also partnered with Bang and Olufsen, a Danish audio specialist company to include their Ice Power speakers into the MX27AQ.
3. Acer BE270U – slim bezel 1440p Professional Monitor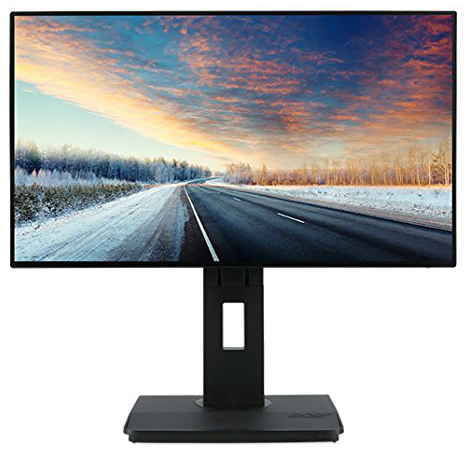 Monitors meant for productive individuals usually look clunky and boring with thick and intrusive bezels, but Acer begs to differ with the BE270U. This model has a standard matte black cabinet and a functional stand, but what makes it unique for this guide is it's 4-side ZeroFrame design, which enables the 100% sRGB IPS panel and its QHD resolution to reproduce images with eye-popping color and clarity. Although, this product has tricks for gamers up its sleek sleeve; faster than the usual 75Hz refresh rates and AMD Freesync. While this product is not ideal for competitive gaming, the addition of VRR tech and a more rapid refresh rate also makes this product viable for designers who enjoy casual after-hours entertainment. If these are not enough to convince you, the Acer BE270U also has a bit of future-proofing since the I/O layout includes a USB-C port, which allows modern gadgets such as the new Macbook to connect.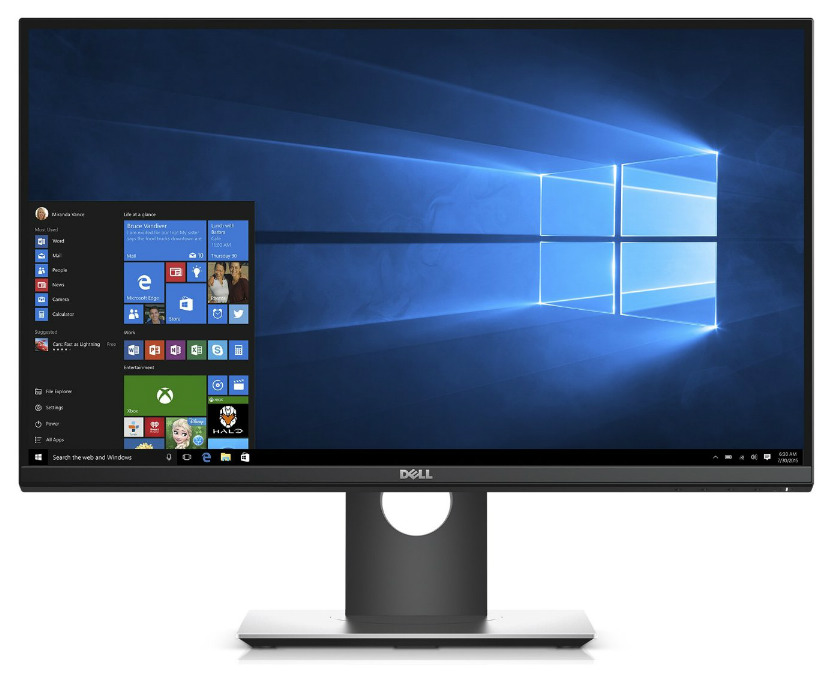 The Dell s2417DG is a great product for gamers who are looking for a screen with a high pixel density for eye-popping detail, Hair-raising 165Hz refresh rate speeds, and buttery smooth images with the help of G-Sync. These cutting-edge features are wrapped in a cabinet which exudes Dell's typical grayish scheme. There are only a limited few when it comes to 24-inch frameless monitors, and the S2417DG is one of them.  1440p at 24-inches provides a ton of pixels per square inch of your screen, but for some this may feel as if it is too tight. But the border-free face of this offering solves this issue, so users can enjoy the fantastic detail and smooth action this monitor provides. If you want a product disguised as your mom's display but with sharp teeth for hot gaming action, incredible levels of detail in a compact stature, then the Dell S2417DG is your best bet.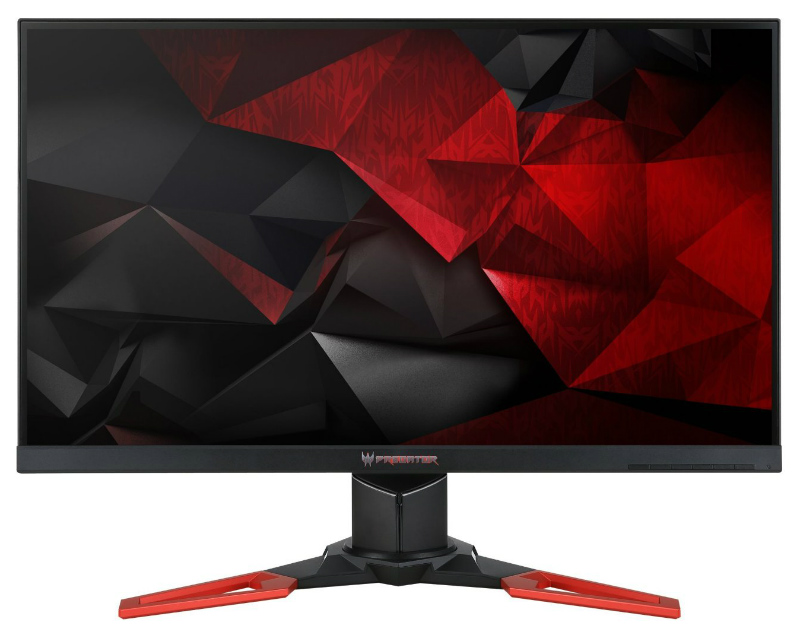 There are a lot of Acer Predator XB271HU reviews out on the web, and most of these reviews praise the high-quality images, lightning fast refresh, and response rates, build quality, and sophistications of this fantastic product, but one fact rarely explained is the XB271HU's Zero-Frame design. Instead of using bulky plastic strips to cover the ends of the panel, Acer went with making the screen seem like it melds with the corners of the cabinet, therefore, achieving a frameless design. When looking at this model from an angle, only the bottom strip noticeably embosses from the frontal surface. This concept does the beautiful screen justice, and its 1440p, 165Hz abilities, and G-Sync provide gamers with intense but silky-smooth visual experiences not found on a lot of other regular monitors. Wrap all of these fantastic features in a fearsome black and red exterior with a vast range of functionality, and you get the Acer Predator XB271HU which is one of the best borderless gaming displays we have seen on this earth.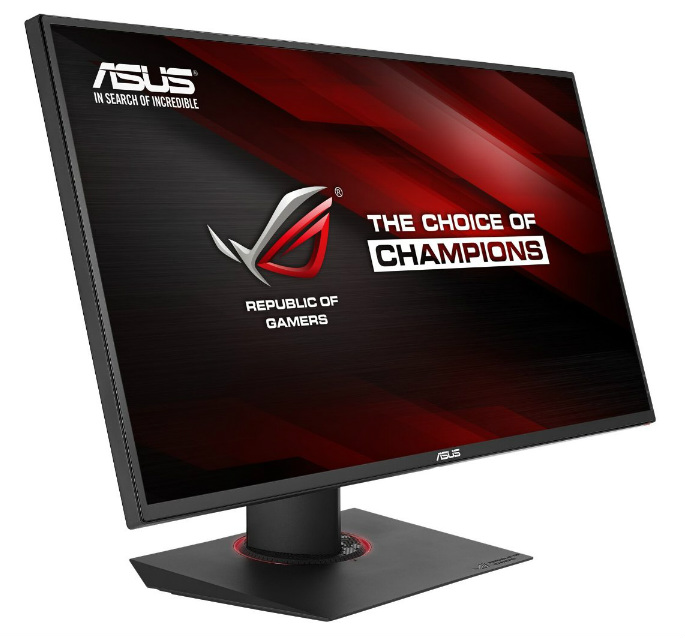 The mighty Asus ROG Swift PG278Q is not a frameless product unlike the XB271HU above, but what we love about its face is its sub-5mm bezels on three of its sides. This product still utilizes a TN panel, but unlike other low-quality TN offerings, AU Optronics unit in this beast provides colors and contrast levels which narrow the gap with IPS capabilities. This characteristic works wonders with the 144Hz refresh rate, G-Sync, and 3ms+ input lag time helps serious gamers unleash their potential and lethality in any competitive game they prefer. The ultra-thin bezels share the low-profile graphite black finish of the whole product, so against the fantastic screen, they are rather unnoticeable, enabling gamers to focus on the clashes shown on display. Asus makes the PG278Q the total gamer package with the inclusion of gamer-centric features such as GamePlus overlays and genre-based presets, all infused into a stealthy but premium package with a ton of functionality.
7. LG 27UD68-P – Fantastic 4K Monitor with No Bezel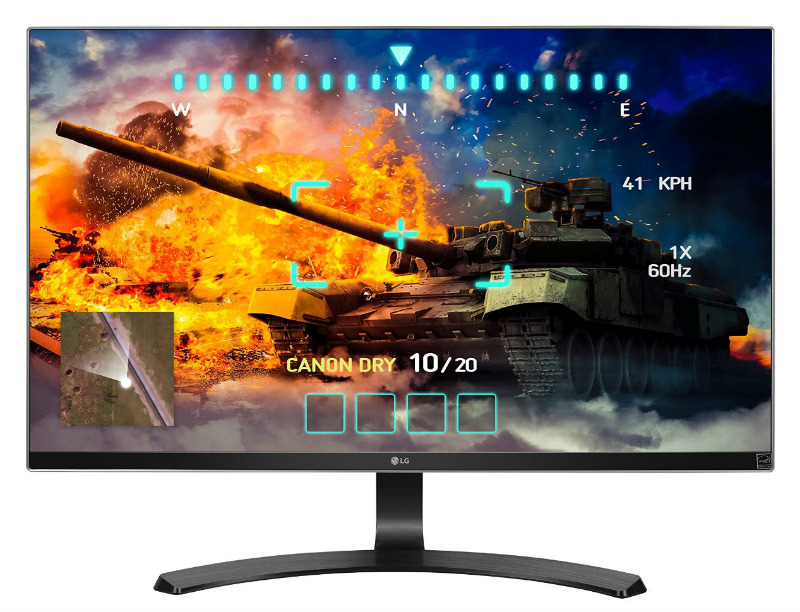 4K screens have 8.3 million pixels, so image detail and colors are amazing for anybody's peepers. Each pixel can contribute to a vast array of shade transitions and contrast, so pictures pop out more than they normally would. The virtual viewing space also exponentially increases so that users can enjoy a bigger workspace or a deeper level of immersion in games. The LG 27UD68-P is a monitor with this resolution, and in our books, the Korean company is one of the best when it comes to designing bezel-free monitors. This product does not use trickery or clever design concepts to omit the limitations presented by bezels, so one look at the 27UD68-P's face, and you will instantly notice that the screen goes from edge to edge, emphasizing on the excellent level of colors and details. This offering is meant for productivity, but for entertainment purposes such as movies and casual gaming; we don't see why it can't do an admirable job. The 10-bit color interface produces stunning color variations with its 1.07 billion shades, but for gamers, the product also includes Freesync to keep the images from tearing and stuttering.
8. Acer Predator X34 – Great Zero-Bezel Ultra-Wide Gaming Monitor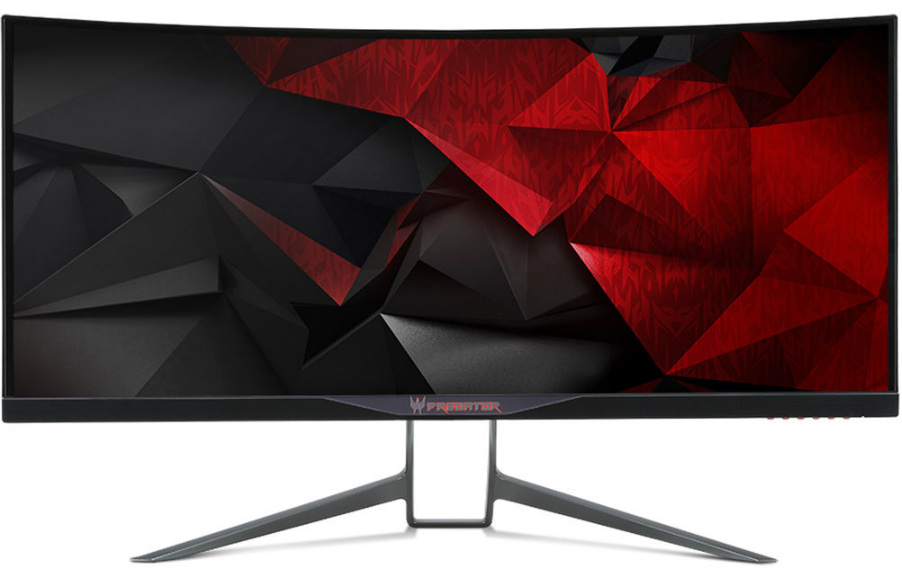 Curved ultra-wide monitors are things of luxury, and their main selling point relies on the promised immersion which is achieved by enveloping the user's view with the corners which sits closer. So once again, obstructions such are bezels are not ideal, since having these things running along the sides of a screen can be detrimental to the depth and the focus of the player. The Acer Predator X34 solves this since its physical design also utilizes the Zero-Bezel concept found on its smaller sibling, the XB271HU. The gorgeous IPS panel in this product can be overclocked up to 100Hz, enabling gamers with monster rigs to push out a lot of frames for enhanced visual stimulation. G-Sync is also present to keep the picture from tearing or stuttering, impressively improving the gaming experience by a mile. Colors and contrast are also excellent on this product, so a heightened level of focus on the action on the screen is a must to enjoy what this product has to offer.
9. LG 34UC97 – Frameless Premium Ultra-Wide Monitor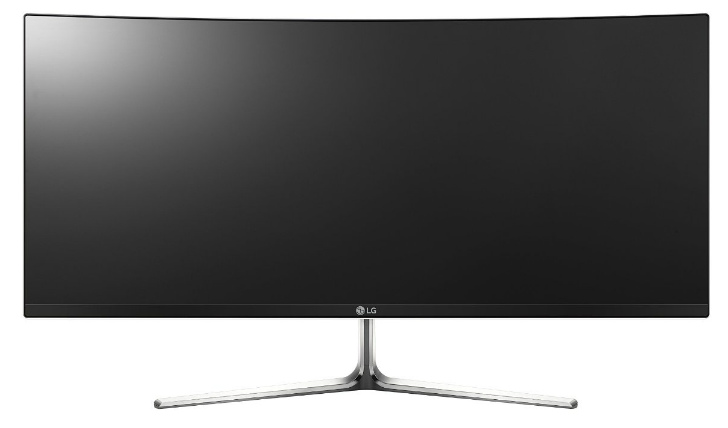 Curved screens belong to the higher-end of the display market, and it is a widespread trend among premium products to have nonexistent borders to maximize the visual feast, and the users focus on the magic that transpires. The LG 34UC97 is one such product that presents this kind of sophistication to its owners, with its 10-bit color interface, WQHD resolution, and avante-garde design. If you are looking to step-up from standard 16:9 luxury monitors like the Asus MX27AQ mentioned above and had a big wad of cash to spend, then this is your best bet for your hard-earned moolah. Featured on the face of the 34UC97 is the design technique applied by LG to omit borders, making the massive 34-inch diagonal width screen appear as if the picture it plays could fall off the edge. The golden metallic hue and the chrome accents on this product truly make it look like a million bucks, so the luxurious factor a border-free design applies fantastically. The LG 34UC97 was not meant for hardcore gamers, but in our books, this is one of the excellent mix-used displays with non-existent borders which improves your computing experience in your home or at the workplace.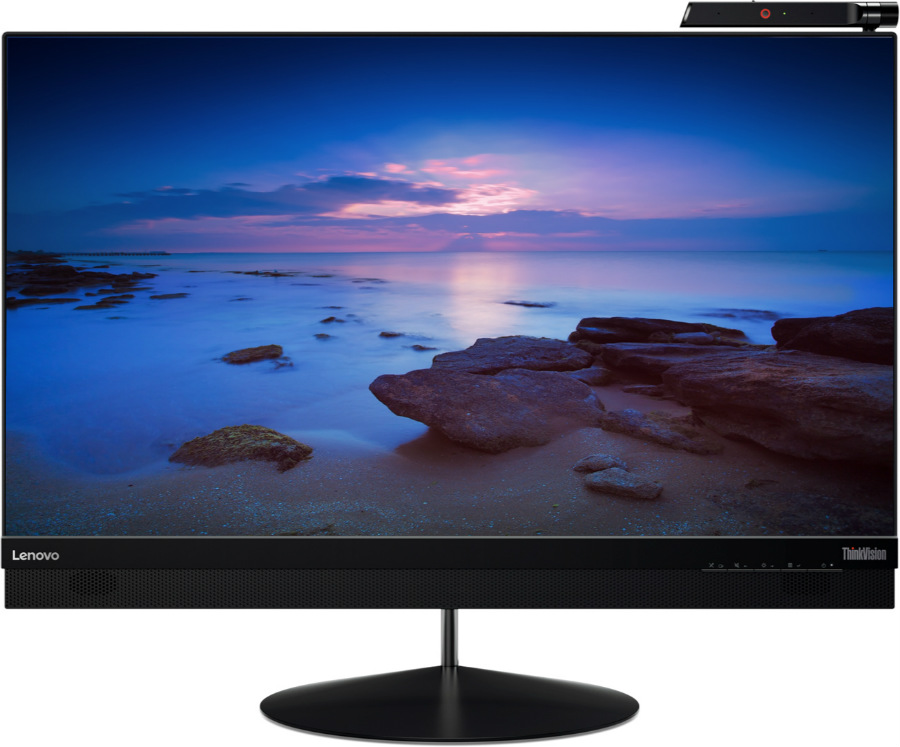 We mentioned in our article about USB-C Monitors that the tech market is moving towards a unified state with the use of USB Type-C as the universal standard for signal and input connectivity across a broad range of products. If future proofing is an acceptable means for you to be as practical as possible, then buying displays with this feature should be in your plans. The Lenovo Think Vision X1 is a pioneering offering which ventures into the future with its USB-C connectivity among other current display standards, enabling owners of the latest gadgets such as the Macbook 2016 to utilize a single port for signal and power transmission. The X1 sports a stealthy industrial look with sleek details and three sides with absent bezels, emphasizing the lush 4K IPS display, so vibrant colors and shapes pop out. Only the bottom strip looks thicker than it should be, but the extra mass holds built-in speakers in a sound bar configuration. The protruding mechanism that sits on the top right corner is a flexible HD camera, which enables users to aim its lens in a way similar to how the late light projector models operate. The design is as futuristic as it can be, and having no borders completes the concept and look, making the Lenovo ThinkVision X1 one of the best frameless monitors we have seen.
Conclusion
There are thousands of display models available in the market at different price points and niches, but during our reviews, we have seen only a few models which are capable of excellent performance while being pleasing to the meticulous eye. Borderless monitors are enticing to a lot of consumers not only due to the sleek looks but the modernity these products also possess. Since they products are some of the latest the tech giants are offering, prospective owners are guaranteed that these contemporary models have the best specs and features each brand has to offer. Some of the best displays we reviewed already includes these two sought-after characteristics, but in a steadily advancing niche, the best is yet to come.
Having little to no borders on your screen provides an increased emphasis on what that panel is showing, so you can focus on the task at hand, whether in gaming or for anything work related. Picture quality capabilities such as wider gamut coverage, brightness uniformity, etc. are at an all-time high, so the importance of zero-bezel designs becomes even more urgent. Naturally, the growing demand dictates each company to follow this aesthetic trend, so we may end up seeing a plethora of frameless offerings next year. But at the time of this writing, these ten models we have included are what we at Monitornerds consider to be the best among the many iterations which are available in the market.