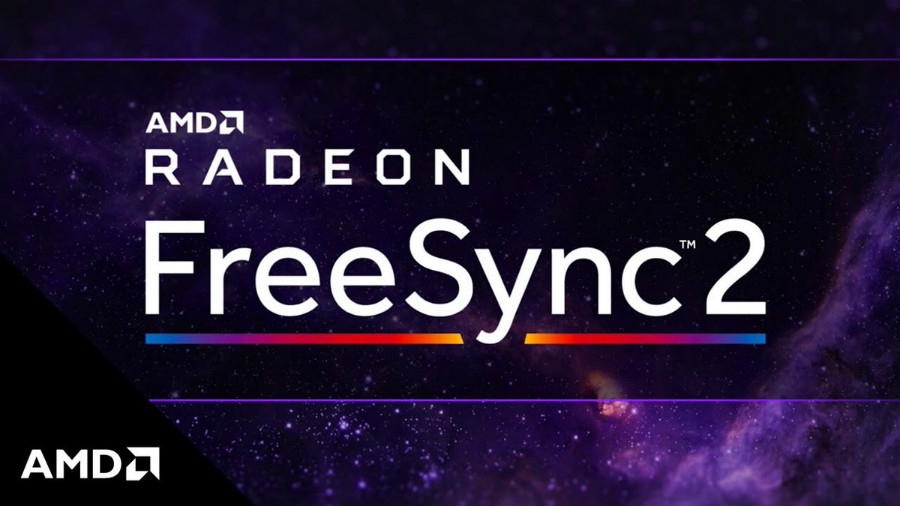 Freesync is the indisputable variable refresh rate solution currently available today. It's capabilities perform similarly with the competitor's offering, but certified products cost significantly less than their counterparts simply because AMD has embodied the word "Free" into how they implement this valuable tool. The company based this superior technology on VESA's adaptive-sync, which is a feature included for free in DisplayPort 1.2a or higher standards and specifications. The company does not require licensing, royalties or additional hardware, so there are no costs added on top of a product's price. Of course, the benefits are immediately passed down to owners who will find it easy to own one of the best Freesync choices the market has to offer.
Since Freesync does not function through the use of additional proprietary modules on the monitor, but rather, the controller module is built into the GPU. Currently, only the latest generation and its previous iterations support this feature. Therein, lies the caveat, unlike G-Sync Monitors which supports models as old their 6 Series cards, there are only a few available models to choose from. But of course, AMD quickly addressed this in one of their statements that their upcoming models including the Vega architecture cards will natively support Freesync, so it's just a matter of waiting for a little longer to gain access to more powerful compatible cards. Another thought to consider is that AMD cards are usually priced lower than the green counterparts, and they age better according to enthusiasts since AMD drivers still apply the improvements the release bring even for older generation cards.
Freesync monitors are the best display solutions to some of the most prominent problems in gaming. There are a lot of options in different resolutions, sizes, and speed available. Currently, there are more or less three times more Freesync monitors than there are G-Sync ones, so it's either easy to pick the best one for you or to get confused. In this guide, we have selected the best options according to our reviews, the product's performance, and of course, pricing. The list is a mix of new and old models from different companies, but even the old ones can still represent their respective tiers without getting left behind regarding performance and value by their groupmates.
All Featured Freesync Monitors in this Guide
Best Freesync Monitors
Screen
Speed
Price
Best 1080p Monitors with Freesync
Good Freesync Monitor

ViewSonic XG2401


24 Inch
1080p
TN
144Hz
1ms
Latest Price
Good Cheap Freesync Monitor

AOC G2460PF
24 Inch
1080p
TN
144Hz
1ms
Latest Price
Great 1080p Freesync

Acer XF240H
24 Inch
1080p
1ms
144Hz
1ms
Latest Price
Best Freesync Monitor 1080p

Asus MG248Q
24 Inch
1080p
1ms
144Hz
1ms
Latest Price
Best Value 240Hz FreeSync Monitor

ViewSonic XG2530
25 Inch
1080p
1ms
240Hz
1ms
Latest Price
Best 1440p Freesync Monitors
Best 1440p Freesync

Asus MG278Q
27 Inch
1440p
TN
144Hz
1ms
Latest Price
Great Monitor with Freesync

BenQ Zowie XL2730
27 Inch
1440p
TN
144Hz
1ms

Latest Price
Also Good 1440p Freesync

Acer XG270HU
27 Inch
1440p
TN
144Hz
1ms

Latest Price
Best QLED FreeSync Monitor

Samsung C32HG70
32 Inch
1440p
4ms
144Hz
4ms
Latest Price
Best 4k Freesync Monitors
Top 4k Freesync Monitor

Asus MG28UQ
27 Inch
1440p
TN
144Hz
1ms
Latest Price
Also a Great 4K Choice

ViewSonic XG2700-4K
27 Inch
4K
IPS
60Hz

Latest Price
A Good 4K Choice

AOC U2879VF
28 Inch
4K
TN
60Hz

Latest Price
Best Freesync Ultrawide Monitors
Good Ultrawide Freesync

AOC Agon AG352QCX
35 Inch
1440p
VA
Curved
200Hz
4ms
Latest Price
Also a Great Choice

LG 34UC79G
34 Inch
1080p
IPS
144Hz
5ms
Latest Price
Top Freesync Ultra-wide Monitor 2016

Acer XR341CK

34 Inch
1440p
IPS
100Hz
4ms
Latest Price
Best 100Hz FreeSync Monitor with RGB

Asus XG35VQ
35 Inch
1440p
4ms
100Hz
4ms
Latest Price
Excellent 38-inch FreeSync Ultrawide for Editing and Gaming

Acer XR382CQK
38 Inch
1600p
4ms
75Hz
4ms
Latest Price
Best 1080p/FHD Freesync Monitors (1920 x 1080)
1080p monitors present the most fantastic value regarding price to performance. Most of these products cost more or less $200, near the effective price range of vanilla displays used for boring office work.  FHD is still the preferred tournament format for significant professional events across the globe, so even if by today's standards the resolution is quite small, a lot of competitive titles are still preferably played here, even if this resolution has been the mainstream choice for some time, and may seem outdated. Based on the professional gaming applications alone, we can say that 1080p is here to stay, for at least, three to five more years.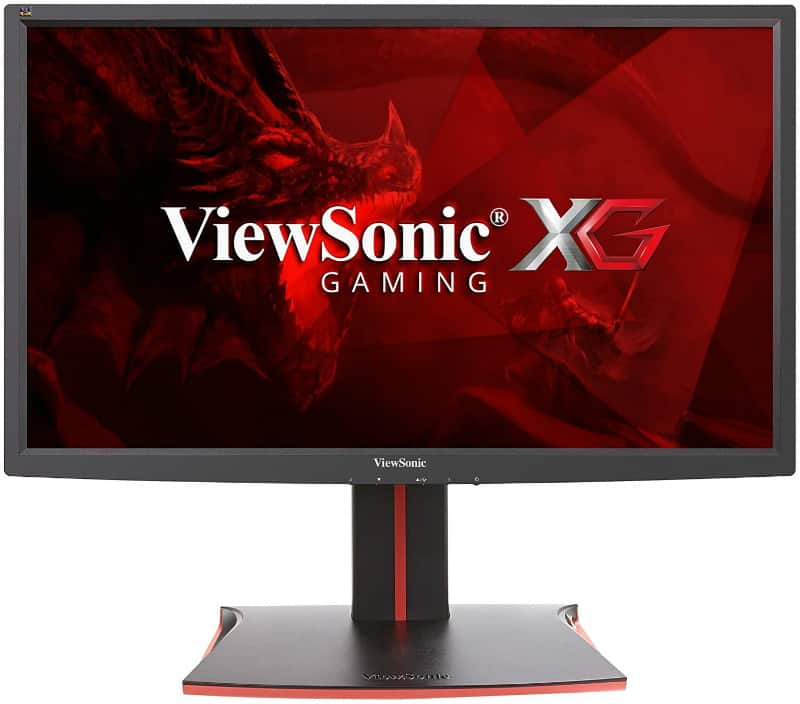 By any means, the ViewSonic XG2401 isn't the most cutting edge regarding features and looks. Out of the box, are too sharp or over-saturated, and even the built-in gaming presets don't offer a lot of improvement. But these cons are easily alleviated by simply tweaking the vast selection of settings in the OSD or users can also opt to apply ICC profiles to maximize the color and contrast capability of the TN panel in this product. The best aspect of this display is, of course, its speed. It has a 144Hz refresh rate 1ms response time, and a more than adequate Freesync range of 48Hz to 144Hz.
The aesthetics on this monitor is very simplistic, and there isn't a lot that most can say about how beautiful it is on the outside. If it weren't for the red accents, consumers would probably mistake this offering as a standard office monitor. But performance is always more important than looks, and if that isn't enough, the simple design gives way to a fantastically sturdy and excellent build quality. This mix of essential features is perfect for its price point, and for no frills, just amazing gaming.
---
2. AOC G2460PF – Good Cheap Freesync Monitor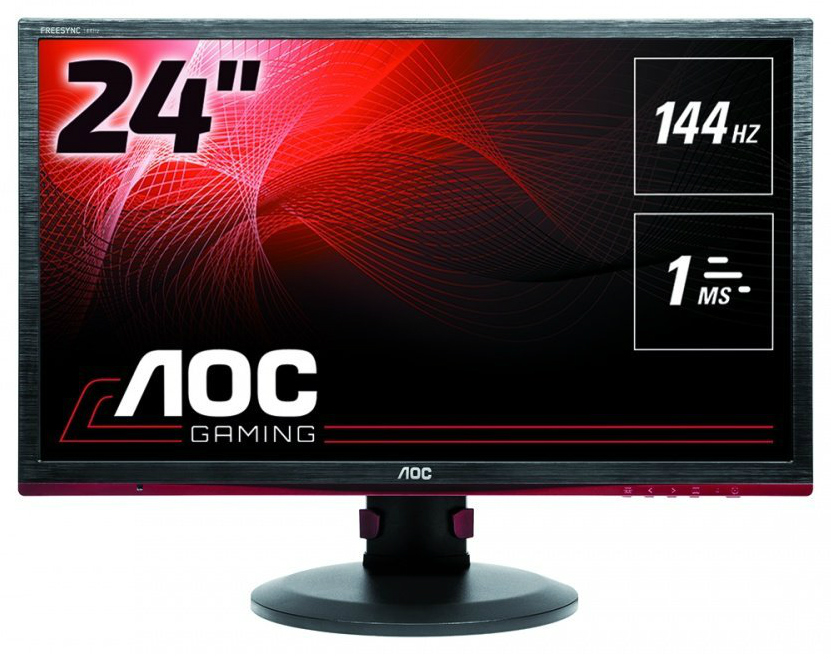 If budget is an issue, but the upgrade itch is persistent, the best choice you can get is the AOC G2460PF. For a little over or less than $200, you get a blazing fast 144Hz monitor with 1ms response time and a substantially improved Freesync range of 35Hz to 144Hz. Games played in 1080p rarely drop that low, but there are graphics intensive titles such as Battlefield 1 that would benefit from the smoother gameplay and next to non-existent input lag provided by Freesync.
The exterior features of the AOC G2460PF are simple like the entry above, but the brushed matte black finish and red accents could appeal to a lot of consumers who are looking to upgrade from a run-off the mill display. The attachment method of the base and the stand are flimsy at the start, but once assembled, the G2460PF stands firm on your desk. AOC has been in the monitor business for decades, so the build quality they have on their offerings are unquestionable. All that for less than $200!
---
3. Acer XF240H  – Great 1080p Monitor with Freesync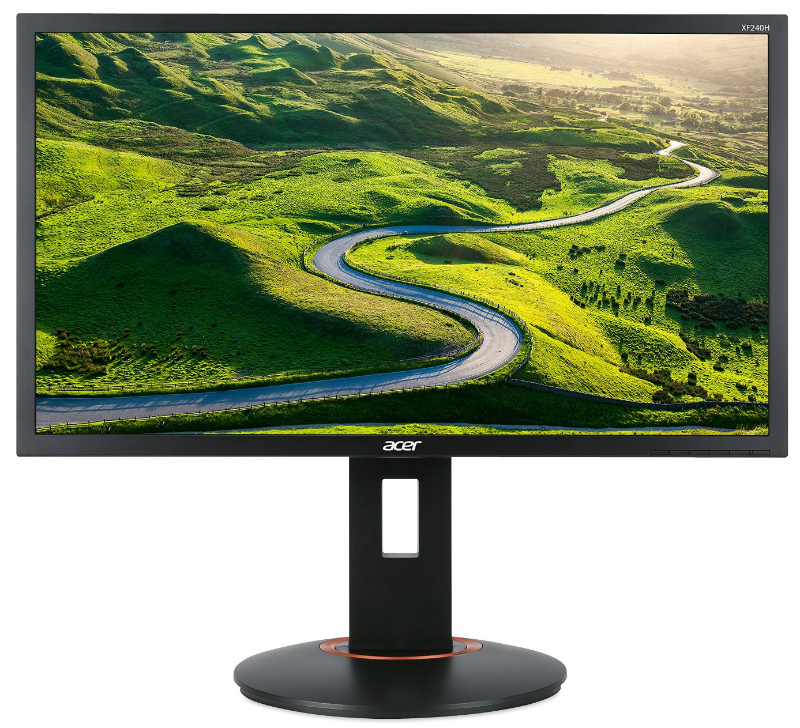 The Acer XF240H is another outstanding price to performance offering available to the market. Of course, this model has 144Hz maximum refresh rate, 1ms Response time and a Freesync range of  48Hz to 144Hz. These technical specifications are excellent for a product in this price range and coming from Acer since some of their offerings are considered to be at the top end of the price brackets for gaming monitors.
The XF240H is a bit more expensive from the previous two, but for the price you pay, you get a sleeker looking cabinet with a base footprint which is significantly smaller than what the others have. One more thing this product share is its disappointing image projection and too high brightness level upon unboxing, but of course, making an effort to adjust the user-friendly settings will help you attain an acceptable standard of color accuracy and contrast.
---
4. Asus MG248Q – Best Freesync Monitor 1080p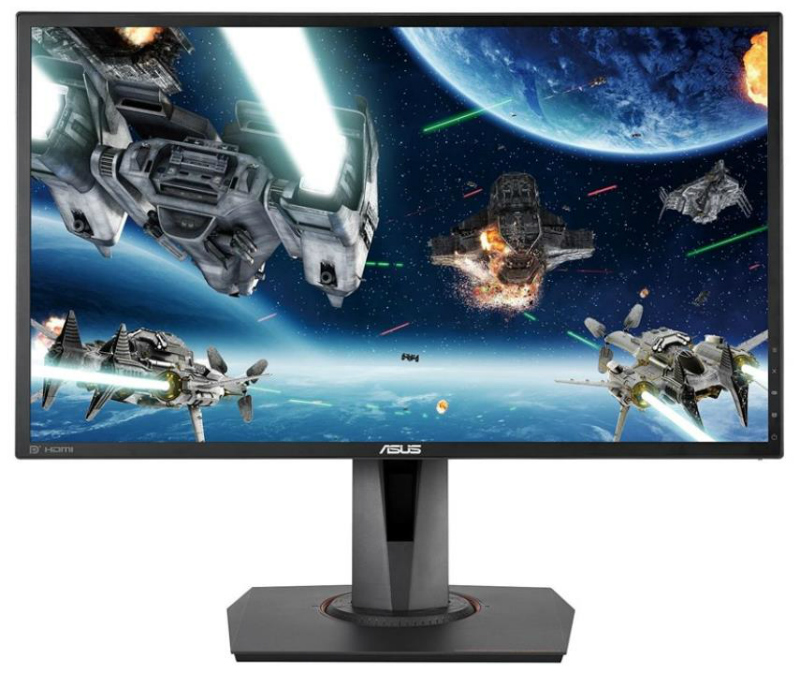 If you are willing to spend a bit more for a 1080p gaming display, the Asus MG248Q might fit the bill. Sporting one of the fastest response times we have seen for FHD gaming monitors, the other models in this selection might find it difficult to beat this beast. Colors and contrast are some of the most excellent we have witnessed. Tweaking is still necessary, and most of the adjustments found are this model and their corresponding results biases more on gaming applications. Freesync is included with functionality from 40Hz up to 144Hz, but one surprising aspect of this product is it includes Nvidia's 3d Vision 2 technology.
This feature means users can opt to use Nvidia's Lightboost tech which can resolve to blur through backlight strobing, similar to BenQ's Blur Reduction Feature. The ability to play 3D games is also a plus, but it is safe to say that that category of gaming is already dead. It's just nice to know that you still have two differing functions from the two competing graphics providers in one fantastic package. If these features aren't enough, the acclaimed build quality of Asus' MG series is also featured in this product so that you can expect excellent ergonomics, and robust exterior textures and durability.
---
5. ViewSonic XG2530 – Competitive Gaming Monitor with FreeSync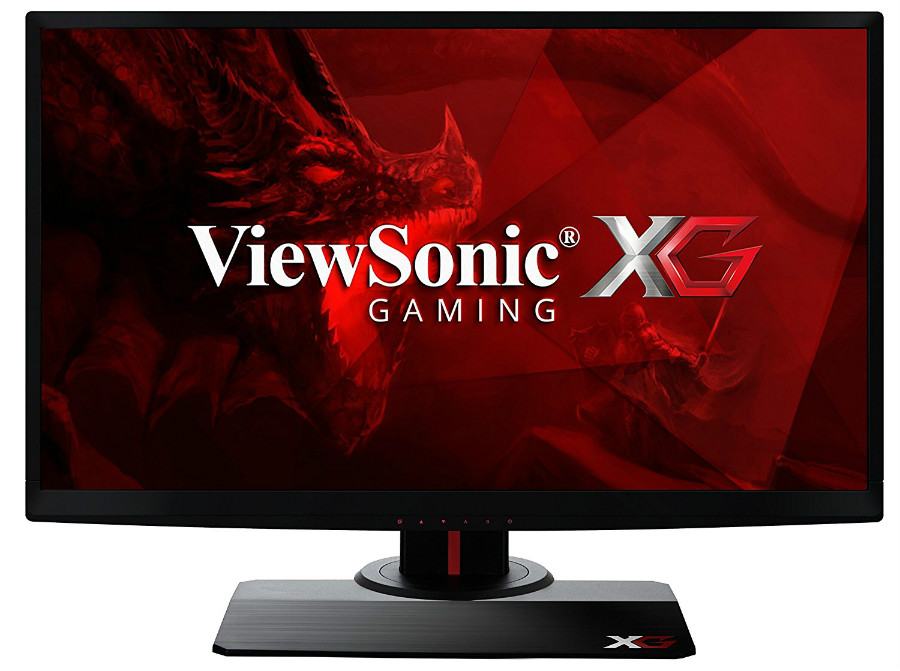 The ViewSonic XG2530 is another excellent 240Hz 1080p monitor choice if you want to up the ante for your E-Sports gaming. The 240Hz refresh rate and excellent responsiveness definitely add a competitive edge when the match gets rough while FreeSync takes care of tearing all the way up to the max refresh rate. The monitor's Rampage Response feature is one of the industry's best blur reduction implementations we have ever tested since it doesn't add advanced ghosting even at the maximum setting.
The ViewSonic XG2530 employs a simplified, but fully functional aesthetic that most enthusiasts would prefer over other brand's aggressive designs. All the necessary features such as ergonomics and decent connectivity are present with the device for your convenience. But what makes the ViewSonic XG2530 one of the greatest monitors out there is it starts at a lower price most of the time than the competition, making it easier to own a 240Hz gaming monitor for the masses.
---
6. AOC Agon AG251FZ – 240Hz 1080p FreeSync Monitor for E-Sports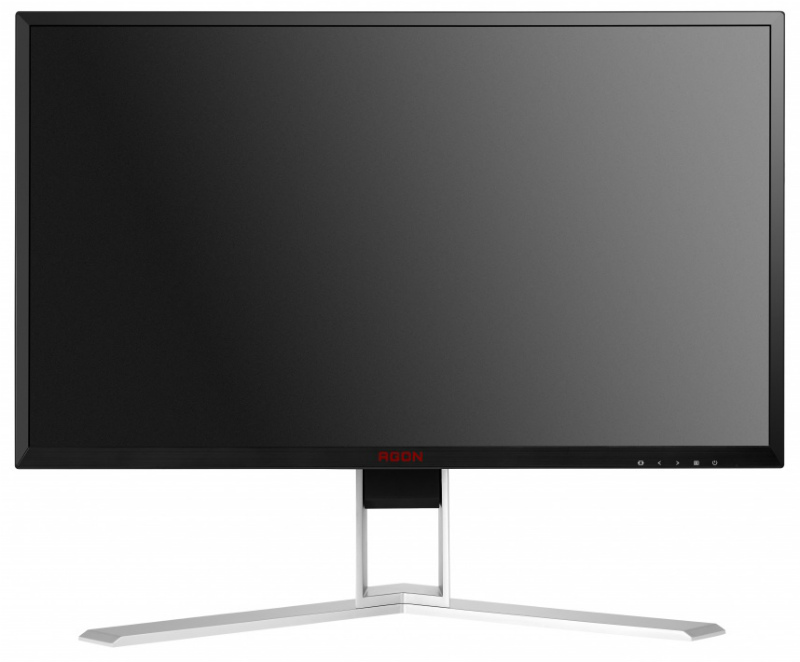 The AOC Agon AG251FZ is one of the best FreeSync 1080p monitors money can buy for competitive E-Sports gaming. This 240Hz display comes with the fastest responsiveness we have ever tested and a blur-reduction implementation that works wonders for games like CS:GO. You also can't go wrong with the picture quality of the AOC Agon AG251FZ since it beats out most regular TN monitors in vibrancy and image fidelity.
Another aspect of the AOC Agon AG251FZ we love is the unique design which biases towards luxury more than gaudy gamer-centric aesthetics. The metal stand adds durability, stability, and a sophisticated flair to the monitor while providing excellent ergonomics. The AOC Agon AG251FZ's unique design also includes nifty add-ons such as a headset hanger and a convenience hub, which in our opinion, adds value to an already amazing product.
---
Best 1440p/2K/QHD Freesync Monitors (2560 x 1440)
1440P monitors are highly sought after products since the resolution is the next logical upgrade for the majority of the gaming populace since most of us already have 1080p variants. The resolution offers a significant upgrade regarding pixel count for colors and detail, and of course, a larger viewing space without a need to massively upgrade your graphics card. Prices are still high in this category due to strong demand for these products, but not as expensive as ultra-wide or 4K monitors.
The virtual space increase is around 75% from 1080p, but the price also increases at a 100% rate. That's not economical, to say the least, but after pulling the trigger, we're guessing you won't have time to regret your purchase after enjoying your favored titles on any of these products. Also, Freesync gets an increased necessity in this resolution, since a lot of the midrange cards will be hard-pressed to produce enough frames for silky smooth images.
1. Asus MG278Q – Best 1440p Freesync Monitor 2016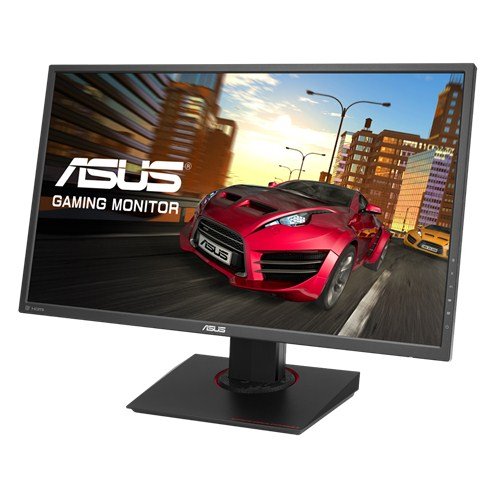 The Asus MG278Q is one of the absolute best monitors we have ever seen since this model has one of the best color reproductions any TN panel has provided across a lot of models we have reviewed. Of course, it does have its flaws such as poor viewing angles, but this product's outstanding build quality and fantastic ergonomics make it easy to get a perfect viewing position. Th MG278Q is also blazing fast, with 144Hz refresh rate, 1ms response time, and Freesync functionality at 42Hz to 144Hz. If the monitor is running at its maximum refresh cycle, the measured input lag is only a little over 4ms. T
hat's an astounding result since most would do around 8 to 11ms, and they are already considered as some of the fastest. Asus has also included their very useful features such as Trace-Free settings, GamePlus extras, a plethora of tweaking options, all wrapped into one aggressive but refined exterior design. If you are willing to spend a bit more, you can get the IPS sibling in the form of the MG279Q for better colors and view angles, but we considered this TN version to be a better overall entry for this lineup since the price difference between the two is no joke.
---
2. BenQ Zowie XL2730 – Great 1440p Monitor with Freesync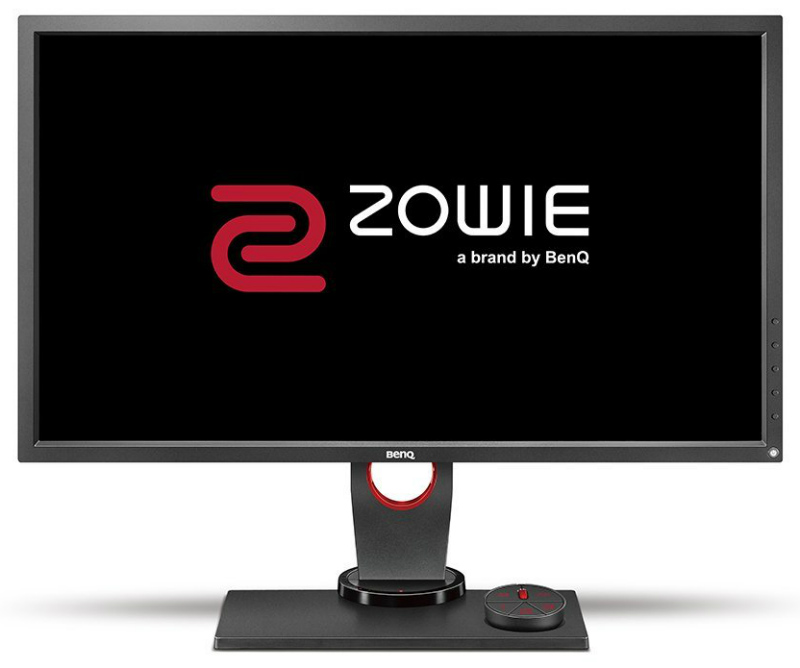 The BenQ Zowie is another hyper-fast 27-inch monitor able to compete with the PG278Q. What we love about this product first hand is its functional design features specified for the convenience of the user. There is also an S-Arc switch, a remote specially made for the company's XL line of E-Sports monitors, which allows the user to hot-swap between presets or modes on the fly, while also enabling a convenient way to navigate through the OSD. The XL2730 can go head to head regarding the speed with the MG278Q, especially if its immediate mode and blur reduction feature are turned on.
On significant advantage this product has over the other is it has a slightly better contrast ratio. The only primary consideration a buyer should be making between the two is the difference in design. Personally, we think the XL2730 takes the cake with its additions for a slightly higher price, but you can't go wrong with either since these two can go head to head in any technical aspect.
---
3. Acer XG270HU – Good 1440p Freesync Monitor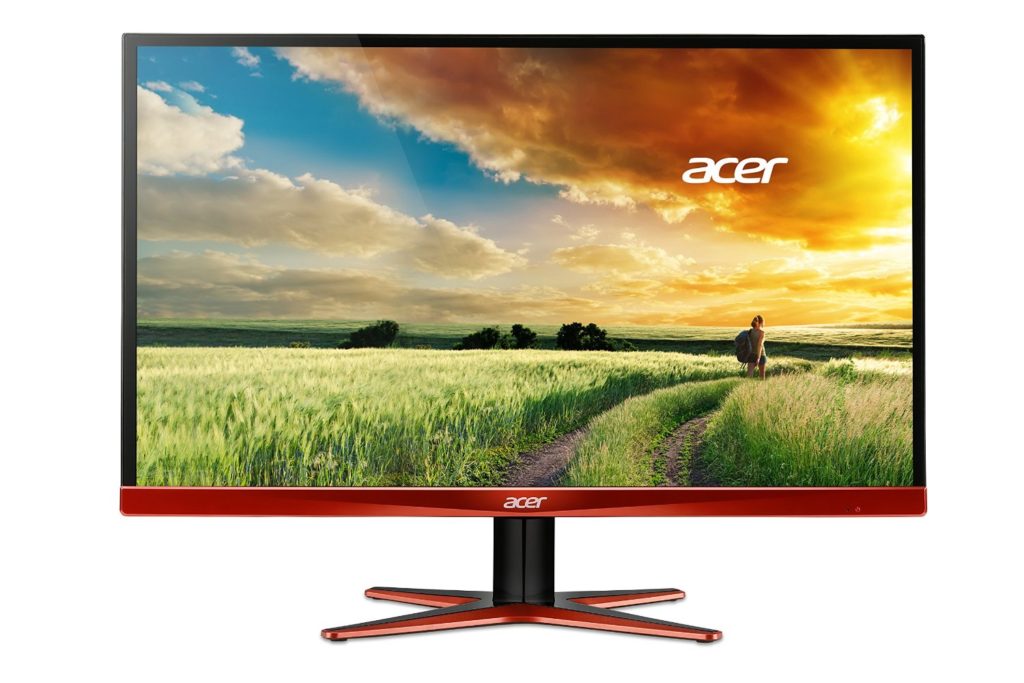 If you play a lot of graphics-heavy titles like The Witcher 3 or Deus Ex 2016, the Acer XG270HU should be your best pick for buttery smooth, and Freesync assisted gaming. This model sports the widest range of Freesync functionality, ensuring you can avoid tearing and image defects even when the scenes in-game get too intense. This offering is one of the oldest in this category, and its lacking ergonomics are easily forgiven due to the outstanding value of price to performance.
This model is slightly slower than the two newer models mentioned, but professional gamers still can maximize their lethal potential since this product is fast enough with an 8ms average response rate. That's low when considering the general 1ms advertising, but in technical testing, 8ms is not so bad and will be hardly felt or noticed. Aside from the fantastic performance, the XG270HU looks sexy with its ultra thin borders and glossy red accents found on the bottom bezel and the x-shaped base. If you want to save a more cash and you want good performance that comes with a unique svelte look, then this is the top Freesync monitor choice for you.
---
4. Samsung C32HG70 – 1440p QLED Gaming Monitor with FreeSync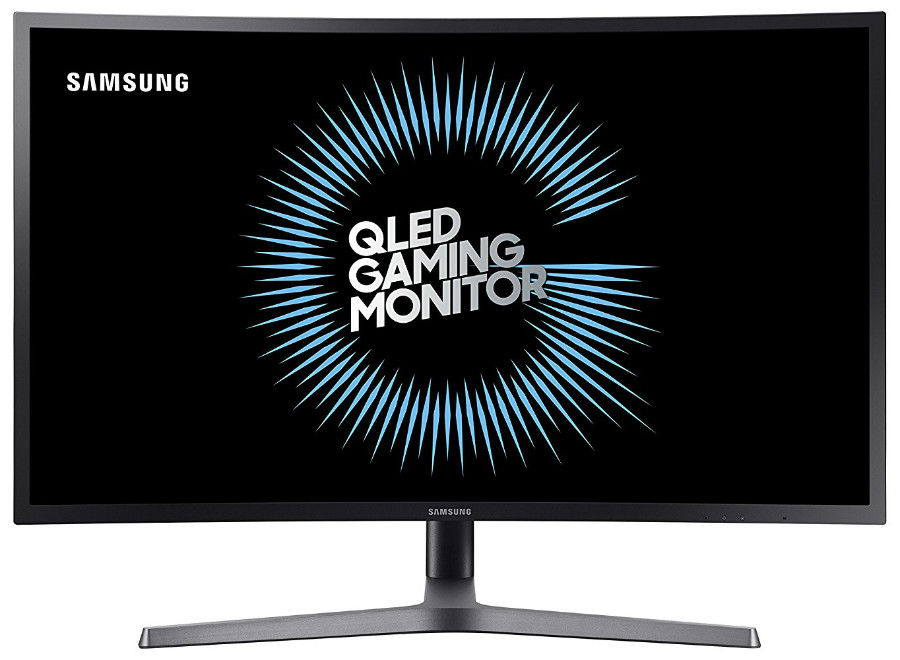 The Samsung C32HG70 combines a spec-list which hardcore gamers would love to have on their battle stations. The 32-inch curved display with a 1440p resolution creates a sizable viewing real estate for immersive action, while the 144Hz refresh rate and FreeSync takes care of the eye candy. Whats brilliant about this VA monitor aside from its deep contrast is the addition of the brand's Quantum Dot technology that boosts its vibrancy into HDR territory.
If you are after a gaming monitor that can push out visuals with an extended dynamic range of color and image quality, the Samsung C32HG70 is your best bet. The unique design is also a refreshing aspect to go for, setting the product apart from typical form-factor monitors. Like its other products, Samsung placed emphasis on a clean and minimalist design which disguises the Samsung C32HG70's killer capabilities.
---
Best 4K/UHD Freesync Monitors (3840 x 2160)
4K is the real challenge for consumers since most of the CPU builds we have nowadays and the crucial graphics cards in them are still unable to maximize almost all the games. This resolution significantly increases pixel and texture size exponentially, so to simply put it, FPS will drop a lot of times while playing games. Stutters and tears are a nightmare for gamers and detrimental to the experience which is supposed to be augmented by the increased level of detail.
This situation is where Freesync comes in to help sort these problems out and improve the consumer's viewing considerably. A lot of the 4K offerings on the market have come down in price, but they still are expensive especially the G-Sync variants. Thankfully, we have Freesync monitors whose prices do not deviate too far from conventional models.
1. Asus MG28UQ – Best Freesync 4k Monitor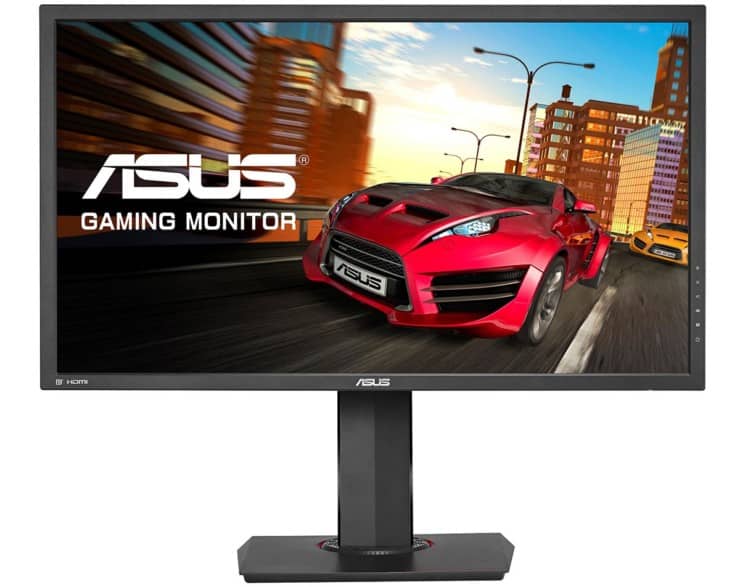 One of the best affordable choices for UHD monitors is, of course, the Asus MG28UQ. The TN panel is this product is also only capable of 60Hz, but currently, this product is considered as one of the fastest 4K monitors regarding input lag. Freesync with a 40Hz – 60Hz range completes the gaming arsenal packaged by Asus into this product, along with GamePlus features and presets. Despite having a TN panel, using the sRGB mode or tweaking the vast options in the OSD can make the screen produce excellent color accuracy and consistency almost near the IPS level.
If the performance isn't enough, this 4K display also sports the same cabinet and stand found on its other MG brethren, which has outstanding build qualities and a fantastic range of ergonomics found only on more expensive models. Out of all the units in this category, for us, this offering looks like the absolute badass of the group. Of course, Asus products are known to be expensive, but for its price range, and the value that the MG series offers, the MG28UQ is indeed one of the best.
---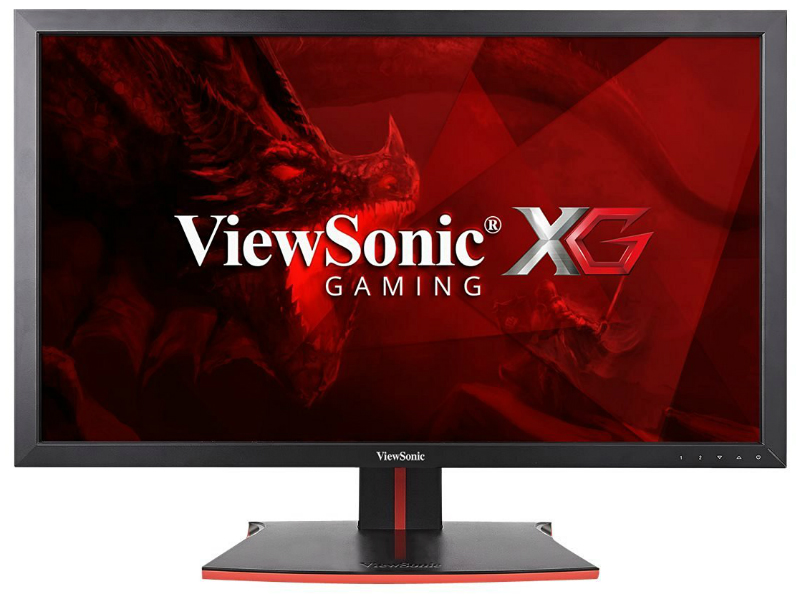 There are only a few available 4K 27-Inch IPS monitors with Freesync at the time of this writing, and one of the most affordable options is the ViewSonic XG2700-4K. This product isn't a professional grade display by any means since its refresh rate is still limited to 60Hz. But rather, it's application is more suited for productivity and casual enjoyment of games. One surprising aspect of this product is its outstanding capabilities in color accuracy, contrast and clarity once properly tweaked or calibrated.
Despite the narrow operational range, Freesync still does wonders for our gaming tests, providing tear-free images as long as we set a balanced graphics setting which would keep the FPS above 40. The main selling point of its exterior isn't aggressive or gaudy decorations, but rather, a robust, and durable build quality that compliments the minimalist looks of this outstanding product.
---
3. AOC U2879VF – Also Good 4k Freesync Monitor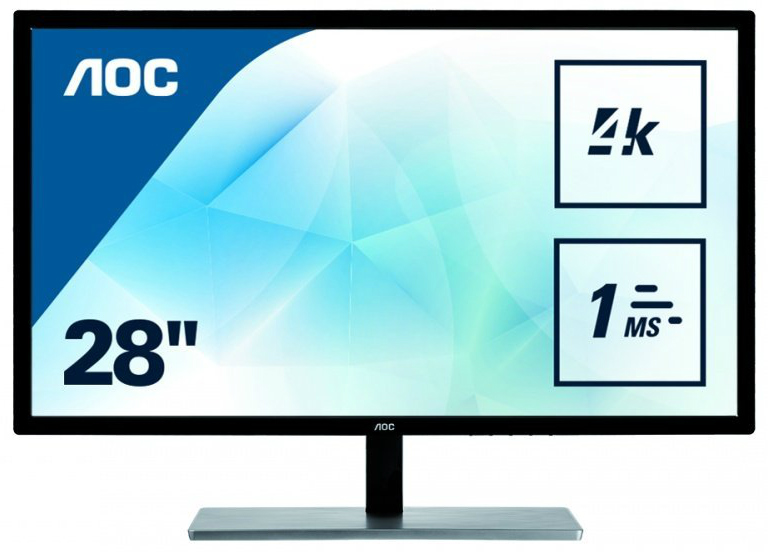 It is a well-known fact that anything related to 4K is expensive, even if the prices for these products have considerably come down in pricing. The AOC U2879VF isn't a highly specialized gaming or professional monitor, but rather, it is a product that sits in between the two categories. What's special about it is low price, putting it in the same bracket as regular run-off the mill display products. This product has an Innolux TN panel with 60Hz refresh rate, 1ms response time and 1000:1 contrast ratio, which are all characteristics commonly found in gaming monitors.
To keep frames smooth, AOC includes Freesync with a functional range of 40Hz to 60Hz. Out of the box, the colors will appear to be bland or misrepresented, but surprisingly, the built-in sRGB modes correct these errors making the screen produce vibrant and correctly saturated colors. This mode in other products usually does nothing or skews instead of adjusting the shades, but in this model, a preset works to its benefit. All of these features in a product with a little over $300 price tag can't be beat.
---
Ultra-wide monitors are almost as hard as 4K to run, plus tough to place since the wide desktop footprints of these models make regular sized table tops less ideal for placement. But more than just display gadgets, these products look like they are works of art, offering a vast horizon in viewing space while looking stunning at the same time. Running games in these resolutions will also push your graphics card to its limits, so more often than not, FPS will regularly dive in intense scenes
. Freesync is also an absolute must for this resolution, maximizing the beautiful visuals provided by these screens. Ultra-wides are also more expensive than most of the 16:9 variants, but of course, Freesync enabled models still offer incredible value over its G-Sync counterparts.
1. AOC Agon AG352QCX  – Good Ultrawide Freesync Monitor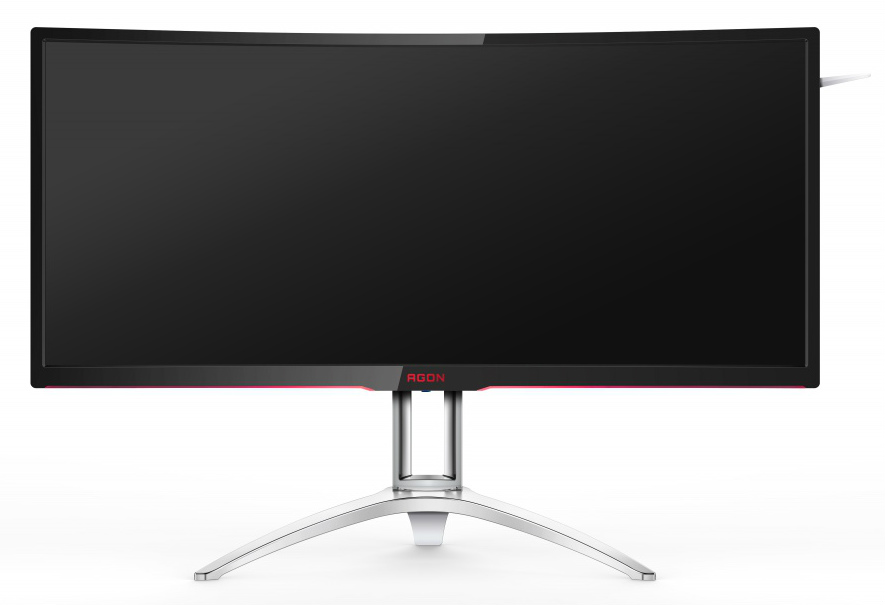 The AOC Agon AG352QCX isn't available yet, but judging from its bleeding edge specs and gorgeous futuristic design, this product is going to revolutionize the ultra-wide gaming scene. It's 35-inch MVA curved panel has a maximum 200Hz refresh rate, 2000:1 contrast ratio, and a different 2000r curvature. Most other offerings like the Samsung CFG70 we have seen are either 1800r or 3000r. One disappointing fact about this product is its 2560 x 1080 resolution since 3440 x 1440 is widely preferred for large monitors like this.
We suspect that the current DisplayPort bandwidth is not enough to support 3440 x 1440 at this rate, so this may suffice for the meantime. 2560 x 1080 still produces enough eye candy for maximum enjoyment. Another fact we love about this upcoming product is its full Freesync coverage of the entire refresh rate range, ensuring your games will be silky smooth all throughout. We are expecting the AOC Agon AG352QCX to be available next year after it pops out in the upcoming CES 2018.
---
2. LG 34UC79G – Great Ultrawide Monitor with Freesync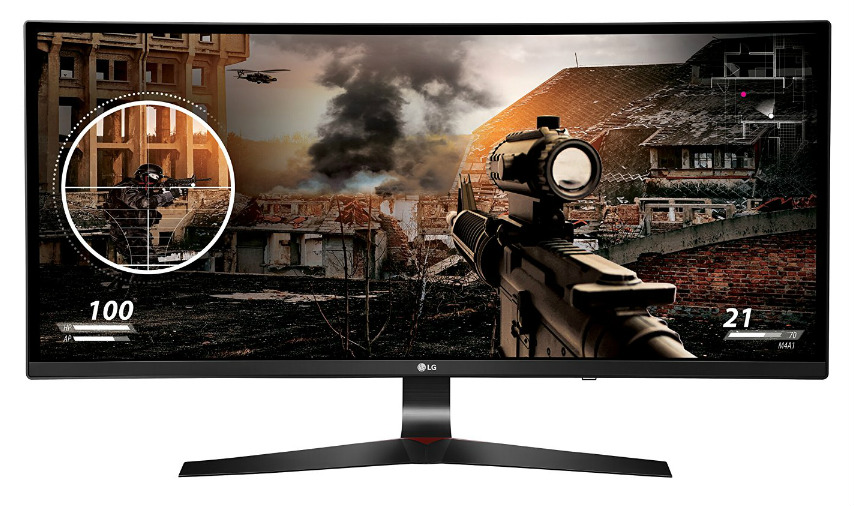 Another excellent ultra-wide Freesync Monitor is the LG34UC79G, which has a 144Hz IPS panel capable of good viewing angles, gamma levels, and uniformity which are all ideal for wider than most screens. Pixel response rate is at a respectable 5ms, so transitions in games will still be stunning with excellent color quality. LG also includes a variety of fantastic presets which are more than adequate for casual gaming applications, but as always, we recommend users to tweak the various settings on their own to get their preferred viewing quality. T
he Freesync window for this product is at 50Hz to 144Hz, but in situations where FPS drops below 50, AMD's LFC (Low Framerate Compensation)technology will assist you to correct the image and still avoid tearing. The resolution for this product is also at 2560 x 1080, which makes it less ideal for productivity but excellent for games since it is friendlier on midrange to high-end GPUs. Finally, its outstanding features are wrapped in a beautiful black exterior, with red accents in the right places, making this one of the best-looking ultra-wide products available to date.
---
3. Acer XR341CK – Best 75Hz Freesync Ultra-wide Monitor 2018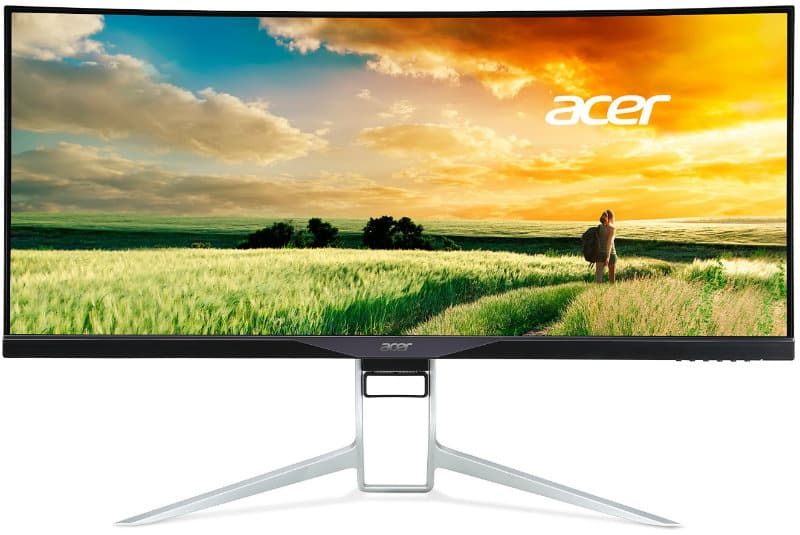 If you want a bigger resolution, your best Freesync choice is Acer's XR341CK. One downside to this product is its 75Hz limit for the refresh range. There aren't a lot of models with 3440 x 1440 capable of refresh rates at higher speeds, and this is mainly due to the limitations of the currently available display standards. In the future, we may see faster than 100Hz products, but for now, the 75Hz isn't so bad for your adventures with casual gaming titles. Freesync is functional from 30Hz to 75Hz, which is substantially wider than most other monitors with the same speed.
The VRR tech is crucial to this product since the resolution will tax your system heavily since it requires extra horsepower nearing 4K's requirements for maximized efficiency. Colors and contrast are also excellent for this model since the manufacturer's claims of 100% sRGB coverage are accurate. The XR341CK is quite expensive, but to match its pricing, Acer designed this product with luxury and cutting edge in mind. Take one look at this product, and you will instantly know that it's worth a huge sum of money. The perfect mix of brushed aluminum, matte, and gloss black, plus LED lighting features make this product not only a performance beast, but a beauty to behold as well.
---
4. Asus XG35VQ – 100Hz UltraWide Gaming Monitor with FreeSync and Aura Sync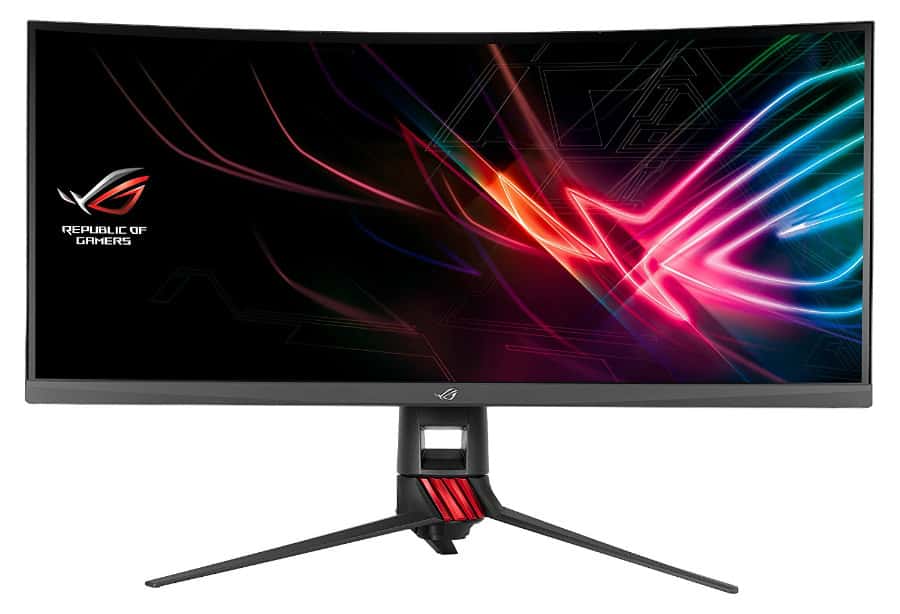 The Asus XG35VQ is a uniquely designed curved ultrawide gaming monitor that includes a 100Hz refresh rate and FreeSync for an amazingly immersive experience. The VA panel with an enthusiast-approved 3440 x 1440 resolution provides some of the best imaging qualities we've seen on gaming peripherals thanks to its 115% sRGB coverage with excellent accuracy even without calibration. The Asus XG35VQ is also one of the fastest ultrawides available thanks to its 4ms input lag score, ensuring that you are always on point in the heat of battle.
The Asus Strix design treatment which was based on the ROG Swift scheme adds a strict sense of gaming performance to the already excellent capabilities of the Asus XG35VQ. The helix stand with sufficient flexibility adds a level of convenience we all love on desktop monitors for easy management. The Strix gaming treatment also adds a beautifully designed RGB LED pattern on the chassis for awesome aesthetics and bias lighting benefits.
---
5. Acer XR382CQK – 38-Inch Ultrawide Gaming Monitor with FreeSync and USB-C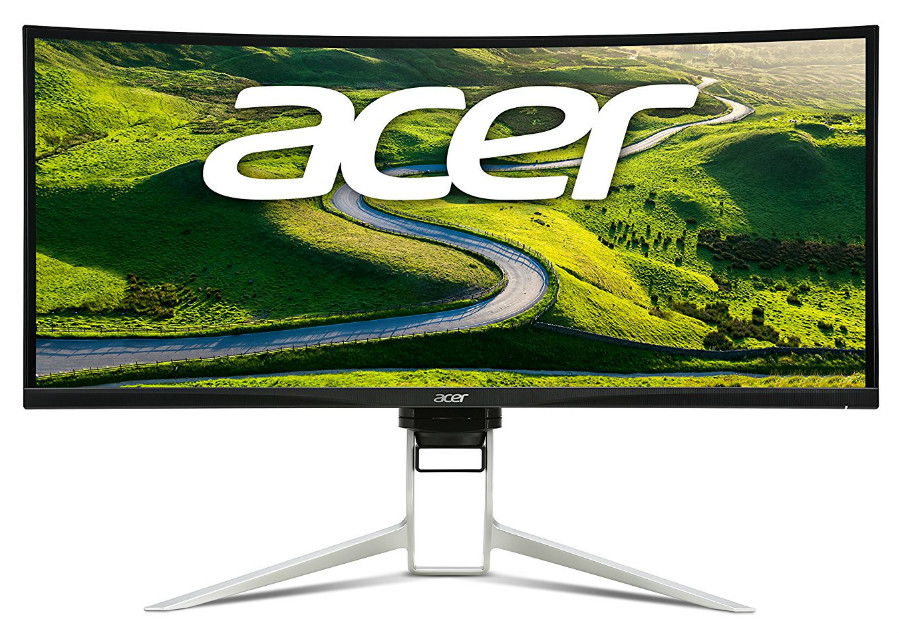 The Acer XR382CQK is a massive, 38-inch ultrawide monitor designed for immersive gaming and improved productivity. The equally impressive 3840 x 1600 resolution provides a ton of space for your workflow while also allowing a wider field of view for an added edge in gaming. The IPS panel on this model provides gorgeous eye-popping quality with superb accuracy and vibrancy, making the product suitable even for photo editing endeavors.
Acer did not leave out the exterior design aspect of the XR382CQK, so they did add a touch of engineering excellence to match the jaw-dropping display. The architecturally appealing stand comes with excellent stability and durability thanks to its design and the metallic material which also adds a posh aesthetic. Multitasking is also a breeze with this device thanks to its wide array of connectivity options which even includes USB-C for future proofing.
---
Conclusion
We have stated Freesync to be the best choice between the two competing solutions only because it does not cost an extra exorbitant amount, and out of the two, AMD's free for everyone concept is the most ethical. Making everything exclusive and requiring licensing and fees is mostly corporate greed, and is always detrimental to the consumers. Since AMD advertises and provides in a friendlier way, there are vast options a customer can choose from, and this is a good thing but also confusing at some point. We have selected some of the best Freesync products we have reviewed over the course of Monitornerd's operation, and we hope this narrows it down for readers looking for 1080p, 1440p, 4K or ultra-wide products capable of providing excellent gaming experiences. This fact has been stressed enough through a lot of articles; to get the most out of these products, you need to have a newer AMD graphics card for Freesync to function. Although, we do hope that someday, the competitor will agree to the pleas of gamers everywhere to make this tech and the monitors that come with it compatible with the green team's graphics cards.