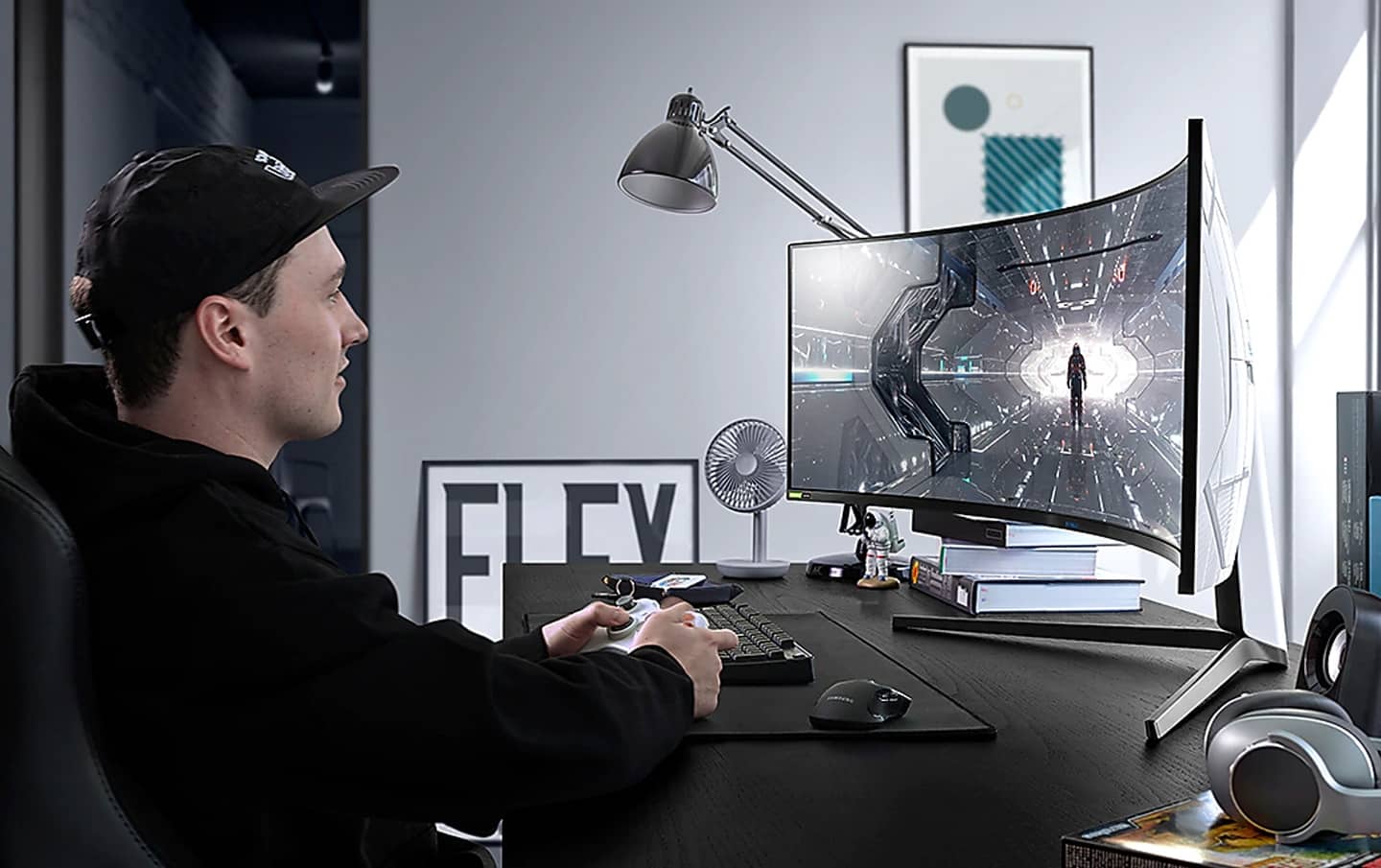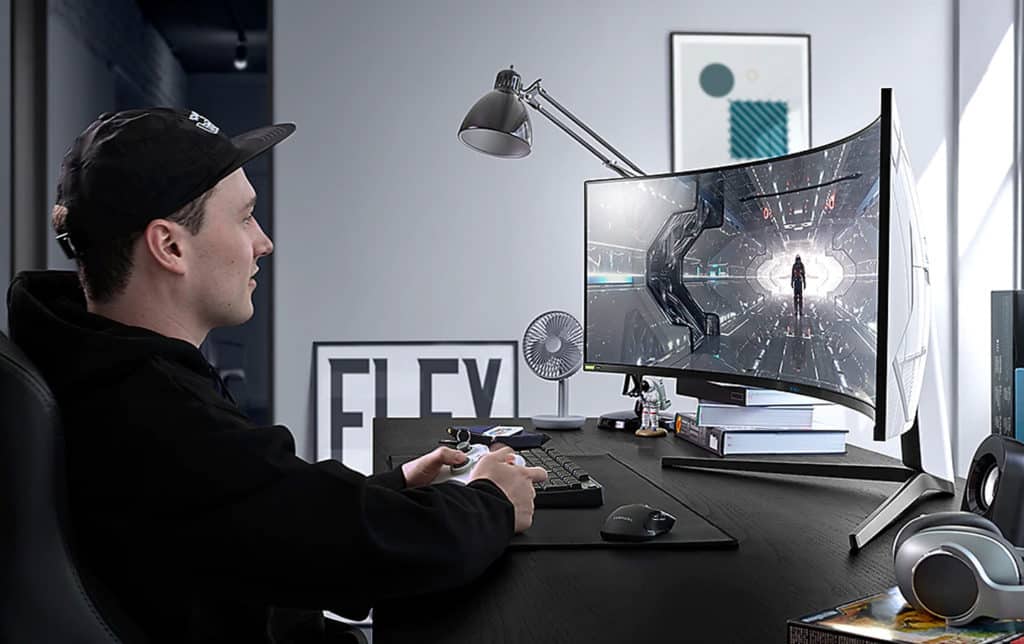 Top Pick: Asus VG27AQL1A – Best Overall Gaming Monitor
---
Best 1080p Gaming Monitors 2020:
---
Best 1440p Gaming Monitors 2020:
ViewSonic XG270QC – Best 1440p HDR Gaming Monitor
Gigabyte G32QC – Affordable Big-Screen QHD Gaming Monitor
---
Best 4K Gaming Monitors 2020:
---
Best UltraWide Monitors 2020:
AOC CU34G2X – Affordable Budget 1440p Ultrawide for Gaming
LG 34GN850 – Best Premium Ultrawide 2020
Samsung C49G95T – Most Impressive Gaming Monitor of 2020
Buying one of the best gaming monitors to buy in 2020 should be a priority on your upgrade list if you want to enjoy the best games and ready your system for the coming new year. 2020 has been tough, but gaming and work from home have grown exponentially so computers have become more important than ever. Getting one of the best gaming monitors in 2020 is the most significant upgrade you can get before the year ends, especially if you have or are planning to get one of the RTX 30 series or the latest AMD GPUs as well.
Our recommended best gaming monitors in 2020 come from the top brands that deliver the best possible performance via their impressive specifications. These monitors are fast, but they also offer the best possible image qualities such as color accuracy. Price and design are also big factors, but the best gaming monitors in 2020 do not necessarily have to be aesthetically pleasing or unbelievably cheap to make this list.
This list of carefully selected gaming monitors will cover all most, if not all tiers of categories for gaming. Some players may want an E-Sports-grade 1080p display, while the immersive or adventurous gamers out there might want something with an immersive resolution and size. We're pretty sure you will find a monitor that will suit your needs, specs, and budget without missing a great overall visual experience on your favorite titles.
How to Pick the Best Gaming to Buy Monitors in 2020
Of course, the most important part is your budget which dictates which model you can get without overspending. However, the most basic factor in choosing one of the best gaming monitors in 2020 is your GPU which will determine what kind of performance you can expect. Midrange cards like the GTX 1660 Ti or even the RTX 2060 are great for 1080p 144Hz or even 240Hz, but it will start to struggle at 1440p and become disappointing at 4K.
Owning a top-end card like the RTX 3080, RTX 3090, or the upcoming Radeon 6800XT and 6900XT will mean that the sky is the limit. The bottom line is that you need to be familiar with your gaming PC's performance so you can buy the perfect gaming monitor that will play games at their highest potential. Also, we do understand that different builds have varying performance numbers, so it is best to read a lot of reviews and research your PC specs first so you can at least get a baseline before deciding.
These best gaming monitors in 2020 options are mostly designed for PC, but console gamers can join in on the fun as well. Its easier to pick a monitor with the current-gen PlayStation and Xbox since they either play at 1080p or 4K, although the Xbox has support for 1440p. You also don't need a 144Hz monitor for them, so that narrows down your picks even more.
Monitornerd's Best Gaming Monitors in 2020
Our goal has always been to show you which monitors are worth buying and what you can expect from them or their competitors. Like you, we enjoy smooth and tear-free visuals, low input lag, and eye-popping colors while immersing ourselves in our favorite hobby. A top-of-the-line gaming PC is nothing without an equally opulent gaming monitor, so we're always trying our best to give you an insight on where to invest your hard-earned money.
Asus VG27AQL1A – Best Overall Gaming Monitor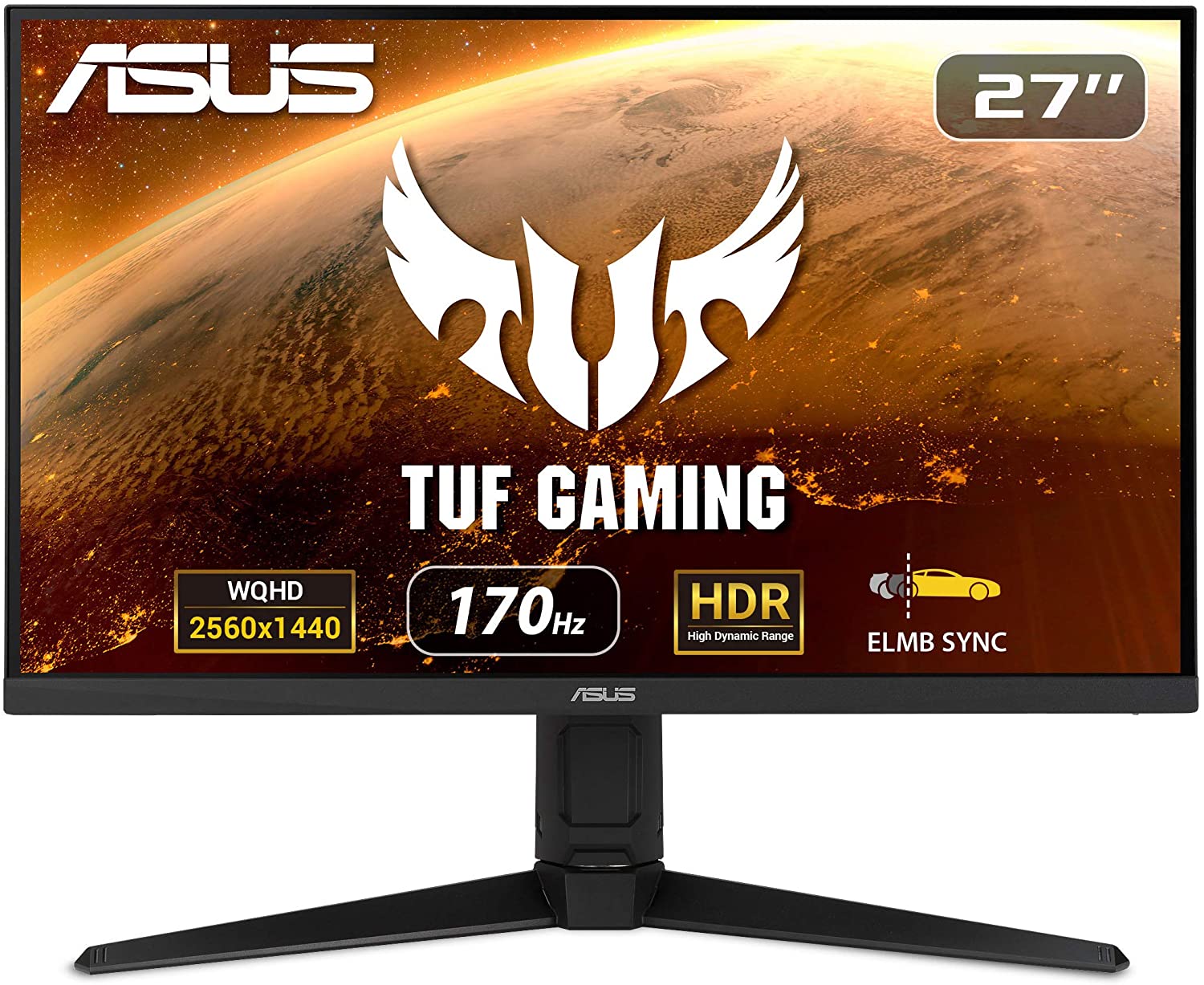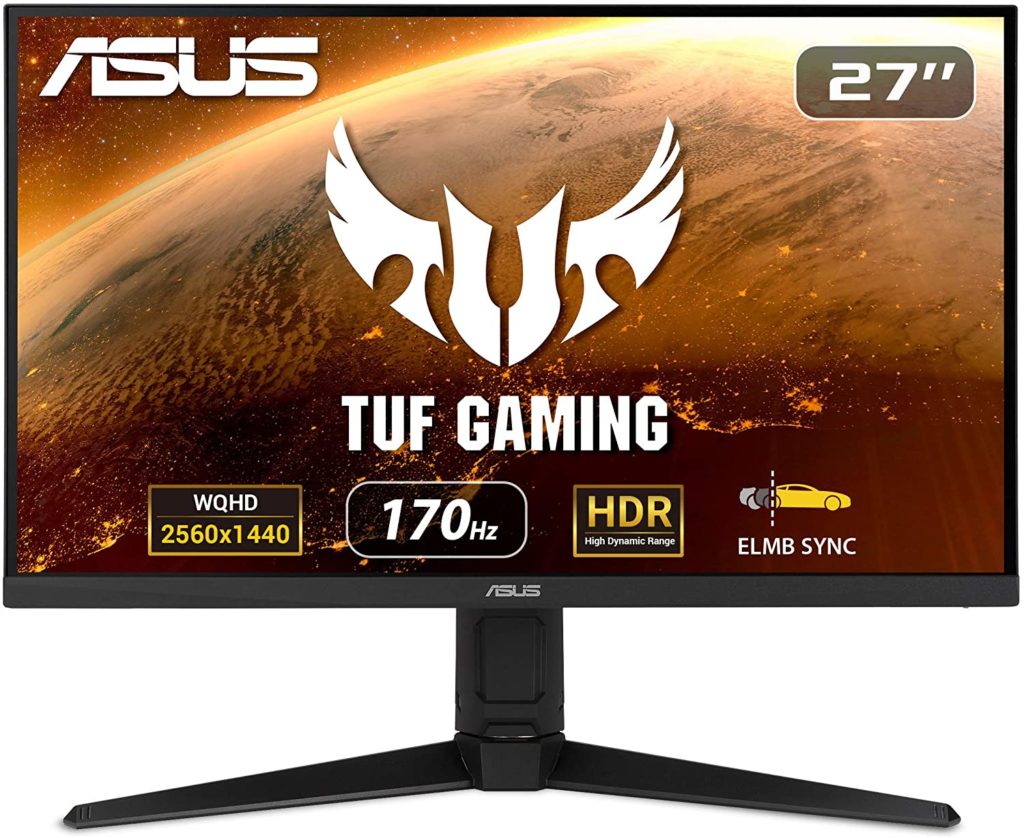 Reasons to Buy:
Attractive New Design
Wide Gamut Coverage
Excellent Color Accuracy Out of the Box
FreeSync/G-Sync Compatible
Blur-Free with Low Input Lag
The Asus VG27AQLIA is one of the best we have reviewed since it gets just about every important aspect right. The monitor features a 165Hz 1440p IPS panel with excellent color quality clarity which will make any game pop out. It's also quite fast for a higher-resolution display, so playing competitively in games like Valorant or CSGO won't be an issue.
The 1ms IPS panel is complemented by FreeSync and G-Sync compatibility, so frame drops won't be an issue whether if you are using an AMD or Nvidia GPU. Another outstanding feature you will find with this model is its ELMB feature which boosts the pixel response time to completely remove blurring. What's great about it aside from its effectivity is it doesn't block out Adaptive Sync, unlike older models, so you can still enjoy tear-free and smooth visuals.
All of that and the Asus VG27AQLIA isn't even the most premium variant in the brand's line up since it belongs to the TUF Gaming line up. However, it looks functional and has excellent build quality, plus all the right features such as a fully-adjustable stand and plenty of connectivity options for your PC and consoles. But the best part about it is its price which won't be too overbearing considering the kind of experience it can provide.
AOC 24G2 – Best Budget 1080p Gaming Monitor to Buy in 2020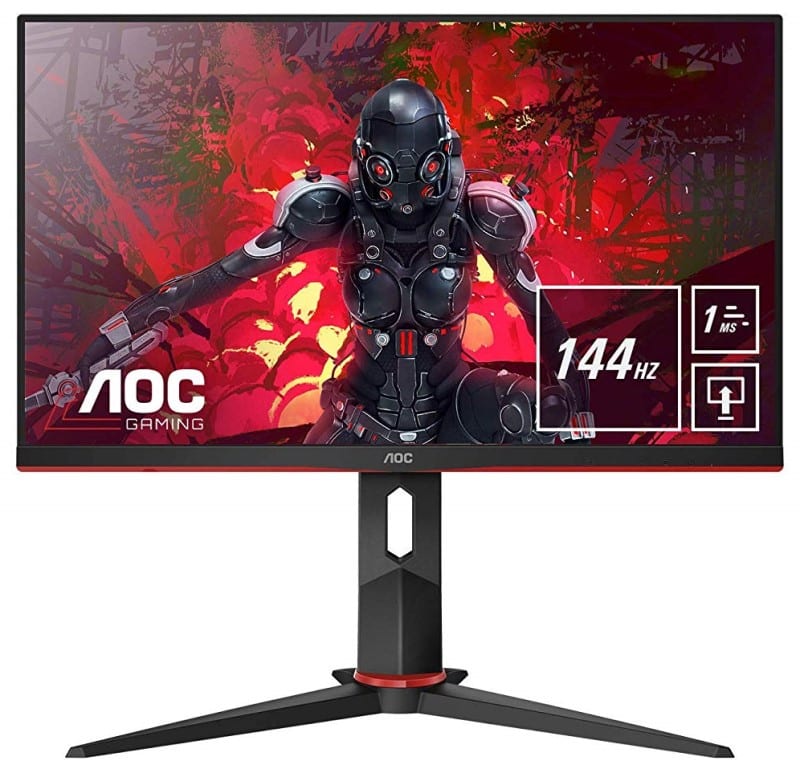 Reasons to Buy:
Attractive New Design
Wide Gamut Coverage
Excellent Color Accuracy Out of the Box
FreeSync/G-Sync Compatible
Blur-Free with Low Input Lag
The AOC 24G2 has been around for quite some time but it still constantly flies off the shelf due to its excellent price and capabilities. The humble monitor includes a Fast-IPS panel with a 1920 x 1080 resolution and a 144Hz refresh rate. That isn't top of the line by today's standards, but it's still the universal standard for E-Sports.
What's even more impressive about the AOC 24G2 is its color accuracy and contrast which you won't expect from a sub-$200 monitor. The monitor is great for editing as well when it's calibrated, doubling its value for the right user. It's also FreeSync and G-Sync Compatible which will help save you money since you don't have to buy a compatible GPU if you switch brands.
The most modest aspect of the AOC 24G2 is its design, but it still offers a fully adjustable stand and decent build quality. You don't get a lot of extra connectors with it such as USB ports, but that's forgivable considering how affordable it is. This model is one of the must-buys on the list simply because it is so good, cheap, and it sells out fast.
MSI MAG251RX – Budget-Friendly 240Hz E-Sports Monitor with USB-C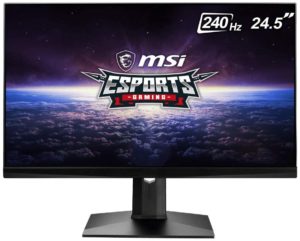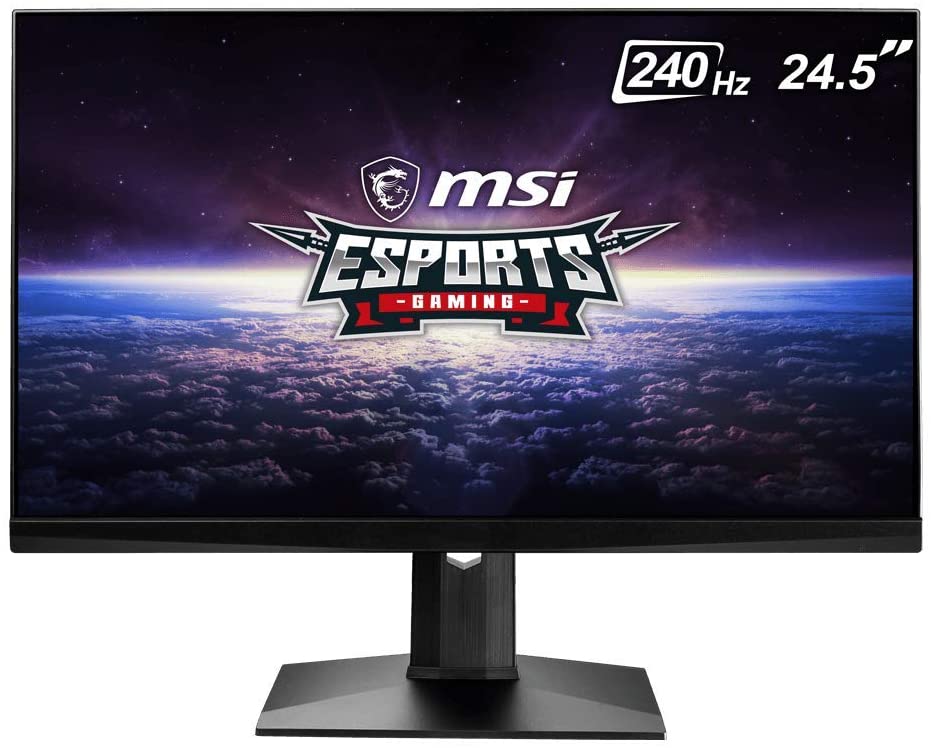 Reasons to Buy
Excellent Image Quality
Great Factory Calibration
Low Input Lag and Fast Pixel Response Time
FreeSync/G-Sync Compatible
USB-C Connectivity
The MSI MAG251RX is one of the most affordable 240Hz options available that can bring the E-Sports arena experience into your room. The monitor also features a Fast-IPS panel, unlike its predecessors which were dominantly using VA modules. You lose a massive chunk of contrast, but you gain color consistency and wider viewing angles.
Color accuracy and quality for the MSI MAG251RX is great out of the box, so you will be ready to game once you plug it in. Calibrating it will also give excellent accuracy that will go hand in hand with its superb responsiveness and very low input lag. The MSI MAG251RX also works with FreeSync and G-Sync, so you don't have to worry about which GPU to get when upgrading.
There are a few cut-corners on the MSI MAG251RX to help it lower its price point such as its limited stand. However, that can easily be forgotten since this model offers USB-C connectivity which is very rare for a gaming variant.
Asus VG279QM – Affordable Super-Fast Competitive Gaming Monitor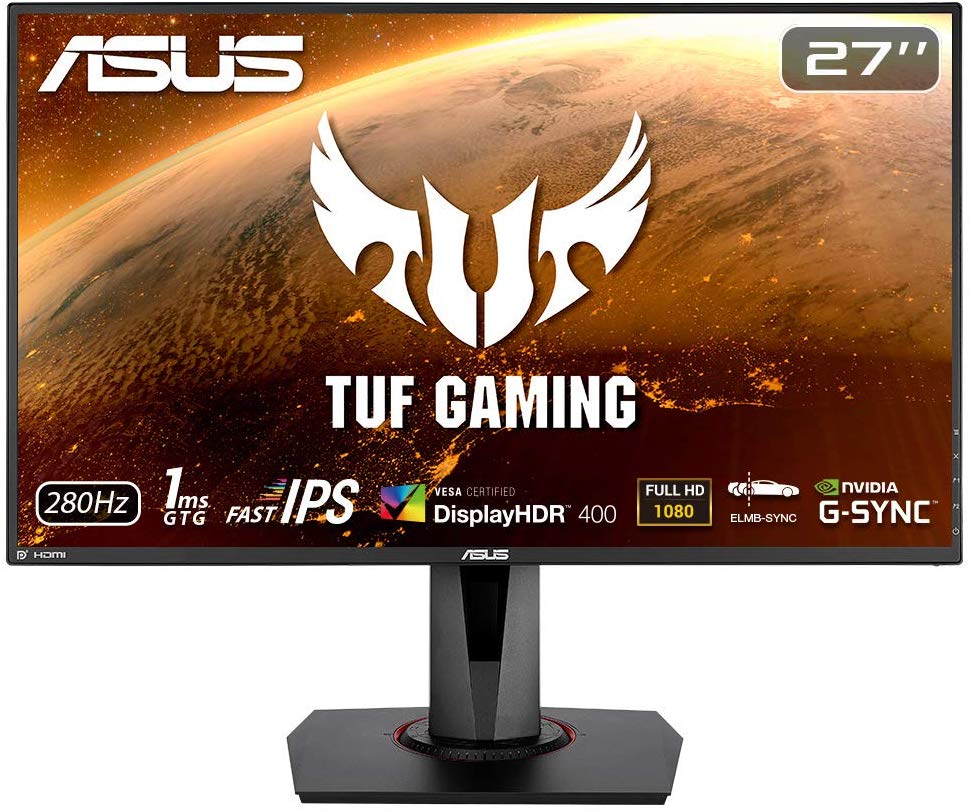 Reasons to Buy:
Good Factory Calibration
Lightning-Fast Gaming Monitor
Strong Pixel Response Time
FreeSync/G-Sync Compatible
The Asus VG279QM and its smaller sibling, the VG259QM is one of our favorite gaming monitors to buy in 2020 simply because it's a cheaper alternative to the 360Hz models. This monitor doesn't push it to the PG259QN's limit, but its 280Hz maximum refresh rate is more than enough for competitive gaming. Couple that with a very low latency score and you get a worthy contender that is almost cheaper by half.
The Asus VG279QM uses a very responsive IPS panel that is capable of great colors and accuracy. It isn't the best in that particular category, but it's a massive upgrade even when compared to the Asus PG258Q which uses TN technology. It's also FreeSync and G-Sync compatible and it has ELMB, all of which make it a compelling option at a reasonable price point.
We like how Asus designed its TUF Gaming displays that do not look too aggressive or gaudy like their ROG Swift offerings. The monitors are finished in matte black with a more or less complete set of functionalities like connectivity ports. These give the product one of the highest value per dollar ratings in our book, making it one of the absolute best gaming monitors to buy in 2020.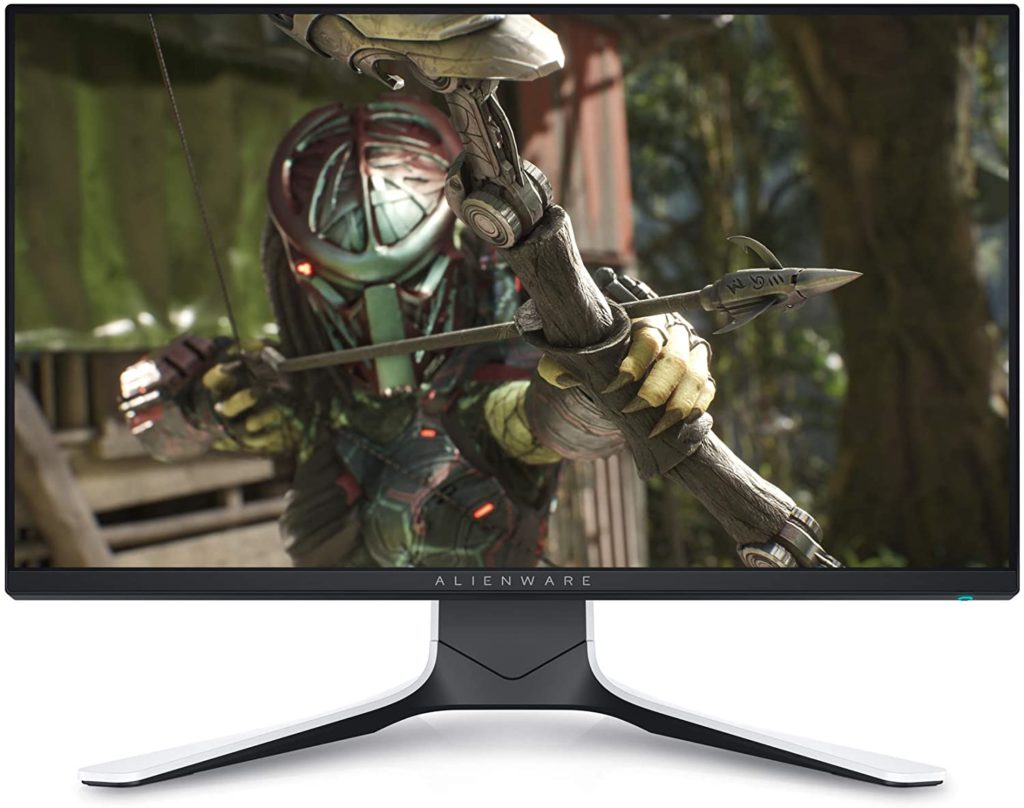 Reasons to Buy:
Great Color Coverage and Default Accuracy
Attractive Design with RGB
Excellent Motion Handling and Low Input Lag
FreeSync/G-Sync Compatible
The Alienware AW2521HFL is your best gaming monitor in 2020 pick if you want to kick it up a few notches in speed and elegance. The monitor features a lightning-fast 240Hz IPS panel with great picture quality and blur-free performance, so it's one of the best options for games like CSGO and Warzone. It is not as vibrant as the first two entries, but that's less of a priority when the best possible speed is your main requirement.
The Alienware AW2521HFL is also equipped with FreeSync and G-Sync functionality, unlike its predecessors which only offer one or the other. It also passes HDR 400 standards, so it gives you more room in enjoying visually-impressive games instead of the E-Sports titles. This model also has one of the lowest input lag ratings in the market, so delays will be a thing of the past.
It is also nice to have a gaming monitor that easily looks the most attractive if you aim to brag and impress. This particular variant has a white finish called Lunar Light which makes it perfect for a themed build. Couple that with premium functionality and RGB and you get a nice centerpiece for your exotic battle station at home.
Acer Nitro XV273 X – Premium 240Hz E-Sports Monitor with Excellent Color Quality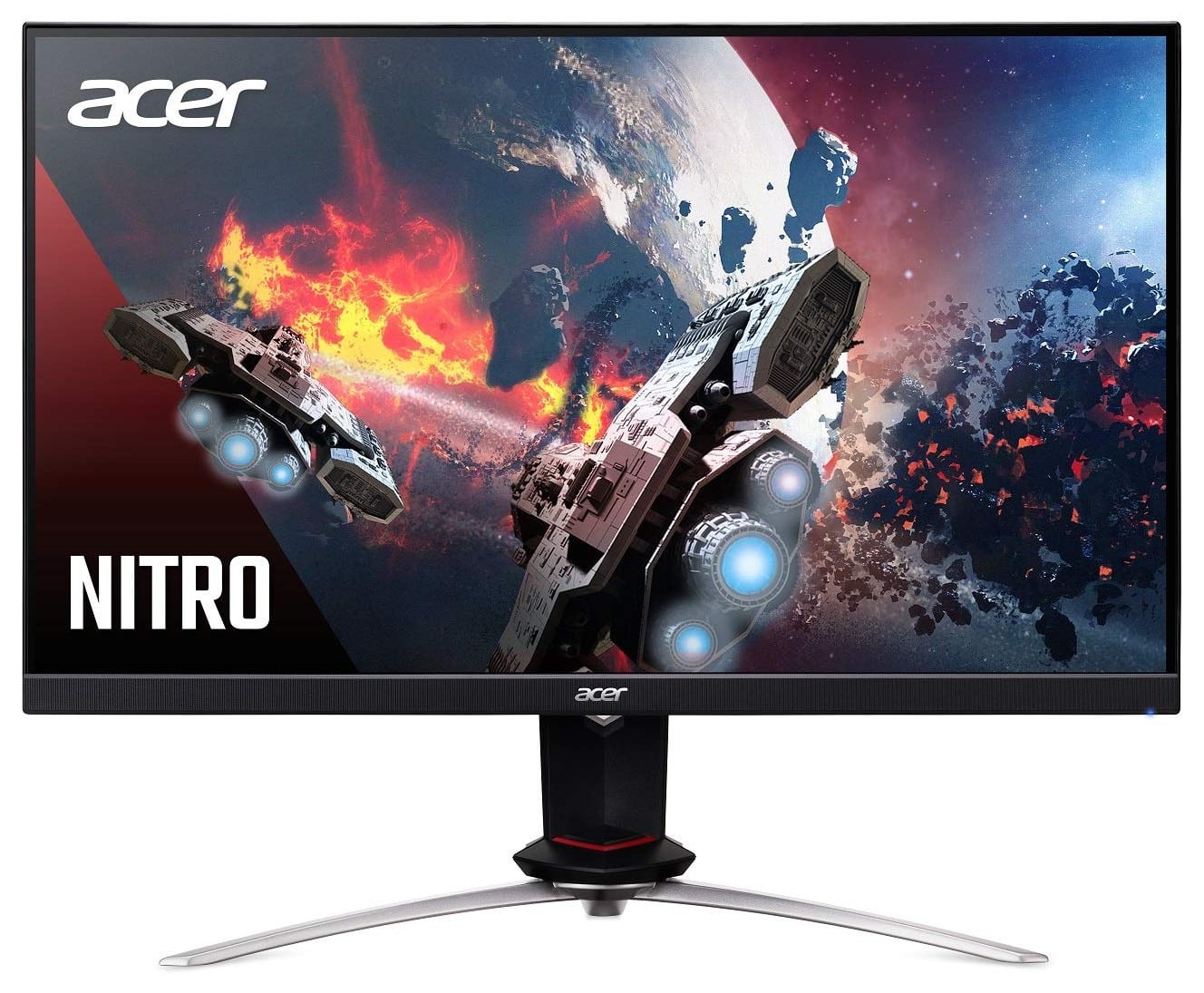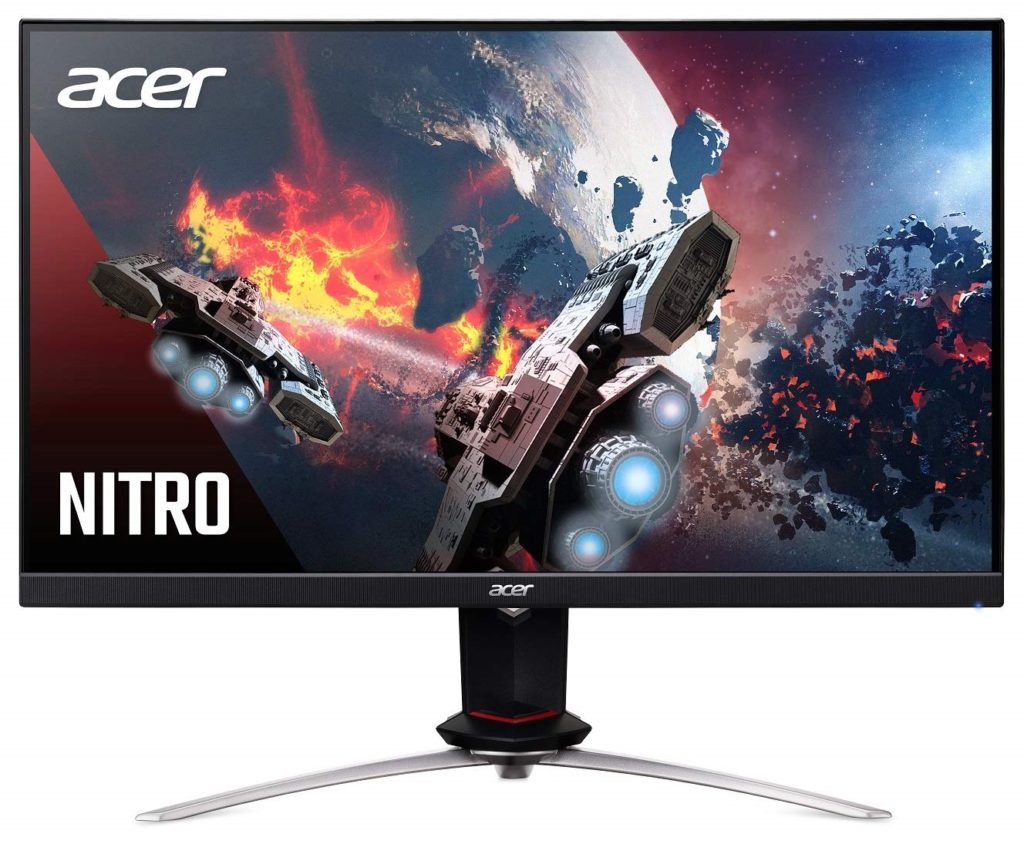 Reasons to Buy:
Great Color Coverage and Default Accuracy
Premium Design and Build Quality
Excellent Motion Handling and Low Input Lag
FreeSync/G-Sync Compatible
The Acer Nitro XV273 X belongs in the top charts since it offers the best of both worlds in the monitor market. The Fast-IPS gaming monitor has a 240Hz maximum refresh rate and a pixel response time that is comparable to TN variants. Couple that with an affinity for both FreeSync and G-Sync and you get a competitive gaming display that should last quite a while in your arsenal.
But what truly gives the Acer Nitro XV273 X a place in our hearts is its excellent color coverage and default accuracy. You don't have to tweak the display since it's already well-balanced right from the start, but calibrating it will make it suitable for prosumer use. It's rare to find a gaming monitor that is this accurate but do take note that actual dE averages can be different due to panel qualities.
The Acer Nitro XV273 X doesn't belong to the brand's top-end Predator line up, but it has a functional design with fantastic build quality. It is more expensive than its main competitors, but it's one of the rare cases where every dollar you spend is worth it.
ViewSonic XG270QC – Reasonably-Priced HDR QHD Gaming Monitor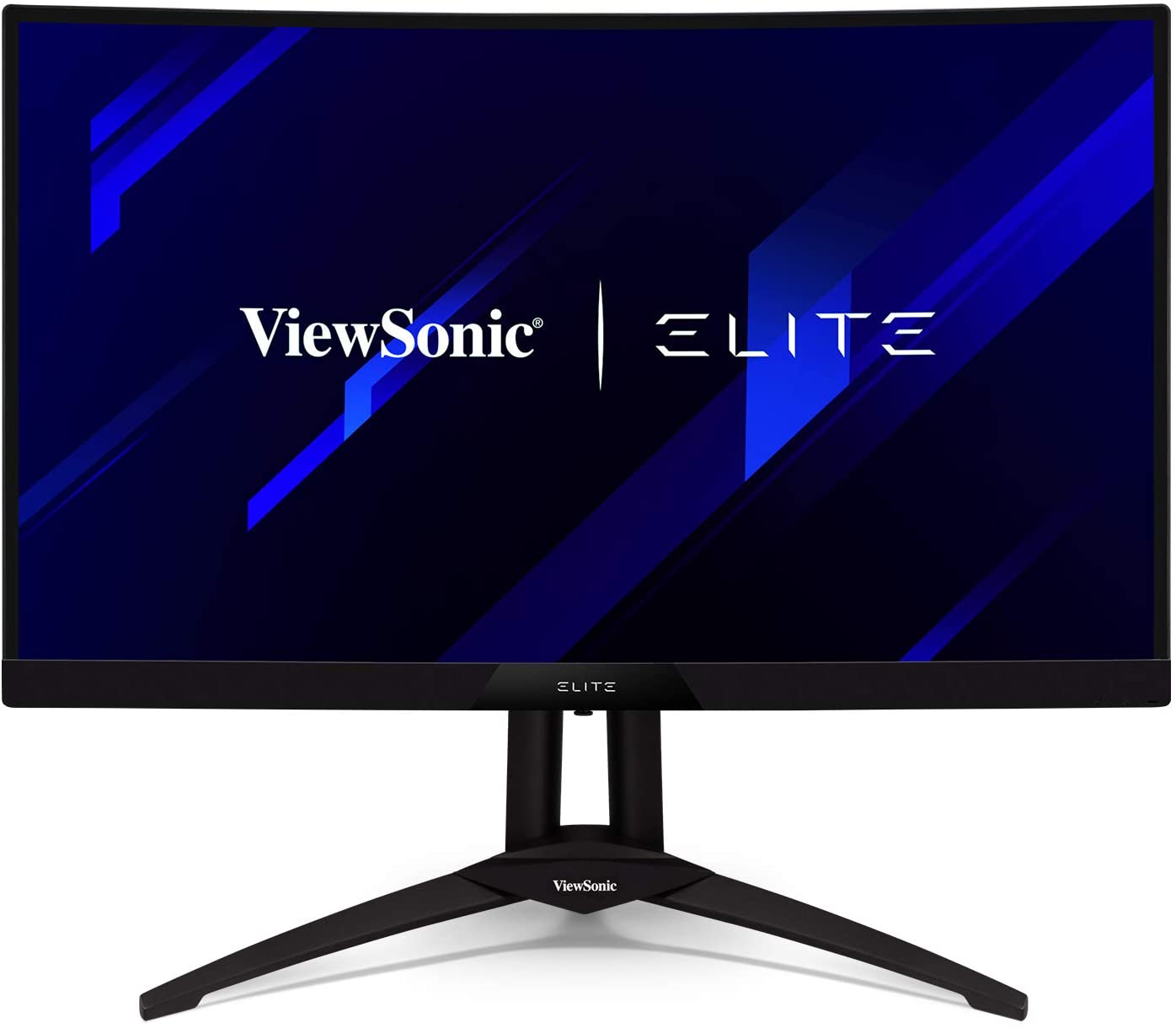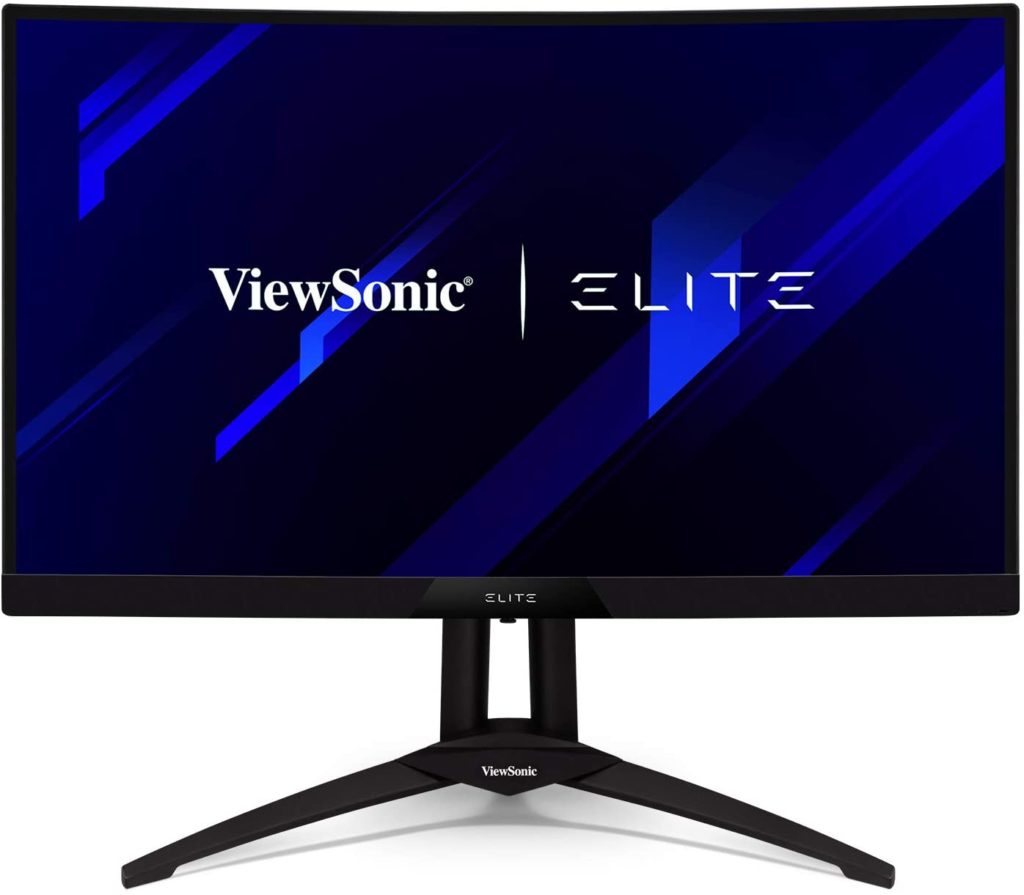 Reasons to Buy:
Wide Gamut Coverage and High Contrast
Excellent Factory Calibration
Attractive Design with RGB
Super HDR Performance
Fast Pixel Responsiveness for VA-Types
The ViewSonic XG270QC is a particularly underrated curved 1440p gaming monitor that's capable of excellent performance plus a bit more. The product boasts color and contrast-rich VA panel with a 2560 x 1440 resolution and a 165Hz refresh rate which gamers will love. That's already a formidable package at $450, but of course, there's more.
What makes the ViewSonic XG270QC special is its backlight which can reach more than 600 cd/m2 and push the contrast to around 20000:1. The monitor is only rated for HDR 400, but it is closer to HDR 600 if you consider the later stats and its color vibrancy. It's also FreeSync and G-Sync compatible, so you don't have to replace it if in case you decide to go with the other GPU brand this time around.
We also like how the brand designed the ViewSonic XG270QC since it doesn't look too aggressive or gaudy for a gaming display. It does have RGB lighting at the rear that works with the RGB Alliance brands, so you can easily create a themed setup if you have the right gear. We don't always particularly pay attention to these details, but they just make the device a better deal overall.
Gigabyte G32QC – Affordable 165Hz QHD Gaming Monitor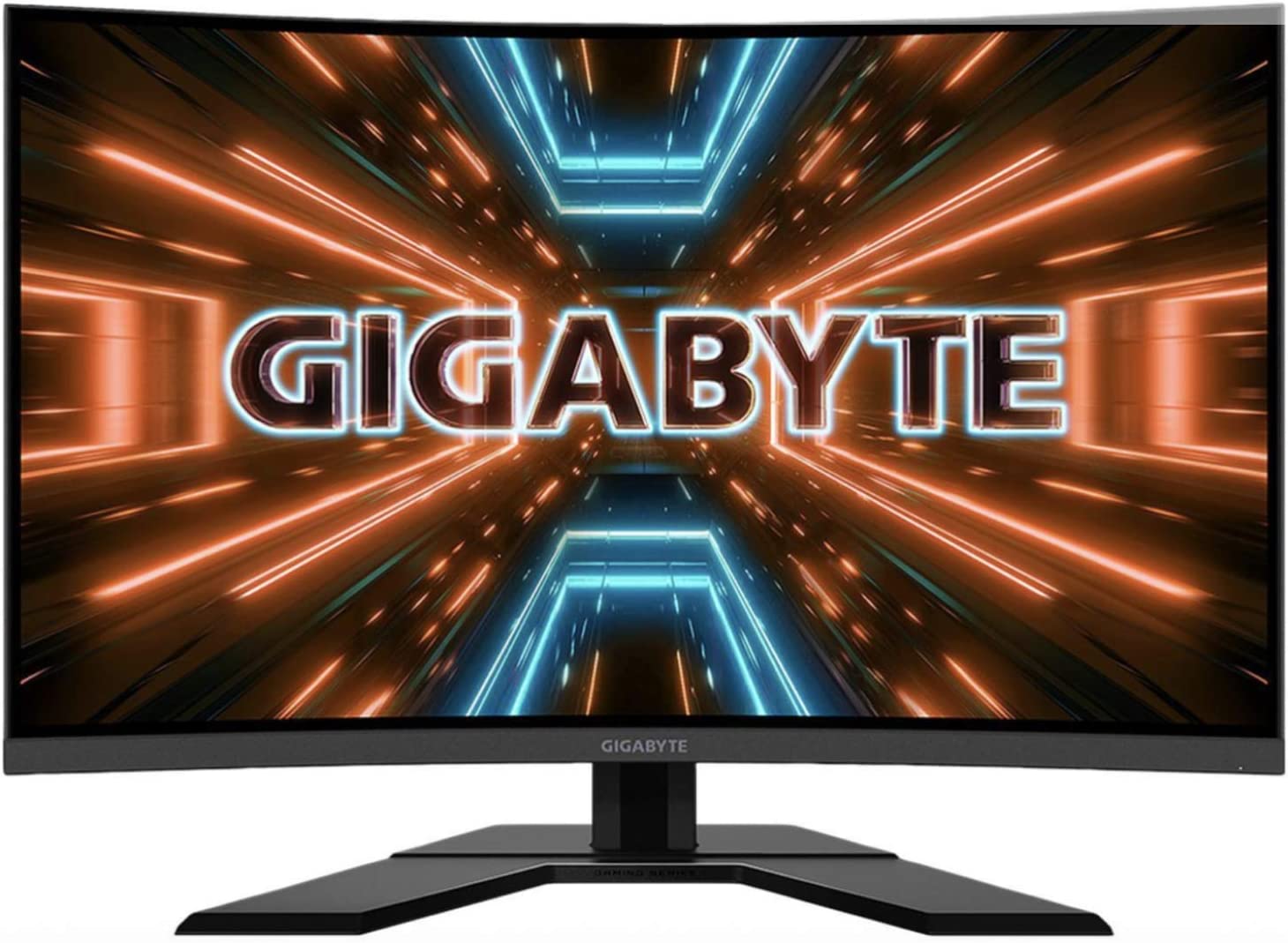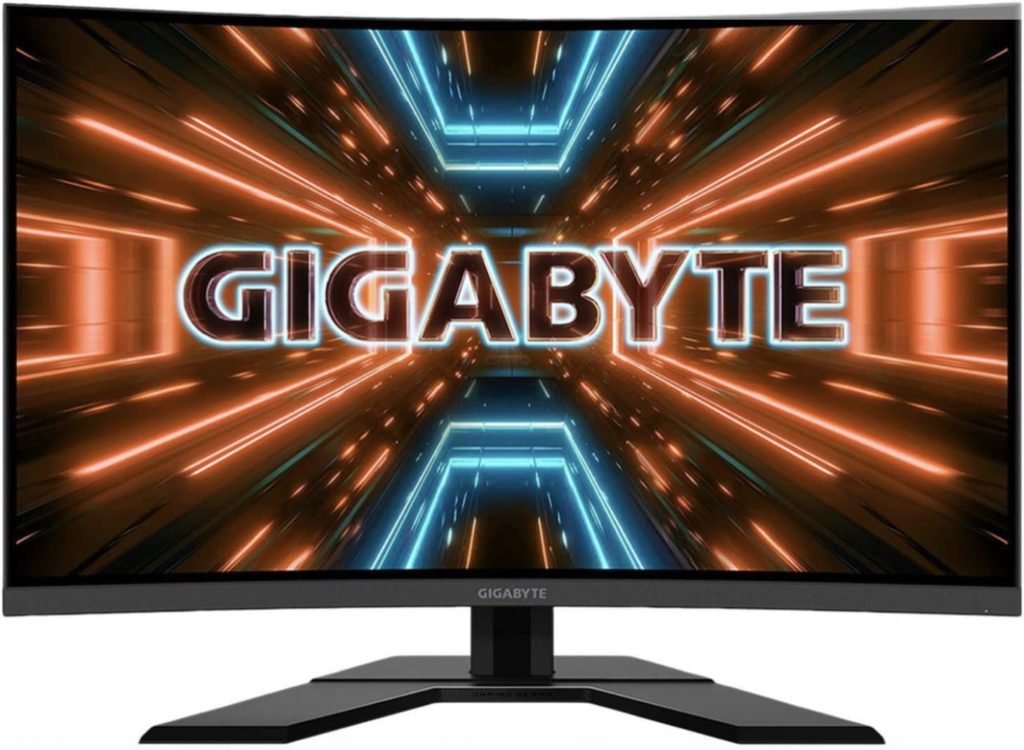 Reasons to Buy:
Attractive Design with Immersive Curve Radius
Excellent Gamut Coverage and Default Accuracy
Superb Motion Handling and Blur Reduction
Great Contrast Ratio
Improved HDR Performance Compared to Competitors
The Gigabyte G32QC is a surprisingly very affordable 2560 x 1440 gaming monitor that goes up to 165Hz. It comes from a different set of displays from the Aorus-branded models, but it's equally impressive when it comes to performance. We also like its sleek and simplified design which will fit into most setups.
What makes the Gigabyte G32QC special is its 125% sRGB and 93% DCI-P3 coverage which isn't too common at this price range. It is ready to use out of the box since it already looks balanced after adjusting the backlight, but calibrating it is even more beneficial. You lost a bit of pixel density with the screen size, but it still shows plenty of details and crispness compared to 1080p screens.
The Gigabyte G32QC is also FreeSync and G-Sync compatible which enhances its value per dollar further. You can even go cheaper with its smaller, yet comparably capable variant, the G27QC, if you want to save further.
BenQ EW2780U – Best Gaming Monitor in 2020 for Mixed-Use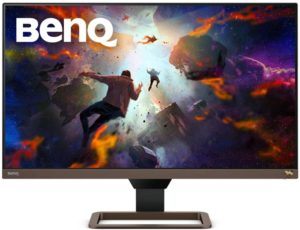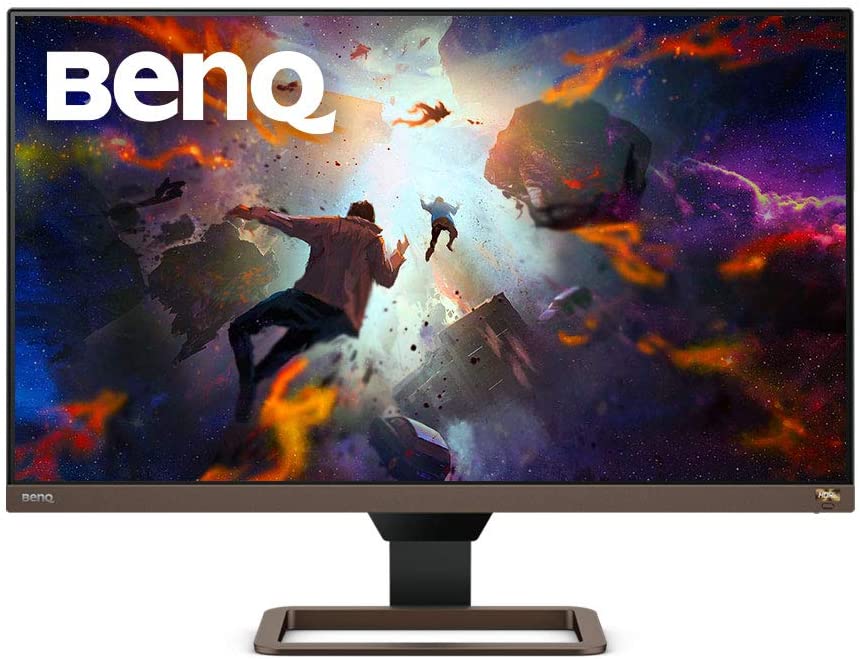 Reasons to Buy:
Fantastic Color Accuracy
Upgraded Sound Package
Lots of Useful Features
Attractive Design
USB-C
The BenQ EW2780U is specifically designed for entertainment, but it's also a very capable 4K monitor for other tasks. The IPS panel in this offering offers fantastic vibrancy and fidelity which enables it to dabble in prosumer affairs. Calibrating the monitor makes it usable for editing work while enabling you to enjoy games in 4K with gorgeous shades and saturation.
Its downside is it only goes up to 60Hz, but 4K at 120Hz or higher isn't mainstream yet let alone affordable. It also doesn't mean you are losing out on a great gaming experience with the BenQ EW2780U since it also is a great platform for 4K consoles like the PS4 Pro and the Xbox One X. You also get a decent set of built-in speakers with this option, pushing its value per dollar further than many options in the market.
Some of the characteristics that make the BenQ EW2780U stand out is its unique color and its USB-C connectivity. It's a great option for low-key builds, plus it's also viable as a docking display if you have laptops like the MacBook Pro. We'd pick this if you want a functional monitor that is good for gaming as it is for productivity and general entertainment purposes.
Viotek GF127QXA – Affordable 4K 144Hz Gaming Monitor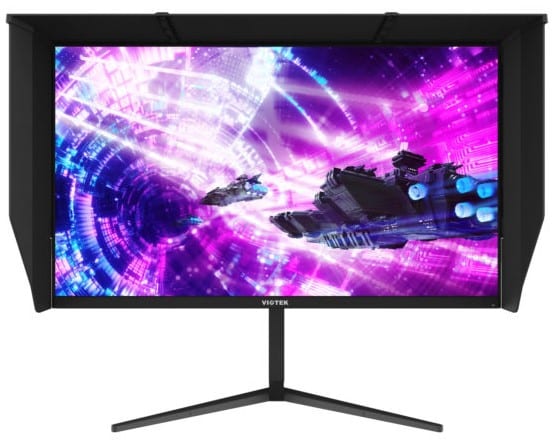 Reasons to Buy:
Excellent DCI-P3 Coverage
Great Default Accuracy
Improved Design and Build Quality
FreeSync/G-Sync Compatible
Low Input Lag
Affordable 4K 144Hz Monitor
The Viotek GF127QXA is one of the few monitors that truly surprised us this year with its massive upgrade in quality. The monitor now features a more durable frame and better materials, unlike its siblings which were usually flimsy and only had decent image quality. Viotek stepped up their game for this model, so it doesn't feel that you are sacrificing anything by going with the thrifty option.
What even better is the Viotek GF127QXA's image quality which can go toe to toe with its premium competitors. It is capable of close to 100% DCI-P3 coverage and a higher than usual contrast, so eye-popping visuals are guaranteed. It's not as accurate as a prosumer display, but you wouldn't notice it while your eyeballs are getting dazzled by its impressive specifications.
Some of the things that are missing on the Viotek GF127QXA is DSC and a very effective overdrive solution. You have to sacrifice its maximum refresh rate to avoid Chroma subsampling which creates a penalty to its overall vibrancy. However, we're willing to overlook that in this case since this monitor's sub-$700 price tag is difficult to argue against.
Acer CP7271K – Ultimate 4K 144Hz Gaming Monitor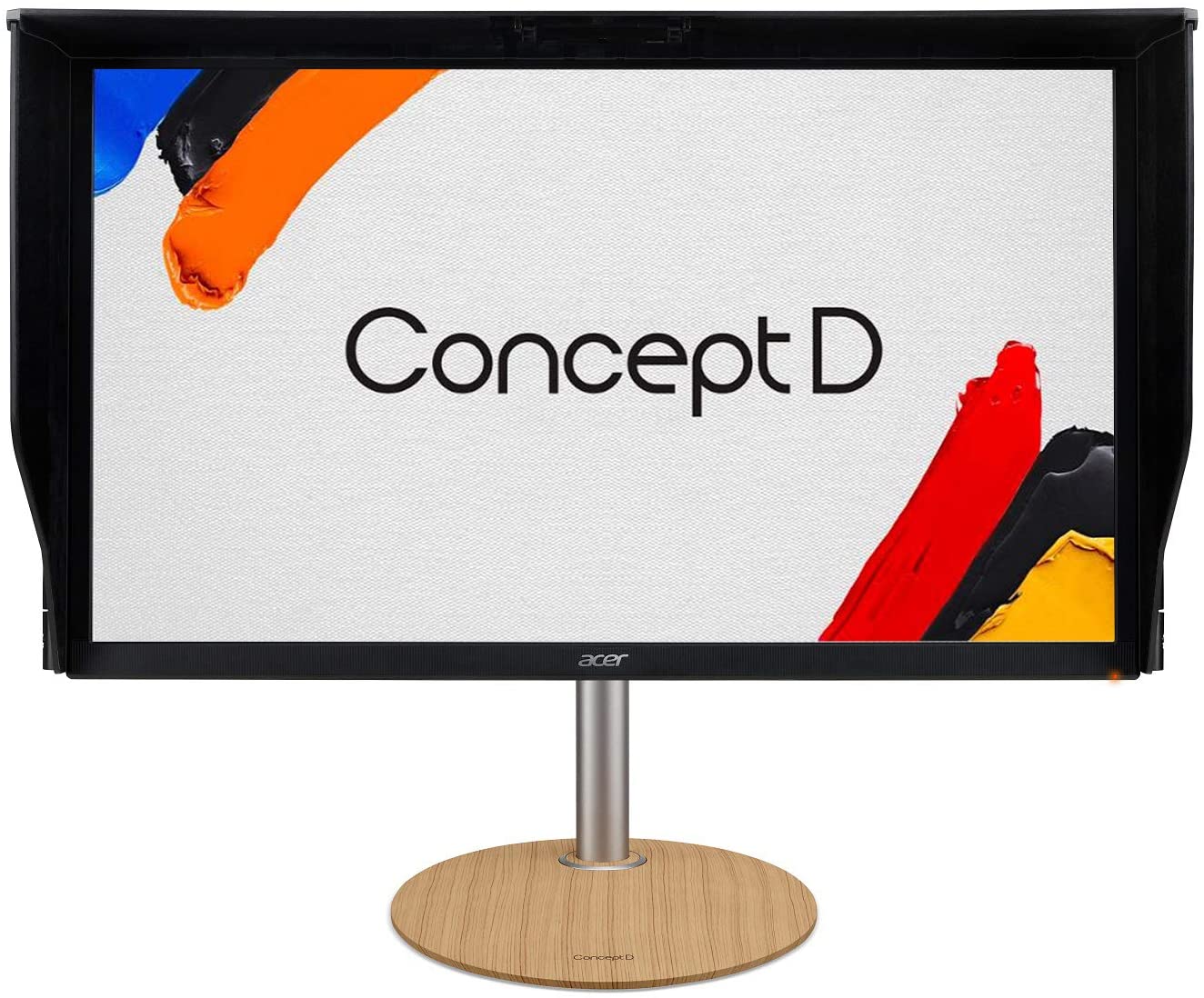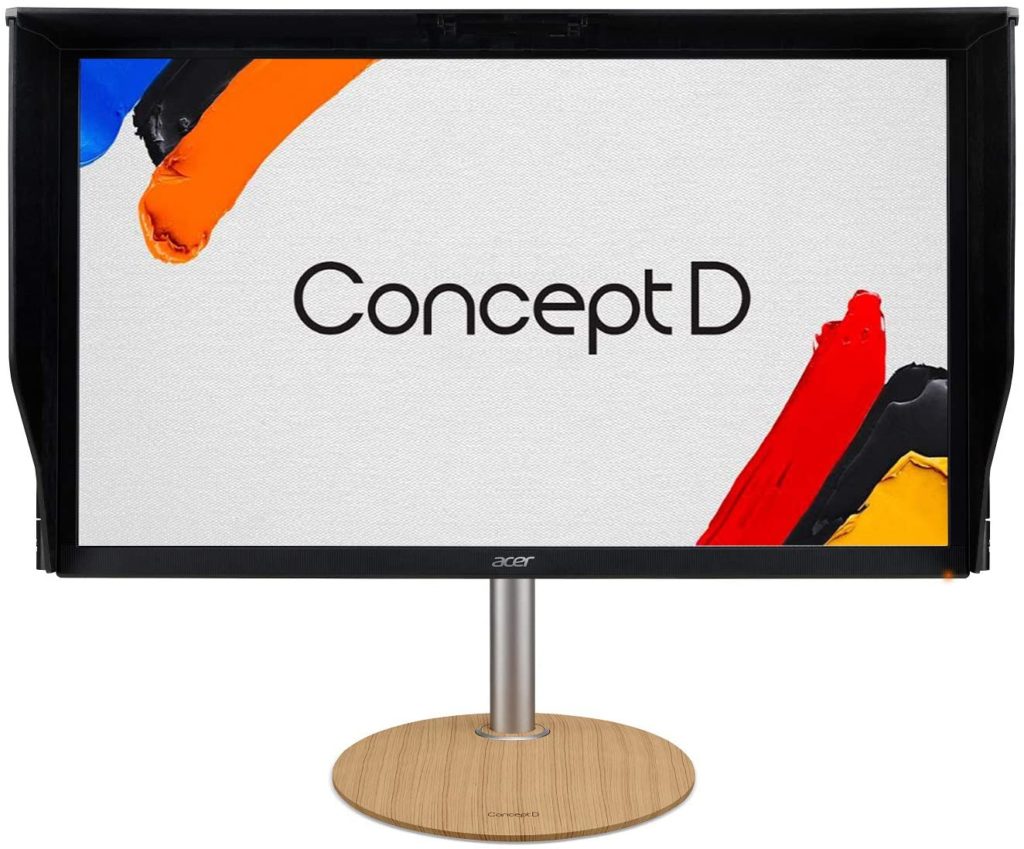 Reasons to Buy:
Unique Design
Extra Wide Gamut
Fantastic Color Accuracy
Fast and Responsive Gaming Monitor
Strong HDR Performance
The Acer CP7271K boasts impressive specs that most of these entries will not be able to match. It's a unique proposition since it is designed for creators, but its 4K 144Hz screen and G-Sync Ultimate capabilities place it at the top of the food chain. The Pantone-validated and pre-calibrated display offers the best of both worlds, but it's also one of the most enjoyable monitors we've seen in 2020.
What makes the Acer CP7271K is its 4K 144Hz IPS panel that's coupled with a 1000 cd/m2 FALD backlight that enables incredible HDR imagery. It offers one of the highest results we've gathered in vibrancy and contrast, ensuring that you get the best possible visual experience for gaming, movies, and editing. Its G-Sync Ultimate feature makes it a great pair for the RTX 3090 which is currently the 4K 144Hz king in the GPU segment.
Some may not like it, but the Acer CP7271K veers away from the usual gaming aesthetic and instead goes for a Zen or minimalistic vibe. The faux wood base with a fully adjustable metal stand looks gorgeous and unique, and we know it appeals more to an increasingly meticulous enthusiast market over the gaudy alternatives. It is expensive, but it's the current best you can buy if budget isn't an issue.
Asus PG43UQ – 4K 144Hz Gaming Monitor with HDR1000 That's Better Than Your TV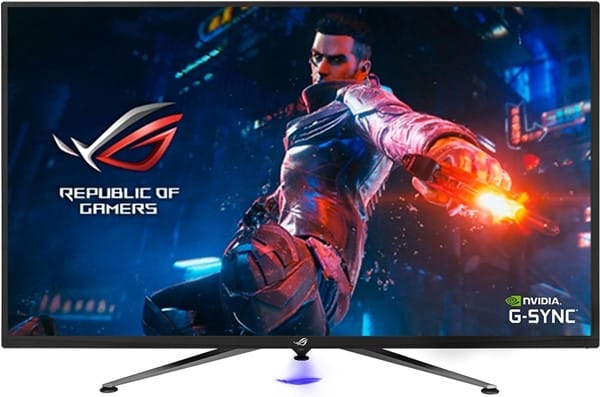 Reasons to Buy:
Large 4K Display
HDR1000 Backlight
Excellent Image Quality and HDR Performance
FreeSync/G-Sync Compatible
Low Input and Lag and Response Time
The Asus PG43UQ rolls every possible top-end specification into an upsized package that can replace both your fast gaming monitor and your TV. The device boasts a 43-inch VA panel with a 3840 x 2160 resolution and a 144Hz refresh rate that equates to one of the best visual experiences currently available. Its also HDR 1000-compliant, meaning you can get eye-popping HDR performance that is only second to OLEDs and mini LED-equipped variants.
The Asus PG32UQ's panel is capable of fantastic color quality even if you run it at its max refresh rate since it has DSC. You don't have to sacrifice the full chroma of the display or its top speed if you choose to utilize only one DisplayPort 1.4 slot which usually limits one or the other. Another surprising feature is this model is a G-Sync equipped display, but it's designed to work with FreeSync, unlike the older ROG Swift models.
It's easy to mistake the Asus PG43UQ for a TV, but its distinct ROG aesthetic will always stand out from the rest. The RGB Eye projector alone is a big hint that this is a specialized display that was intended for the most discerning gamer. It is also worth noting that it's available in a stripped-down version called the XG438Q which is also great, but we recommend going all-in with the PG43UQ since it is a good investment.
AOC CU34G2X – Affordable 144Hz 1440p Ultrawide Gaming Monitor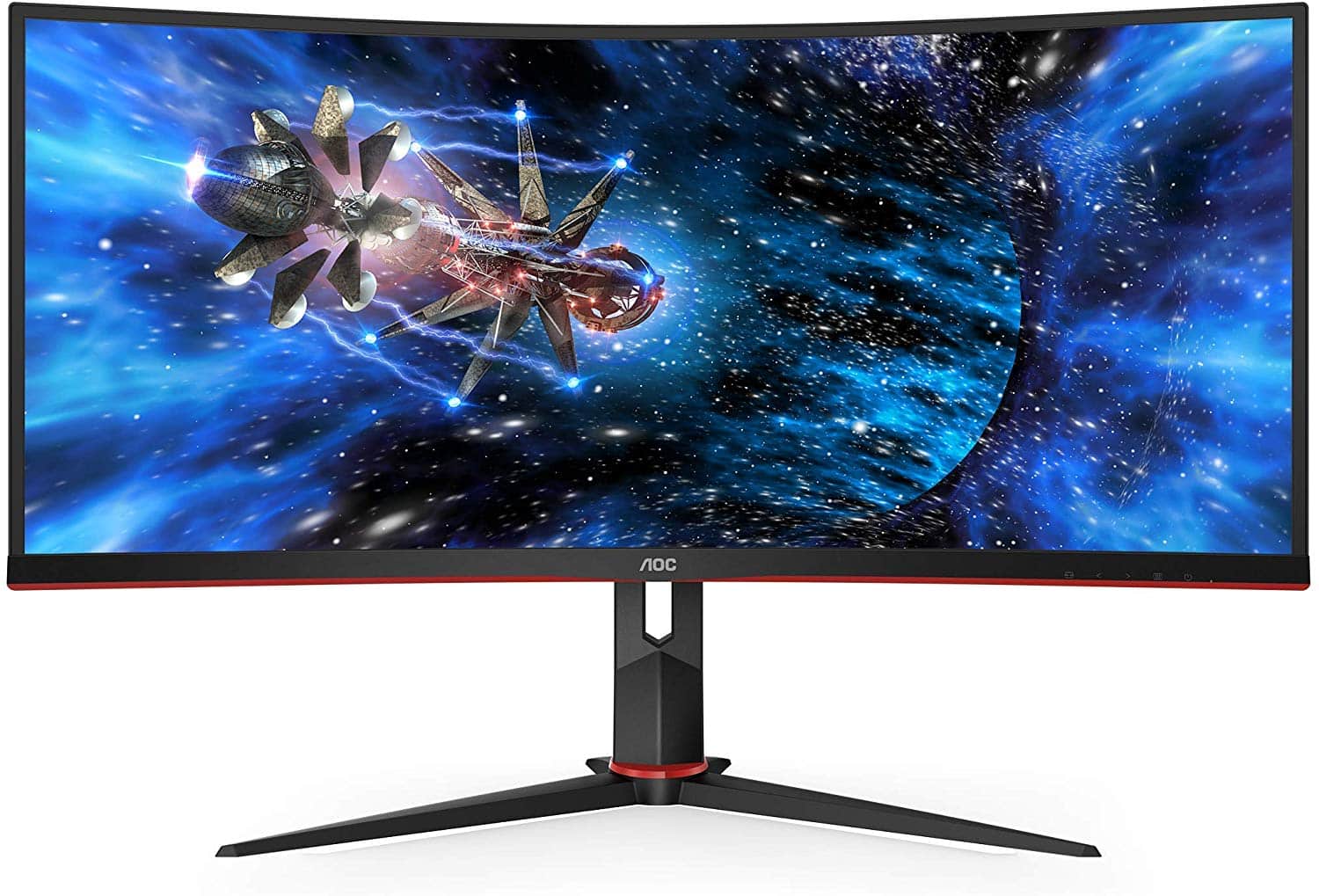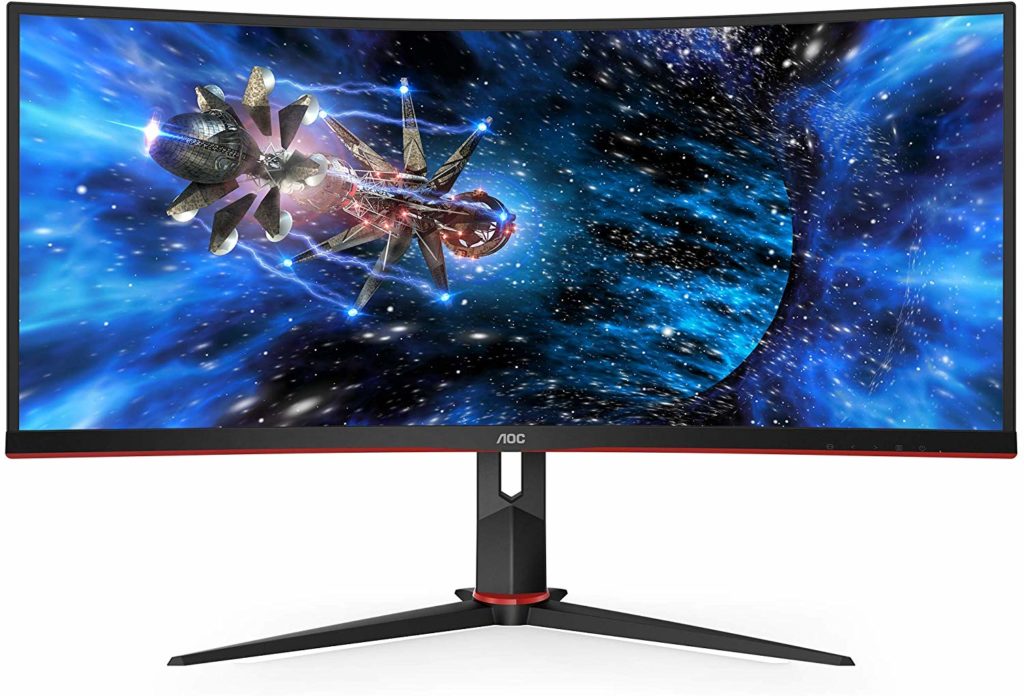 Reasons to Buy:
Great Color Quality
Fast 144Hz Ultrawide
FreeSync/G-Sync Compatible
Very Affordable
The AOC CU34G2X is one of the first few options to offer 144Hz with a 3440 x 1440 resolution that beats previous 120Hz offerings that cost more than twice. The extra headroom makes it better for gaming, especially with fast-paced titles like Warzone. It's not ideal for competitive gaming since it is too wide, but it certainly is suitable.
The AOC CU34G2X uses a VA panel that is capable of superb vibrancy and contrast levels which can make it more immersive. It didn't disappoint in color quality tests and the slower pixel response time of the panel tech wasn't a big issue. It is not certified by Nvidia to be G-Sync compatible, but a previous driver update fixed that for many users.
However, the absolute clincher for the AOC CU34G2X isn't its capabilities, but rather, its surprisingly low price point. The monitor hovers around the $500 mark which perplexed us at release since that's what you usually pay for a 16:9 QHD variant. Its price has seen some inflation of around $50 more or less, but it's still a worthy buy that doesn't cost four digits.
LG 34GN850 – Excellent QHD Ultrawide with 160Hz Refresh Rate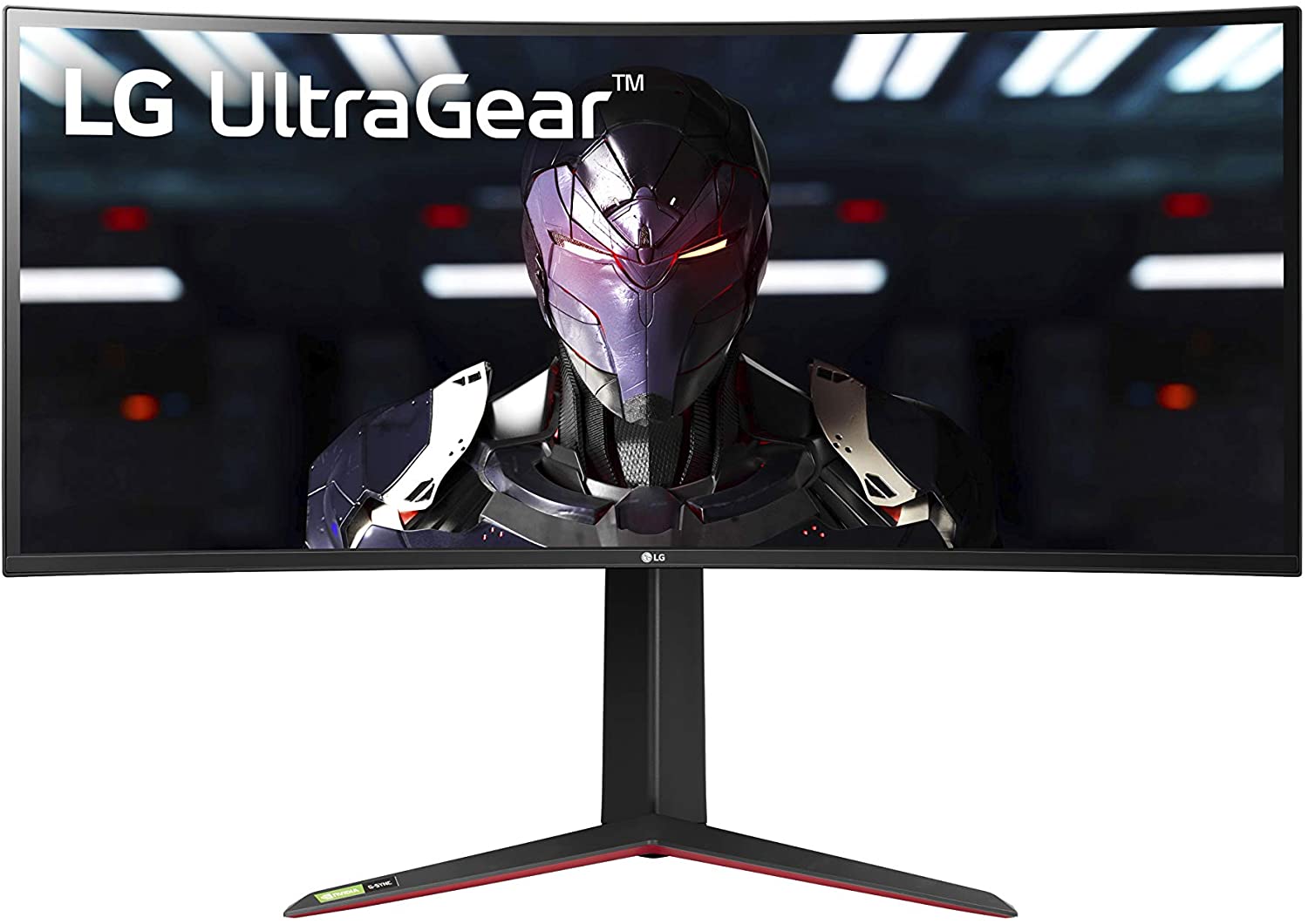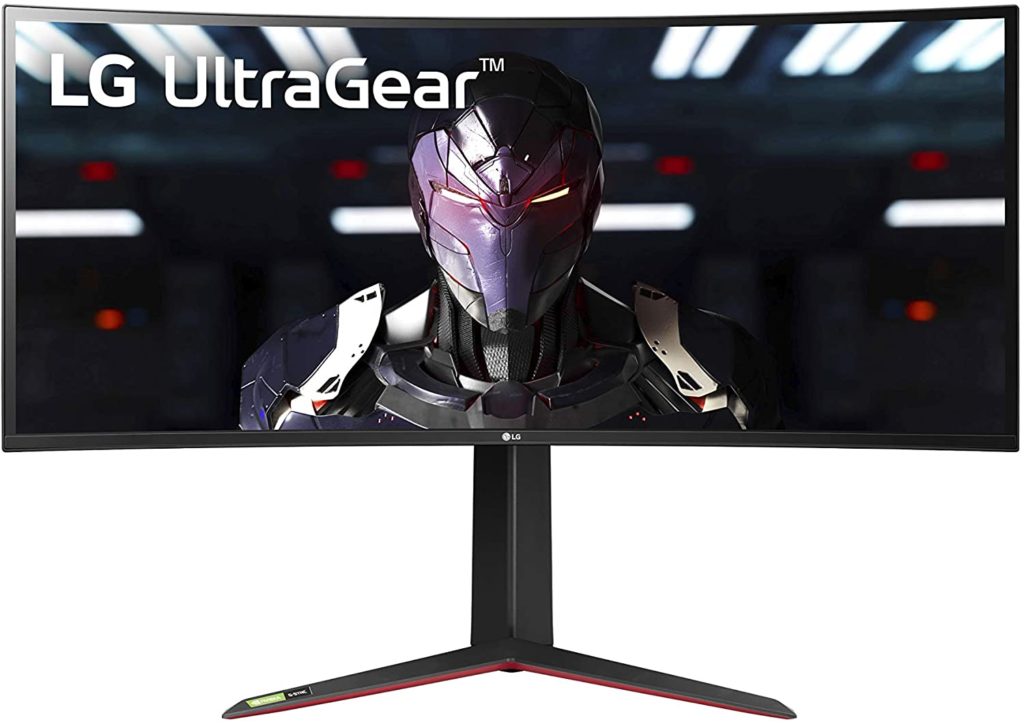 Reasons to Buy:
Excellent Default Color Quality
Very Responsive and Blur-free
FreeSync/G-Sync Compatible
Attractive Design
Low Input Lag
The LG 34GN850 is one of the best ultrawide monitors you can buy now if you are after great image quality and gaming performance. The monitor features a vibrant Nano IPS panel that is capable of excellent gamut coverage and accuracy which are essential in today's gaming market. The 3440 x 1440 screen also goes up to 160Hz which makes it a compelling alternative to the uber-expensive 200Hz offerings at only half their price.
It's also great that the LG 34GN850 can be calibrated to produce an accuracy result that is usable for editing work. This goes well with the extra wide screen for productivity, especially if you are in the design industry. It misses some of the brand's claims for its Nano IPS products, but its combination of capabilities makes it very difficult to ignore.
We honestly prefer the white and silver aesthetic of the brand's non-gaming variants, but the LG 34GN850 manages to look classy. It doesn't look too dominant, plus it has the right amount of functionalities that will extend its suitability beyond gaming. It is quite expensive as well, but you do get your money's worth if you decide to get this offering.
Samsung C49G95T – Impressive 49-Inch Super Ultrawide Odyssey Monitor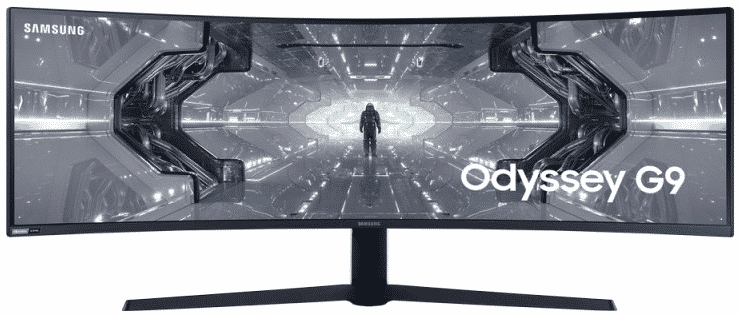 Reasons to Buy
Massive, 5120 x 1440 240Hz Screen
Excellent Color Quality and Contrast
FreeSync/G-Sync Compatible
Attractive Aesthetic
Strong HDR Performance
What makes the Samsung C49G95T sit with the best is it is out of this world super ultrawide Dual QHD screen. The monitor features a massive 5120 x 1440p resolution that is equal to two 27-inch 1440p screens side by side. What's even more awe-inspiring is it goes up to 240Hz, so we know that it will make a lot of GPUs bleed in trying to max out its display.
Image quality for the Samsung C49G95T will not disappoint thanks to its QLED specs which enhances its color coverage and HDR performance. A 1000 cd/m2 backlight is also involved with the monitor so you can enjoy your games the 2020 way. FreeSync and G-Sync are both supported, so you can pair it with the RTX 3090 or the upcoming Radeon 6900XT without having trouble with tearing or stuttering.
Aesthetics is another aspect Samsung put emphasis on for their flagship display. The monitor looks like it came from the future with its LED lighting and white aesthetic. Some extras are missing from the premium monitor, but we'd rather enjoy its immersive capabilities than nitpick over minor issues that won't matter in the long run.
About the Author: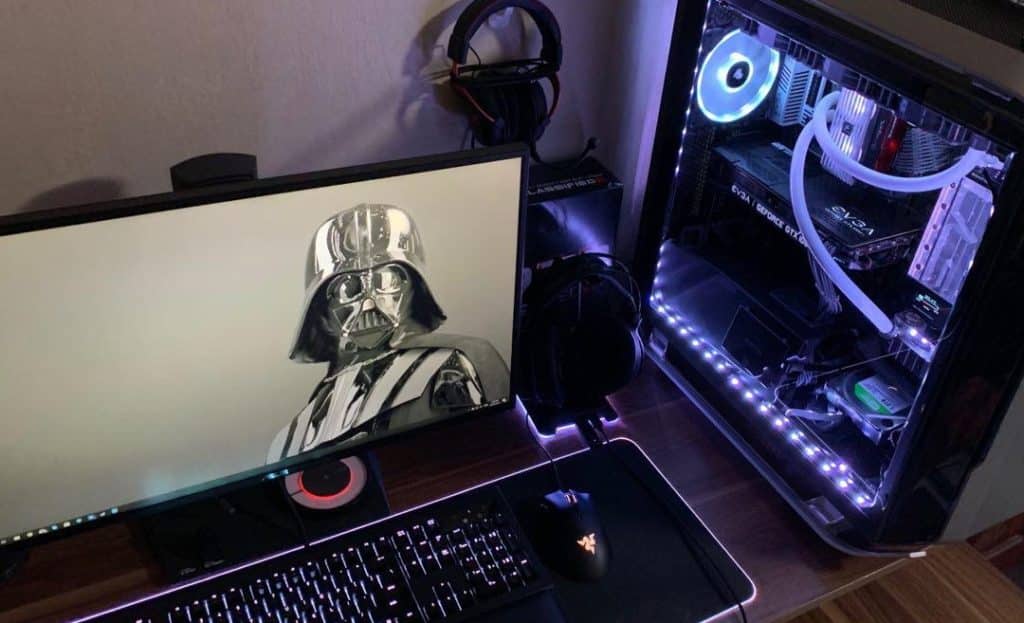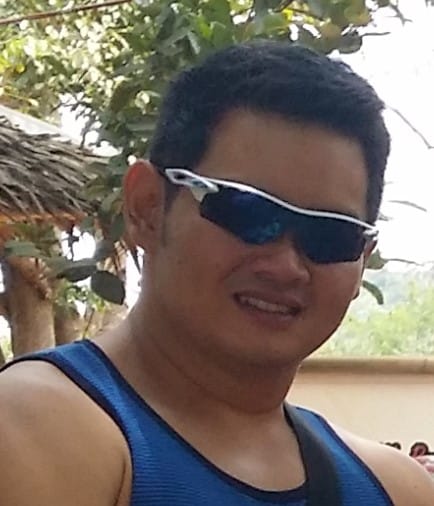 Paolo is a gaming veteran since the golden days of Doom and Warcraft and has been building gaming systems for family, friends, and colleagues since his junior high years. High-performance monitors are one of his fixations and he believes that it's every citizen's right to enjoy one. He has gone through several pieces of hardware in pursuit of every bit of performance gain, much to the dismay of his wallet. He now works with Monitornerds to scrutinize the latest gear to create reviews that accentuate the seldom explained aspects of a PC monitor.