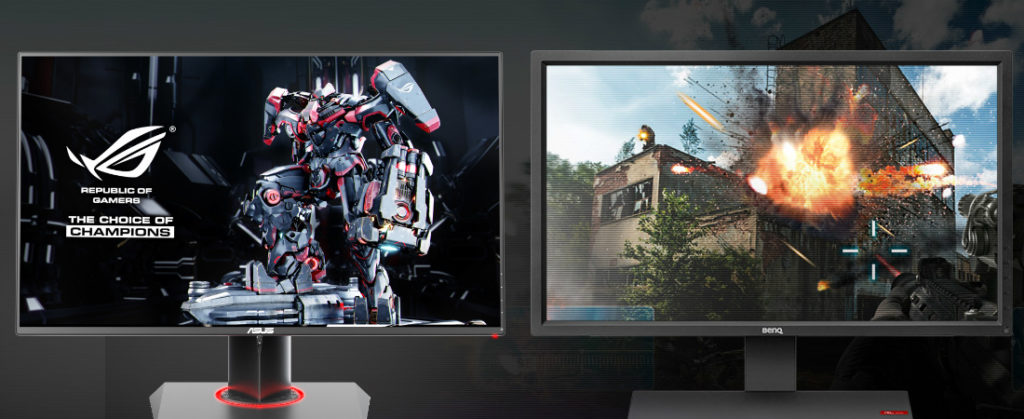 Updated – Spring 2023
Best Gaming Monitors of 2023 | Handpicked by MonitorNerds
Best Budget / Cheap 144hz Monitor 2023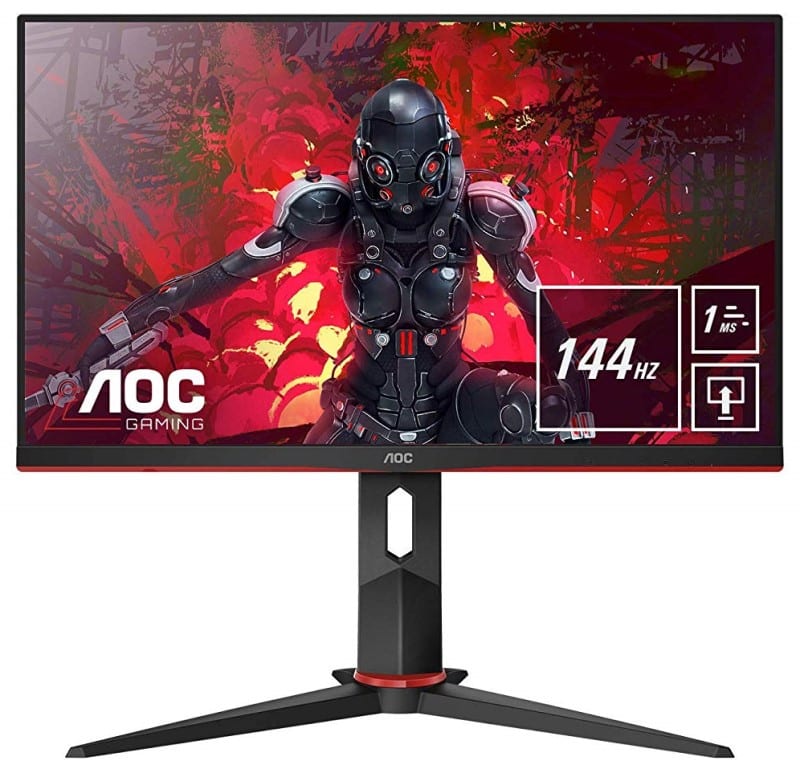 Overall Best Gaming Monitor Spring 2023
LG 27GR95QE-B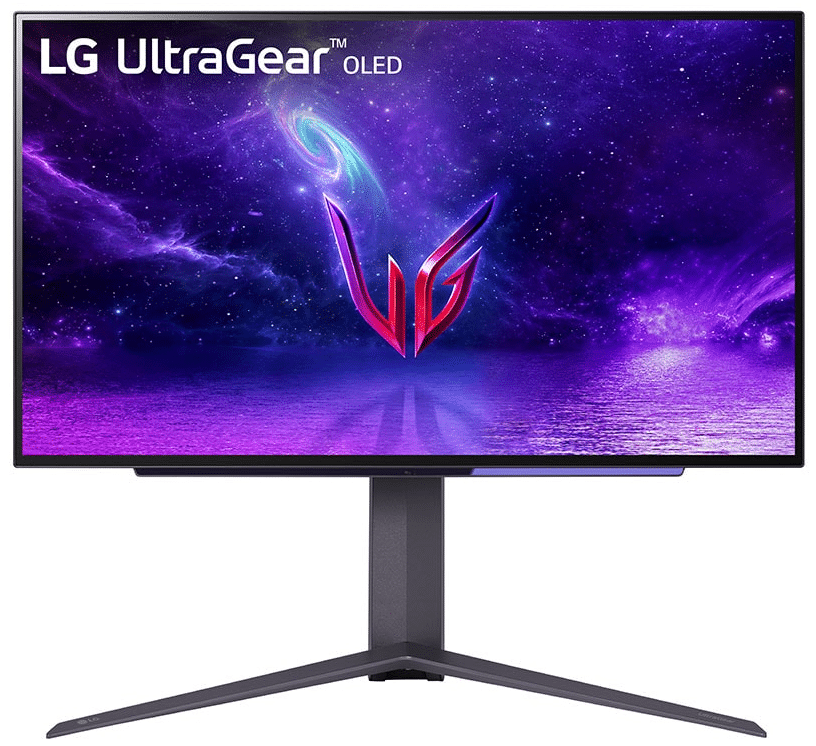 Best 4K Monitor for the Ultimate Gaming Experience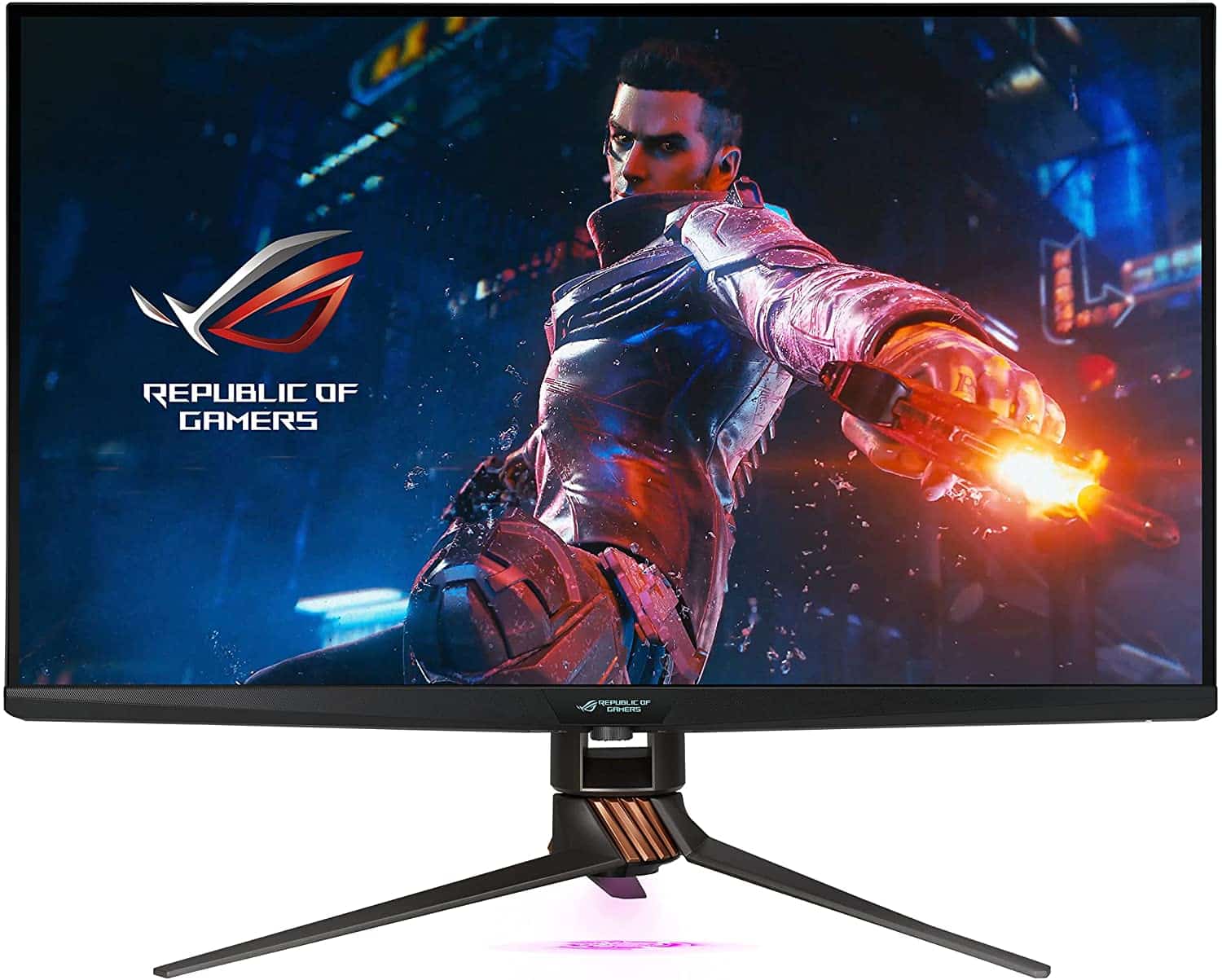 Best Ultra-Wide Gaming Monitor 2023
Alienware AW3423DW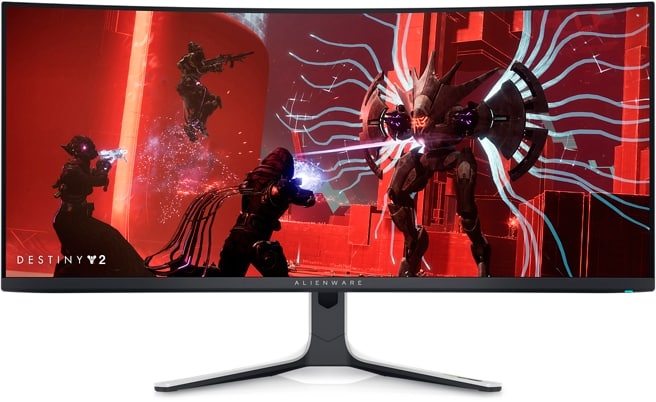 II. The Best Gaming Monitors (September 2023)
You can find the best gaming monitors in the following sections of this comprehensive guide. Each product offers unique features and advantages, so we arranged our selection according to their native resolutions comprising 1080p, 1440p, 4K, and Ultra-Wide so you can easily find a suitable product for your needs and system specs. Note: If you want to learn more about choosing the best gaming monitor, please see Section III and IV of this Buying Guide.
1. 1080p/FHD (1920 x 1080)
1080p or Full HD (1920 x 1080) is still the format of choice for professional and sponsored gaming tournaments such as ESL, so avid gamers are no stranger to this resolution and have no qualms in investing in this category. 1080p has been around for ages, but even if some techies and members of the community are claiming that 1080p is obsolete, we believe it has at least, three to four more years before phasing out.
Another benefit of staying at FHD is that these products usually stay below $300 (except for premium G-Sync offerings) so going this route will not cost you an arm and a leg. This resolution is also past its point of maturity, so for most applications, 1080p is optimized so the pixel count runs easier on any GPU, even the entry-level models.

The Acer Predator X25 is one of our top picks simply because it looks so good without compromising its essential performance. It has the most RGB lighting, but its lightning-fast IPS panel also offers excellent pixel response times and clarity so you won't be impaired by distractions while playing. Color quality is great as well, showing us that the monitor was factory-tuned before it lands in your hands.
The X25 has a sleeker design than the other 360Hz monitors so it won't outshine your build or look outlandish. Its RGB lighting at the rear is arranged in a rectangular pattern, making it more effective at spreading out its glow evenly from the edges of the screen. This becomes your bias lighting which helps protect your eyes from strain during long gaming sessions.
Asus PG259QNR – World's First 360Hz Gaming Monitor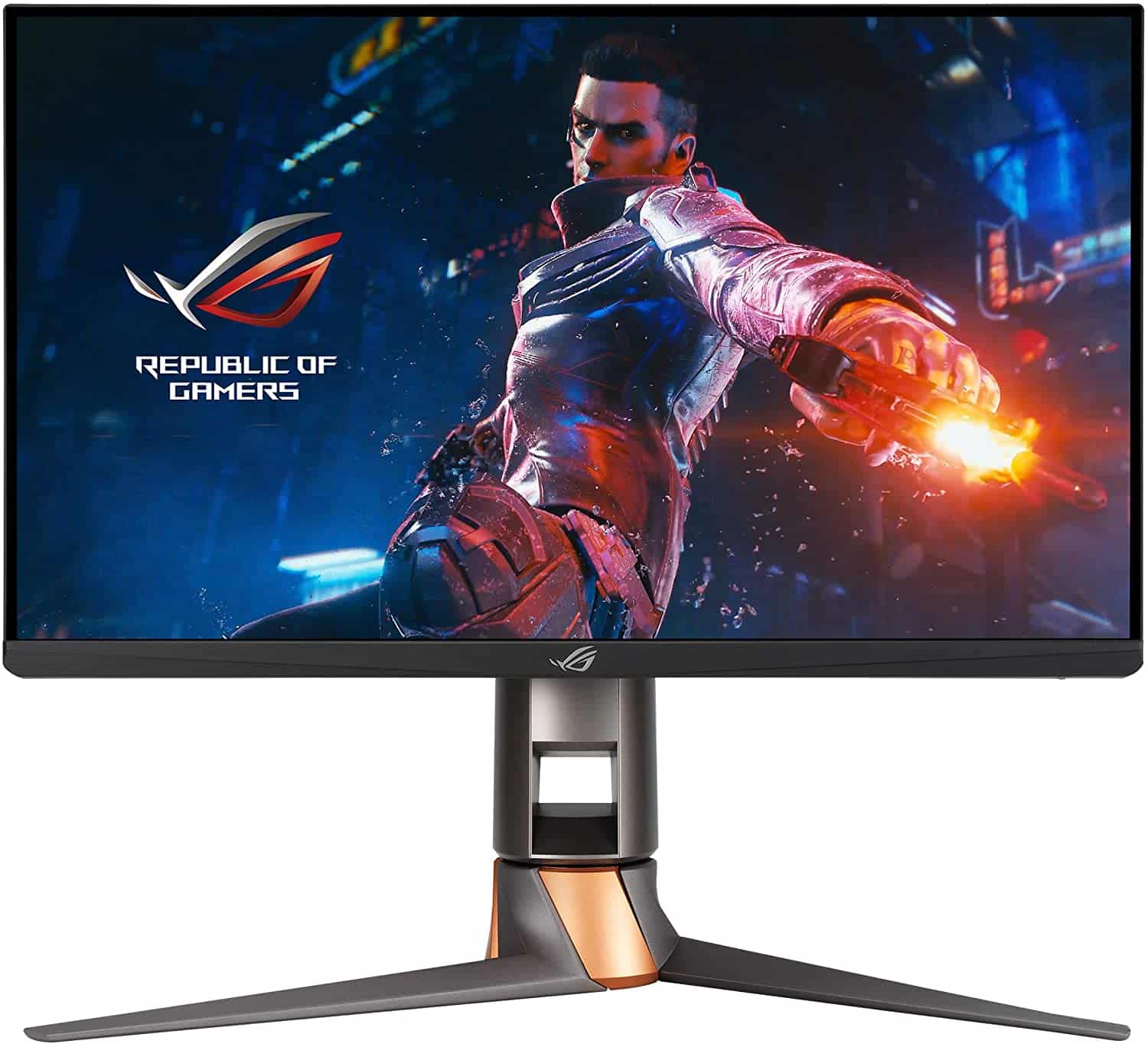 The Asus PG259QNR is the best E-Sports monitor you can buy right now due to its amazingly fast 360Hz IPS panel. It's blur-free with very low input lag, making it suitable for the competitive gamers out there who don't compromise on equipment. It's a G-Sync exclusive monitor since it was co-developed with Nvidia, but FreeSync works unofficially on it just like many modern G-Sync monitors.
This model is a full-on ROG Swift model, so it carries with it an aesthetic that will match your other ROG gear. It still has the signature helix stand along with RGB lighting which allows you to build a themed setup that will suit your tastes. Build quality is, of course, nothing short of spectacular, so you'll know that this is a worthy investment that will last a few years into your competitive gaming life.
AOC 24G2 – Best Budget 144Hz 1080p IPS Gaming Monitor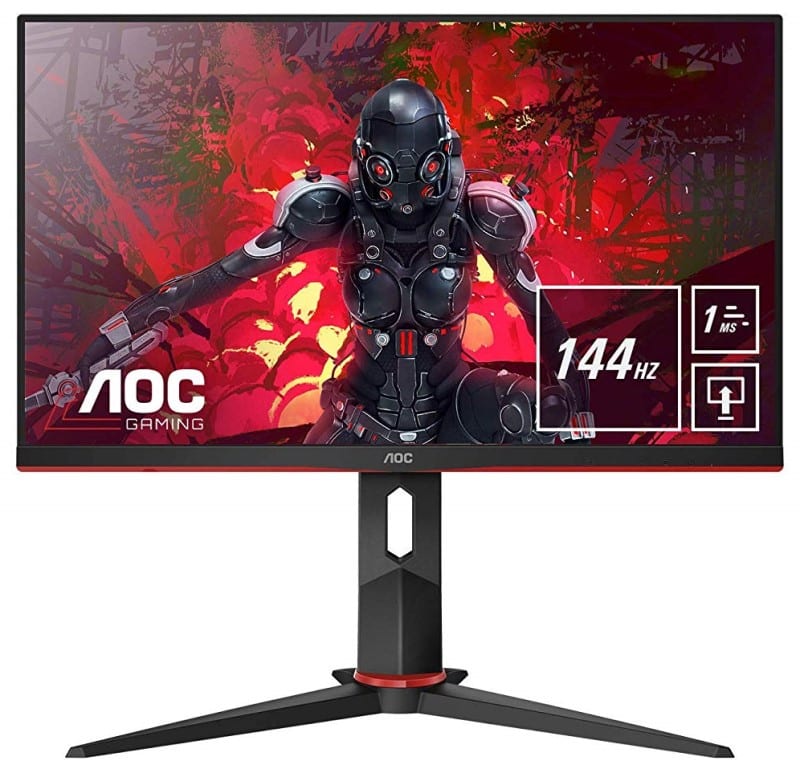 The AOC 24G2 is the latest iteration of the brand's 144Hz 1080p monitors that have always garnered acclaim with their reasonable prices and excellent performance. This model isn't as fast as TN variants when it comes to pixel response times, but its excellent color quality more than makes up for it. The IPS screen is vibrant, plus it won't need calibration unless you need absolute accuracy for editing on the side.
But what makes the AOC 24G2 is its sub-$200 pricing which can't be beaten if you are after a top brand with excellent out-of-the-box capabilities. The device also offers an improved overall aesthetic based on its predecessors, so the same reliability and simplicity can be seen with the 24G2U. This model isn't Nvidia-certified, but it's tested to work with FreeSync and G-Sync if you manually activate it.
Alienware AW2521H – Best Premium 360Hz Gaming Monitor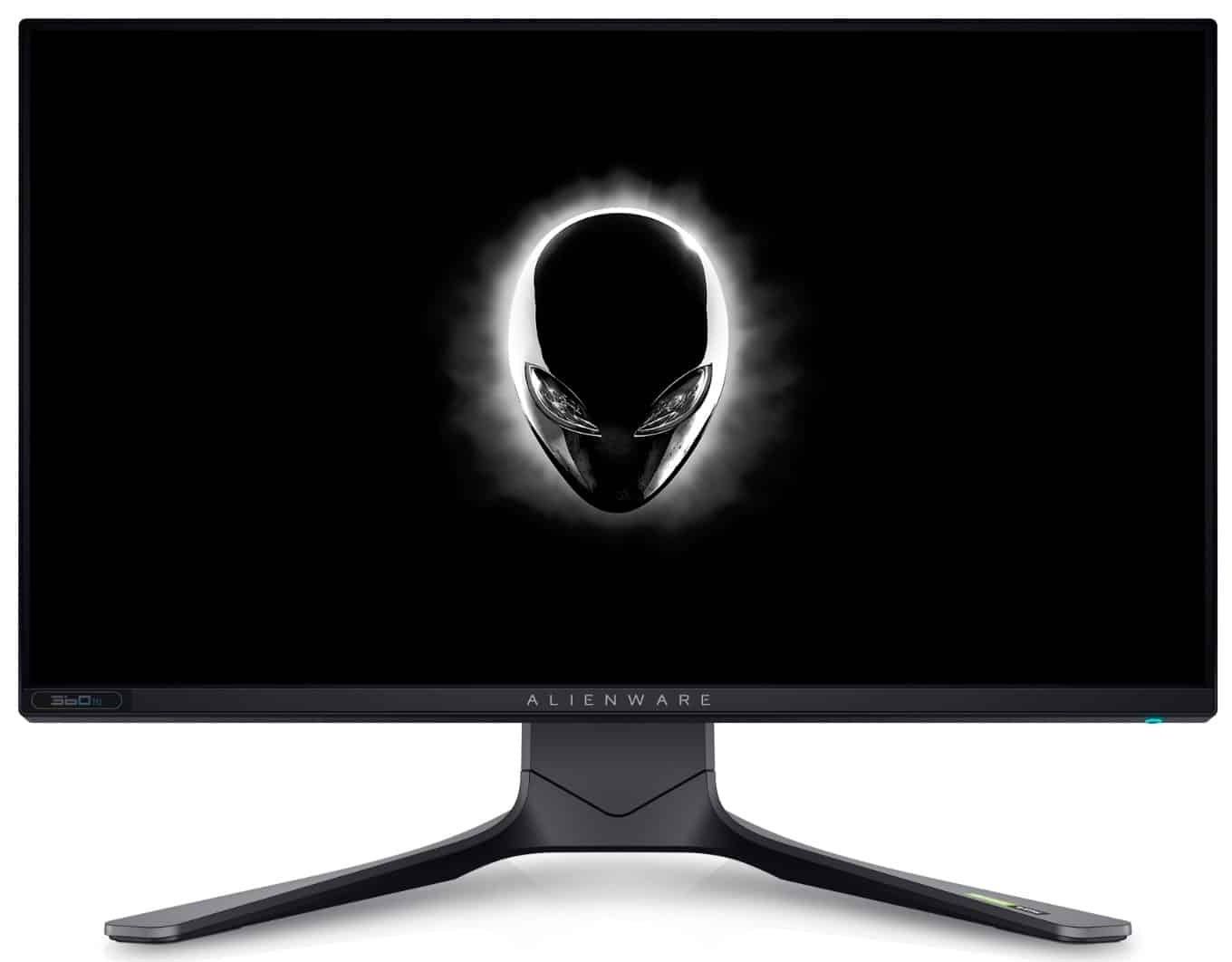 The Alienware AW2521H is the best 360Hz monitor in the market thanks to its edge in color quality and accuracy. It's just as fast as the other 360Hz monitors in the lineup, but it's a bit more vibrant and it looks a lot better for minimalist builds. It's practically blur-free with very minimal input lag, making it a solid investment if you are an avid competitive gamer.
Another thing we like about this monitor is how it looks versus the gamer-centric competition. The space-age black and white theme is unique and the market, plus it has one of the most compelling RGB implementations when it comes to design. It's too bad that it is not compatible with existing RGB ecosystems like Asus Aura, but that comes with the exclusivity that you are paying for.
Asus VG279QM –Best 280Hz E-Sports Monitor with ELMB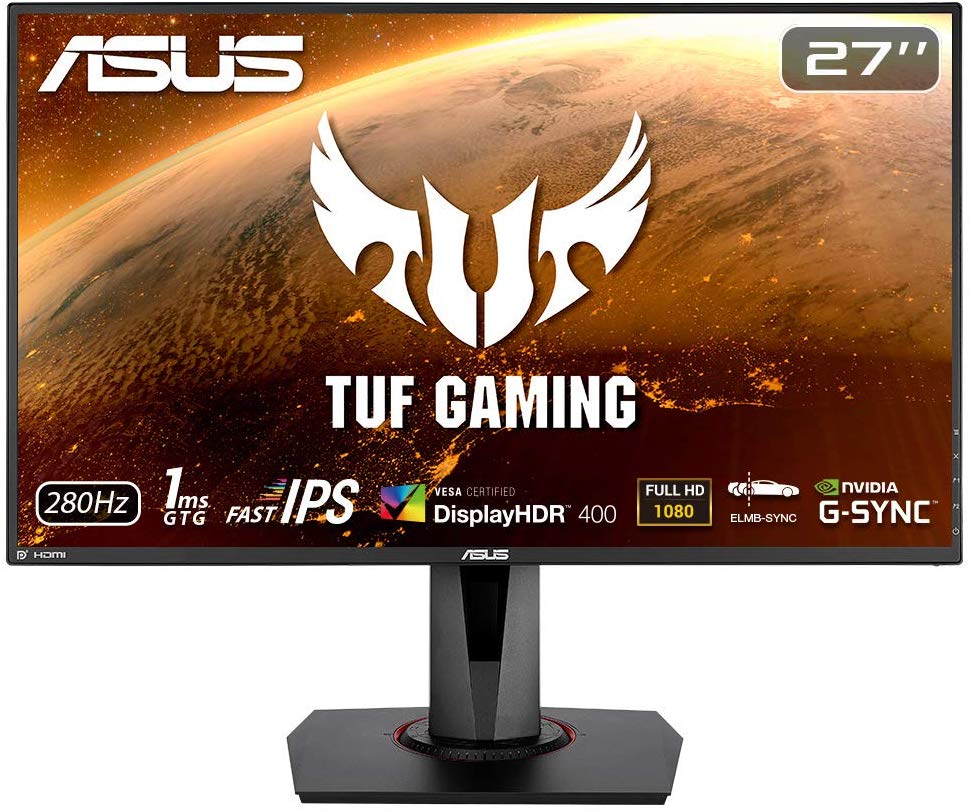 The Asus VG279QM offers a unique 280Hz refresh rate that puts it very close to the next generation of 360Hz gaming monitors. It's quite expensive for a 1080p gaming monitor, but it's currently one of the fastest options around with excellent pixel response times. The IPS panel offers excellent color quality, while the chassis provides excellent reliability and adjustability for the user.
The Asus VG279QM also features the brand's new ELMB feature which effectively lessens blurs and ghosting. What's great about it is it doesn't lock out the Adaptive-Sync feature of the monitor, so you can still enjoy buttery-smooth frames. It's also one of the monitors with the lowest input lags recorded, so every advantage in competitive gaming is guaranteed.
BenQ Mobiuz EX2710S – Best Affordable 144Hz Monitor for PC and Next-Gen Consoles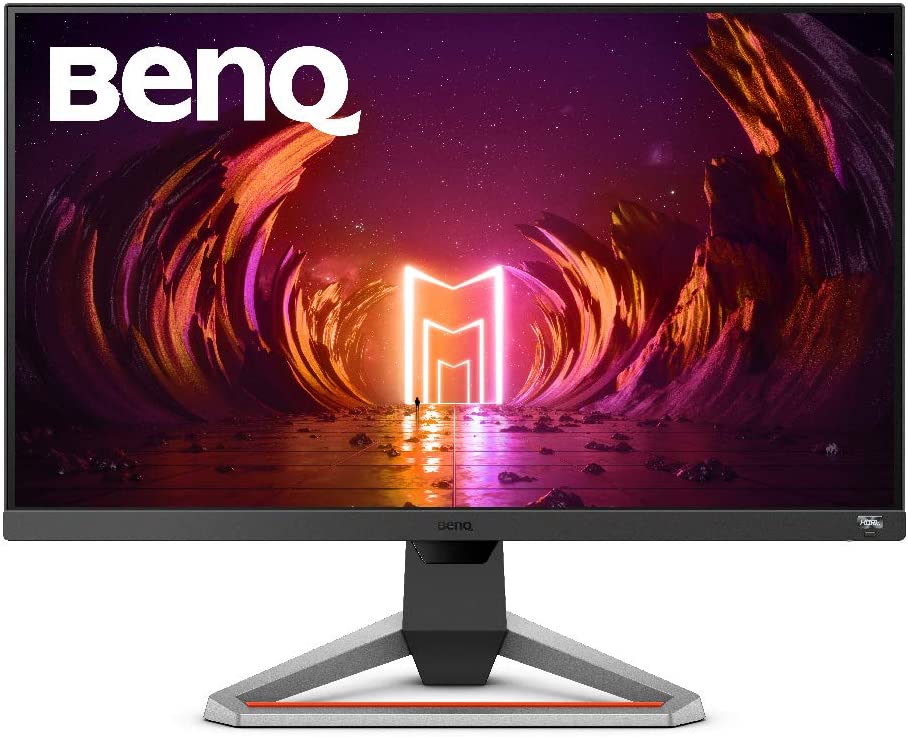 The BenQ Mobiuz EX2710 and the smaller EX2510 are both excellent buys in today's gaming climate and market. The series offers fast 144Hz IPS panels with great color quality and pixel response times, so they are fully usable for competitive gaming. the display has excellent default and calibration results, so both beginners and enthusiasts will be happy with the product. 
But what makes the BenQ Mobiuz even more attractive other than its unique design is its 120Hz compatibility with the PS5 and the Xbox Series X. Not all gaming monitors in this price range are capable of this even if they also have 144Hz refresh rates. BenQ even made a guide for it to make it easier for gamers to enjoy the monitor's full potential. 
Gigabyte G27F2 – 27-Inch 170Hz Gaming Monitor with Excellent Value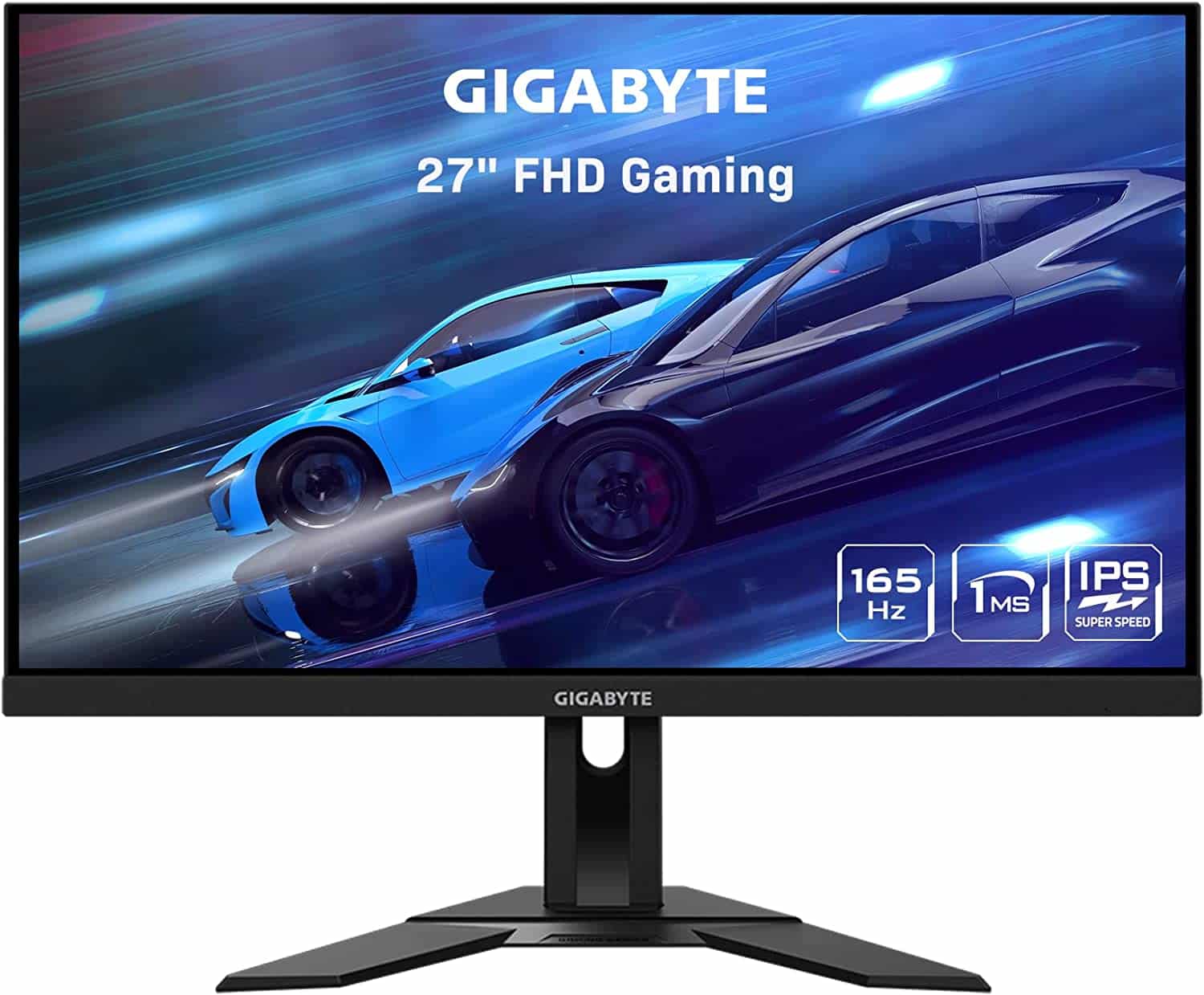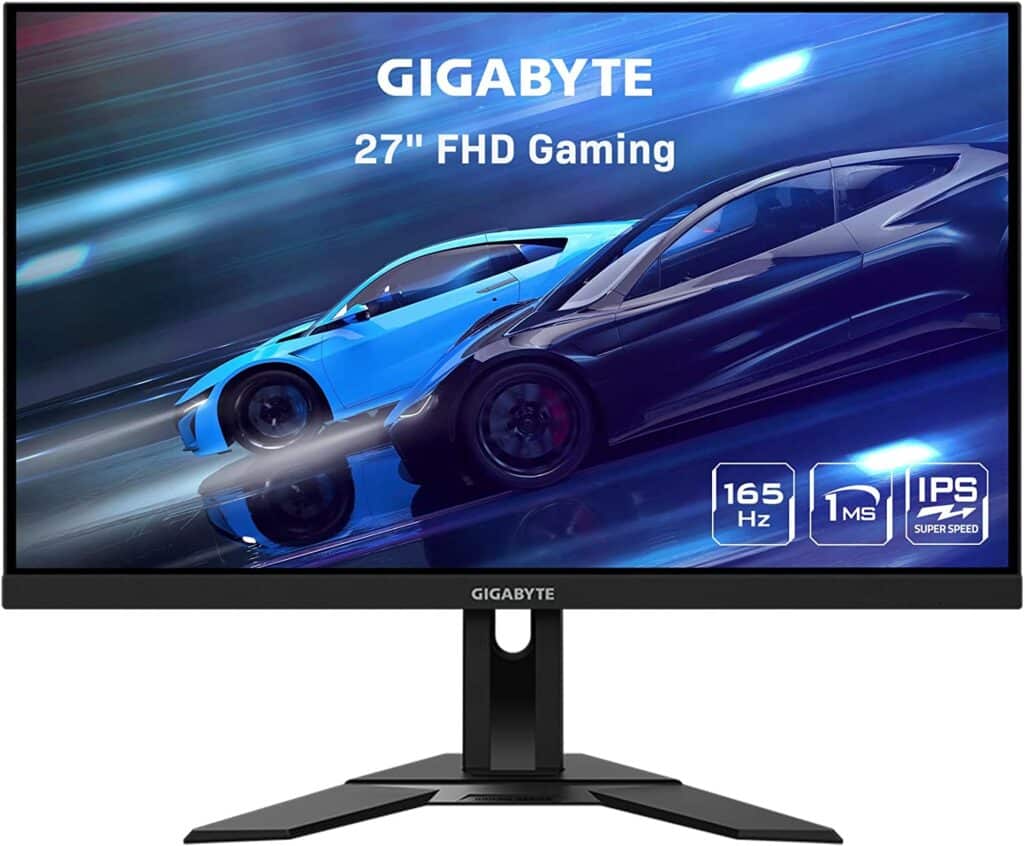 The Gigabyte G27F2 is a budget IPS gaming monitor, but its image quality overcame what we saw on premium models. It is fast and color-accurate for the price, so most gamers can use it immediately without any challenges. It only goes up to 170Hz, but it doesn't need a lot of overdrive to be free from blurring and ghosting.
It's a budget model, so you can't expect a lot of extra features from it, like USB-C or high-level HDR. However, that's the beauty of this monitor since it punches way above its price point when it comes to gaming and imaging performance. It's also built well compared to other budget models, so you are getting a high-quality monitor for less money.
2. 1440P/2K/QHD (2560 x 1440p)
1440p Monitors present the next logical step in upgrading or building a new system since this resolution will be the next mainstream 16:9 standard when 1080p finally ages out. This category is for people who want to step up with better clarity, image detail, and an upsized viewing space without having to upgrade the system.
By today's standards, QHD is already optimized to run from midrange to semi-high-end GPUs so that you could get away with a $300 to $450 graphics card. Keep in mind that some titles require the best and most expensive cards to run at more than 60FPS, so in some instances, you do not have enough power to maximize a $500 144Hz display from this list. Pricing for these products also increases considerably when compared to 1080p offerings, so you might need to put that into consideration if your budget is limited.
Asus VG27AQL1A – Best 170Hz 1440p IPS Gaming Monitor with ELMB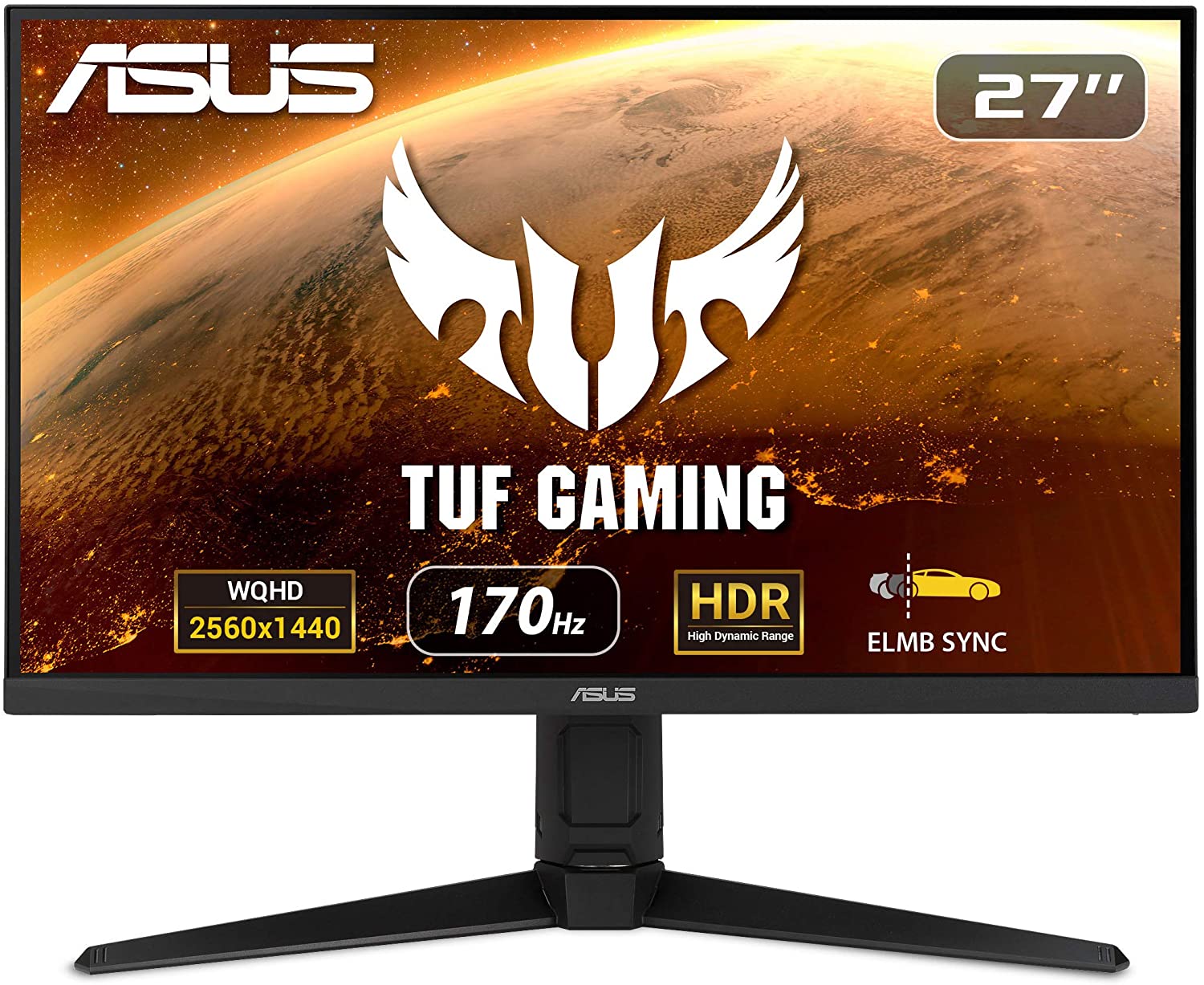 The Asus VG27AQL1A is one of the best gaming monitors to buy in 2023 thanks to its crisp and clear IPS panel with spot-on color accuracy by default. The screen's scores approach prosumer-grade capabilities, making this model the best if you are looking for a dual-purpose computer display. You also don't have to worry about blurring since the VG27AQL1A has an agile pixel response time, plus it has a special ELMB feature that doesn't lock out FreeSync or G-Sync.
The Asus VG27AQL1A is also one of the few and the proud to get Nvidia certification since day one of its release. The gaming monitor is a perfect pair for the latest Radeon GPUs, but its G-Sync compatibility will also make it a potent display for the latest Turing cards. The time-tested build quality and design are just bonuses, considering how reasonably-priced this top-ranking pick is in the current market.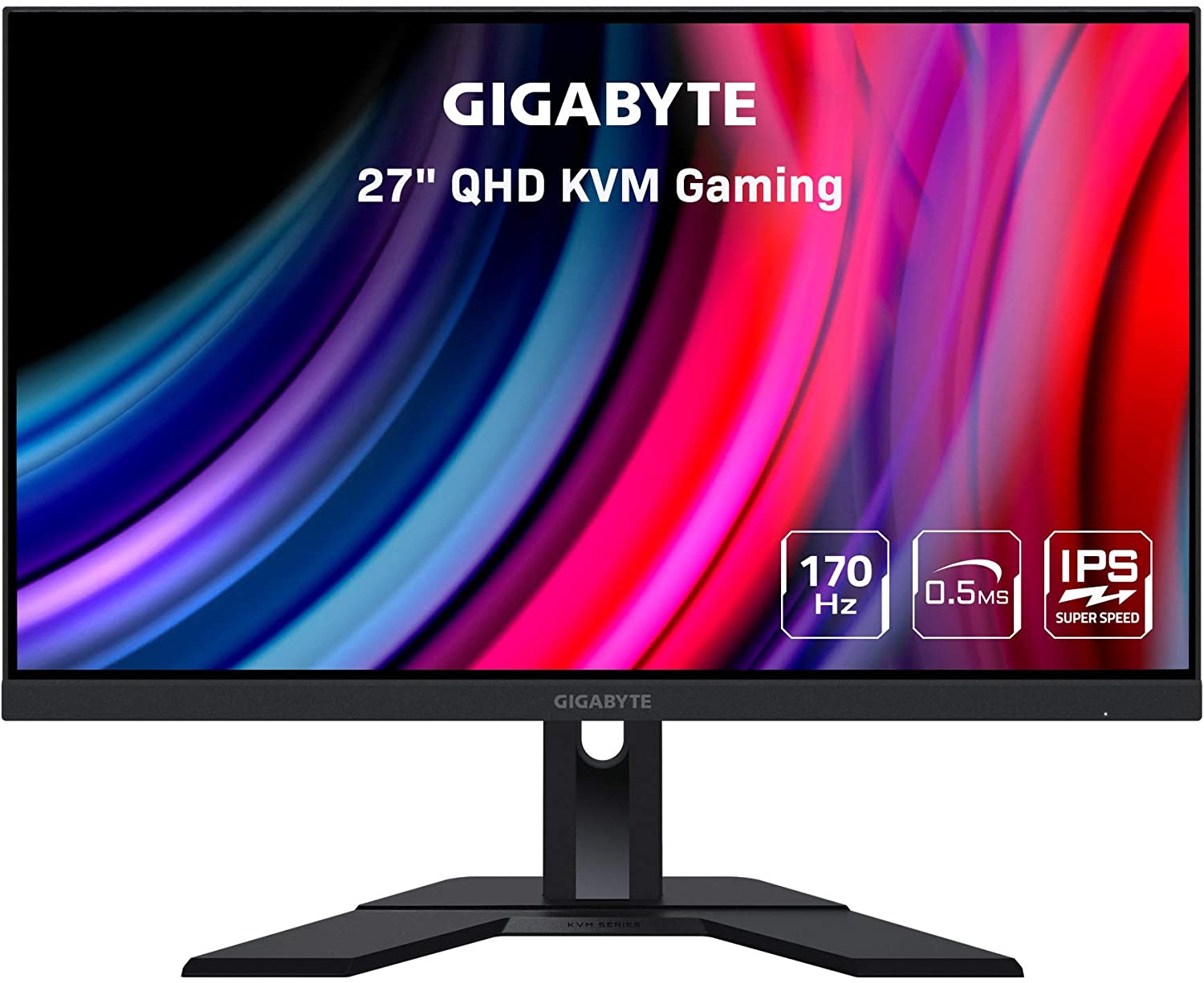 The Gigabyte M27Q is another great value-pick if you want an affordable monitor with a 1440p fast IPS panel. it has an upgraded 170Hz refresh rate and acceptable color performance in its default state. However, it has plenty of potential when calibrated thanks to its wide gamut coverage and less than 1.0 deltaE results after using a colorimeter.
The Gigabyte M27Q isn't fully featured as the other monitors in this lineup to help it meet its low price point. However, it's one of the few that offers KVM functionality which makes it a versatile unit for multitaskers. It even has a USB-C slot which lets you make the most out of its KVM feature if you have a USB-C laptop workstation like a MacBook Pro.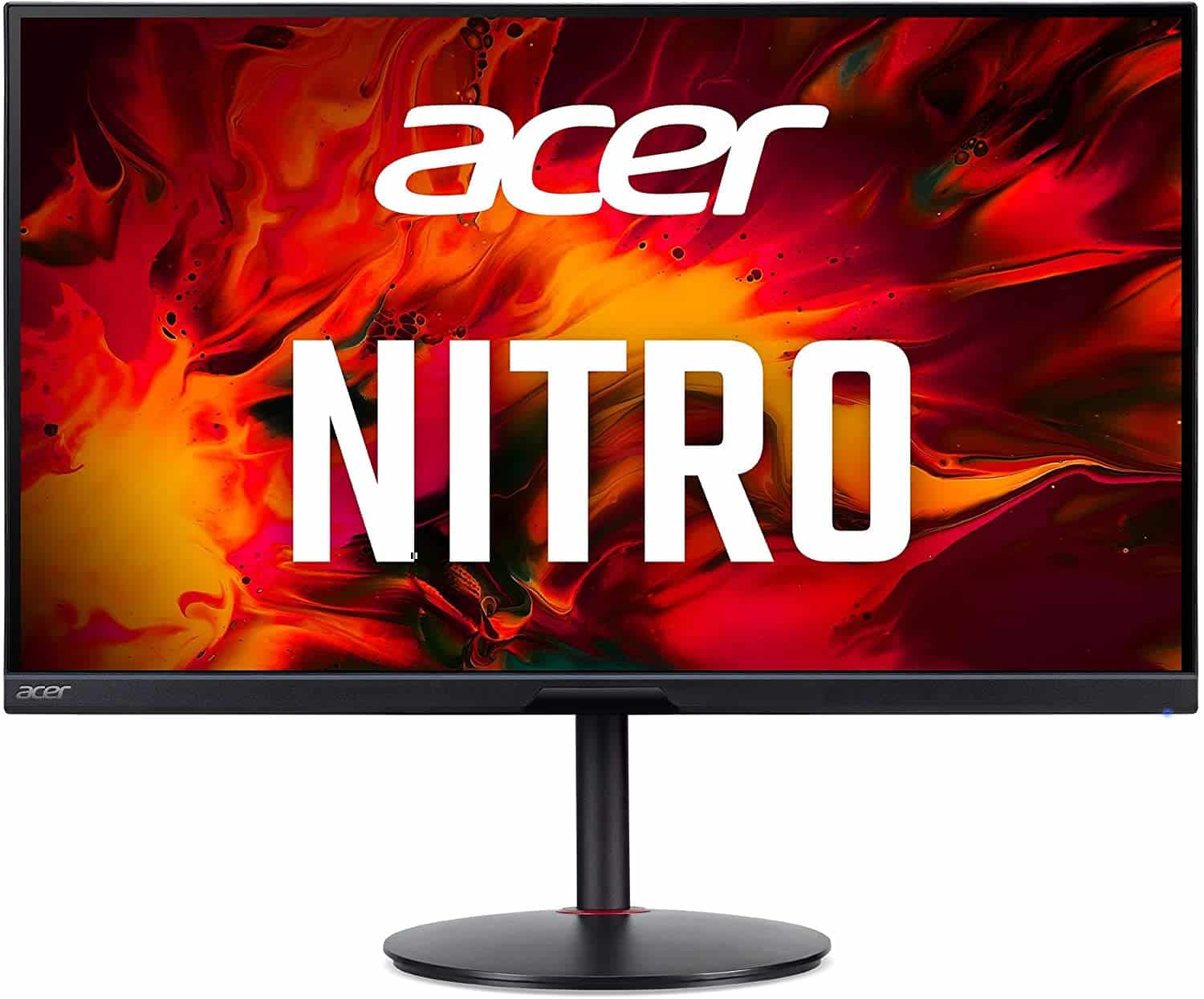 The Acer XV272U KV is another extremely well-priced gaming monitor that doesn't disappoint in the performance aspect. This model has a fast IPS panel with a 170Hz refresh rate that's perfect for fast-paced action. It's almost perfectly blur-free, plus it offers excellent image quality from the factory and when it's calibrated.
The Acer XV272U KV's IPS panel covers the full 100% sRGB gamut and 92% of DCI-P3 for excellent color, plus it's decently accurate by default. It's not as fully featured as the Predator gaming monitors, but this model has plenty of connectivity that covers all you will need for gaming. Couple that with an enticing price tag and you get a clear winner for gamers everywhere.
LG 27GR95QE-B – Lightning Fast 240Hz OLED Gaming Monitor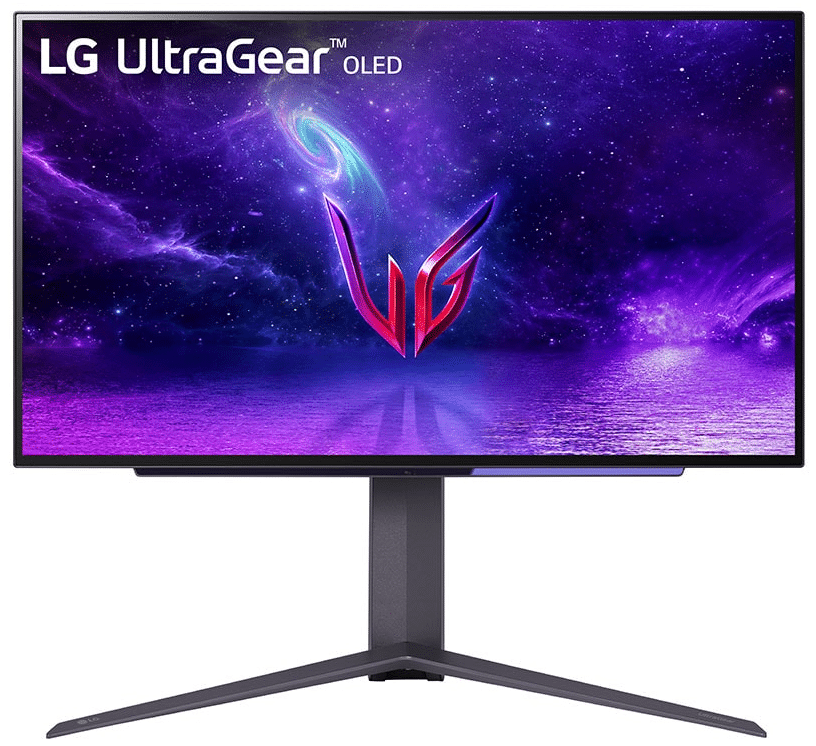 The LG 27GR95QE-B is arguably one of the most exciting releases in recent times thanks to its unique OLED panel. Most OLED displays are either 4K or ultrawide panels that are limited between 120Hz to 175Hz, unlike this model which goes up to 240Hz. OLED panels are already lightning-fast when it comes to pixel response times so that extra refresh rate means that there is no chance for any blurring or ghosting.
The LG 27GR95QE-B isn't simply fast, but it's also capable of fantastic colors and contrast. More expensive mini-LED options don't stand a chance when it comes to HDR performance. It's also built very well with plenty of extra features, so you do get your money's worth from it.
Acer XB273UGX – Top of the Line 270Hz QHD Gaming Monitor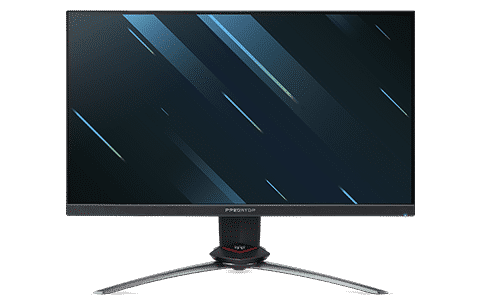 The Acer XB272UGX is the step-up model to the one above thanks to its Predator qualities and its whopping 270Hz refresh rate. The IPS panel used doesn't sacrifice its imaging for speed, since it offers full gamut coverage and superb default accuracy. Calibrating it pushes it into the prosumer territory, allowing owners to use it for editing and content creation.
One of the first qualities of the Acer XB272UGX versus its Nitro counterparts is it looks better and it has more powerful features. It has a more powerful connectivity suite thanks to DP 1.4 along with a 65-watt USB-C port which you can use for laptops like the latest MacBooks. It's pricey, but we think that it's one of the few that is well worth every penny spent.
Aorus FI32Q X – Excellent 32-inch Curved Gaming Monitor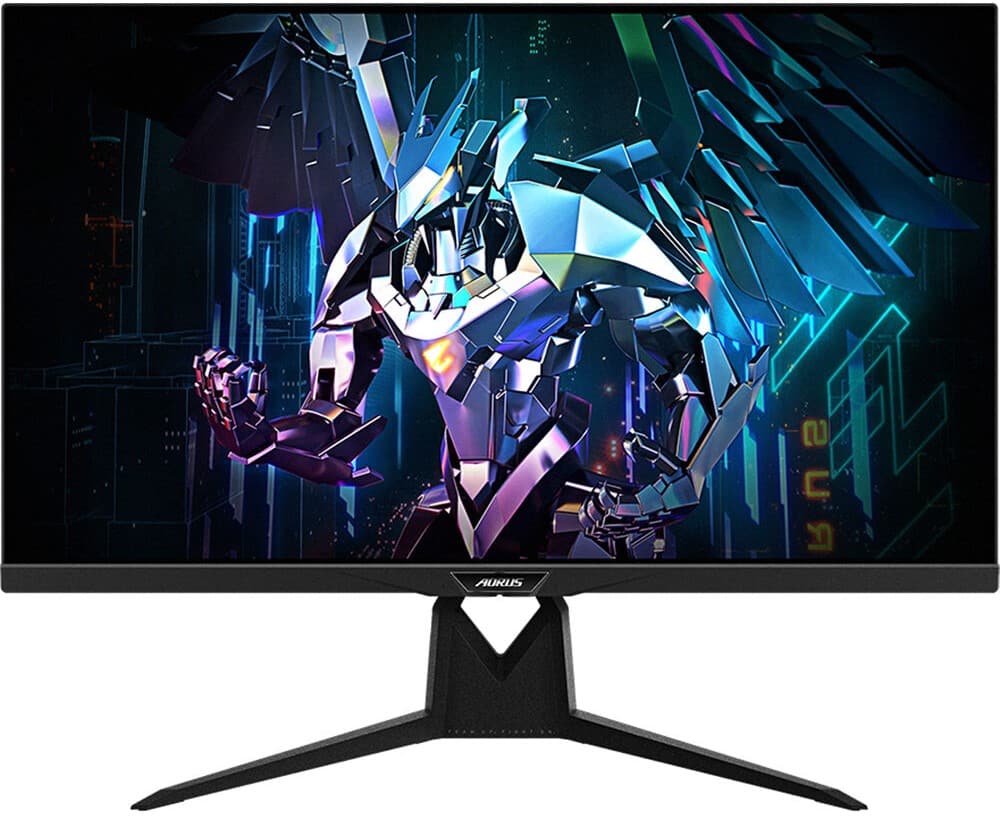 The Aorus FI32Q X earned our Editor's Choice award with its stunning performance in both speed and accuracy. The fast IPS panel offers superb color performance while its 270Hz refresh rate takes care of smooth and lag-free visuals. The design hasn't changed a lot from the first Aorus gaming monitor, but it's built like a tank so it wasn't necessary.
You also get a lot of useful features with the FI32Q X like its built-in ESS Sabre DAC for cleaner comms with your headset. It also has advanced connectivity ports like HDMI 2.1 and USB-C for seamless functionality with the latest devices. Combine these with a high-performance screen and you get a very capable monitor that did not spare anything.
3. 2160p/4K/UHD (3840 x 2160)
4K monitors represent the next generation in this business since it presents a considerable increase in the aspects of a panel's resolution while also being highly sought-after by enthusiasts. We can also treat UHD as a futuristic concept since, in reality, almost all CPU and GPU systems are still unable to run games at an optimized level.
To run 4K smoothly, you will need a top-end graphics card costing over $600, but even then, some titles cannot even run stable at 60FPS. This category is where adaptive sync technologies become so important to ensure games run smoothly without tearing and additional input lag. So if you have the raw power required to produce 4K eye candy, then the following models are your best bets if you want a UHD display for gaming.
Asus PG32UQX – Best 144Hz 4K HDR 1400 Gaming Monitor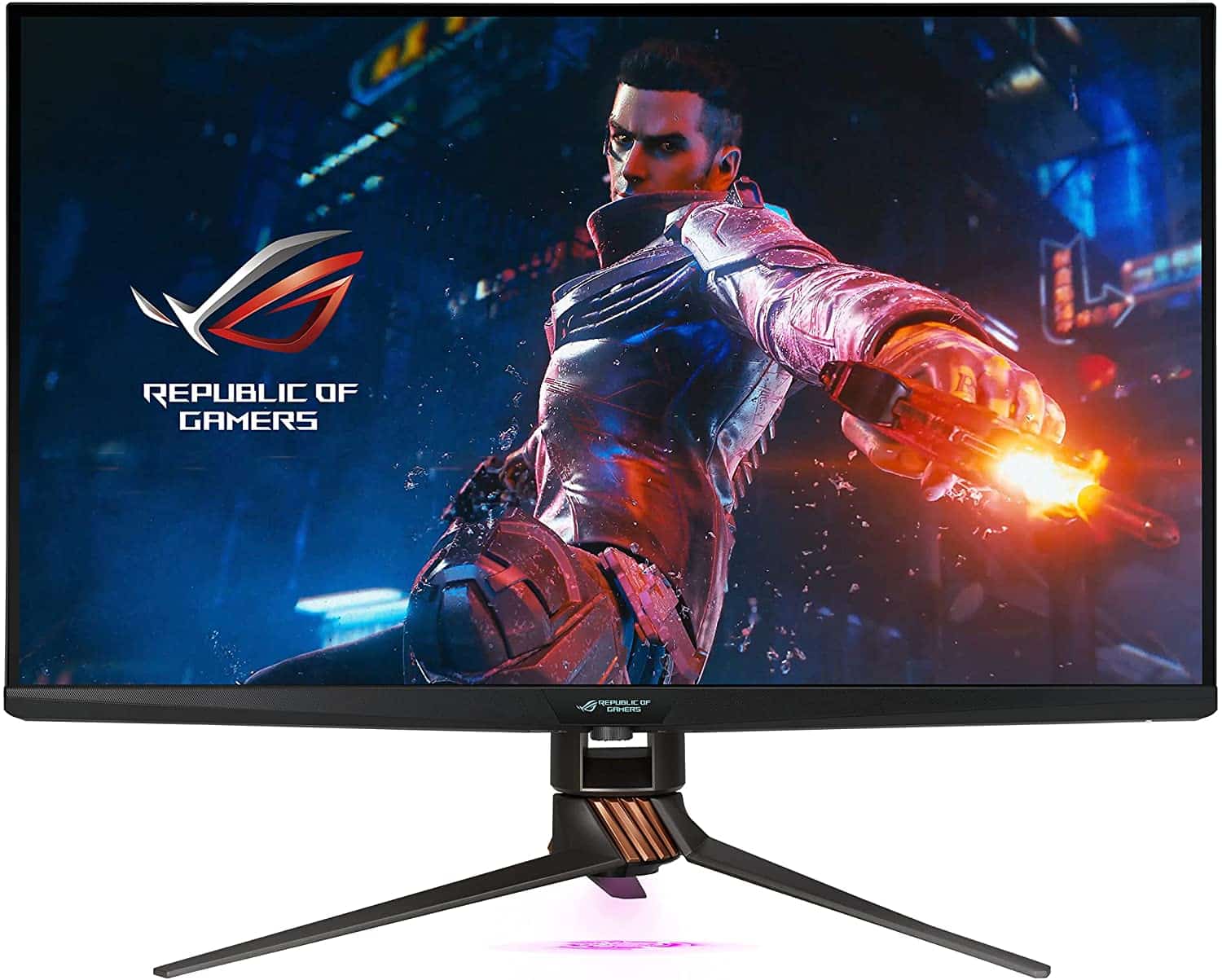 The Asus PG32UQX is the ultimate gaming monitor thanks to its 4K 144Hz screen that's reinforced with a 1152-zone mini LED array. This enables the monitor to deliver fantastic HDR performance that goes beyond the requirements of HDR 1000 certification. It's also a G-Sync ultimate monitor, but its internal controller will also work with FreeSync for Nvidia users.
This allows the flagship monitor to offer the best HDR gaming performance, and OLED TVs are your only better alternative. Its IPS panel offers wide gamut coverage while its contrast expands from the usual 1000:1 to a little over 25000:1 in HDR. It also has plenty of gaming features, but its most important capability is its DSC technology which means you can enjoy 4K 144Hz without chroma subsampling.
Acer XV282K KV – Best 144Hz 4K Gaming Monitor with HDMI 2.1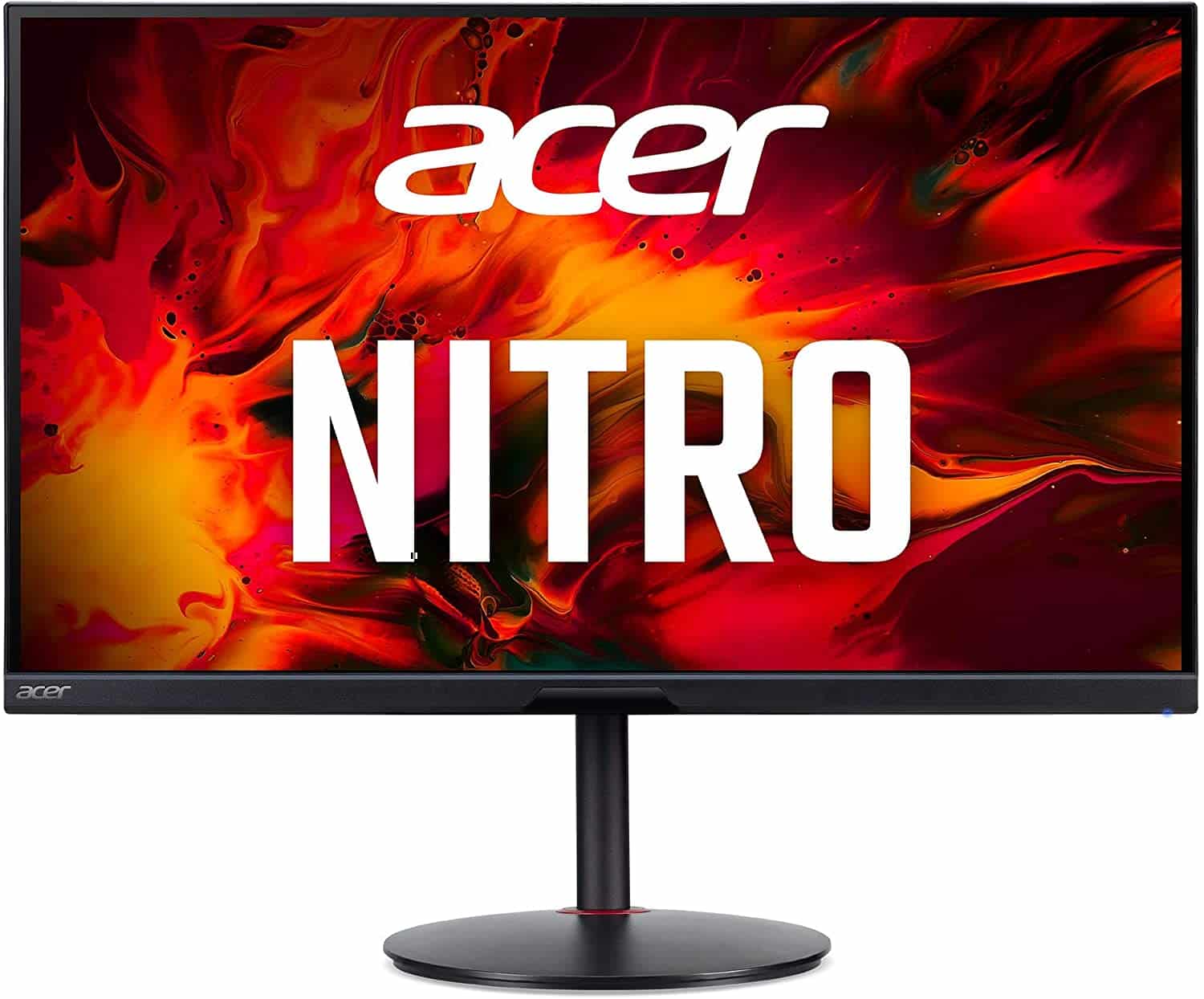 The Acer XV272UK V is another extremely well-priced gaming monitor that doesn't disappoint in the performance aspect. This model has a fast IPS panel with a 170Hz refresh rate that's perfect for fast-paced action. It's almost perfectly blur-free, plus it offers excellent image quality from the factory and when it's calibrated.
The Acer XV272UK V's IPS panel covers the full 100% sRGB gamut and 92% of DCI-P3 for excellent color, plus it's decently accurate by default. It is not as fully featured as the Predator gaming monitors, but this model has plenty of connectivity that covers all you will need for gaming. Couple that with an enticing price tag and you get a clear winner for gamers everywhere.
LG 27GP950-B – Best 4K 160Hz HDMI 2.1 Gaming Monitor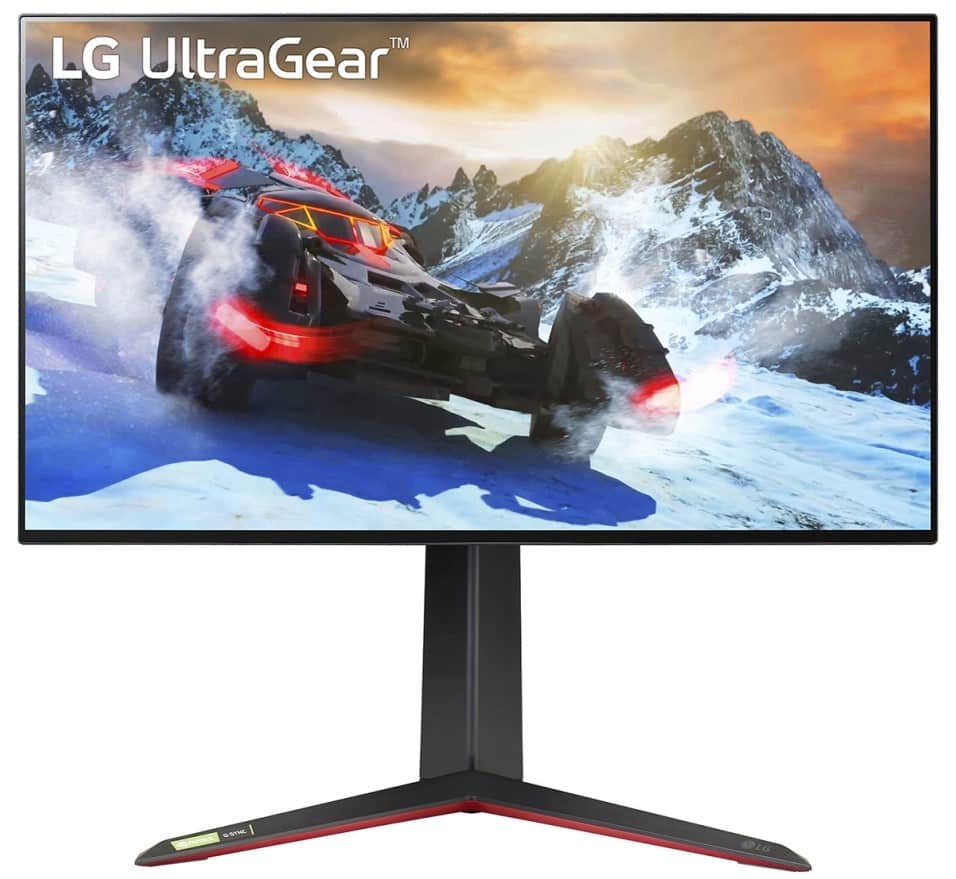 The LG 27GP950-B is closely regarded as the best 4K 144Hz monitor you can buy if we're judging products by their performance metrics. It's one of the few that can be overclocked beyond 144Hz, making it one of the fastest in its category. It offers superb imaging quality with its wide gamut coverage and great color accuracy.
it's great for high-end PC gaming, but the LG 27GP950-B's HDMI 2.1 connectivity also makes it suitable for the PS5 and Xbox Series X. HDMI 2.1 is required if you want the consoles' top capabilities and enjoy the best the big-name games have to offer. it's not the best at HDR, but its at the top when it comes to suitability for competitive play.
Viotek GF127QXA – Affordable 4K 144Hz Gaming Monitor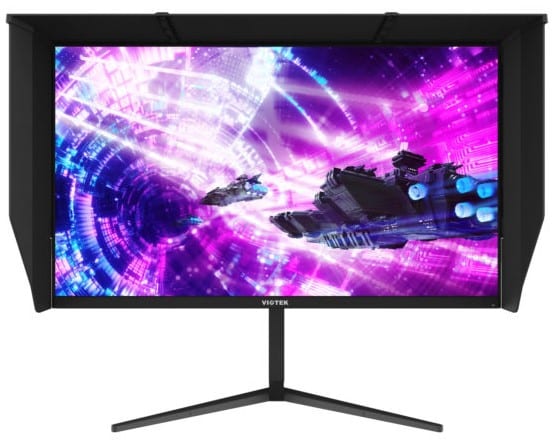 The Viotek GF127QXA is the cheapest 4K 144Hz model available, making high-end gaming reachable for the masses. The gorgeous IPS screen isn't particularly accurate, but its wide gamut coverage provides excellent color pop. Viotek also clearly improved its build quality for this model, making them more competitive in the premium gaming monitor space.
This model is noticeably more durable with thicker panels and reinforcement in its stand. You get a full range of adjustments with this model as well, unlike many Viotek budget offerings in the market.
Dell U3223QE – Great HDR 4K Display For Business and Productivity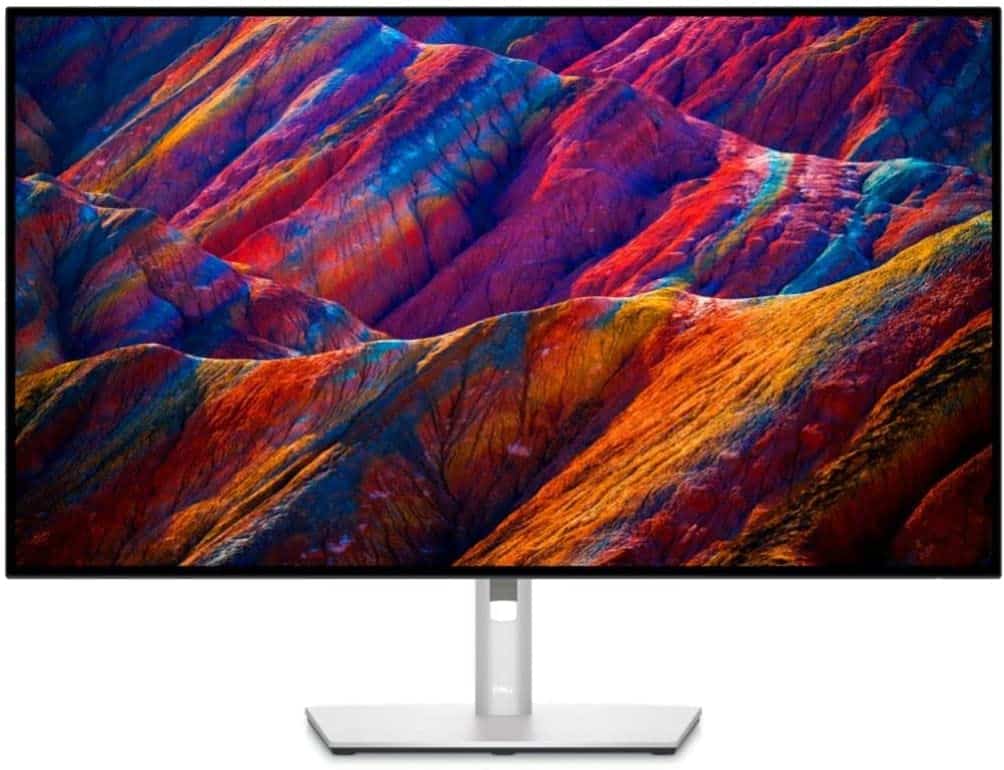 The Dell UP3223QE is one of the best 4K monitors you can get this year since it is designed to answer the current trends of the 2023 market. Its primary feature is its IPS Black panel with enhanced contrast, plus vibrant and accurate color reproduction. This new IPS type is the only one to offer improved contrast so far outside of FALD-equipped IPS displays.
Its other highlight is its docking feature which lets high-end workstation laptops charge and transmit video signals to the display via a single cable. It's a must-have feature now that USB-C is more commonly used, especially on business-oriented computer products. It's expensive but it is built quite well without sacrificing Dell's stylish appeal that you can find on its premium products.
Aorus FO48U – Best OLED Gaming Monitor for PC, PS5, and Xbox Series X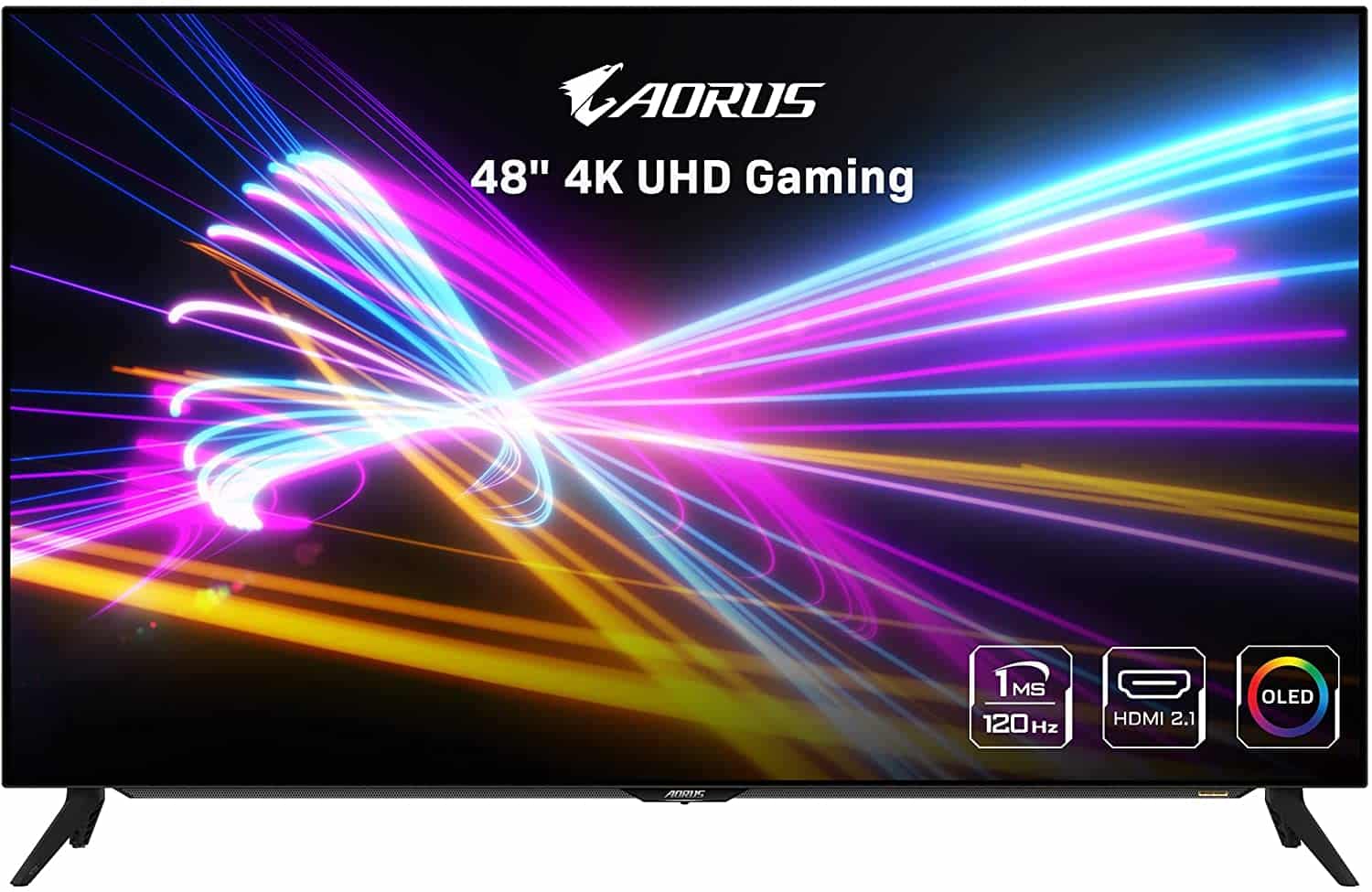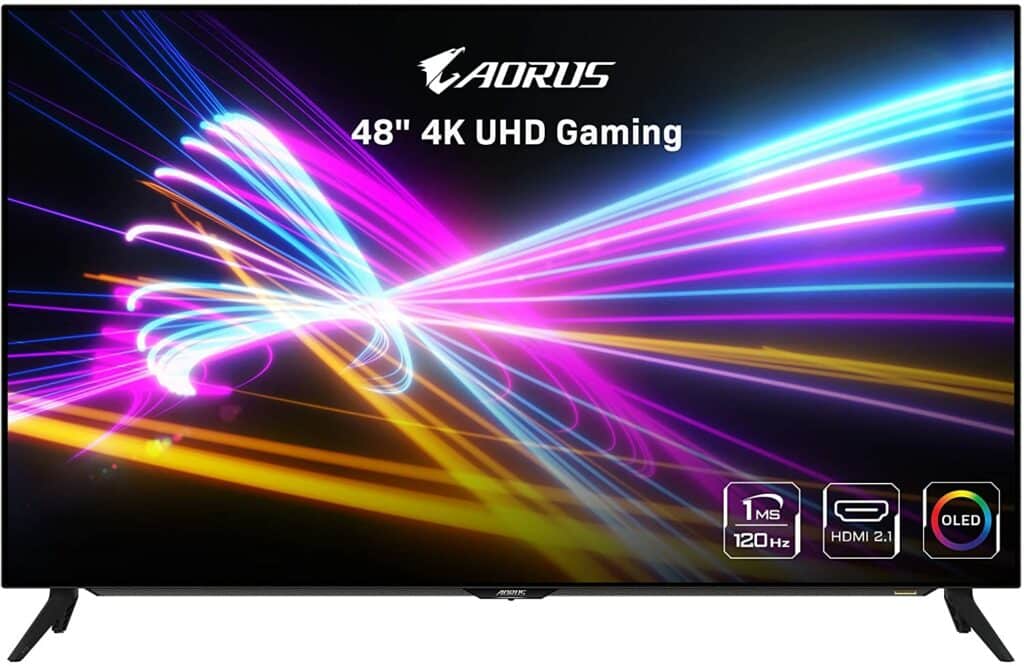 The Aorus FO48U packs a TV-sized OLED panel that reigns supreme when it comes to HDR performance. Its individually-dimming pixels give it infinite contrast so games look more convincing with deep blacks and accurate highlights. Its size makes it great for immersive gaming, but you can also use it for couch gaming since it is so big.
However, what separates the FO48U from a regular TV is its innards and specifications which you will only find on flagship gaming monitors. It has DisplayPort DSC and HDMI 2.1 along with USB-C for uncompromised performance with the latest devices, but it has a TV-sized sound system built-in. It takes the best of monitors and TVs to create an upmarket solution that can't be beaten.
Asus PA32UCX – Best HDR Monitor for Gaming and Design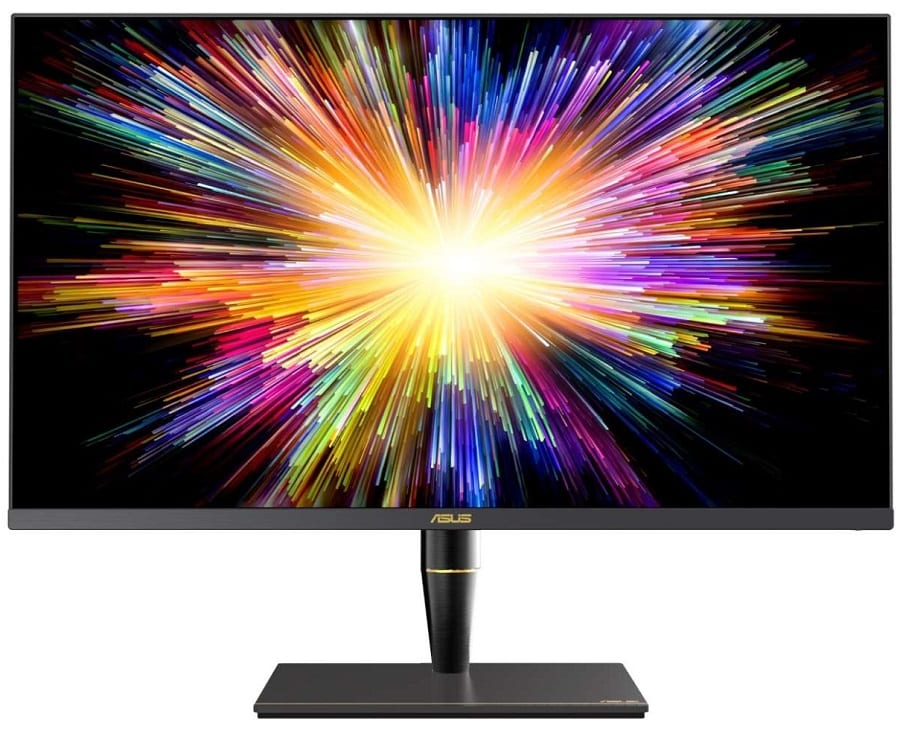 The Asus PA32UC is your best bet if you are in the market for an extremely accurate display with fantastic gaming and HDR performance. The product comes with a perfectly executed factory calibration for superb imaging and panel quality. This model comes packaged with a 1152-zone mini-LED FALD backlight which enables HDR1000-ready capabilities such as a contrast ratio that exceeds 20000:1.
While it isn't a gaming variant like the PG27UQ, the Asus PA32UC handles our favorite hobby decently thanks to a slightly faster panel that doesn't leave clouding or image retention behind. Input lag is limited to reasonable levels, but the responsiveness is still better than a dedicated HDR TV. This model is perfect for designers who want a capable monitor for after-hours enjoyment whether if it's on a gaming console or PC.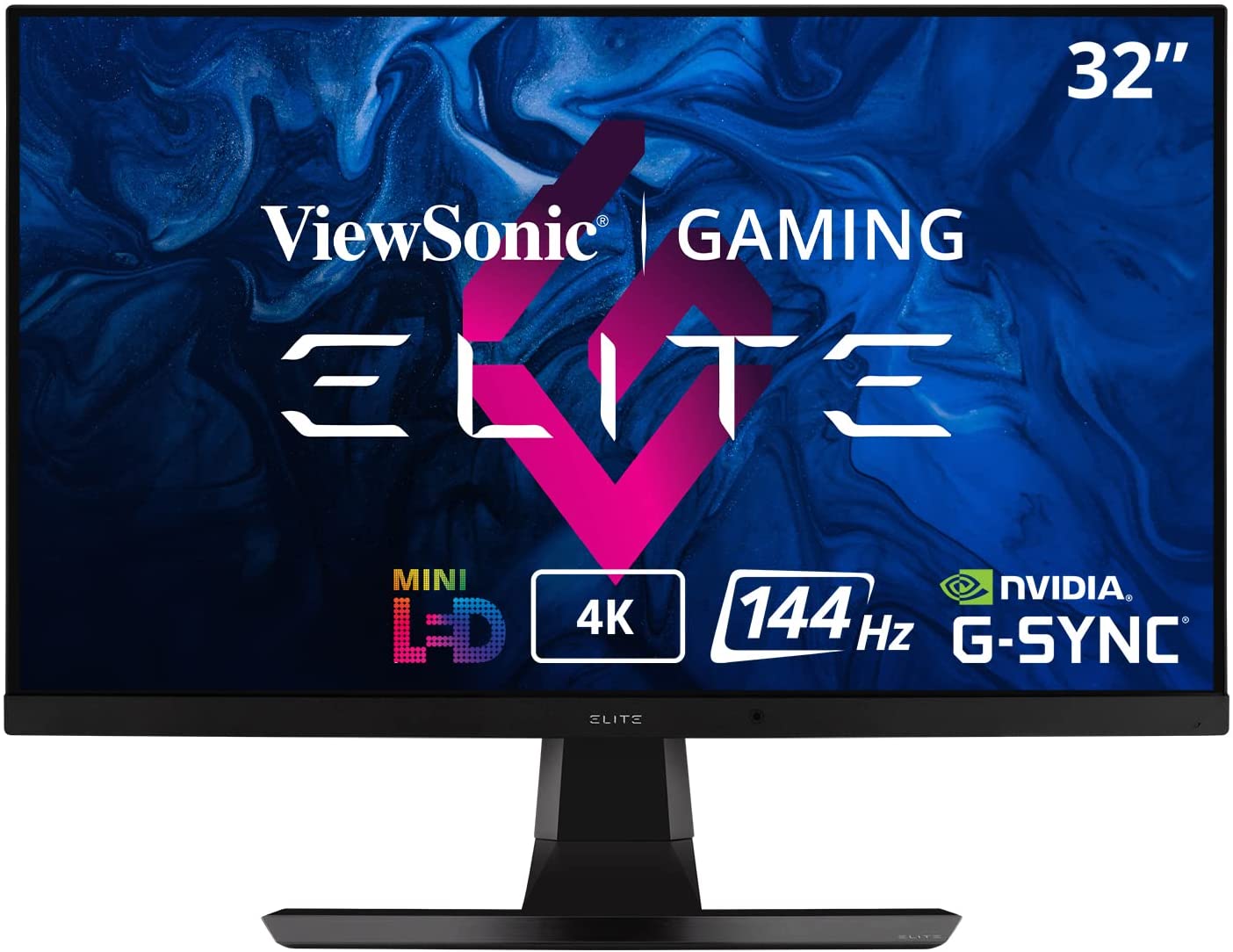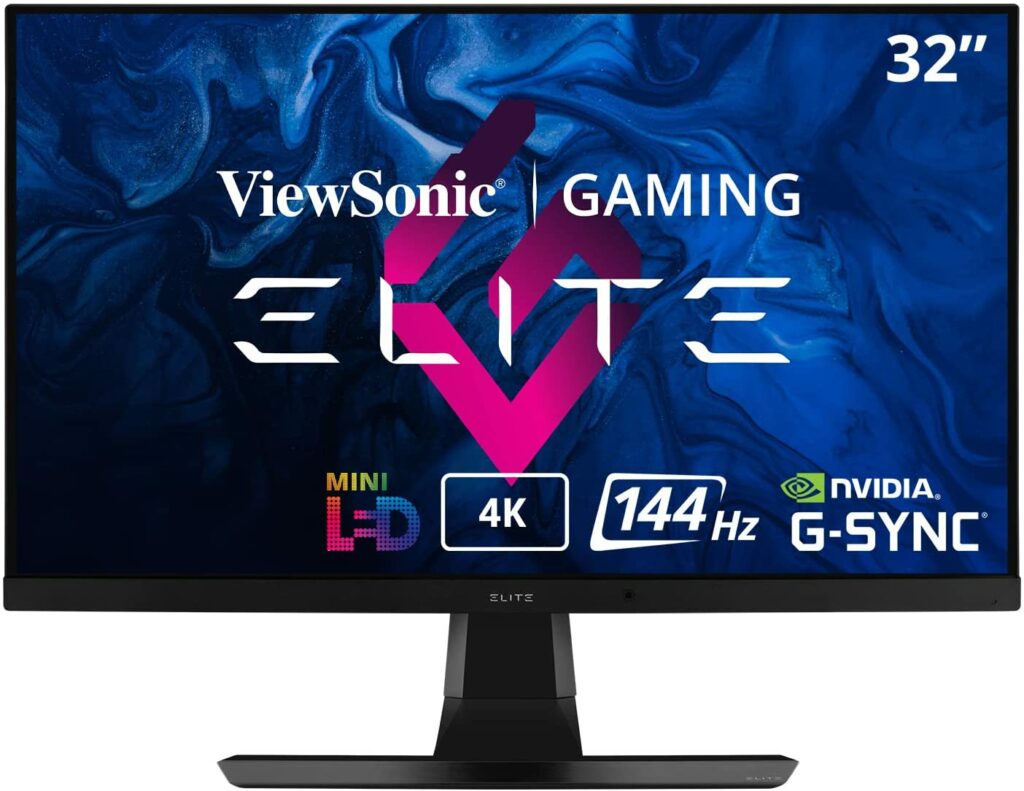 The ViewSonic Elite XG321UG is one of our latest Editor's Choice picks for its incredible imaging and gaming performance. It has a 4K 144Hz IPS panel that's backed by a mini-LED backlight that zooms up to 1400 cd/m2 for stunning contrast and HDR quality. Its also pre-calibrated quite well, so it's also ideal for color-critical work.
We also like how well-designed this monitor is from its excellent build quality to its RGB lighting that adds appeal for the aesthetic builders. It's one of the first high-priced monitors from ViewSonic, but it is well worth the investment considering how it performs.
4. Ultra-Wide/UW-QHD/UW-UXGA (3440 x 1440 and 2560 x 1080)
21:9 screens or more popularly known as Ultra-Wide monitors share the premium space in the market plus the hearts and minds of enthusiasts with 4K. Pixel count and density are lower when compared to the latter, so generally, most games are easier to run with a good GPU in this resolution. Detail and sharpness take hits, but what makes these products interesting is that they provide an additional field of view coverage that incorporates peripheral vision.
These types of displays are also attractive for those who seek the massive viewing space of multi-head setups, but would rather have a single and space-saving device on their desk. Another promise from manufacturers of these models is an increase in immersion, so it isn't surprising that most modern iterations are also curved screens. It June seem subjective, but these ultra-wides are some of the best gaming peripherals we have seen in the business.
Alienware AW3821DW – Best UWQHD+ Monitor for Immersive Gaming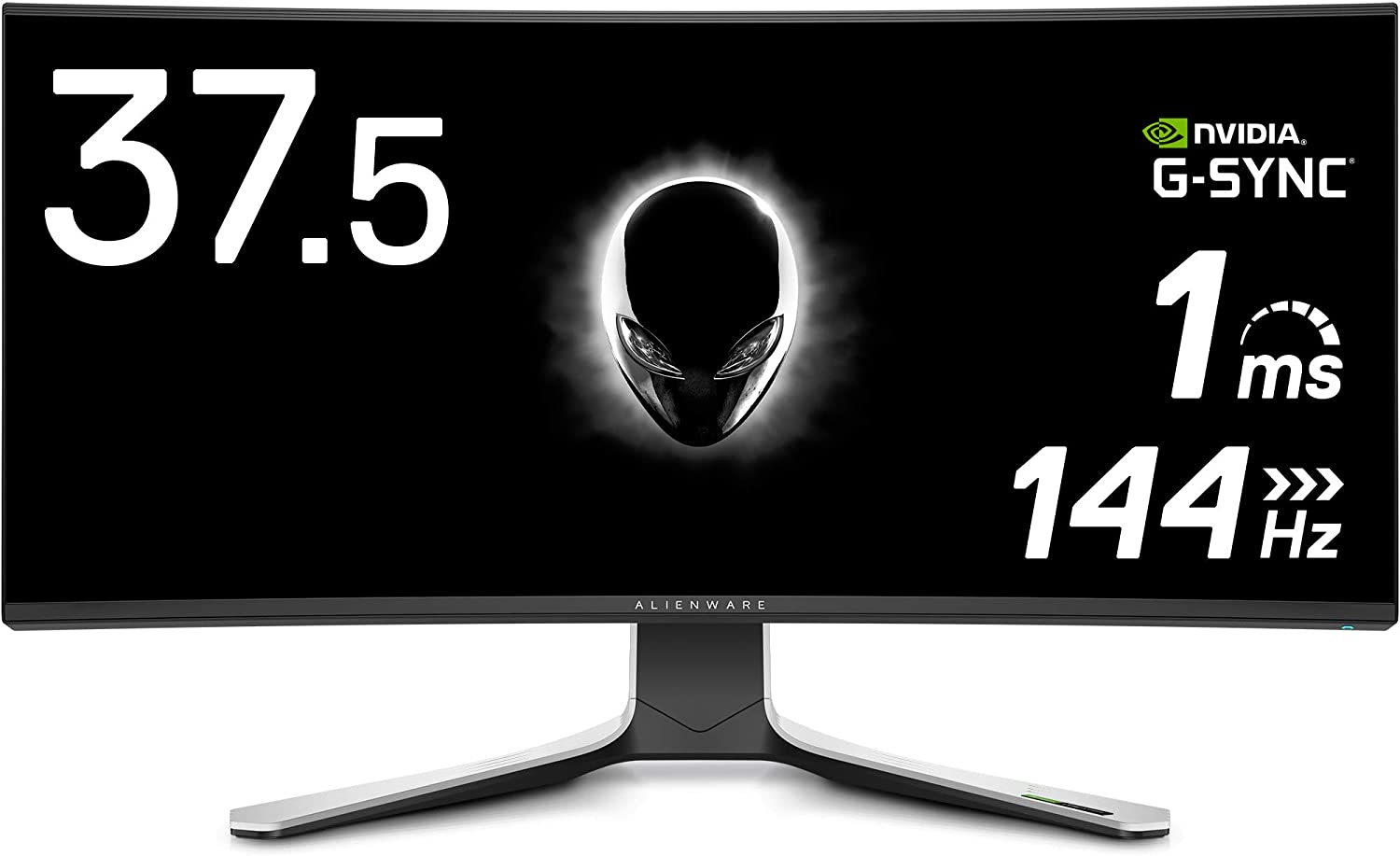 The Alienware AW3821DW is your best pick if you want an awe-inspiring screen for immersion and multitasking. Its IPS panel goes up to 144Hz, but it offers image qualities that could rival its Dell UltraSharp siblings. It's great if you want vibrant images in games, but it can also be used for editing and business-related tasks thanks to its qualities.
This model also packs that sweet space-age design the current Alienware monitors have. It looks great in white, especially when its RGB lighting is glowing in a dark room. It's a high-performance monitor that doubles as a centerpiece for your gaming room or even your executive desk at work.
Philips Evnia 34M2C8600 – Fantastic 34-Inch QD-OLED Gaming Monitor with Ambiglow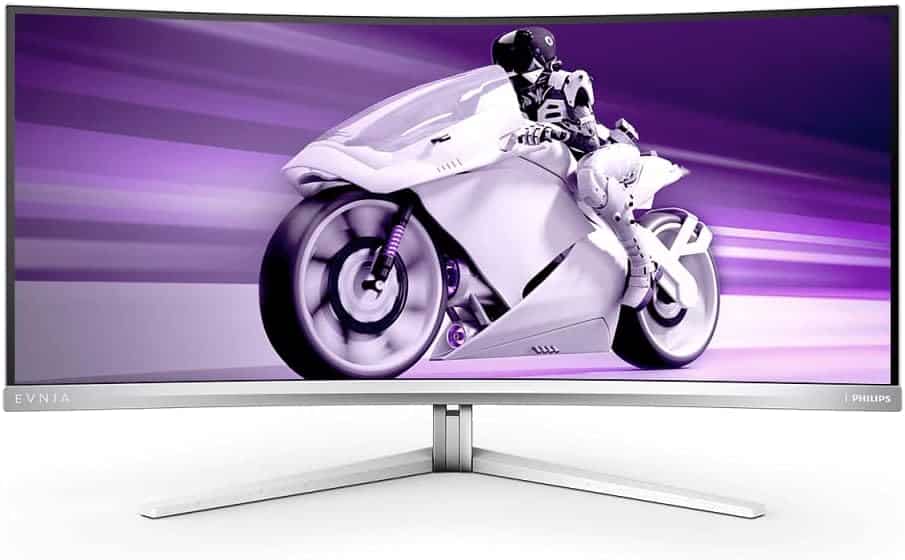 The Philips Evnia 34MC8600 looks like it was made for royalty with its white and silver aesthetic. It features a superb 34-inch OLED panel with lush color depth and fantastic HDR performance  You can also expect the benefits of OLED tech from it such as its almost instant pixel response time and low input lag.
Another advantage this model has is it includes a 90-watt USB-C port which you won't find in most of its closest competitors. Another unique add-on for it is its Ambiglow feature which is comprised of RGB LEDs at the back. They match the colors on the screen to create an immersive halo and a bias light which makes scenes more convincing while keeping your eyes comfortable.
Gigabyte G34WQC – Affordable 144Hz Ultrawide Gaming Monitor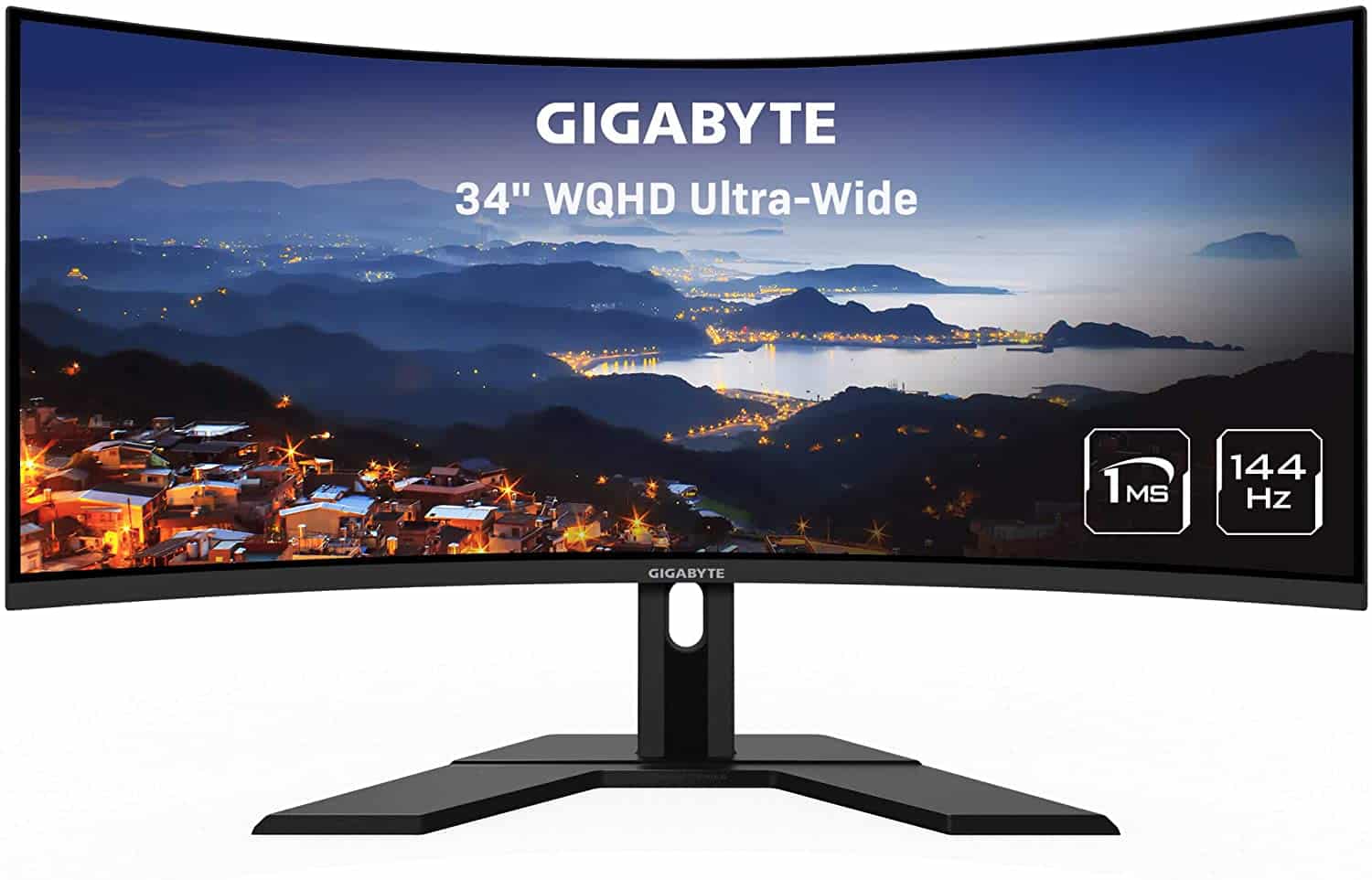 The Gigabyte G34WQC is the current value king when it comes to 34-inch ultrawide monitors that are designed for gaming. it has a native 144Hz refresh rate which wasn't available at under $500. This monitor offers excellent contrast and vibrant colors, so it's quite perfect for playing immersive titles or watching movies.
Color accuracy is decent, but its responsiveness is superb since it's practically blur-free even if you use minimal overdrive. The Gigabyte G34WQC is not as fully featured as the others, although we know that those omissions helped it meet its extremely low price point. You still get a decent amount of adjustment and connectivity features, so we don't think you'll feel that something is amiss with this monitor.
AOC CU34G2X – Best Budget 144Hz Ultrawide Gaming Monitor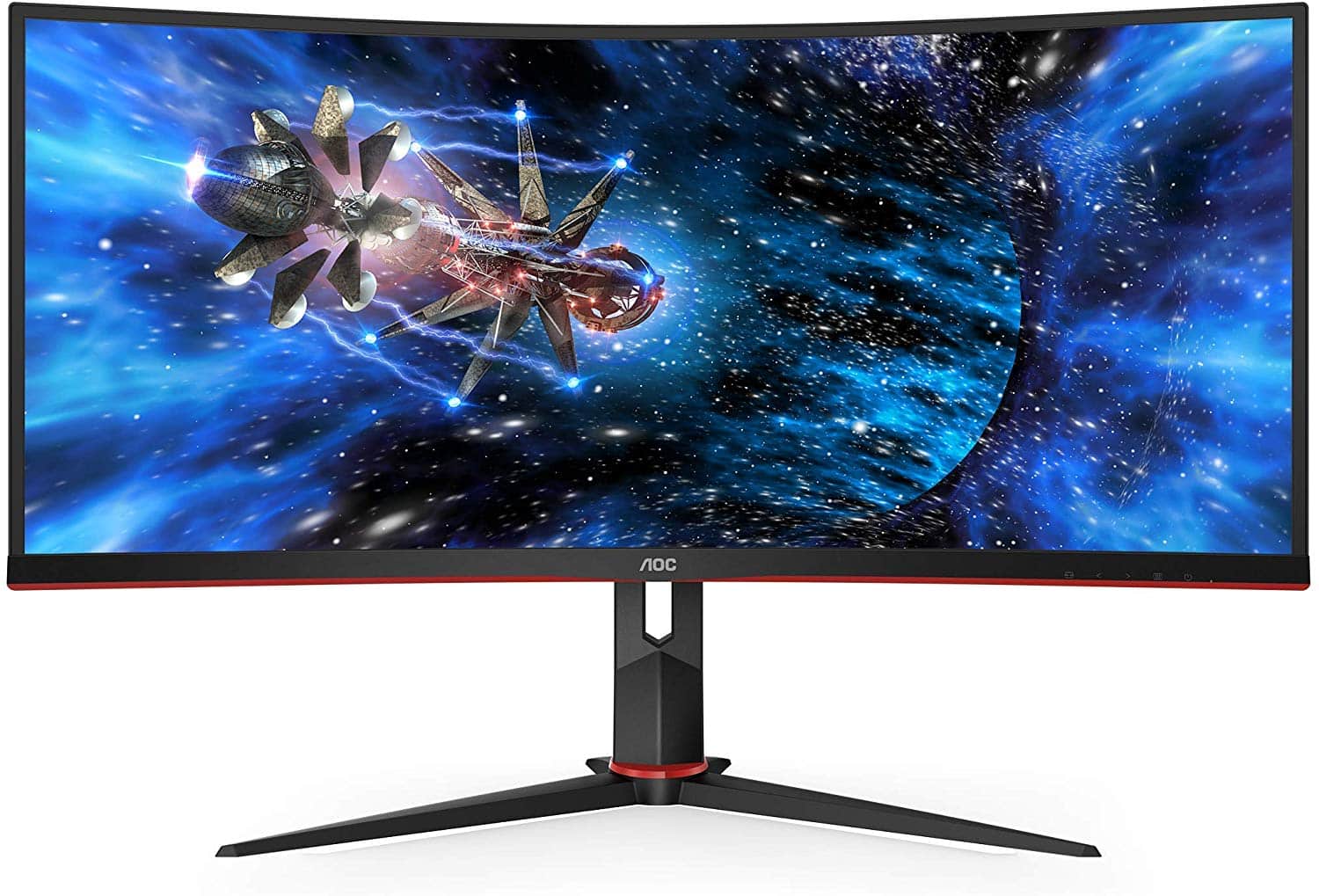 The AOC CU34G2X is another affordable 1440p Ultrawide that has a 144Hz refresh rate and a very wallet-friendly price point. it offers great accuracy by default, so many users won't have to go through tweaking it to balance out its appearance. It's also quite fast with low input lag and it's blur-free, meaning that it's also usable for competitive gaming applications.
Another thing we like about the AOC CU34G2X is it has plenty of connectivity features to accommodate your devices. It has a clean design with an adjustable stand, along with just the right amount of red accents to indicate that it was meant for gaming. it doesn't have a lot of competition as well, so it's easy to narrow down while shopping for an immersive gaming display.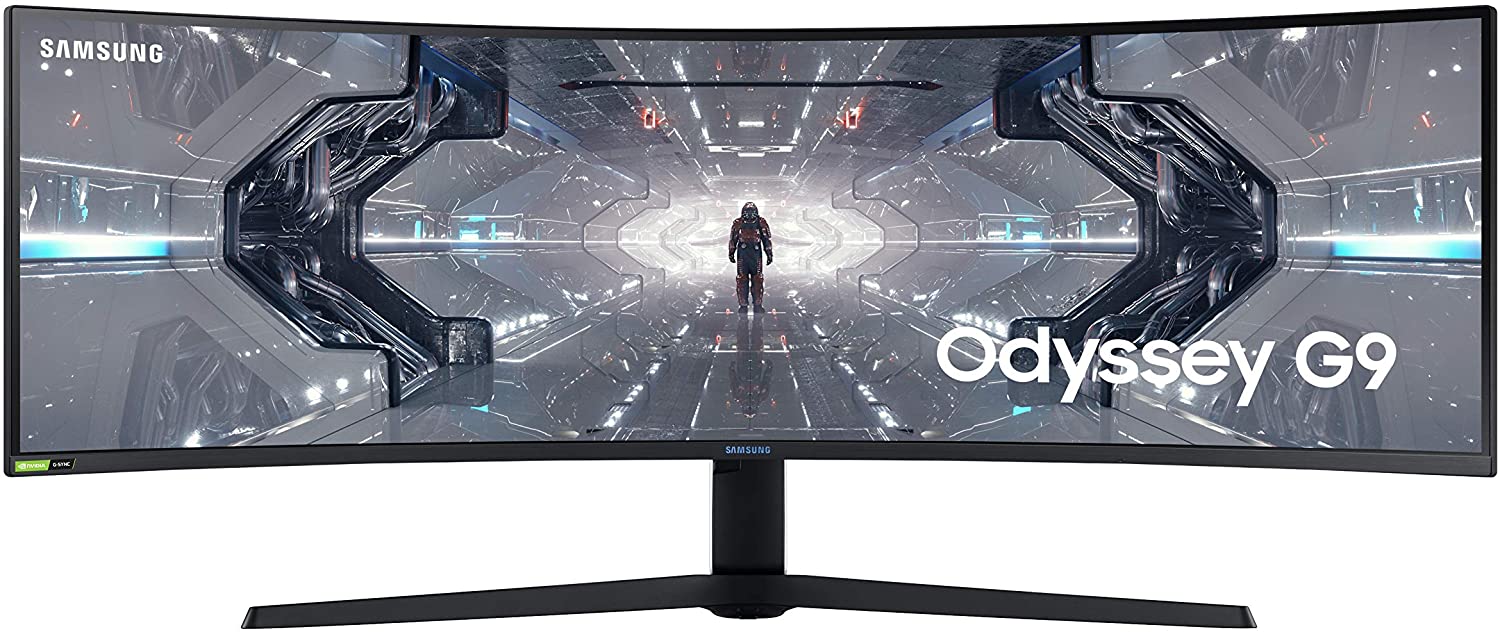 The Samsung Odyssey Neo G9 is your ultimate choice if you want a breathtaking super ultrawide monitor with a high resolution and refresh rate. Its 49-inch screen has a 5120 x 1440 dual QHD resolution which is comparable to two 27-inch 1440p monitors side by side. It's a great pick for immersive gaming and productivity since the wide field of view gives you plenty of room to maneuver.
What makes the Neo G9 better than its predecessor is its enhanced HDR implementation that uses mini LEDs. It's capable of rich colors and astounding contrast which further refines its HDR performance thanks to that upgrade. It is not the cheapest around, but it's built quite well and you won't feel the need to upgrade for some time.
Alienware AW3423DW – Best HDR Ultrawide Monitor with QD OLED Panel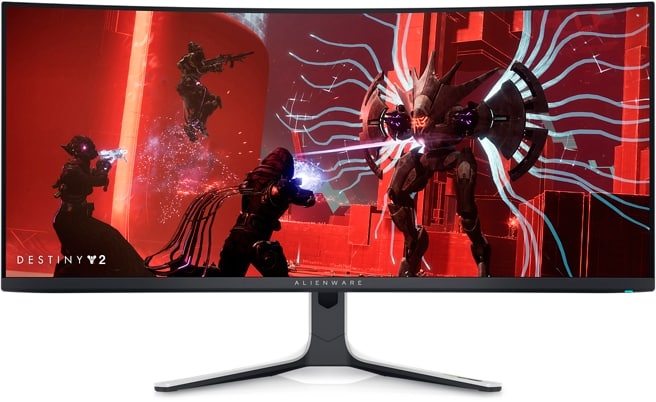 The Alienware AW3423DW is one of the best gaming monitors you can buy now because of its unique OLED panel. it's the first QD-QLED display in the market that doesn't have a 16:9 4K display and it is not limited to 120Hz. It offers brilliant colors and deep contrast to create superb HDR imagery that outclasses what most expensive mini-LED HDR monitors have.
It is designed like a flagship model, so it's arguably one of the best-looking ultrawide gaming monitors in the market right now. It's also riddled with RGB lighting, so owners can set it up to match their aesthetic builds. But the best part about it is it's not as expensive as most of us imagined when Dell announced it, so it is more attainable for the masses compared to the other OLED monitors available.
III. How to Choose the Best Gaming Monitor: Our Comprehensive Guide
There will almost always be a trade-off between specs and price. Meaning that if you want all the specs and features on your monitor, you can have it, but it will be very expensive. So if you are willing to sacrifice some specs for others that you don't need, then you can have an excellent gaming monitor for a reasonable price. It all depends on what your needs are and what your budget is.
If you have a high budget (over $600) and want the best monitor for gaming, then choose a monitor with a big screen, about 27", with an IPS panel, 1440p (WQHD) 2560 x 1440 monitor resolution, low input lag (under 15ms), 144hz monitor, adaptive sync with a very low response time (under 4ms). If you belong to this category of buyers, then there's no reason to look further. You can see our list of the best gaming displays on the top. 1440p monitors are also called 2k monitors.
If you have a limited/average budget ($300 to $600), but still want a very competitive monitor for gaming, then you must be willing to trade some of the features mentioned above for some other specs that are more relevant to your needs. In this budget category, you can still have a nice big screen, 144hz monitor, with adaptive sync, low response time, low input lag, etc. but you can't have them all at the same time.
If you are an average gamer with a small budget (under $300) and just want a decent monitor for casual gaming and also other daily uses, then you probably don't need all the specs above. But your monitor must still meet some requirements to qualify it as a decent PC monitor for gaming. For those of you that haven't or can't decide which screen to choose and what budget to set, we can help you with that. In the following, we will give you our recommendations for the most important specs to choose from.
We recommend you to check out each of the following specs when choosing a monitor for gaming:
1. Refresh Rate
Refresh rates dictate how many frames your screen can display against your graphics card's FPS output. This characteristic defines how clear and smooth images can be, so this factor can profoundly affect your decision and budget. Typically, faster monitors have lower input lag than the conventional 60Hz models, but for casual gaming and a small budget, choosing a 60Hz model with fantastic image quality isn't a wrong decision. For competitive advantage and very smooth gameplay, choose a 144 Hz monitor.
2. Response Time
Response time describes the speed at which the pixels can change color. An obvious important factor when playing a fast-paced game where you move around various environments and expect the pixels to show the correct color value at the instant it is required. If you choose a slower model, image defects such as ghosting or blurring will occur since the pixels cannot transition quickly. This issue is called pixel persistence. Usually, 5ms to 6ms is adequate for casual gaming applications such as playing RPG titles wherein colors and contrast affect gameplay more than speed does. For competitive applications and fast-paced such as shooters, quicker panels with 1ms to 4ms are the best choice.
3. Input Lag
For casual gaming choose an input lag of under 30ms, and those who would want a competitive edge in gaming should choose a model with an input lag of 15ms or less. All monitors in our list will have under 30ms. Input lag time is the time it takes from starting a process to performing the process (showing it on the monitor). Basically, from pressing the mouse button to seeing the action appear on the screen. Input lag time is only the internal lag time, but as you might know, internet connection a significant contributor for online games as well – note the difference. For the average gamer, an input lag time of 30ms and less would be adequate while the pro players would like an input lag time of maximum 10ms.
4. Resolution
For sufficient image sharpness and details (pixel density), choose at least: 1080p Full HD. 1080p is still the current standard format today and for a few more years, so buying an FHD product is still viable. If you want to step up and choose something with improved image sharpness and details, you should select 2560×1440 1440p (WQHD) resolution. For extraordinary image sharpness and details select an Ultra HD (4k) resolution. If you want a specialized and immersive option, you can choose Ultra-wide displays with 2560 x 1080 (UWFHD) and 3440 x 1440 (UWQHD).
Do take note that increasing the resolution also exponentially increases the number of pixels. This factor will affect GPU performance, so it is best to check for benchmarks based on your current or planned GPU before taking the plunge. For example, gamers who demand the latest in sharpness, color performance, and overall image quality, should go for a monitor with a 4K resolution. Going with 4k would be a welcome hardware addition to your gaming rig, but you will notice that the GPU requirements are significantly higher than other screen resolutions.
5. Screen size
Usually, bigger screens are more expensive, and different gamers prefer different sizes. But we recommend at least 23" of the screen. If you choose a big screen, then choose a high resolution to go with it. Also, you should consider your desk size and position/distance from the screen. Typically, larger screens will require you to sit 6 to 12 inches further. This result varies from person to person, and the best way to find out is to see a demo unit for yourself before ordering. You can also choose a product with improved ergonomics such as height and swivel adjustments so you can find your perfect comfort spot when you finally get a new monitor.
6. Panel type
For a competitive edge, where speed is essential, select a TN panel. They have lower color quality, and viewing angles are bad, but they are much cheaper than the other panel types and much faster for the price.
For good color quality and viewing angle, choose IPS panels, which are slower and more expensive than TN panels. If you also want to use your monitor for photo/video editing and other graphical work, or you just value better color quality in games over a competitive edge, then an IPS panel is for you.
There are also monitors with VA panels, which fall, spec-wise, between TN and IPS panels. Usually, they are on curved screens. They are a good choice if you want a bit of both worlds. But they are more expensive and slower than TN panels.
7. Aspect Ratio
The aspect ratio tells you about the wideness of the monitor. Most monitors have an aspect ratio of 16:9, which means that the width is almost 1.8 times longer than the height. Curved monitors typically have an aspect ratio of 21:9 (ultra-wide screen) when the screen is larger than 27″. Generally in the sense that there are exceptions such as the Samsung S32E590C, which is a 31.5″ monitor with Full HD resolution and an aspect ratio of 16:9. Ultra-wide screens require more pixels for them to perform the same level of detail on the width than the widescreen. It is thus, not uncommon, to see a resolution of 3440 x 1440 in many curved monitors, one of the most promising ones being the Acer Predator XR341CK (with Free-Sync) or the Acer Predator X34 (with G-Sync).
8. Adaptive-Sync
We recommend a monitor with adaptive sync if you enjoy playing fast-paced games with high graphical needs. It will eliminate screen tearing and provide a much better gaming experience. G-Sync or Freesync depends on which type of graphics card you have. Freesync will only run with AMD graphics cards. G-sync will only run with Nvidia but is more expensive since this solution requires an additional proprietary chip to be installed, calibrated, and licensed by Nvidia before selling. Both G-sync and Freesync need a DisplayPort on your GPU to run.

The main issue these technologies exist for is tearing and stuttering. This happens when your monitor is slower or faster than your game's frame rate, and the visual result is usually displayed as a slice in the picture or a stutter/fraction of a second pause in the fluidity of the video. Adaptive Sync aims to solve this by controlling your display's refresh rate to match the frames when it dips or rises, resulting in a silky smooth and cleaner image. This issue was originally V-Sync's purpose, but that solution induces massive input lag which potentially destroys the gaming experience. Both VRR solutions solve issues without any delays in your monitor's response time.
9. Freesync vs. G-Sync: What's the Difference?
Freesync and G-Sync both aim to solve similar issues, but their differences lie in each one's implementation. G-Sync relies on adding a proprietary control chip called an FPGA (Field-Programmable Gate Array) chip with independently takes control of the screen's cycle to synchronize with your system's frame output. Nvidia requires its partners to go through a strict calibration and certification process before selling G-Sync certified products on retailer shelves, and naturally, this process incurs additional costs.
This option requires consumers to pay an additional $150 to $250 on top of a gaming monitor's price, instantly making it a premium model. G-Sync functions from 30Hz to 144Hz, but as soon as your frames go out of range or reach 144Hz, V-Sync which adds input lag takes over. One way to go around this is to cap your monitor's refresh rate at 140Hz and optimize your graphic settings so frames don't dip below 30Hz to make sure G-Sync does not deactivate. Finally, G-Sync incurs a 2% performance penalty on your GPU which is barely noticeable.
On the other hand, Freesync relies on a built-in controller inside the GPU which runs via a compatible driver's programming. Compatible monitors do not go through the same process Nvidia requires from its partners, so no price premium is added to each model. Freesync is also based on VESA's free for all Adaptive Sync standard, and according to AMD, this concept is where the word Free is based on. Adaptive Sync is included in the DisplayPort 1.2 standard, so as long as your monitor utilizes this feature, it will work with the red team's VRR tech.
Freesync is implemented in different ranges, some as short as 42Hz to 60Hz while others as much as 30 to 144Hz. When your framerates go below or beyond the specific limits, your screen will revert to its maximum cycle so tearing will once again become an issue. Optimizing your graphic settings is critical to avoid this issue so make sure you turn down the unnecessary settings to free up some GPU power.
These two fantastic capabilities are excellent at solving the issues they were made for even if the methods are stark contrasts of one another. There really are no advantages between the two, so making the choice between them usually relies on preference or dependent on how you can live with the caveats that exist on each one. If you want to learn more, you can check out our G-Sync guide here and Freesync guide here.
Update: FreeSync and G-Sync are now interchangeable, thanks to Nvidia's intiative to end its exclusivity. G-Sync now works with many new FreeSync monitors, and the G-Sync exclusive products like the Asus PG32UQX above will work with FreeSync. The dedicated FPGA controller by Nvidia will work with AMD's FreeSync, although its not official for all monitors. 
IV. Which Kind of Gaming Display is Perfect For You?
Different levels of gamers have different needs, requirements, and budgets. That's why we have created various categories for each type of gamer. It makes it easier for you to identify your level and find the monitor that suits you best without the headache of searching through hundreds of monitors. For every category, we increase the minimal requirements accordingly from an average gamer to a professional gamer. We will also use these classes in our gaming monitor reviews to recommend which type of gamers the screen is ideal. For example, when we review a particular monitor like the Asus PG278Q. We will recommend this monitor for a gamer in one of these categories or more.
Average Gamer:
This class is created with the average gamer in mind, who has a limited budget. We have identified the minimum necessary requirements for an average-good gaming experience. We believe that price is a priority here, but without compromising the performance. Max price: $250
Max response time: 8ms
Min refresh rate: 60 Hz
Max input lag time: 30ms
screen resolution: Full HD (1920×1080)
The final requirement is our subjective opinion on whether or not it deserves to be called a gaming monitor in the first place. That means that we will be handpicking the monitor for you so that you won't see 100 monitors per category, but only the ones that we have reviewed and found good enough for gaming purposes.
Best monitors we recommend for an average gamer
Competitive Gamers Need 144hz Monitors:
This category of gamers likes to play games competitively and requires higher demands from their monitor. You set a higher budget and want more to give you an edge in your gaming. You prioritize high performance, but also picture quality, resolution and high contrast to see better the details. We have still set a max price range for this category since price, is still an important aspect. Here we will present the best monitors for you guys. The requirements are as following:
Max price: $450
Max response time: 5ms
Min refresh rate: 120 Hz
Max input lag time: 20ms
screen resolution: Full HD (1920×1080)
Of course, subjective opinions matter here, as well, for the convenience of gamers that don't want to waste time looking at several monitors. That goes for all the categories; we handpick them in addition to our core requirements.
Best monitors we recommend for a Competitive Gamer
Pro Gamer:
This category will focus on screens that deliver the best performance overall. The requirements here will be very high in regards to performance. In this class, we have not taken price into consideration since we don't want to compensate for performance in any way. So these monitors are the best of the best but usually have a higher price. These screens are necessary for gamers who are competitive in their gaming and only accept the best hardware. The requirements are as stated:
Price: N/A
Min refresh rate: 144 Hz
Max Response time: 4 ms
Max input lag time: 15ms
Adaptive sync technology
Small blue light emission feature
Fully adjustable stand (height, swivel, and tilt)
As previously mentioned, we won't put every monitor with these specs on our list, as we handpick the ones we find suitable. It means that there also could be a case where a monitor has 20ms of input lag time, but for a professional gamer, it could contain features valuable enough to put on the list as well.
FAQ (Frequently Asked Questions)
1. Why Have We Created This Guide?
Computer hardware, like software, becomes increasingly more complicated as new features are developed, and upgrades come along. That makes it confusing for most of us gamers to fully understand and choose the right monitor for us. A lot of questions can arise that make it difficult to decide which monitor is the right buy for you. Manufacturers would, of course, like you to buy the most expensive and latest technologies from them. But do they meet your needs and give you the most for your money? But does an expensive PC display make a difference in your gaming experience? Which monitors have 144 Hz, G-sync, Free-sync, 3D, 4K, very fast response time, small input lag, etc. for example.
If you can't experience the difference between a 144 Hz monitor and 60 Hz because of a limited GPU capability, then why waste money on them? Instead, you could use the money to buy a monitor that has excellent color accuracy and high resolution or some other combination that fits your needs. We know it June sound like we're going into too many details, but we're nerds, and we believe this is necessary information that can help our fellow gamers get the best gaming experience for them. But don't worry we will guide you in this buyers guide and after reading this, you will know exactly which gaming monitor is perfect for you. We have also collected a list of the best monitors for you to select from, on our website. You can look for them at the main menu item called PC display after you finish reading the guide.
2. Where Can I Find My Next Gaming Monitor?
After a lot of research, we have collected a list of the best gaming monitors in their respective categories. You can find our best picks in our main menu under Gaming monitors. Here you can choose the right type for you and view all our best picks in detail. We also have links to where you can buy them. The best monitor for gaming in 2023 is the Asus ROG Swift PG278Q.
We have compared service, prices, quality, reliability, customer reviews, etc.sor, and found that Amazon is a good place to buy from based on the mentioned points. So we will only show relevant ads and links from Amazon.
3. Is Screen Resolution Necessary for Performance?
Resolution dictates how your current or planned GPU will be able to handle the graphics requirement of each title. As you go higher, pixel count exponentially increases resulting in improved detail and sharpness of the image. Of course, your GPU will have to render more pixels to create a larger field of view and expanded detail so your frames will take a hit. 1080p is still widely favored since it does not take a lot to push 140 frames or more, making it ideal for E-Sports setups. 4K and Ultra-Wide are mostly luxury options since they both require a ton of horsepower to run, so they are mostly chosen by gamers who value immersive experiences and eye-candy more than performance. 1440p sits as the happy medium in between the divide, since it does offer improvements graphics-wise while requiring substantial but lesser processing than 4K.
4. What is Input Lag/ Display Lag and Why is it Important?
Input lag time is, in regards to monitors, the time it takes from pressing a button (on the keyboard or mouse) to that signal being processed through the I/O (input/output) ports of the cables and viewed on the screen. It just tells how much time it takes for that monitor to process the image received from your graphics card and the commands from your controls and show it on the screen. For professional or even average serious gamers, an input lag time of more than 30ms becomes the limit where it is noticeable, especially when playing FPS and racing games or generally games requiring quick actions.
Besides the internet connection, high input lag is proclaimed as one of the reasons for mess-ups or in calculated mistakes during games. Therefore, input lag time, although not being a standardized unit of measurement for monitor general performance, is included as a factor in this guide and our reviews as it is quite important for most gamers. We recommend you to stay below an input lag time of 30 ms, of course depending on which level of gamer you are, as described before. An excellent gaming monitor with a very low input lag of 10 ms is the BenQ XL2730Z. Combined with its low response time and 144 Hz refresh rate makes the BenQ XL2730Z (includes Black Equalizer as well) a good choice for all levels of gamers. See this monitor on Amazon here.
5. How does Contrast Ratio make a difference in gaming?
Contrast ratio means the difference between the darkest and brightest color value the monitor can project. It is the difference between the white and black color value, but since all monitors use a backlight when turned on the black is in reality, a very dark gray since black is by definition the absence of light. You June have noticed that the contrast ratio is presented two times when looking at the monitor specs. It June look something like 1000:1 and then beneath it is a number that could look like 1,000,000:1. The smaller number (first one), is the static contrast ratio, which is defined by the difference between the darkest and brightest color value as-is (the brightest color value is 1000 times brighter than the darkest color value).
The higher number ( the second one) shows the difference between the darkest color value at the lowest brightness possible compared to the brightest color value at the highest brightness the monitor is capable. The most useful information between the two is the static contrast ratio since you have no use of the dynamic contrast ratio during gaming (you can only have one brightness setting at a time). IPS panels can have a higher contrast ratio than TN panels, but additional brand-specific features can also have an effect on the contrast. Acer is well-known for the contrast ratios on their monitors for example. BenQ has developed a feature called Black Equalizer, which is very convenient during gaming.
One would then think that the higher the contrast ratio, the wider color display range but there are numerous examples of this not being true – mainly because there is no standard for measuring the contrast ratio (no room lamination of reflection standards), so every manufacturer has their way of measuring the contrast ratio. However, regardless its sincerity, it should still be regarded as an important factor when deciding upon a gaming monitor. You don't want a situation where you can't see the difference between a dark blue and a dark gray or black pixel as it can have a tremendous effect on your gameplay when playing in a dark room where brightness is reduced.
6. Which panel type should you choose for your gaming monitor?
The Panel type is one of the most important aspects when you select a gaming monitor. There are three main types of panels- TN panels VA panels and IPS panels. We will explore the most significant differences and find out which suits you best.
A. TN panel: Twisted Nematic
TN panels usually have static contrast ratios of 1000:1, which is much lower than VA panels and about the same as IPS panels.
Pros:
They have the lowest prices of the three-panel types. If you compare three identical monitors with the only difference being the panel type, the monitor with TN panel will have the lowest price.
TN panels have the lowest response times and the highest refresh rates for the money.
Cons:
They have the worst viewing angles and color performance of the three-panel types. The color distortion can be noticed even a few degrees away from the center of the screen.
When to choose TN:
Select a TN panel if you want the highest performance for your money and you don't care as much about the viewing angles color accuracy and color consistency of your monitor. Since most of the time we sit right in front of the screen, the wide viewing angles are not that necessary for the majority of us. But when you use bigger screens you will experience color distortion on the sides of the monitor, even while sitting right in front of the screen. If you mainly play FPS, racing or other similar fast paced games, you have a limited budget, and you don't want a bigger screen then about 24″ inches, then go for TN panel, and you will get the most for your money.
When not to choose a TN panel:
If you also use your gaming monitor for other purposes like video/photo/graphical work or similar where the color accuracy is essential, then never choose a TN Panel. Or if you value color quality and wide viewing angles, then a TN panel is not the right choice for you. And we don't recommend a TN panel for bigger screens, because of the color distortion on the peripherals of the monitor.
B. VA Panel: Vertical Alignment
Pros:
Some of the main advantages of VA panels include high contrast ratios typically of 2000:1 and 5000:1. They have much better viewing angles and color reproduction than TN panels but still lower than IPS Panels. VA panels are also less prone to "backlight bleed" or "clouding" since they are good at blocking backlight leakage. The entire surface of an LCD panel is light from behind by a light source (CCFL or LED). Backlight bleeding occurs when this light is not completely blocked from reaching the surface of the screen.
Cons:
They are more expensive than the TN panels.
VA panels still don't have the best color reproduction and viewing angles.
VA panels have significantly higher response times than TN panels, which can lead to more motion blur. Although the Backlight strobing technology has reduced the visual appearances of this issue a bit.
When to choose them:
Choose VA if you want a panel that has better color reproduction and viewing angles than TN. They are also good if you were watching a lot of movies and series on your monitor, especially because of their high contrast ratios. VA panels are usually found in many curved monitors. The latest and most popular screens now in days either have TN, or IPS panels and not as many monitors are equipped with VA panels. VA panels are still not ideal for color-critical work.
C. IPS panels: In- Plain Switching
Pros:
IPS panels have the best viewing angles, best color accuracy and best color consistency of all the different panel types. This makes IPS panel monitors ideal for color-critical work. In the recent years, IPS panels have got the same high refresh rates as the TN panels. And the pixel responsiveness has also got better, as well as the prices are getting lower. This also makes IPS panels an excellent candidate as a gaming monitor. Whether it is for gaming, photo editing, graphical work, video or watching movies IPS panel can handle them all at the same time. Many modern IPS panels are more responsive ( have lower response time) than VA panels.
Cons:
There is almost always some cons when there are pros, so let's explore them. First of all, the price of IPS panels are significantly higher than their counterpart TN panel monitors, but in our opinion, it is worth it. The another thing is that IPS panels still don't have as low response times as TN panels, but they are getting there. So if you play faced paced games, then there occur more motion blur and ghosting compared to TN panels. Another weakness of IPS panels are the relatively lower contrast ratios compared to VA panels. Nothing less modern IPS panels have a typically static contrast ratio of 1000:1 similar to TN panels. IPS glow is another con of these panel types, which is a glow of light when viewing dark content from off angles.
When to choose them:
IPS panels are the only right option for you if you also want to use your gaming monitor for color critical work besides gaming. Off course also, if you value color quality. You should also consider an IPS panel if you want a bigger screen than about 24" inches if you don't want distorted colors on the peripherals of the monitor. And if you often watch movies with friends or when yourself or other people have to view the screen from different angles. We think that the modern IPS panels are the ideal choice for our gamers if you have the budget for it. When we buy a monitor, we keep it for extended periods of time and us usually only have that one display that we use for many other purposes than just gaming. You will never go wrong with a modern IPS panel monitor.
7. How Does the Refresh Rate Affect My Gaming?
The best-rated gaming monitor on Amazon is listed in our latest buyers guide. The refresh rate of your gaming monitor matters a lot when it comes to gaming experience. Whether it is for heavy graphical games like Battlefield, Call of Duty or less GPU demanding games like League of Legends. Since refresh rate is the number of frames the monitor is capable of showing per second, it is a relevant parameter to look for when browsing for a gaming monitor to fit your gaming needs.
Keep in mind that console games only use a maximum of 60 Hz, so that is the exception. But if you play online against an opponent that uses a 60 Hz monitor on a computer game, the odds of you being able to react faster than him is significantly increased by the refresh rate alone. It makes the difference between shooting where the opponent was and where he is. Imagine that for every 60 frames that your opponent has seen, you have seen 144 frames with a 144 Hz monitor, thereby laying the foundation for you to react quicker.
8. Should I Choose a 144 Hz Monitor?
Higher refresh rates equal greater smoothness in gaming. The 144 Hz refresh rate is the new trending phenomenon in the industry and with good reason, since the graphic cards now commonly support more than the standard 60 Hz. Without a gaming monitor that can utilize the capabilities of your GPU, you will not experience the optimal performance your hardware can deliver.
It certainly has divided gamers, where some love to see perfect color production and color support, others are blown away by the smoothness 144 Hz monitors can deliver. Some gamers state that "Once you try 144 Hz, you will never go lower (on refresh rates)." What you get for a higher refresh rate is valued greater than the compromise you get on color accuracy if you are a fan of online shooting games, for example. On the other hand, we see other gamers say "Once you try IPS, you will never go back to TN," so it is pretty much up to each to identify their preferences and purpose of the monitor.
V. Final Thoughts
To be fair, there also other excellent options aside from what we have chosen to represent the cream of the crop. But during our testing, reviews, research, and feedback from various users in the web, these are the current best the market has to offer. Buying a gaming monitor will almost always cost you a lot of money, and even the affordable options for each category will still be too costly for a vast majority. It is imperative that you get the best performance per dollar out of a product you are willing to bet your cash on.
You can still enjoy your games on standard 60Hz monitors, but what these products offer for their prices is the maximization of what developers and their works have to offer. Some games like RPG rely on immersive environments to tell a deep and dark story, so a capable display with a fantastic contrast ratio is your best bet. Or if you are into FPS titles where success is determined by a fraction of a second, fast refresh rates and snappy responses are some of the best tools that can help you attain victory.
Whether casual or competitive, buying these products will enhance your experience further. After all, gaming is supposed to be an escape from the real world's day to day troubles and challenges. In our book, that is a worthy purpose for investing your hard earned cash into the enhancement of your enjoyment. So if you are ready to invest in a new monitor and achieve unparalleled visual stimulation, let our hard work and dedication which culminates in this guide aid you in your quest for the best gaming monitor.
✅ ✅ We have done an extensive research and collected a list of the Best Gaming Monitors available now. 144hz monitors, 4k Gaming Monitors✅
Learn more about computer monitors on Wikipedia
Check out our YouTube Reviews.
Paolo Reva 
paolo@monitornerds.com                      
About the Author: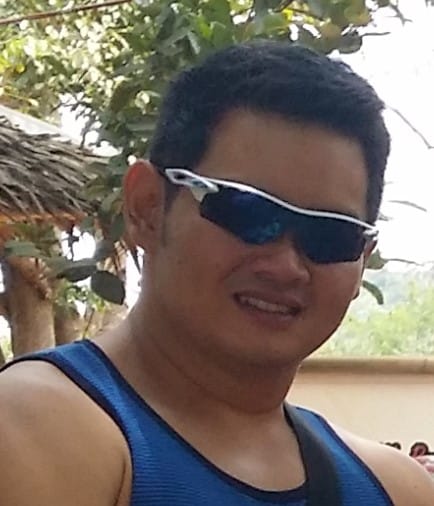 Paolo is a gaming veteran since the golden days of Doom and Warcraft and has been building gaming systems for family, friends, and colleagues since his junior high years. High-performance monitors are one of his fixations and he believes that it's every citizen's right to enjoy one. He has gone through several pieces of hardware in pursuit of every bit of performance gain, much to the dismay of his wallet. He now works with Monitornerds to scrutinize the latest gear to create reviews that accentuate the seldom explained aspects of a PC monitor.
Eli Nolan
eli@monitornerds.com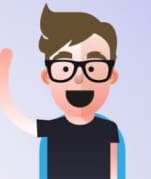 Eli is the founder of Monitornerds and has been into writing tech reviews for more than six years. His favored testing tools include industry standards such as the DataColor Spyder V Elite and the Leo Bodnar Signal Tester which help create the easy to digest reviews. He believes that technical data and the essential user experience are key ingredients in helping a reader discern which is best for his hard-earned economy stimulators. His steadfast work and dedication have helped six hundred readers via email in the last year, and thousands more via the reviews since the start of the website.